This Bride Got Her Lovestory Lehenga Themed Around The Deep Seas, Here's Why!
BY Anupriya | 24 Jul, 2021 | 3004 views | 5 min read
Every once in a while we come across a bride who defies the age-old traditions and lets her personal style reflect through her bridal choices. Stuti was undeniably one such bride. She not only placed her bets on a scintillating lavender lehenga over 'em usual reds & pinks, but also decided to personalise it with her cute love tale. And who better than the coveted couturier Kresha Bajaj Koesch ★ 5 would have turned her vision into reality!
The talented designer took the swimmer couple's mutual admiration for deep seas to Stuti's bridal lehenga, and legit weaved magic! While one lehenga Kali featured Stuti's most favorite seaside moment (shown in the picture below), the other one had verses from Shakespeare's Hamlet etched artfully.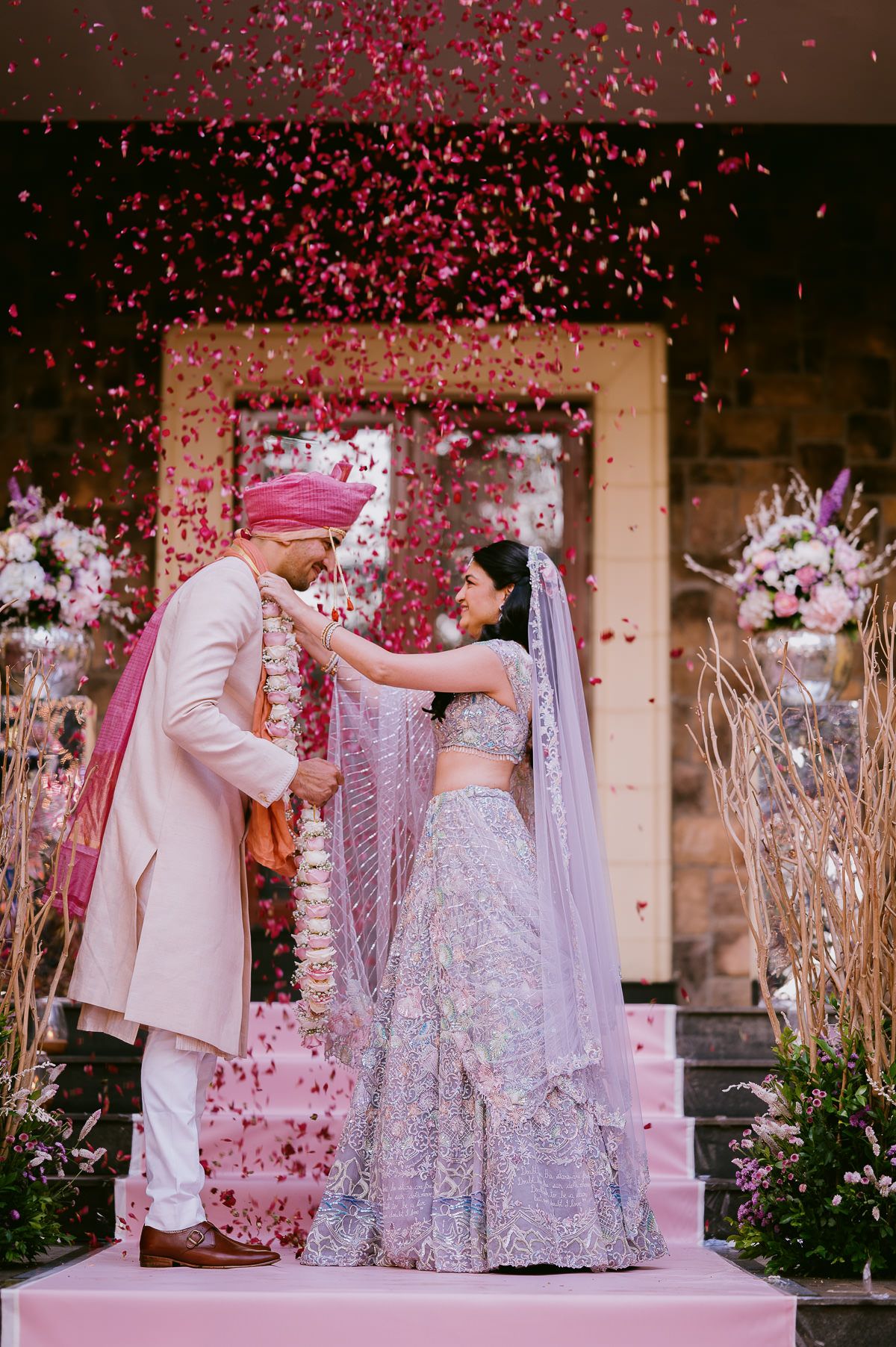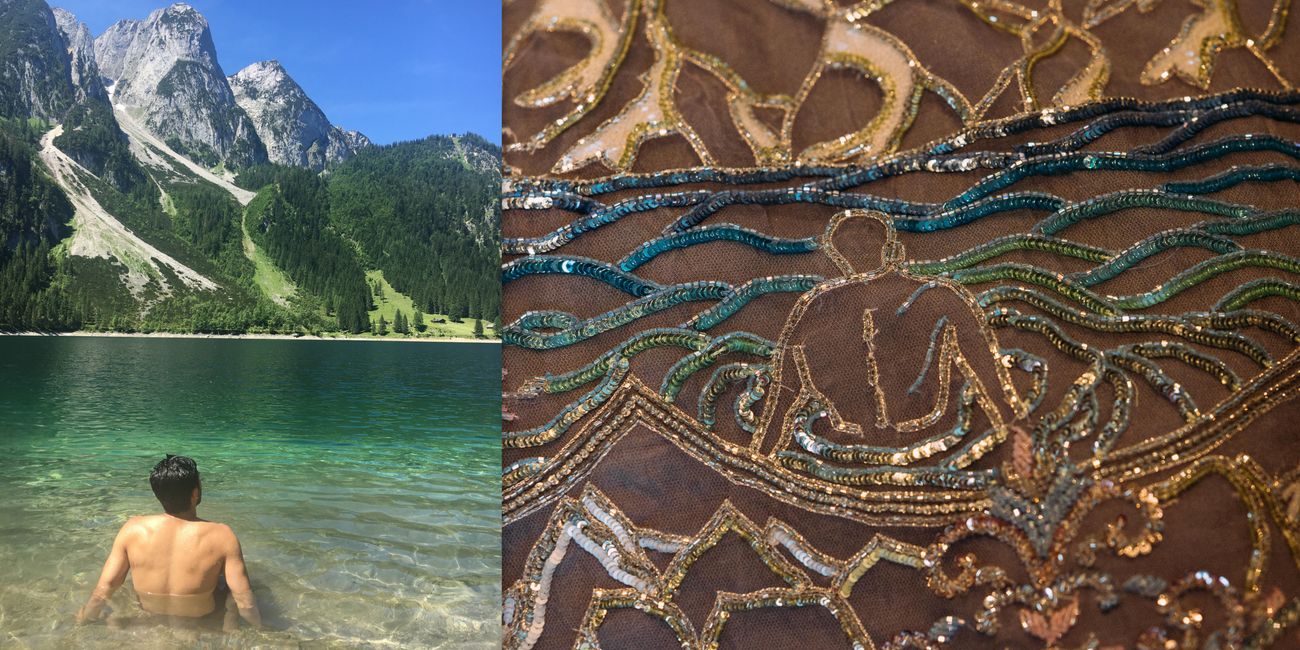 The Idea Behind Her Lovestory Lehenga
In her own words, Stuti shared the vision behind her sea-inspired lovestory lehenga: "For my lehenga, I went only to one store - Kresha Bajaj did a collection for my brand FancyPants a few years ago and I was familiar with her work. I knew I wasn't going to be a traditional bride.
 With the story we have, I knew I had to get a lovestory lehenga themed around the deep seas since Harsh and I are both certified deep sea divers and swim in basically any water body we find."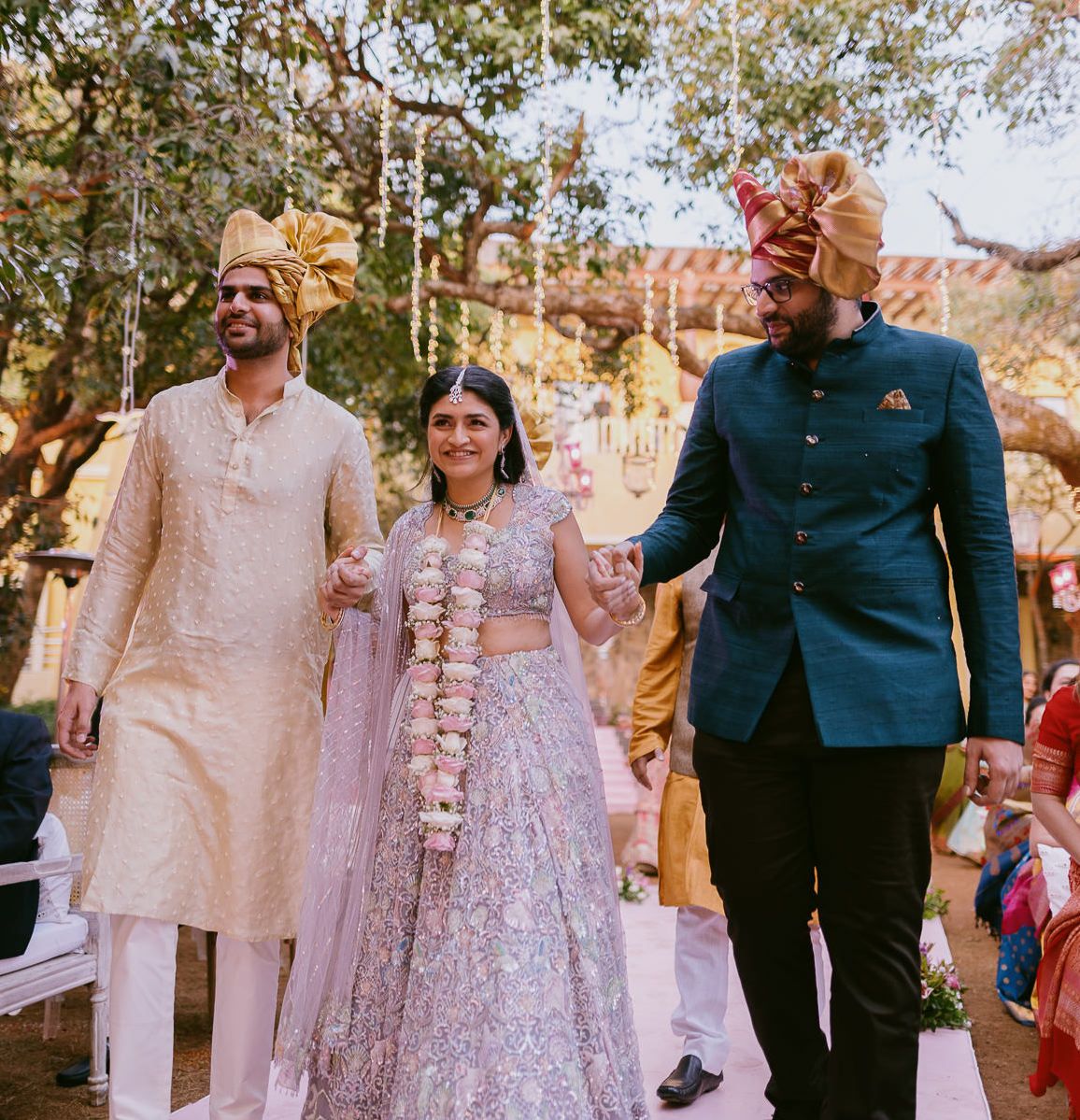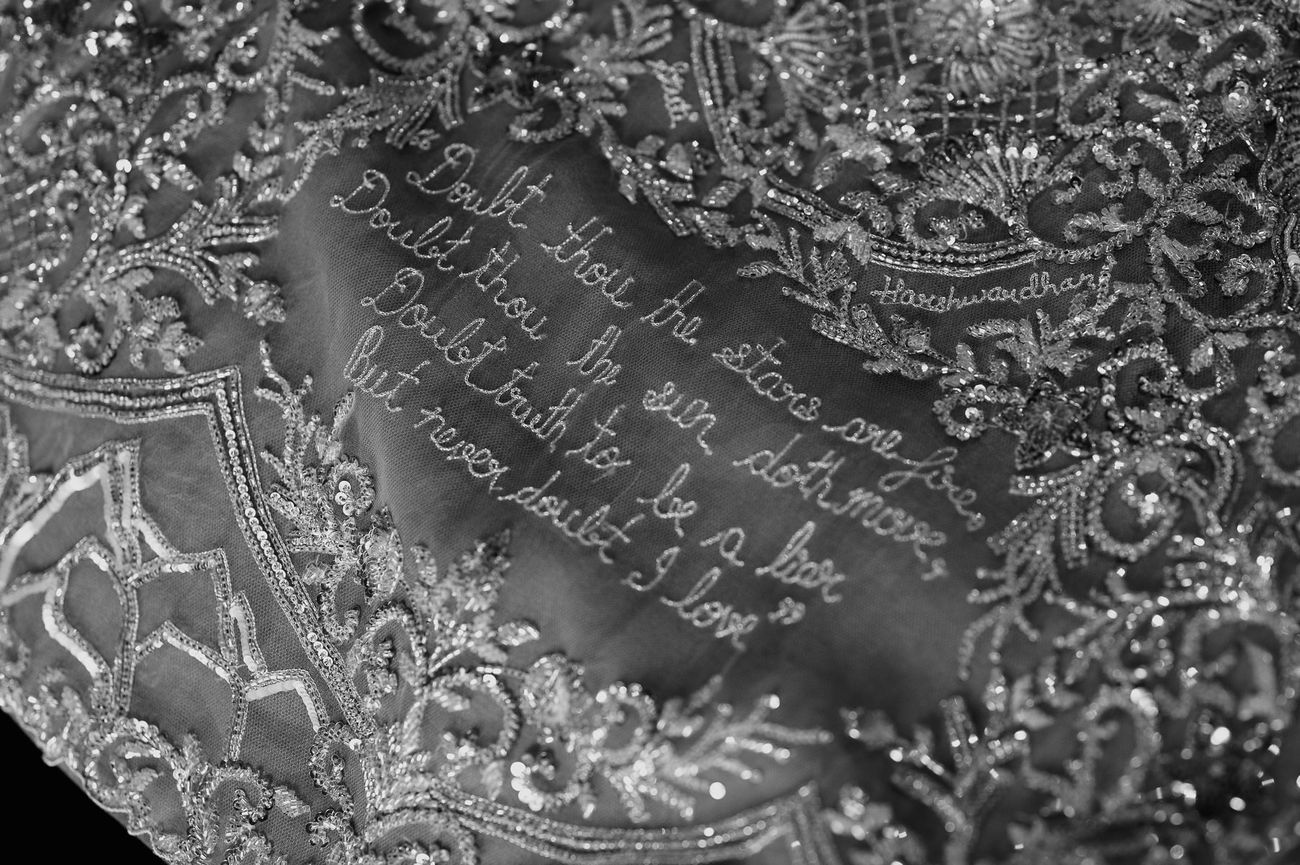 From A No-Animal Baraat To Shakesperean-inspired guest notes- All The Pin-worthy Details From The Wedding
Further unveiling interesting details about the wedding, Stuti shared,
"We started with an intimate morning haldi, applied with love by our family. The evening wedding began with Harsh's baraat where we were clear we didn't want to bother any animals. Harsh's maternal side is royalty from Maharashtra which meant the baraat was an elegant family-walking-together-affair rather than a loud DJ and more alcohol. He walked straight to me with a little help from his sisters.
Our varmala was planned such that it was only the two of us because I wanted to take our first steps to the ceremony with a poised calm.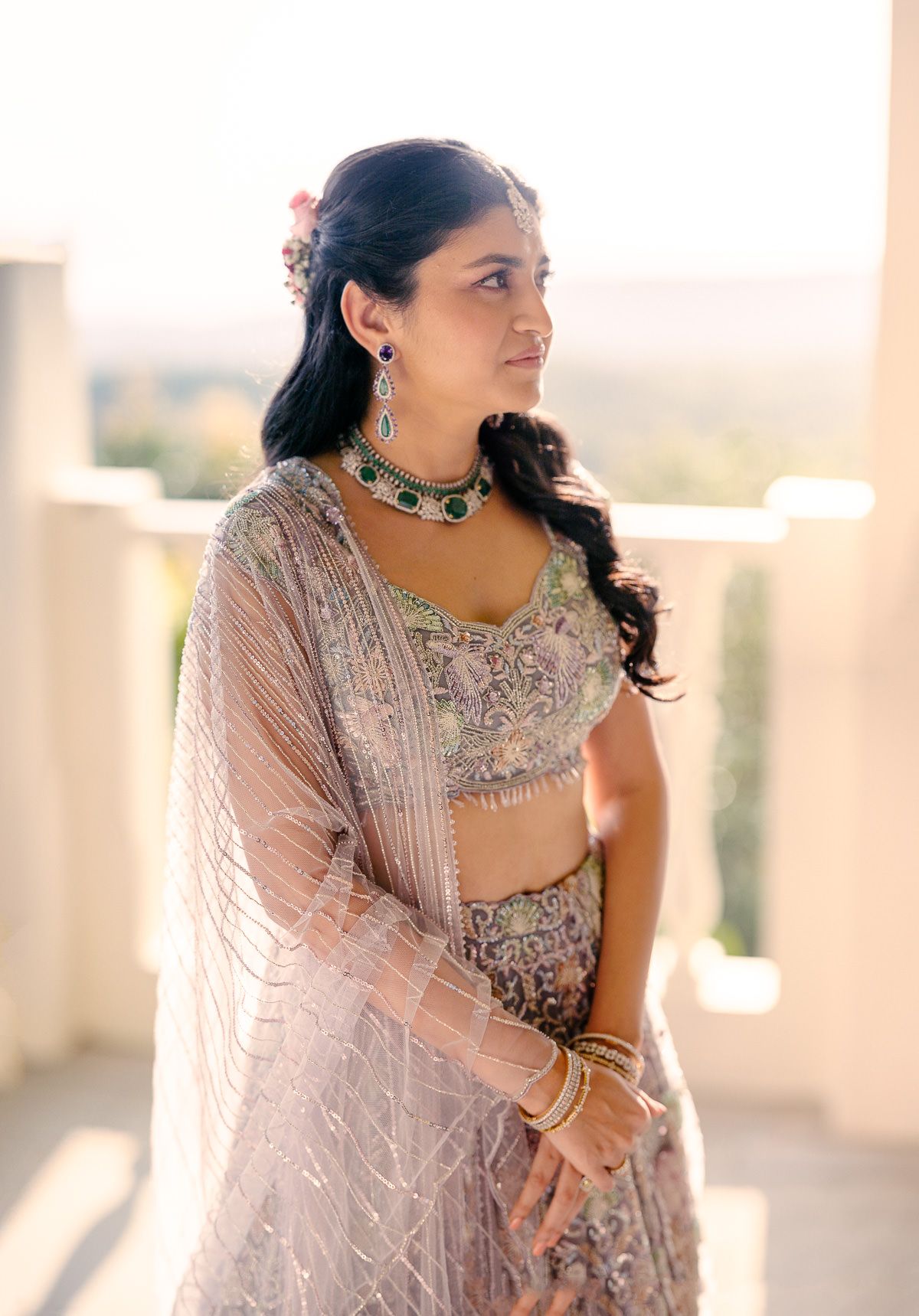 All the guests tables held the Shakespearean quotes we wrote to each other in school and passed around in chits. Our varmala song and phera songs were both spiritual songs we learnt in school. A percussionist played an entire playlist of songs we have loved together through the years.
The theme of the wedding itself as well as the mandap was designed to be a vision of a forest from day to night (our boarding school was basically in a forest and we're both outdoors people).
I have known I was going to marry Harsh (rather he knew) since I understood what it is like to love someone who is not blood family - so I did away with rituals that weren't us. I did not apply Mehendi (both of us hate it), I walked with both my parents rather than just my father and I made my best friends a part of the ceremony. Since Harsh is Maharashtrian he adorned the traditional beads while I stayed true to my Gujarati roots. Even considering the expectations of how a bride is supposed to look - I mixed and matched jewellery, went with chokers rather than a wedding set, did not colour my hair or wear extensions or lenses. I only wanted what mattered and everything else was noise."
How They Met
Harsh and I met when we were twelve, in 2002, at a boarding school and I am not a crazy romantic but I even remember seeing him for the first time as if I clicked a picture of the moment. We started dating soon enough and were together for two years before we went our own ways since we weren't going home to the same cities. His medical education took him to the interiors of Maharashtra and mine to London and then NYU. It was only in 2012 that we saw each other again and we got back together the same night. We've been together since 9 years now.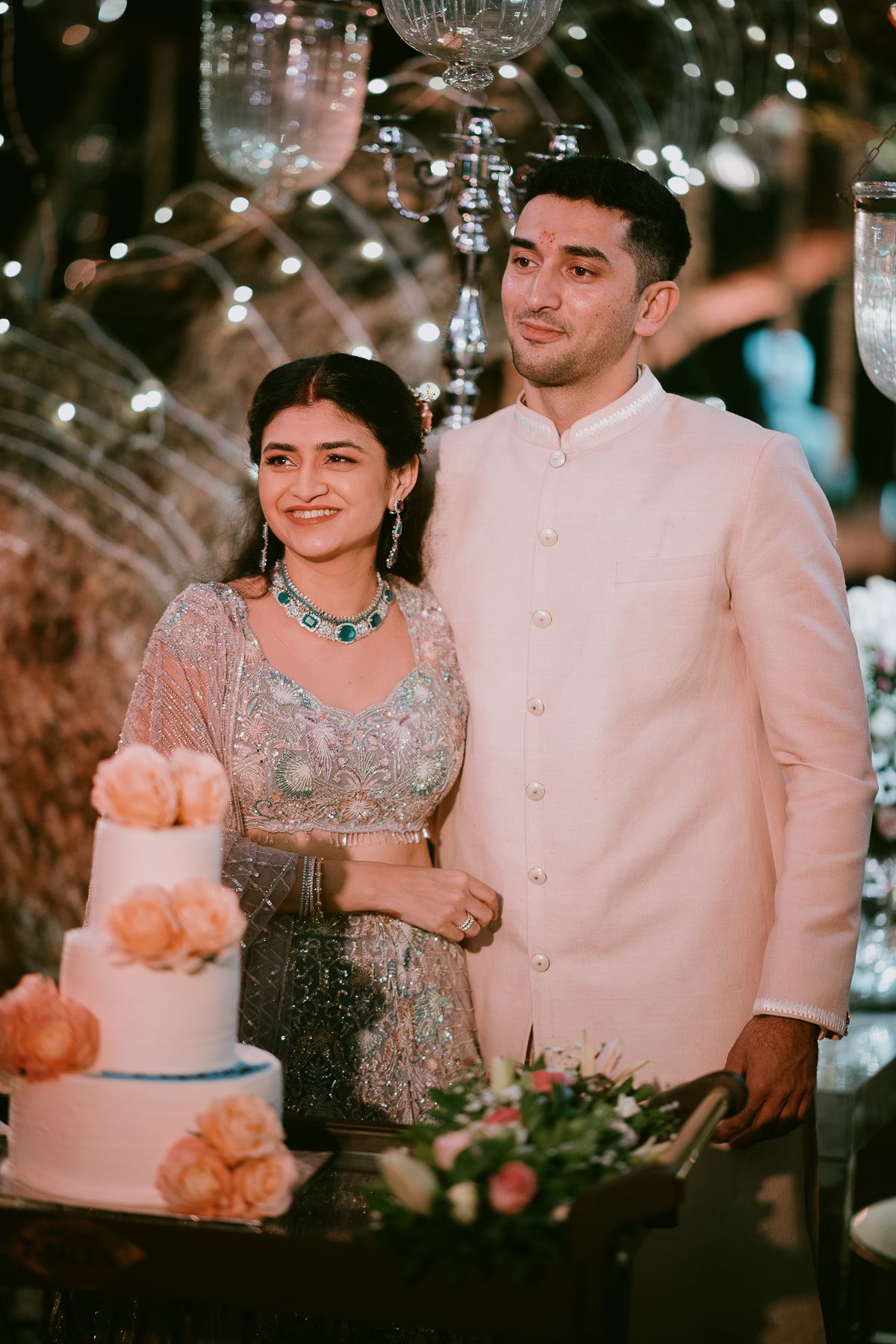 The Sundowner After-Bash
The next day post the wedding we had a Whimsical Love Sundowner that defined its own realm of cool. An oversized neon gate, towering personalised bar, graffiti giraffes, an all white ball-pool, the best bottle menu I've seen at a wedding, specially acquired black truffle and techno music - the Sundowner was designed perfectly to let us and our friends run wild without a worry.
The theme Whimsical Love was translated by the neon signs everywhere that read phrases like 'Was It Real', 'Euphoria' and ''Are We Dreaming?'. It was inspired by the fact that all our friends and family always tell us how we are in our own world of whimsy and adventure. Again, AashStudio's level of detailing won the day with so many personalised nuances. I wore a Rahul Mishra dress and my jewellery was from House of Rose again.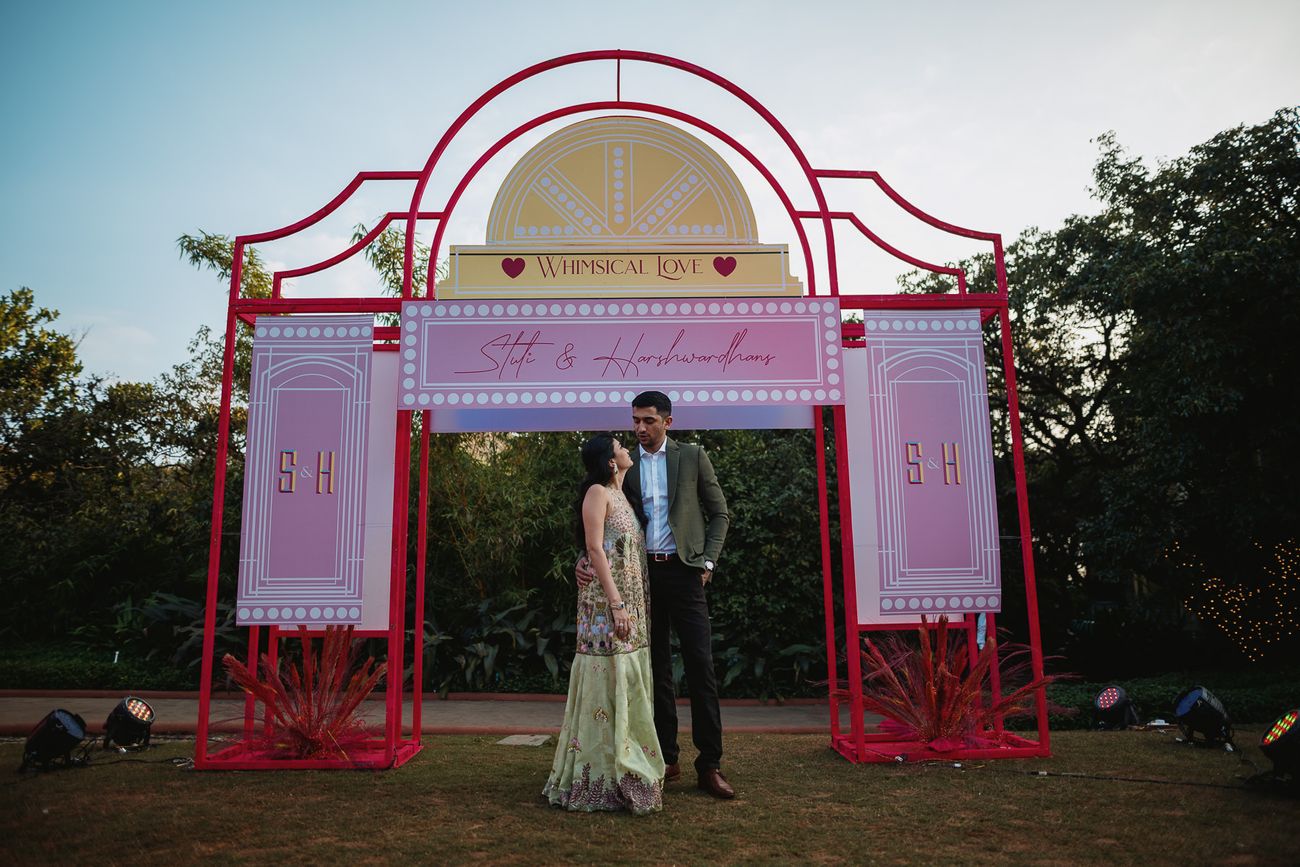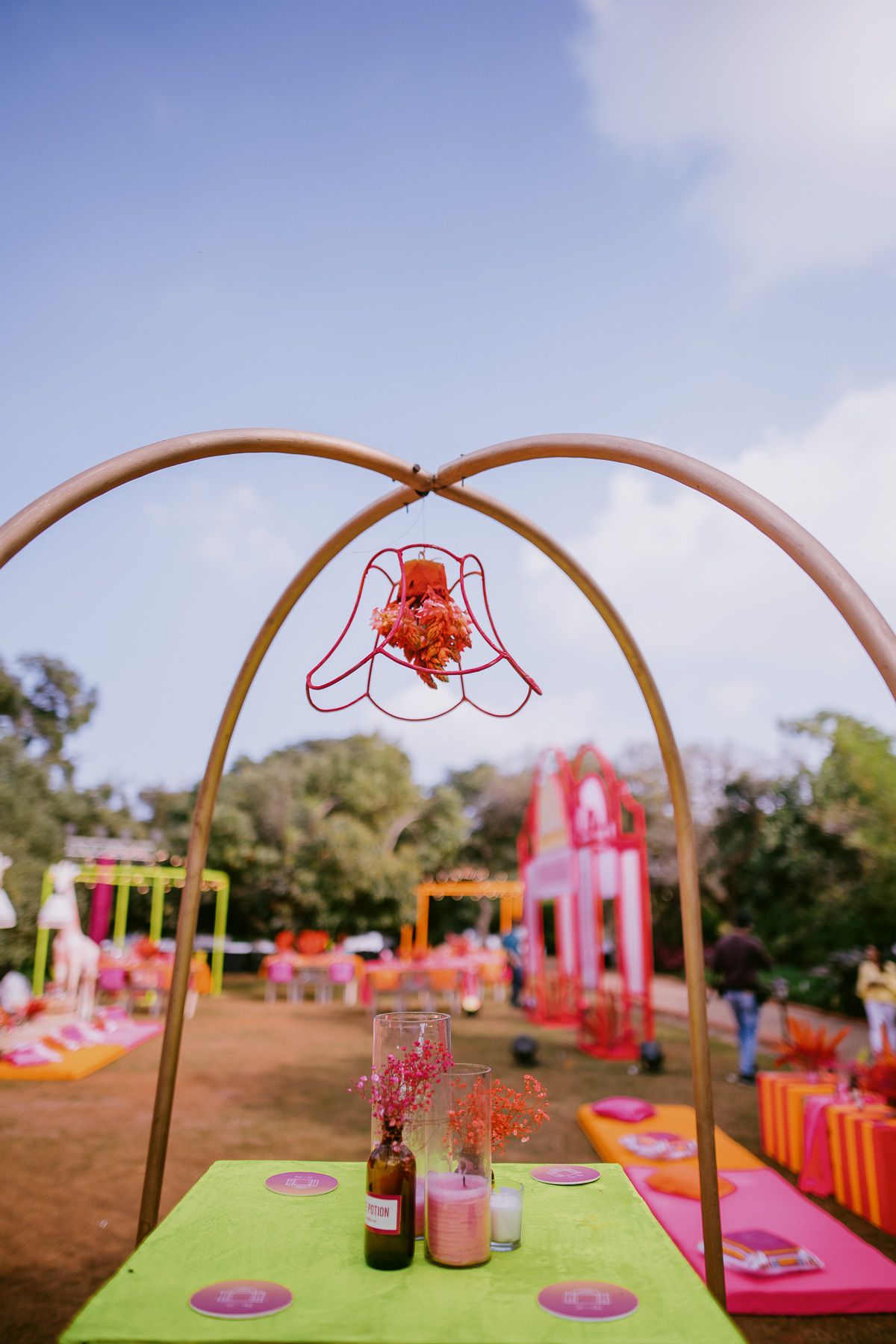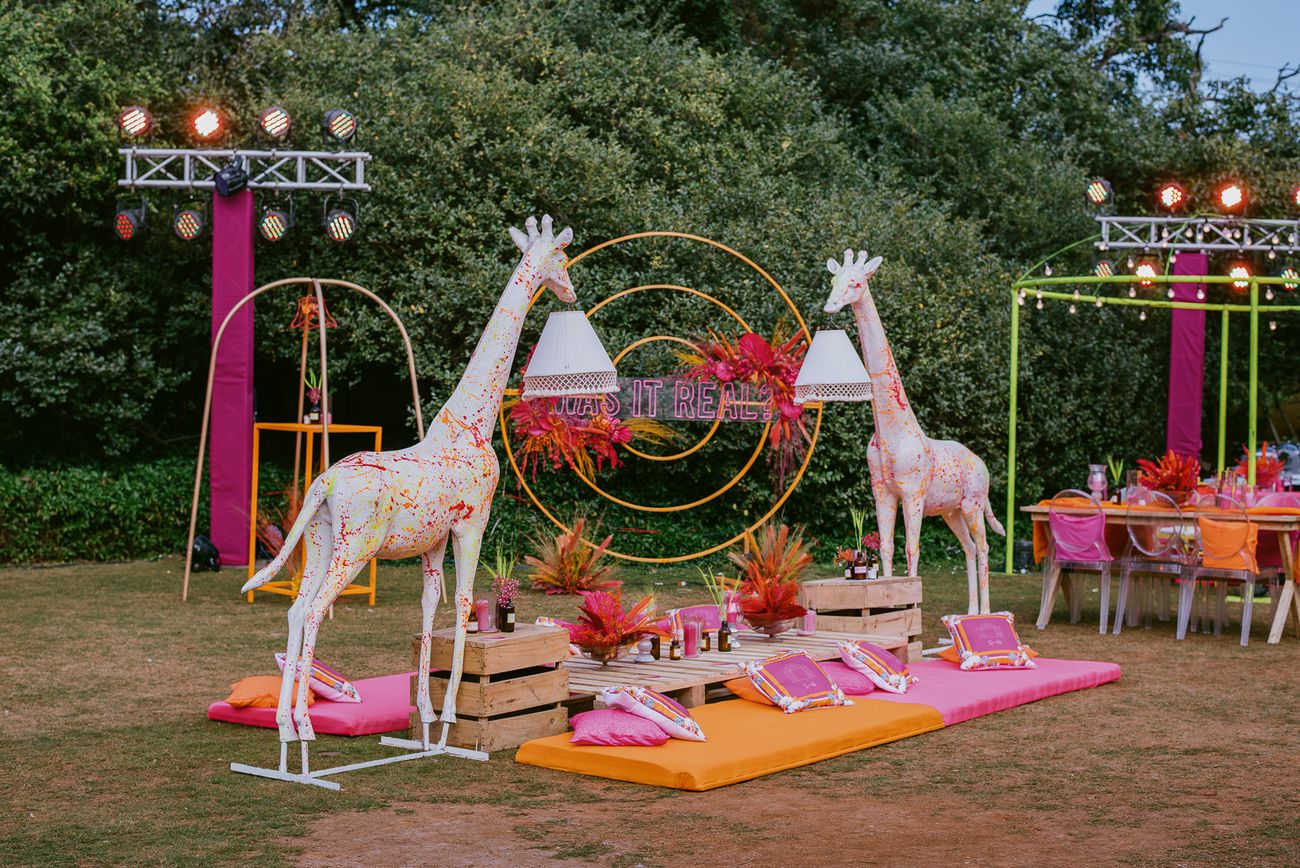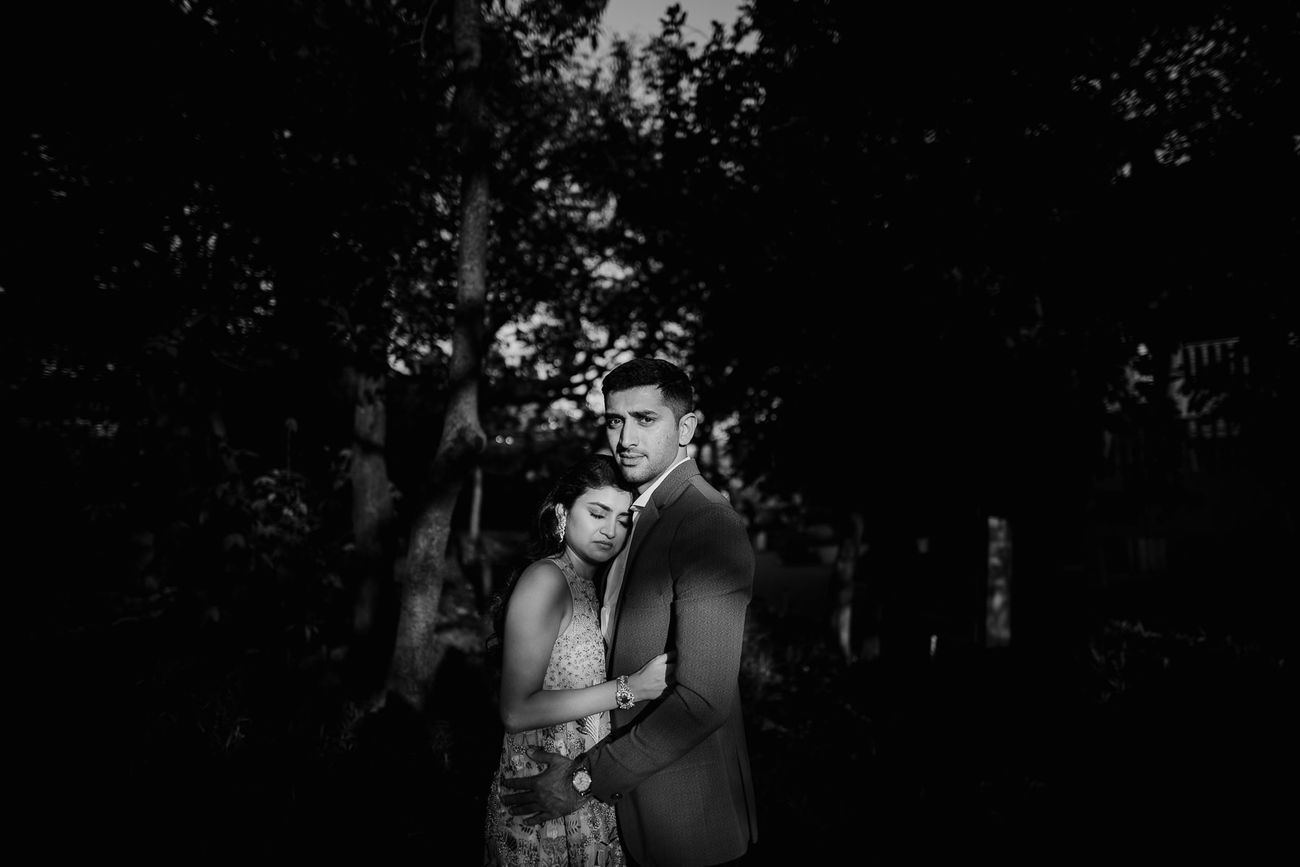 Now that's a celebration that ticks off our checkboxes! From the outfits, the decorations, the couple's entries to all the little & big details, everything was topped with the personal touches. And it would be safe to call it one of our favorites for all the right reasons!
What did you like the most about this wedding-  Stuti's sea-inspired lovestory lehenga,  the fact that there were shakesperean inspired quotes for the guest seatings or the couple's sweet love tale? 
Bride's Outfit: Kresha Bajaj Koesch ★ 5 ; Decor: Aash Studio ★ 5 ; Wedding Photographer: Ram Balmur Photography