This Couple Used Mumbai As An Inspiration For Their Pre-Wedding Shoot And It Was Awesome AF!
BY Latha Sunadh | 31 Oct, 2016 | 406 views | 3 min read
Bet all of you are basking the glory that is Diwali for the past few days. Well, after all that glitter and over-the-top ideas, we decided to grace you with an interesting shoot that just dropped in our inbox. A beautifully clear and well-thought out pre-wedding shoot by an adventurous couple who love Mumbai. Conceptualised by Shutterdown - Lakshya Chawla★ 4.9 , this one is a tribute to all the cool places in the city taken on with a fun vibe. You do remember we gave you an account of all the cool places to do pre-wedding shoots in Mumbai? This one just used a few locations from there. P.S We love those hand-painted, customised sneakers that Alita, the bride was wearing.
Meet Karan & Alita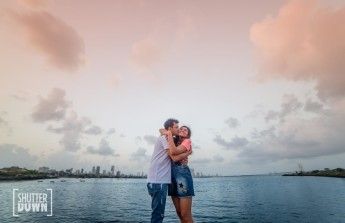 "Karan and I were school friends. Never in our wildest dreams did we ever think we would end up together (p.s.Cut to a few years later Karan later did admit that he had a teeny weeny crush on me). It was in between a lot of our friends Sangeet practices that we ended up being paired up together. I guess you can say I danced into his life," admits Alita, happily.
From The Bride-to-be:
"We both are lovers of everything Mumbai. From chaats and street food, we just love Mumbai. Both our families are based in Mumbai who shower and pamper us whenever we go there for our holidays. Also we had Karan's sister Mansi, who resides in Mumbai. She was our little tour guide to help discover some hidden treasures in Mumbai. As for the outfits, we wanted something that was easy, casual, fun and something that reflected our true personalities. I always grew up in shorts and sporty wear and Karan is his comfy-best in a pair of jeans and tee. No change of dramatic outfits and nothing fancy shmancy for us. P.S – It is a task to convince Karan for a photoshoot, even if it is for his own wedding, and to ask him to change for in between a photoshoot would have been just impossible. The cool additions we had for the shoot was a pair of sneaker that I got painted with our wedding monogram and some awesome caricature of use. I also ended up using during the white wedding gown shoot," explains Alita.
"We shot all over Mumbai - especially, next to the SV road highway with the Sea link and the Sky line of Mumbai, Quaint bylanes of Bandra and of-course the bandstand. Shutterdown - Lakshya Chawla★ 4.9 is a dream to work with. It's so easy when you have a photographer who shares the same vibes as the couple. There were no ridged poses, cliché framing . We all went with the flow of the location – if there was a vegetable cart, we made use of the elements as prop. Our friends had also an important role to play in this photoshoot as they bought out the fun and laughter and also the abuses as we made everyone wake up at 5 am," laughs Alita.
Pre-wedding shoot by Shutterdown - Lakshya Chawla★ 4.9