Tie it up: Unique Lehenga Tassels That Add Oomph!
BY The WMG Bride | 24 Aug, 2016 | 35260 views | 3 min read
When it comes to bridal style, it's all in the details people and lehenga tassels have to be our FAVOURITE little detail that look super chic. A plain ombre lehenga with the most funky lime green tassels can be the perfect mehendi outfit, and a traditional bridal lehenga with offbeat tassels can give edge to a traditional bride. We picked out the coolest latkans that are in the market - from cutouts to fringes to pearls. *Sigh, so much awesomeness in one page!
The regular pom pom tassels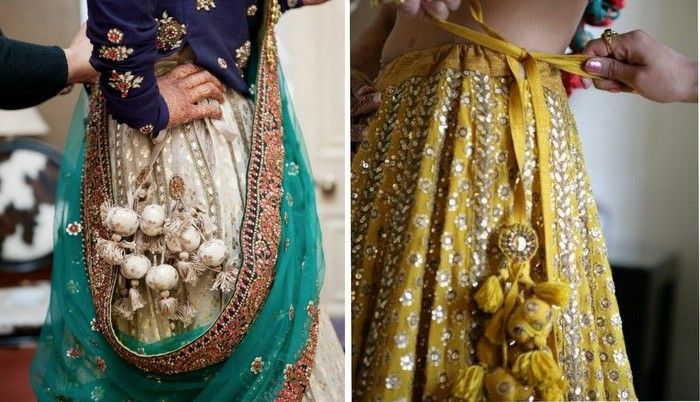 These fat little pom pom balls sashaying from a pretty girl's waist is pretty much the norm now, and if it were upto us- all the pom poms would be in a contrasting color to the lehenga to stand out. Imagine a cerulean blue tassel on the lehenga on the right. So fab!
The pom poms with cutout shapes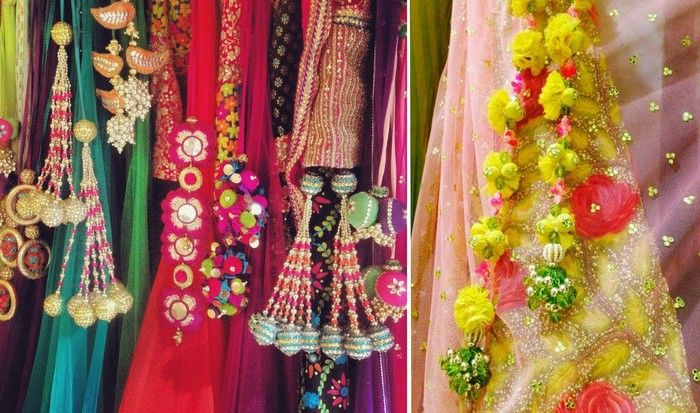 These tassels by Varija Design studio involve ghungroos, mirrors, threadwork flower cutouts and even leaves. So cute !
Bird tassels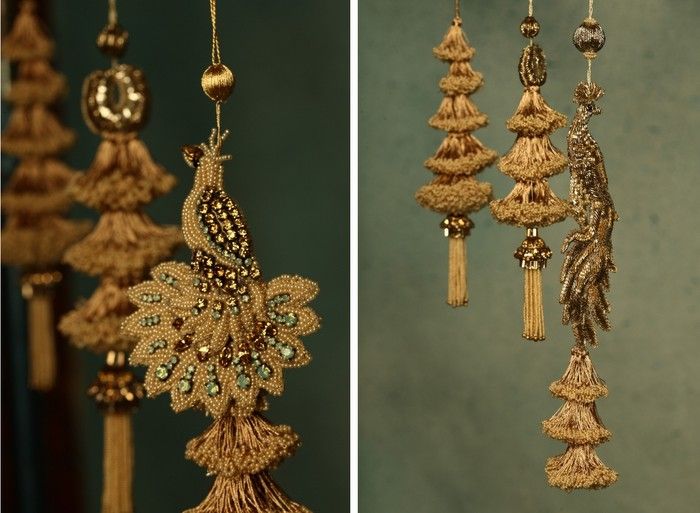 Jade by Monica and Karishma have these gorgeous tassels -a peacock on the left and right. These are so unique and would add spunk to any lehenga
The bangle tassle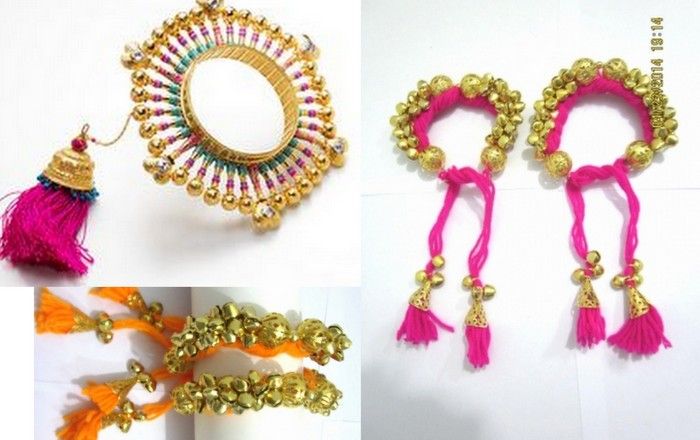 Recently spotted a plain lehenga with tassels as Ghungroo bangles. 4 chunky bangles and just a plain skirt gave the most striking effect ever and was the perfect mehendi outfit on a budget. Who needs embroidery when you have pom poms?
The bicycle tassel
Anju Modi had bicycle tassels- definitely the detail of the season at Couture Week. Infact all her lehengas had brass hangings- cycles, tablas, keychains and the works !
The gota tassle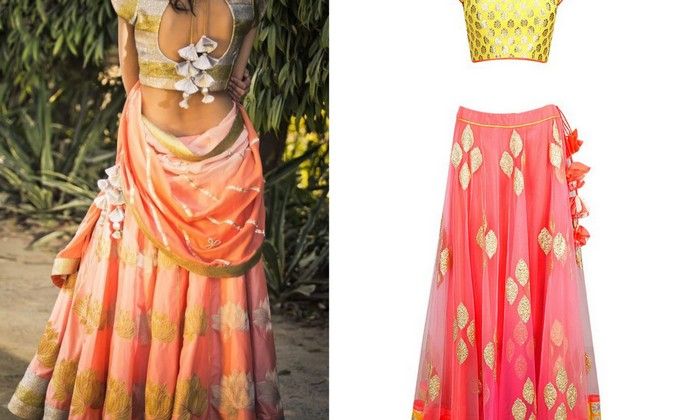 These cute little inverted umbrellas made of gota are uber chic!
Oversized Mirrorwork tassels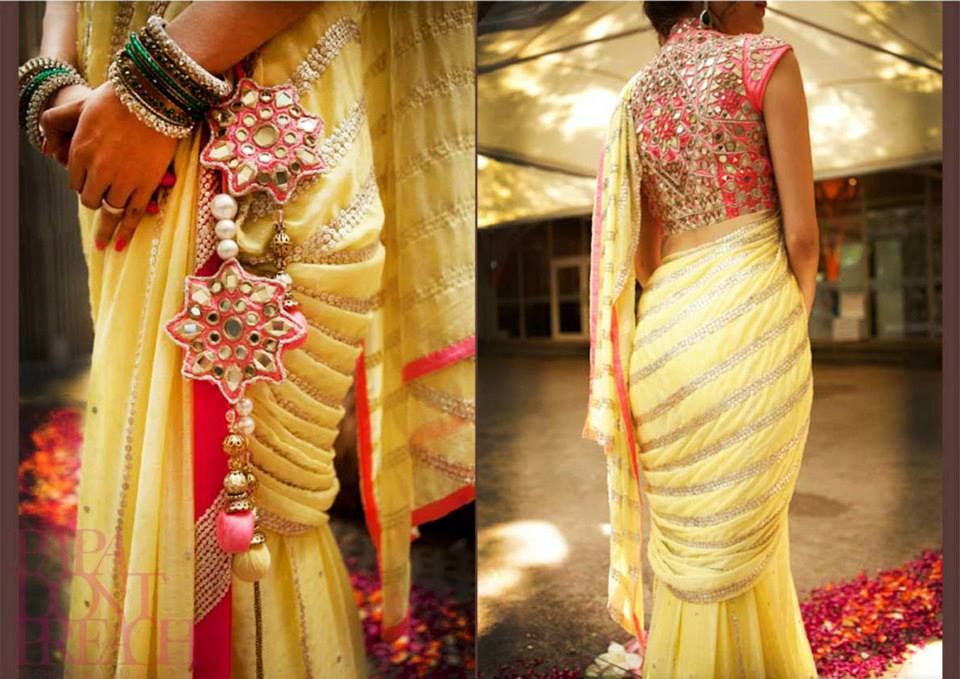 These mirror work tassels by Papa dont preach are oversized and worn with a saree. See how gorgeously they pull together the yellow saree with the pink  blouse. Love!
The gunghroo tassles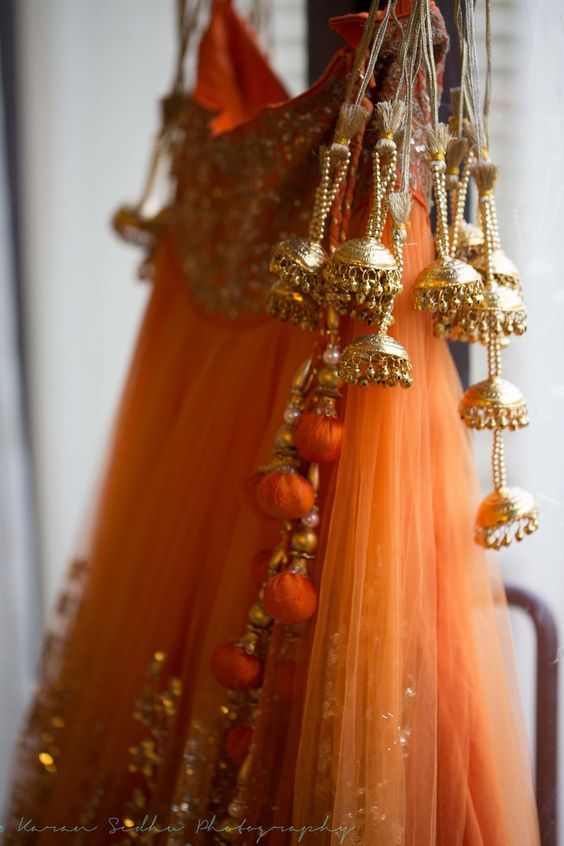 They are best when paired with pastel hues - gold and silver ghungroos really give it a very kaleere-ish feel. So new, so chic!
Pearl tassles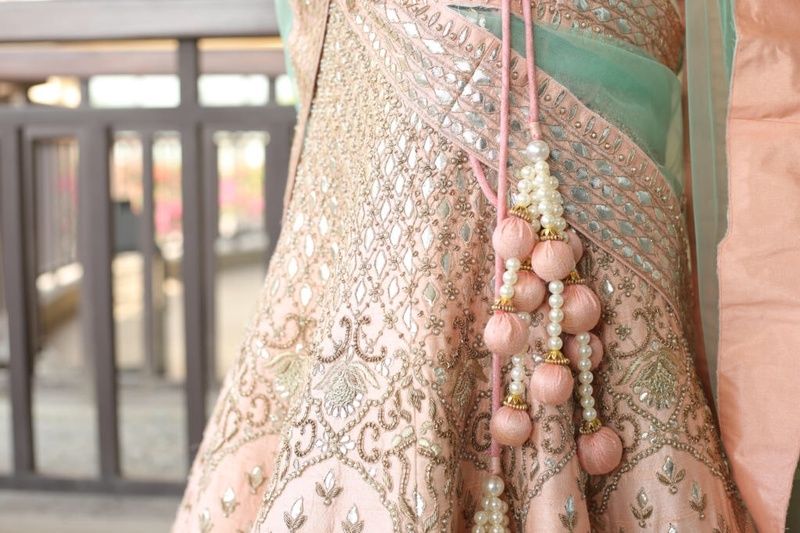 Add pearl additions to regular ones to give it a dreamy vibe - the more pearls, the better!
Flower balls with pom poms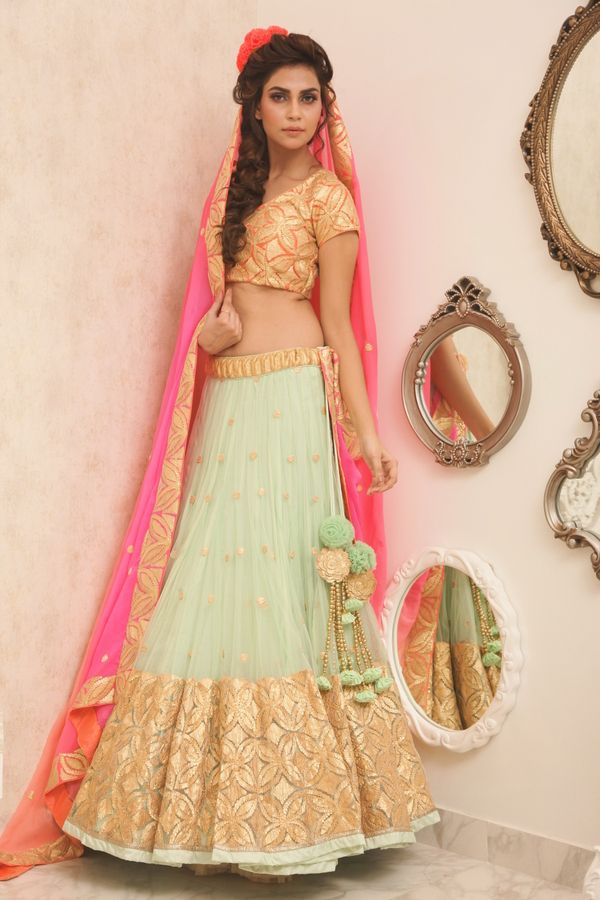 Take all that sheer extra cloth from your dupatta and make little floral balls out of it and add a few pom poms for effect!
Cut-out tassles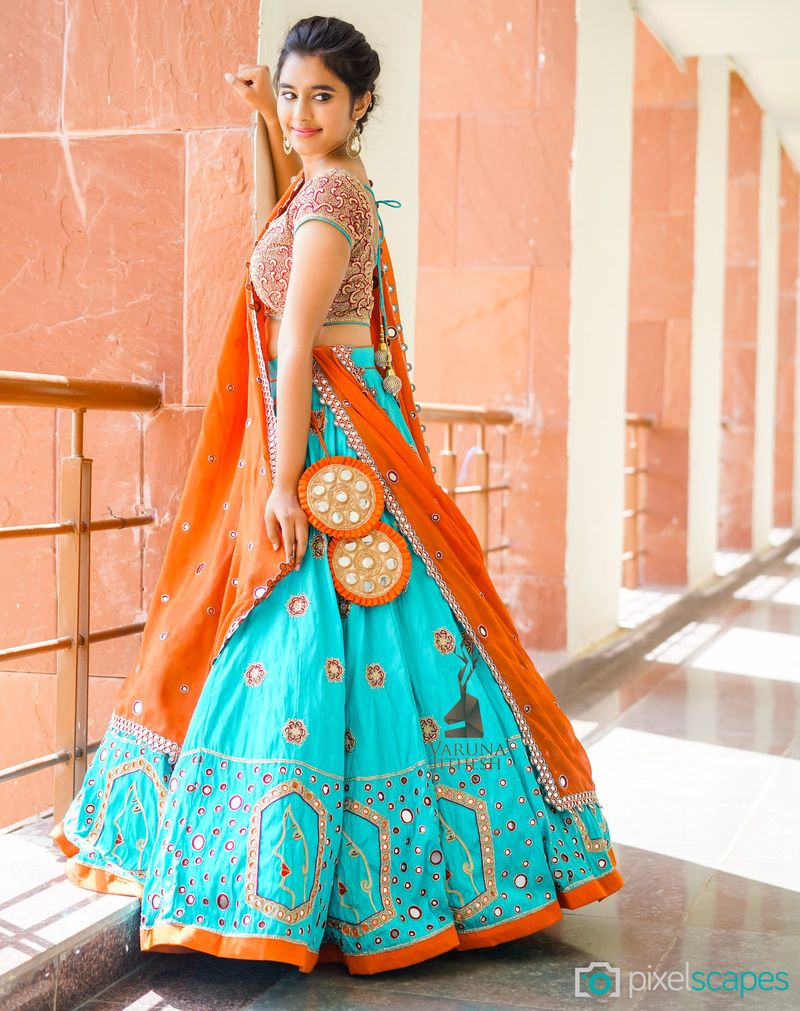 Cut out a beautiful shape and embellish it - the girl here is wearing a circular one - you can try a square or a triangle - good fun!
Fringe tassles
Add fringes midway between the usual ball tassles to add volume and texture to your look.
Cloth tassles
Cloth tassles might come across as boring usually but not here - you can make them with colourful cloth or go sheer to add glamour and style!
So what about you??? Anything crazy you want to do for your lehenga tassels?