Trending: Chandelier Wedding cakes
BY The WMG Bride | 01 Jun, 2015 | 7304 views | 1 min read
Whats better than a gorgeous wedding cake with crystals? An upside down 'Chandelier cake' ofcourse. After 'Penny' from Big Bang Theory cut one on her wedding day, upside down cakes have been all the rage abroad, and now slowly but surely they are making their way to India.
Cake by D Cake Creations Mumbai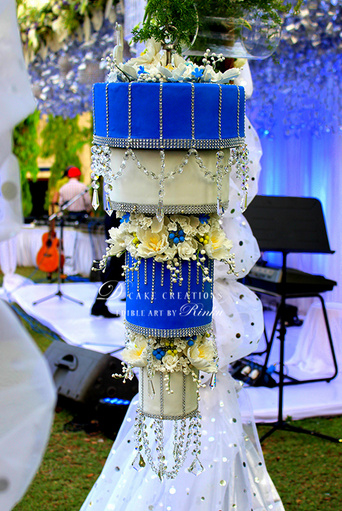 Cake by D Cake creations Mumbai
These chandelier cakes are made structurally so that they don't collapse and are attached to a beautiful stand made out of wrought iron , which can be decorated with florals . The stand is attached to the top (or if you see it right side up then bottom) most layer of the cake, and a rod goes through the entire cake holding it together.
Cutting it could be pretty tricky though, you have to place your plate below the cake and gently cut a piece of the layer closest to you off.  We are super excited to see someone doing these in India and these are sure fire conversation starters for your wedding.