Trending: Speeches at Indian Weddings !
BY The WMG Bride | 23 Feb, 2015 | 11224 views | 2 min read
You would have seen it in your favourite Hollywood Rom Com. Boy marries girl, best man and bridesmaid raise a toast to the bride and groom and give a speech about the couple. Well, you may now see that happening at the next Indian wedding you attend because speeches are super trending at
Mehendis
and
Engagements.
Typically, the brides/ grooms parents , sisters or aunts are the one who initiate this.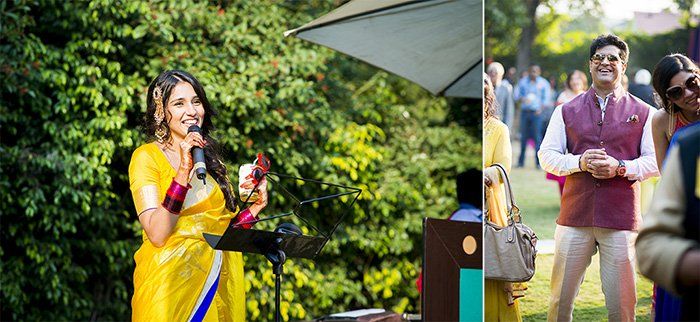 From the wedding: Fresh Delhi Wedding with a bit of funk 
Nikita had speeches on her mehendi where she, her dad and her mom took to the stage . You can see more of her speeches in the video below:
Okay well, that's fine but what are speeches actually about?
 Typically start by setting some time (around twenty minutes aside) , perhaps before the Sangeet, or on the reception (where there aren't too many rituals planned)
Start the speech with an introduction and how you know the bride and groom (Tip: Make it as humorous as possible without ensuring a break-up or a family fight:p)
Narrate some anecdote or incident of your time together with the bride/ groom (whoever you know better) which tells the audience more about them as a person
Talk about what you observed about both of them and their happiness since meeting each other and what they told you about each other when they met .
End with wishing them a lifetime of happiness
Personally we love them! Whaddya think?? Cute to have? Or too Western a concept to adapt to Indian weddings??