#TrousseauDiaries: Inside My Bridal Wardrobe & Where I Shopped From
BY Sakshi | 01 Jun, 2017 | 745 views | 4 min read
We always love getting to know all the stores brides visit to put together their bridal wardrobe and  Real Bride Kamakshi was sweet enough to give a break down of all her wedding outfits- right from how she picked it and where to how much it cost! Over to Kamakshi now, who got married to the love of her life Aviral recently, and managed to plan her wedding in India sitting all the way across the world in Germany!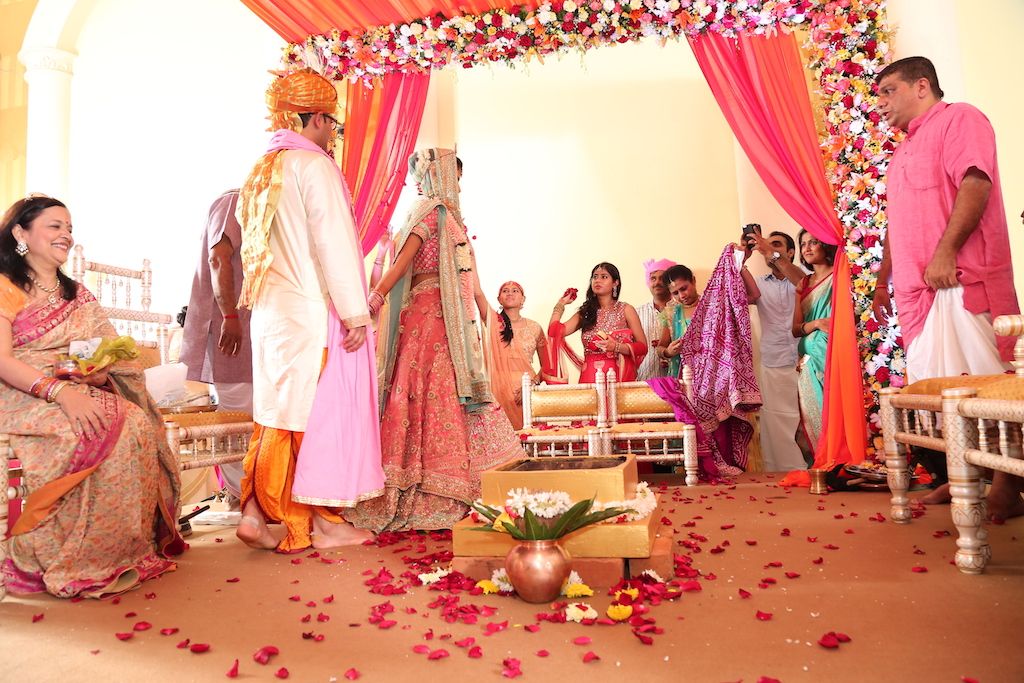 My vision...
I wanted my morning wedding bridal outfit to be different from the typical reds and oranges and thus went for the pink and blue combination. This gamble did pay off, as a lot of people complimented me saying that my outfit had a lovely play of colours. I  customized and modified all my outfits,  so all my outfits have my personal touch. I thought I know best which colours and fabrics look good on me and put together my outfits accordingly. 
Sangeet Outfit
Red Benarasi silk lehenga from

Frontier Raas

, South Extension II, Delhi
Price: Rs 80,000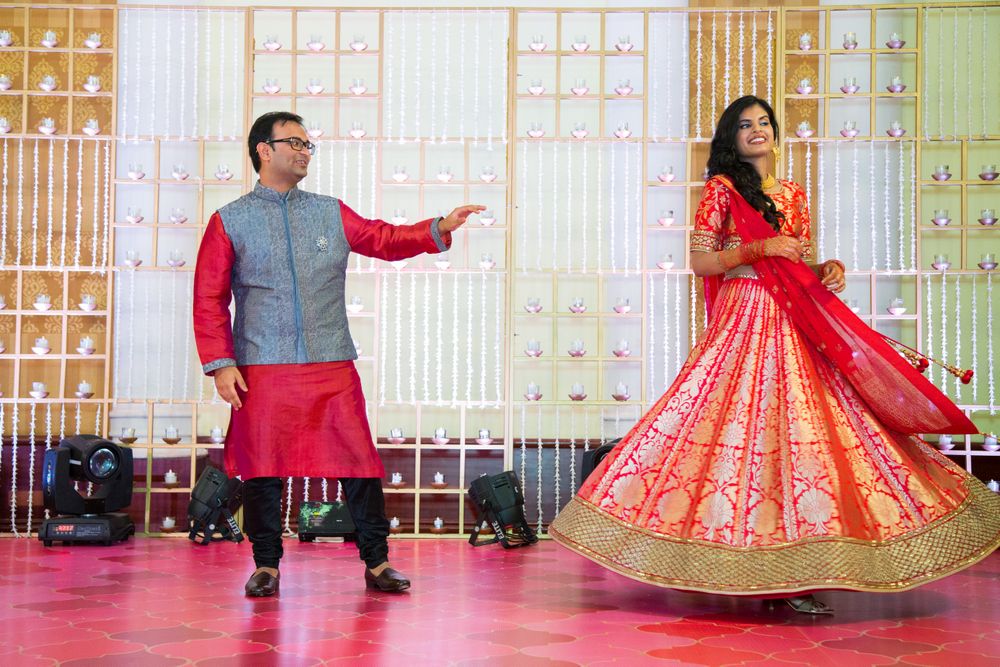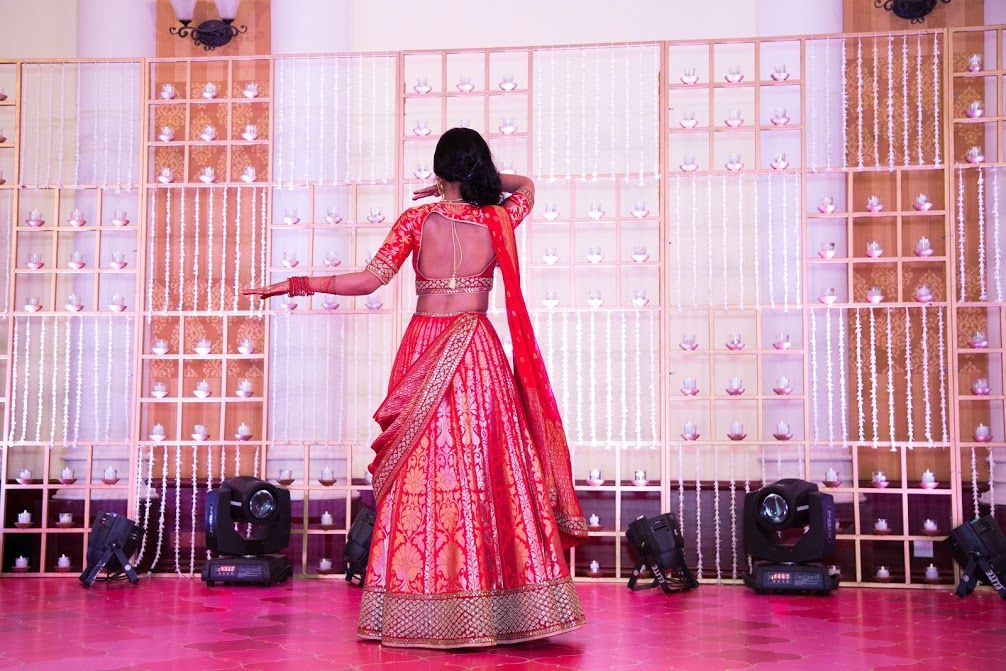 I had a solo dance performance on the Sangeet and this was also going to be a super fun night with lots of music and drinks. So I wanted something very manageable which wasn't heavy. I decided that nothing would stand out more on stage than red, and this was the first criteria when I went out shopping for my Sangeet outfit. Benarasi silk came across as a fabric that had its own rich shine and sparkle without any additional embellishments, and it was not heavy either. But since I was the bride, I had to take this lehenga a notch up and added a thick sparkly border to the lehenga, blouse, and duppata. And that did it, I loved how the outfit turned out and best part it is very reusable, I can easily mix and match it with crop tops and full length skirts. 
Wedding Outfit
Pink and blue lehenga from

Anarkali Karol Bagh

, Karol Bagh, Delhi
Price:  Rs 1.4 Lakhs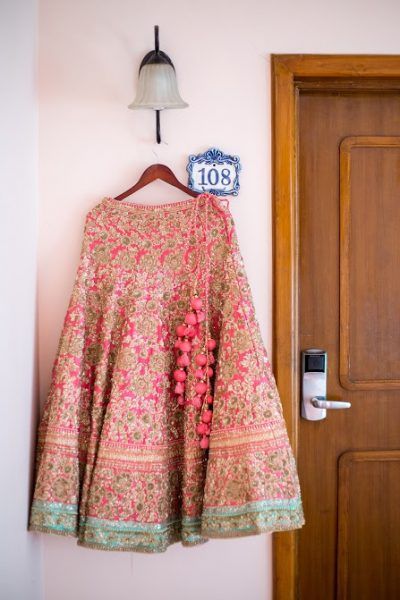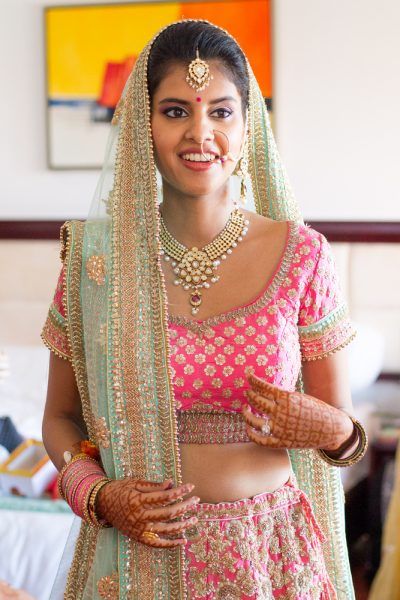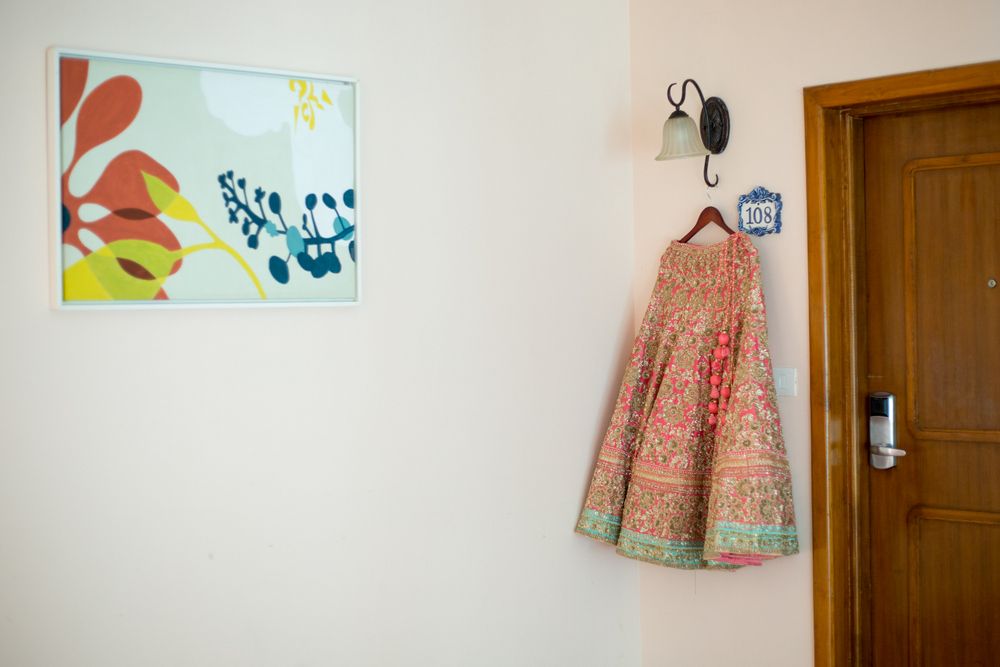 When I first saw the lehenga it was all pink and had no blue. I made them add a blue border to the lehenga and blouse and give an additional blue dupatta. Blue came to my mind as the right complement to pink. I'm a photographer when I'm not doing the corporate 9 to 5 routine, thus I have a good sense of colours. Adding blue was intuitive, probably my photography experience helped here. I have a petite frame so I chose light georgette chunnis instead of the heavy silk ones. This was a good decision as it made carrying the outfit a lot easier and I could walk around and perform the rituals gracefully and with ease.
 Mehendi Outfit
Orange and pink lehenga from a boutique in Shahpur Jatt, Delhi
Price: Rs 15,ooo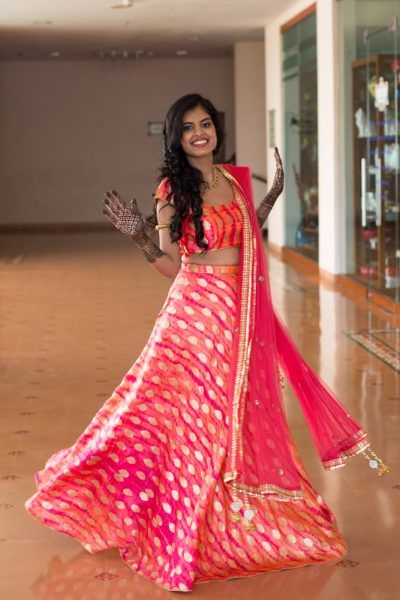 Mehendi was a
noon
function in Goa. This was the the one event where everyone was going to relax and let their hair down. It was again a function with a lot of dancing and fun. I wanted cheerful colours in my outfit and fell in love with this lehenga the moment I saw it. It had an easy breezy feel combined with pretty colours. The weight of the lehenga was extremely manageable and did not tire me at all. I felt at ease in this outfit, it was gorgeous yet not heavy or cumbersome.
Photography by Chetana Bhat Photography and wedding planning and decor  by Florance Flora Celebrations★ 5 . Vedika from Florance Flora Celebration, Goa. Vedika proved to be the backbone of our wedding planning. Since my family is based in Delhi and the wedding was in Goa she took care of all the local and wedding arrangements effortlessly. all the wedding events went off very well and smoothly. It felt like Vedika never slept because she answered to all our queries within 15 minutes no matter what time of the day it was.  She is a thorough professional and It was a pleasure to work with her.
---
Would you like to share your wardrobe with us? Just email us at submissions@wedmegood.com