Indian Wedding Card Matter in Hindi & English
BY The WMG Bride | 01 May, 2021 | 49336 views | 4 min read
Invites set the tone for your wedding, so it's only fair that you add your own personal flair to the wedding card no ? What better way to do it than adding some well written matter in your wedding invite.  We found the perfect invite card content for Indian weddings to add a little bit of spunk to the basics. 
When you stick to tried and tested, with a twist

Invite by Akanksha Negi 
This wedding card sticks to the basics of the parents inviting you but adding on to it in the matter are some beautiful lines such as "Happily ever after" and  a touch of the fairytale. Cute.
When you give your guests a countdown !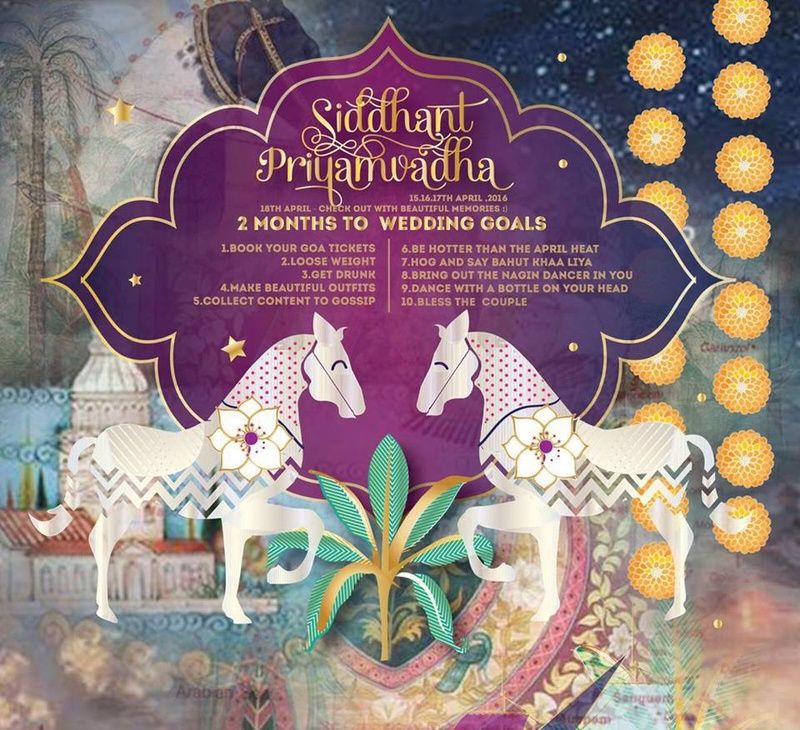 Invite by Iktaara★ 4.6
Possibly our favourite invitation wordings yet.  One leaflet with just the function details and one leaflet with a super awesome countdown and the invitation matter is in the form of a to-do list for your wedding guests.  
When you add humour into an RSVP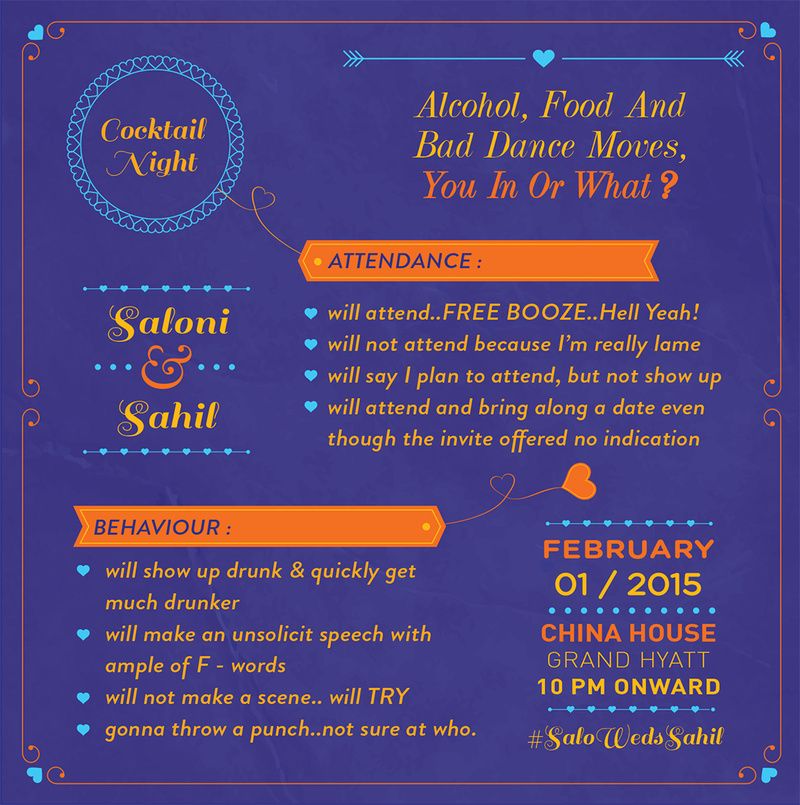 Invites by Studio Works Co.★ 5
If you have guests who are younger and with a sense of humour, then you need a wedding invitation matter as quirky as this one, well..here you go.
When you create a poem for each event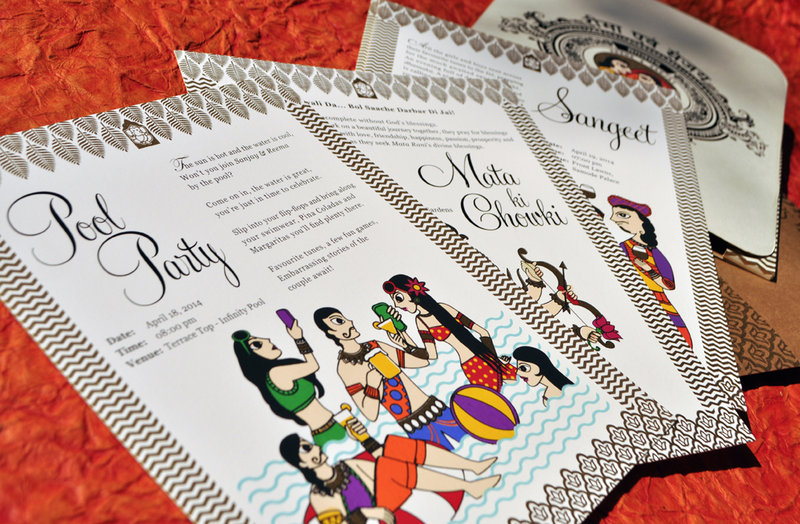 Invites by Design Dimensions 
A great way of leveling up your wedding card matter is by adding poems. A little poem for each leaflet which not only signifies the function but also contains important details like dress code etc.    
When you just tell it like it is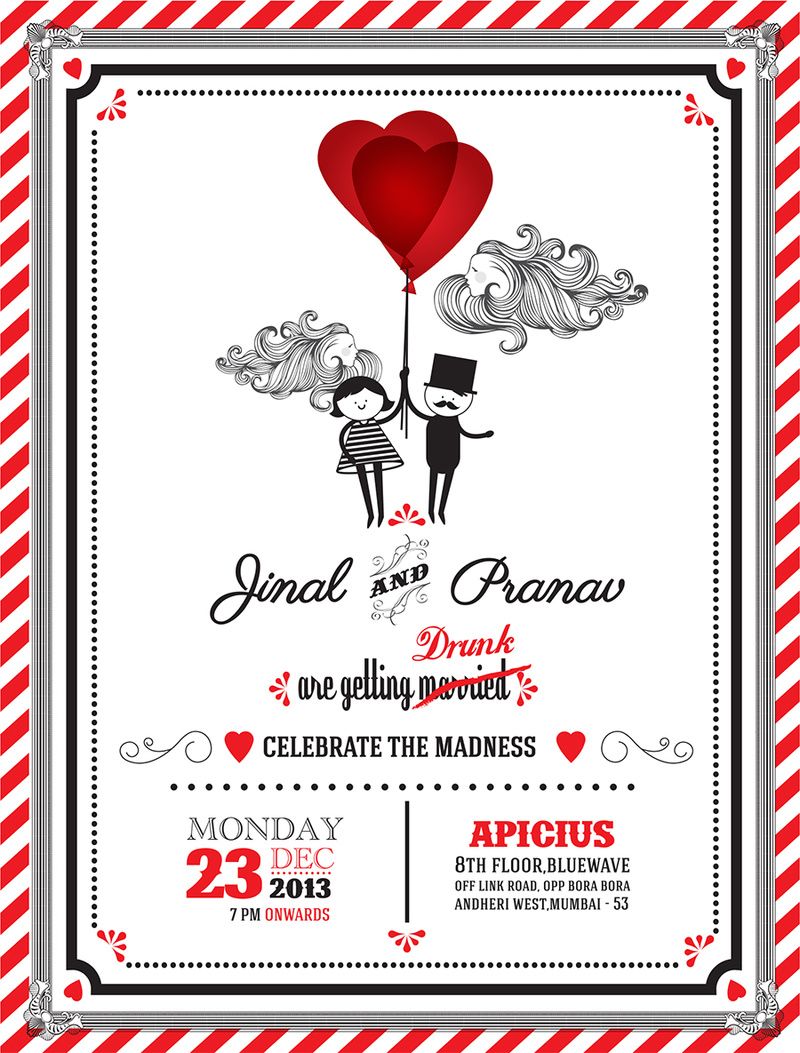 Invites by Studio Works Co.★ 5
Because really, that's the truth! Just cut to the point and add some humour in your wedding invite matter, totally perf!
When you add a love quote in your wedding card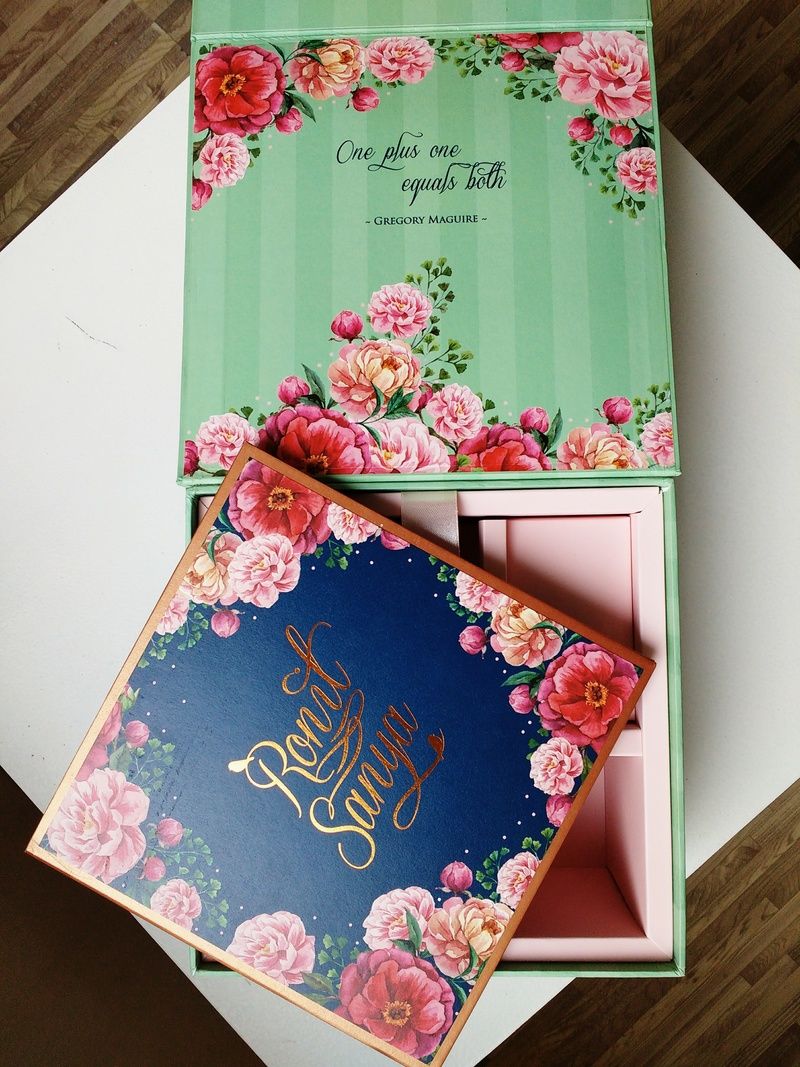 Invites by The Wedding Studio by Ohsoboho★ 4.7
Quotes are the best way to add that elegant touch to your wedding card's content. Pick a quote, add it to the box. So simple and beautiful
When you add Calligraphy
By : Perfect Invites
You can jazz up a simple wedding card just by using some interesting fonts. Love the calligraphy.
The Hindu Wedding Card Matter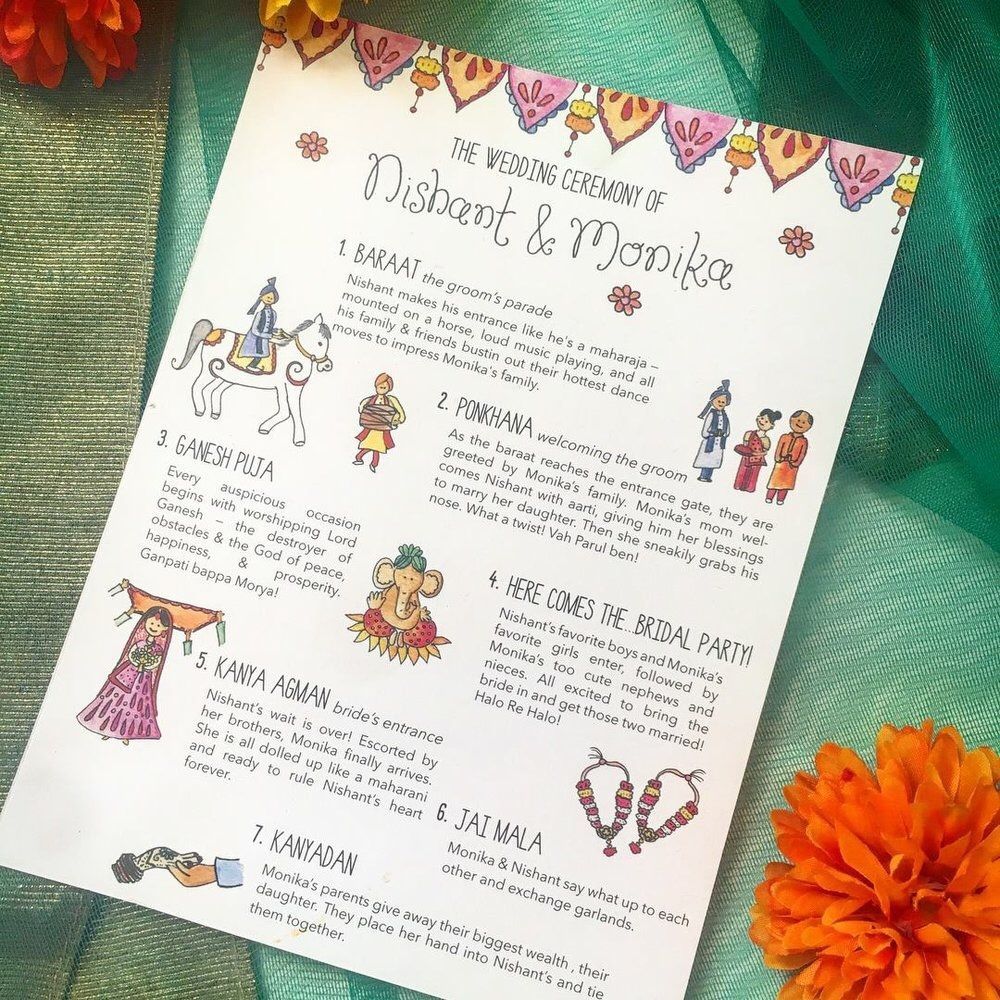 Image Via Meyraki Events and Design
Add cute illustrations and some quirky fonts and name all the rituals in your wedding invite matter just like this one!
Keep It Simple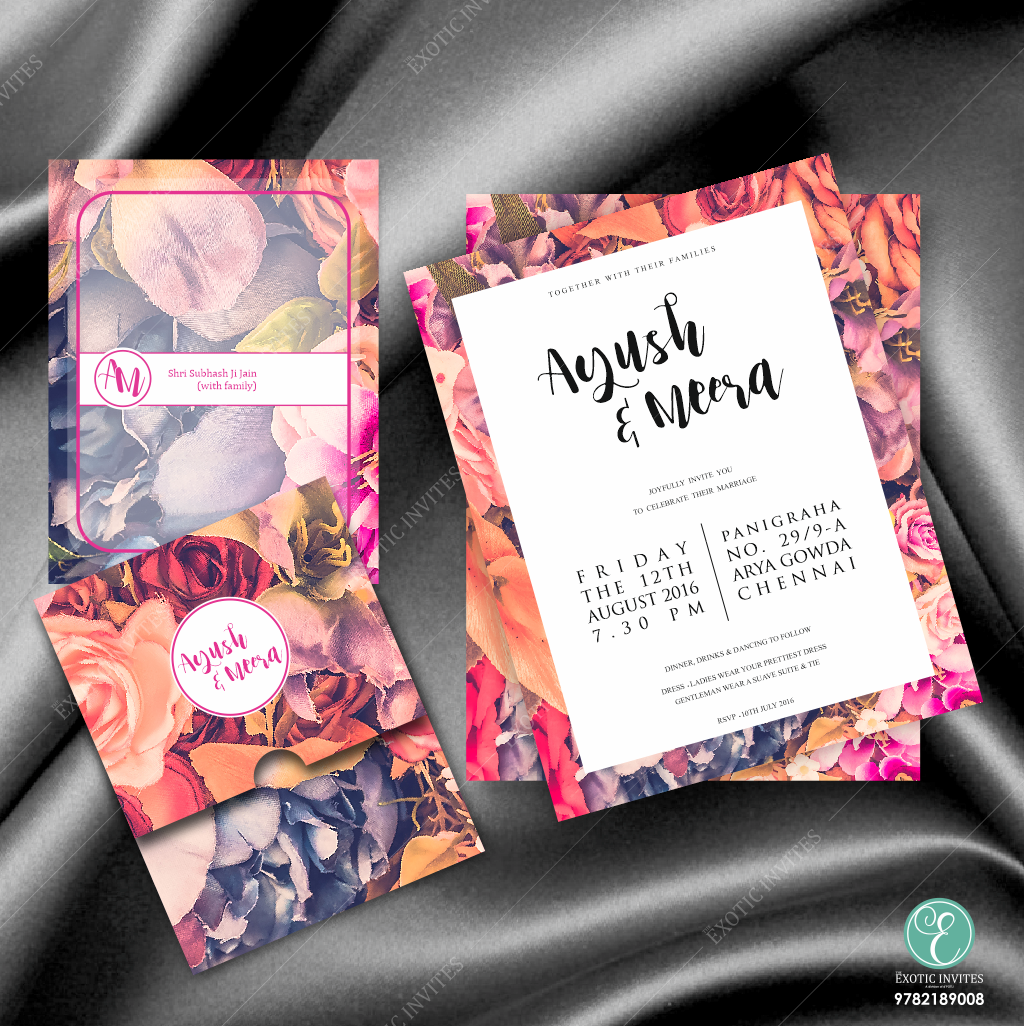 Image Via The Exotic Invites
Don't let a lengthy invite matter overshadow the important deets! Highlight the date,time & venue keeping the rest super simple. 
Wedding Card Matter In Hindi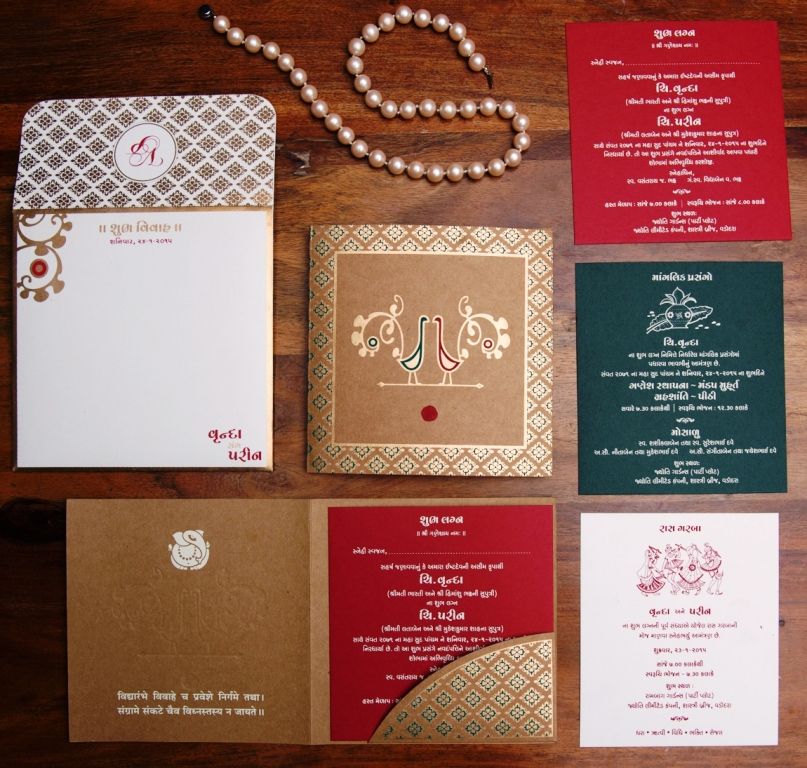 Image Via Artys Paper Heritage
It always feels special when you stick to tradition, this marriage invitation with wedding card matter in hindi has a different charm! 
Save The Date Cards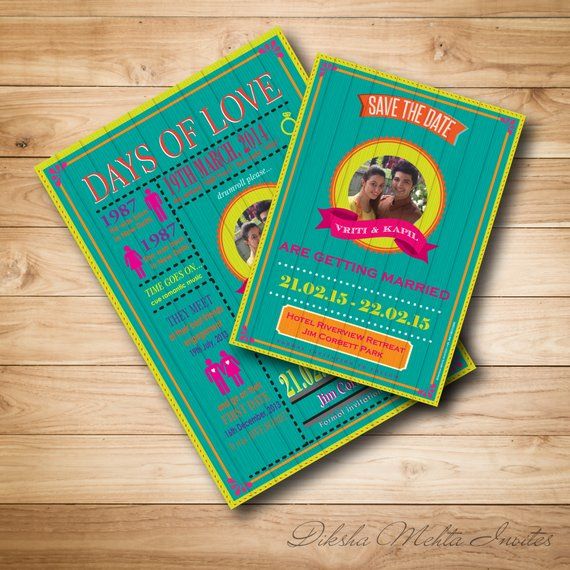 Image Via Diksha Mehta Invites 
This is a very creative save the date invite card you can take inspiration from. 
Multiple Cards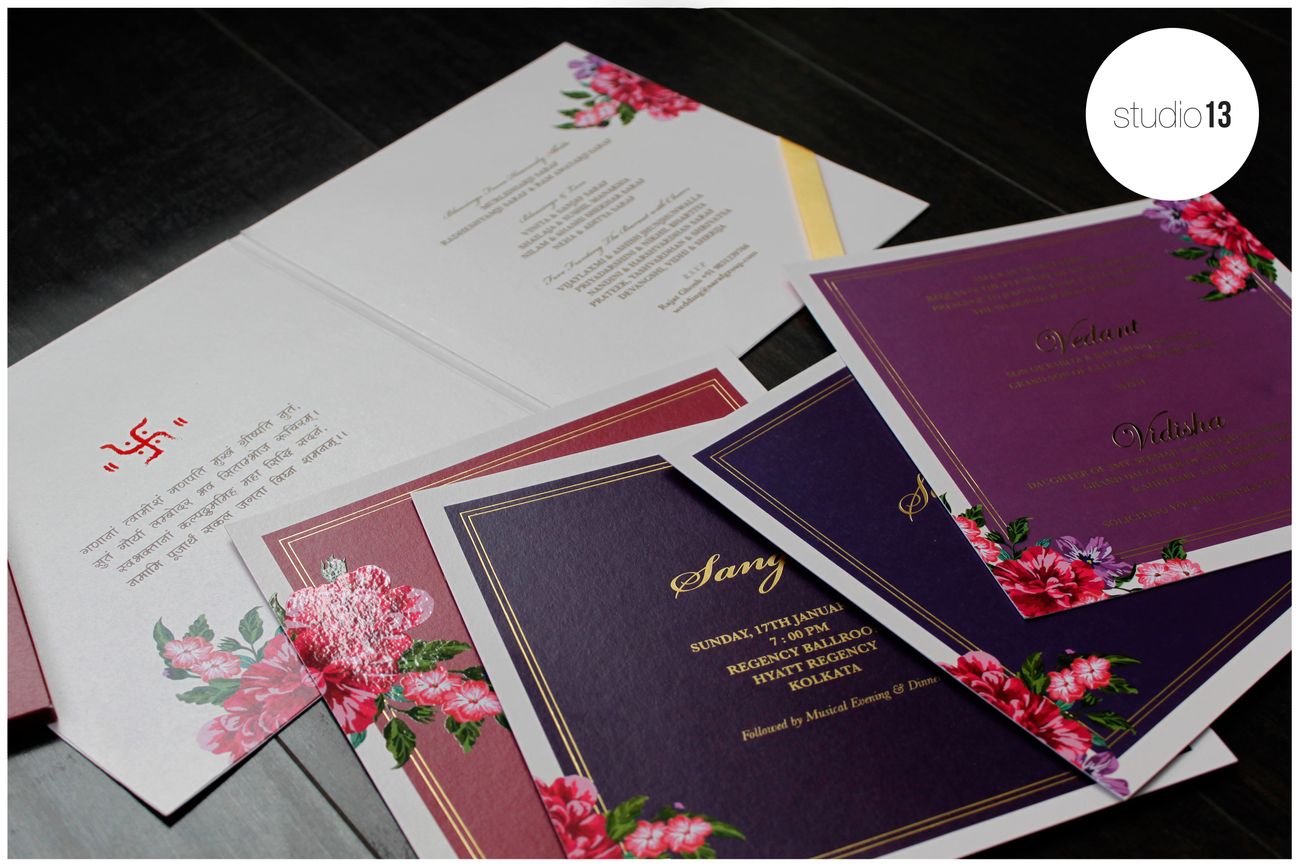 Image Via Studio13 
Small and elegant, one card for every function with minimal matter is so pleasing to look at and makes it easy to follow all those functions and dress codes! 
The Itinerary Wedding Card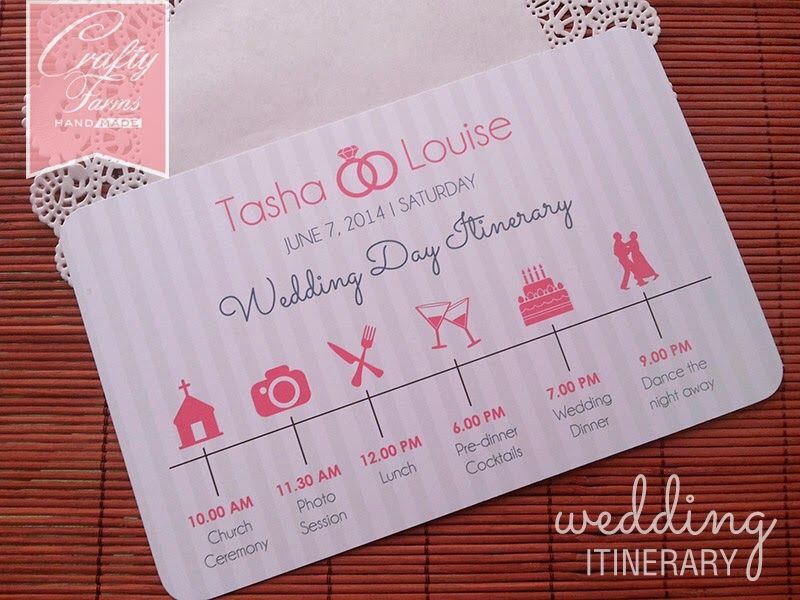 Image Via Meyraki Events and Design
Choose an itinerary style matter for your marriage invite card, to keep it simple and oh so chic!
Oh So Aesthetic!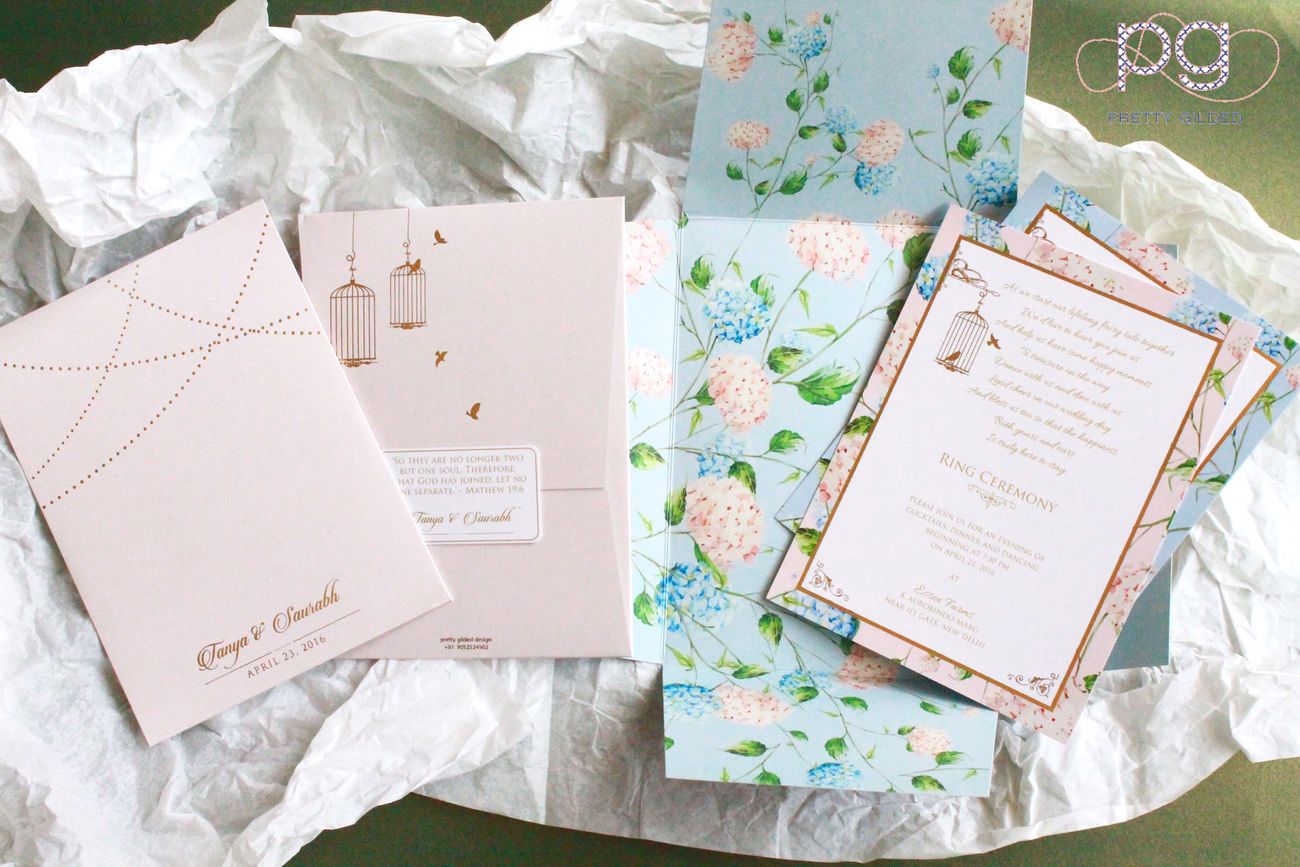 Image Via Pretty Gilded Designs 
Match your aesthetic vibe by using a cursive font for your wedding invite matter and make your marriage invite look oh so aesthetic! 
The Royal Invite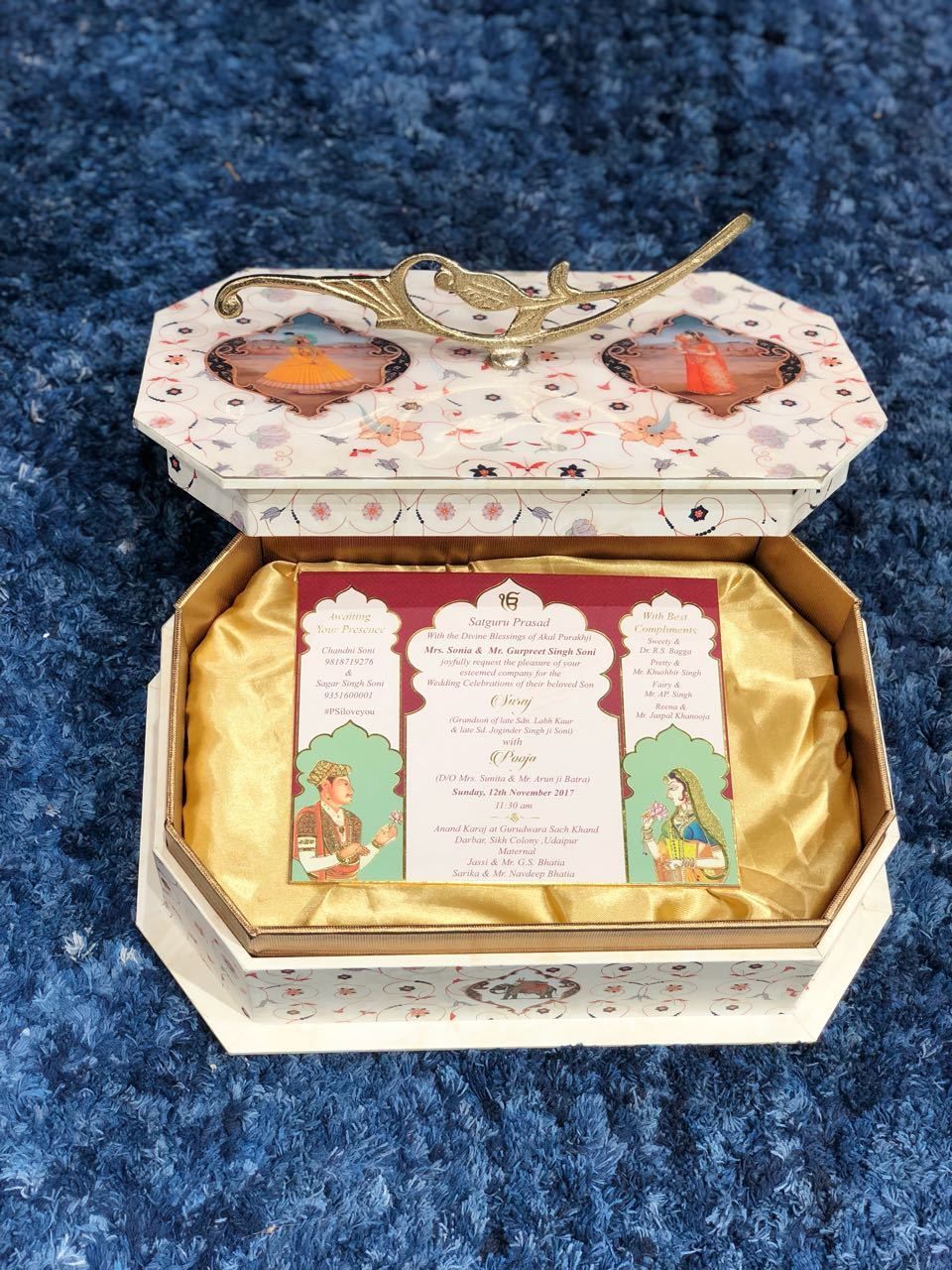 Image via Izhaar by Core Designs
Use king-queen figurines and space the invite content just like this wedding card. 
Classic Black & White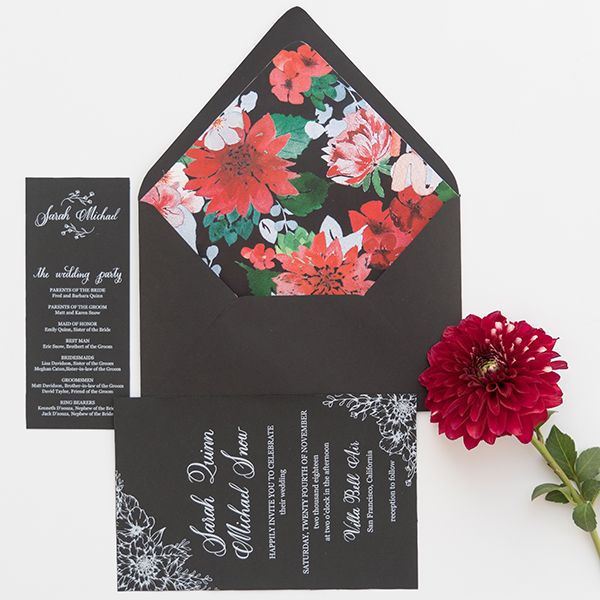 Image Via VS Calligraphy and Designs
Nothing can be more elegant than black cards with white wordings, just perf! 
Hindi Wedding Card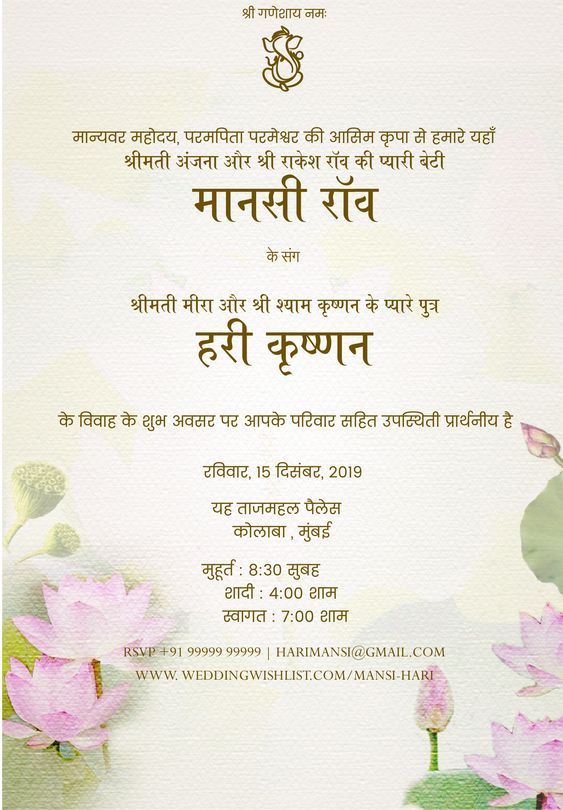 Image Via Pinterest
Get to your roots, this wedding invitation with matter in hindi is a classic and you can never go wrong with it! 
Wedding Invite Matter For Daughters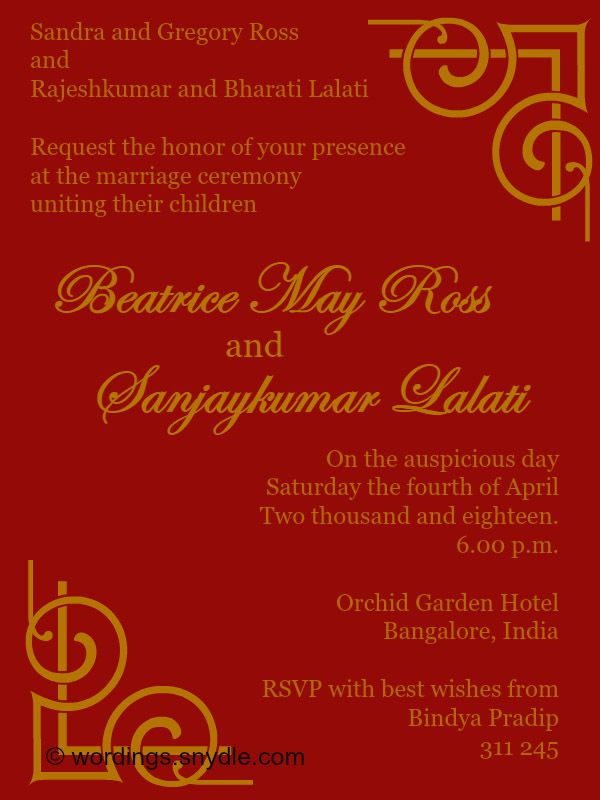 Image Via Pinterest
This card has the perfect wedding invite matter for daughters wedding, it's formal and there is great clarity too.
Hindi Wedding Invite Matter For Sons Wedding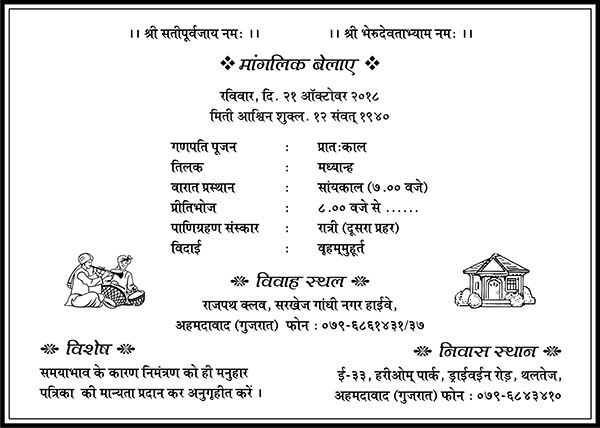 Image Via Pinterest
Looking for a hindi wedding invite matter from the groom's side? This should be it. 
A well written invitation can beat a fancy one! Give importance to the content for wedding invites. Try to be clear and pleasant! You must know how important is a beautifully put down hindi matter for your sons/ daughters wedding. Take inspiration from the above and get them on point!
Also read: Wedding invitation wording ideas