Unique Indian Wedding Favours : Way more chic than your 'Mithai Dabba' !
BY The WMG Bride | 19 Dec, 2014 | 4024 views | 6 min read
When it comes to Wedding favours- I think our country has been rather unimaginative. The standard reply from any parent is usually - "Mithai Box" or "Almonds" , and while both have their own charm they are also...kind..of....boring (sorry parents!). The almonds get stocked away in someones house only to see light of day during Diwali and the mithai's are passed around to all the non -dieting people in an Indian household. But we recently got talking to some people on our Invitation showcase, since they would know the latest trends in favours  and also did some rather fun research of our own (Seriously..best job ever. We get to pinterest all day!) to give you these chic alternatives as wedding favours to your Mithai Ka Dabba.
Non Edible Favors
The concept of Non-edible favors is relatively new but fast catching on in India and tons of families are incorporating sweet mementos in their wedding boxes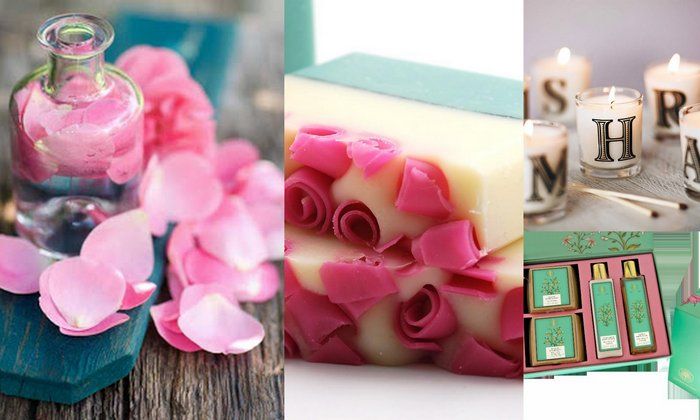 1. Gulab Jal (Rose water) or Bottle of Ittar
Including a small sized bottle of rose water in the box with your wedding card adds a beautiful, flowery scent to your invitation and its something thats useful for the family you gift it to as well. Not to mention, how affordable Gulab Jal is and when packed in the right way it can go a long way in giving a luxe feel to your invitation
Where to get them: Local super market has brands of Rose water. Just contact the brand directly . A bottle of gulab jal  should not set you back more than 50 Rs.
2. Handmade Soap
A soap in a wedding card box? Sounds unusual - well it isnt. You can get custom made handmade soaps infused with rose petals, sugar and whatever else you fancy and some manufacturers can even imprint your initials on it. You can be rest assured this one is going to be used in the coming days
Where to get them: Buttertub soaps, Khadi Natural  Soaps
3. Tealights and Scented Candles
Everyone loves a scented candle as a gift . No? Well we certainly do- spiced jasmine flavoured candle to warm up our house- YES PLEASE.
Where to get them: Fragrance Lounge stores
4. Essential Oils, Organic Lip Salves and Agarbattis
Think of a forest essentials gift box. An organic lip salve in the winter, an essential sleep therapy oil and maybe some Agarbattis to boot. If forest essentials is a bit on the pricey side, worry not because a lot of organic skincare companies would be happy to customise a box for you.
Where to get them: Soultree, Sattvik Organics , Organic Harvest and Forest Essentials
 Edible Favors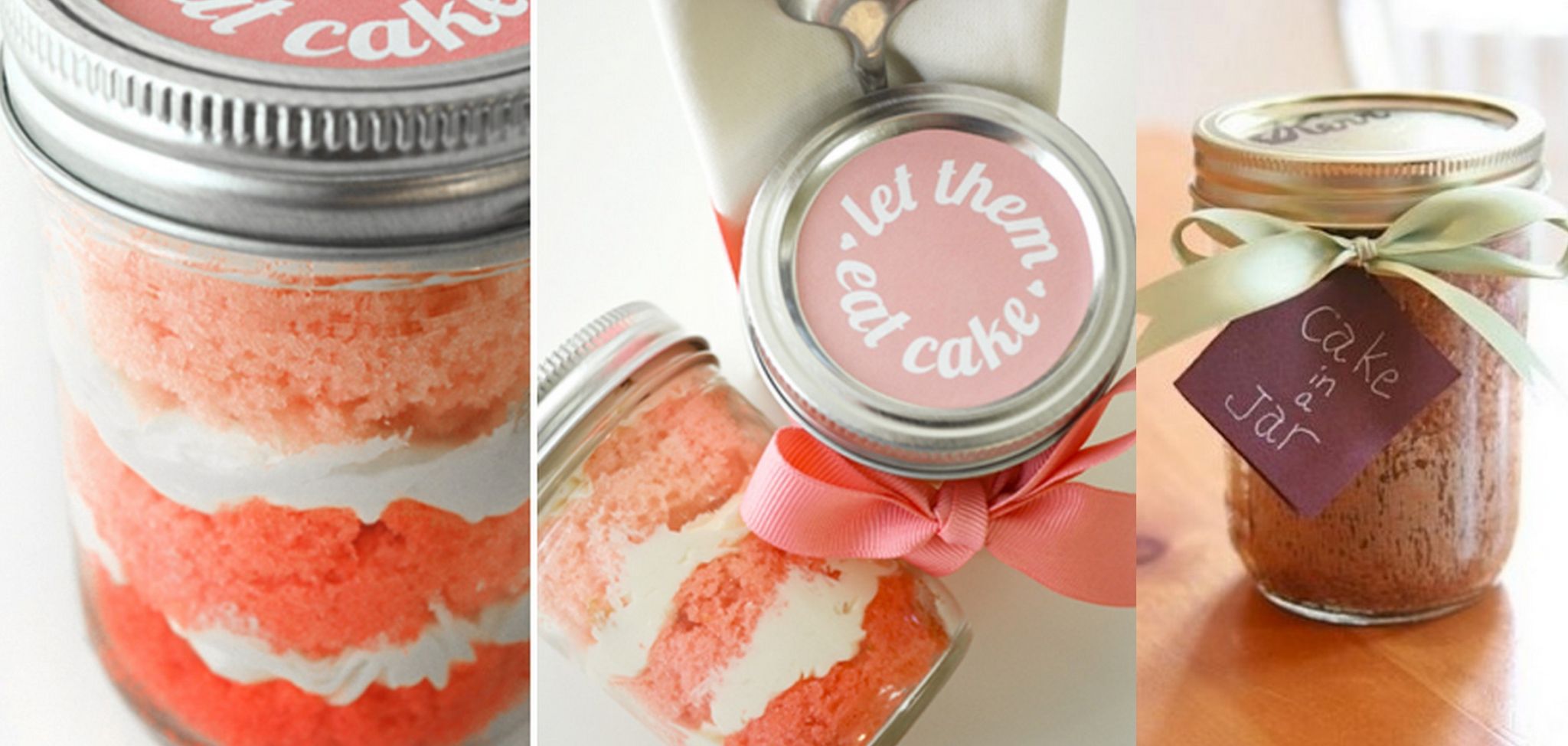 1. Cake in a Jar
Its a cake. In a jar. No brainer- it is absolutely awesome ! Basically these are glass jars which have layered cakes baked on the inside ,so from the outside you get these pretty concentric circles of yummalicious color . How do you eat them- just dig your spoon in and eat away!!!
Where to get them: Some bakeries in Delhi/ Mumbai have started cake in a jar such as All Things yummy. Comment below and let us know if there is a particular one you love? Small cakes in a jar are priced at 200 Rs. approx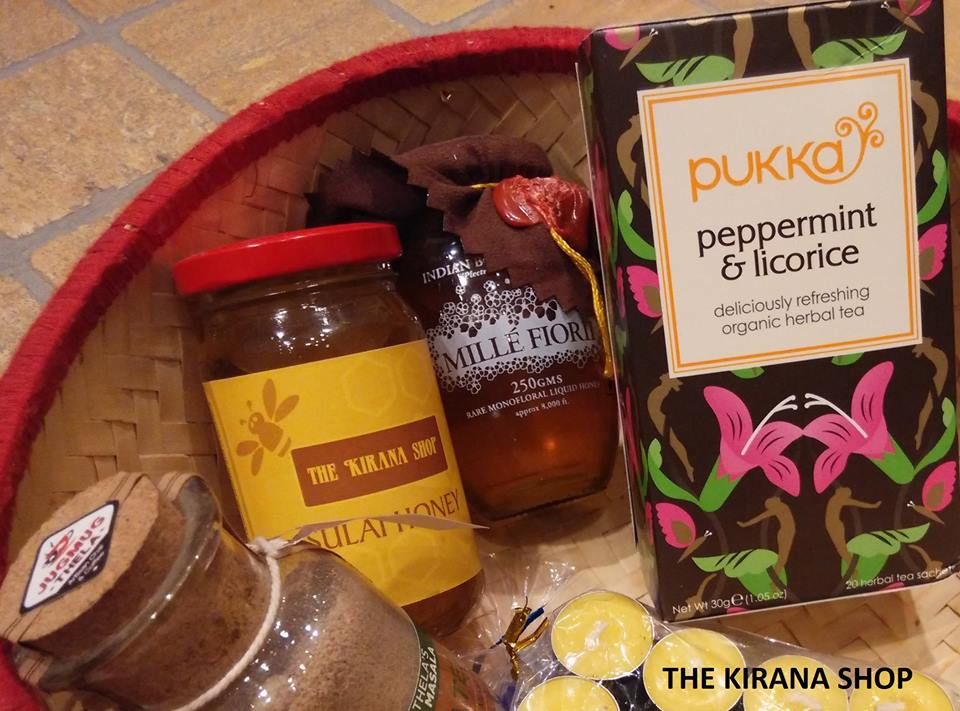 2. Jar of Honey
Little pots of honey capped with a gorgeous fabric and tagged with your name tags is a gorgeous thing to add in your wedding box . It ticks the boxes of being sweet, natural and is useful for the homes you send it to. You can even build a whole box around a honeycomb theme with a jar of honey, a spoon and a pack of tea
Where to get them: Home made Sulai honey is available at 'The Kirana Shop' in Meherchand Market. Or you could do your bit for society by purchasing Honey from this NGO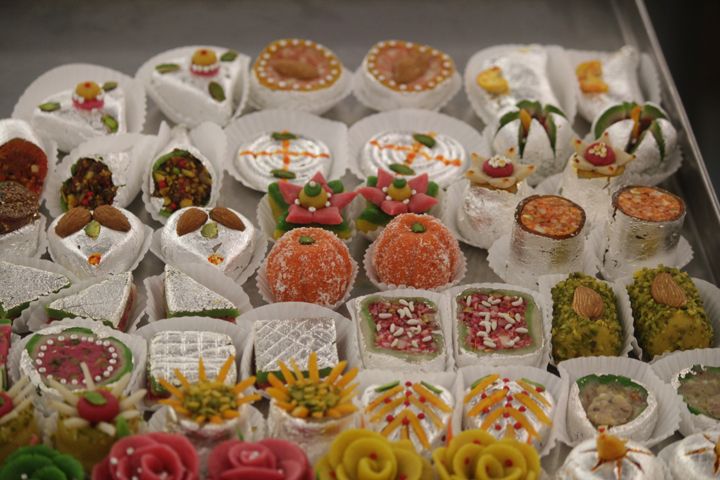 3. New Age Mithai - Custard apple mithai and Motichoor Donuts
Mithai is no longer about the coconut barfis and laddoos. New age mithai is available across stores like Bikanervala and Evergreen along with a new line of mithai by a brand called Signature have offerings like custard-apple mithai, a rose-petal barfi,  a sandesh rose, or a walnut and cinnamon barfi.  Mad over Donuts has a festive line during diwali called Motichoor donuts, and gulab jamun filled donuts. Call it fusion mithai if you may!
Where to get them: Signature Mithai, Evergreen sweets and season specials at Mad over Donuts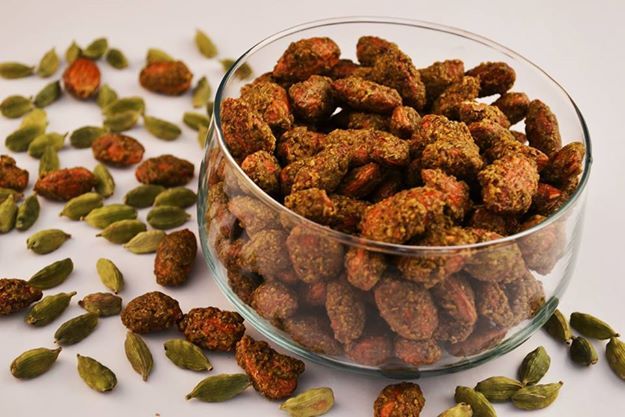 4. Gur coated almonds, Paan flavoured kishmish and cinnamon coated pistachios
If you aren't too nuts about nuts, the coated nuts craze is surely going to hook you in. Brands like Nutty Gritties offer a super yummy variety of nuts that have been coated, glazed, or sprinkled over with a range of absolutely delish items that walk the path between modernity and tradition. Our favourites are the Gur coated variety!
Where to get them: Nutty Gritties
5. Middle eastern sweets like Baklava 
Having a sufi themed night? The perfect invite would include a piece of Baklava from stores like Kunafa in Meherchand Market which specialise in middle eastern sweets. A trip to Moshe's in Mumbai should have you sorted on these items as well.
6. Dried Pan, Churan , flavoured saunf and more
Dry Pan is available in your local supermarkets in little jars and if your family loves pan then the dried pan version is a more sophisticated, exotic aproach to gifting it while retaining the taste. Add in churan, flavoured saunf and more to make it a pack to remember.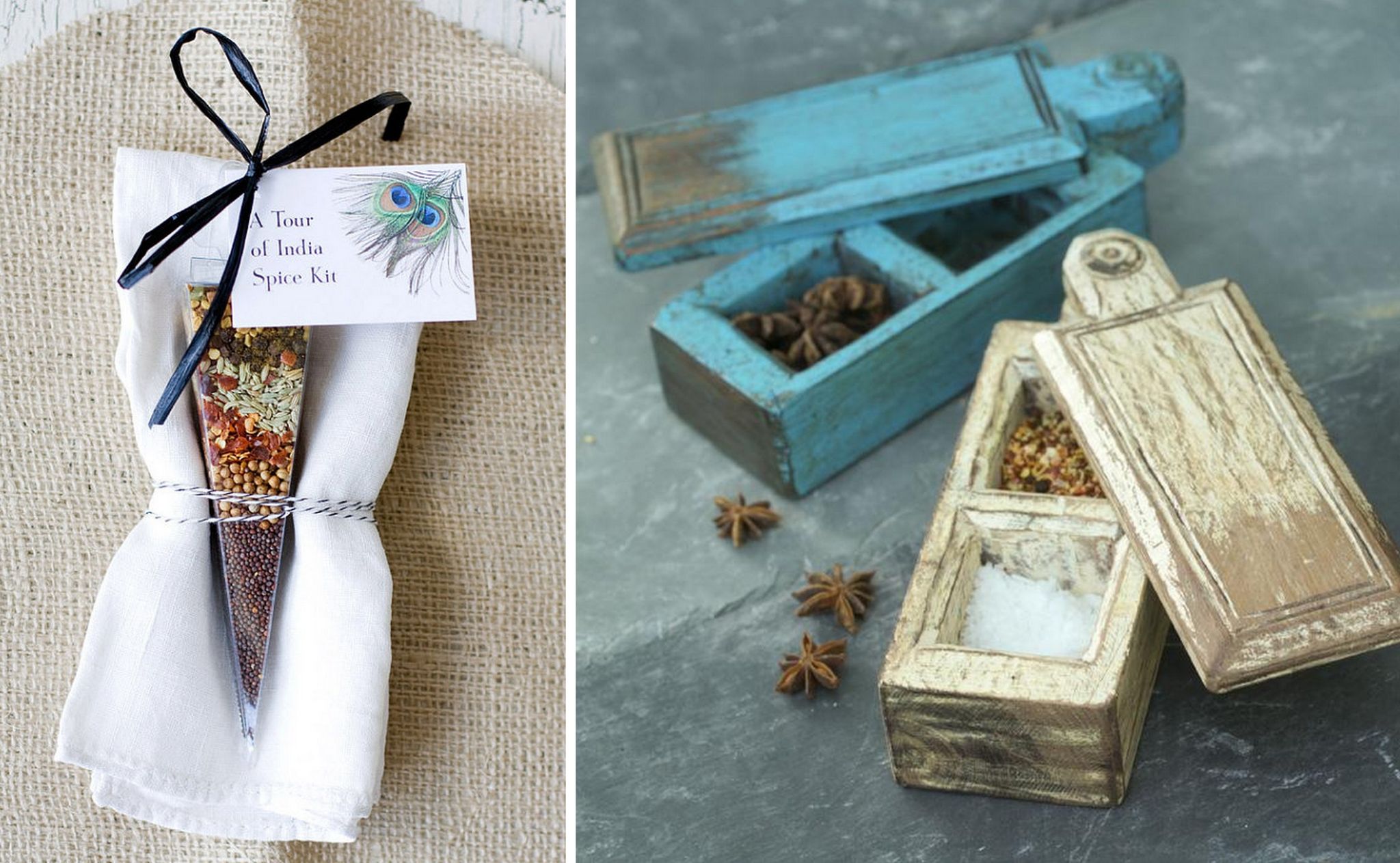 7. Spices
This may sound wierd at first- like why would you give someone dal chini,  laung , and elaichi and black pepper. But these days its all about the utility- people want to give things that people will actually use and remember. So when the guys at turmeric ink told us they gifted a stunning wooden box with assorted spices- something that could be kept in any kitchen as a beautiful keepsake we were totally onboard!
Where to get them: Any local market. Just get them packaged in a beautiful way from your Invite person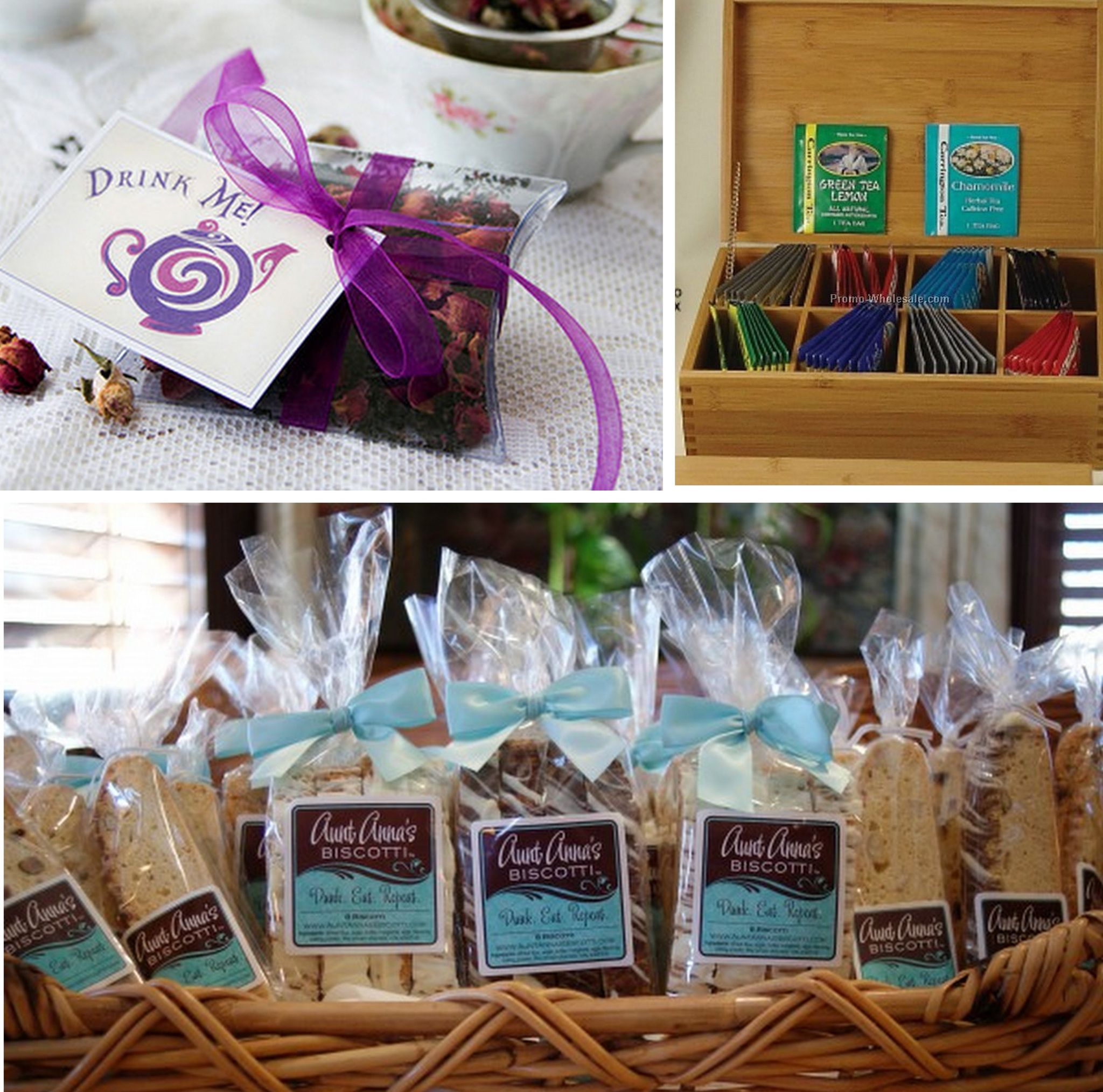 8. Tea and Biscotti - Peppermint flavored tea or just 
EVERY Indian would love this. Just get an assortment of your favourite kinds of flavoured tea (Dilmah makes some awesome flavours, and closer home Sanche tea boutique has some nice options), and package it to give boxes of tea and biscotti . Everyday at 5 pm, they will remember you and your wedding !
Where to get them: Ananda Tea boutique, Dilmah, Sancha Tea boutique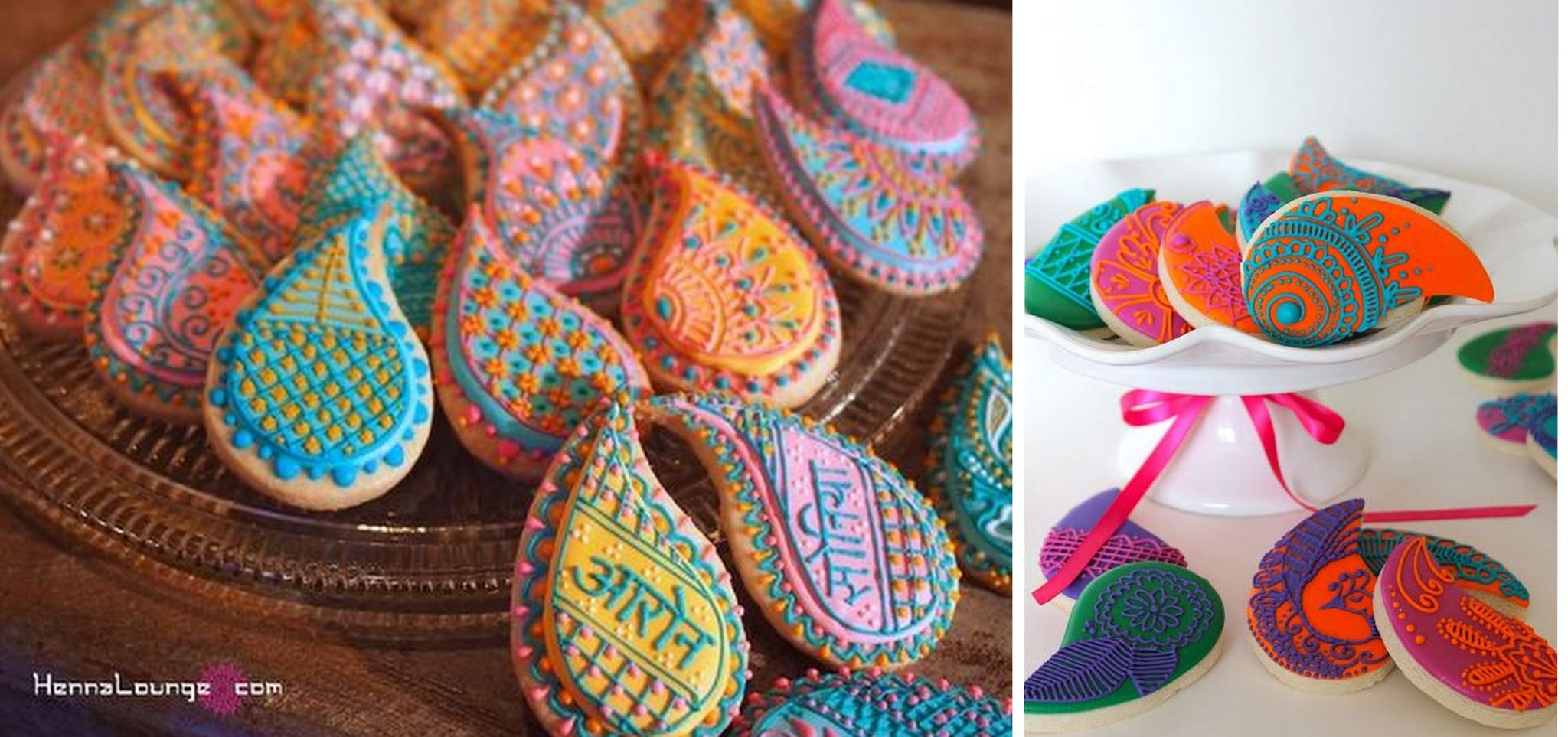 9. India Inspired Cookies
Not only do these look like your school craft project, they are super fun and seem super yummy!
10. Preserves and Chutneys
Does your grandmom make a killer chutney, some homemade honey, or pickle? Well- weddings are all about family anyway, so what better way than to celebrate family than to package home made preserves and distribute these. They don't get spoilt in the heat like chocolates and mithai do, so go ahead and give them around all summer!