Useful Tips For Planning A Destination Wedding On A Budget All By Yourself!
BY Sakshi | 24 Jun, 2019 | 2034 views | 4 min read
Planning a destination wedding on a budget is a little controlled, but very doable. It's perfect for an intimate wedding to celebrate just with your near and dear ones and if you're looking to plan one by yourself, it requires more effort, but with better planning, is something you can really pull off well. So if you're up for the challenge, then go for it!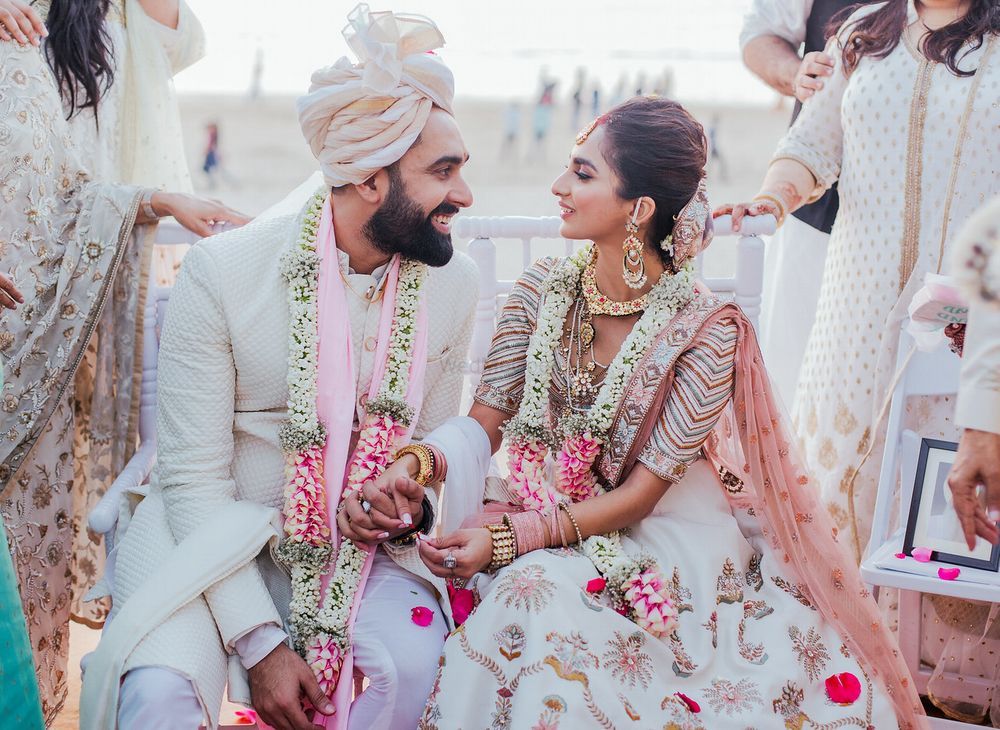 Image via Rhea & Dishant
So here are some tips and tricks we feel can come in super handy! 
Planning is the key and sticking to timelines is important.
Cannot stress this one enough. Start researching in advance- first thing would be to nail down the place and venue. Once that is decided, try and shortlist vendors as soon as possible. One trip, and you can finalise everything, but have all your research with you. In this case, browsing venue and vendor reviews can really help!
Make a wedding journal and write everything down
This is for every bride planning her own wedding, and more so when it's a destination wedding which is not in yours or your husband's hometown. Write everything down, and we mean EVERYTHING. Names and numbers of vendors, quotations, advance payment status- this will come in very handy once the wedding madness begins. 
Recce is absolutely essential
Ideally, we'd recommend that you personally visit and see your venue once before booking and again three to four months before the wedding to finalise details. If that second trip is just not possible, then try to arrive at least five days early to make those decisions and see that everything is in order. 
Ask for discounts and freebies
When you're making bulk room and venue bookings at a resort or hotel, don't be shy to ask them for a discount or freebies- you'll be surprised at how accommodating a lot of them can be, and they might throw in freebies like a free mini bar or laundry. 
Keep a tight guest list and notify guests well in advance
If you want to do it on a budget, then this is essential. Make a guest list as tight as possible, and try and intimate the guests as early as possible, so that they can plan their trip accordingly. Also, encourage them to confirm or decline as soon as they know, so you have a clear idea on your end as to how many people will actually be able to make it.
Know everyone's flight schedule and hire transportation
Make an excel sheet, and this way you can club people together who are arriving by the same flight in the same cab and save time and money. 
Allot rooms before-hand according to arrival
Again, this is a list which will come in very handy! Make sure to allot rooms beforehand, and club people to their convenience if possible. Always, and we repeat, always keep extra rooms in hand, which come in very handy later!
DIY Welcome Hampers and Thank You Notes
This is a cute idea, and one which will instantly make your guests feel welcome. And you don't need to make them lavish- just throw in a few simple yet useful things and a sweet handwritten thank you note!
BYOB if you don't want sky high bills
You can carry alcohol bottles or source them locally at the city you're in, for those who want to drink in their room or just have a good time. Ordering from the bar all the time can get expensive, so this is a good alternative for that. 
Try and rope in as many local vendors and in person if possible
This would mean that you're not flying down people from your city for everything! When you do go to decide the venue, also do set up meetings with the better-known decorators and vendors in your destination. Make sure to ask for referrals from your venue on the ground; they might recommend some local talent you wouldn't possibly be able to find on your own. Also, keep backup vendors for everything in case someone cancels later.
Keep it as simple as possible while not compromising on class
Embrace the setting- pick a place that's naturally beautiful as opposed to one which needs to be decked up completely to make it look gorgeous. This will eventually save you a lot of hassle and money too!
Make use of SpeedPost or Courier Services
Have a ton of Mehendi or wedding favours? Don't fly down with things that can be couriered. Flight charges for extra kilos are way more than courier services, and you can always send it across to someone at the venue to make sure you save big. You'll anyway be carrying your lehenga and trousseau and that is gonna be heavy!
ALSO READ: This Couple Spills The Beans On How To Have A Goa Destination Wedding In Just 20 Lakhs!