We Are Loving Purple Tone Kanjeevarams For Summer Weddings!
BY Meenu | 13 Apr, 2021 | 8468 views | 3 min read
A color so versatile, the color of royalty- Purple and its family are hailed high in the bridal trousseau. We have always seen purple tone sarees and lehengas steal the show in winter weddings. Well the trend now is that purple tone Kanjeevarams have taken center stage for summer weddings as well.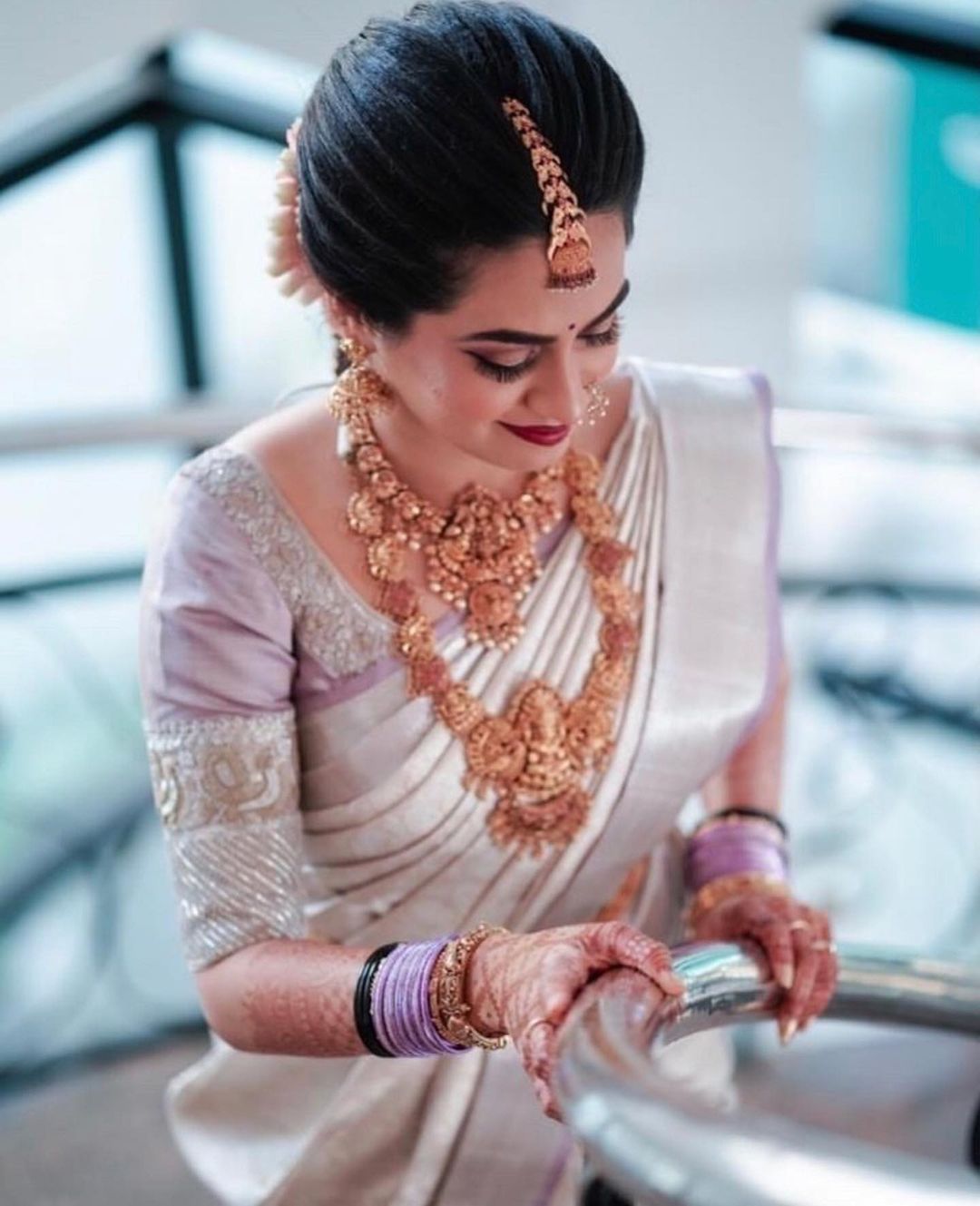 Image via Naveen VC Photography
Purple comes in so many shades- from light mauves and lavender to aubergine and deep purple, there are so many unique shades to choose from!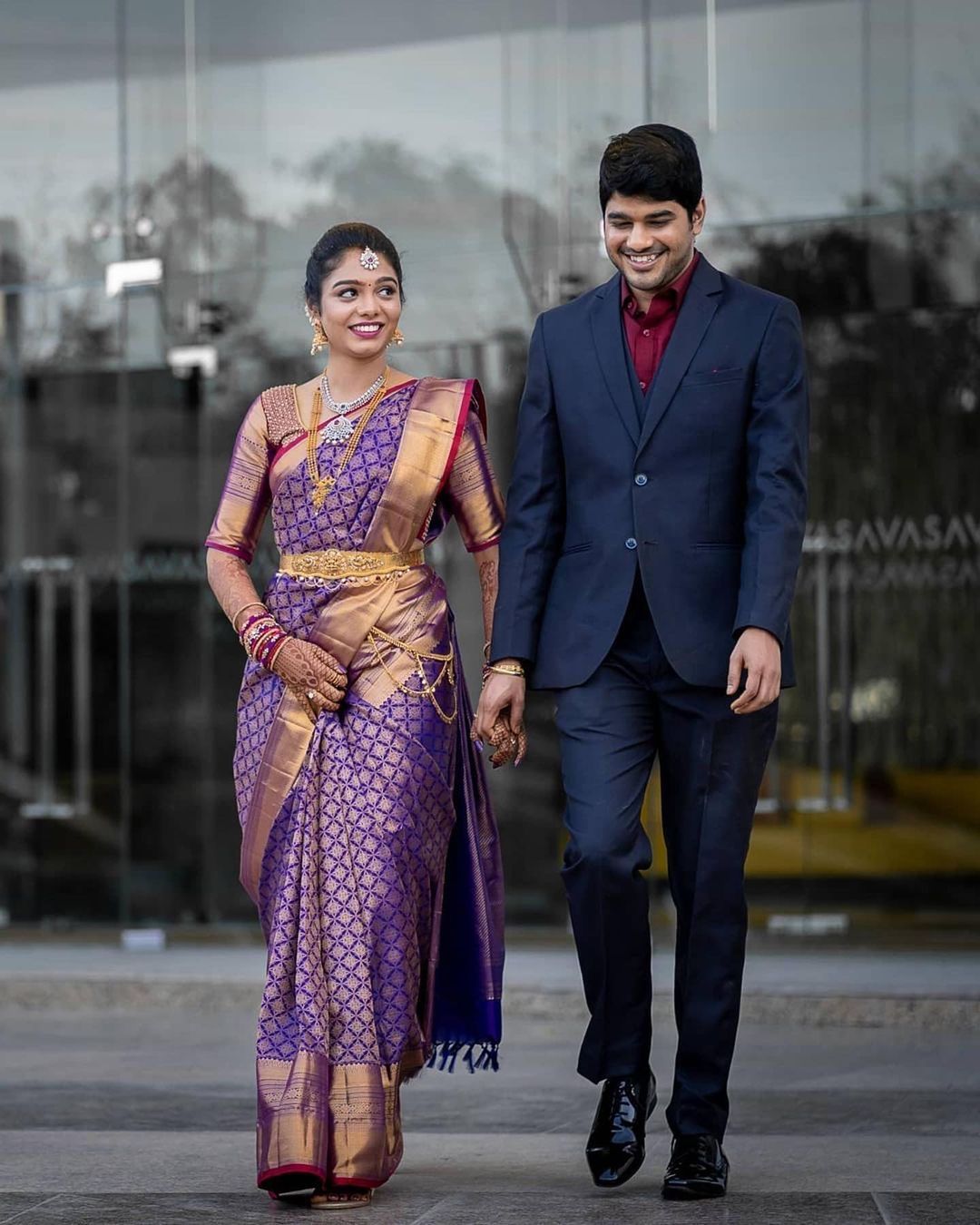 Image via The Click By Teja Sagiraju
The best thing about purple tone sarees is that each shade and hue is a perfect mix of that pink and blue, no matter whether it's light or dark. Due to this, it works well on most undertones and saves you from a lot of confusion!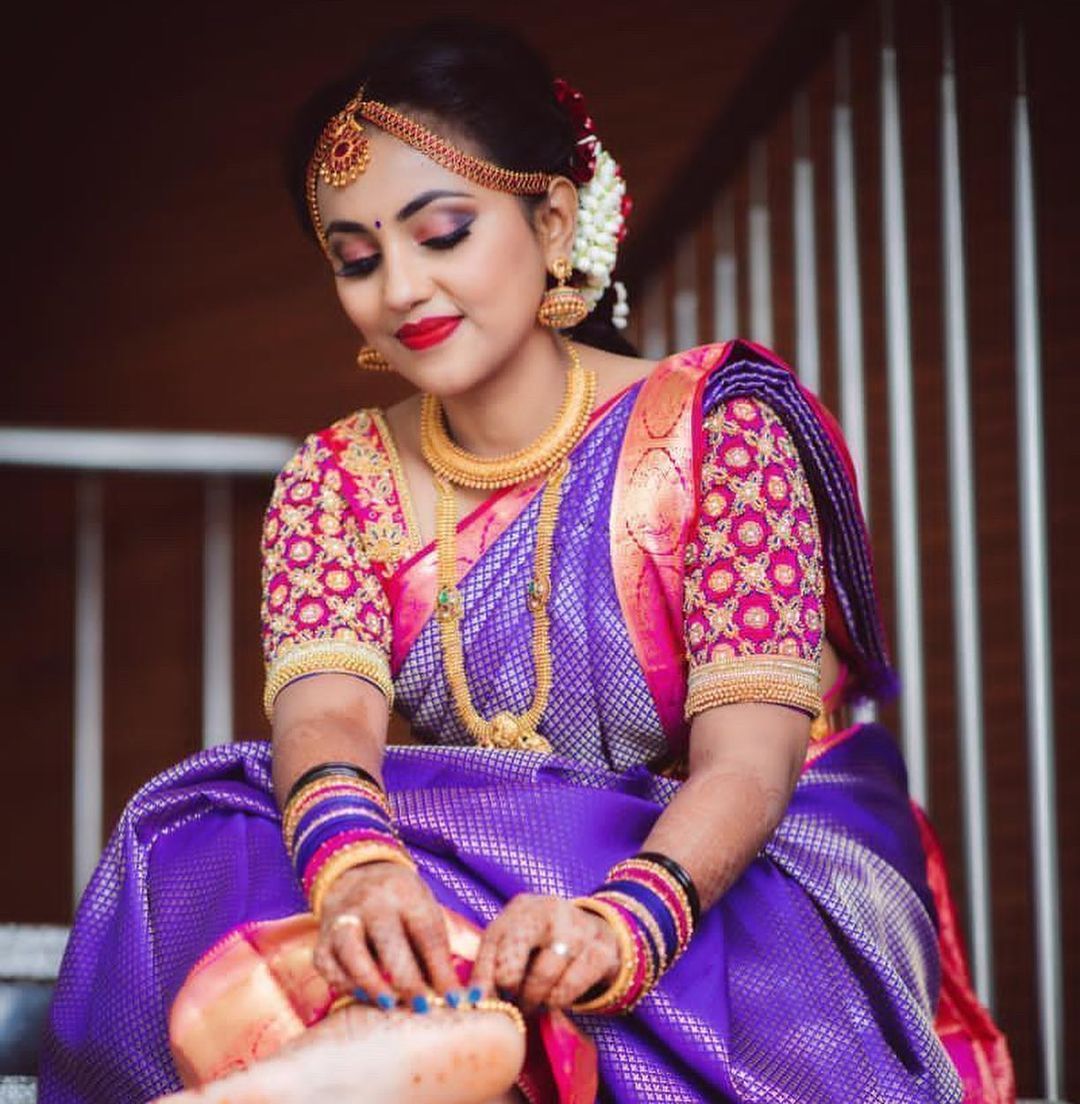 Image via Light Bucket Productions
Be it a deep violet or the light lilac, we are super impressed by the bevy of brides who have owned this color for their wedding festivities.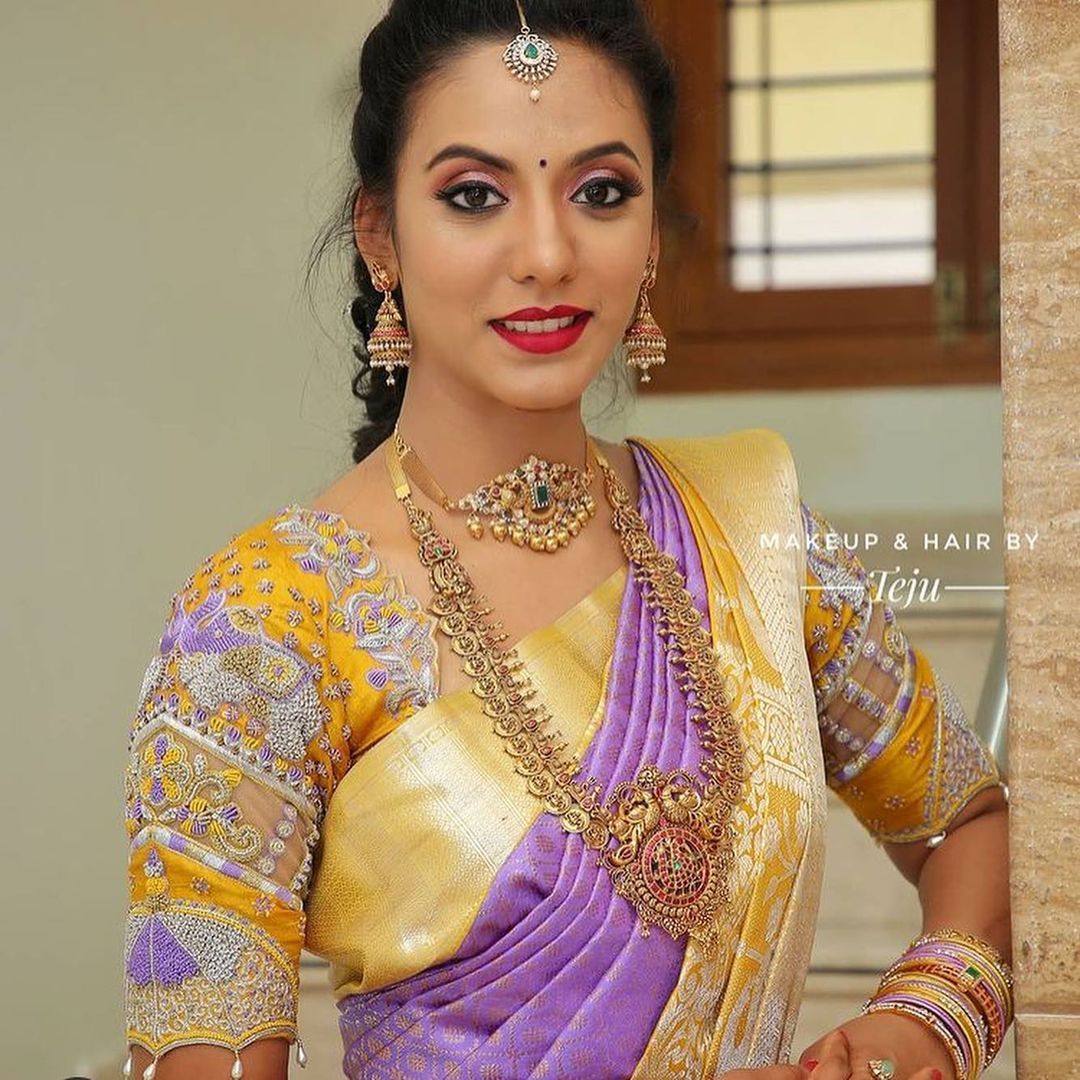 Image via Makeup and Hair by Teju★ 5
While we see most Muhurtham Kanjeevarams having a gold heavy zari and not many with contrast borders, we realise that purple tone Kanjeevarams can be paired with a multitude of colors and yet the grandeur does not fade. In fact, the opulence just increases.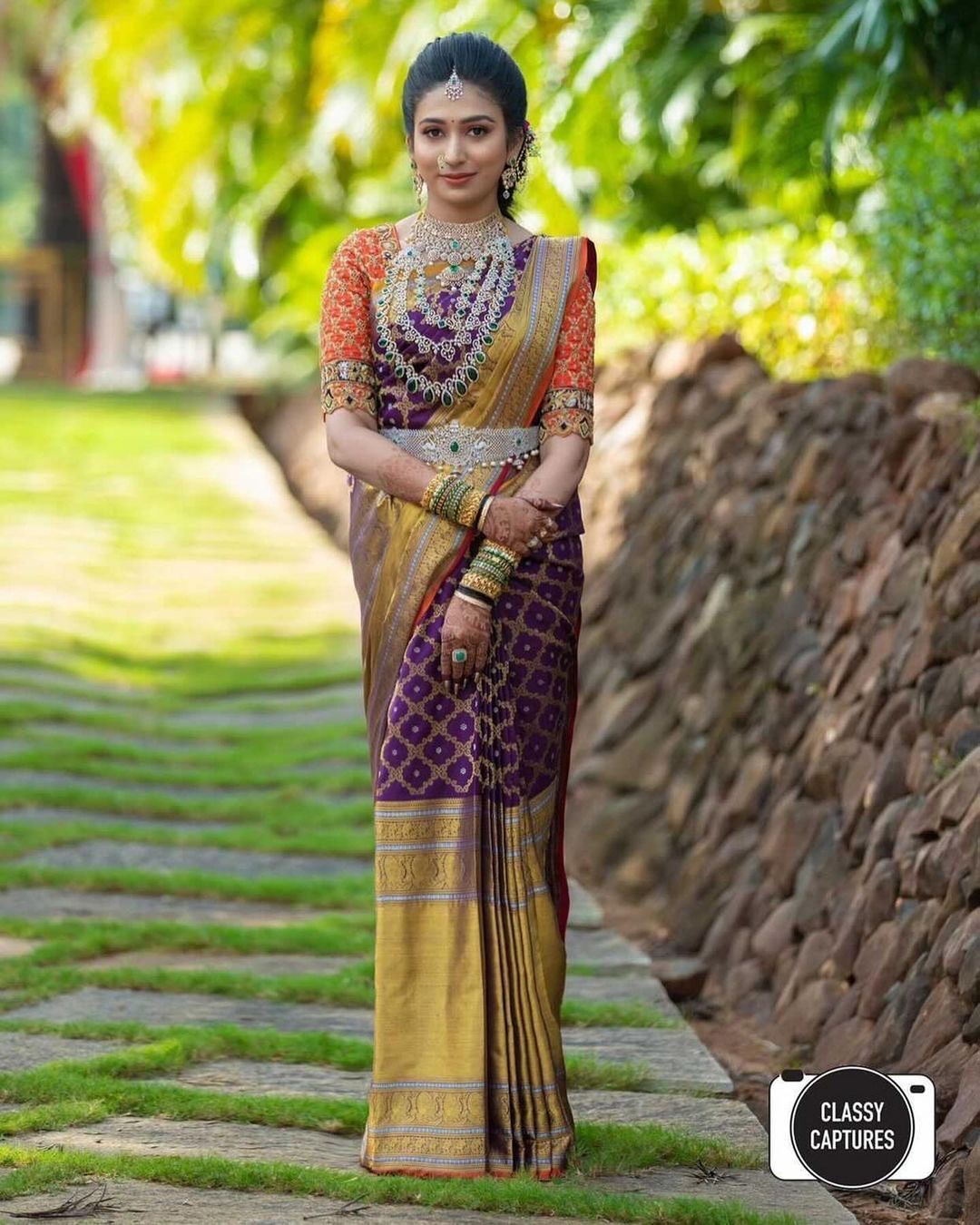 Image via Classy Captures★ 4.5
A contrast orange edging in this heavy Muhurtham Kanjeevaram by Gaurang Shah which has gold and silver zari, the edging and the blouse makes it pop and how!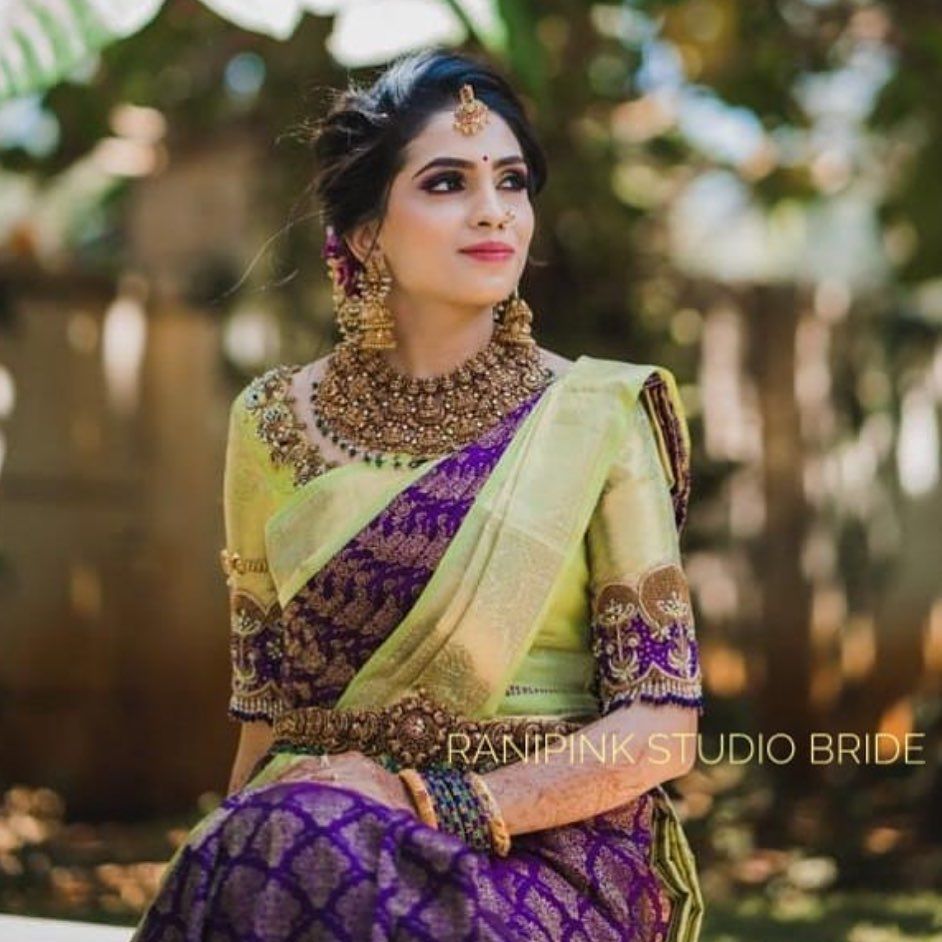 Image via Rani Pink Studio
In the same way this totally contrasting pastel green heavy zari border and blouse just adds richness to the entire look.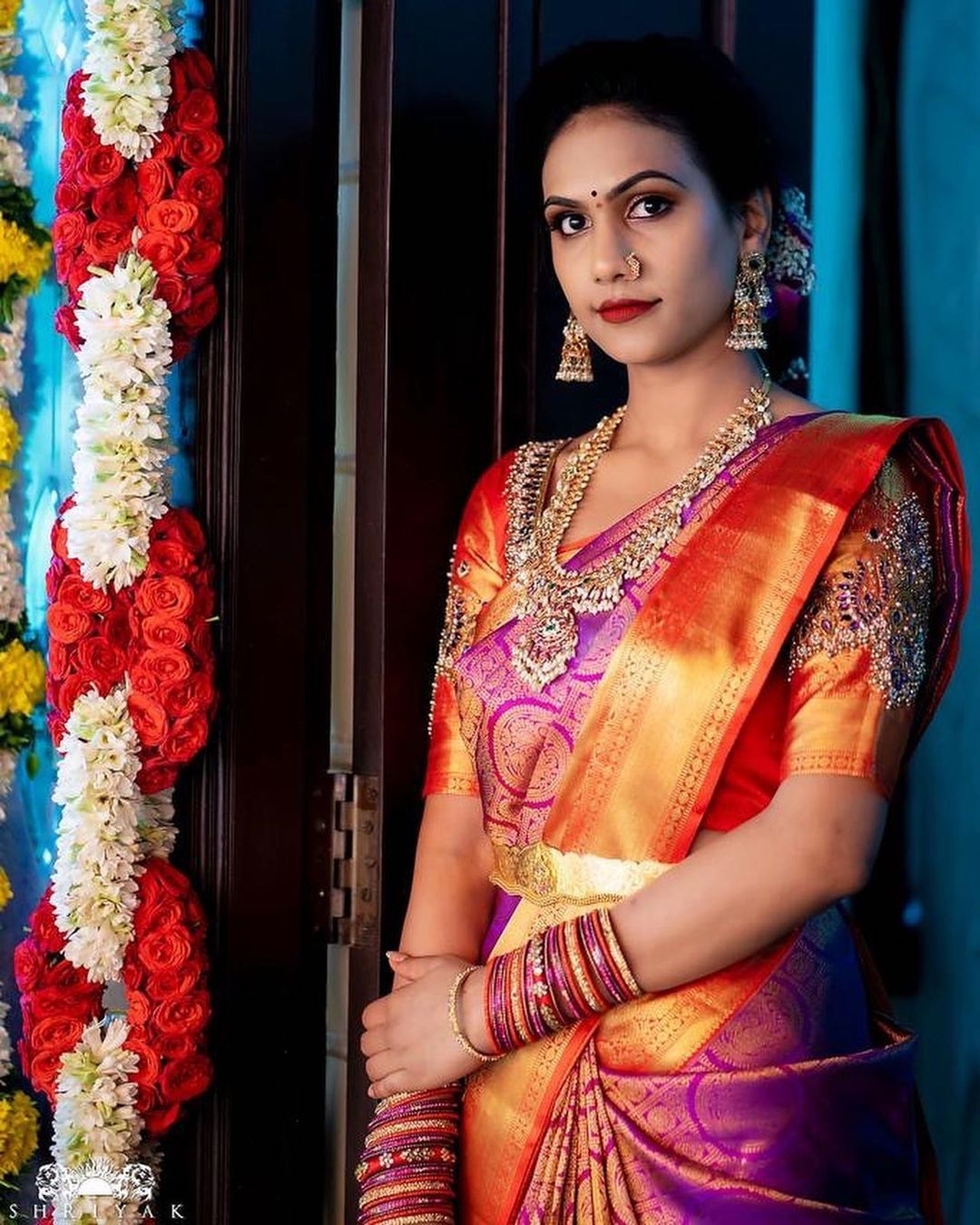 Image via Purple Makeup Studio★ 5
We have spoken about this, but the purple/ red pairing is a hot favorite right now and we surely know why. When you pair a red Kanjeevaram with a purple blouse, the effect is there but slightly subtle. With the reverse pairing of a purple tone Kanjeevaram with a red/orange blouse you surely cannot miss the bridal effect.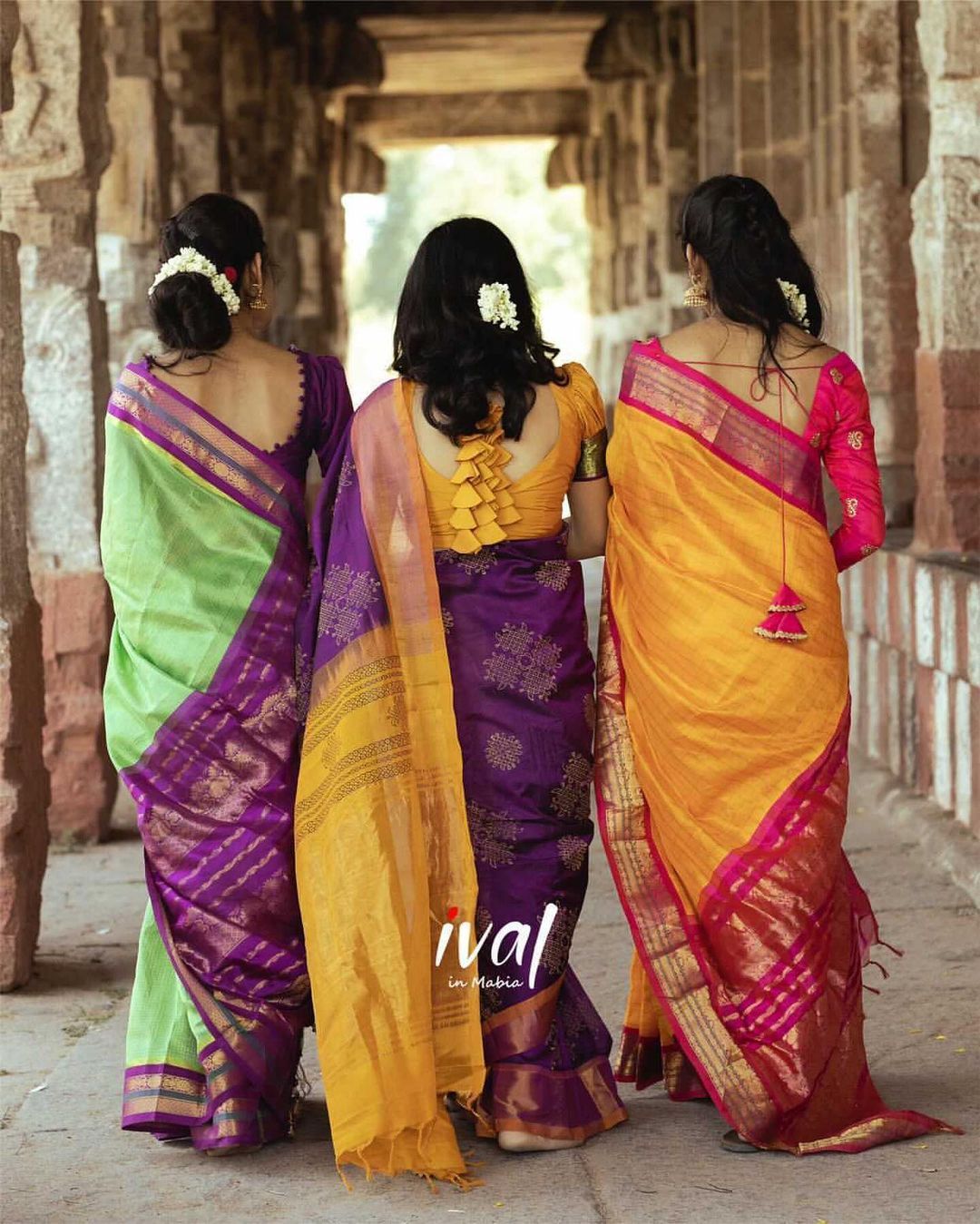 Image via Bharani Kumar
In fact this color works so well for the bridesmaids and guests too without overshadowing the bride and yet holding its own.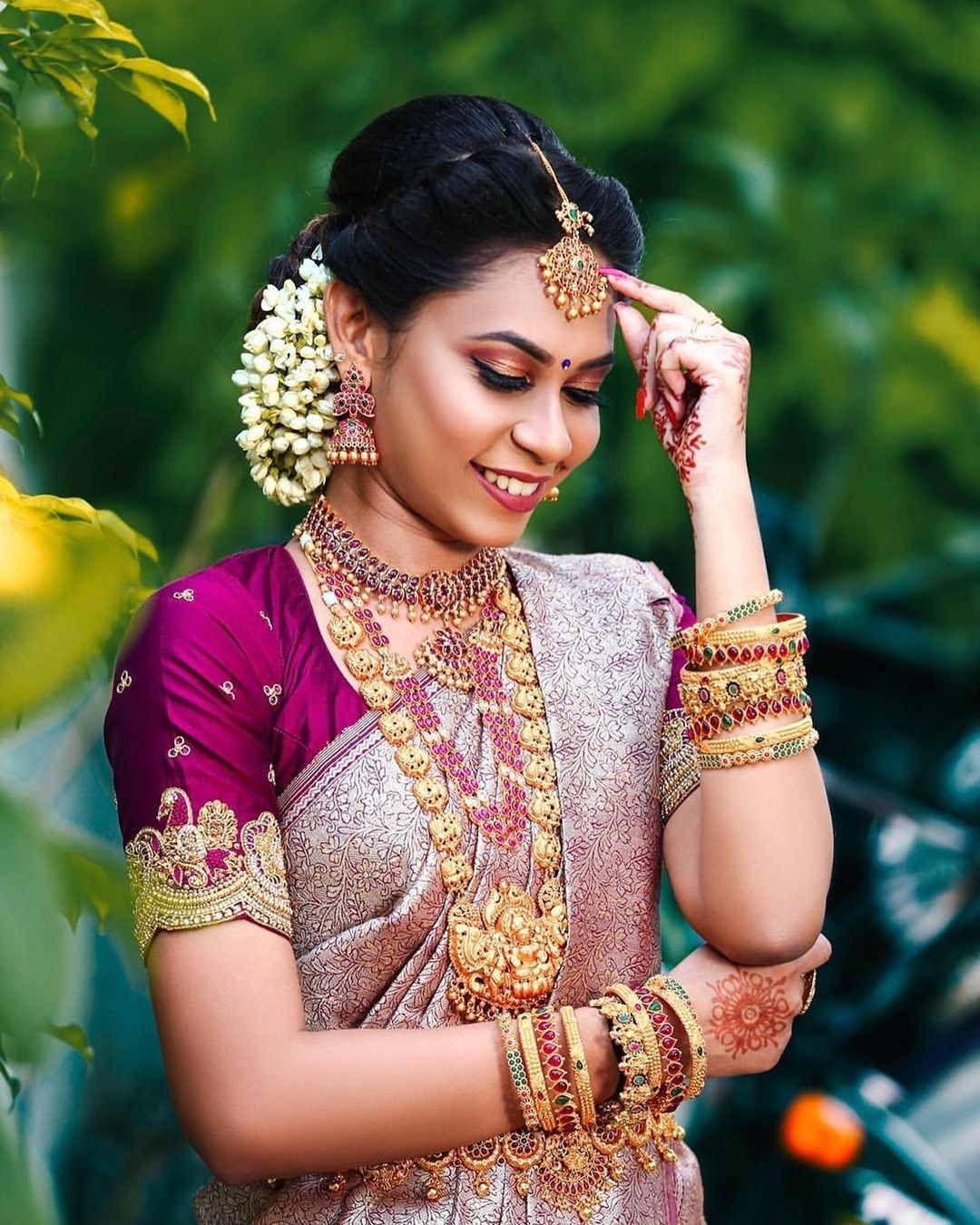 Image via Amala Makeover Artistry
This vintage purple tone saree surely deserves a special mention. With the coronial wedding scene still ruling us, taking out your mom's heavy purple tone pattu and pairing it with a contrast blouse is a great idea right now!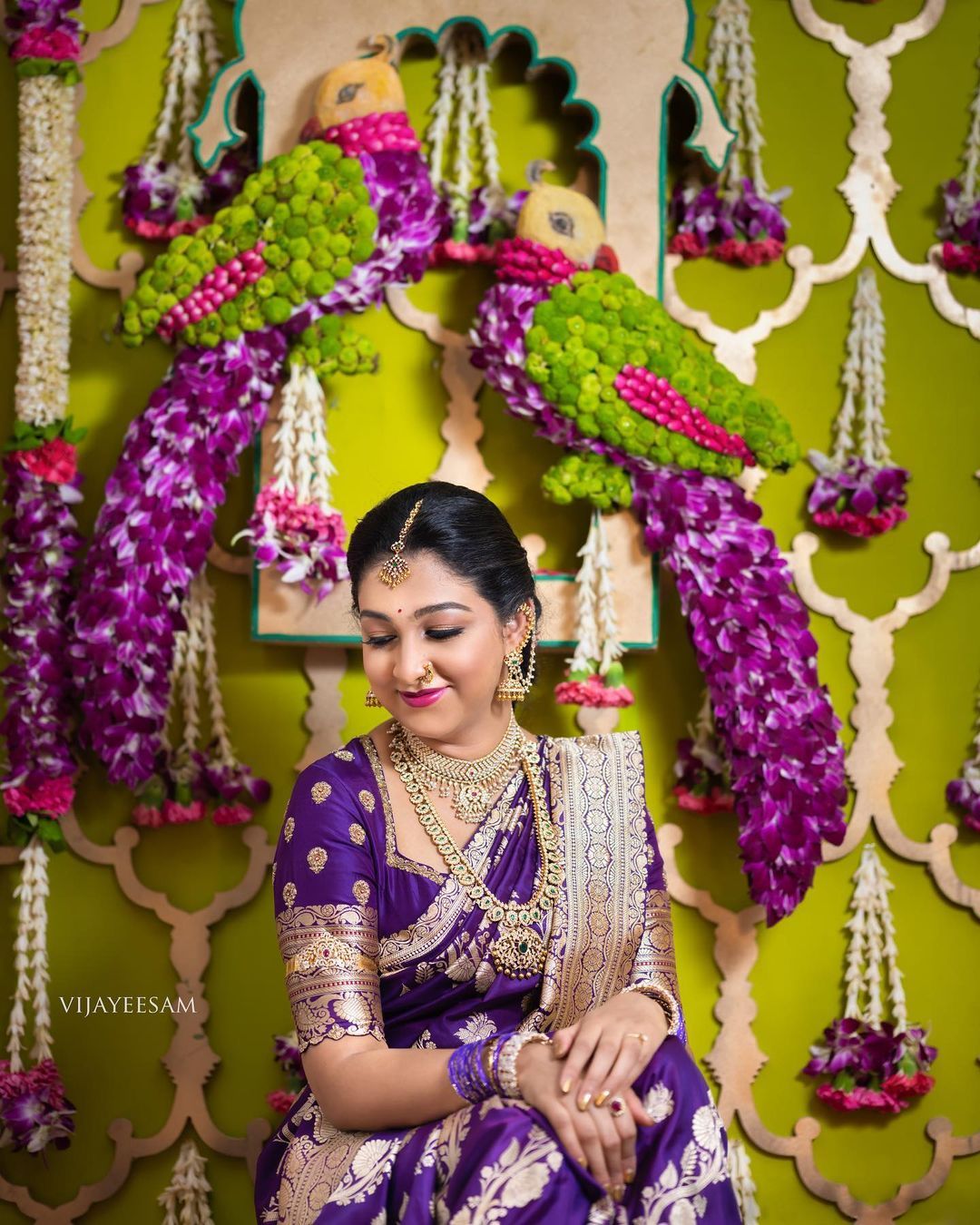 Image via Vijay Eesam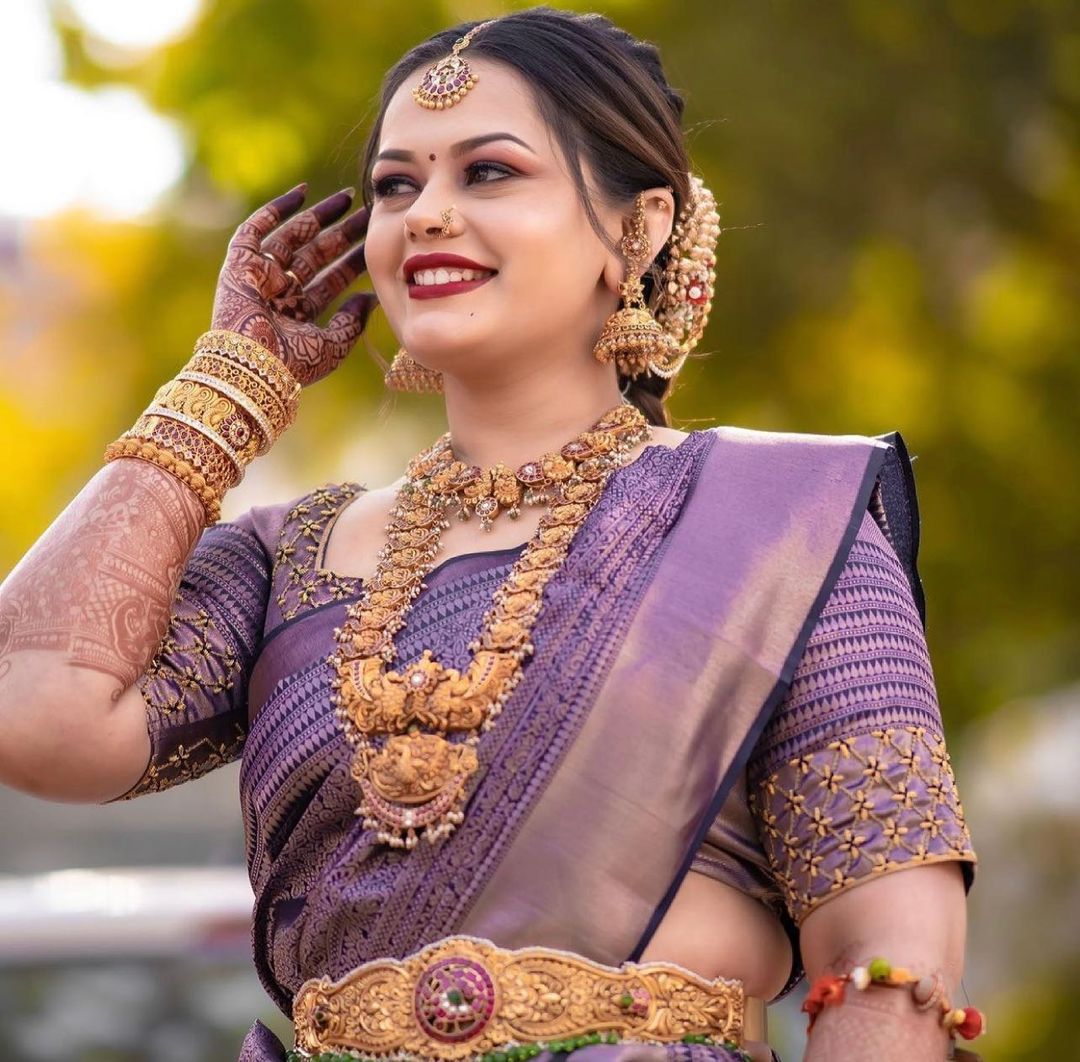 Image via Stories By Roy
You can pair your purple tone Kanjeevaram with all kinds of jewelry. From antique gold to diamonds- everything seems to work with this royal hue.
If you had any doubts, we hope you now are sure to rock that purple tone Kanjeevaram you have been contemplating!