We Did A Little Research And Found The Ultimate Nail Hues Every Bride Is Sporting These Days!
BY Apoorva | 03 Mar, 2017 | 5446 views | 6 min read
If you're all about the details, then your manicure will factor big time into that. After all, there are going to be a dozen people grabbing your hand to check out your ring (Do you think that is rude by the way- women asking to see your ring? Let us know in the comments below)  . You can't just wear any old pink or blush — it needs to perfectly complement your rings, skin tone, and, of course, the lehenga! That's why we put together the most popular ideas for bridal nails and what really brides are digging this year!
The Usual French Manicure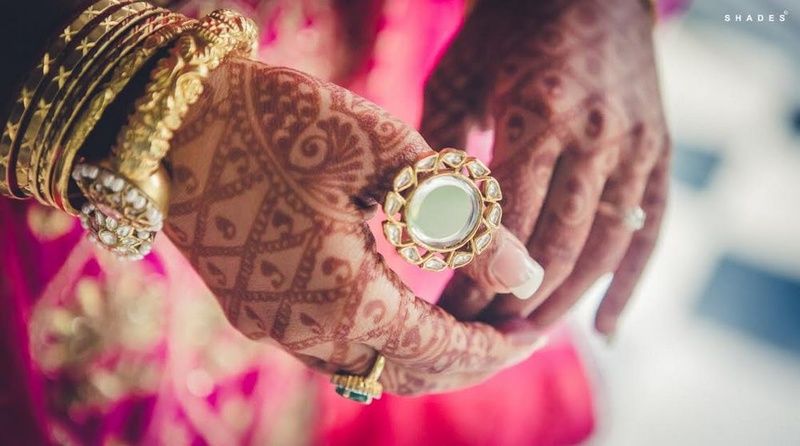 Pic via Shades Photography★ 4.2
Well, if a bride wants to go the safe route, then make sure that the safe one is paved with good quality manicures. French manicure is in that sense, the most delicate, romantic and safe idea to take up. It suits all your outfits and doesn't really clash with anything. And if you apply a good gel coat and a great top coat, you'll see yourself looking happy throughout the wedding week.
Floral Nails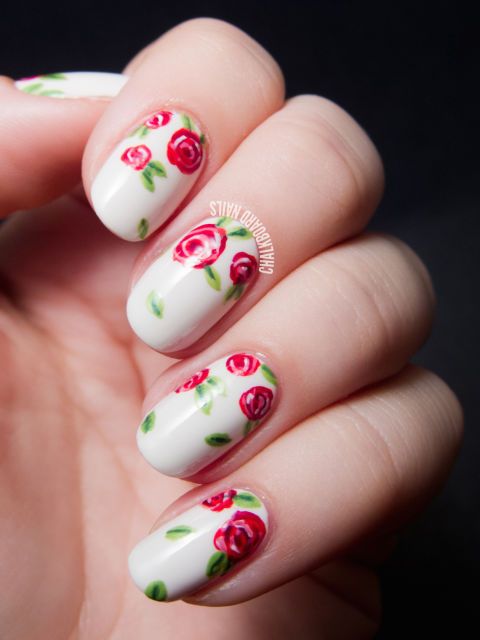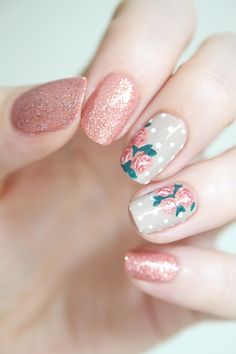 Image Source via Chalkboard Nails
A bouquet of roses is a classic symbol of romance, so these stunning red blooms are a no-fail choice, especially of you are wearing a red lehenga. And besides, floral fare is so 2017 - it's delicate and sweet and you can retain the white or neutral hue and go crazy with flowers in the colour of your lehenga. If you don't want to go all out, just add flowers on only one finger or two.
Subtle Gold / Silver Flecks and Borders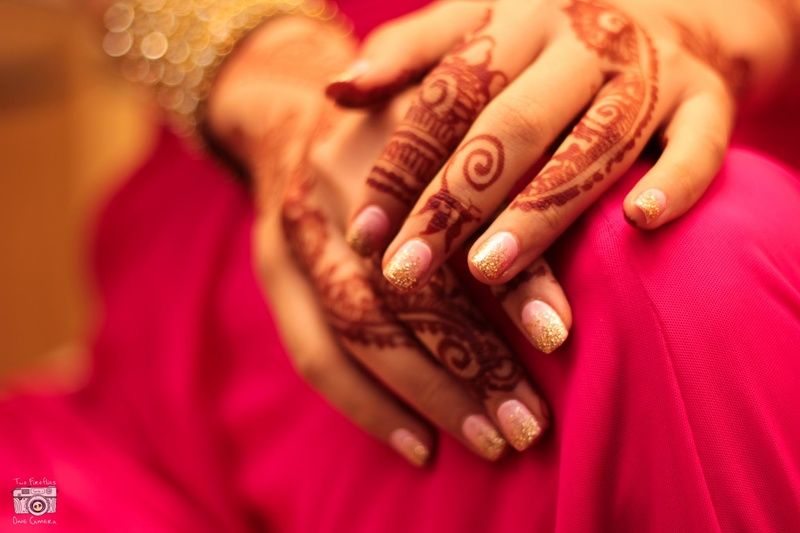 Pic Via Two Fireflies - One Camera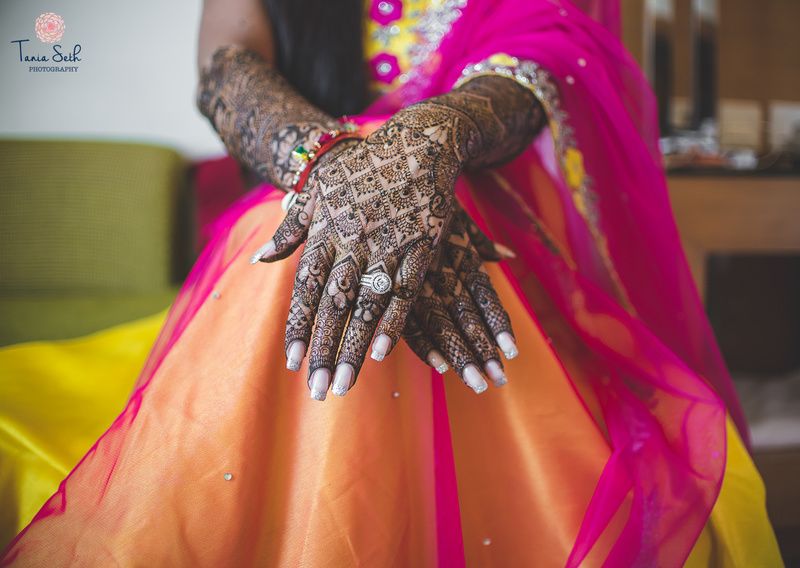 Pic via Taaniyah Seyth Photography★ 4.8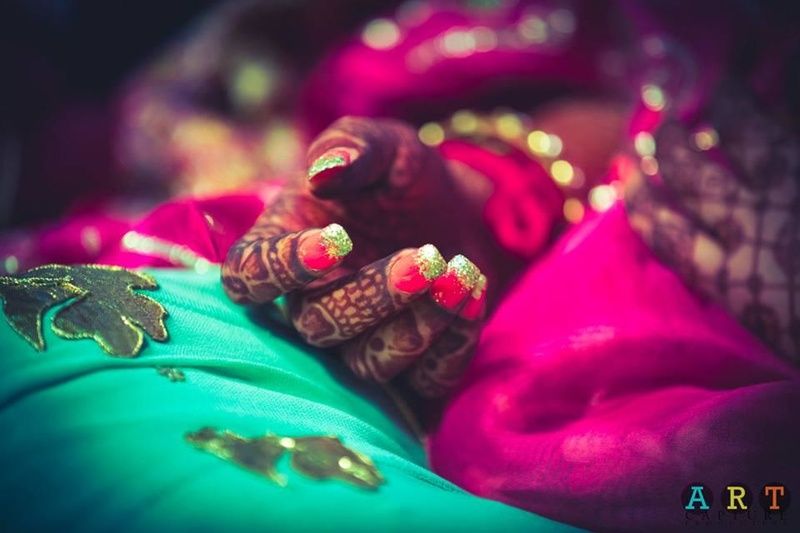 Pic via Khushbeen & Gurlal's Wedding
Adding gold to any shade makes it festive so try to tell your salon to do just that. It's fun and stylish and besides how many times do you get to do this? Add silver as flecks or as a border to add glamour.
Subtle Nudes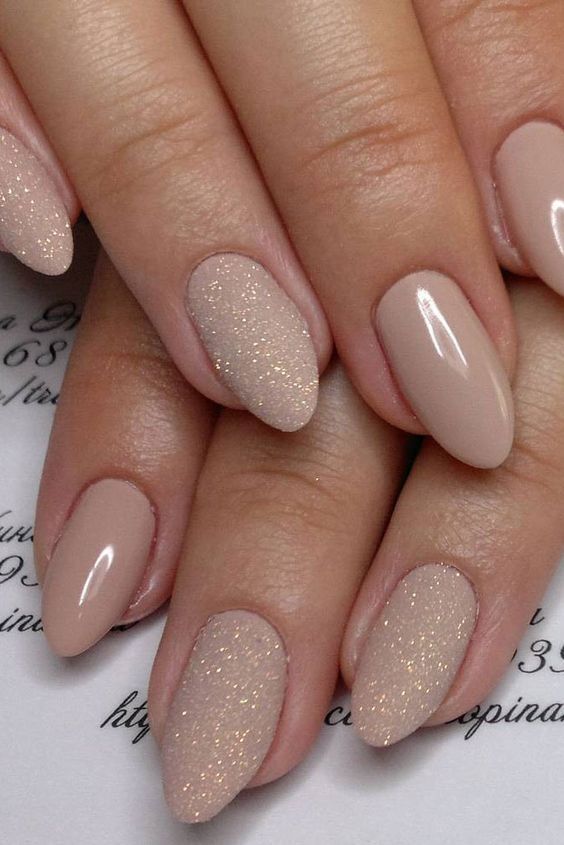 Perfect for a low key bride who wants her outfit to do the talking. Also, you don't have to worry about it matching your every outfit for your 5-day wedding! Add a neutral glitter nail too so you could make it bolder in a jiffy!
Graphic Nails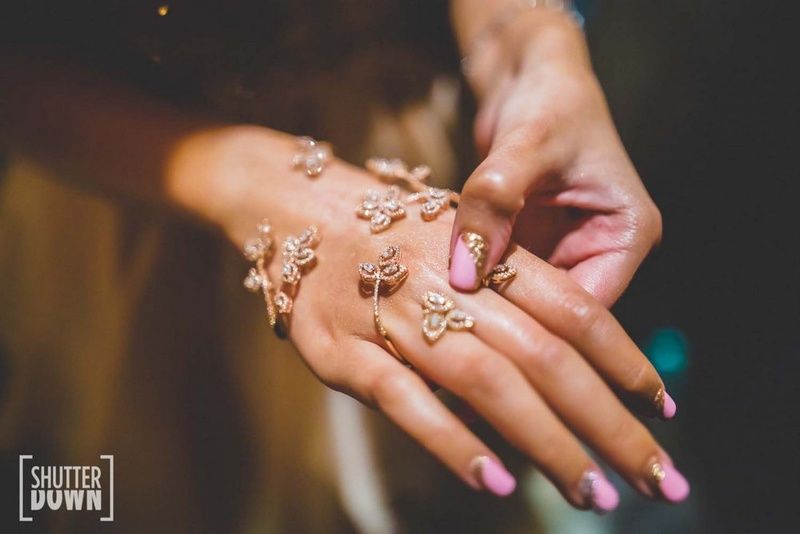 Pic via Shutterdown - Lakshya Chawla★ 4.9
Add gold or any other second hue in graphic design with colour-blocking to make it to 2017. We love this gold design triangle bit - so cute!
Foil Nails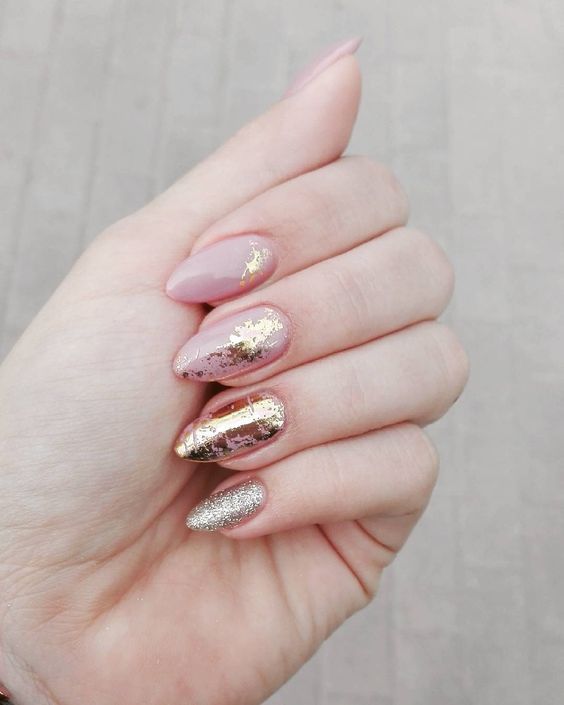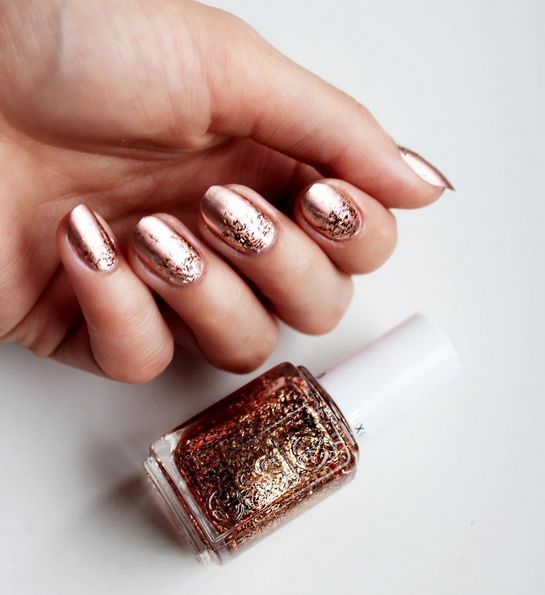 Image Source via Pinterest
The newest trend on the block is for brides who love their bling yet don't like to bathe in it! Barely there gold foil can look gorgeous on your d-day. You can even experiment with copper or silver.
Mirror Nails
Image Source via Pinterest
They don't seem like the perfect delicate bridal nails but nowadays its all about breaking trends. Perfect for your rock-chic do!
Mehendi Nails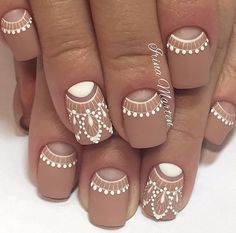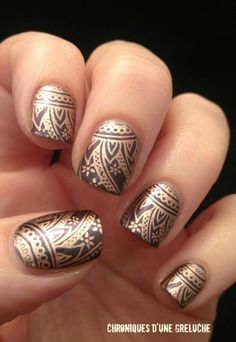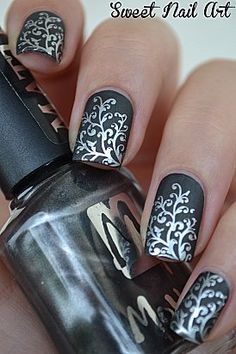 Well, this is self-explanatory. Add a colour you like and design a complimentary hue like Mehendi - it's chic and fun and oh so bridal.
Contrast Them Out
Contrast the nails with your outfit and balance the theme. We love how blogger Masoom Minawala went with happy blue that complimented her sweet yellow dress!
Dark Nails #ForTheWin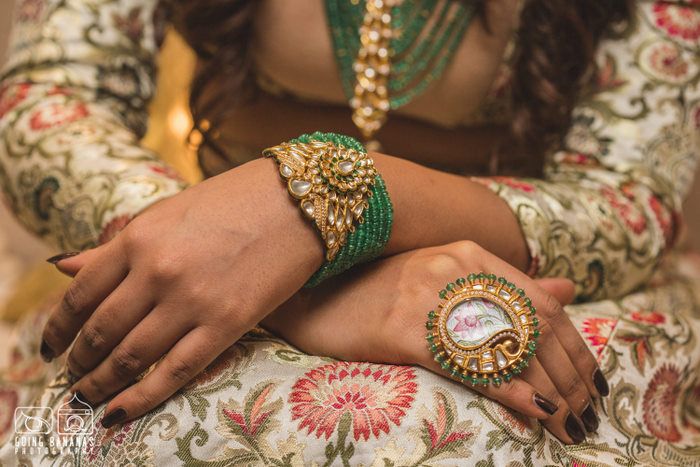 Dark nails are less preferred by brides but this year, the prime colours ruling the market are maroon, oxblood, plum, matte black and bottle green. If your lehenga is multi-coloured or lighter, these can be a welcome addition.
Bright As Night Nails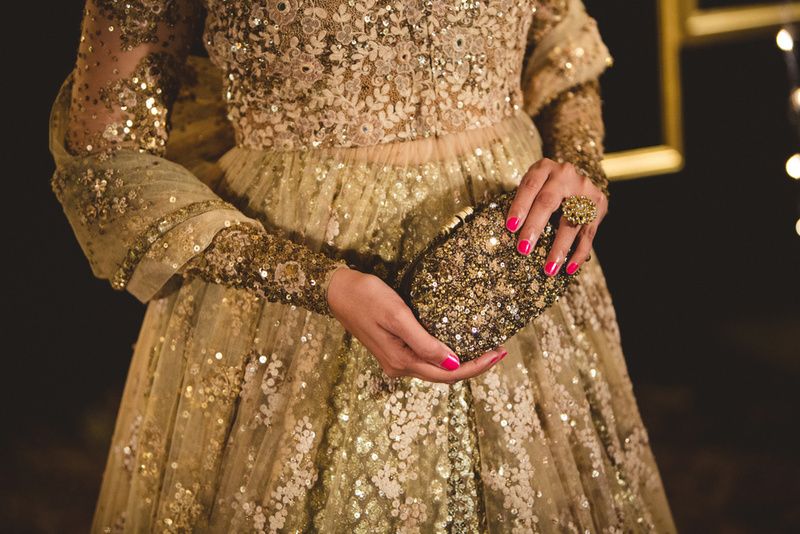 A classic red or fuchsia will add glamour to any do - so stick to a nice glossy hue. Matte is out unless it is in darker shades, so for now, enjoy your brights because they add a pop of colour to your look!
Swarovski and Stones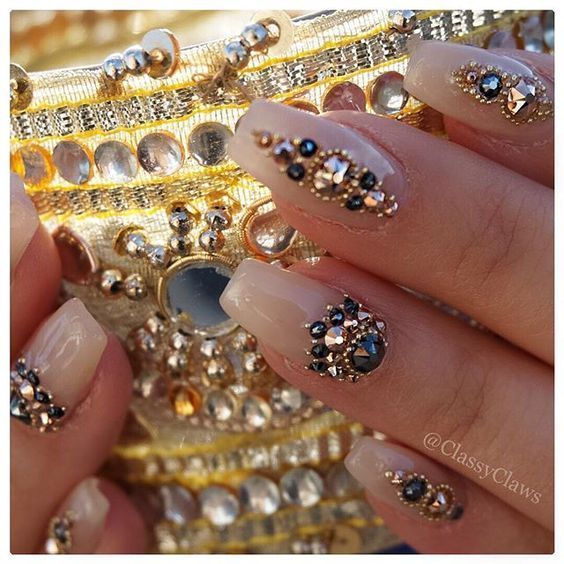 If you have an experienced salon, stones and trinkets make for some great embellishments - fancy. But the deal is that, they can be annoying if a stone or a bead falls off before the ceremony.
Fun Nails in Silver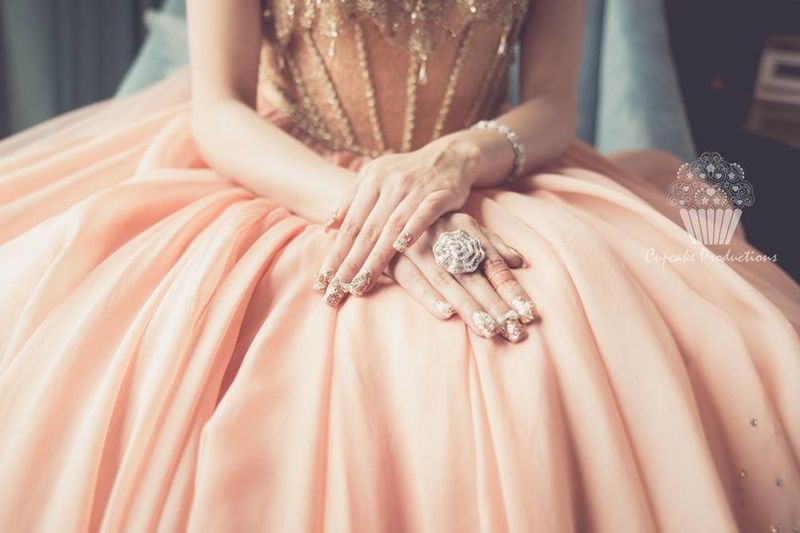 Pic via Cupcake Productions★ 4.8
This bride was the most experimental among our brides at WMG. She had her nails done with glitter and little cute bows and stones to compliment her look!
Pastel Nails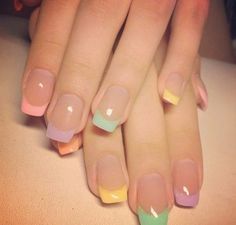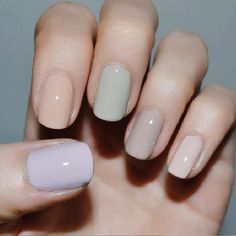 Pastels are in big time this year so look up the hue you like - from lilac to blue to even pink and yellow. If you hate going all pastel, add it like French Manicure - just at the tips!
Ombre Nails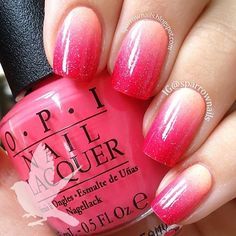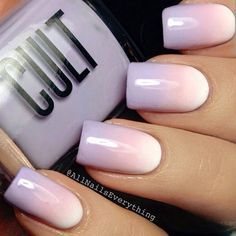 Ombre nails are super new and everyones trying it these days. Pick two hues that compliment you - either from your lehenga or from your wedding board and go bonkers. But sometimes, they are a big risk - it washes off or breaks and sometimes the colours get smudged, so be careful. Here's a tiny tutorial on how to get them.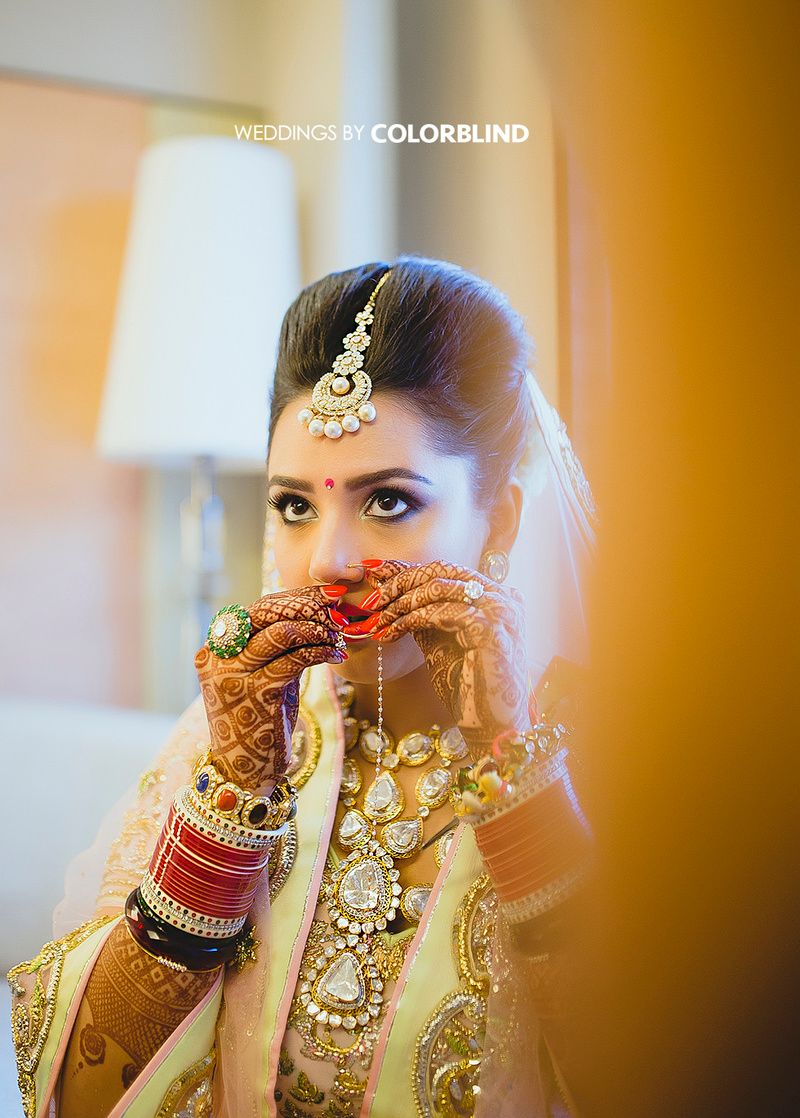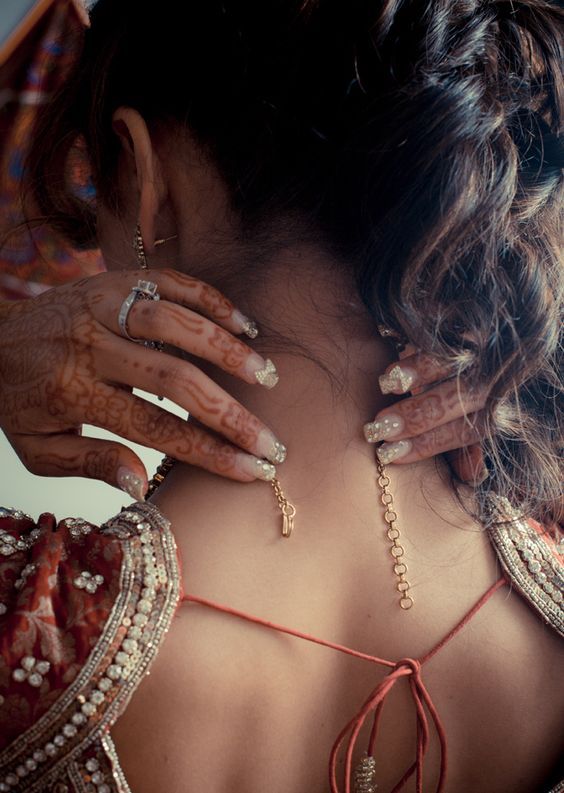 Pic via Colorblind Productions; Pinterest 
So what are the definitive rules for nailing your manicure on your big day? Here's a 101 on bridal nails.
Wedding Day Prep: 
Nails will only be as photogenic as the level of groundwork you put in, so keep nails in tip top condition. How long before the big day should you start the prep though and how often should you see a manicurist? If you are a biter then at least 6-8 weeks before. For normal nails, 1-2 manicures before the big day manicure should be enough.
Buy More Than One Bottle: 
Once you've found your perfect shade—stock up. One for the salon, one for your wedding day emergency kit and one to pack in your honeymoon bag!
Take care of your nails: 
Do keep the nail bed hydrated by using cuticle oil daily.
Don't forget hand cream:
It's amazing what moisturizing your hands can do for your pictures. Massage cream into your cuticles and knuckles before your photographer takes close ups of your ring or mehendi for instantly younger looking hands.
Get a gel manicure a day before:
 Gel manicures were the best thing to happen to bridal nails. Instant dry time and chip-free for weeks—it's literally a dream come true! But after a few days, gel manicures start to lose their lustre. Get them done only one or two days before your wedding functions begin.
Don't Experiment:
 We're all for a fun nail design, but if you're not a "glitter and appliqué" girl usually, your wedding day isn't the time to experiment with nail art.
Look up brands and labels:
Shellac and Model's Own are supposed to be the best in the business and so are OPI and Maybelline Express Finish.
Where do you get the best nails done?
Mumbai
Delhi
Bangalore