We Found The Perfect Mangalsutra Haven For Our Millennial Brides!
BY Garvita | 05 Dec, 2021 | 5507 views | 3 min read
When you think of a mangalsutra the typical, conventional designs come to mind. However, with every wedding element evolving with a touch of modernity, how can a millennial bride not wish for a one-of-a-kind mangalsutra? You've probably saved a dozen of unique mangalsutra ideas on the wedding mood board but couldn't find any that brings alive traditions with contemporary silhouettes, until now. Tanishq's new range of mangalsutras - dõr, is synonymous with elegance and innovation. It captures the essence of the 7 wedding vows, and pays a tribute to the evolving avatar of a modern woman!
While crafting your own vows is definitely on a rise, these seven vows will always remain an inherent part of our culture –
मित्रम् - To remain friends lifelong
पौष्टिकम् - To nourish each other
वृद्धि -  To grow together in strength
संरक्षन - To preserve wealth (secure)
भाघः - To share joys and sorrows
कुटुम्ब - To take care of family
एक्यम् - To be together/ united forever
And Tanishq chose to artistically etch these promises on their latest mangalsutra designs so that you can hold them close to your heart. How precious, ain't it?
This collection offers 15 intricate designs that are ideal for the new-age millennial brides, and we churned out a few styles that made us fall head over heels by the sheer freshness. Every piece is a concoction of traditional elements with a contemporary style, as unique as the relationship, a couple celebrates. Read on to save the one that fits in your everyday style!
Mangalsutra Design Inspired By A Sindoor Dani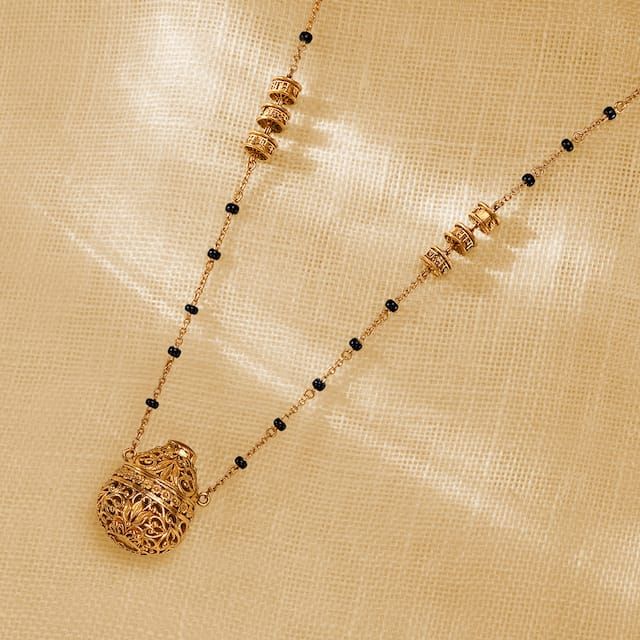 Shop here
When symbols of matrimony blend together, the result ought to be this mesmerizing! But what truly makes it unique is the red motif which reflects the colour of the vermilion. It signifies the female energy of Parvati and Sati. Six vows are engraved on the gold roundels in the chain and the seventh one, 'To remain friends lifelong',  is mentioned at the bottom of the pendant! The design is bold yet elegant and can easily be pulled off with a light saree to work.
Mangalsutra Design With An Openable Pendant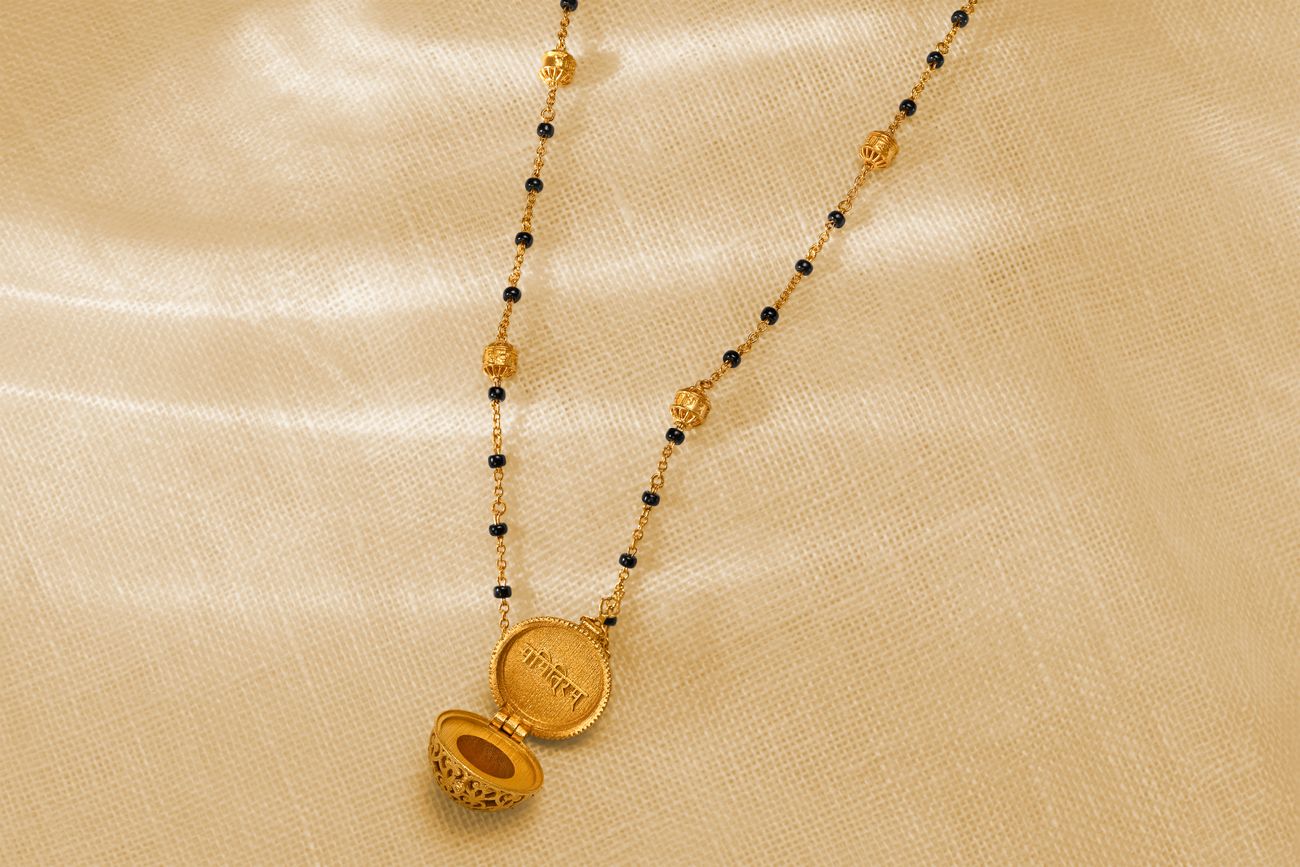 Shop here
Openable pendants remind us of those vintage-era romances, where couples used to treasure each other's pictures et al. This enameled mangalsutra design is an immediate showstopper and can be dressed up or dressed down basis the mood!
Vati Mangalsutra with Enamel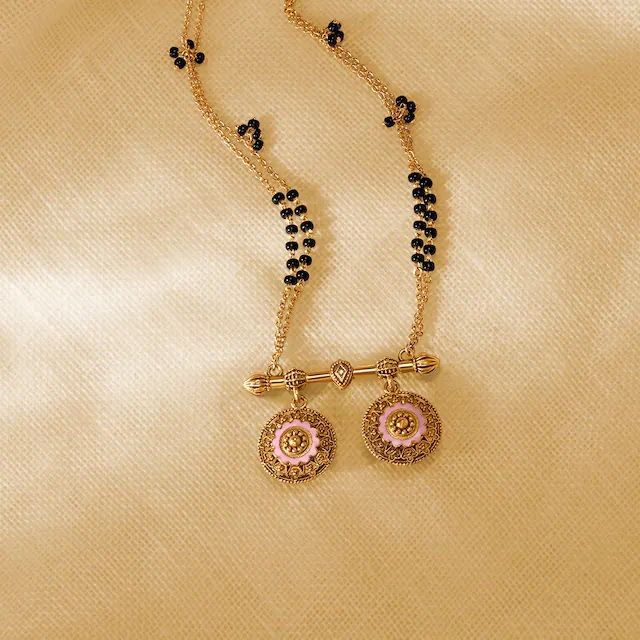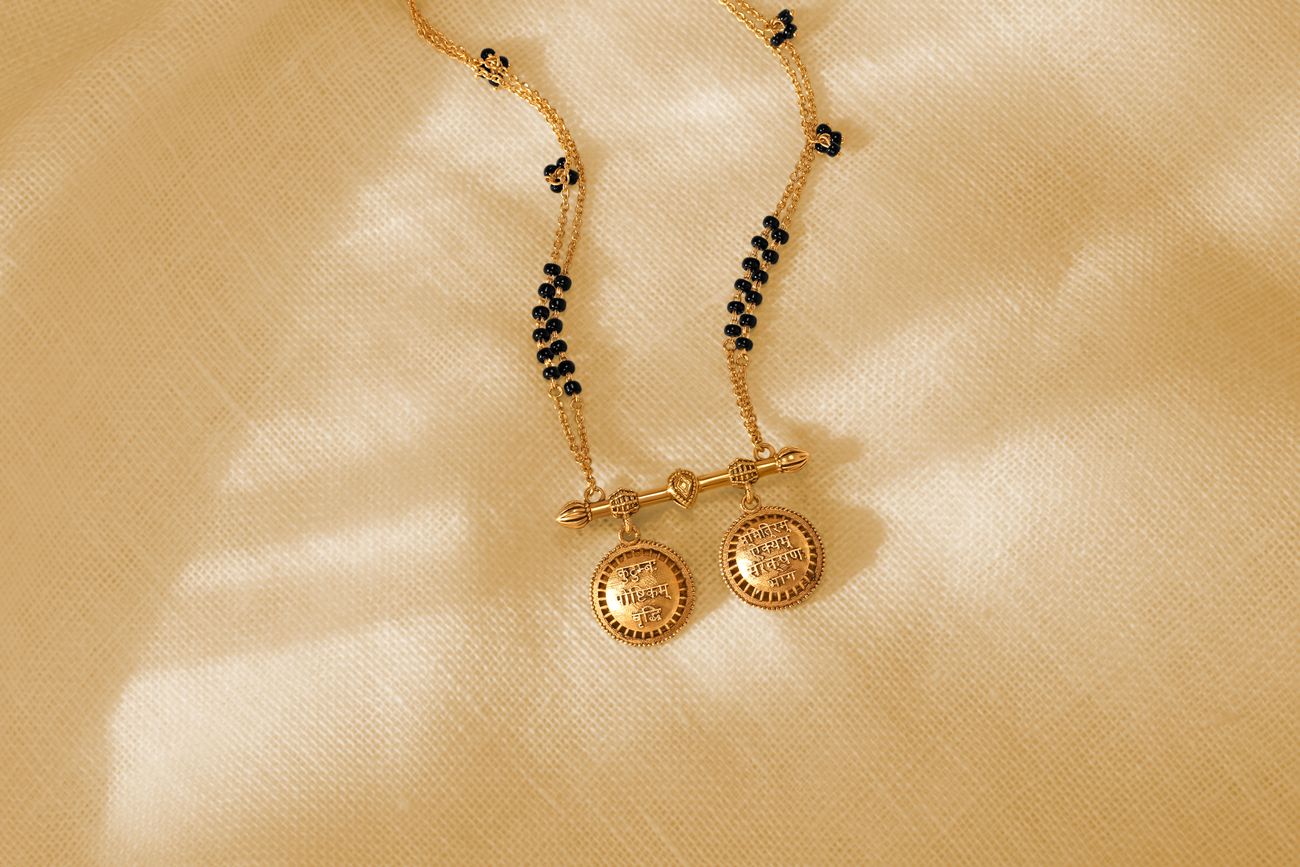 Shop here
This may look traditional at first glance but trust us, there's so much more to this elegant design. It celebrates the union of two hearts with the two 'vatis' that represent‌ ‌the‌ ‌families‌ ‌of‌ ‌a bride‌ ‌and‌ ‌groom‌. The back design is inscribed with the seven vows for the couple to cherish forever. Be it formal workwear or traditional Indian suit, it'll surely elevate any kind of attire.
Seven Vows Mangalsutra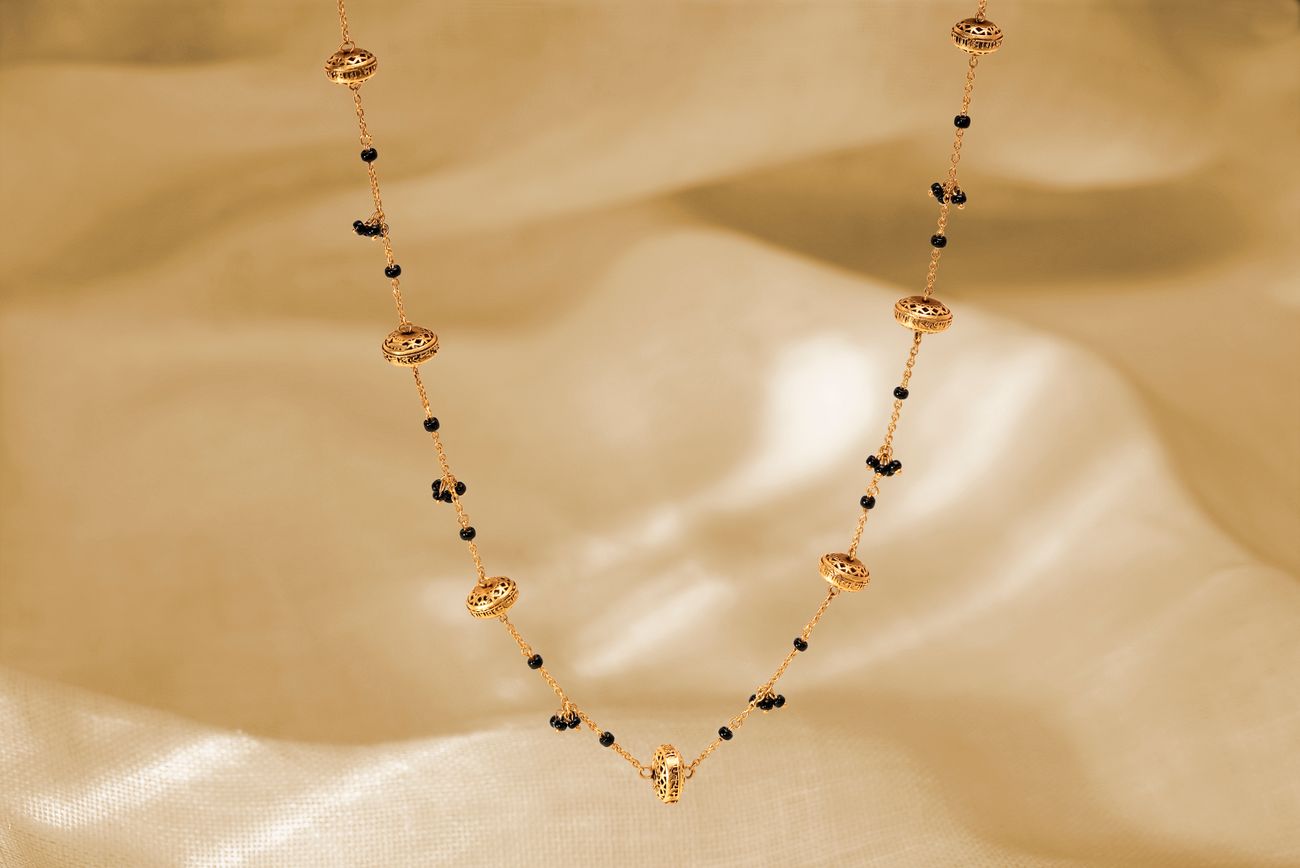 Shop here
A mangalsutra design with a twist that spells minimal! This one has the holy vows carved on the gold beads that serve as a reminder of your beautiful, new phase of life. It exudes a voguish vibe and can be effortlessly styled with any outfit.
We bet you'll love these mangalsutra designs by Tanishq  forever! It's like wearing a token of love with a unique essence attached to it. Find your favourite one here -  https://bit.ly/3p8sE3N