Where To Buy Floral Jewellery Online!
BY Guest Author | 27 Apr, 2021 | 40033 views | 9 min read
Let's face it, if you're a millennial, chances are one of your cousins or besties is likely to get hitched soon! That means prepping for all kinds of pre wedding festivities, especially ones like the Sangeet ceremony and Haldi ritual, the perfect occasion for you to shine with your fashion choices! While outfits are a big deal, your accessories can be just the thing that makes or breaks your look.
Enter floral jewellery, one of the most refreshing and fun accessories to be introduced to this generation of brides and bridesmaids!
FLORAL JEWELLERY FOR HALDI CEREMONY
How to style your haldi look with floral jewellery:
One thing that we are sure about is that one can never go wrong with a trendy floral jewelry. When it comes to the haldi ceremony you can style your floral jewelry with any outfit, whether you plan to wear a saree, lehenga-choli, dress or a suit. One thing to keep in mind is to avoid wearing yellow coloured floral jewelry because you wouldn't want it to blend in with the colour of the haldi paste. So, go for odd colours of floral jewelry  like pink, blue, purple etc which will compliment your whole look even after the ritual of haldi.
We have covered the latest flower jewellery designs and are listing down our favorite places where you can buy artificial flower jewellery for your Haldi online like a pro.
1) Find the perfect floral accessories for Haldi on InstaCrafts_Jaipur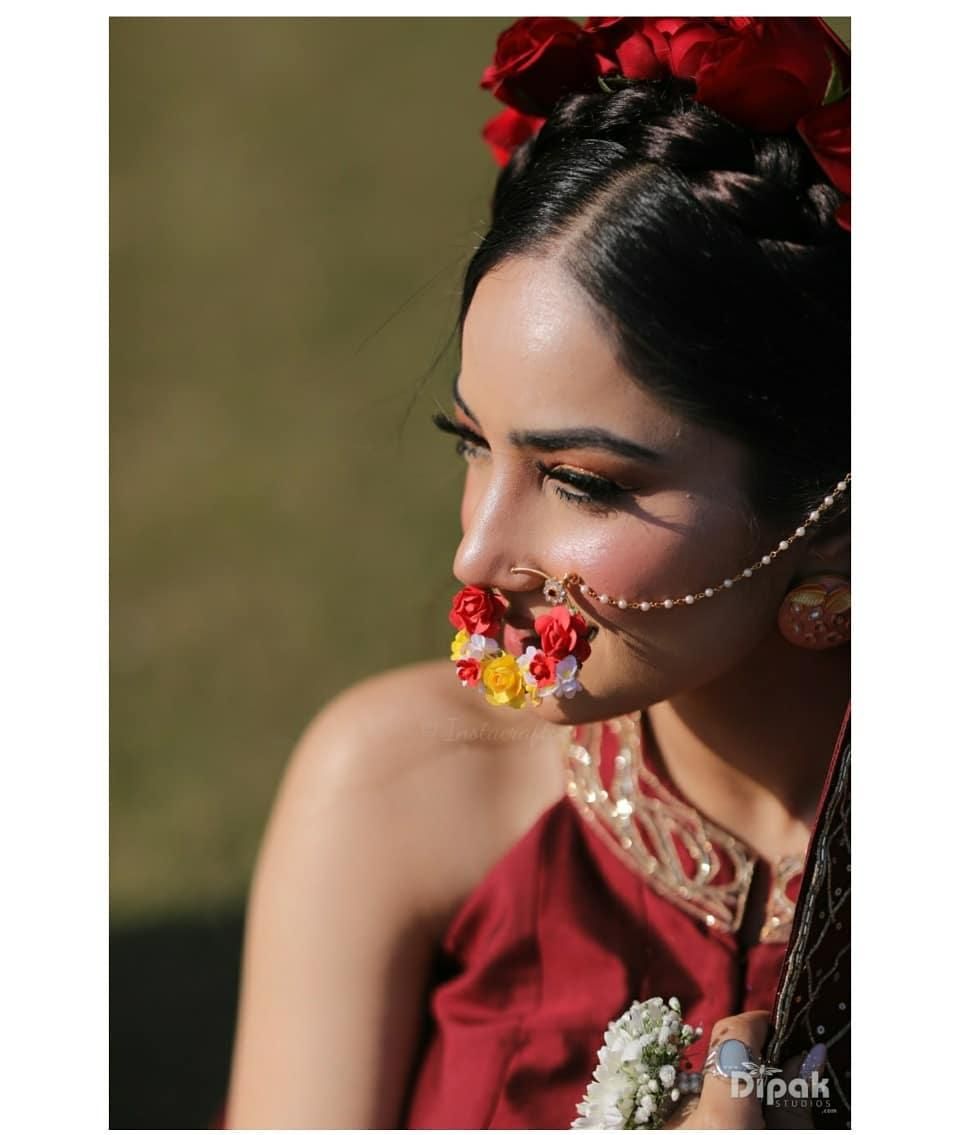 Image via Instacrafts Jaipur★ 4.9 Instacrafts Jaipur★ 4.9
Add a bohemian touch to your Haldi party favors with floral tiaras, noserings and corsages from this online store! Traditional with a twist, their designs are certainly unique and suitable for a millennial bridesmaid! They stock gorgeous floral crowns and set of bangles starting at Rs 500. They also blend floral designs online with other styles popular with bridesmaids such as gota patti and pearls. It's certainly a bargain if you're looking to score specifically fabulous artificial flower jewellery for haldi online.
2) Check out Anoo Flower Jewellery to shop for artificial floral jewellery online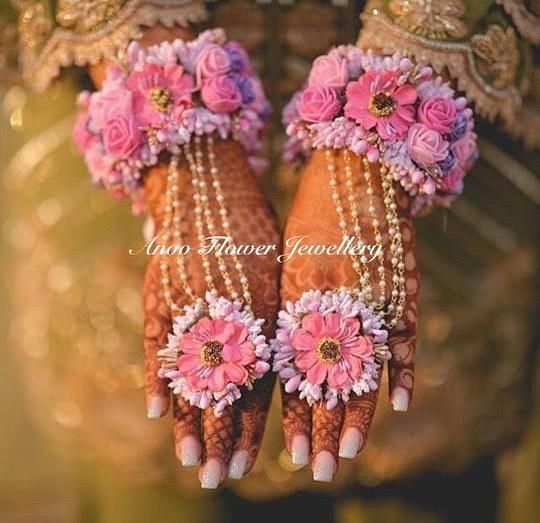 Image via Anoo Flower Jewellery★ 5
If your whole bridal party is looking to source some matching accessories, check out this online store to be spoilt for choice, especially since they provide free shipping for orders over Rs 5000! From delicate to over the top floral jewellery, they have a plethora of choker necklaces, mang tikas, handcuffs and more for you and your bridesmaid to match with on the day of your haldi. This is just the perfect place to buy yourself the coolest artificial flower jewellery online.
3) Go contemporary with Outhouse Jewellery 
Image via Outhouse★ 3.8
If you're one to follow the path less taken with a taste for premium quality, Outhouse may be your new favorite for flora inspired jewellery. Not only are their designs a favorite among the likes of Kareena Kapoor, over the past few years the brand has garnered a reputation for making unique and avant garde pieces. If you don;t mind the splurge, check them out to shop your favorite flora inspired jewelry to complete your haldi look.
4) Floral Art by Srishti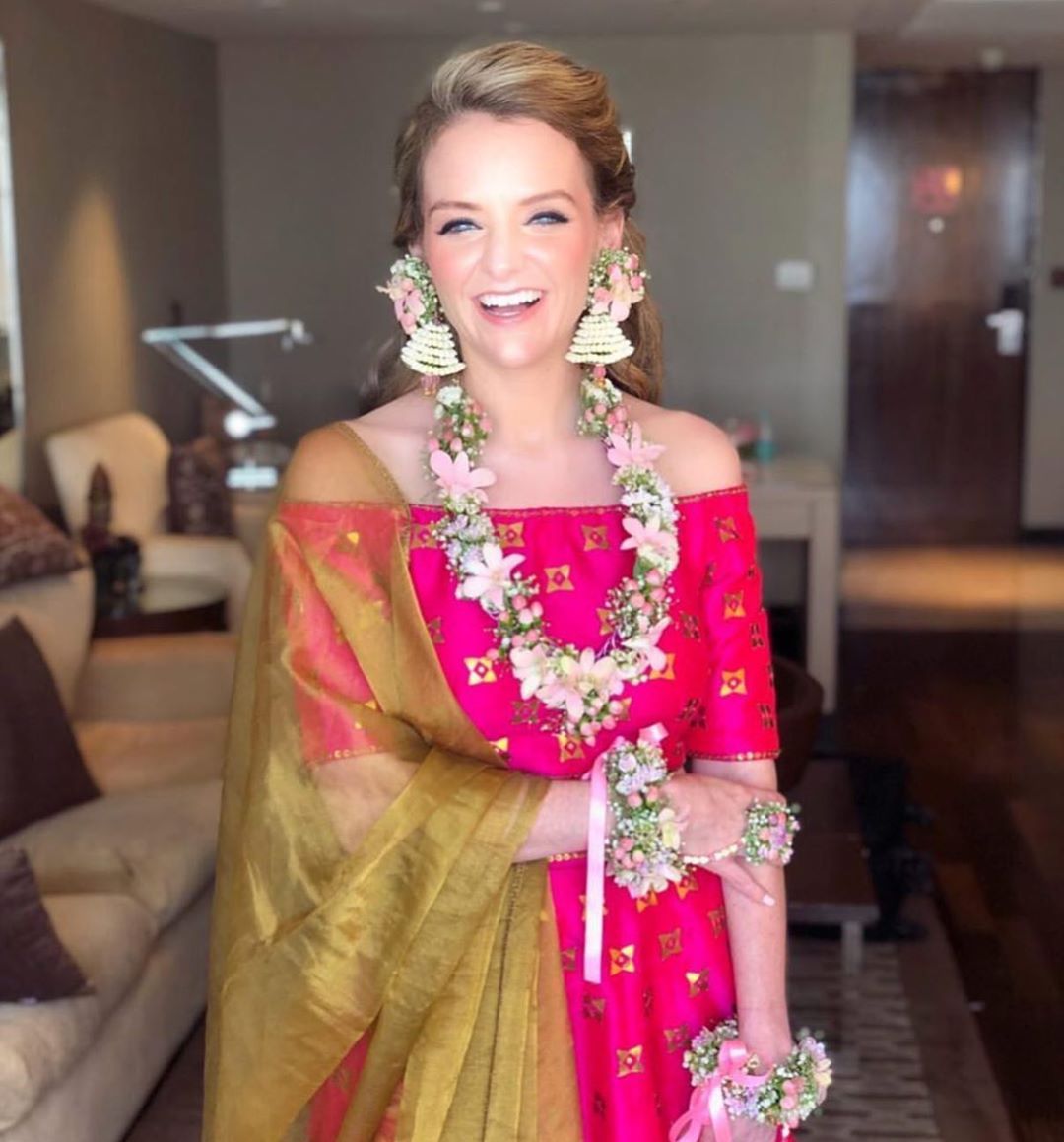 Image via Floral Art by Srishti  
This one is a full blown floral gifting and design studio therefore it goes without saying that they have carved a niche when it comes to stocking stunning options for artificial floral jewellery online. They boast of clients such as Sonam Kapoor and Neha Dhupia so their designs are sure to turn heads should you decide to adorn their creations too! Floral Kaleeras and pretty crowns galore is what you are in for! 
5) Shop the perfect artificial flower jewellery for haldi online from Style Chakra by Priyanka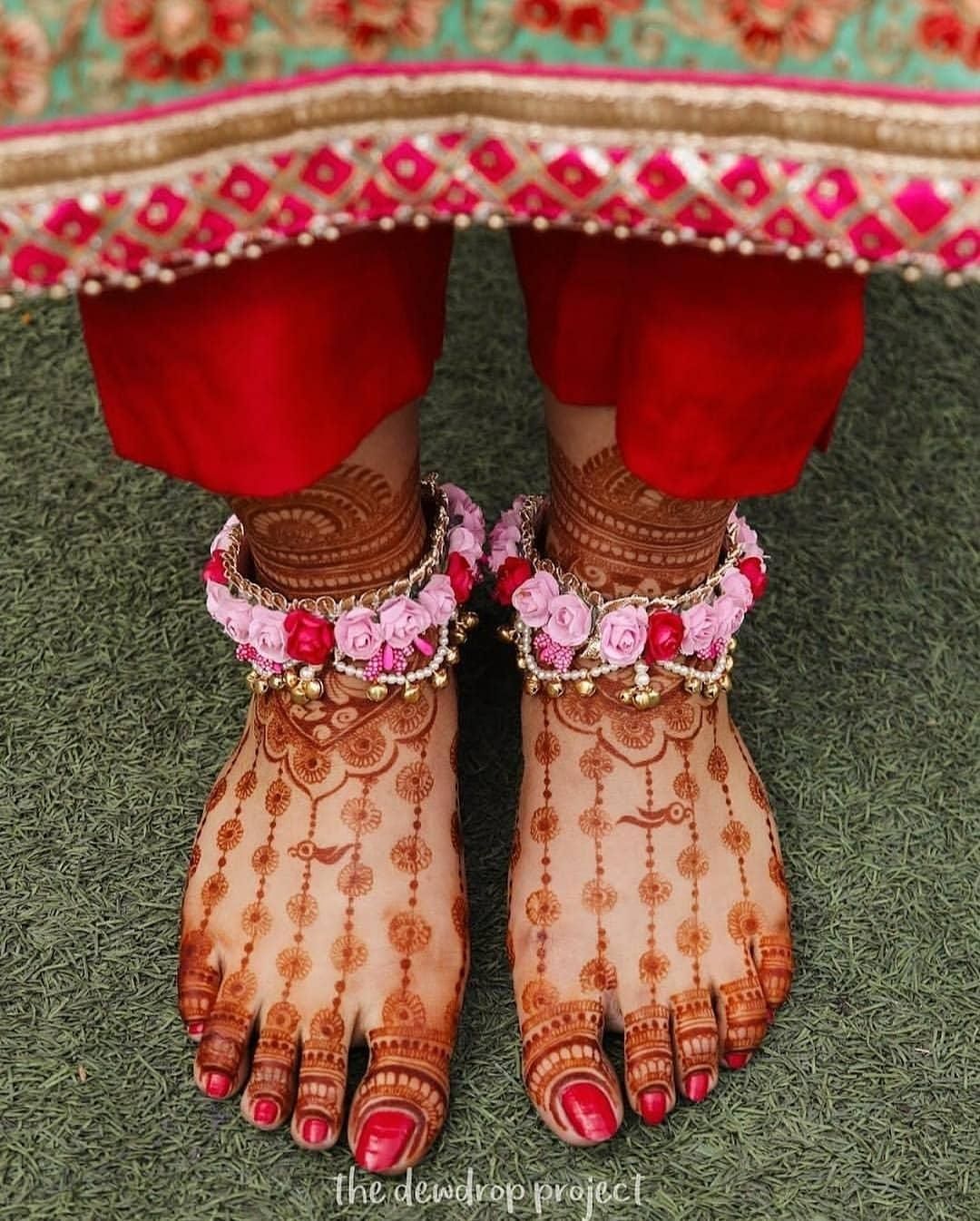 Image via Style Chakra★ 5
Yet another floral jewellery destination that extends it's services to both desi and NRI bridal parties! They Style Chakra specialises in bridal essentials such as floral kaleeras and haath phools. Brides can also source gorgeous wedding favors for bridesmaids from them, especially since their pieces are hand crafted and likely to be a sweet reminder for the bride and her tribe!
6) Get Your Hands On The Floral Jewelry Set  From Vivid Flora To Complete Your Haldi Look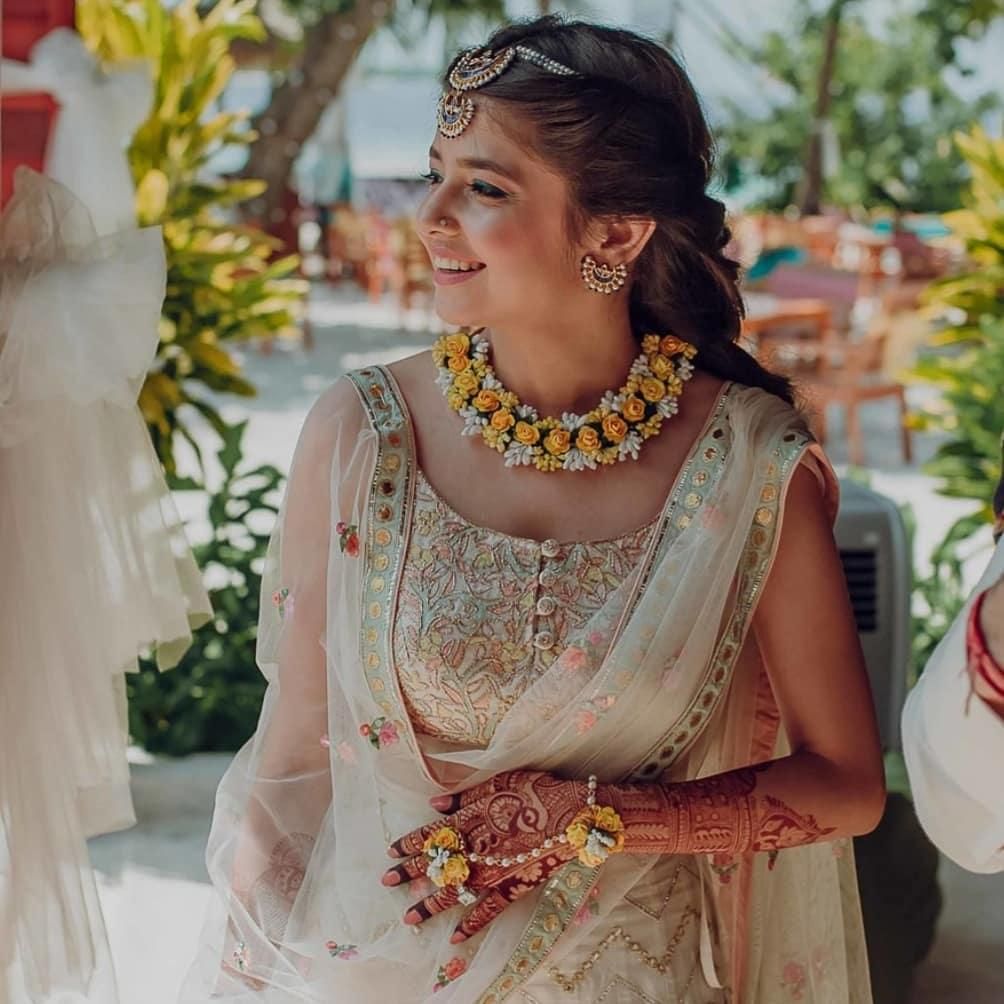 Image via Vivid Flora
Available exclusively on Instagram, Vivid Flora is the go to place for inexpensive yet statement pieces such as floral paasa, haath phool and beyond to complete the look of your haldi jewellery. Their page is a testament to the many brides and bridesmaids who have sworn by their designs and quality which they ship worldwide. So rejoice NRI brides, here's a one stop shop for hassle free shopping of artificial floral jewellery online! 
7) Checkout the amazing collection of Real, Dry, Gota flower jewellery at Petal Jewels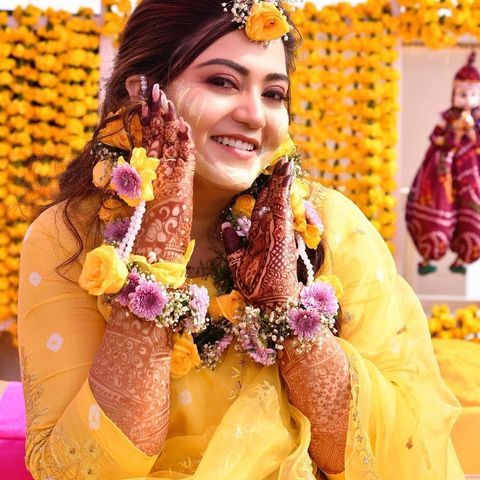 Image Via Petal.jewels
Petal Jewel is another amazing online store where you can get your hands on beautiful floral jewelry for your haldi. Their amazing collection of real and artificial gajra for your hair and gota jewelry is something you would not want to miss. Also, checkout the beautiful floral sets that you can match with your bridesmaid on haldi. 
Floral Jewelry For Mehndi Ki Raat
How To Style You Mehendi Attire With Floral Jewelry
One of the many things special about floral jewelry is that one doesn't have to stress out about searching for matching colours as their outfits. No matter whatever style and colour of outfit you are planning to wear on your mehendi ki raat you can style it up with any colour of floral jewelry that you wish to. Planning to wear a red outfit? You can go with orchids or artificial floral  jewelry in yellow, purple, blue, pink...basically any colour that you can think of for your outfit and for the floral jewelry. Doesn't this make everything so easy? 
Let us make it easier for our pretty bride by  listing down our favorite places where you can buy artificial flower jewellery for your Mehendi ki raat at the comfort of sitting at home. 
1) Explore Options from Anuradha Art Jewellery to find perfect floral jewelry for your mehendi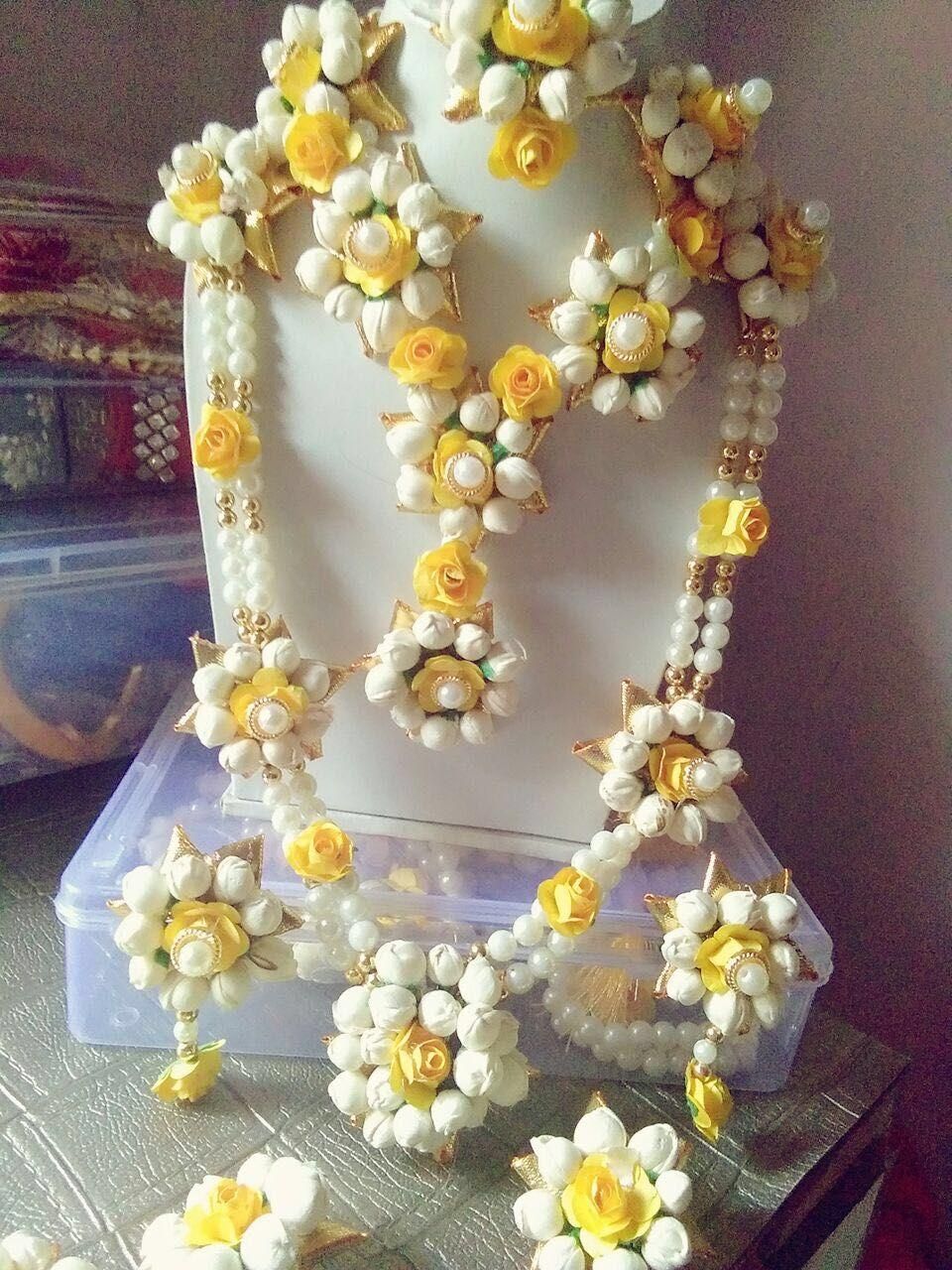 Image via: Pinterest
With over 20 years behind their brand name, Anuradha Art Jewellery stocks some of the most exquisite artificial floral jewellery online! Whether you're into pretty pastels or solid reds and blues they have pretty much everything covered that a girl could possibly want. Pretty faux roses strung together with pearls is their design specialty and you can shop for their floral jewellery ranging anywhere from only Rs 600 to elaborate sets at Rs 1200. 
2) Le Fleur Jewels for an Insta Worthy Pre Wedding!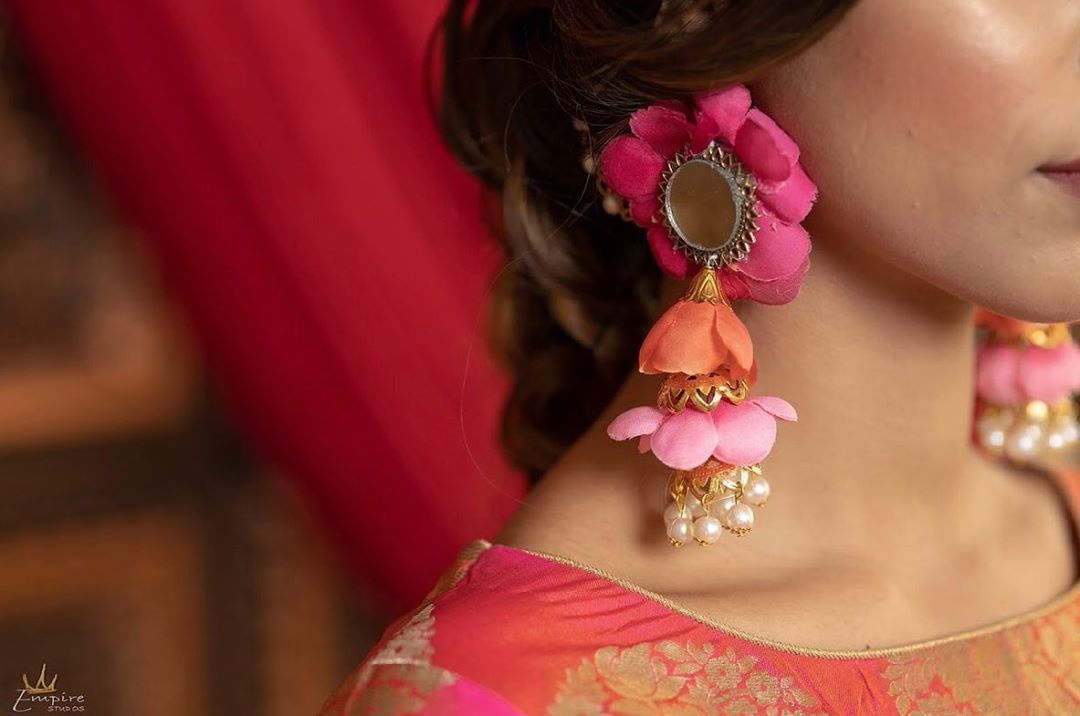 Image Via LeFleur Jewels
Brace yourself for vibrant colors and chic details to dominate your pre wedding pictures. Le Fleur puts their expert spin on traditional floral designs to create modern pieces that feature mirror work beautifully woven into floral earrings, chokers and even parandis. Hit them up for floral hoops and anklets for the perfect haldi and mehendi look. 
3) Visit the Hand Krities for affordable artificial floral jewellery online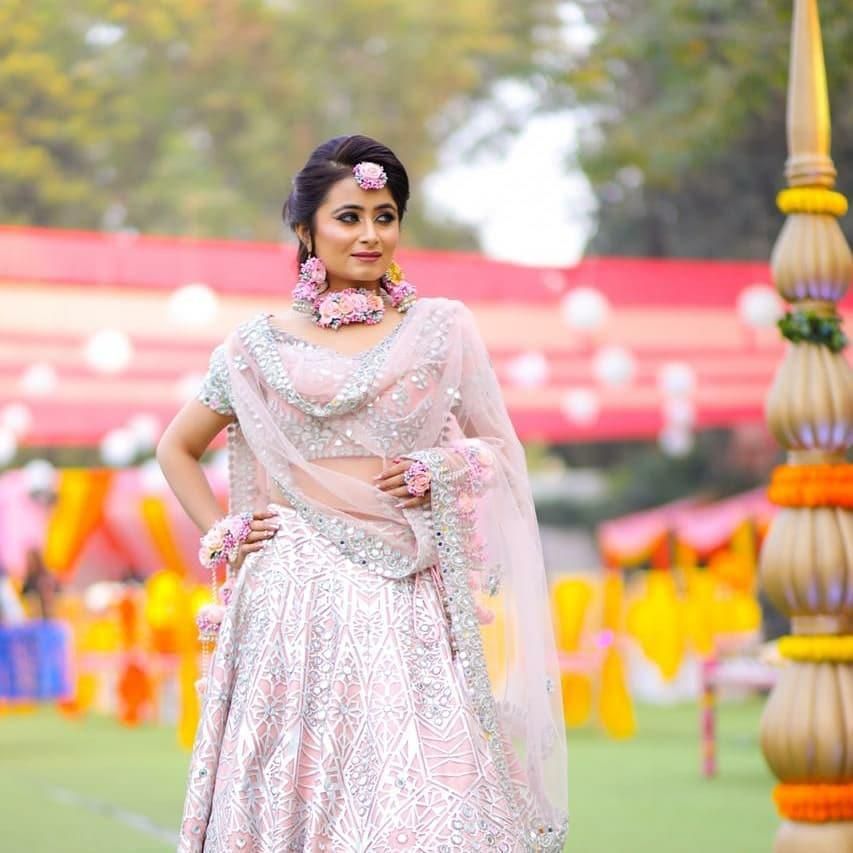 Image via The Hand Krities★ 4.3
If you're a minimalist looking to add just a dash of color to your big day, check out this Delhi based home grown brand for affordable yet adorable options. Pretty brides are featured all over their Instagram flaunting their favorite floral combs, bracelets and kaleeras in trending hues such as pinks and pastels. Bridesmaids can also check out their anklets and floral tiaras, available at super competitive prices!
4) Dulhanama for customised flower jewellery

When everything's gotta be your way, why should your jewellery take a back seat on your big day? Dulhanama is the place to explore for getting flower jewellery that's made just for you! From floral chaand balis and haath phools to maang tikas they customise every little piece that your heart may desire to flaunt on your big day! Their designs also feature pearls and fusions of gota which are sure to add a statement to your overall look. 
5) Explore your funky vibes this wedding season with Papa Don't Preach by Shubhika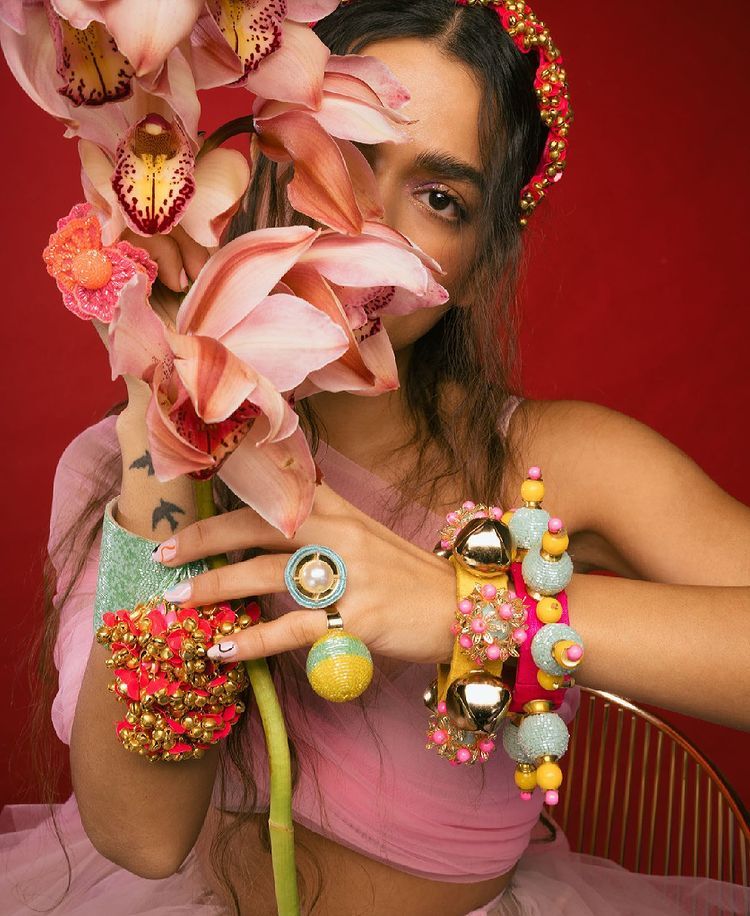 Image Via Papa Dont Preach★ 4.7
The brides who effortlessly display a fierce urban sense of style, and are constantly experimenting and redefining their fashion boundaries, this online store is just for you. From these eye catching bangles to funky kaleeras and mathapatis ... everything is a colorful modern twist on the traditional floral jewelry which you should not miss out on. The store also has a whole collection of funky heels and bags, which we always go heart eyes for. 
6) Get the jewelry customized for your mehendi by bloom floral jewelry store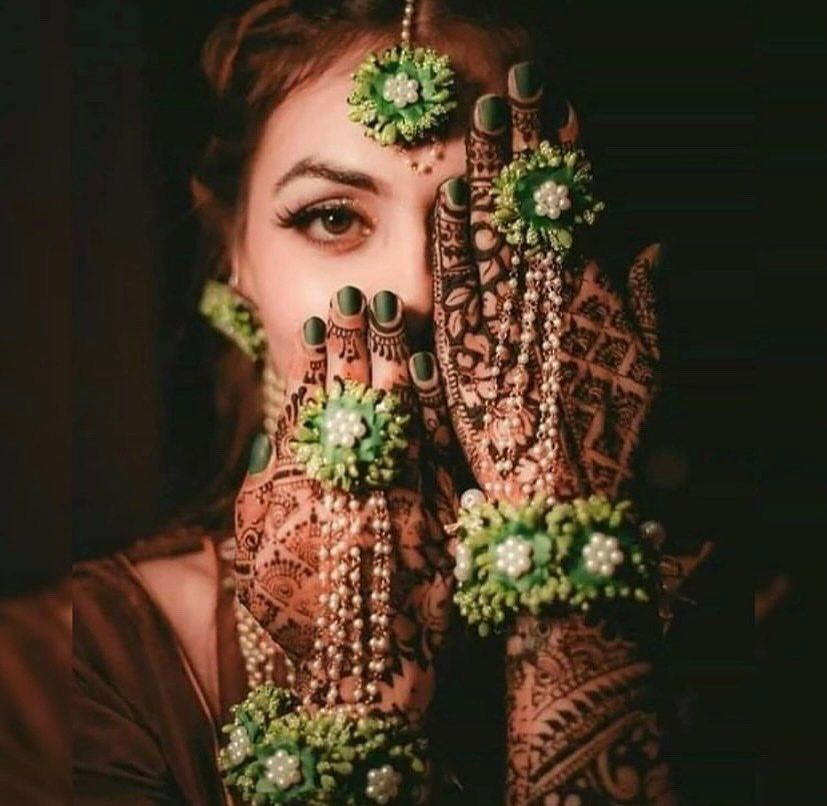 Image Via Bloom Flower Jewellery by Aarfa
If you have been looking for a sign to opt for jewelry that matches your mehendi lehenga to a T, this is it. You can get your floral jewelry customised as per your liking to rock your mehendi look by the bloom flower jewelry. They also excel their services in creating flora inspired jewelry of any kind with real flowers in pocket friendly prices. 
7) Check out India's First luxury label for Bespoke Floral Jewellery for you mehendi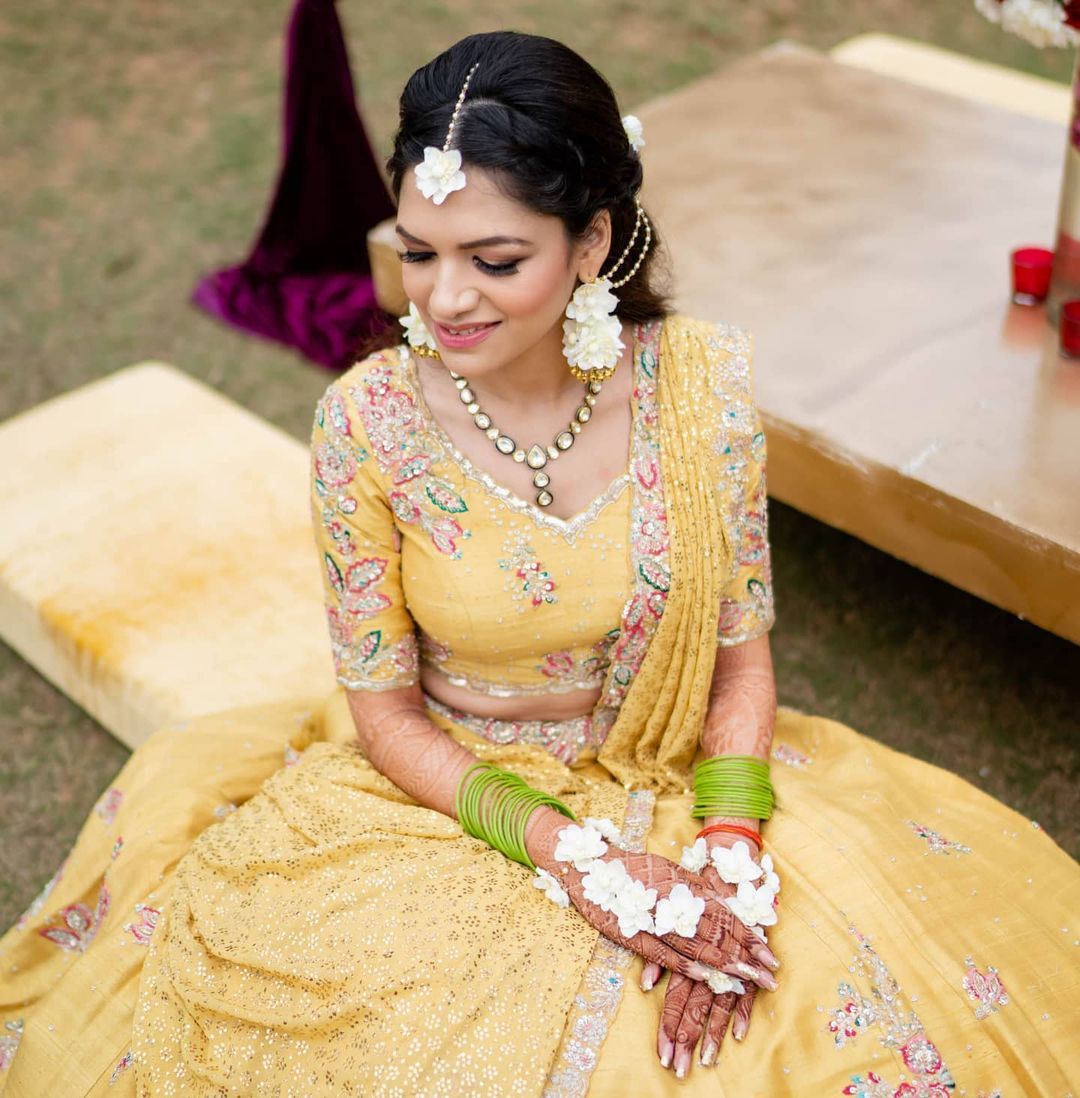 Image via Prune India
If you are looking for elegant and classy floral jewelry to match your attire for the mehendi festivities. Prune India is there to provide you with the best quality of floral jewelry.  Their exclusive jewelry in bespoke silk flowers , customized Haath phool and drop kaleere and ghungroo handcrafted in finesse are some of the products your heart will pop out to. The other amazing thing about them is that you can discuss your outfit with them and they'll personalize your flower  jewelry for you. 
With all these options to explore, whether you are the bride or bridesmaid, we hope you have a great time shopping for flower jewellery online! 
Not a fan of floral jewellery? Do check out these alternate mehendi jewellery.
Authored by Riddhi Soni