Where to Shop for Bridal Wear in Bangalore !!
BY The WMG Bride | 06 Aug, 2014 | 9780 views | 7 min read
So when it comes to bridal wear shopping in Bangalore, there are options galore for the South Indian brides, but not so much for the North Indian ones as compared to of course Delhi or Bombay. We've already told you our favourite haunts in Mumbai, Ahmedabad , Kolkata and of course in Chandni Chowk, but here's some dope on bridal shopping in Bangalore- not really the first city that comes to mind when we think of Bridal shopping, but nonetheless has some hidden gems of its own!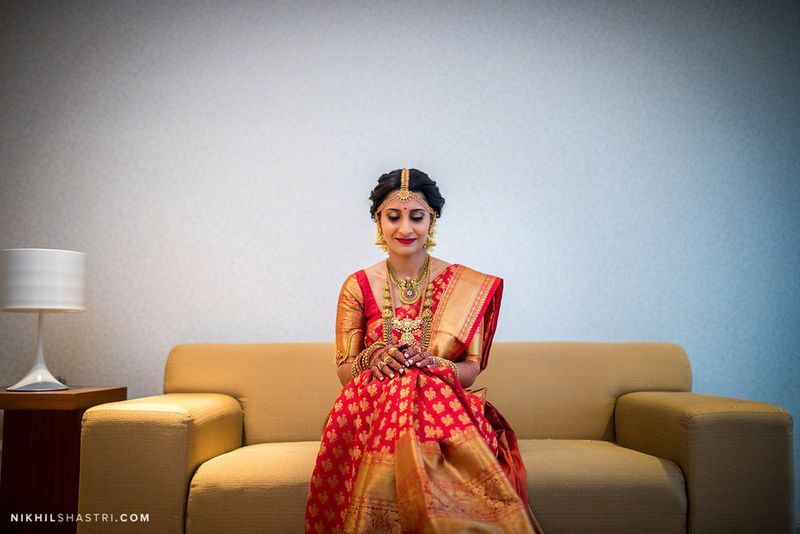 Photo Courtesy: Gaurang Shah
All you need to know is where to head to, and we are here to help you with just that! It's a long list, so hang on!
Bangalore-based Designers
While you do have most of the high-end pan-India designers in the city, there are also quite a few Bangalore-based ones who are good.
Anjali Sharma- French Curve
If you're looking for modern or fusion bridal wear, then this label has some amazing options out there! Anjali Sharma has a fresh take on outfits, and they have outfits that are very dreamy, girly and feminine to bold and traditional!
Location: Off Castle Street
Check out here for more
Jaimala and Seema Malhotra- Shimmer
Semma Malhotra is quite a name to reckon with, designing for films like Shakespeare in Love, Elizabeth and Finding Neverland. The mother-daughter duo do beautiful ethereal designs, perfect for any bride to look like royalty!
Location: UB City
Check here for more.
Soumya Nandiva
Fresh, new age lehengas for your sangeet and mehendi - Soumya Nandiva has new age, lehengad for the playful bride.
Check Soumya Nandivada★ 4.7 for more
Riya Kodali
Light lehengas, banarsi jackets and a lot of trousseau essentials are available at Riya Kodali.
Check Riya Kodali Design House★ 3.9 for more
Deepika Govind
Her weaves are innovative but pretty traditional at the same time. Not a fan of too much bling, her designs are simple but still stand out from the rest.
Location: MG Road
Click Deepika Govind★ 5 for more.
Michelle Salins
Her creations are a brides' dream trousseau. Traditional at heart, but still quite modern! She does wedding attire which is custom-made, regal, elegant and classy.
Location: Residency Road
Click here for more.
Ritu Pande- Ritu Pande Creations
If you are looking for something that's a good fusion of Indo-western for some of your other functions, or want a designer custom saree that's easier to drape, then you might find something you like!
Location: Off Old Airport Road
Click here for more.
Sarita Mandot
With our changing trends and tastes time and again, her pieces are more timeless. So if traditional is your thing, do give her a thought! While she designs for women, her husband has a line for men.
Location: Dickenson Road
Click here for more.
Namrata G- Kairos
Namrata G's designs stand out as creative and quite unique. She is not just into designing but style consultation as well. If you're not looking for something super traditional and a little hatke, then this is one designer you can check out!
Location: Richmond Road
Click here for more.
Kamal Raj Manickath- Soucika
A fairly new label, his ensembles are simple yet intricate, with a slight influence of Middle-Eastern trends. They have good fusion outfits  for both North and South Indian brides.
Location: Indiranagar and Koramangala
Click here for more.
Neeta Bhargava
Although she is a Delhi-based designer, her store in Bangalore is also pretty popular among brides for their trousseau.
Location: Leela Galleria, Old Airport Road
Click here for more.
Gaurang Shah- Gaurang
South Indian brides looking for their designer fix? Then look no further! If you're looking for authentic South Indian-inspired wedding attire, he is the go-to designer!
Location: Lavelle Road
Click here for more.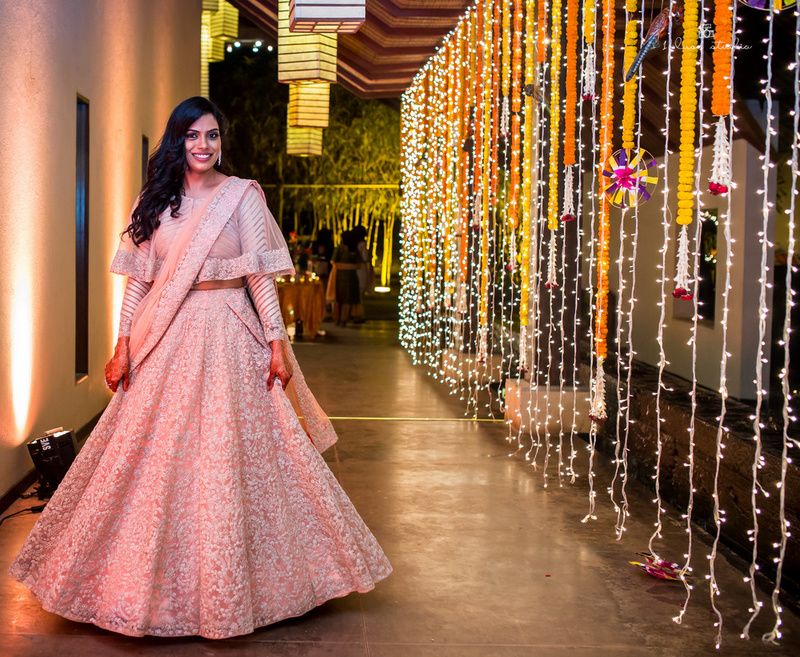 Photo Courtesy: Mihika and Siddharth's Bangalore Wedding
Bridal Stores- High End
You also have the option of stand-alone bridal boutiques, which range from mid to high-end. Some of them carry your fave Indian designer labels as well, although now most of them have an online presence as well.
Evoluzione
Have been wondering where to get your Sabyasachi fix in Bangalore? Well then, this store has his designs and a lot more! They boast of quite an impressive list of designers they feature, and this has to has to be on your places to visit for wedding shopping if you're looking to invest in designer wear.
Location: Vittal Mallya Road
Click here for more.
Kimaya
One of India's biggest fashion houses, Kimaya has the choicest of collection of leading designers like Rohit Bal, Tarun Tahiliani, Anamika Khanna, Ritu Beri, Manish Arora, Ranna Gill, Shantanu and Nikhil and many more. So do check this one out for your designer dose!
Location: 1MG Mall, MG Road
Click here for more.
House of Angadi
Angadi Galleria or House of Angadi weave a legacy, with a curated collection of the finest Kanjivarams, Khadi, Gadwal, Kotas, Banarasi, Phulia, Ikat, Chikankari, Kantha, Kalamkari, Bandhini, Shibori, Mutka silks, Patolas, and much more. Saree lovers are going to love this place!
Location: Sankey Road, Sadashivanagar
Click here for more.
Mogra
Mogra houses some of the best known designer labels and accessories in Bangalore and is a must-visit for any bride browsing designer labels for her big day.
Location: Leela Galleria, Old Airport Road
Click here for more.
Collage Shop
This one is another high end store retailing merchandise by some of the top designers from all over the country.
Location: Wood Street, Ashok Nagar
Click here for more.
Cinnamon
You can find designs by a lot of sought-after designers, and exhibitions by them are a common affair here. Catering to a distinct aesthetic subjectivity, every single piece at Cinnamon is handpicked by Radhika Poddar - and they are big on creations by artisans or those who support them.
Location: Gangadhar Chetty Road
Click here for more.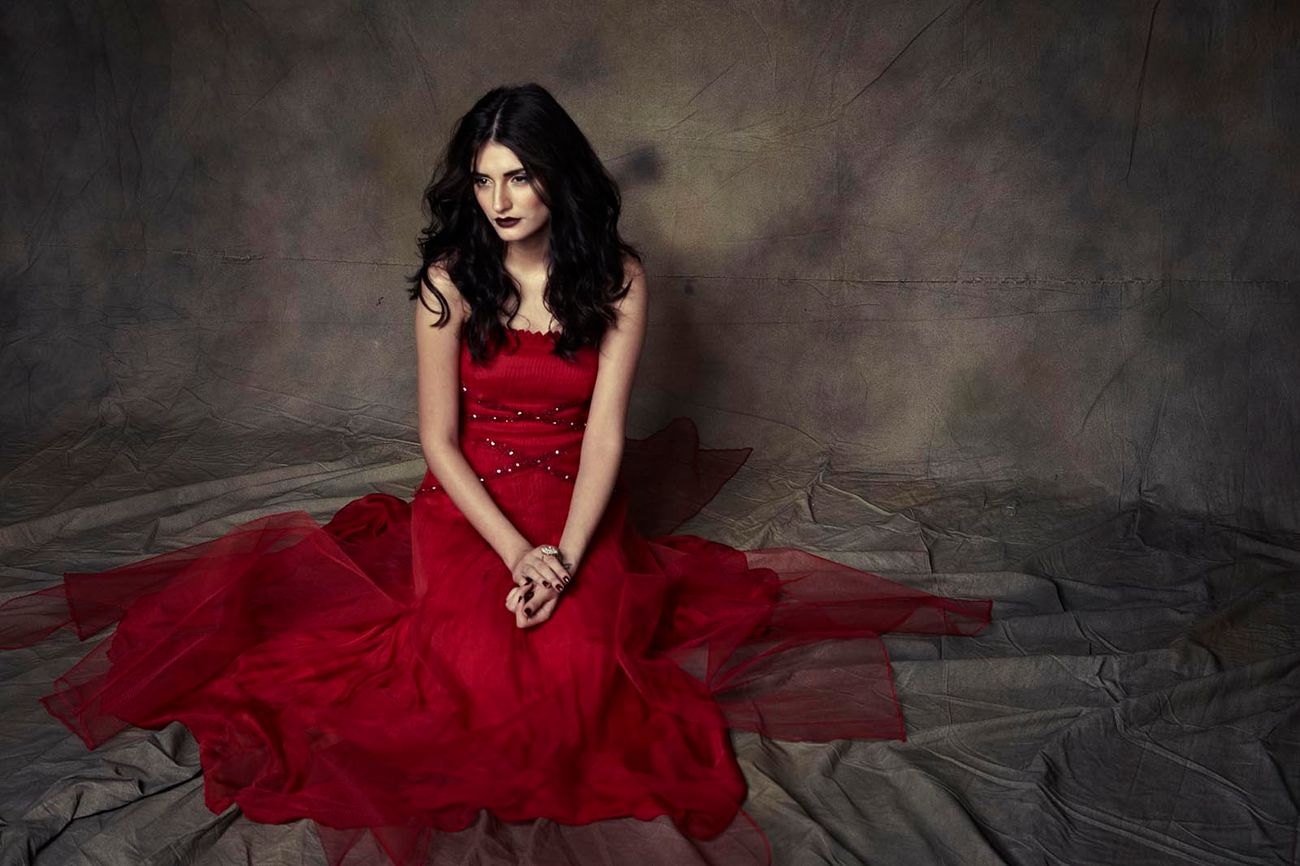 Photo Courtesy: Michelle Salins
Bridal Stores- Mid End
Tammanna World
This one is perhaps one of the most popular shops in the city for bridal wear. One of the most well-known names in bridal couture in Bangalore, they have quite a large variety with the latest trends.
Location: Commercial Street
Click here for more.
Mysore Silk Udyog
This is one place you have to have to visit in Bangalore for your saree fix or to buy material (yes, even to customise a lehenga!) Might not look like much from outside, but it is massive in space and choice from the inside!
Location: Commercial Street
Click here for more.
Meena Bazaar
The brand needs no introduction, but yes, a lot of people are unaware that it's there in Bangalore too! Find some trendy lehengas and sarees, especially ones with delicate work.
Location: Commercial Street and Phoenix Marketcity
Click here for more.
Meraj Designer Studio
Their work is intricate and handwoven which boasts of a range of craft traditions anywhere between zardosi, pitta, applique work and badla work. They design for brides as well as grooms.
Location: Commercial Street
Click here for more.
Samyakk
This is also a Bangalore-based store that has quite a lot of options in the mid-range for brides and groom as well.
Location: Richmond Road
Click here for more.
Fulki
Fulki deals in designer labels, lehengas, anarkalis as well as sarees and kurtas. Do check them out if you're looking for something in the mid range.
Location: Koramangala
Click here for more.
Inspira
These guys are into made to measure custom-made tailored bespoke creations. Plus, they of course have their own creations as well. So if you have something in mind already, then they can bring it to life! Something budget brides are sure to love!
Location: Koramangala
Click here for more.
Fazal's
This one is extremely popular with the Muslim brides! They have a fabulous range of lehengas, anarkalis and sarees for every range. They even have the option of renting lehengas for brides who want to.
Location: Jayanagar, Comm Street & Mantri Mall
Click here for more.
Zaina
Another popular haunt especially for Muslim brides, Zaina sources materials and designs from all over the country as well as Pakistan. They are pretty reasonable, so a good option for budget brides.
Location: Jayanagar
Click ZAINA (Exclusive Designer Women's Wear)★ 4.5 for more.
The Bridal Boutique
This one is very popular with the Christian brides, as they specialise in wedding gowns. Choose from their designs, or give them your own to stitch! Ranges from mid to high.
Location: Ulsoor
Click here for more.
Elan Design Studio
Another one that does bridal gowns well, they have made-to-perfection gowns with intricate designs.
Location: Commercial Street
Click here for more.
GownTown
These guys customise everything bridal from gowns to veils and ring pillows, and it can all be fully personalised as well! They especially deal in imported gowns.
Location: Challaghatta, Near Embassy Golf Links
Click here for more.
Apart from these, you can check out the popular options like Soch, Deepam Silks, Nalli, Angadi Silks, Rajarams and Prasiddhi Silks which have stores all over the city.
Phew! Sorted now?
Find wedding venue vendors in Bangalore and banquet halls in Bangalore to plan your wedding on the go, Download the WedMeGood app  now.