Where to shop for Bridal Wear in Hyderabad :Part 2 (Kanjivaram Sarees)
BY The WMG Bride | 21 Aug, 2014 | 38803 views | 9 min read
After covering where to buy lehengas in Hyderabad , we then asked our Local Genie Sindhura to dish out the details for Kanjivarams. Over to you S ! You can read about other cities here: Mumbai, Kolkata, Ahmedabad, Delhi (Chandni Chowk), Delhi (Shahpur Jat).
There are a wide variety of sarees that can become a part of the bridal trousseau - Kanchipattu, Uppada, Paithani, Pochampally, Rajkot Patola, Gadwal, Kota and Sambalpuri silk sarees. The brides can opt for Kanchipattu/Kanjeevaram saree for the wedding and can pick the other type of light weight sarees like Kota, Uppada for other bridal ceremonies and pujas.
Before we proceed into where to buy the sarees, I would like to share some important things to keep in mind before you head to these stores.
Start with making a list of events where you (bride/brides mom/brides sister/ brides friend/brides cousin) will have to wear a saree.
Now that we have many options in sarees, try to wear one variety for each of the events i.e Kanchi pattu for engagement, Chanderi or Kota or even a half saree for Turmeric ceremony (They are light weight, super comfy and anyways this event will be a small affair with limited guests) etc.
Imagine your album with you wearing pink sarees for all your events ! Trust me brides! It is a big NO! Once you have the list and variety decided, allot colors that you prefer and make sure you don't end up buying the same colored saree ( ex: one in pattu and one in kota). At the same time, keep your options open and be prepared with few color combinations i.e have a Plan B. If you have planned on wearing an orange kanchi pattu saree for the engagement, don't be hell bent on hunting only for an orange one. You will miss out on other sarees that might look prettier on you. Pick it up and change the color orange to some other event.
While deciding the colors, keep in mind where and when the event is happening. And people have the habit of checking the saree in day light. Actually you need not do it unless and until your event is happening during the day and is outdoors. Because the lighting in your indoor venue will be as much  or a little more brighter than the lighting in the store.
P.S - While shopping make sure you know what to you want rather than just telling the sales person " Show us something in the range of Rs ****** ".  Rather ask them "Show us Kanchi pattu sarees in the range of Rs ******". And then ask them to show you first the color you want. If you don't find anything appealing in your choice of color, take a look at the other colored kanchi sarees before moving to another store. It will save a lot of time just in case if you have changed your decision from one color to the other later.
Now I will stop with the gyan ! And get straight to the places where you can possibly find your bridal sarees in Hyderabad.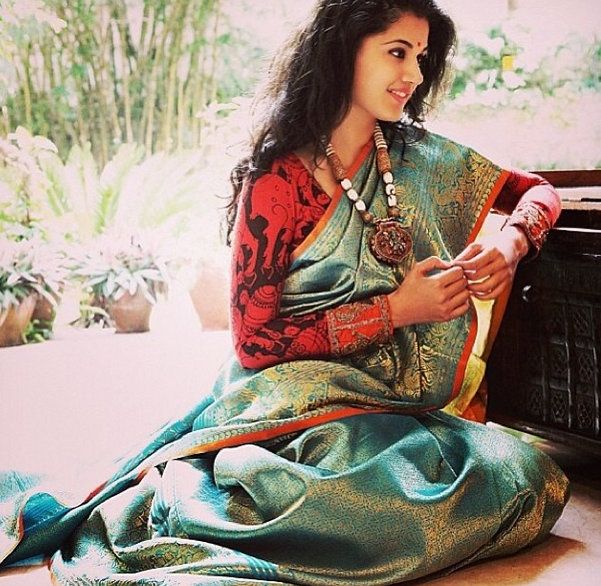 A gorgeous teal saree by Gaurang Shah
High end stores
Gaurang Shah
A self taught designer who made it big in the industry! Each saree will have a story to tell because each one is carefully woven by selected craftsmen handpicked by Gaurang himself. And be assured that the saree will not be replicated in other colors. Each one is a masterpiece in itself. He stocks huge variety of pattu sarees. If you want a new one to be designed by him, make sure you plan and order months in advance (minimum of 4 to 5 months). Kiron Kher, Sridevi, Rekha are few of his popular clients. They are priced in the range of Rs 1 Lakh to Rs 5 lakhs.
Address: House No 1190, Street No 59, Lane beside Chutney's restaurant, Road No 36, Jubilee hills, Hyderabad – 500034
Kalanjali and Brisah
They belong to the same company. So you will have similar quality of sarees in both the stores. The quality of pattu is good and has decent variety in stock. Their pattu sarees range from Rs 25,000 to Rs 1 lakh. Uppada sarees range from Rs 20,000 to Rs 60,000.
Kalanjali address: 5-10-194, Hill Fort Road, Saifabad, Hyderabad.
Brisah address: Nagarjuna Circle, Panjagutta, Hyderabad
Sai Kanchi (Ethnic) and Sai Kanchi
Prettiest colors and HUGE variety ! The quality of pattu available in Sai Kanchi is one of the best in the city. Pattu sarees range from Rs 30,000 to Rs 1 lakh. They stock limited collection of Paithani sarees priced at about Rs 40K to 50K are the prettiest I have seen in the city. It is worth-while visiting both the stores. They do customize the pattu sarees as per the color of your choice and design and they take 3 months to give the finished product.
Address:  Sai Kanchi ( Ethnic) – Near Star Hospital, Road No 10, Banjara hills, Hyderabad
Sai Kanchi – Lal Bungalow, Ameerpet, Beside Sidhi jewelers, Hyderabad.
Radha Krishna
Another store with super huge variety that will give us more to choose from. I have never seen this store without waiting customers. It is that busy. They have multiple stores – one for Kanchi pattu, uppada, paithani, gadwal type of sarees; one for the fancy sarees with chiffons and georgettes. They are priced from Rs 10,000 to Rs 1 Lakh
Address: Babukhan estate, Abids Road, Basheerbagh, Hyderabad
Mandir
This is the sister concern of Kalamandir retail store. They stock Uppada, Zari Kota, Paithani, Gadwal and Pattu. Their pattu is not as good as the above mentioned stores. Price ranges from Rs 15,000 to Rs 80,000.
Address: Near Star hospital, Road 10, Gaffar Khan colony, Banjara Hills, Hyderabad.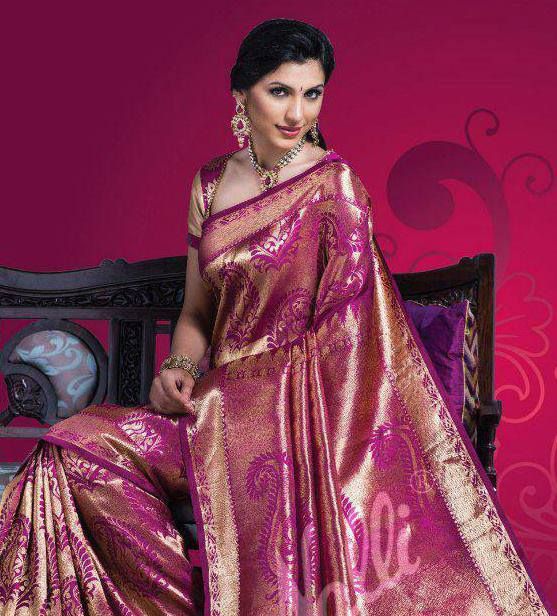 Plum saree by Nalli
Nallis
They have been in the business for almost 85 years and are based in Chennai. They have high quality pattu and their sarees have traditional colors and designs.
Nalli silk sarees : 1-10-72, Sardar Patel Road, Begumpet, Hyderabad
Nalli's : Road N o 10, Opposite to Elahe, Banjara Hills, Hyderabad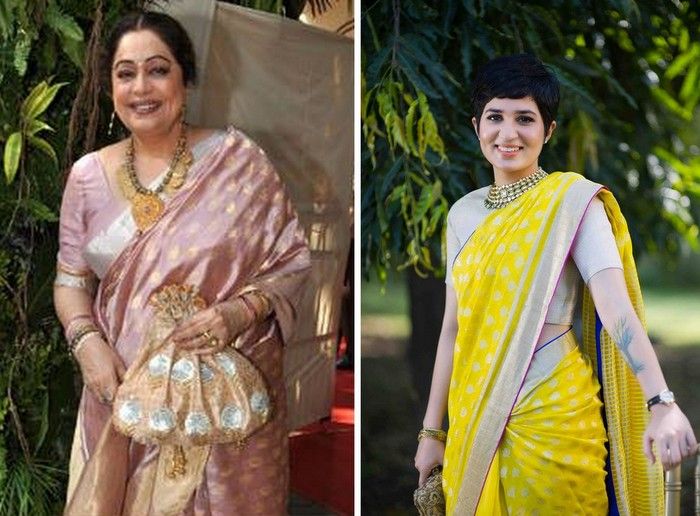 Fun, young sarees by Raw Mango
Raw Mango
Raw mango chanderi sarees are perfect for the bridal showers and other smaller events. They are light, comfortable and gives the bride a new look. They are available in Elahe and in Good Earth.
Elahe: Road No 10, Banjara Hills, Hyderabad
Good Earth: Road No 12, Banjara Hills, Opposite Volvo showroom, Hyderabad
See more here
Preethi & Vaishali
These ladies mastered the art of creating traditional half sarees. They design sarees, half sarees and blouses. They also stock very high quality zari kotas suitable for the younger crowd with bright colors and designs priced from Rs 20,000 to Rs 50,000.
Address: Opposite Jubilee hills Club, Near Jubilee hills check post, Hyderabad.
Medium range stores
Kalyana Kanchi
Retail store with all varieties of sarees ranging from Rs 5000 to Rs 70,000. The pattu  quality is good and they have vribrant colors.
Address: Plot No 1, One square mall, Near Viswanath Theatre, Kukatpally, Hyderabad
Grandeur
Extremely good quality of the uppada and zari kota sarees. They have designs for both elderly ladies and for the young women in beautiful colors.
Address: Raod No 2, Banjara Hills, Opposite to LV Prasad Eye hospital, Hyderabad.
Retail stores – They have many branches across the city and have wide price range starting from Rs 5000 to Rs 80,000. The stores are Kalaniketan, R.S. Brothers, Chandana Brothers. These stores are located together in few places like Ameerpet, Kukatpally and Dilsukh nagar. Once you go these areas, you will find yourself surrounded by these brightly lit colorful retails stores.
Mixed bag
Fashion designers – Who can help you with making a half saree or adding something more to the Kanjeevaram pattu saree you bought in the other stores. You can choose from their existing collection or you can order one. They will listen to you ! And suggest suitable colors and fabric. And discuss the budget in your first meeting with them so that both the designer and you are on the same page.
Mrunalini Rao designs - 
This fashion graduate can create traditional half sarees to party wear gowns. This friendly girl will have a relaxed conversation with you on what exactly you want and will explain to you how she plans to design the outfit. Her choice of colors and the shades of pinks, reds and oranges will make the outfit perfect for any bridal event.
See contact and collection here: Mrunalini Rao
Shravans Studio - 
Looking for hand woven cotton sarees and lehangas which give the bride a new look? Shravans Studio is the place. He works directly with the weavers and most of his collections are in khadi material. Do not confine to the traditional and common fabrics. See more here
Sagar Tenali - https://www.facebook.com/StudioSagarTenali
Golden Threads - 
They are popular not only in the city and in Andhra Pradesh but their clientele is wide spread across the world from USA to Australia. The mother and daughter duo will give you the perfect traditional half saree or customization to your saree and can even work on the blouse to enhance the look of the outfit.
Address: Road No 45, Jubilee hills, Hyderabad
See contact and collection here: Golden Threads
Mamata Agarwal
Mentioned in the earlier article as well she does beautiful work with blouses and customizing pattu sarees. The choice of work on the blouse is perfect. She just looks at the saree once and can tell what color thread to be used, whether to use Swarovski or not, whether to do zardosi and what kind of stitch to be put. She stocks small patches of different types of embroidery work she does and will show them to you to understand better how the finished product will look like.  Talk about the pricing in advance with her!
Address: Plot no 403, Behind Meenakshi Towers, Banjara Hills, Road No 12, Hyderabad.
Bhargavi Kunam -
Just like Golden threads, she too is famous not just in Andhra Pradesh but rather with all the Telugu people across the globe. Her designs are elegant and beautiful.
Address: 34A, Midas Square, Near Lotus Pond, MLA colony, Banjara Hills, Road No 12, Hyderabad.
See more collection and info here: Bhargavi Studio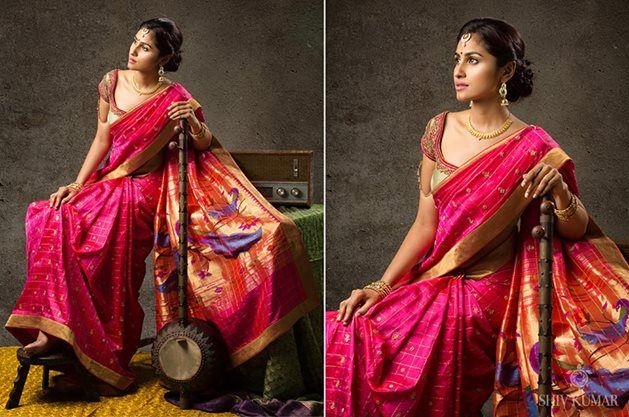 Saree by Bhargavi Kunnan- gorgeous blouse! 
Find vendors to plan your wedding on the go. Search for the best Hyderabad wedding venue vendors, Hyderabad wedding decorators, Hyderabad wedding planners, Hyderabad banquet halls, Hyderabad wedding photographers and Hyderabad bridal makeup artists on the WMG App.   Download the WedMeGood app now.