'Wishing Tree' Ideas for your Reception / Engagement !
BY The WMG Bride | 15 Oct, 2014 | 2895 views | 4 min read
For quite some time now, every wedding that we've attended has a guestbook to pen down wishes for the newlyweds. A popular concept in the west, the wishing tree has found a nice little cozy place in Indian weddings as well. But just like we always tell you how to make the tinniest of the details look grand, here are some super cute and innovative ideas for your guestbook as well. So next time, do away with a book and pen and jazz things up a little! Who knows your guests might just end up writing better wishes for you! ;)
 The traditional "Wish tree"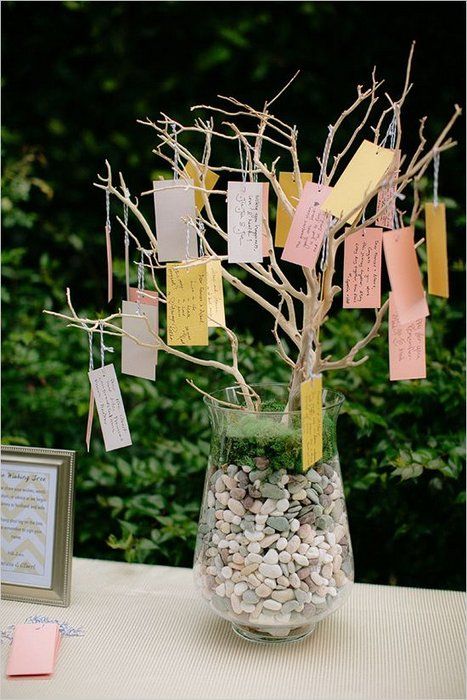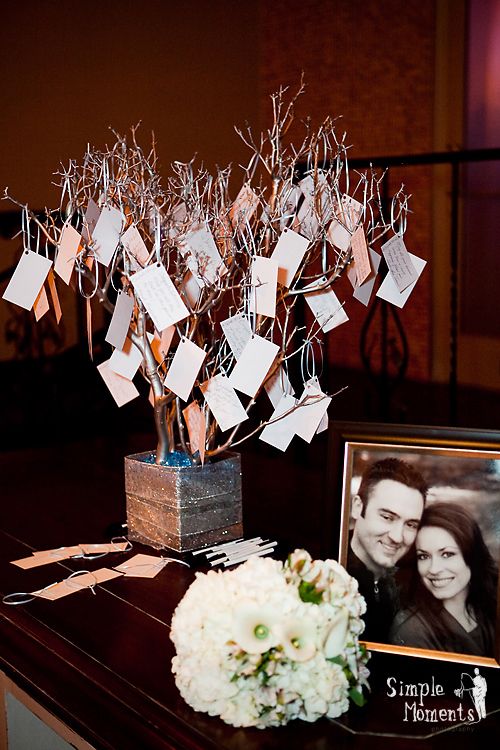 Photo Source: weddingchicks.com, significanteventsoftexas.com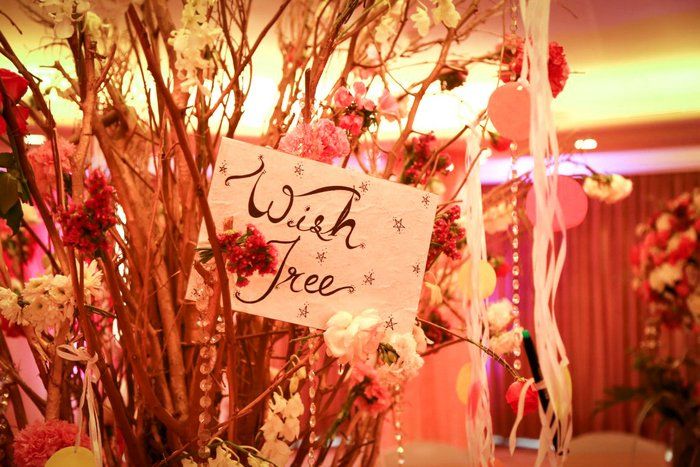 Photography by
Vikram Arora
Our
real bride Nesheta
had her decor guys install a large bouquet of stems and flowers at the venue. Cut out little colorful cards and hang them on to the stems with threads. Its the most basic and elegant twist to your guestbook.
 The Glass Bottle to treasure forever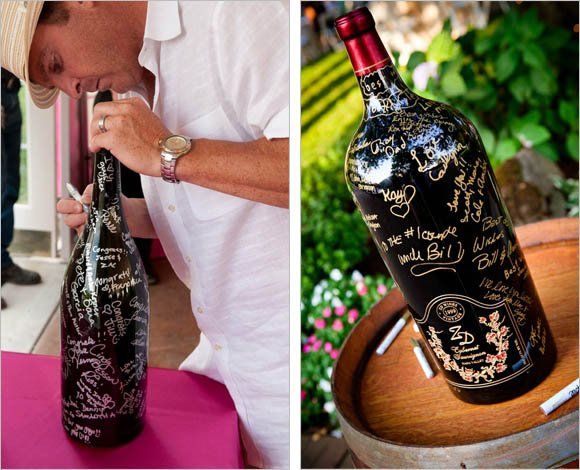 Photo Source: weddingphotograhy.com.ph How about getting wishes signed on a wine bottle with a glass marker! And know what more you can do!? Open the bottle on your first anniversary, read out all the wishes and sip on the wine as you go over all those lovely wedding moments ...
Plates that could be decoratives later on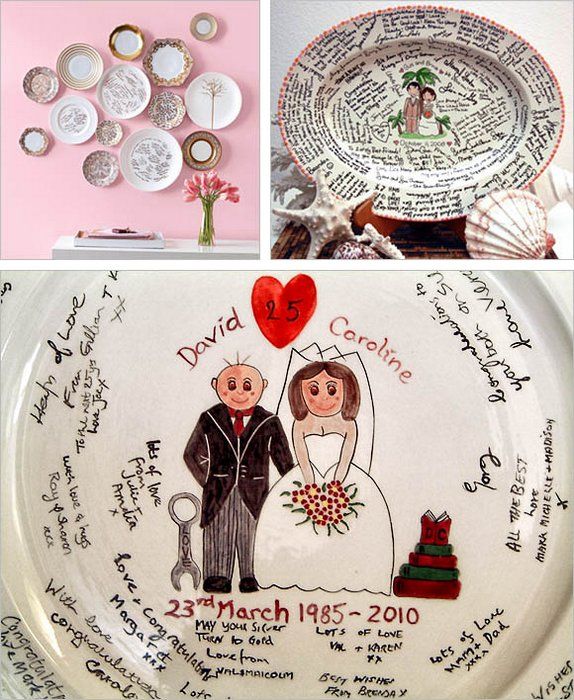 Photo Source: weddingphotograhy.com.ph Now this one's another keeper. Take a couple of bone china plates, get your artistic friends to do them up with a couples image, your names and the wedding date. And post the wedding, just like you see above, these plates will serve as beautiful wall decorators that carry a lot of emotional value!
 Pebbles for a beach wedding to be later used in your garden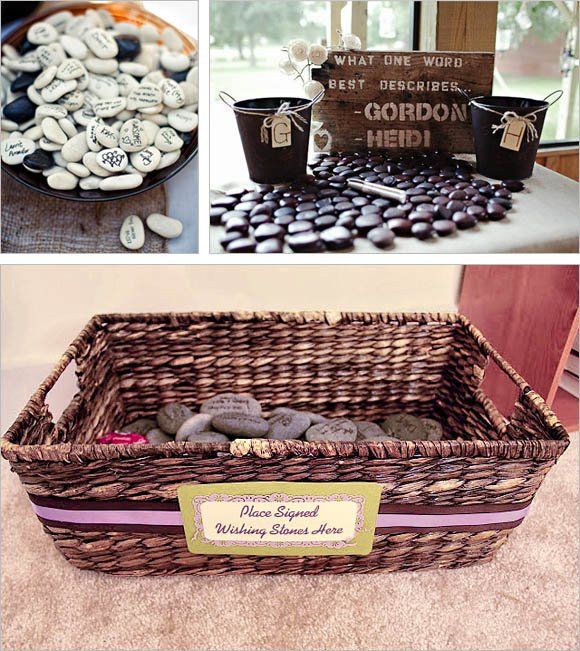 Photo Source: weddingphotograhy.com.ph Having a beach wedding? Have pebbles as your guestbook! This is so much fun! So you don't really have to do a lot. Collect pebbles from the beach side, set up a table and guests write down little notes for the couple. These too can make for a great decor item in your garden back home.
 Helium balloons with attached notes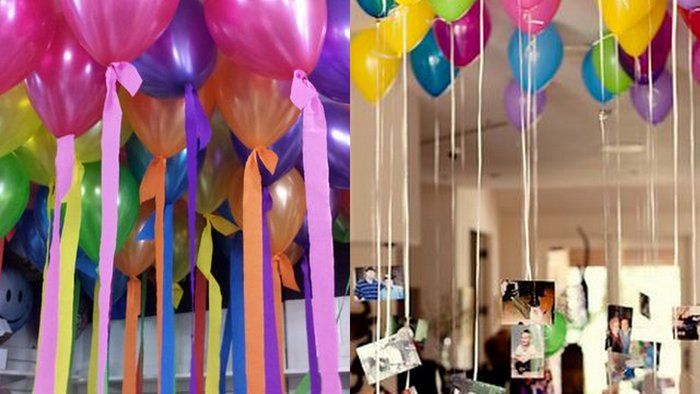 One of our favourite ideas is to have an area with Helium Ballons attached with little notes where guests can write. You can even attach little photos and keepsakes to make it more interesting
Vintage Typewriters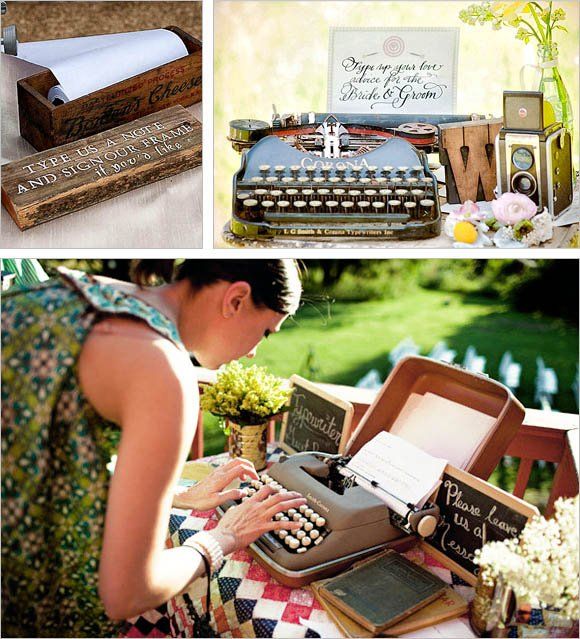 Photo Source: weddingphotograhy.com.ph Our
real bride Safa
did this, and you must try it too! Just the look of a vintage typewriter is good enough to attract a lot of attention, now imagine having guests type you notes on it! Do make sure to set  the table beautifully. Have an arrangement of flowers, a setup of your pictures and anything else that catches your fancy!
 Slates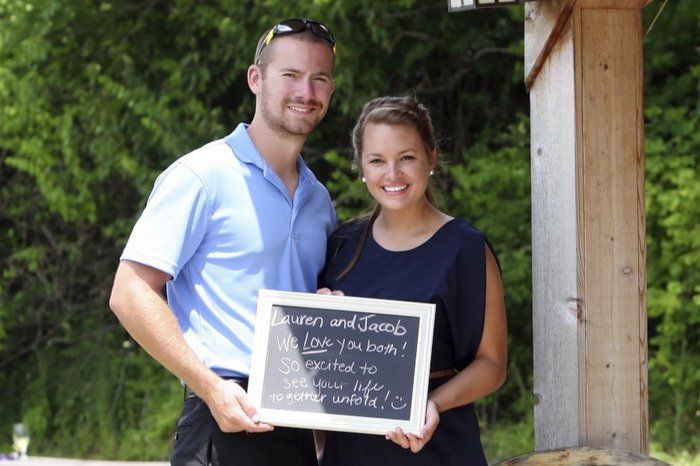 Photo Source: adirectedheart.wordpress For some reason, we're seeng blackboards almost everywhere this wedding season! Be it pre wedding shoots, wedding venue directions and now even guestbooks. And we have to admit, we're loving it! So your guests chalk down wishes on the little slates and have a picture clicked. You can later stick all these wish pictures in your scrapbook or maybe even make them a part of your wedding album.
 Jigsaw Puzzles !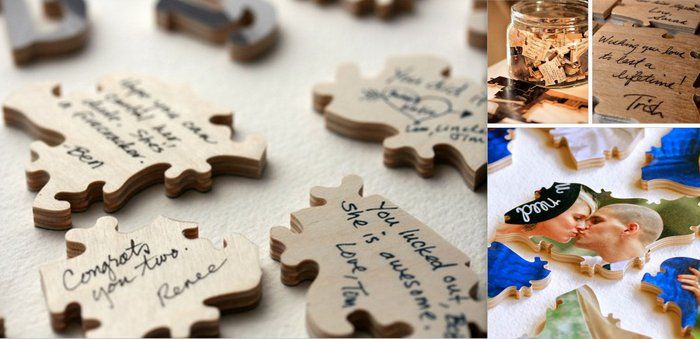 Photo Source: weddingphotograhy.com.ph, shabbytochicdesigns.com Jigsaw pieces as your guestbook! Have a picture from your engagement or pre wedding shoot converted into a jigsaw. A lot of gifting stores or websites will do this for you. Have the guests sign onto the blank side of the pieces. The only drawback is that you can only have a certain number of pieces in your jigsaw, so this ones suitable only for very small gatherings. On second thoughts, you could have jigsaws of 4-5 pictures! Have the little one's assemble it once the party is over.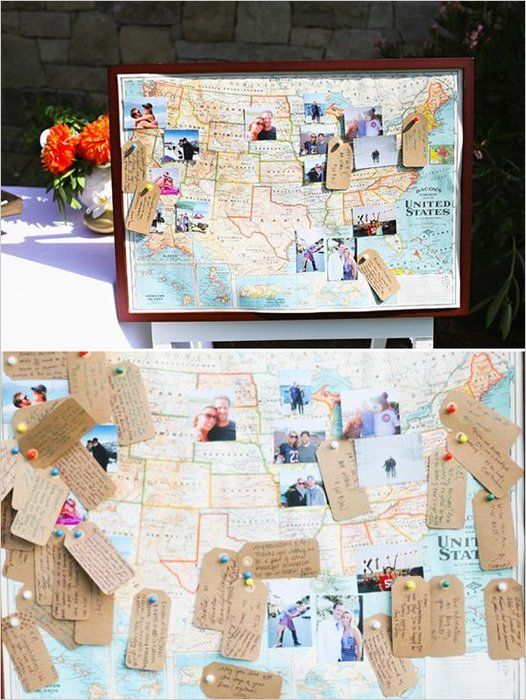 Photo Source: weddingchicks.com Are your guests flying in from all parts of the world. Then this one's the perfect thing to do. Arrange for a big notice board and pin a world map onto it. Have little cards for the guests to write down wishes on and pin them onto the part of the world they come from. You could add some cute touches to the map by marking the countries you and your fiancee have studied or vacationed in by pinning your pictures there. With so many ideas, we're sure there's something in there for everyone! And if you happen to execute any of these, do give us a shout, anything fun and unique always has all our attention!