WMG Groomsquad Who Totally Rocked With Their Coordinated Outfits!
BY Chandni Kumar | 16 Oct, 2018 | 2232 views | 5 min read
We know that you boys would be wondering that we write 1000s of pieces on brides and on their outfits, jewellery, decor inspiration ideas and all. You guys are right but hang on! From time to time we also make sure to pamper our grooms and groom squad who should equally look handsome and be a tough competition to the bridal squad. So, here we are & got you some really cool to quirky coordinated outfits for our groomsmen! From floral printed baskets to bandhgala velvet blazer, we have curated the best WMG groom squad who totally rocked with their matching outfits! So, if you're attending buddy's 2018 - early 2019 wedding, here are some options of matching outfits for the group of friends. P.S. Don't forget to share your pictures with us ;) 
The groom squad with matching 

safas

 & 

sherwani

!
The most elaborate way to coordinate your entire sqaud's outfits is to wear identical safas and sherwanis. Pick colour coordinated safas, that compliment the groom's outfit. It's the easiest way for everyone to know who exactly are the groomsmen.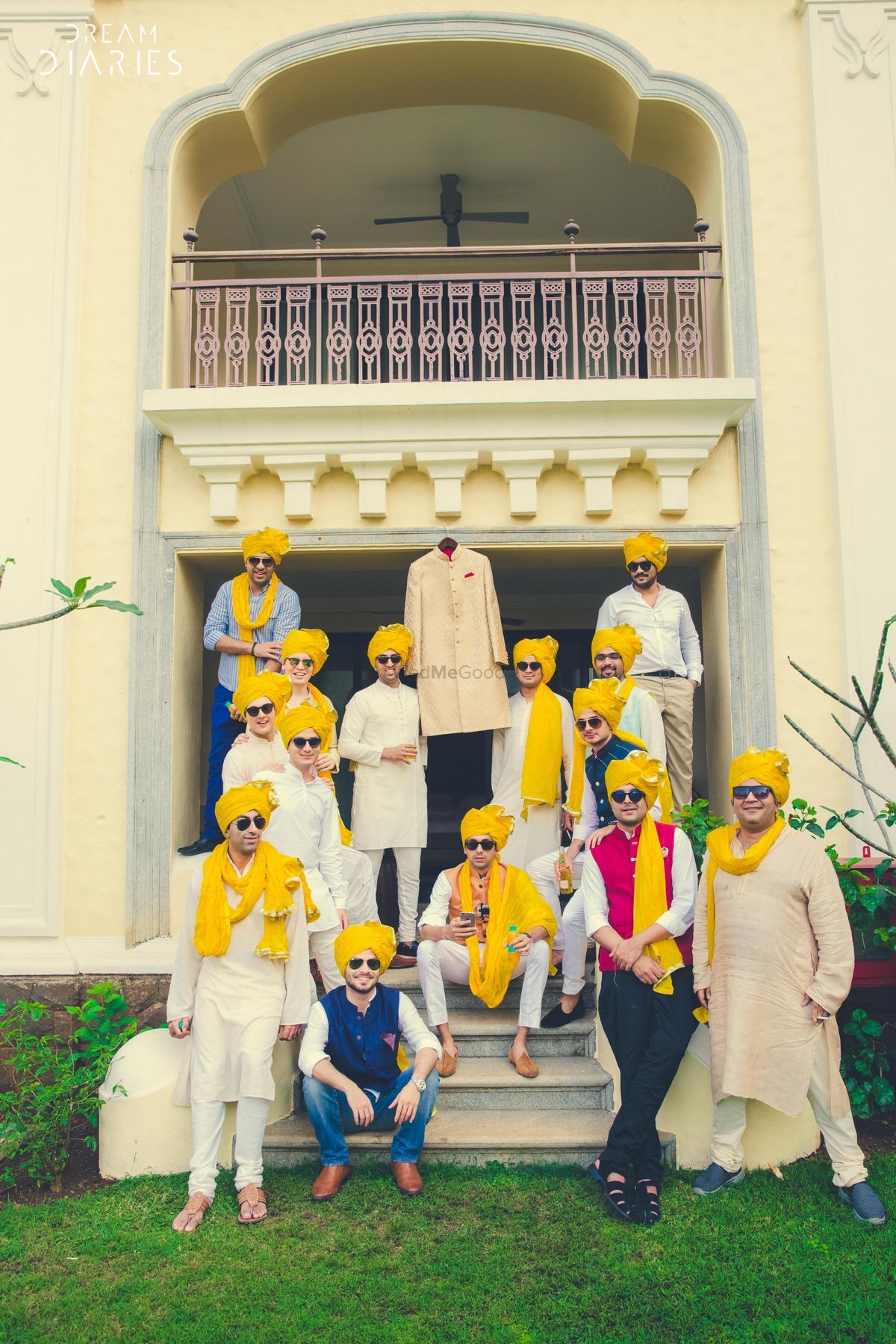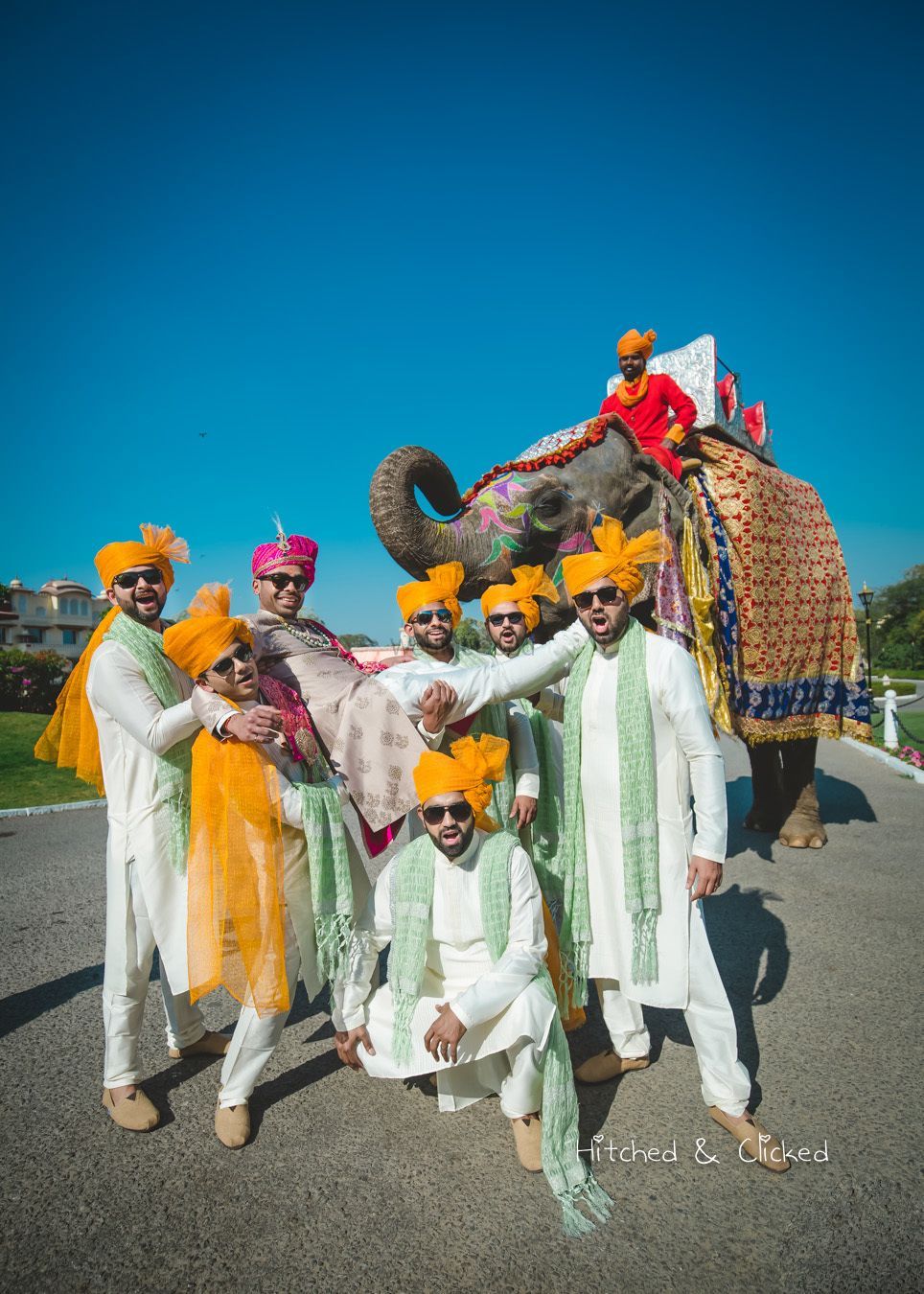 Photo Courtesy: Dream Diaries Photography ; Hitched & Clicked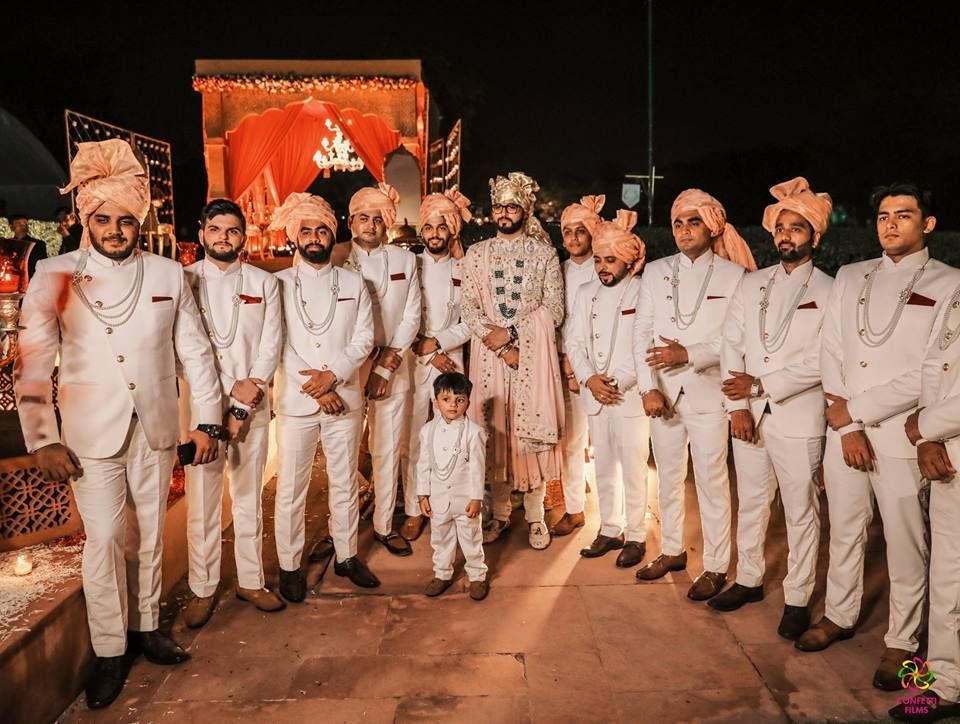 Photo Courtesy:  Confetti Films
Or, how about this one? Groomsmen matching their dupatta!
If you don't wish to go over the top and wear identical outfits from head to toe, how about going a little subtle and just wearing matching dupattas? Pick simple chanderi dupattas in a single colour, one that compliments the groom's outfit. Colours like maroon, beige or even bright green works!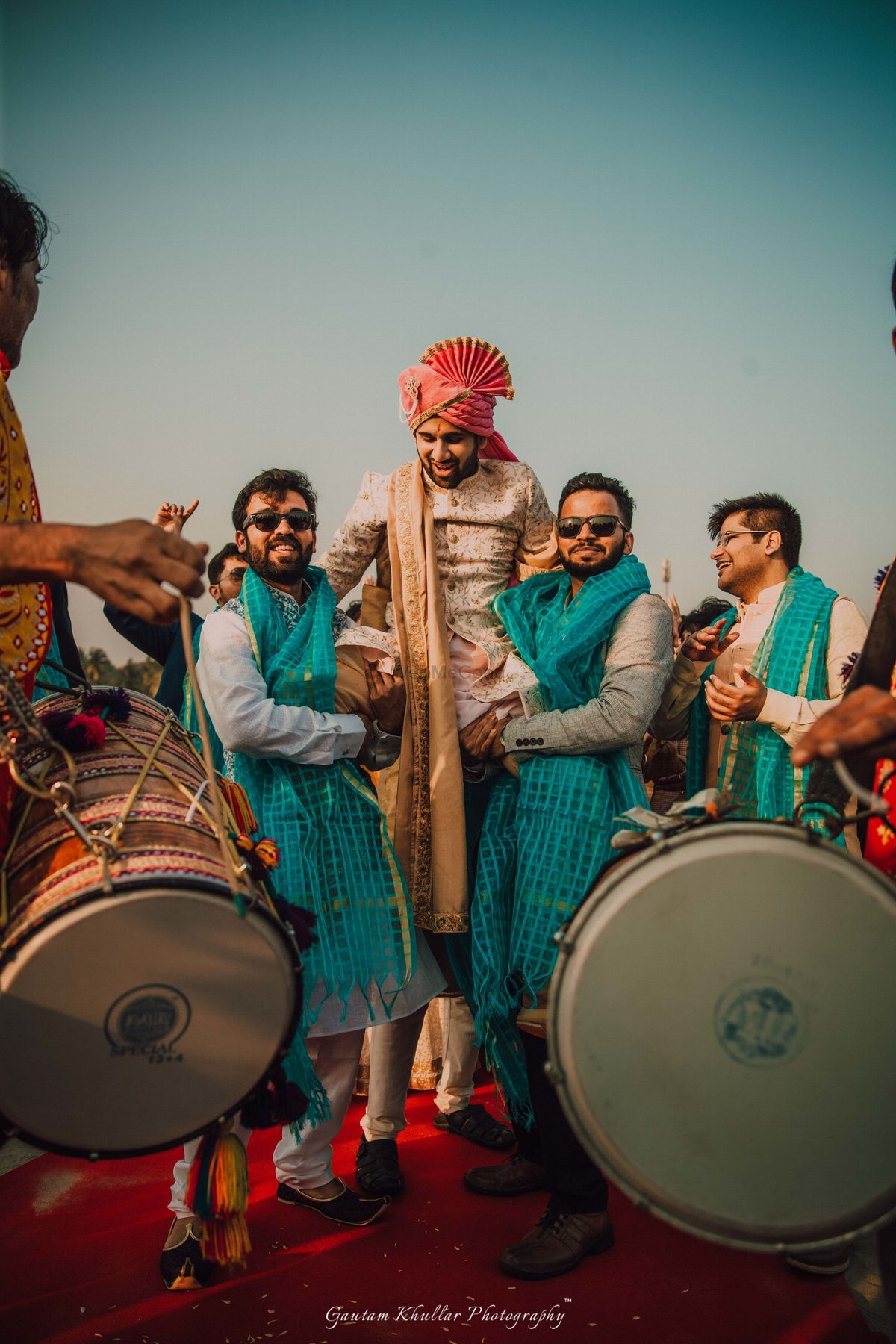 Photo Courtesy: Gautam Khullar Photography
Having a winter wedding? Wear this 

bandhgala

 velvet blazer on your 

BFFs 

wedding! 
Winter weddings are a perfect opportunity to coordinate your outfits with simple things like matching blazers!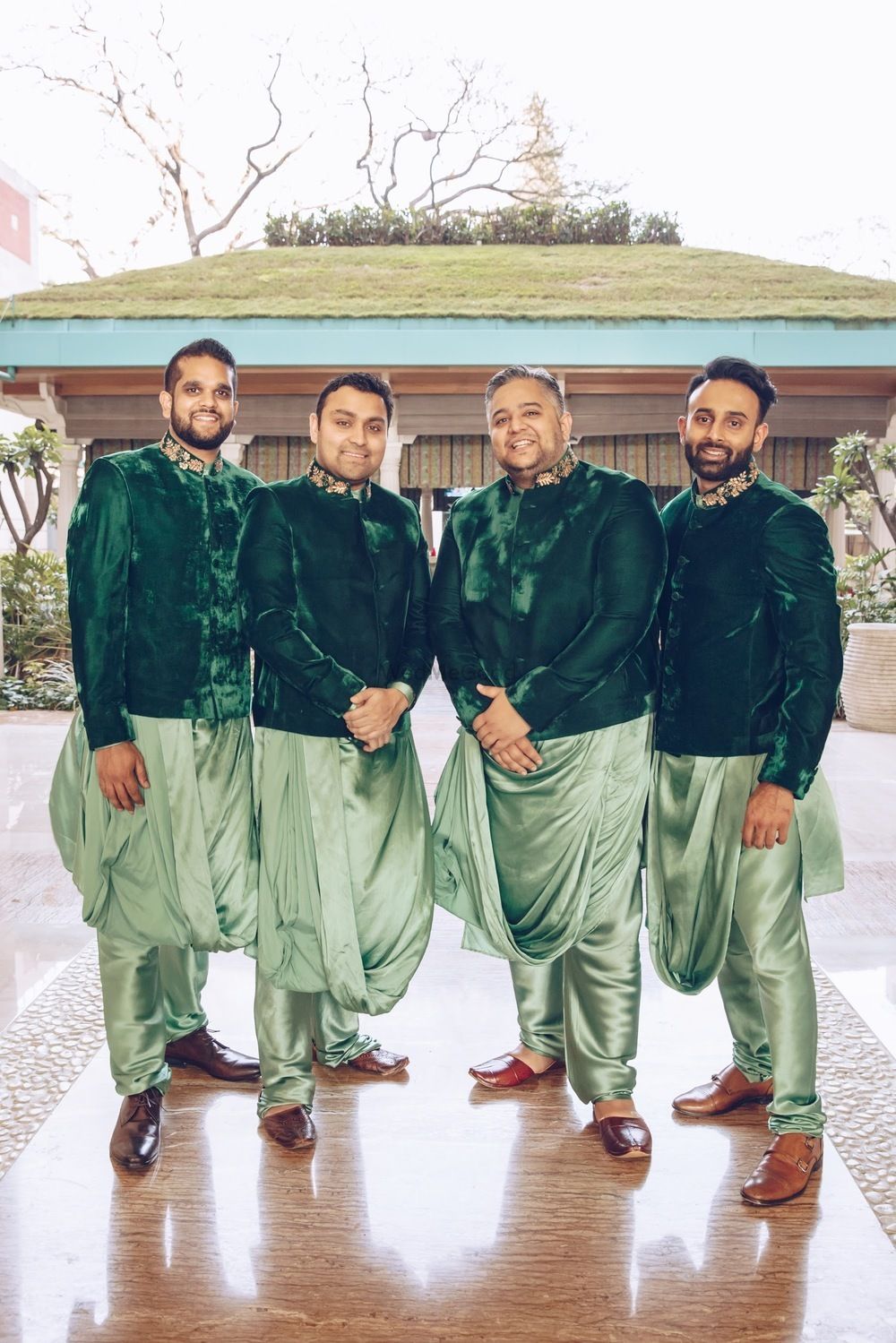 Photo Courtesy: Claude Loren
Or, how about wearing a plain sherwani & pairing with a printed basket jacket or bandhgala!
If you don't wish to wear identical clothes or matching outfits, go for a fixed style. Keep it simple so that the entire group can easily aoirn it. One of the easiest way is to go for plain sherwanis and printed jackets or bandhgalas.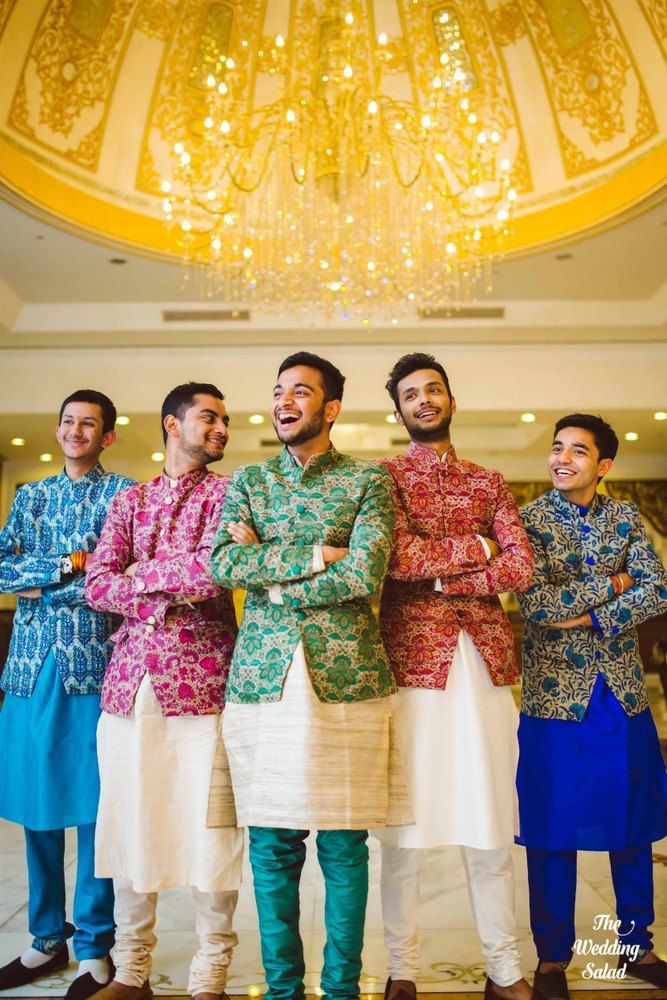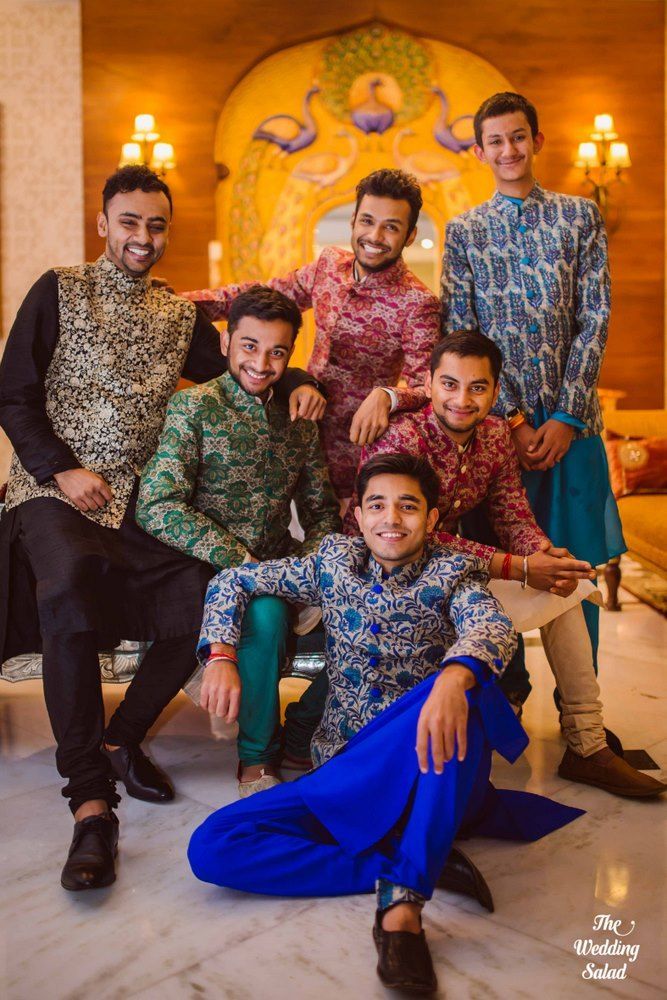 Photo Courtesy: The Wedding Salad
Matching groom squad in pretty warm and pastel turbans with bandhgala sherwani!
It's very easy to coordinate your outfits for a Sikh Wedding. You can either go all out and wear matching kurta pyjamas and turbans, or just stick to wearing same colored turbans.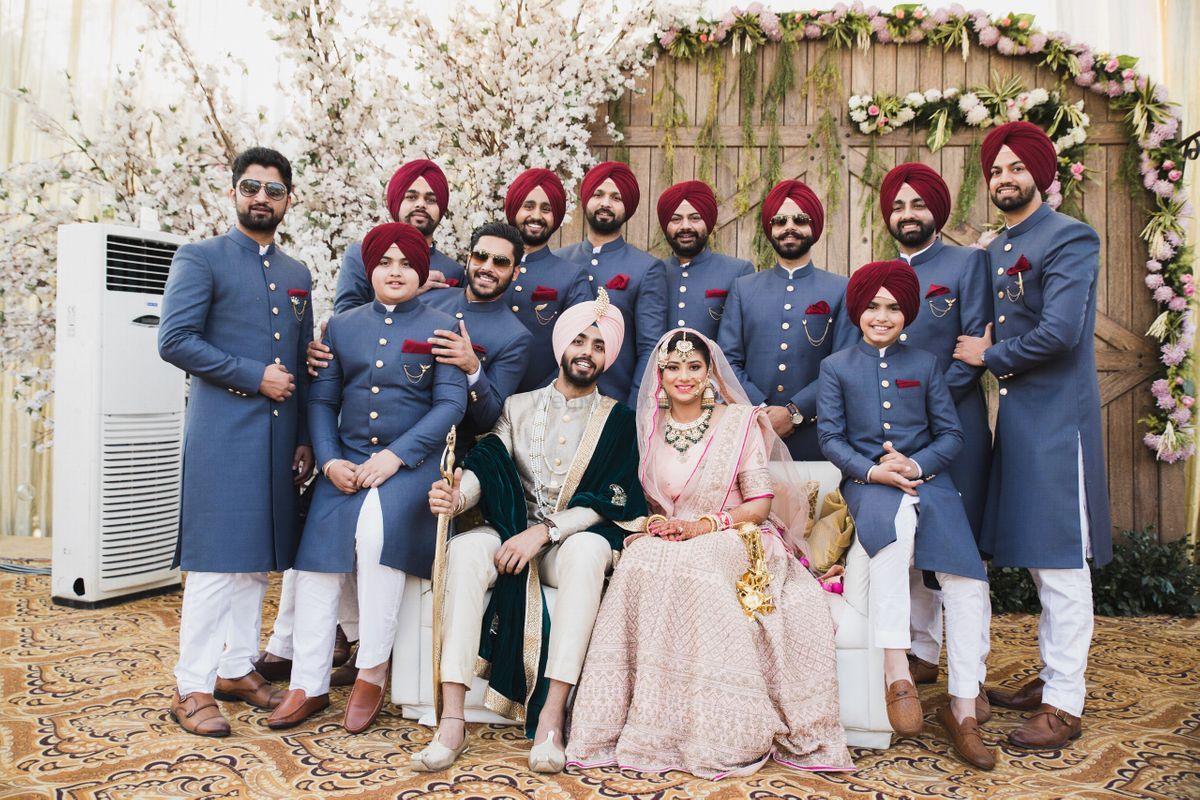 Photo Courtesy: Harleen Deol Photography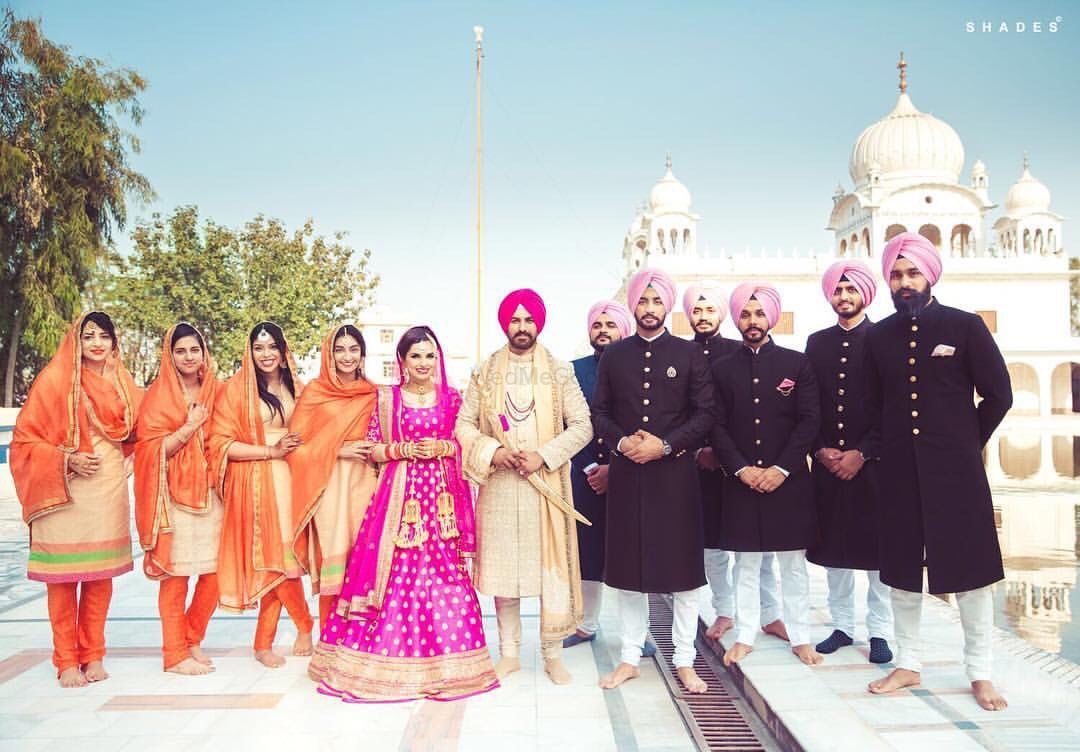 Photo Courtesy: Shades Photography India ; Makeup Artist: Mehak Kawatra Makeup Artist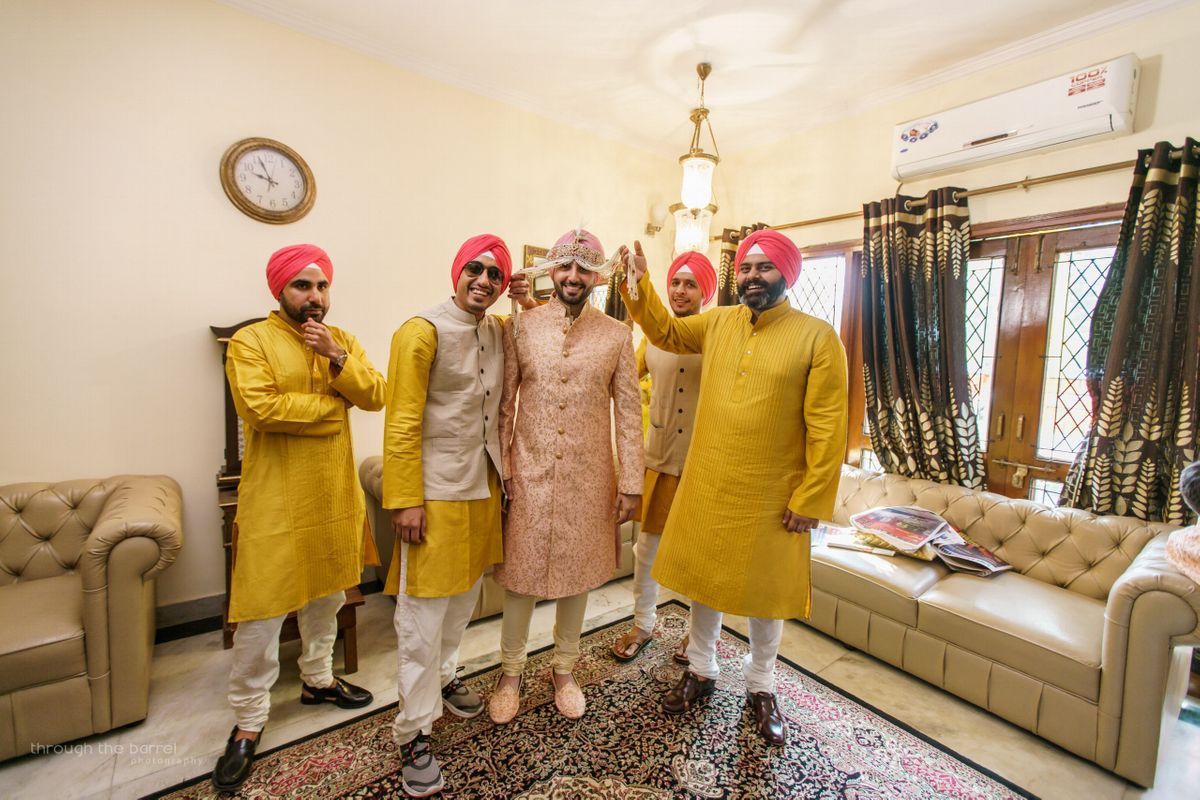 Photo Courtesy: Through the Barrel
Basket jackets are never too old! 
Let's start - they are easy-to-wear, ultra-cool and super stylish to wear on your best friends wedding! Nehru jackets aka basket jackets are something that will never go out of fashion. We know that you guys will be super busy as it's your best friends wedding but in all that hustle bustle we highly recommend you to wear a printed or a pastel basket jacket that will be very comfortable first and secondly, will look perfect to wear it on haldi, sangeet or even at the wedding. Pair up with a plain sherwani and boys you are all set to rock as a groom squad! 
Coordinating with printed 

nehru

 basket jackets!
Boys, if your friend's wedding will be a quirky one, then make sure to wear a colorful printed or embroidered nehru jacket that will surely look trendy too for this wedding season!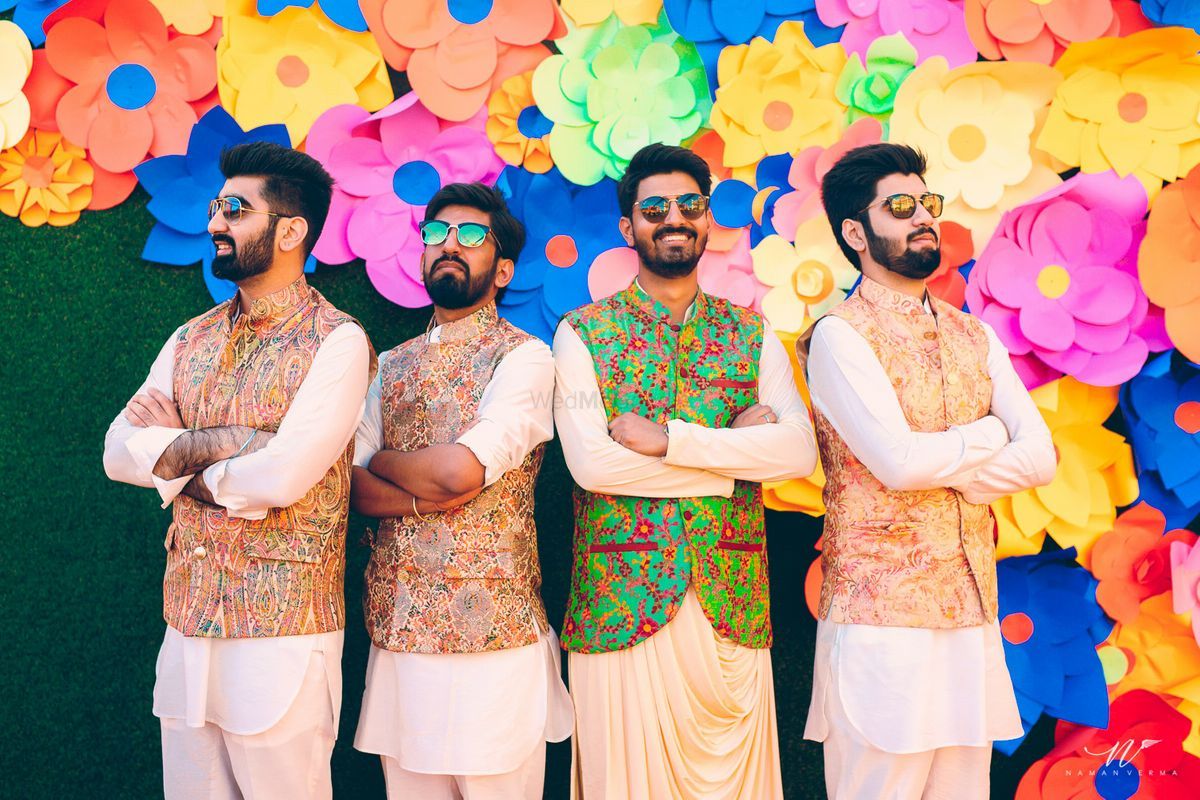 Photo Courtesy: Naman Verma Photography
The squad can also pick a pastel pink basket!
Who said only girls can wear a pink? Be it a north Indian wedding, south Indian wedding or a Anand karaj wearing a pastel pink nehru jacket is something that will look perfect at the day of the wedding.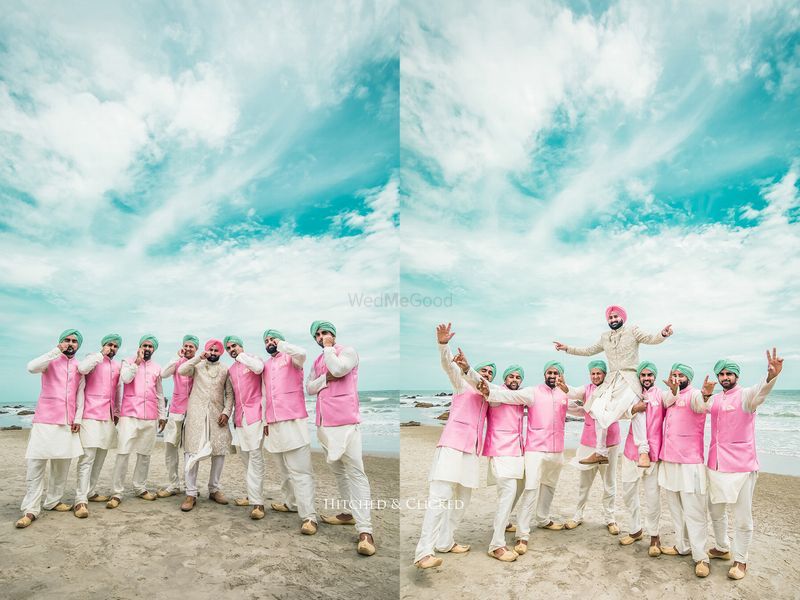 Photo Courtesy: Hitched & Clicked
Or, this good-looking baskets in pretty peach!
Blush pink & peach colors are perfect to go with any occasion and outfit. If you boys have decided to coordinate your outfits at your bosom buddy's wedding, then we recommend you to wear a beautiful & soothing colored nehru jacket and matching your square pockets that will look pleasant at the day of the wedding.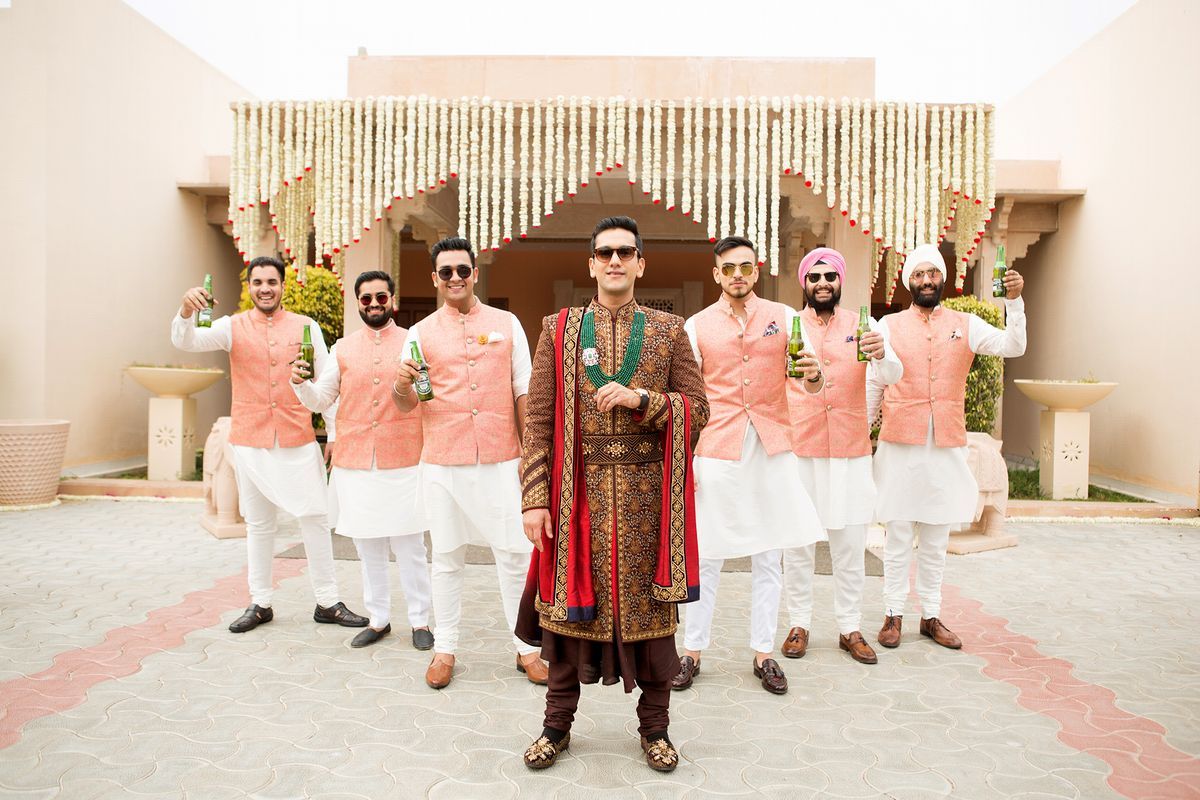 Photo Courtesy: Cupcake Productions
And, these jackets in beautiful 

blue & bottle

 green!
Similarly, you all can to pick a beautiful blue nehru jakcet or pair your plain sherwani with a bottle green basket that will to look neat & traditional at your buddy's wedding!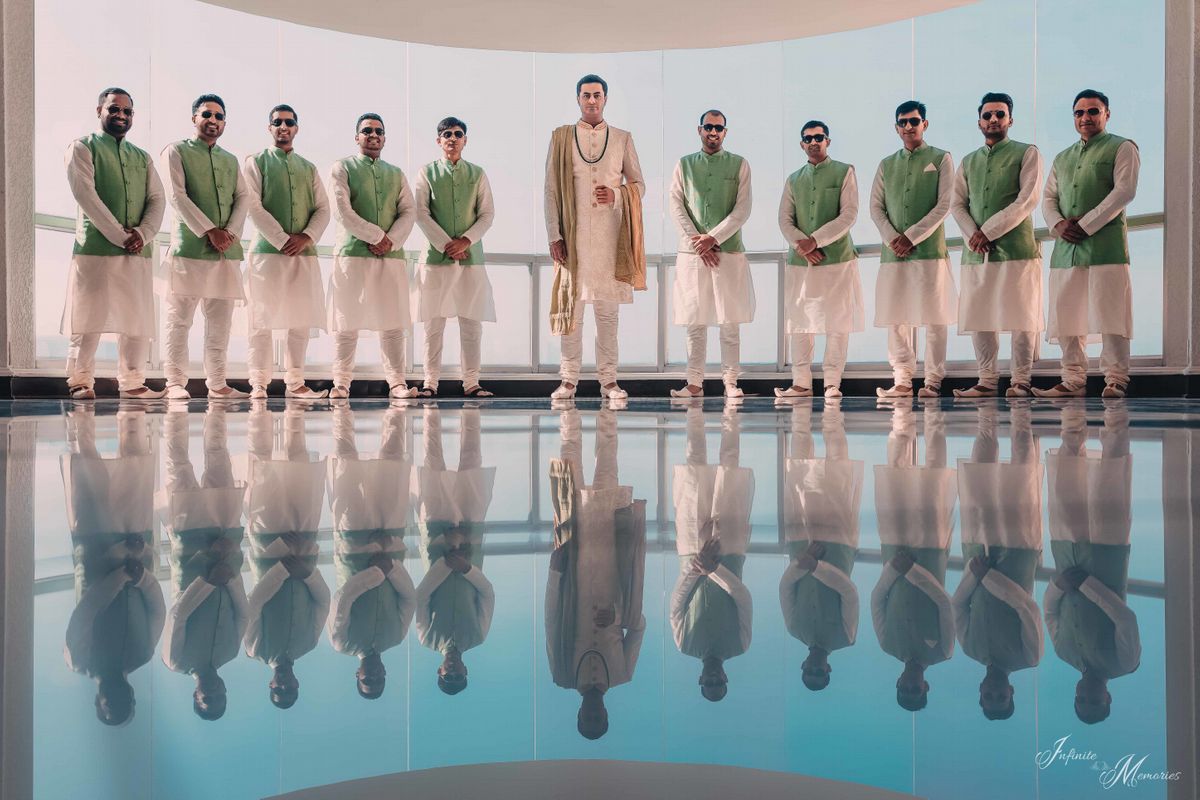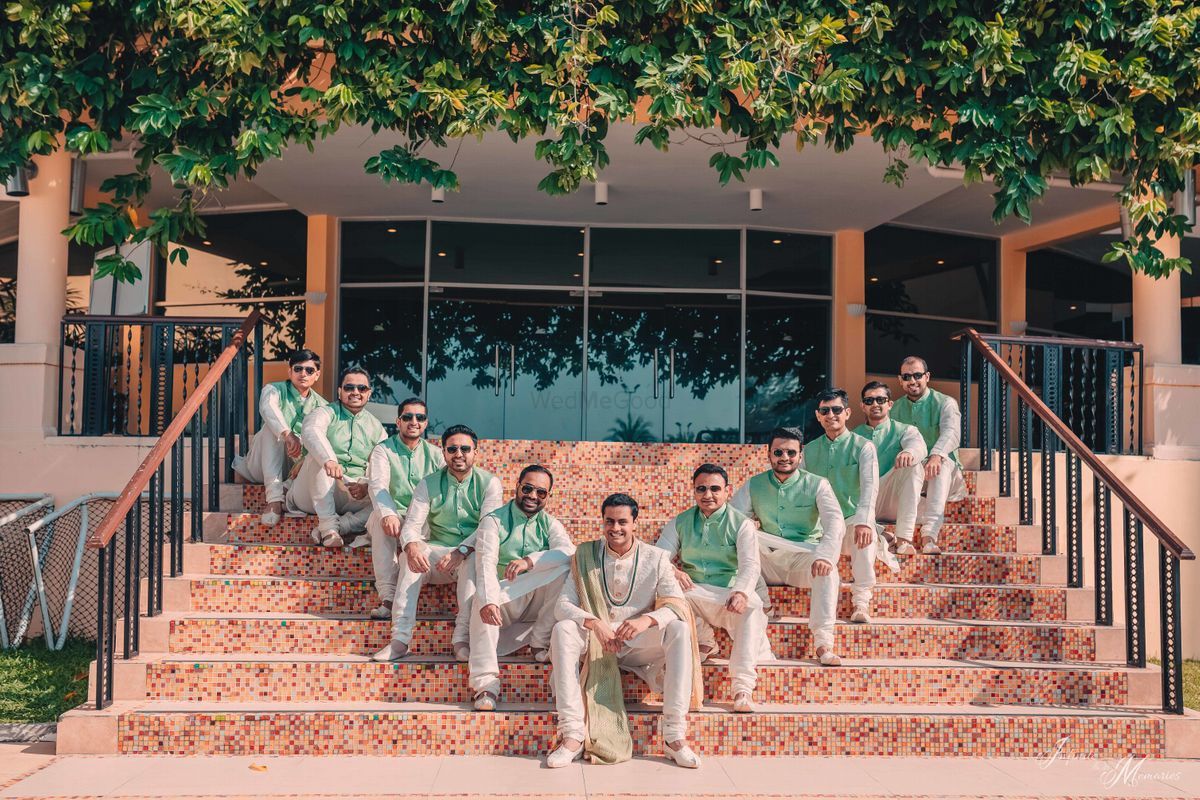 Photo Courtesy: Infinite Memories
For your 

BFFs

 wedding the groom squad can pick stunning abstract pattern outfits while matching in same color! 
Are you boys confused about what kind of outfit you should all wear? Psst! Take it easy boys because we have solution to all your problems. You all may wear the outfit of your choice and the groom squad can simply match some elements or add some designs/patterns to create that uniformity. For instance these groomsmen wore a simple sherwani and bandhgala but paired it beautifully with abstract pattern and a striking navy blue basket jacket, a stall or a bandhgala court, which all looked super stylish. Oh! And those, coordinated shoes though :)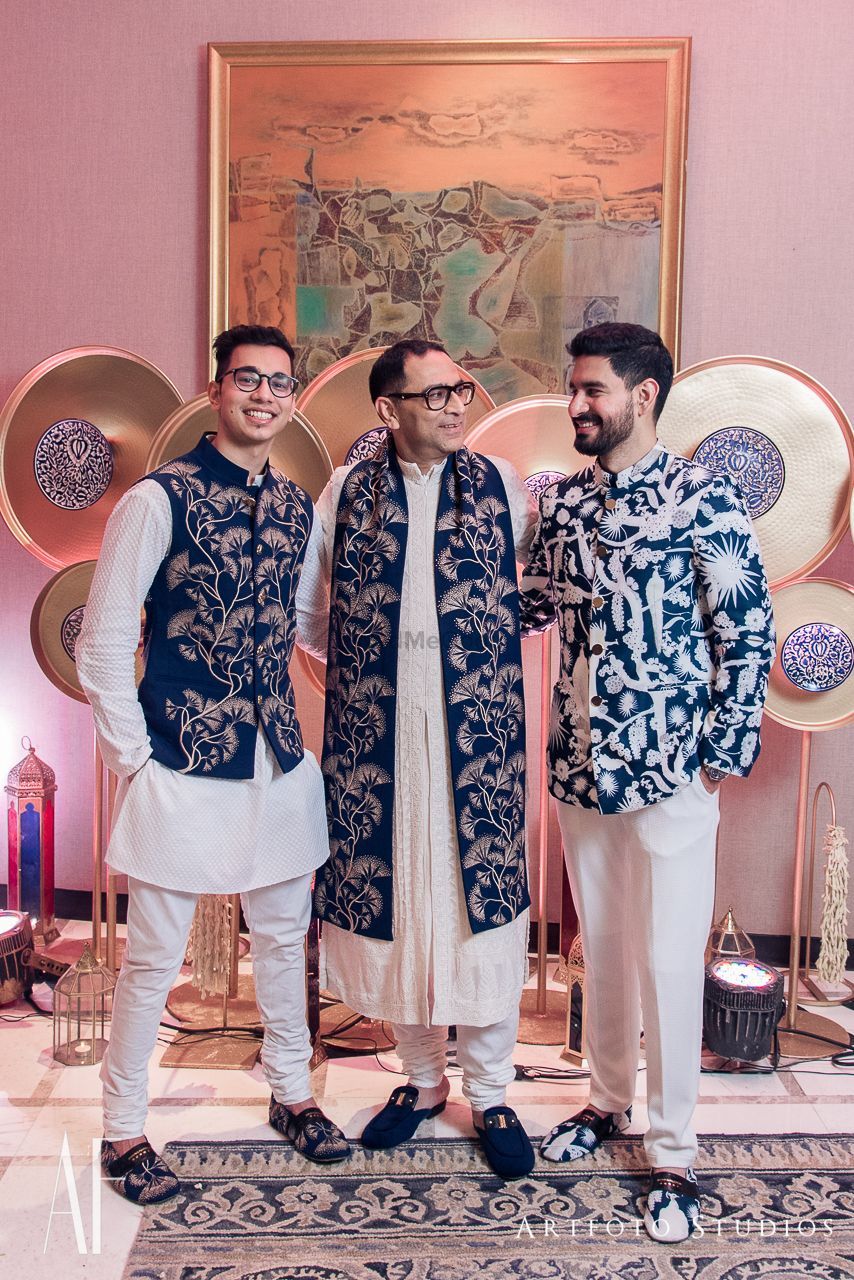 Photo Courtesy: Artfoto Studios
Because they're never too old! Suspenders for #

groomsquad

!
Does the groom-to-be have three chipmunks aka you boys as BFF? To make the outfits look quirky yet stylish how about including suspenders with cute little bow ties that is surely giving us major #groomsmenoutfit goals! To make it even more interesting the groom squad can also wear bright-colored shoes that will give your group a unique identity and sure shot you boys will totally rock with your coordinated outfits.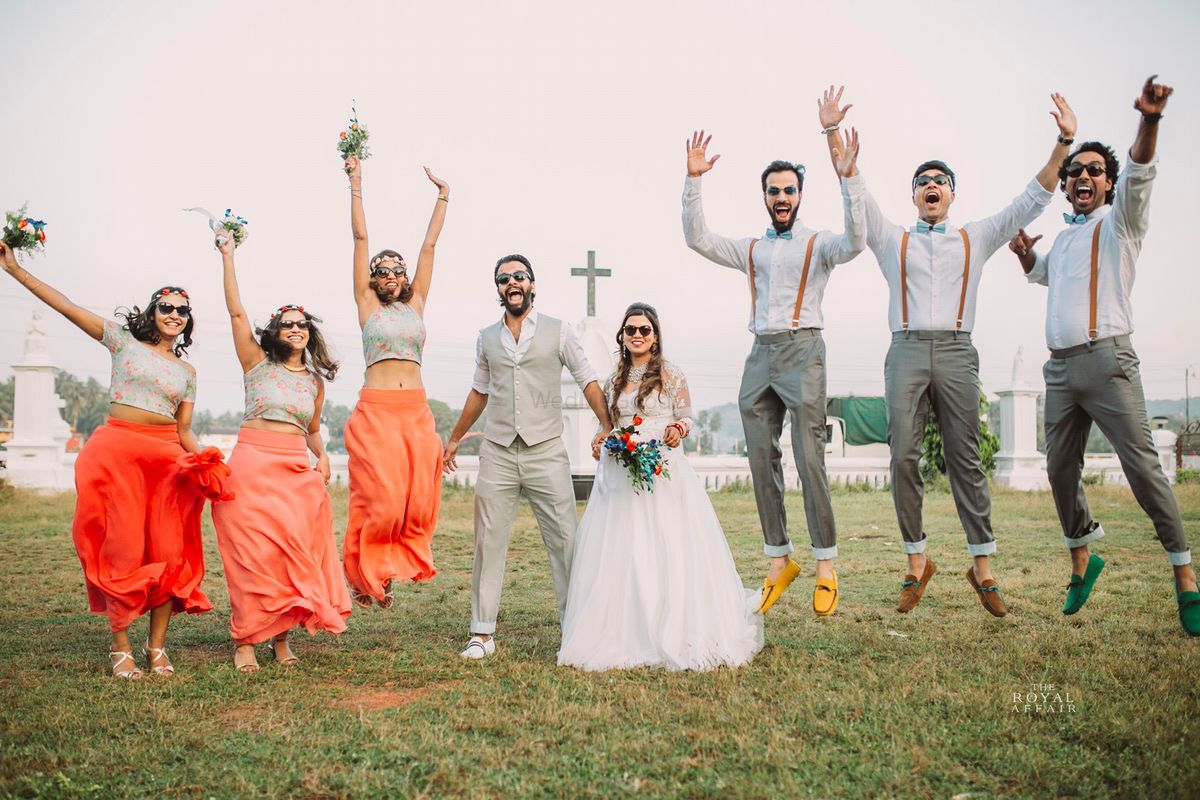 Photo Courtesy: The Royal Affair
Or, suit it up all!
Ah! Nothing can beat a suit with a tuxedo, right? Always in trend & can be worn for any occasion suits with tuxedo in any colors, patterns and designs can never ever go out of fashion. Be it matching with a little bow tie, pocket square, or simply with a tie men's suit always looks stylish yet uber-cool! So, if you boys are all set to rock your best friend's wedding aka the groom-to-be, then ensure to coordinate your outfits from head to toe!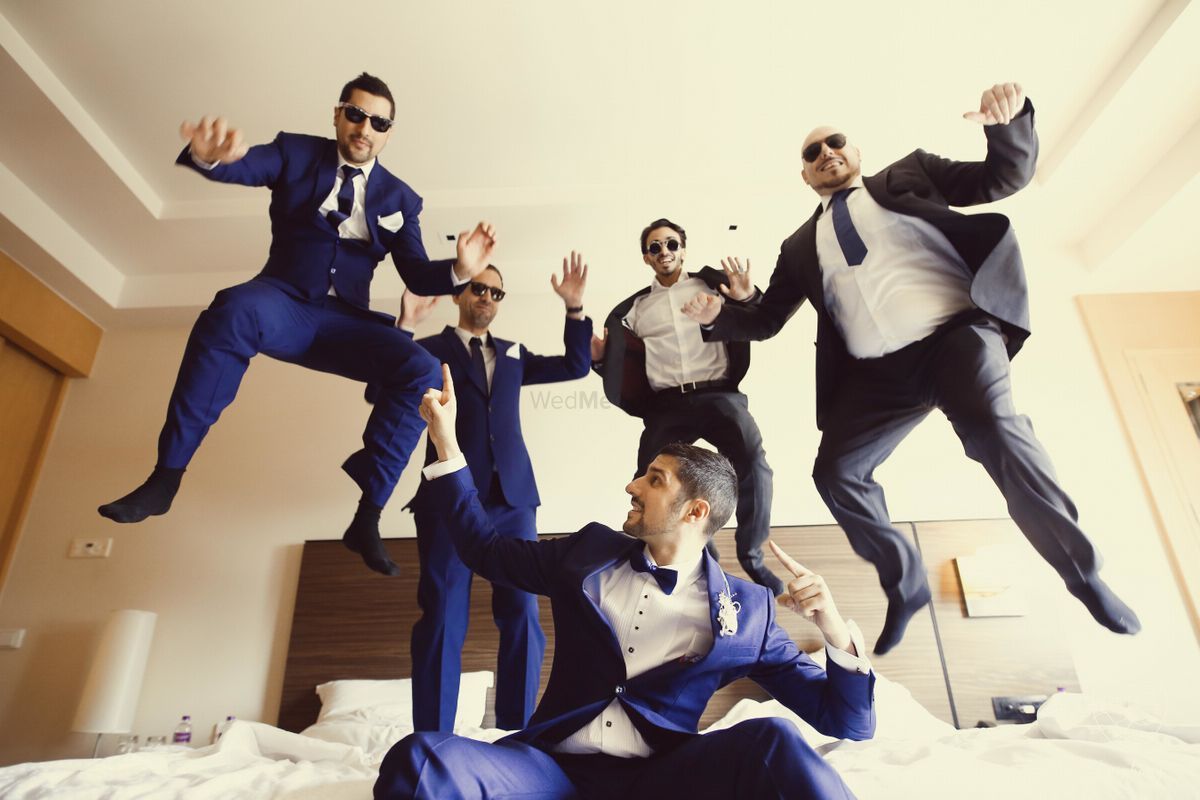 Photo Courtesy: Epiphany★ 4.6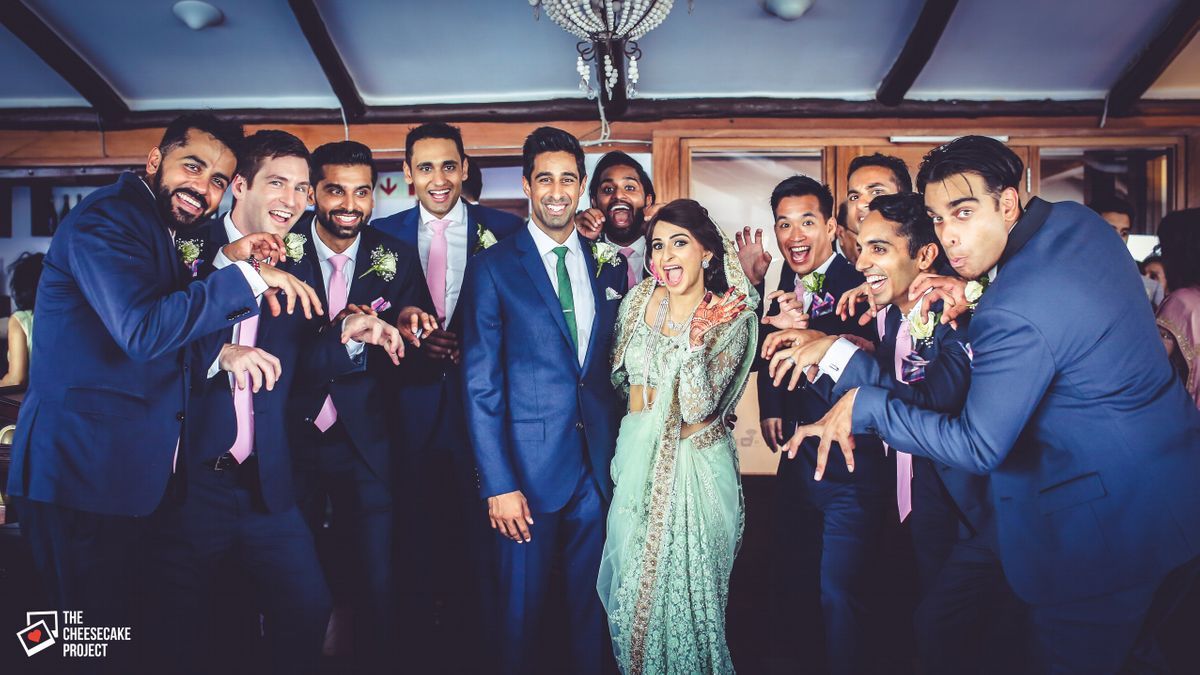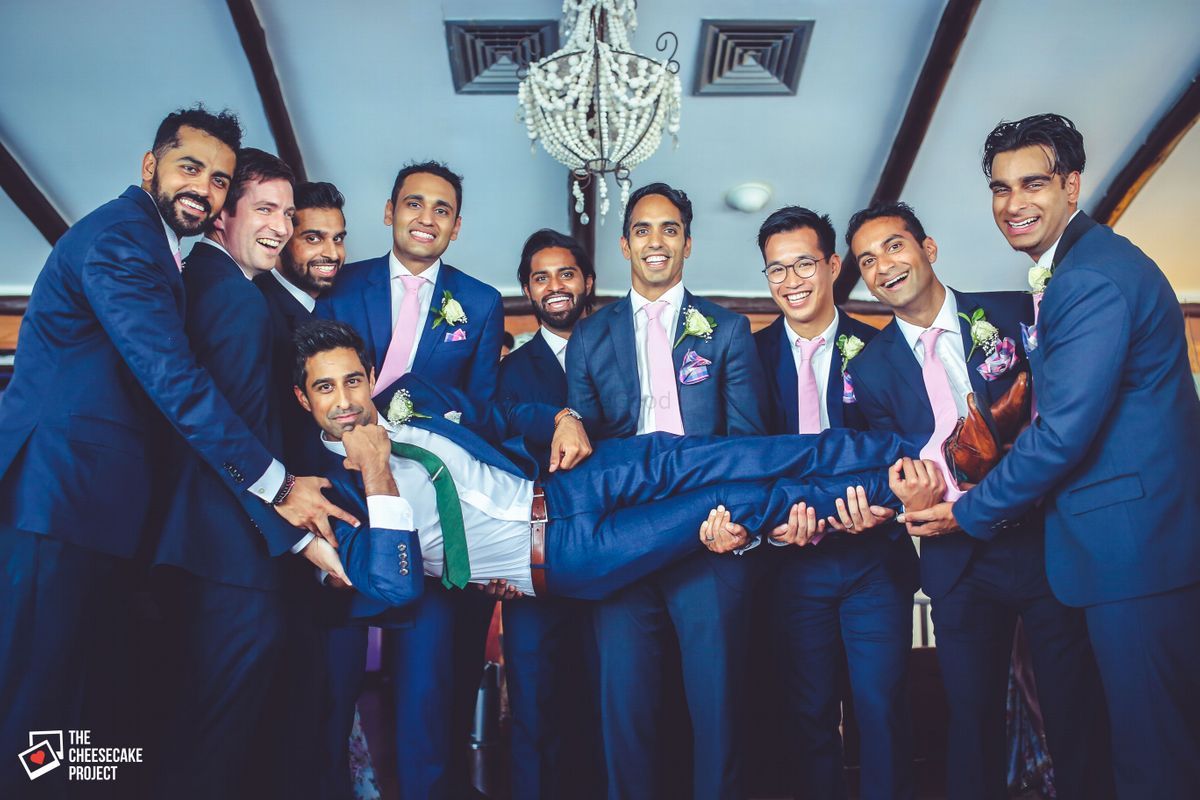 Photo Courtesy: The Cheesecake Project
 So, boys what kind of outfit type will you all pair up for your bosom buddy's wedding?