20 Wedding Expenses To Keep Money Aside For! *The Checklist You Need Before You Begin!
BY Apoorva | 20 Feb, 2017 | 5142 views | 5 min read
Weddings are not limited to just fun and merriment. It includes planning, organizing and even mishaps. You need to be prepared to cover those. Here are the top 20 wedding expenses that you should save up for!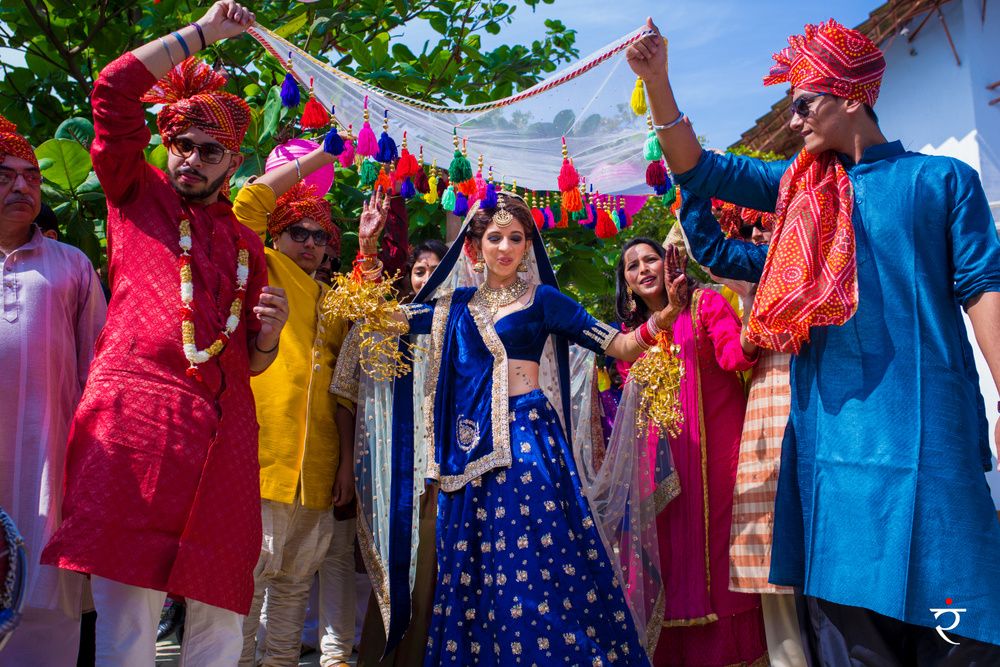 Image via Shreya & Vivaan's Real Wedding
Pre-Wedding Expenses
Once your engagement is announced there will be a slew of parties, lunches and catch-up dinners. You can't say no to all nor will all be paid for, so you need to account some doh for you and your husband to spend on these occasions!
Asking Bridesmaids in a Special Way
Bridesmaids and bachelorettes are getting fancier day by day. You will obvious want to thank your bridesmaid in some way. Bridesmaid hampers or gifts will cost you especially if you have more than 5 BFFs, so save some money!
Beauty Treatments
This goes without saying that your skin care regime should ideally start 6 months before the big day.
Pre-Wedding Party Attire
From the family lunches to the bridal shower to the bachelorette party to the day-after brunch, you'll be celebrating all year long with your nearest and dearest. You will need outfits for these. Not necessarily part of your wedding wardrobe, just a few outside of it.
Extra Alcohol Consumption
No, that calculation of just 10 vodka bottles is not going to be enough once the party gets going. So put some money aside for extra alcohol consumption bills!
'Chai Naashta' Expenses
If you have a huge party going and want to party all night, the authorities are bound to show up. In case you don't have connections – keep some aside for chai-nashta!
Corkage Fees
If a venue is allowing you to get bottles in, you may forget to calculate corkage fee. Usually it varies between Rs 400- Rs 1000 per bottle so keep that in mind!
Gold Rate Woes
Planned to buy your big wedding set just months before the wedding? Be financial ready for a little market fluctuations. It makes a difference when you purchase big pieces or number of pieces.
Weather Tales
They say when it rains, it pours! So incase the weather goes back, you may have to shell out extra for tents, umbrellas or even shift the venue – so keep some money aside for such emergencies!
Unexpected Cash Envelopes
Indian weddings are all about gifts. Suddenly the pandit says that you have to give something to the groom's third cousin and jazz, you need to have some extra cash to stuff in a cash envelope!
Damage Penalties
What if your friends or family get too crazy and damage something at the venue? You have to pay for the damages. Usually a couple of glasses are accounted for but you may have to keep some cash aside in case they break a table or a chair.
Honeymoon Reservations
Indian weddings are mostly funded by parents but the honeymoon is your responsibility. So start saving up and keep a huge chunk just for that. After all, it's the most fun part of a wedding!
Forgotten Items
"Wedding brain" can affect even the best of us — and if you're not getting ready in your own home, it's far too easy to forget something and need a last-minute replacement like shoes or even a tie!
Undergarments and Accessories
It's easy to forget to account for this. You will need a fresh set for each of your functions so that is going to cost you. This includes accessories like tummy tuckers, seamless bodysuits and the works!
Licences & Taxes
Did you know that you need to have a fire hazard licence if you have having live food counters at your wedding? Usually the venue gets them for you but you have to pay for them. Also, check over your contracts carefully to ensure that sales tax is included in the quoted price; otherwise, you may be in for a surprise when you receive your final bill. So keep some money aside for that!
Wedding Night Reservations
Trust me, you want this. If you have your wedding at a hotel, they usually include the bridal suite or wedding night but if not then book yourselves a room and spa session for the next day. Keep money aside for that!
Tips
If a service charge isn't included in the bill, you need to tip the staff. Yes, you do!
Overtime Charges
Once the party gets going, you want to dance the night out. This includes extending the part by an hour or even more. But you need to pay for that so account for it in your list1
Flight Tickets
If you're having a destination wedding, keep in mind that you may need to fly in a few days before the wedding or even make a couple of trips before to get all the arrangements sorted. This means incurring extra travel fees — more nights, more meals, and possibly a second round of airfare.
Backup for Plan-B
Backup is when the flower delivery is stuck, and you have to hire a local florist to use local flowers. Backup is for when the power suddenly goes out and you have pay for the power generator. Backup is for the broken nail that broke so low you have to get a full set of acrylics at the last minute so your hands don't look like you just dig up a hole! If you prepare for the unexpected ahead of time, you won't be left scrambling to come up with extra cash at the last minute.