A Pink Themed Beach Wedding With Gorgeous Decor
BY Aakanksha | 27 Mar, 2020 | 14392 views | 6 min read
Samriddhi & Nitesh got married in as the sun set in the background and the crashing waves made for the perfect symphony! A love as cute as theirs, deserved a wedding as pretty as they had. Samriddhi looked beautiful in a baby pink lehenga while Nitesh complimented her with matching safa and dupatta. Even the decor at the wedding, from the floral mandap to her phoolon ki chaadar with added kaleeras, all lent a magic touch to the wedding, Happy Flashbacks★ 5 shot this beachside wonder in all it's glorious details and the photographers are proof!
Meet Samriddhi & Nitesh
View this post on Instagram
So we both met in March 2018 for the first time at someone's birthday dinner and we'd be lying if we say it was love at first sight. It was that day when he was wearing the iconic "watermelon shirt" & I started teasing him by calling him "the watermelon shirt guy". Post that, we never spoke to each other for 2 months despite having each other's numbers until one day out of no where, I randomly sent him a follow request on Instagram which was basically the game changer. We started talking and just never looked back. We were talking on 5 different apps at the same time on 5 different topics. 7th May was the day when I added him on Instagram and 28th May was when I said "I love you". I guess when you know, you know. We officially started dating on 1st July when he flew down from Vizag to Delhi just to say I love you in person! That was the day when I just knew I wanted to marry this guy.
The Wedding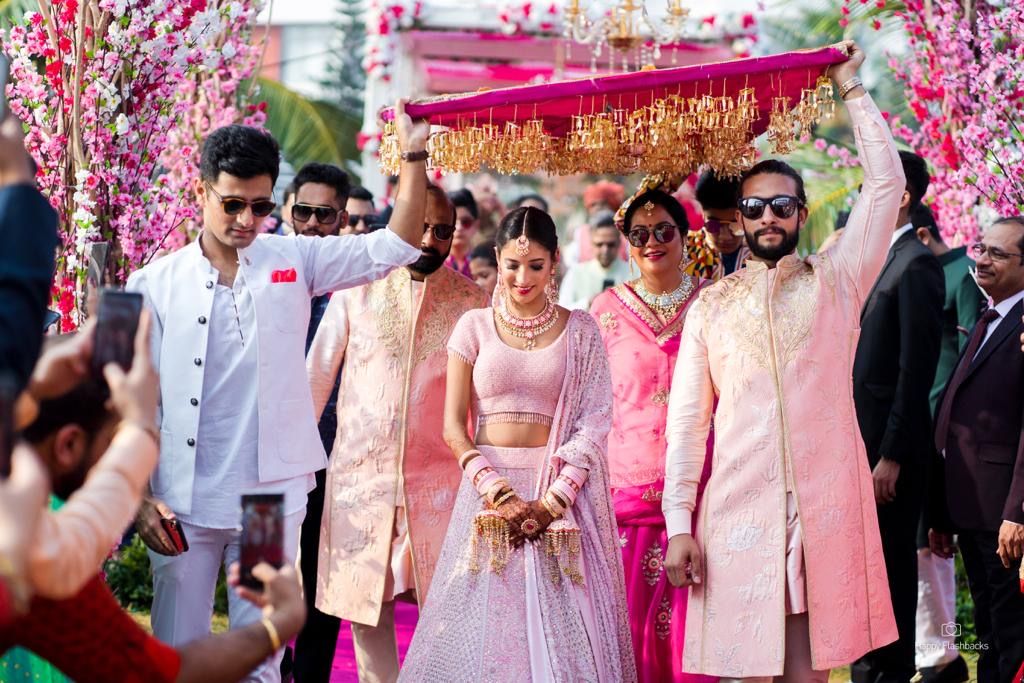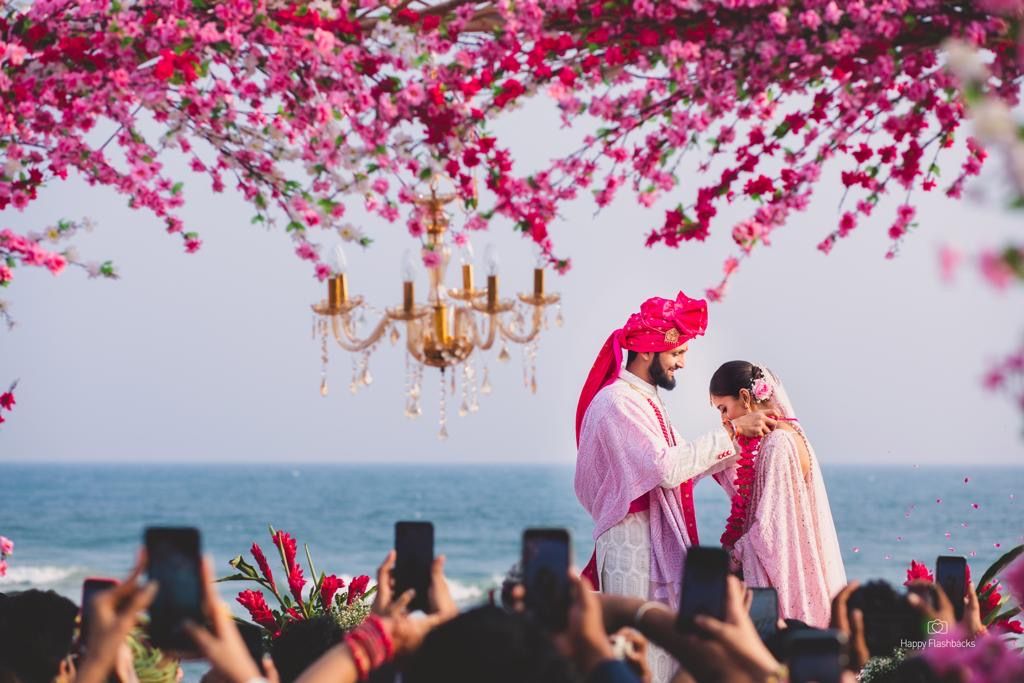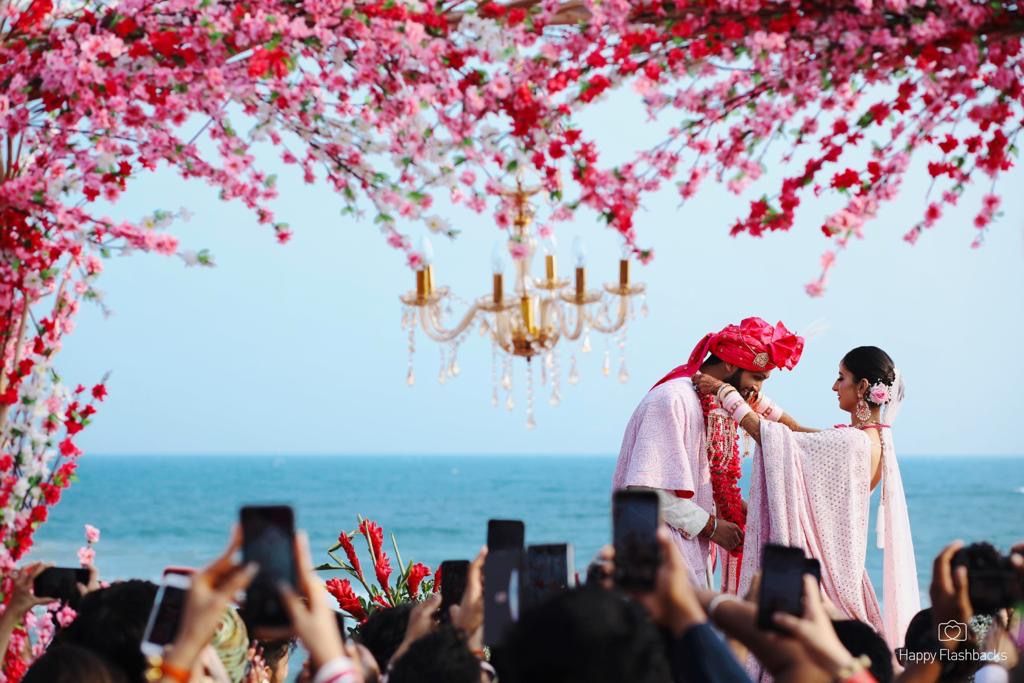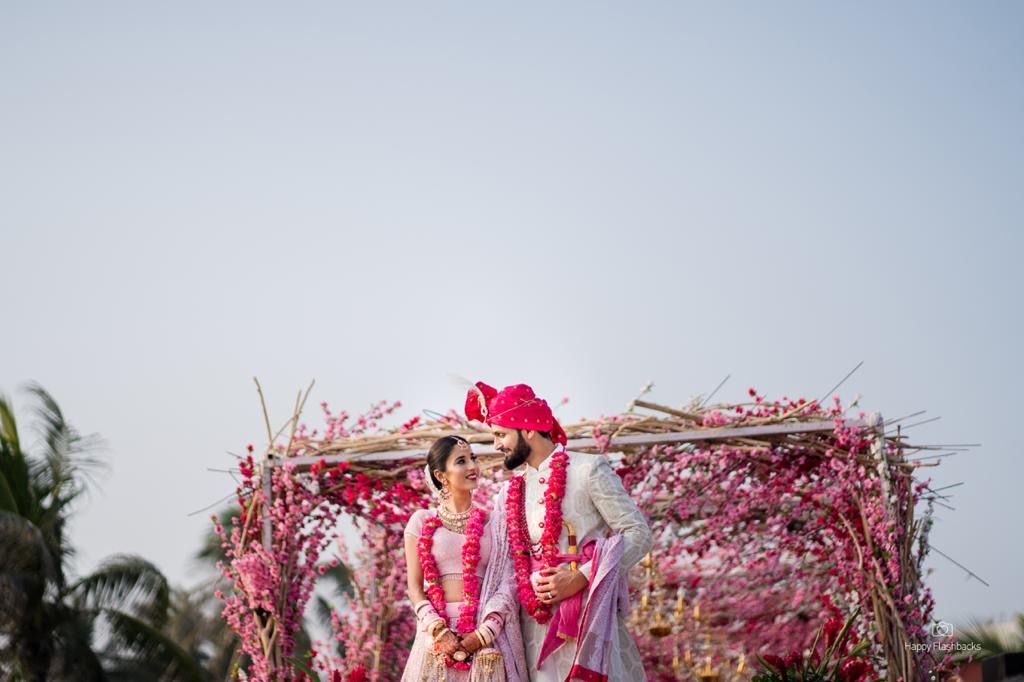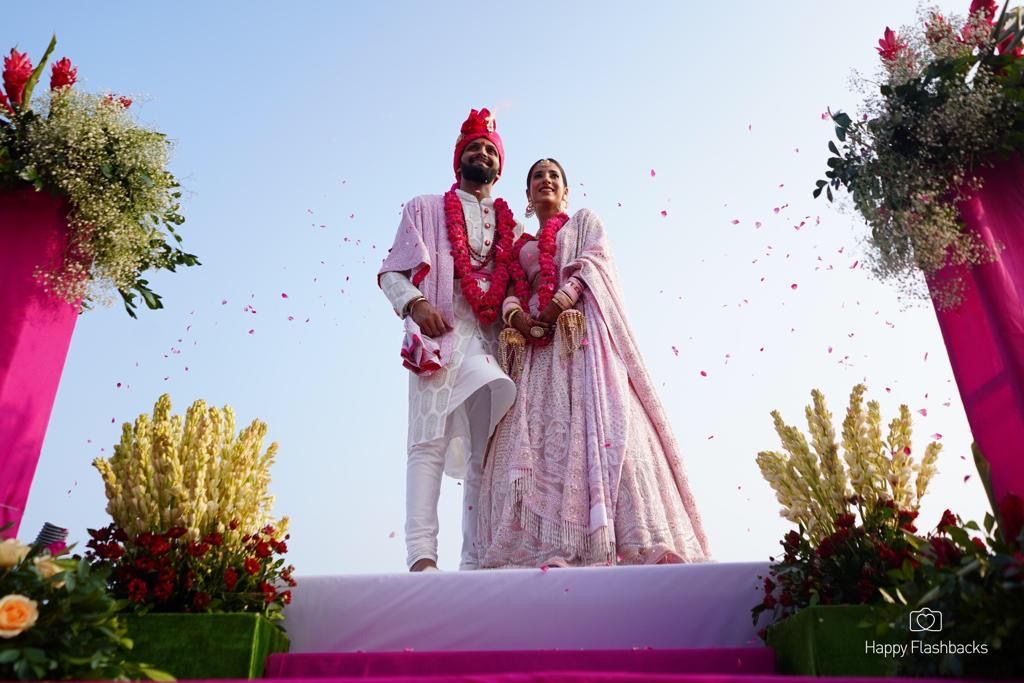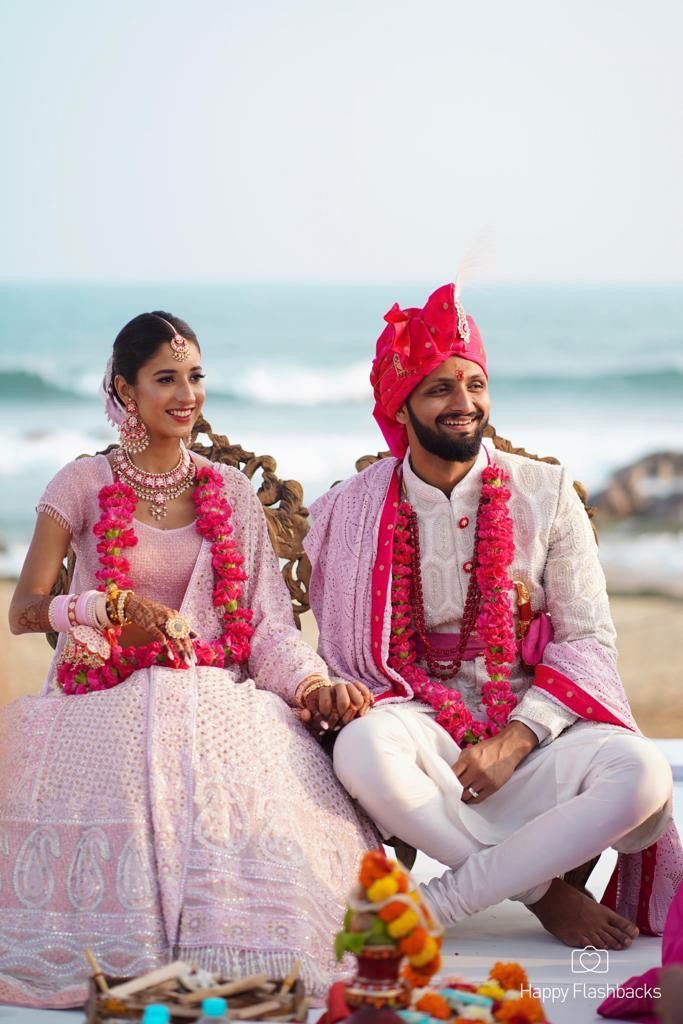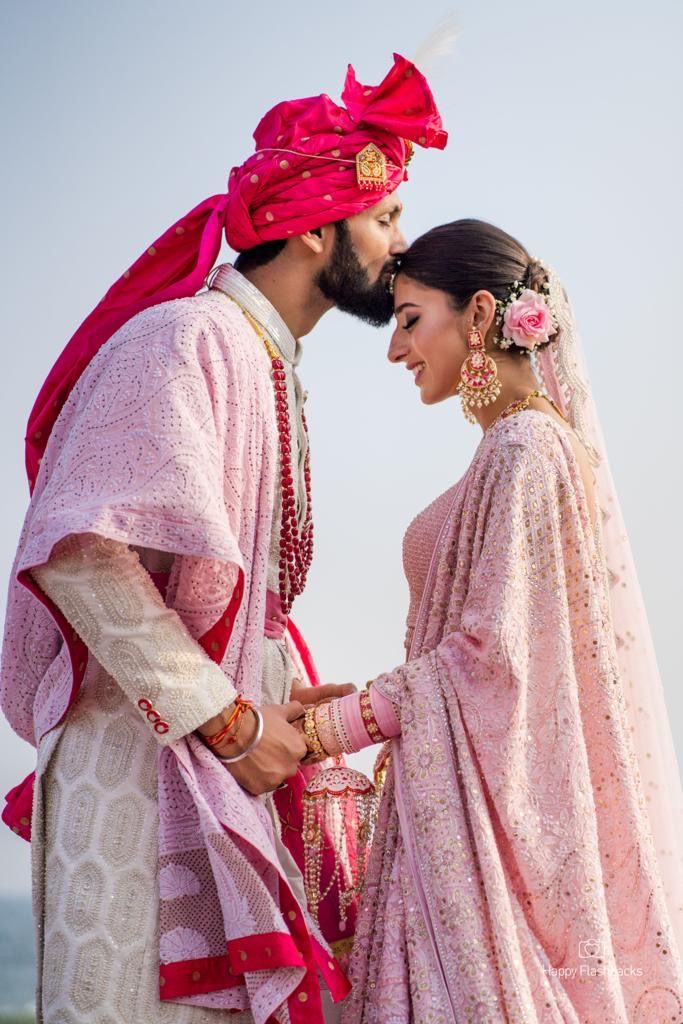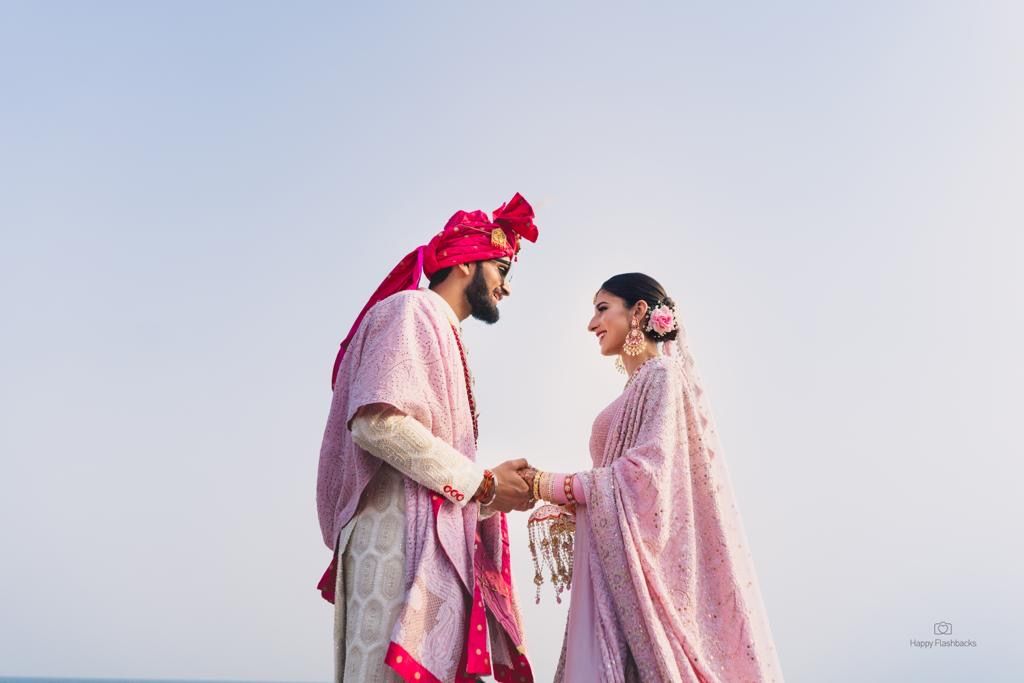 From The Bride:
My wedding, is hands down, the most beautiful one I've ever witnessed & I'm not just saying it cause it's mine. I'm saying it cause of the personal touch that was there! My mom did the decor & took care of all the arrangements & got everything customised the way I wanted it. I've always wanted a beach wedding, hence the venue was Vizag which also is the place my husband is from! The decor was actually more beautiful than I thought it would be & I don't think so any wedding planner could have done it better than my mom did! We found an event manager here in Vizag with whom my mom discussed her ideas & the way she wanted the decor and she got everything done here!
Vendor Reviews:
Makeup Artist: Shubina Sood
Shubina Sood is my family friend, practically an elder sister to me. Every time I've gotten my makeup done, it's been from her. There's no one else I trust apart from her cause I feel makeup can make or break your look and it's very important to go to someone who knows your skin, the way you like your makeup and most importantly what kind of a makeup look will suit you cause that heavy makeup with strong contour lines which everyone loves these days does not suit everyone. Shubina di (like I call her) knows my skin type & the way I like my makeup and always does it better than my what I had imagined before sitting in her chair! There's no one else I could have trusted for my big day other than her!

Photographer: Happy Flashbacks
The first time I ever saw their work was at a family friends' wedding. The pre-wedding shoot they did for them just had all my attention. Saying that it was fab would be an understatement. The concept & the idea was so different and innovative. I was 19 back then & that was the day my mom, dad & I decided that it'll be them who'll document my wedding, whenever I plan on getting married. Cut to 3 years later, when I got Roka'd and the wedding date I came out, the first thing I did was call them & spoke to them about the pre wedding shoot and everything. We went to Jaipur for the pre-wed and my husband & I both enjoyed every minute of it. They make shooting in the sun also so much fun. And ever since the shoot, we were just looking forward to the day we'll get to see it!! We finally saw it on our engagement day & we LOVED it! We knew we had made the right choice by choosing them. Now eagerly waiting for the wedding film to come out!

Mehendi Artist: Harins Mehendi
I'm not a fussy person when it comes to Mehendi. I just like it intricate & filled up! So when my family was deciding who to finalise for my bridal mehendi, I told them to finalise the same person who did my Roka mehendi. He was a guy from the local market near my house! So my mom and dad went and spoke to him and finalised with him. In that moment he agreed but a month later, started acting up and wasn't giving us a confirmation whether he would send his mehendi artists to Vizag or no. That's when my mom & dad decided that they wanted a nice professional to do my bridal henna. Until 2 weeks before my wedding I had no idea who was doing my bridal henna cause my mom & dad kept it a surprise for me. When they told me Harin bhai from Surat was going to do it, I got so excited! I literally stalked their Instagram page and was swooning over the mehendi designs they had created in the past. So my mom told me to finalise something that I wanted to get done but I honestly had nothing in mind. When the day came & he reached Vizag with his lovely team I just asked him to put an intricate, pretty design. And the way it turned out was just WOW. It looked so so so stunningly beautiful and better than I had thought of! Harin bhai was just so sweet and professional and lovely and all the good things! His team was also as sweet as him. They were so patient with me. And after my entire mehendi was done, I realised that whatever happens is for the best. I was actually glad that the guy from the local market near my house didn't give a confirmation or else I wouldn't have had the privilege of getting my bridal henna done by Harin bhai.
Vendors: Venue: The Park, Visakhapatanam; Makeup Artist: Shubina Sood; Photographer: Happy Flashbacks★ 5 ; Bridal Outfits: Mehendi & Engagement/Sangeet - Antatah, Wedding - Shobika Bhandari ★ 3.2 ; Mehendi Artist: Harin's Mehndi★ 4.5 ; Groom Wear: Antatah