A stunning beach side wedding in Goa !
BY The WMG Bride | 05 Sep, 2014 | 39365 views | 5 min read
We are kicking off the weekend with this stunner of a Goa wedding replete with gorgeous decor that is making all of us totally swoon . With colors that look almost edible, and the picturesque Holiday Inn in the backdrop, this one photographed by Monica Moghe is a visual feast! Not to mention their love story will give you a warm fuzzy feeling to take you through the weekend and go "aww" .
Meet Puja & Saurin
Pooja's says "I still remember, my friend Nayan introducing me to Saurin by saying "And meet my friend Saurin, he's a 'Heart Surgeon'" ;). And my first impression was - "huh, that trick ain't gonna work on me";). We exchanged pleasantries and barely spoke that evening. A week later, we met again at a social gathering where he made me have a great time, and soon I got a Facebook friend request. Saurin chips in " After I "tested" her by using some cheesy pick up lines (which she thankfully didnt fall for), I stepped up the relationship from Facebook to the phone.  Our first date was at Pali Village Cafe in Bandra and it lasted for 4 hours which felt like 5 minutes.  I dont remember what I ate, or she ate or I wore or she wore - but I knew she was the one for me" . Pooja recounts "A month into our relationship, Dexter - our dog came into our lives. Both of us had never owned a dog but always wanted one. We decided to get one together , though it was a huge responsibility given we were pretty early into our relationship however  that was our best decision - Dexter was instrumental in bringing us closer"
The Persian theme Mehendi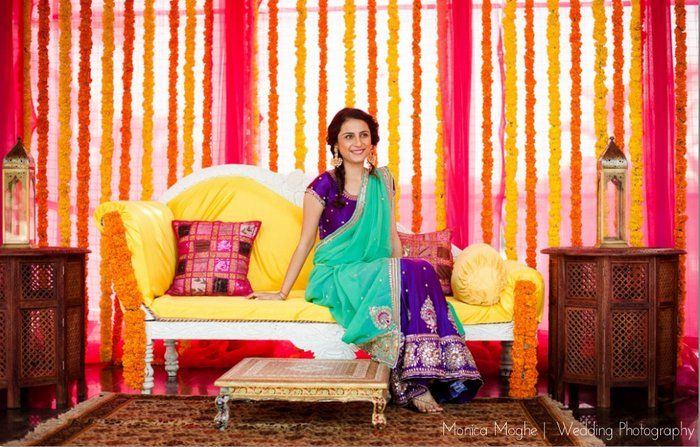 The wedding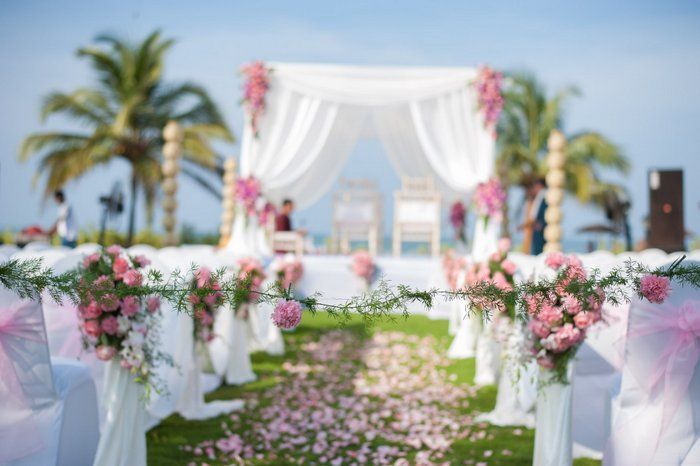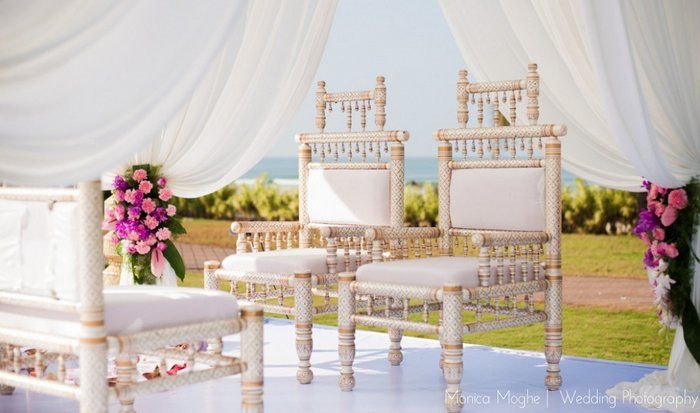 What a gorgeous color pallette for a morning, beach side wedding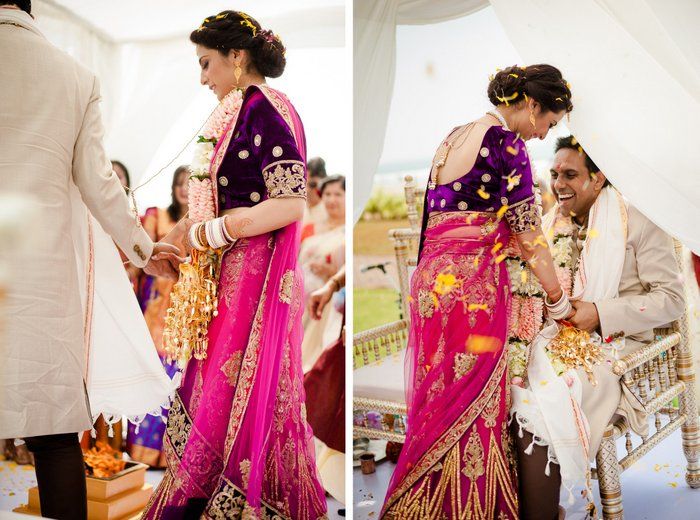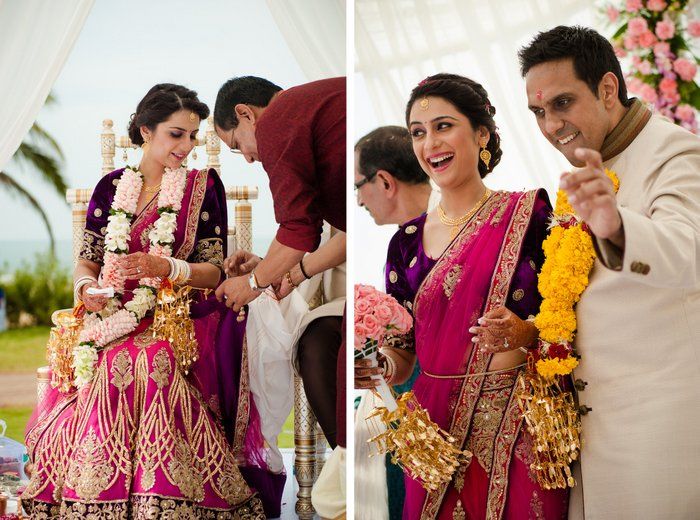 From the bride
: I loved planning every detail of our wedding. We wanted it to be a beach wedding and Goa was the ideal location for us - it was where we went for our first holiday together and also got engaged. We started by hunting for a perfect location for our wedding which also would fit in to our budget. Holiday Inn was perfect in every aspect - it had an uninterrupted view of the beach and the lawns were perfect to host the wedding. Also, the staff and the management was very professional and managed all the events flawlessly. Every guest at the wedding raved about the food at all our events. We had two locations for the events - mehendi was at Old Anchor Hotel and  Wedding & Reception at HolidayInn. Once the location was set, we got on to planning each event. Since our guest list was pretty mixed with family & friends from across India & US, We wanted all events to have a different feel, both in terms of the look and food -  hence for mehendi - which was in the open by the lake at Old Anchor Hotel, we decided to go for bright decor and used pink and orange as the color theme with persian decor. The food menu was simple for this event and we decided to go for south indian food. Sangeet was indoors, we decided to have a Bollywood theme, the dance floor had a collage of Bollywood actors and movies. The entrance to the ballroom was again decorated with Bollywood posters and red carpet. This event was all abt glitter! The food menu was extensive and we decided to have Bombay street-food styled menu. For wedding we went with white and pink theme. Since the view was stunning, we wanted the decor be very subtle hence we kept it to the minimal. The bride-maids were dressed in white & golden saris. Since it was a Gujarati wedding, the food for this event was also Gujarati Since it was a beach wedding, I wanted the wedding outfits to be simple and elegant with subtle make-up and hairdos. Pink is one of my favorite colors and also a family tradition, my mother wore pink for her wedding & so did my sister and hence I decided to go for pink as well for my wedding outfit. Also, besides my wedding outfit, I wanted rest of my outfits to be wearable later. Mehendi outfit was a simple fish cut lehenga and I simply loved the purple and sea green combination. Monica was our photographer and we  really admire Monica's work and professionalism. She is fun, creative, enthusiastic and so passionate abt what she does. She is also a very warm and friendly person. She has made our wedding album so special and memorable one! We totally love her work!!" [handbook] Getting hitched ? Dont forget to check out our
Vendor guide
Venues: Mehendi in Old Anchor Hotel Goa , Wedding in Holiday Inn Goa |  Invitations: Not mentioned |  Makeup:  Meena |     Decorator : Golden Aisle, Sandra, Goa |  Mehendi Lehenga & Cocktail sari by Kalaniketan Bombaywala , Ahmedabad | Bridal Lehenga in Pink and Purple by Benzer  Mumbai , Reception outfit (not viewable) by Jyotsna Tiwari   |  Grooms outfits by SS Homme and CEO Rules  | Photography by Monica Moghe (all photos displayed above)  and Sharik verma | Videographer: Videopandit - Vishal, Goa | Jewellery by Arvindbhai Jewellers and Anjali Jewellers