An Elegant Blush Pink Engagement in Delhi : Nesheta & Vishwajeet
BY The WMG Bride | 20 May, 2014 | 1474 views | 4 min read
We spotted 5o shades of pink in this engagement function- from the pretty pale pink in the bride to be's outfit, to the stunning candy pinks used in the decor - this event is romantic, soft and has an understated elegance that is echoed by the couple themselves. Shot by
Vikram Arora Photography
this one has small, personalised touches that will make you believe in love again.
Meet Nesheta & 'VJ'
VJ  is an entrepreneur settled in London, and Nesheta was working in Singapore for many years and had recently relocated to Delhi. Nesheta recounts "There is nothing extraordinary about our story except our feelings for each other when we met for the first time. I was introduced to VJ by my dad who had known him for quite long although I never happened to meet him then. I was a person who believed that it was impossible that people could actually choose their life partners within a few minutes of talk in a traditional setup. However, as the tagline says 'anything can happen over a cup of coffee' which seemed like just made for us as we both knew that we wanted to take that leap of faith together after our first meeting. "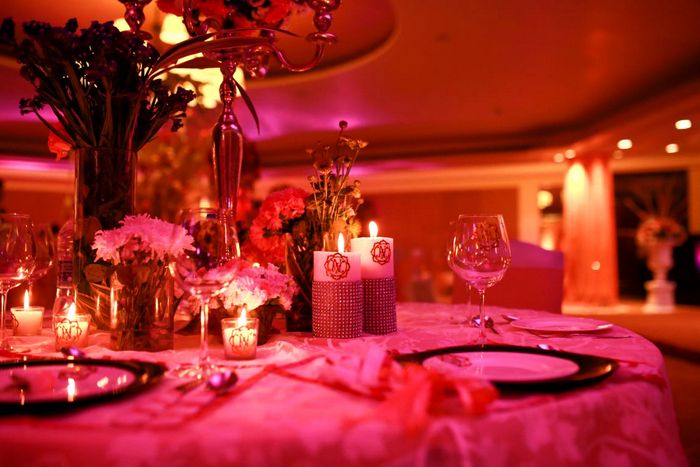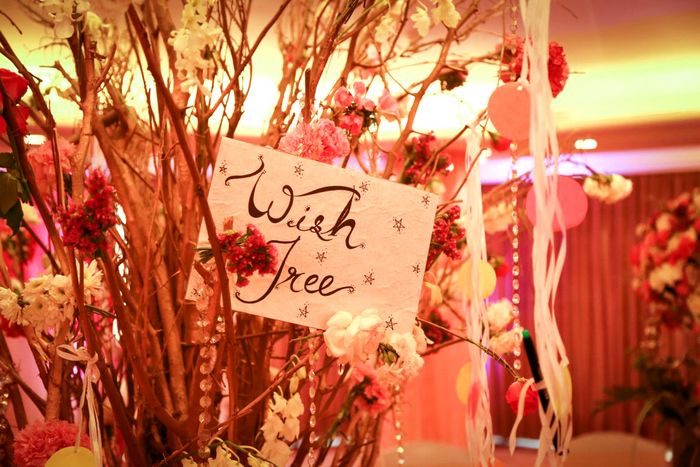 A wishing tree- for the guests to leave messages for the couple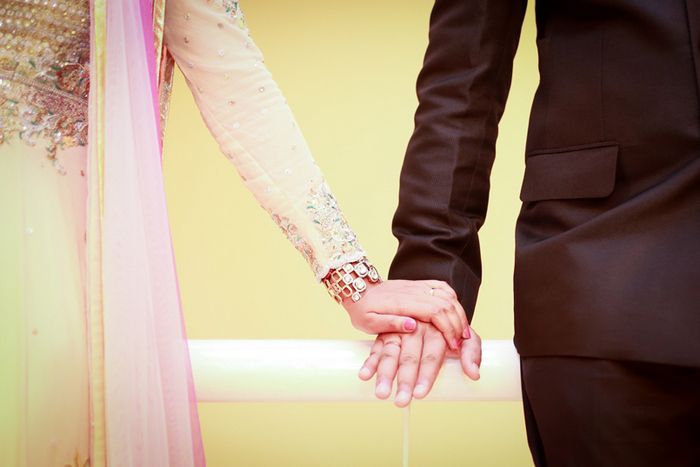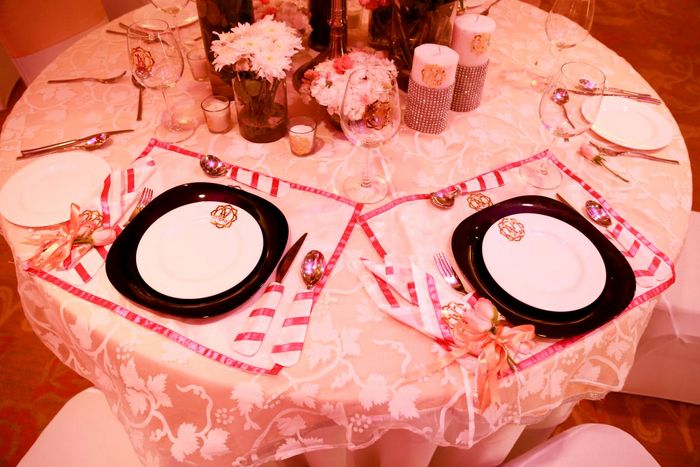 Personalised Table cutlery with a logo (N & V) .
Definitely some of the most romantic couple shots we have seen
Nesheta, tell us a bit about this entire event..
Nesheta : "Honestly, It was mostly taken care by our decorators and the venue in-charge once we had told them what and how we wanted it to be done. But it does takes some effort to calm down pre-wedding nerves no matter how organised you are. There were so many memorable memories from the night that its hard to pinpoint one .  I have to say that our decor guys Wedding Commitments did an awesome job. They worked directly with our venue and their ingenuity and professionalism is hard to find. The team is amazing to work with and have a great vision to help make any place look great"
Im sure you are now planning for the wedding. Any  vendors who really impressed you? -  Shalini was my makeup artist and from the moment I met her, I could tell she was someone who could really understand what I wanted and indeed she executed it to perfection. Apart from being a wonderful artist and a true professional, she is very friendly, charismatic and accommodating - something every bride needs to calm the nerves. -  I must say that we are very very glad to have chosen Vikram for our special occasion. We really fell in love with his work at first sight. He has an amazing ability not only to capture timeless expressions but vibrant emotions. We simply love the shots and have also received a number of compliments from our guests after they saw the pictures.  Photographing people is a very personal task and making them (especially include me) feel comfortable, beautiful and confident in front of camera is indeed a challenge. And that's what Vikram does beautifully.  One thing I found very impressive about him is that he does not interfere with people's natural emotions that are taking place and goes with flow of events. He is extremely accommodative to unexpected changes to the plan and has got the knack of capturing the essence of a person thru his lens. The photos by him are actually emotive images that we shall cherish forever. Simply adore his work!
[handbook]
Vikram Arora (Photography),  Shalini Singh (Makeup Artist), Wedding Commitments (Decor), & Kisneel by Pam (Brides outfit) are all on our WMG Handbook. To know how we choose vendors to feature please go through our FAQ
[vendor]
Vendor details: Venues: The Claridges, Delhi | Makeup: Shalini Singh| Photographer : Vikram Arora | Outfits: Kisneel by Pam | Grooms outfit: Raghavendra Rathore | Decor : Wedding Commitments