An Indian Fusion Garden Wedding with DIY Detailing !
BY The WMG Bride | 23 Jul, 2014 | 2215 views | 7 min read
When a wedding like this one lands in our inbox, it lifts a dreary Wednesday morning and puts a big grin on our faces. With their do-it-yourself elements,  personalised touches and attention to detail, this couple created a setting that is gorgeous, intimate and lovely . Adore absolutely everything in this wedding- right from the signboards, to the tea bag favours , to the drink station , to the ethereal lehenga-saree and everything else in between. This is a garden wedding done right- all the way in Melbourne !
Meet Samantha & Heinz
Samantha grew up in Melbourne in a  Muslim family, Heinz has an Italian/German background, and grew up Roman Catholic in Ohio, USA.  Samantha recounts "We had a Bengali, Aussie-American, Italian-German Muslim Roman Catholic wedding to plan haha" . Rewinding a bit to how they met -Samantha was studying in New York and Heinz and her  met during one of my studio presentations. She says "After that we kept bumping into each other at different lectures, events and classes and he eventually asked me out on a date and we went to The Metropolitan Museum of Art. He was a Fine Arts major, so we talked for hours on end about art, cities, and design and our love for New York City. Needless to say we had a lot in common and the date lasted about 8 hours! After a couple of months of dating long-distance, he flew to Paris and surprised me on Valentines Day." Any man who does that is a keeper we say ;)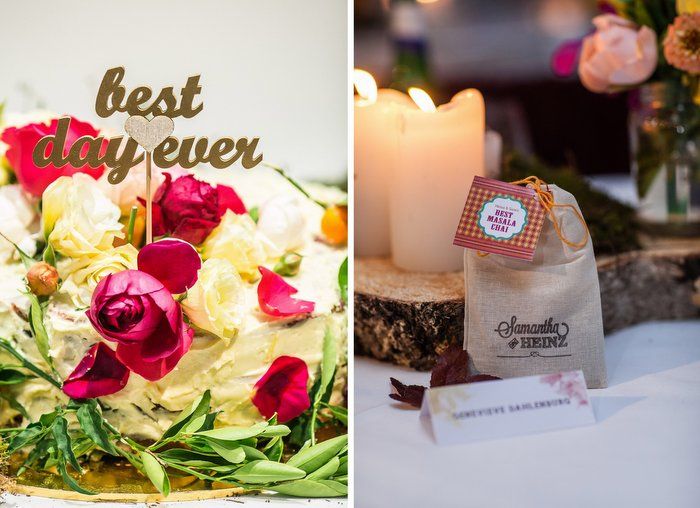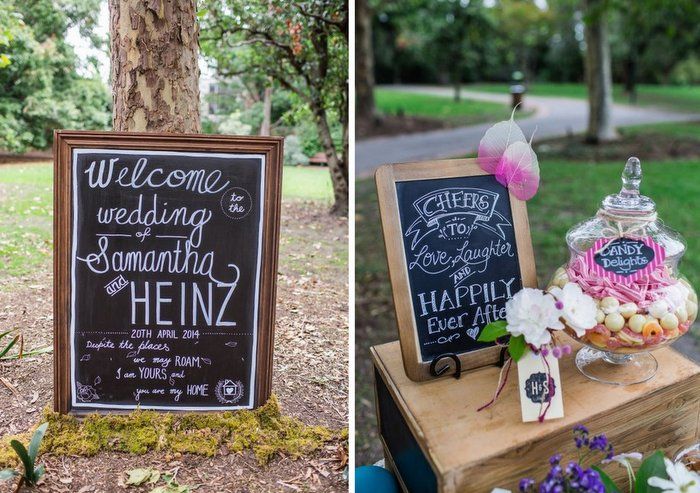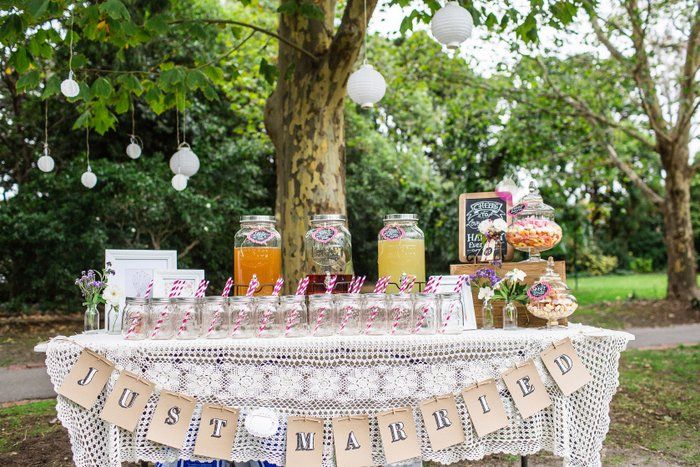 Sigh. All those details above. SO SO pretty! We need more personalised touches like these in Indian weddings!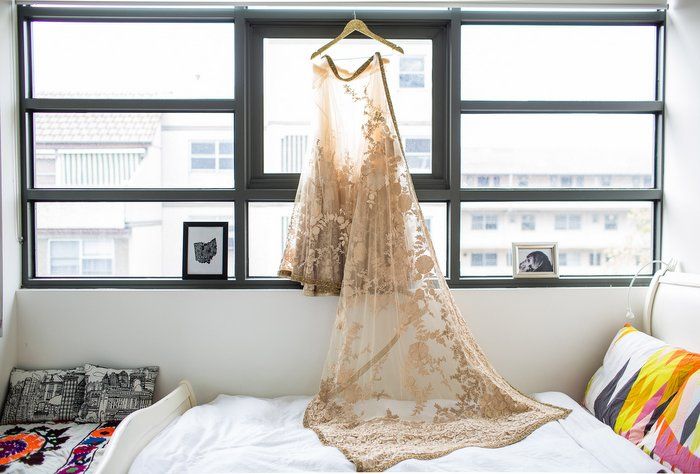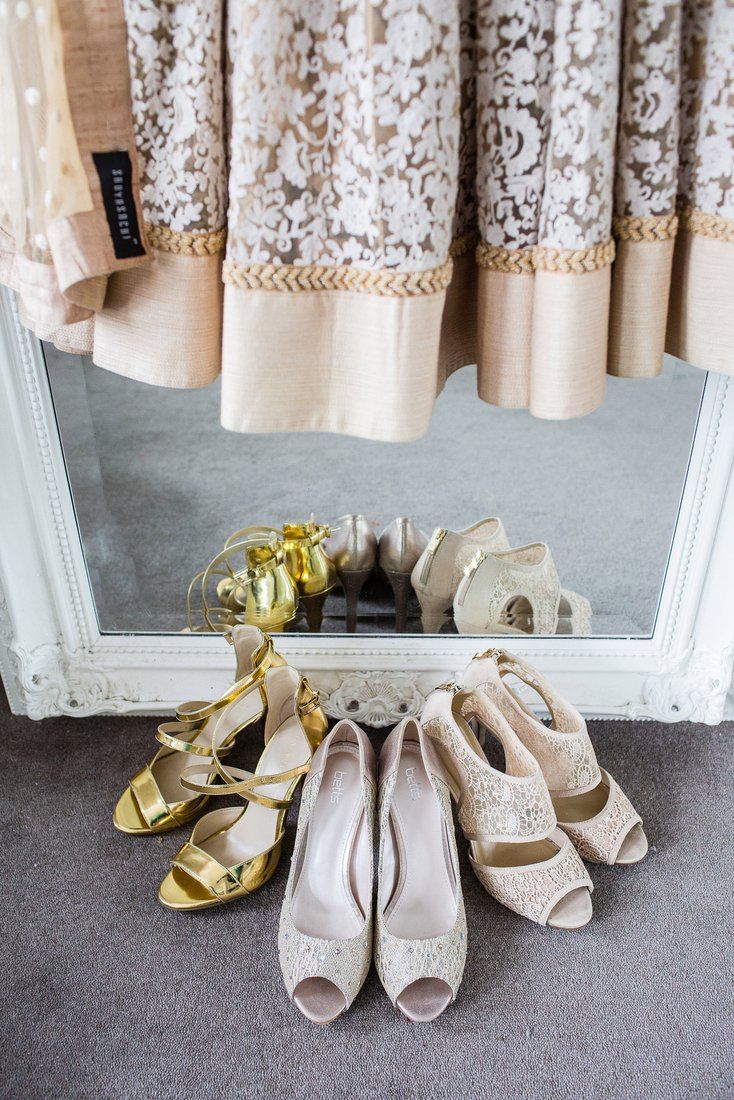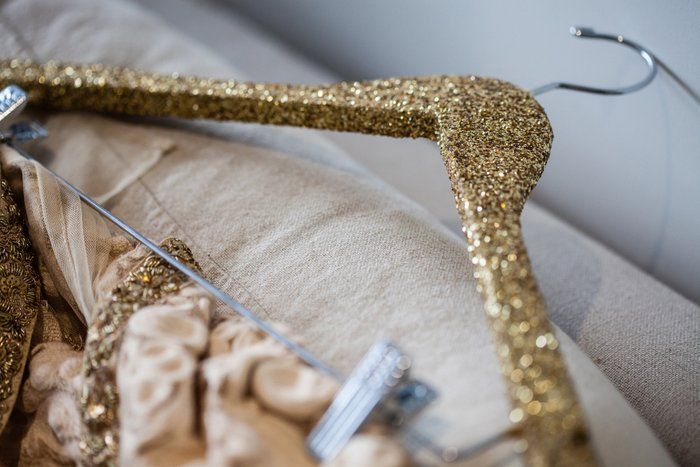 Every girl needs a glitter hanger in her life and an ethereal cream saree to hang over it!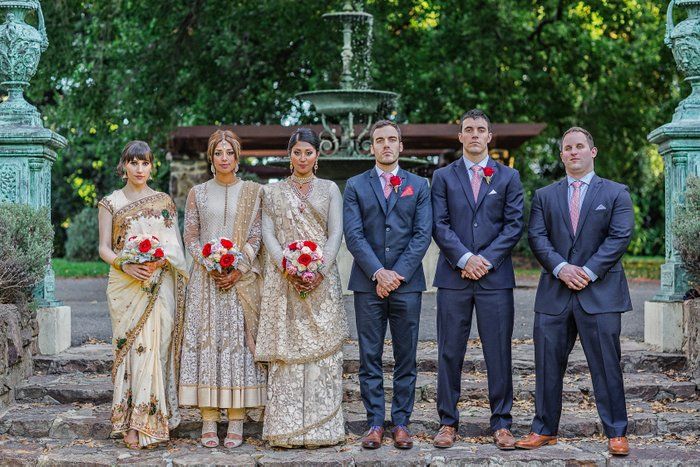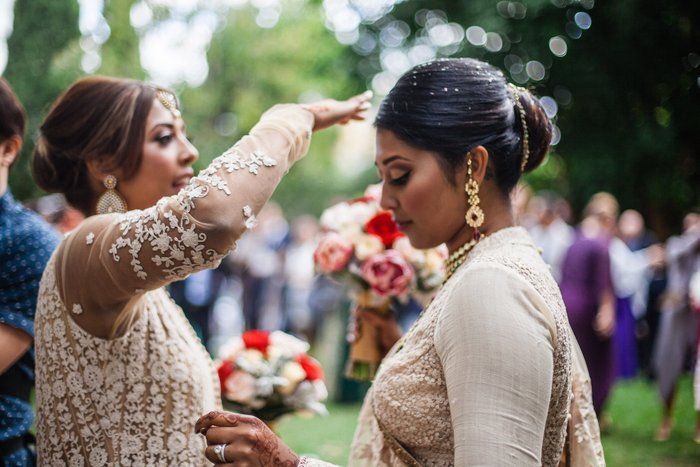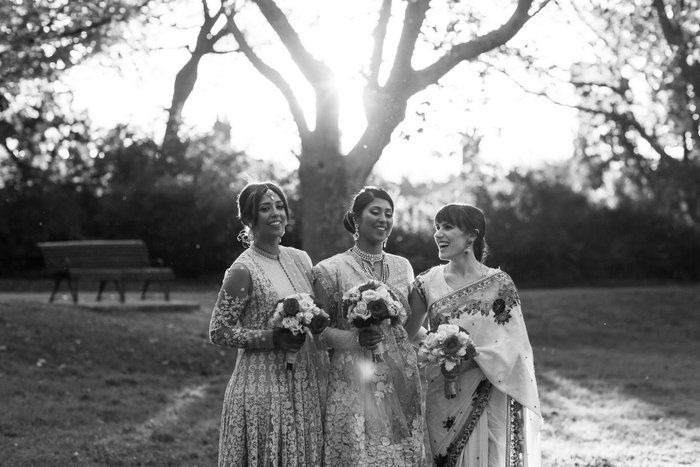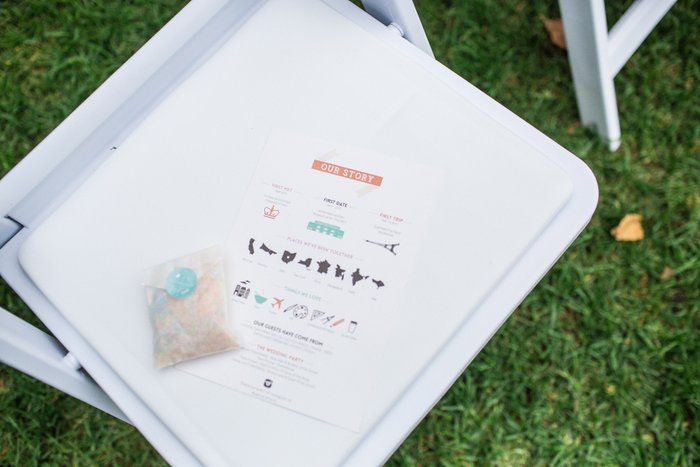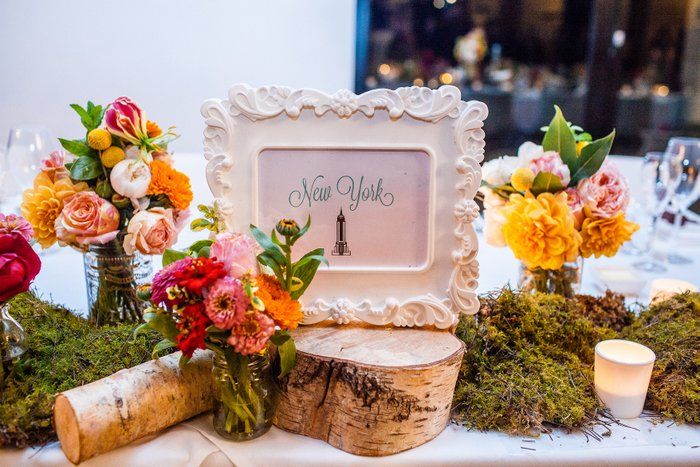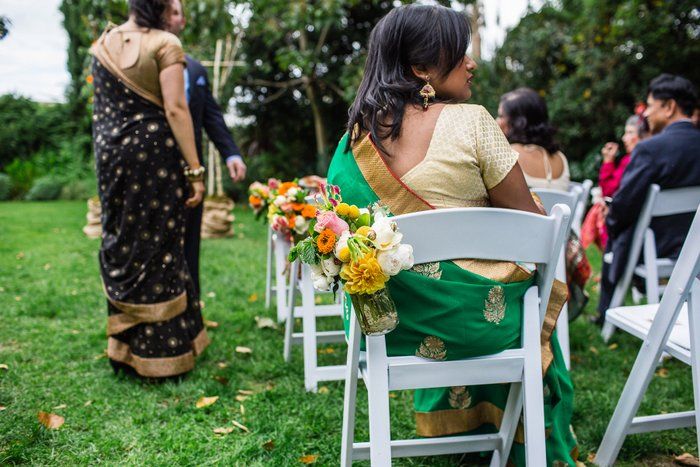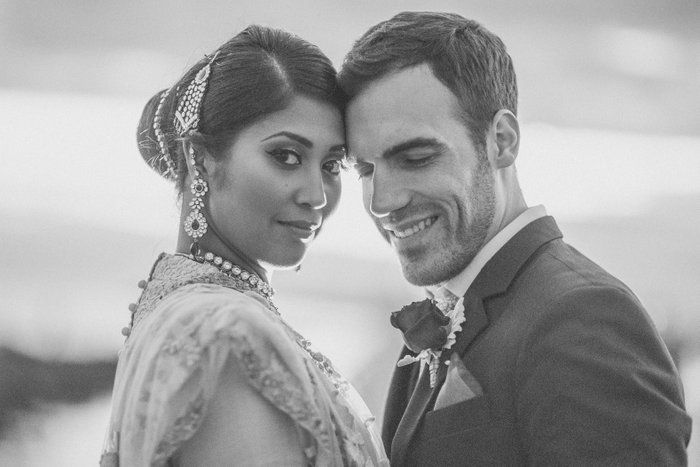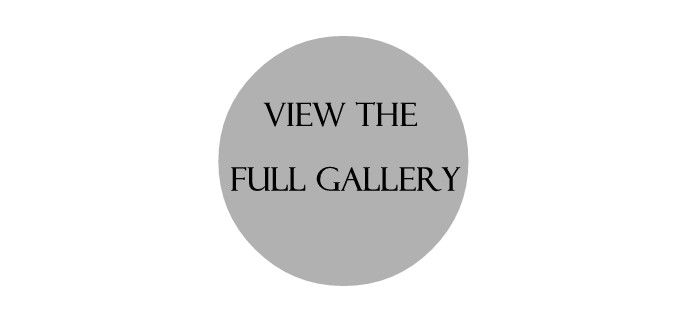 Samantha, your wedding is exquisite. What was your vision?
Our vision was to make it unique and represent the both of us – we both have very different tastes and styles and on top of that a fusion of cultures, nationalities and religions made it even more challenging and exciting! Heinz has an Italian/German background, and grew up Roman Catholic in Ohio, USA. I grew up in Melbourne in a Muslim family so we had a Bengali, Aussie-American, Italian-German Muslim Roman Catholic wedding to plan haha! I love colour, and lots of it. Heinz is more clean, simple and minimal. The fact that we were having a number of events, meant that we could nail down 'themes' for each and create a story around them individually. After lots of Pinteresting and reading wedding blogs I got overwhelmed! So Heinz and I sat down and realised with our garden wedding  we had a lovely natural setting to work with. Rather than competing with it, we wanted to compliment and enrich it. From that a rustic, vintage and whimsical garden theme emerged which was executed beautifully by our florists and stylists Flower Jar and by my friend Ching Ching who styled our drink station. My wedding saree was also very vintage Bollywood inspired, with antique zardozi and applique work so the vintage look really complimented the overall theme.
There is so much effort that has gone into those tiny meaningful DIY details. Tell us more!
We are both very passionate about details, almost fanatical! There was A LOT of DIY and details, so here is a list….
Invitations & Stationery 
We designed all our invitations and wedding stationery, including all graphic design, trims etc. Heinz designed an infographic about how we met, our story, and a little bit about our guests. We had them on the back of ceremony programs and menus at the reception.
Wedding Favours 
We handmade over 300 pouches of Indian Masala Chai that we packed and wrapped with help from my cousins! The chai really represented what we both love about my Bengali culture, as we both love a good Masala Chai and we designed little swing tags and put recipes on the back and added a little biscotti to celebrate Heinz's Italian heritage.
 Wishing Well and Guest Book 
I ordered a custom made recycled wooden crate from Etsy for our 'wishing well' and a personalised guestbook to go with our garden rustic theme. They worked out really well!
 Drink Station 
My friends prepared and styled a beautiful drink and lolly station at the ceremony for the guests, with mason jars, striped straws, and beautiful lanterns hanging from the trees.  It was a perfect added detail and allowed for our guests to mingle while we had our location photos taken.
 Wedding Arch, Blackboard, Rustic Signs 
At the ceremony we wanted something more subdued yet romantic and they created a beautiful silver birch arch with ferns and vintage coloured roses cascading down, the pews had henna decorated mason jars with bright coloured seasonal blooms. It was magical. We also had wooden signs pointing guests to 'Ceremony This Way' and 'Drinks That Way'. Flower Jar also created a lovely chalkboard sign welcoming guests to our wedding which had the line from the poem Heinz wrote to me.
 Table Settings 
Our florists did an amazing job of making our whimsical autumn garden theme come to life – there were brightly coloured autumn leaves, moss on the tables, silver birch branches and logs, golden and silver mercury glass tea lights and bright explosions of all my favourite flowers in hundreds of jam jars and vases scattered throughout the tables. It was phenomenal!!!
Sarees for the Gaye Holud (pictures in full gallery) 
I had all the sarees for my family and friends designed by me and custom block printed in Bangladesh. I went for something more modern instead of traditional and had chevrons and geometric shapes printed on them. I then reused some of the blouse pieces and made decorative bunting to hang around the venue!
 Chai Stall for Gayle Holud (Picture in full gallery) 
We sourced a lovely couple who run the Original Chai Stall  andserve authentic chai complete with clay cups and samosas to compliment our Bengali sweets and Jhaal Muri stand. They were a real highlight of the event.
 Indian Street Food Stand 
We had a popular Indian street food snack called 'Jhaal Muri' (Spicy puffed rice with fresh coriander, lime and onion) stand at the event, and had traditional hand painted street food signs that you may find down the streets in Kolkata and India, and served them in traditional paper cones which had our initials custom printed on them for a personal touch!
WOW guys, the effort really shows. Any one moment that stood out for you?
Walking down the aisle and seeing everyone's faces, was the most surreal feeling. I actually didn't realise how I would feel until that moment. It was very emotional seeing everyone there to celebrate our love. And the speeches! We had the most amazing speeches from family and friends, and I seriously feel so blessed to have people like that in our lives The same wedding has also been featured on an Australian Wedding blog -
The Crimson bride
---
Photography:
Lahza Photography
 | 
Ceremony Venue:
Victoria Gardens, Prahran
 | 
Reception Venue:
Encore St Kilda
 | 
Bride's Dress:
Sabyasachi
 | 
Bride's Jewellery:
Nemichand Bhemwala, India | 
Bridesmaids Dresses:
Sabyasachi
 | 
Groom's Suit:
 Custom tailor-made in Bangladesh by Moonstar Tailors | 
Groomsmen's Suit:
 Their own | 
Hair Stylist:
Sadler Hair, Prahran
| 
Makeup Artist:
 Freshta Sahak, from 
Beauti Bar
 | Decor 
:
Flower Jar, Richmond
 |
 Bridal Bouquets and Button Holes:
Dragonfly Flowers & Designs, Windsor
 | 
Wedding Decorations:
Etsy
 & DIY by Couple | 
Drinks Table:
 Ching Ching Lee | 
Wedding Stationary: 
DIY by Couple 
| 
Wedding Cake:
 Bride's Aunt, Rezina |
Acoustic Guitar at Ceremony: 
Burays Acoustic Ceremony
 |
Live Band at Reception: 
Francisco Tavares & Friends |
---
[prof imleft="https://image.wedmegood.com/nw/wp-content/uploads/2014/07/indian-fusion-wedding-24.jpg" imright="https://image.wedmegood.com/nw/wp-content/uploads/2014/07/indian-fusion-wedding-31.jpg"]