45+ Best South Indian Bridal Hairstyles
BY Garvita | 30 Aug, 2022 | 237622 views | 10 min read
South Indian brides are popular for their magnificent outfits, exquisite jewelry, and elegant makeup. For a sheer reason that they exhibit a royal vibe while being extremely simple and fuss-free! We also get overwhelmed with the myriad of south Indian bridal hairstyles that we get to witness every day. And trust us, they are so flawlessly stunning and creative, that it gets difficult for us to select one favorite. We wonder how do these brides not end up getting confused about their wedding hairstyle? Because each hairdo is so gorgeous that it literally makes us skip a heartbeat! Check them out right away! To keep it simple for you, we have categorized them into the following:
Dazzle In An Embellished Jada
A south Indian bridal look is majorly inclined towards having jada as a hairstyle! In this hairstyle, the braid is either adorned with fresh flowers (poola jada) or with artificial or real gold embellishments (jada billalu). Beautifully crafted, they accentuate the south Indian bridal hairstyles and take them to a whole new level! Don't believe us? Have a look at these beautifully embellished jada hairdos, that we've short-listed for you.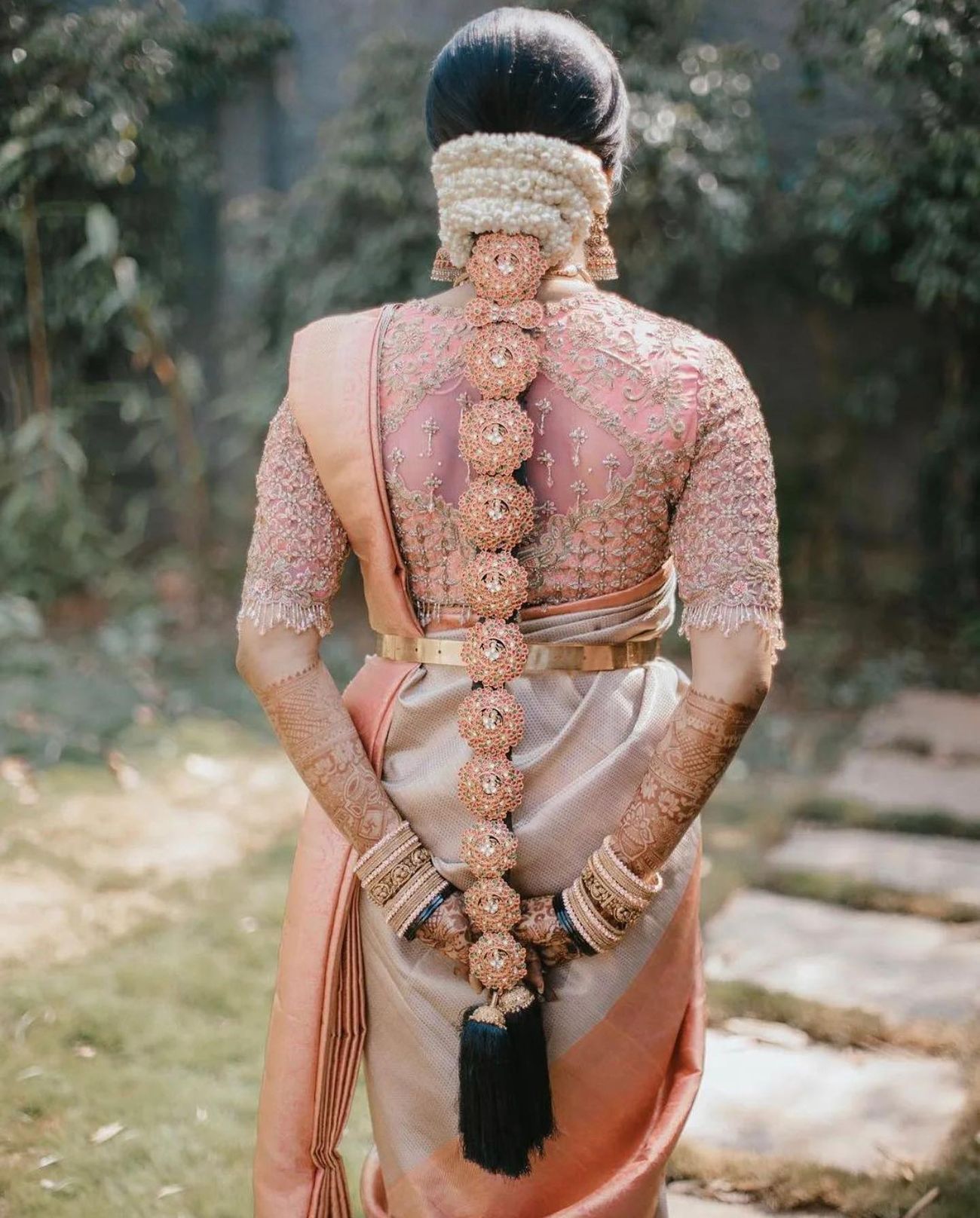 Image via Barry Photography
This pastel-hued jada billalu is oozing every ounce of freshness we wished for.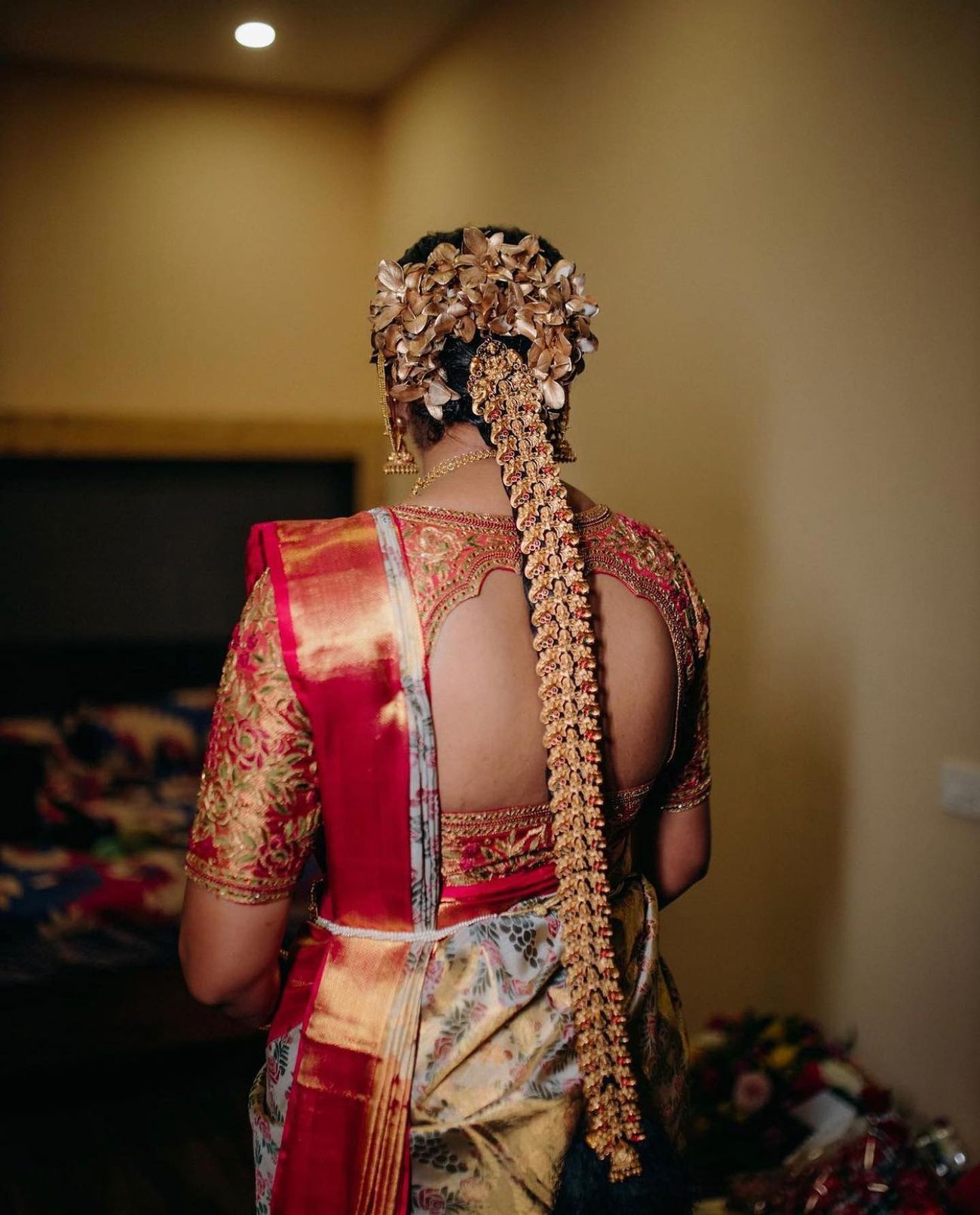 Image via Aashish Photography
All things gold! For a subtly effortless touch to a bridal braid, add glimmering accents to take it a notch up.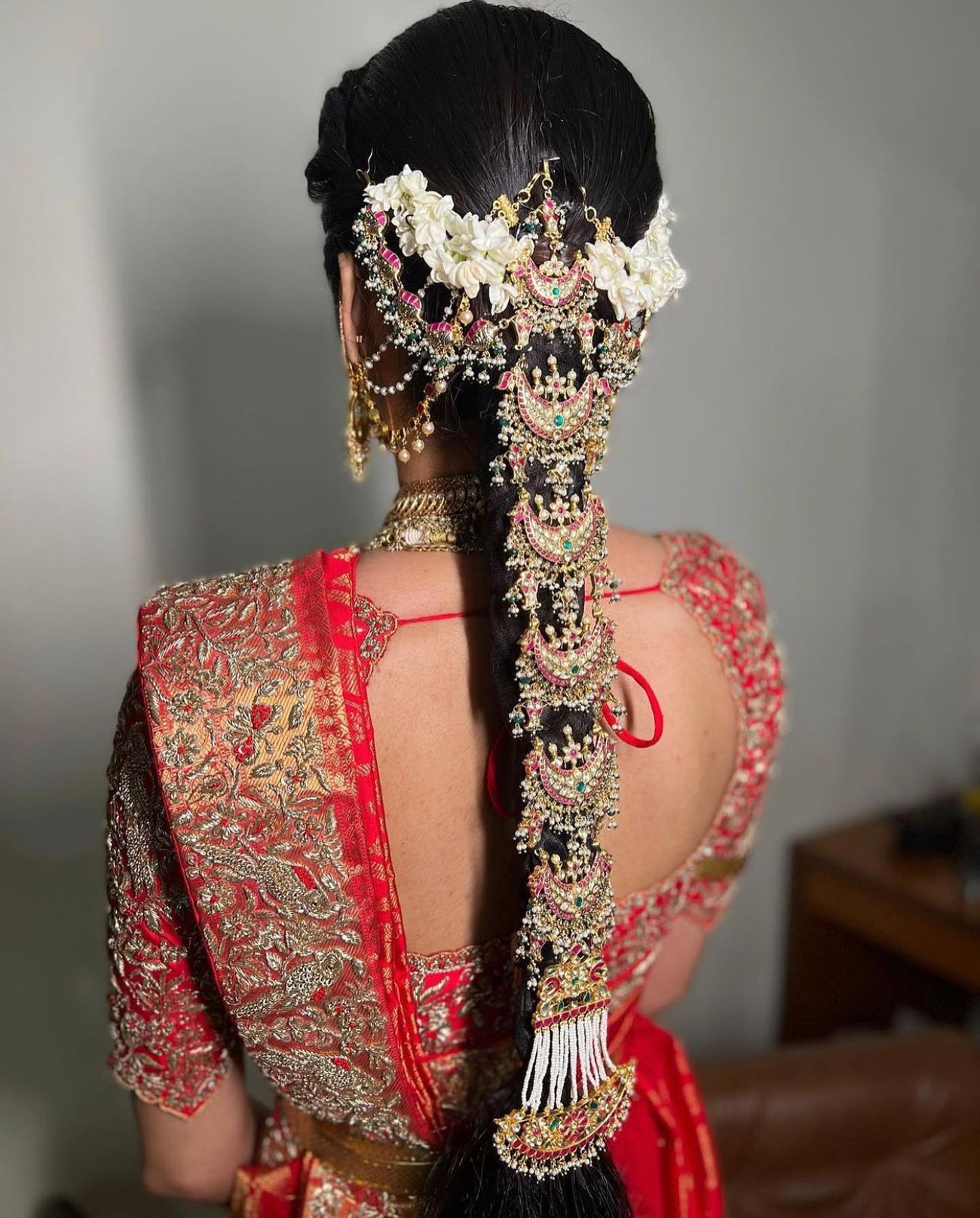 Image via Make-up by Afsha Rangila
You won't be able to scroll past this one! Only because the embellished braided hairstyle is trending hard on the internet.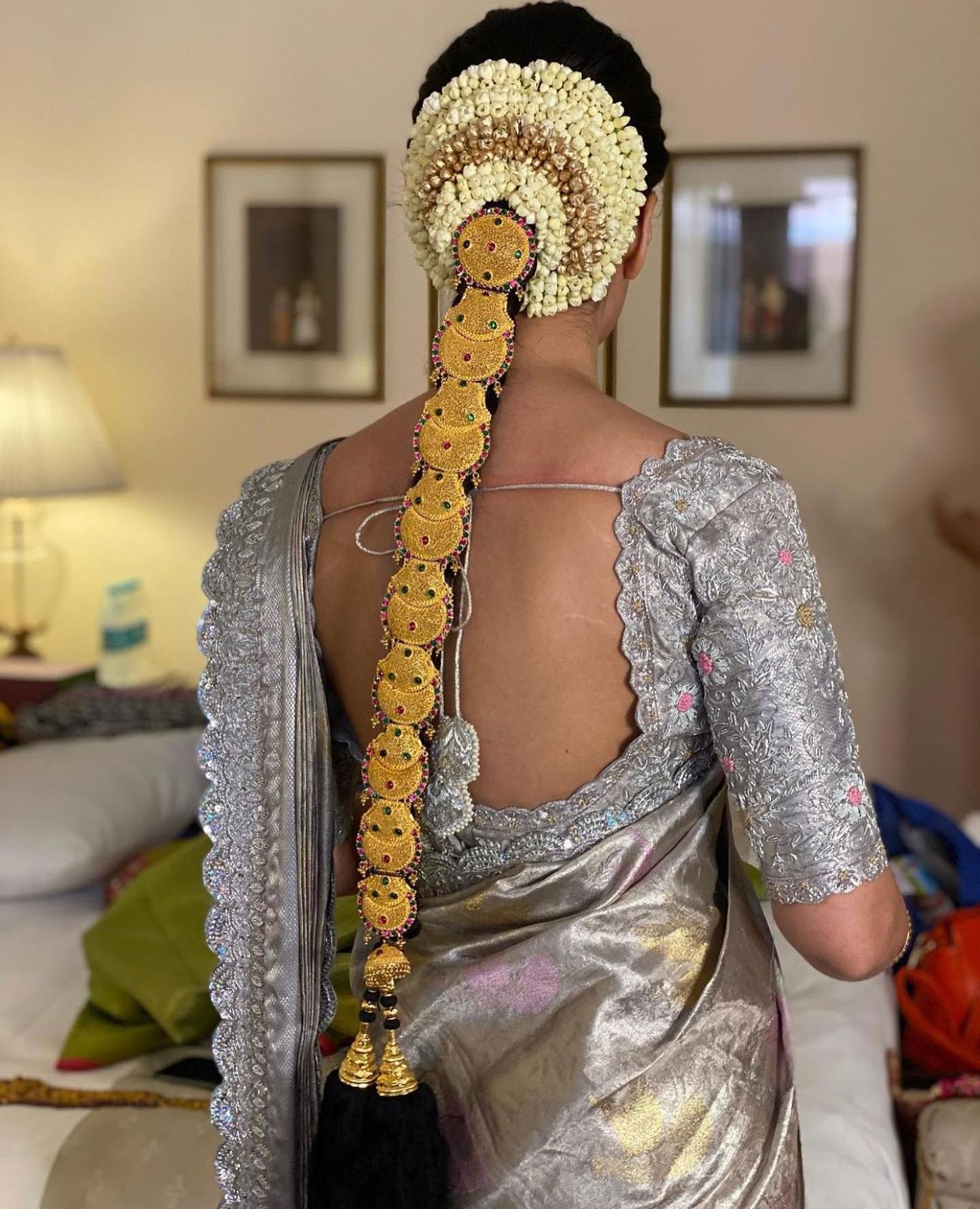 Image via @nageshmakeover09
Did someone say a classic bridal braid? Totally awestruck by the intricacy of this gold jada choti! We never imagined the concoction of silver & gold to look this refreshing.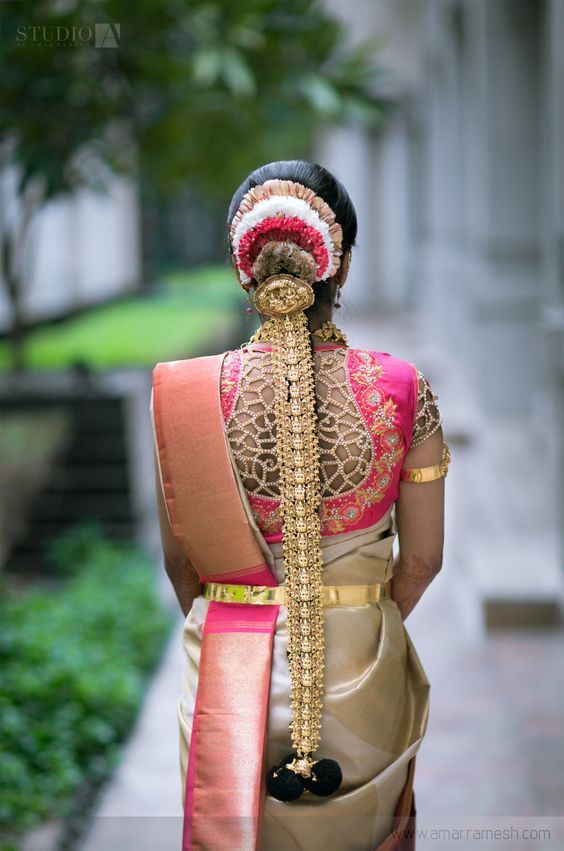 Image via Studio A 
We love the use of artificial flowers around the bun. This hairstyle can only be created if you hire professional bridal makeup artists, as it requires special attention to detail. So ensure that you hire the best in town!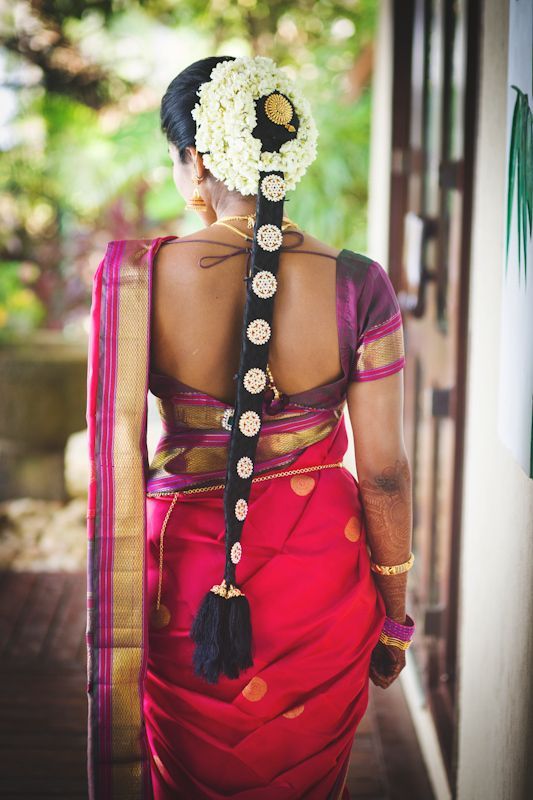 Image via Genda Phool Studios
This hairstyle is slightly minimal due to the adornment of pearl-encrusted billas! Loving the stark contrast of white against the red and wine outfit. Psstt.. .you can also experiment with bold bridal makeup with this hairstyle.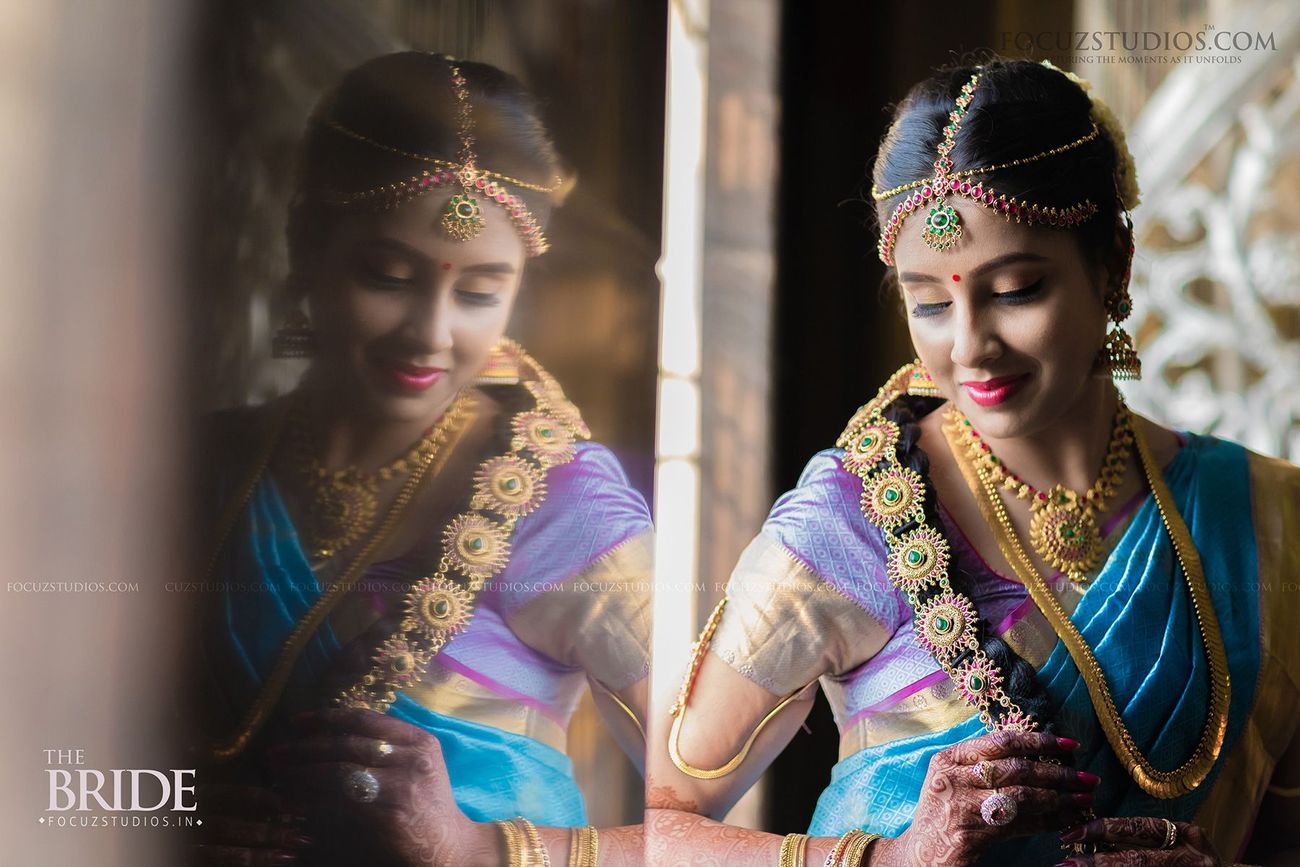 Image via Focuz Studios™
All things extra, all things gold! This south Indian bride coordinated her jewellery with the hairstyle and absolutely nailed an all-gold look.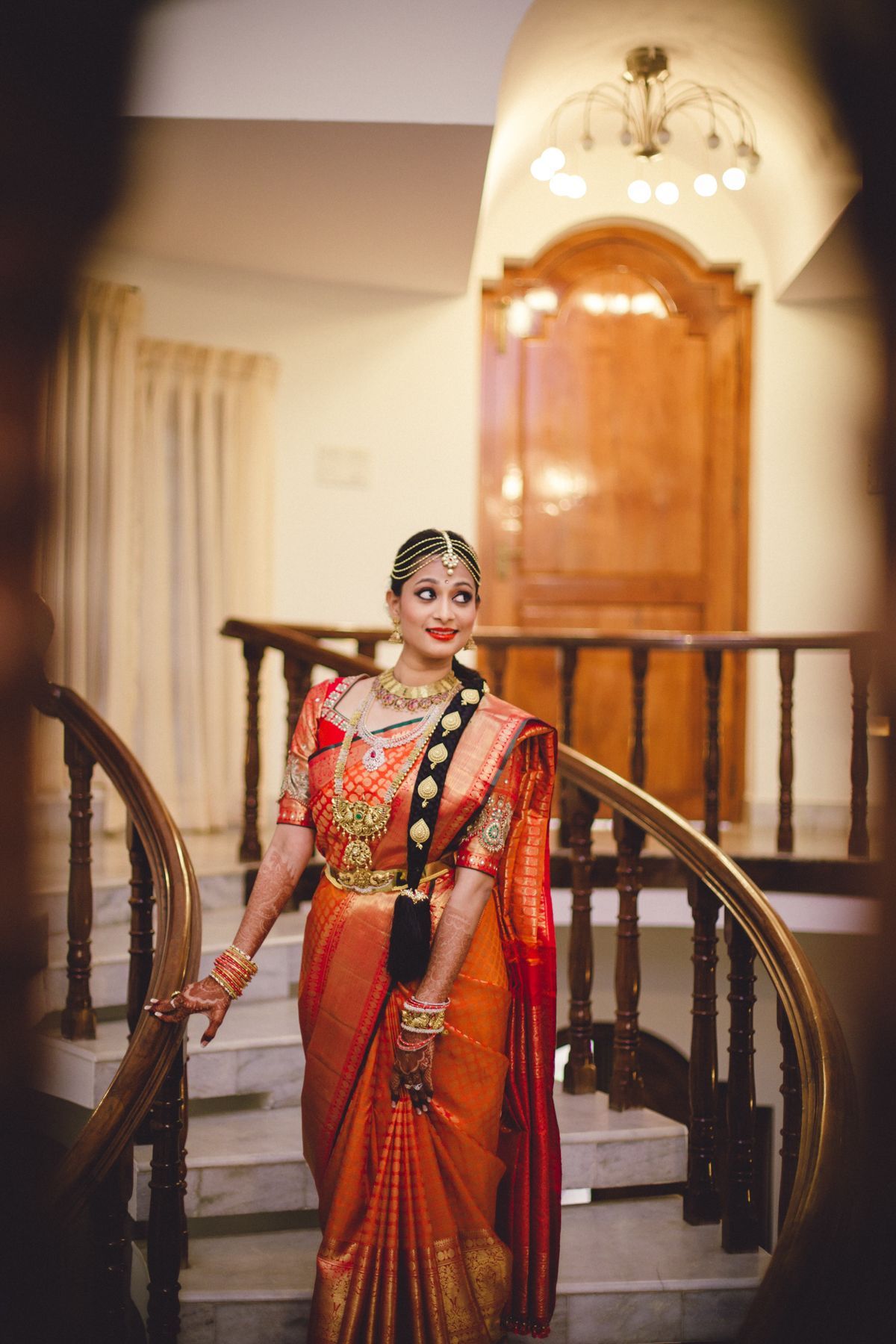 Image via LightBucket Productions
The paan-shaped billas look really classy and elegant! She chose to wear it with a dainty, tiered matha patti and looked like an absolute stunner.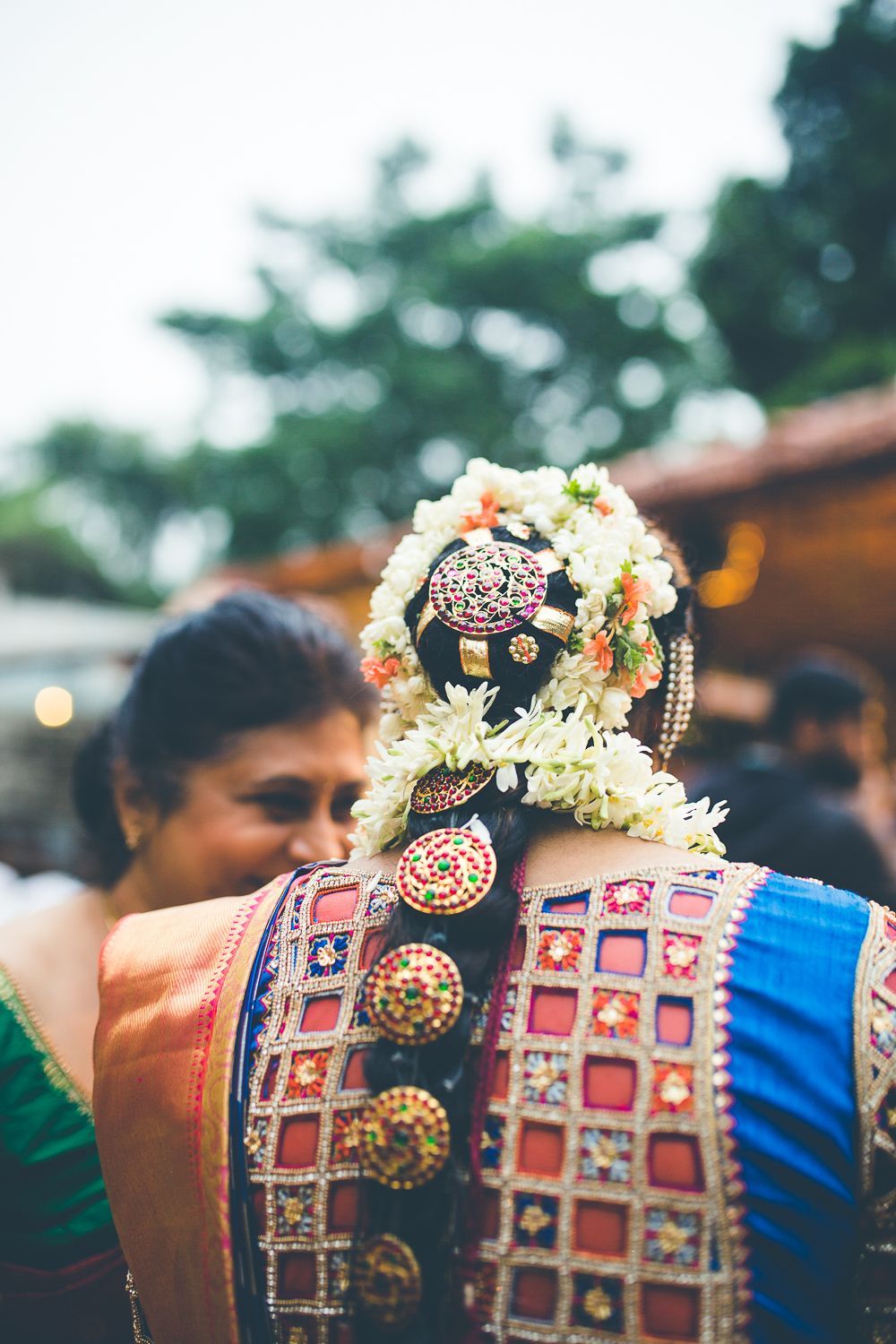 Image via Vivek Krishnan photography 
Oversized jada billas add a very traditional vibe to a bridal hairstyle! Here, the south Indian bride paired it with a string of Jasmine wrapped around the bun, which beautifully amped up this wedding hairstyle.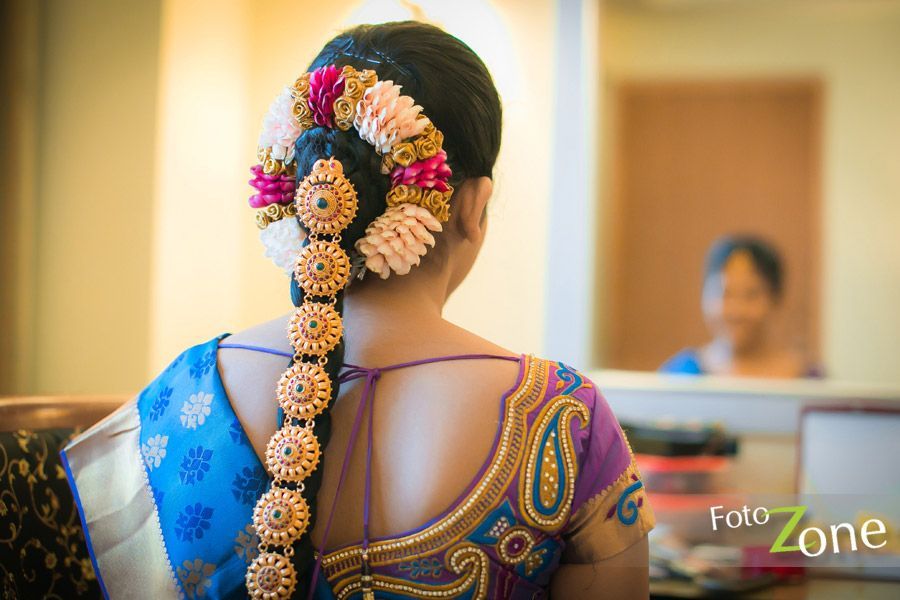 Image via FotoZone Photography 
The gold and magenta flowers added a pop of color to this otherwise conventional hairstyle! This antique continuous jada billai is definitely one of our favorites on the list.
Smell Divine In A Floral Jada
Nothing can beat fresh flowers when it comes to dolling up a hairstyle! And with south Indian brides experimenting with flowers in different hues, we couldn't stop ourselves from listing down a few of our favorites, for you to screenshot. From opulent red roses to sunshine daisies, you name it and we've scouted them for you.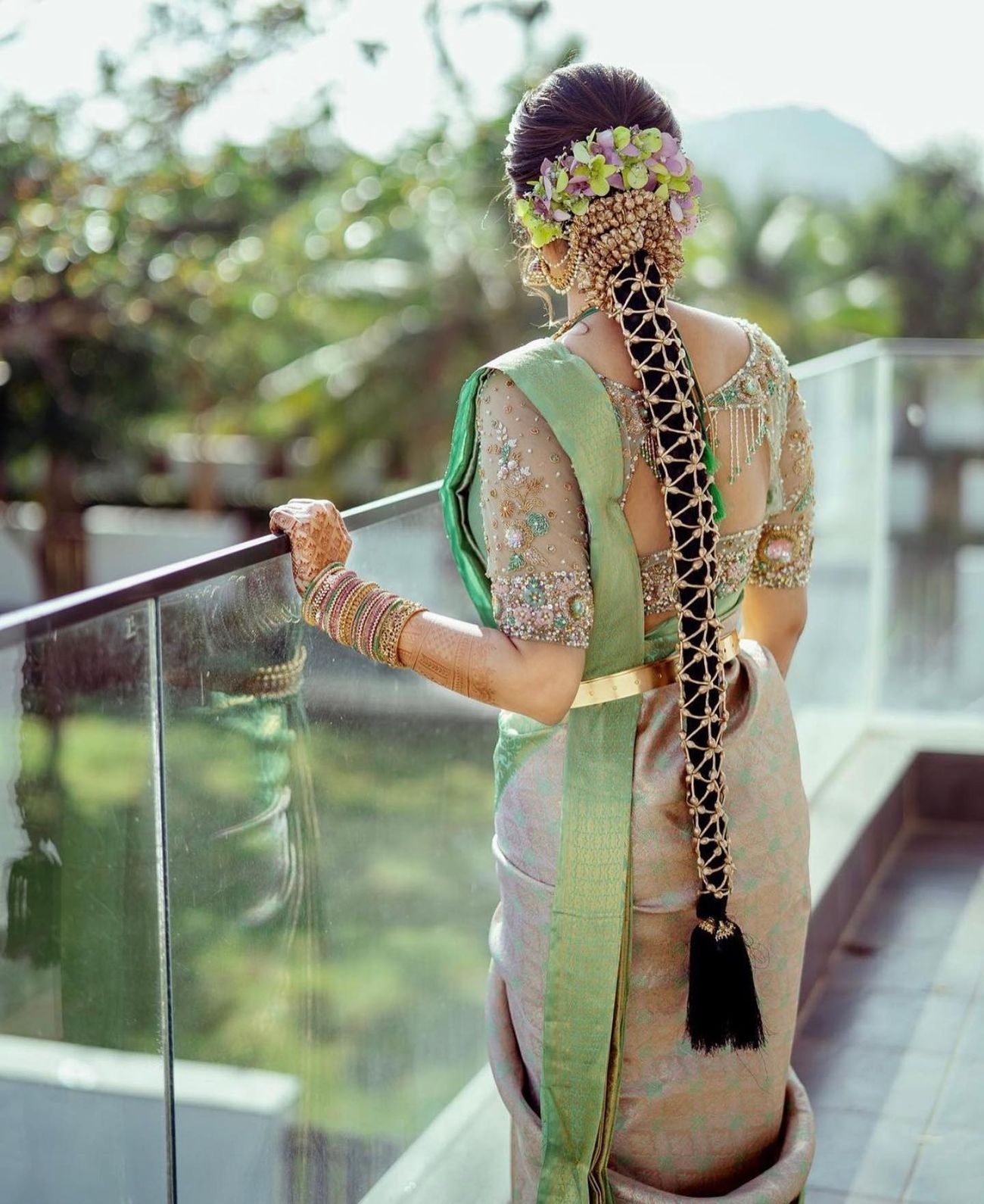 Image via Neha Chinnappa Artistry
One glance at this poolajada and we were head over heels in love! The blend of sheer modernity with elegance cannot be missed.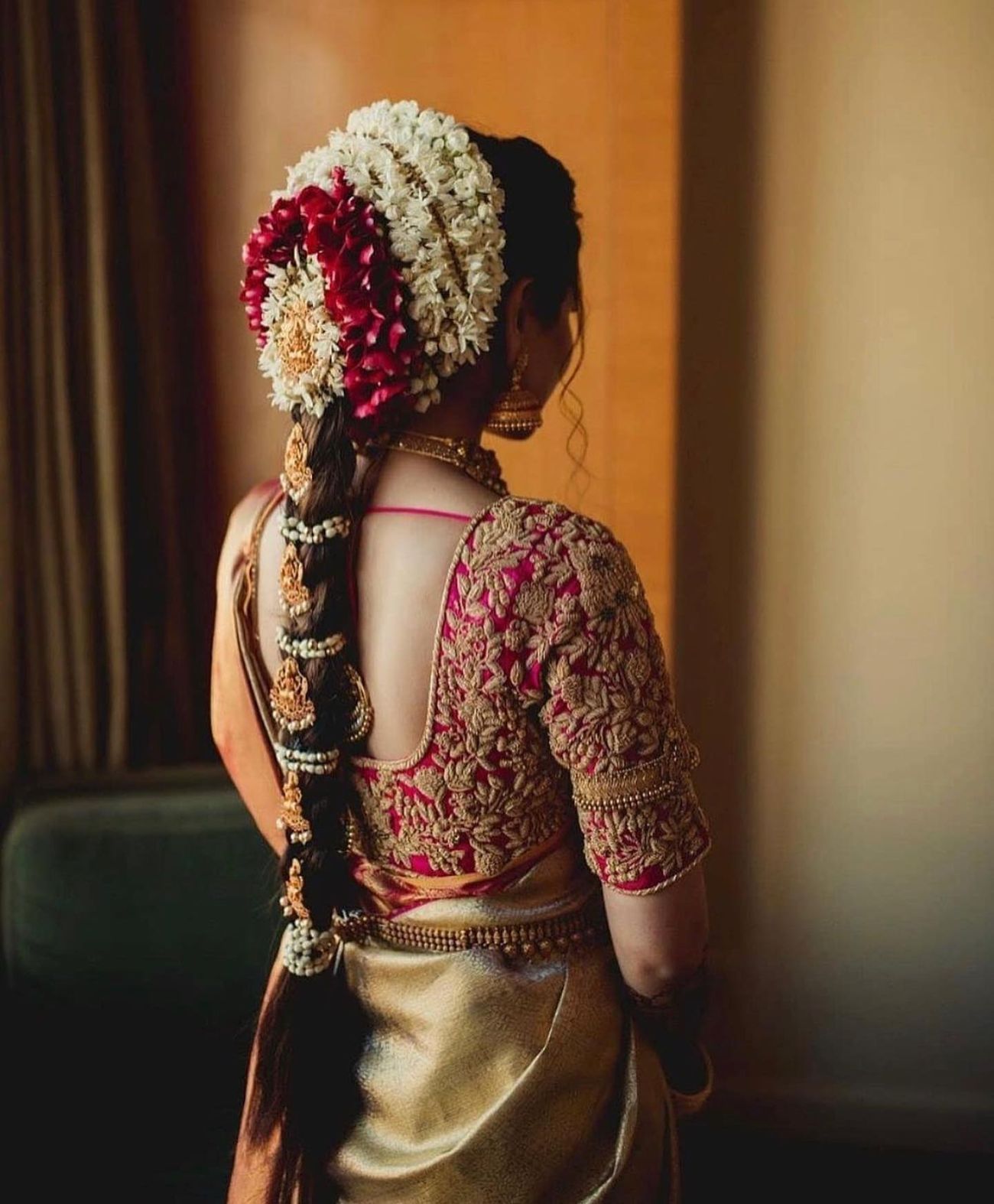 Image via @vidya_hairandmakeupartist
Aren't your eyes glued to this ethereal poolajada? Then what's stopping you from taking a screenshot of this image?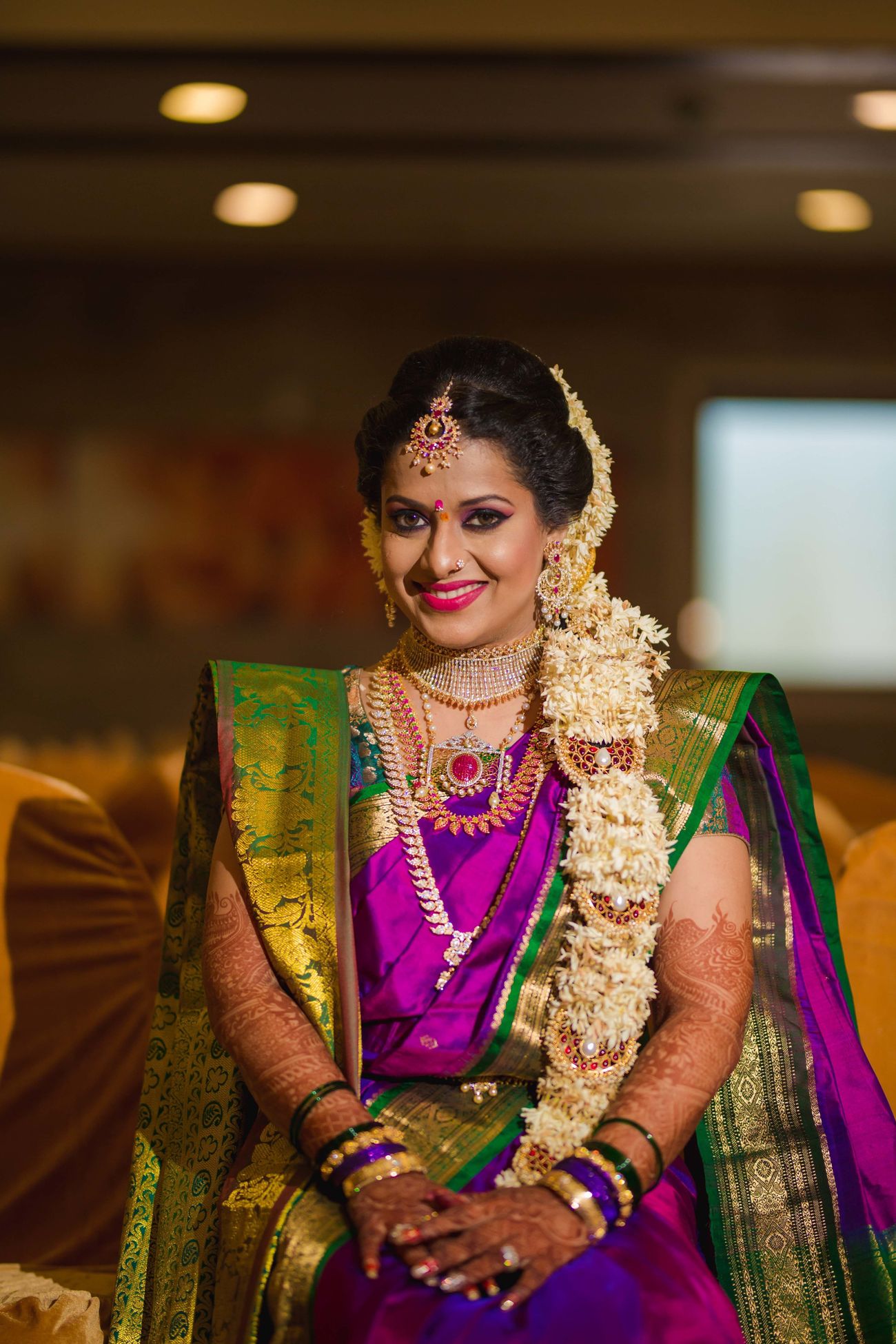 Image via Rohit Nagwekar Photography
OMG! This is definitely one OTT hairstyle that looks straight out of heaven. All you need to do is side swipe your braid and add a lot of flowers and a chunky maangtikka and voila.. All set with the right amount of grace.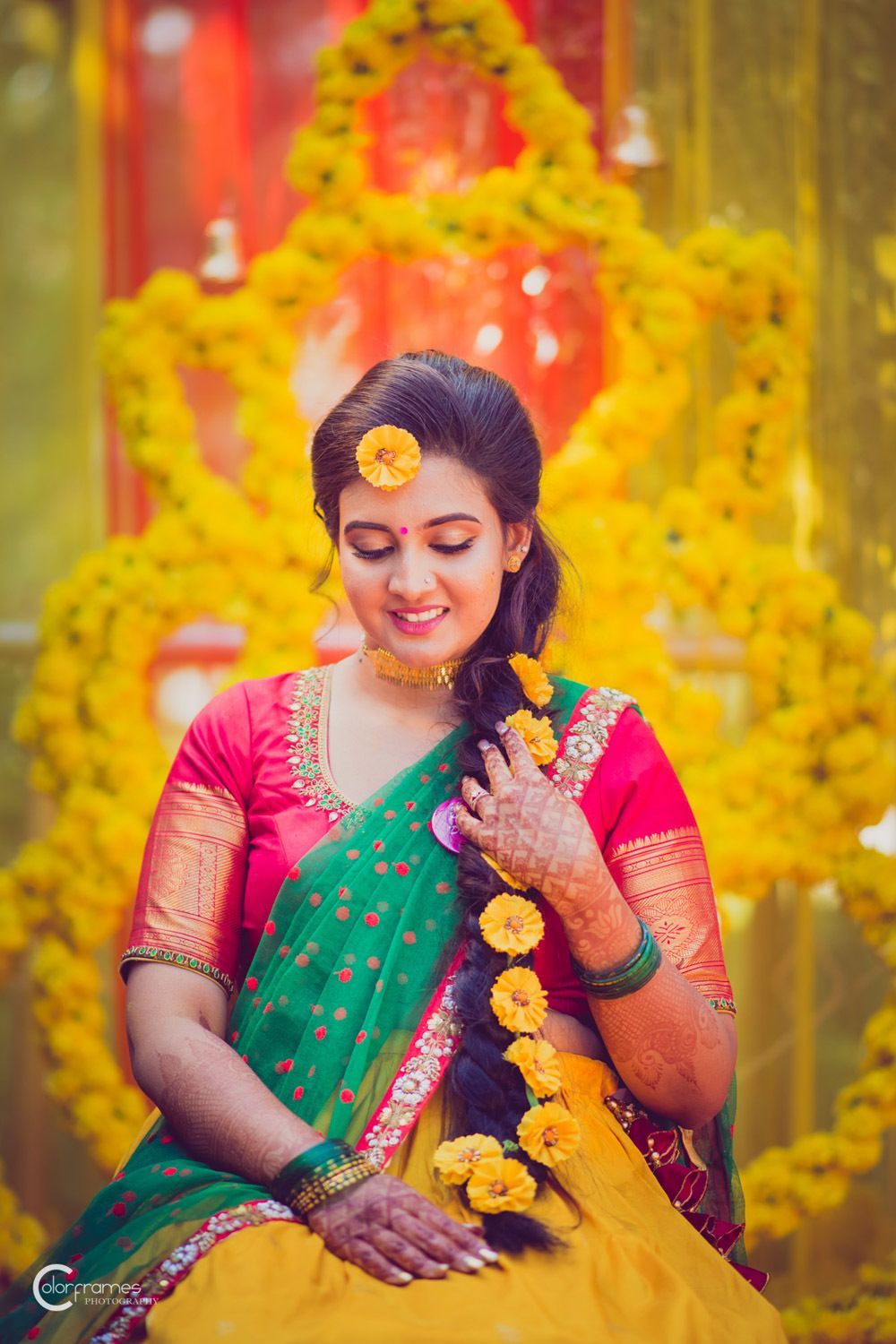 Image via Color Frames 
While jasmine and mogras dominate the south Indian bridal hairstyles, this bride chose an unconventional color - yellow, and we loved it! Faux daisies draw a lot of attention not only to her hairstyle but also to her vivid outfit.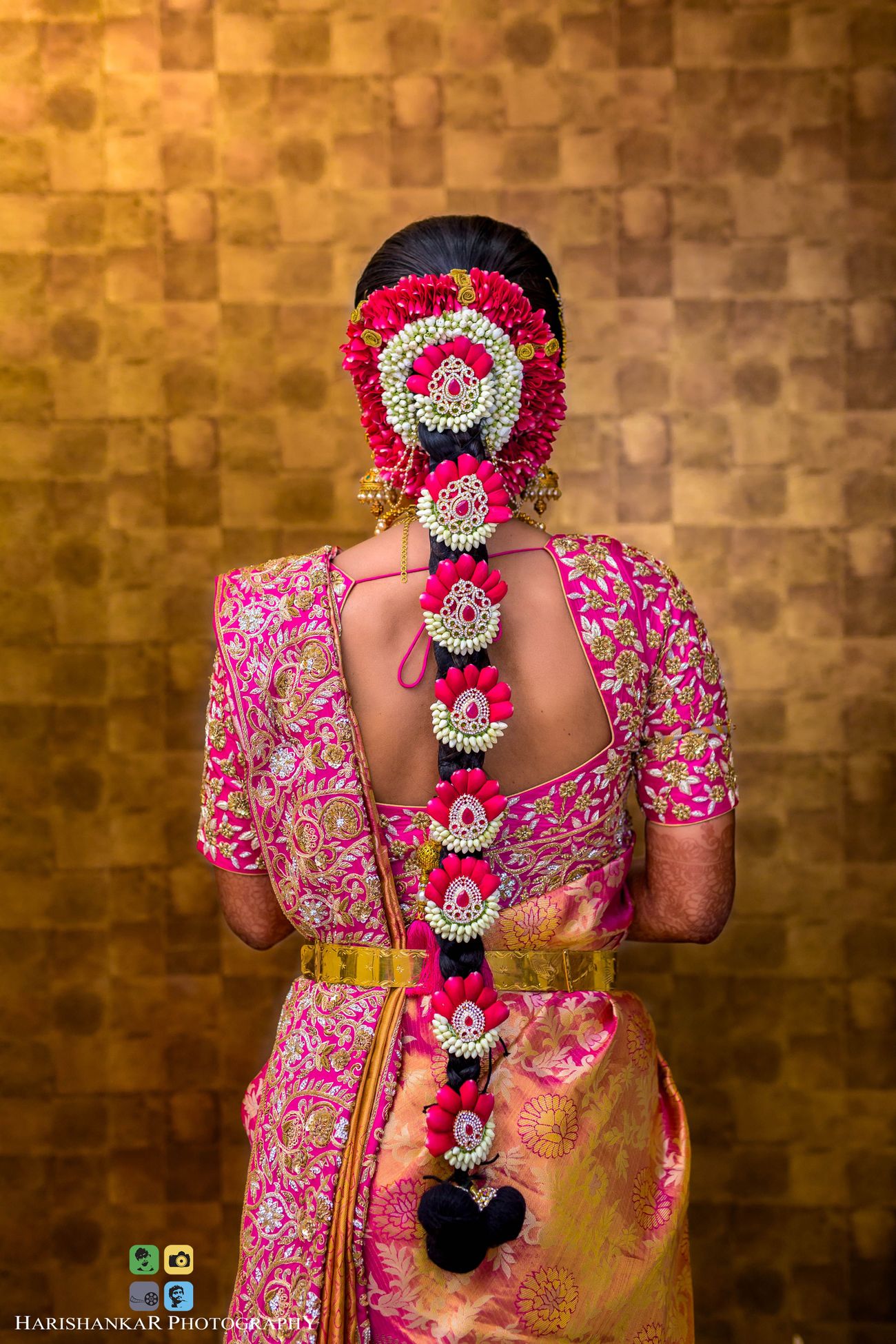 Image via Make-up by Afsha Rangila
Totally in awe of this bridal hairstyle! In the shades of pink, this pool jada beautifully complements her Kanjeevaram saree. Isn't this a delicate yet classy look?!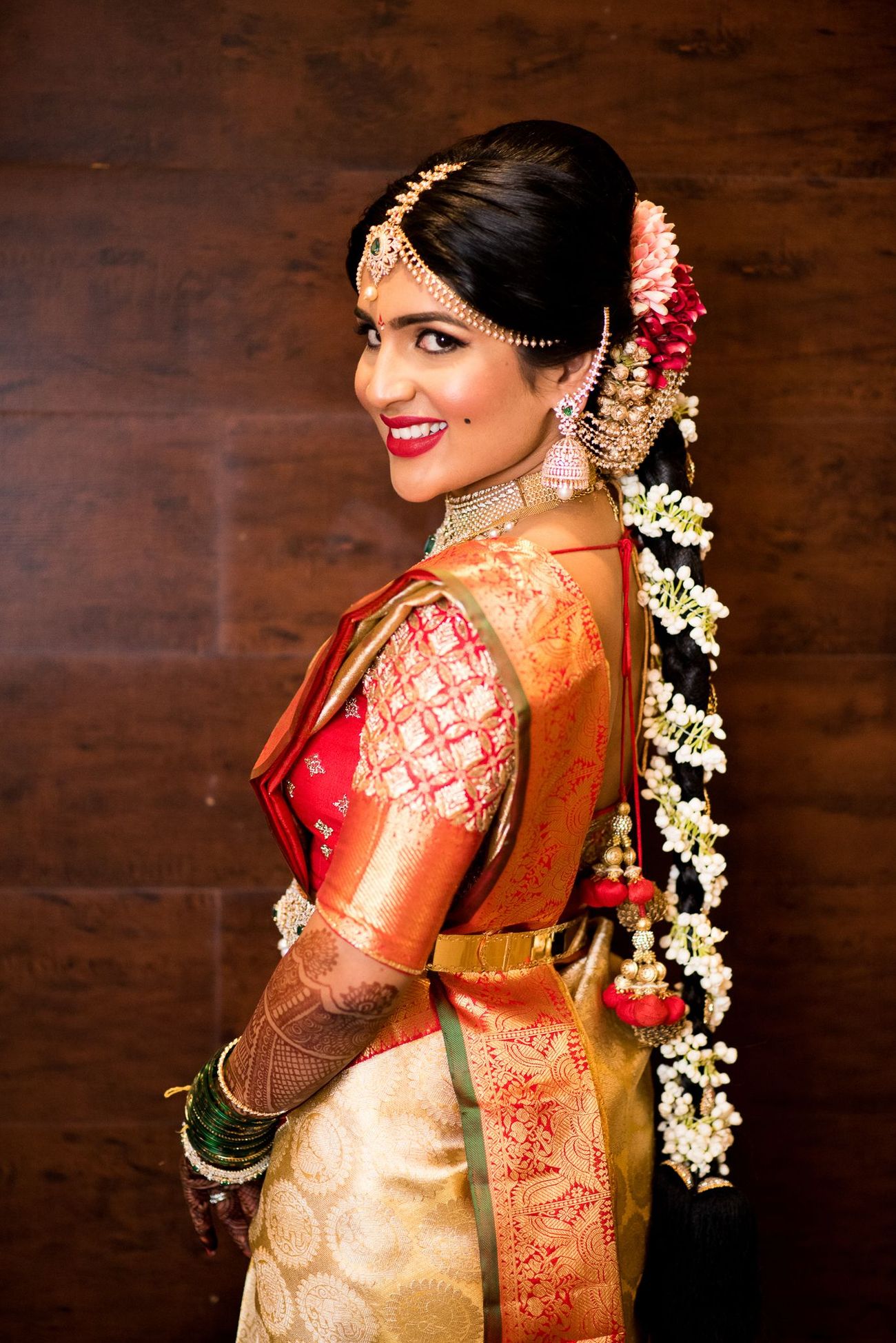 Image via Make-up by Afsha Rangila 
It's amazing to see how a little change can transform a look to a whole new level. Kudos to this bride for elevating her braid, by simply twirling the mogra string around it, instead of going for a poola billalu.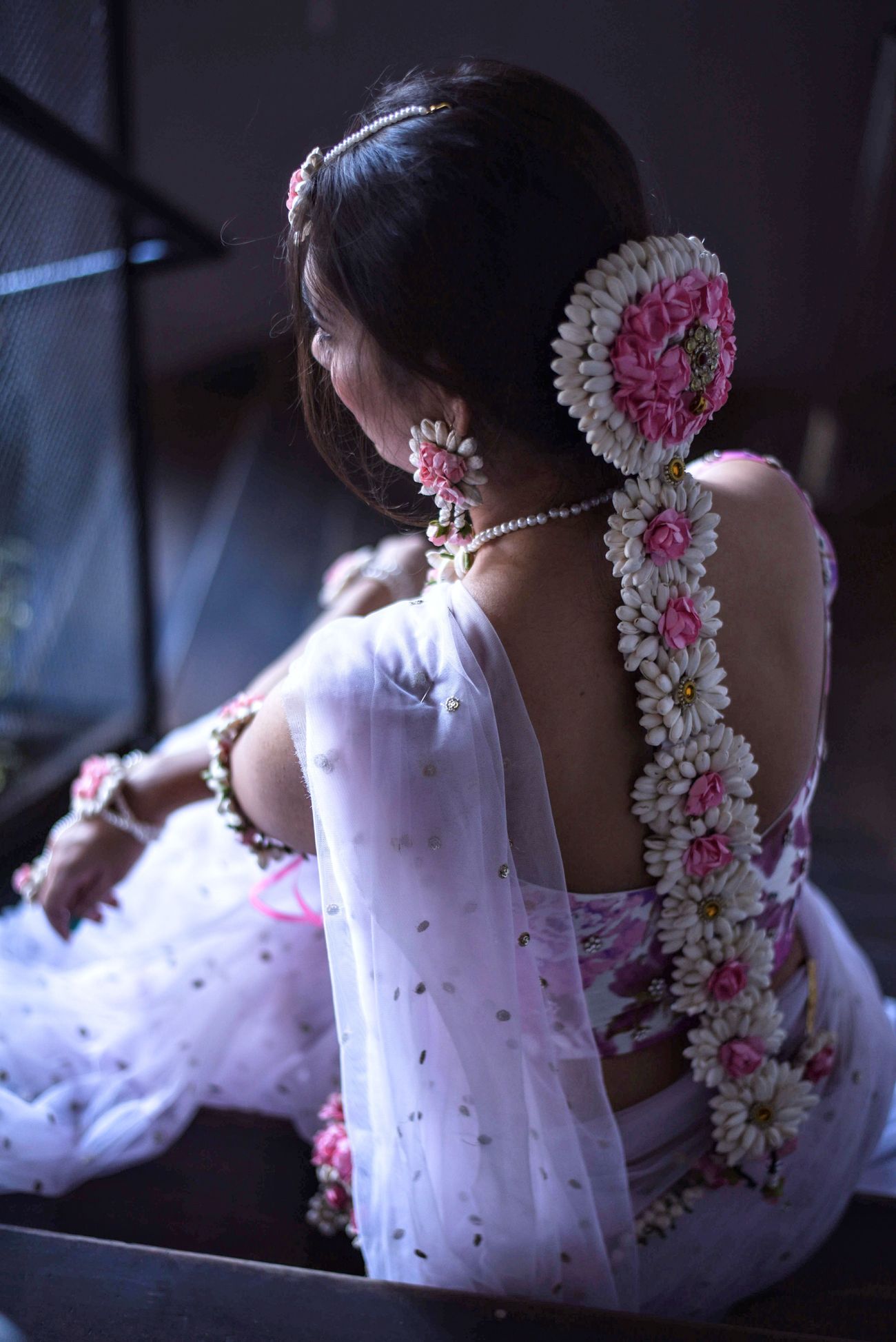 Image via Fulkari  
Modern brides prefer modern hairdos! Like this south Indian bride who kept her wedding hairstyle simple and chic with pastel-hued faux flowers. Oh-so-beautiful!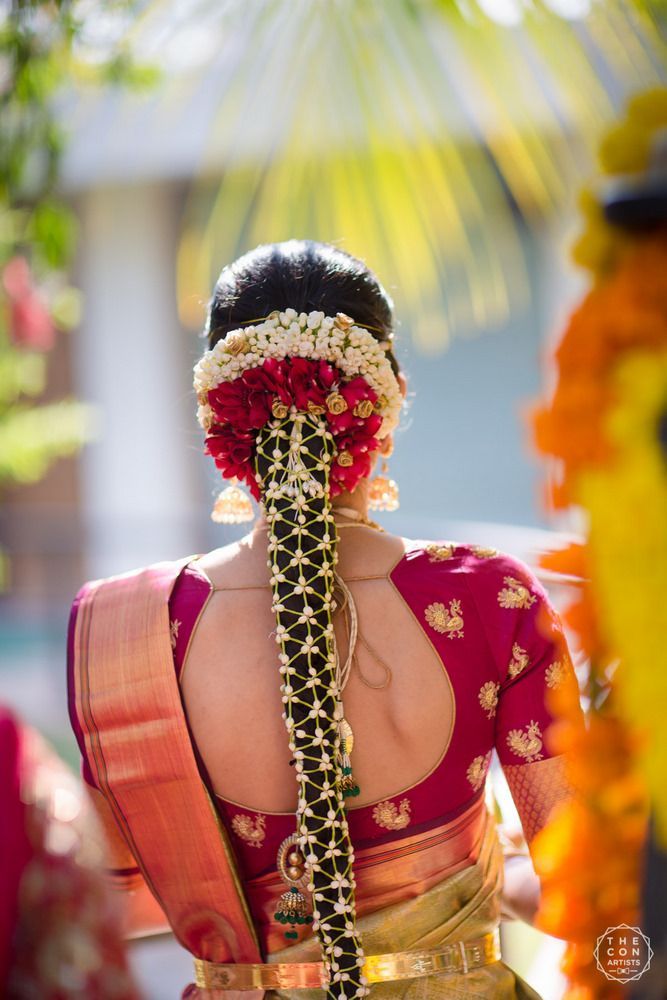 Image via Nandini & Chandru
Bored of regular 'ol floral jadas? Fret not! We've got your back!! This netted style is lightweight, new, and definitely graceful. A quick tip: Add a heavenly floral top to balance and finish off the look.
Let Them Loose
Keeping your hair open on your wedding day is not very common but it is slowly getting into the trend! It's an ideal south Indian bridal hairstyle for engagement but seeing brides sporting it at weddings exudes freshness and an attractive change. In case you wish to give jada a miss, you can definitely give this uber cool hairstyle a try, but make sure it matches your outfit.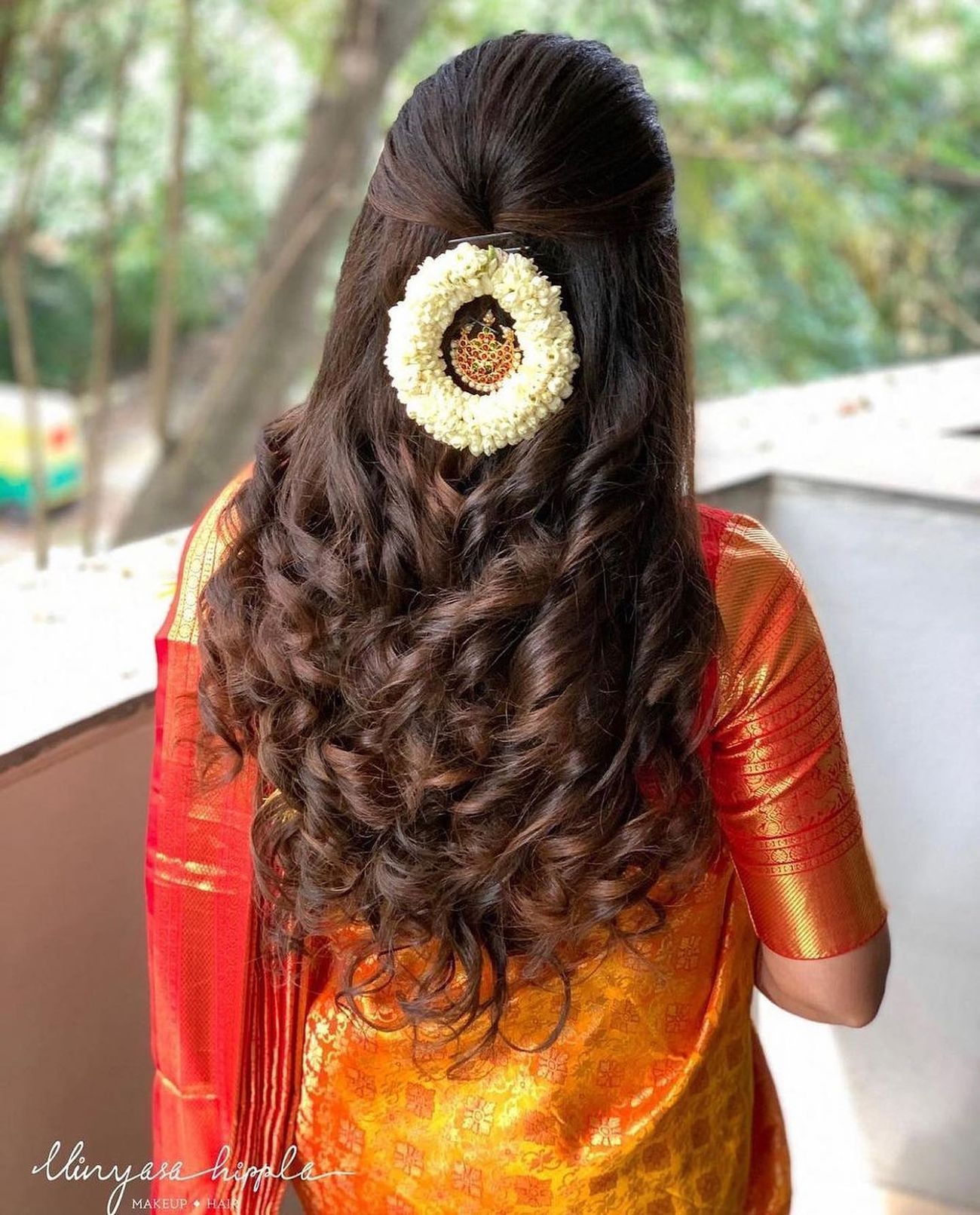 Image via Vinyasa Hippla - Makeup & Hair
We thought we fell for those cascading curls until we zoomed in on the wreath-like floral arrangement.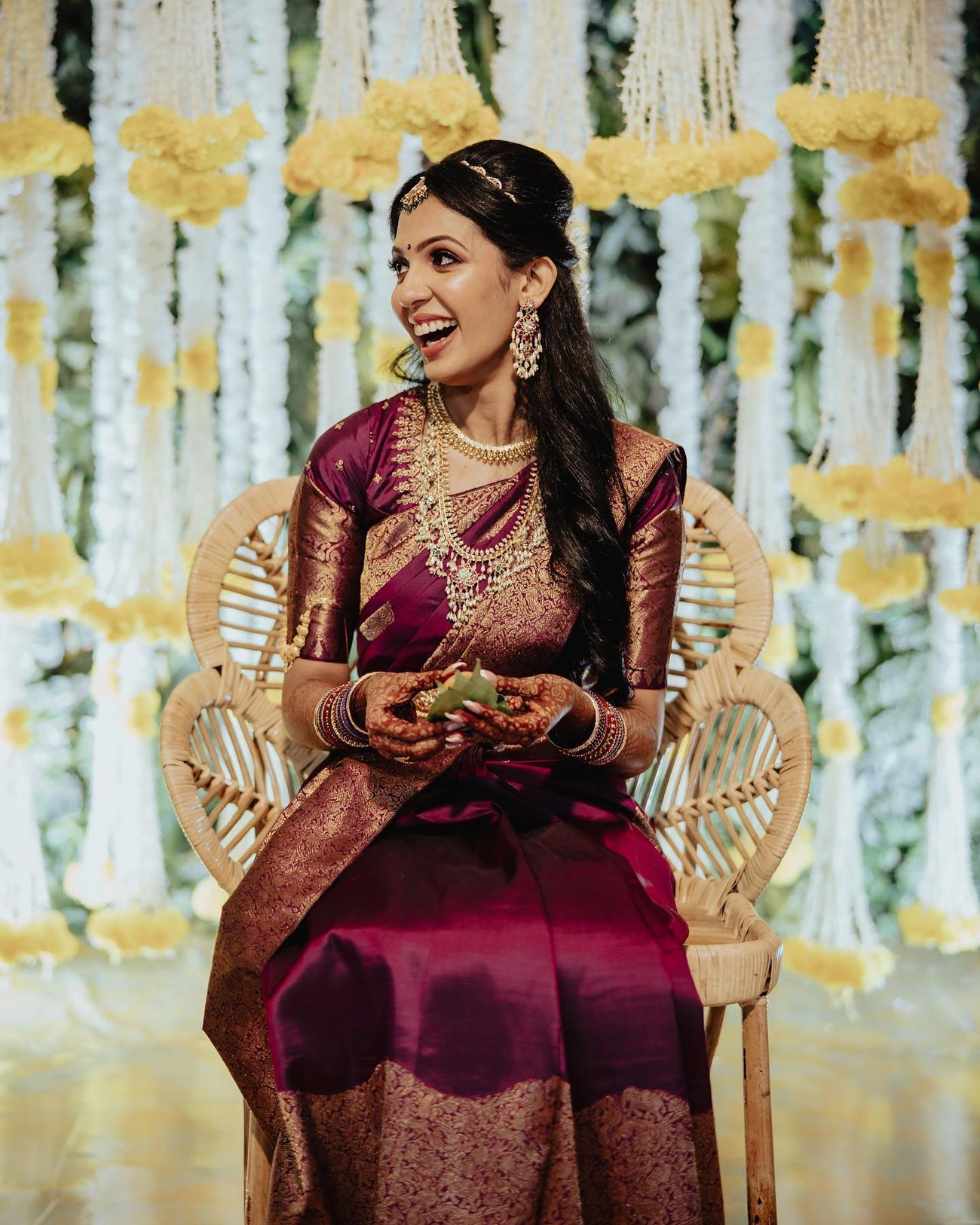 Image via LightBucket Productions
This bride chose an open hairstyle for the pellikuthuru and looked like a dream. That pouf with the head jewelry accentuated it further!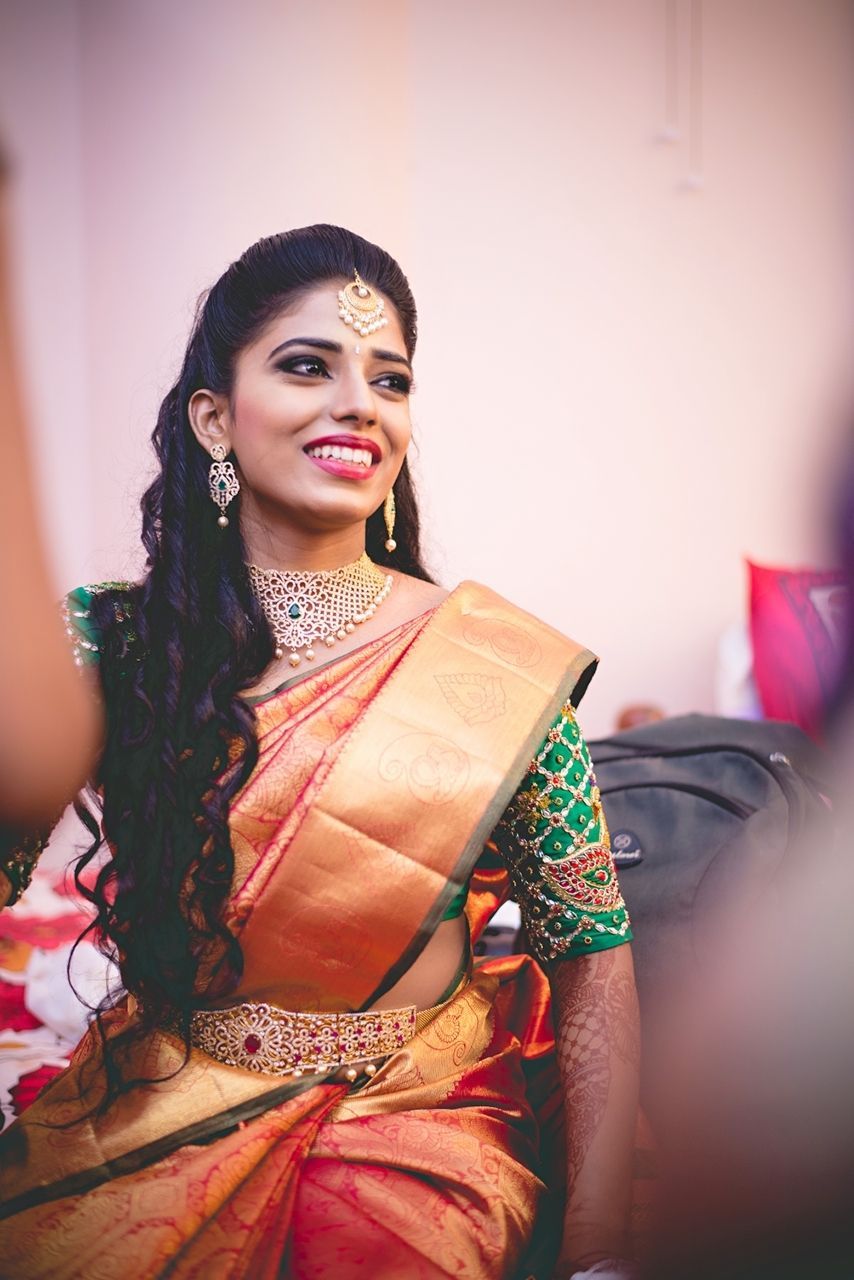 Image via Makeup By Dev
This south Indian bride pulled back her hair to fix a diamond maangtikka and went ahead with soft curls. Try this out in order to be at ease throughout the celebrations. We bet you won't regret it!!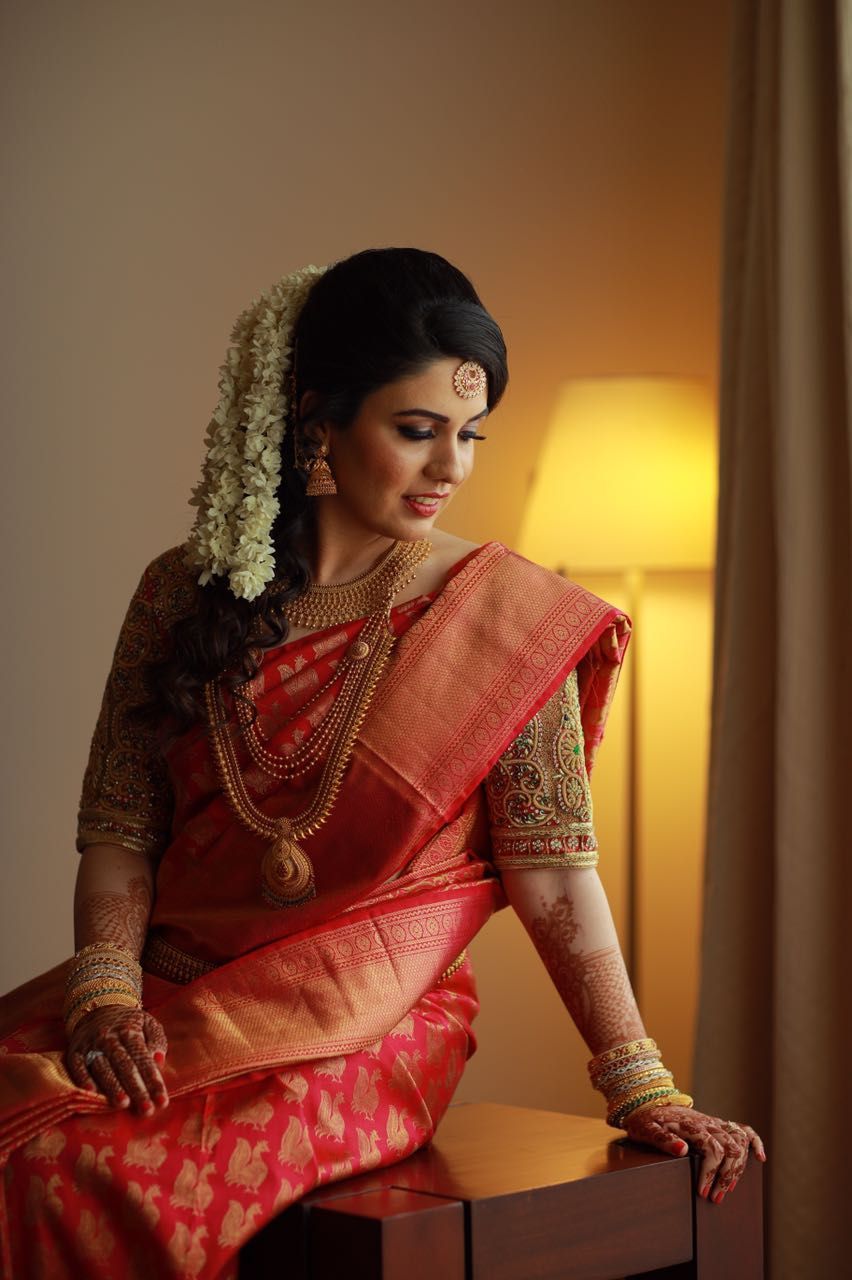 Image via Tony Makeup Artist
You can never go wrong with side-swept curls when all you need is a touch of glam! This bride looks surreal in this hairstyle, and we are amazed how the adornment of gajra elevates this look.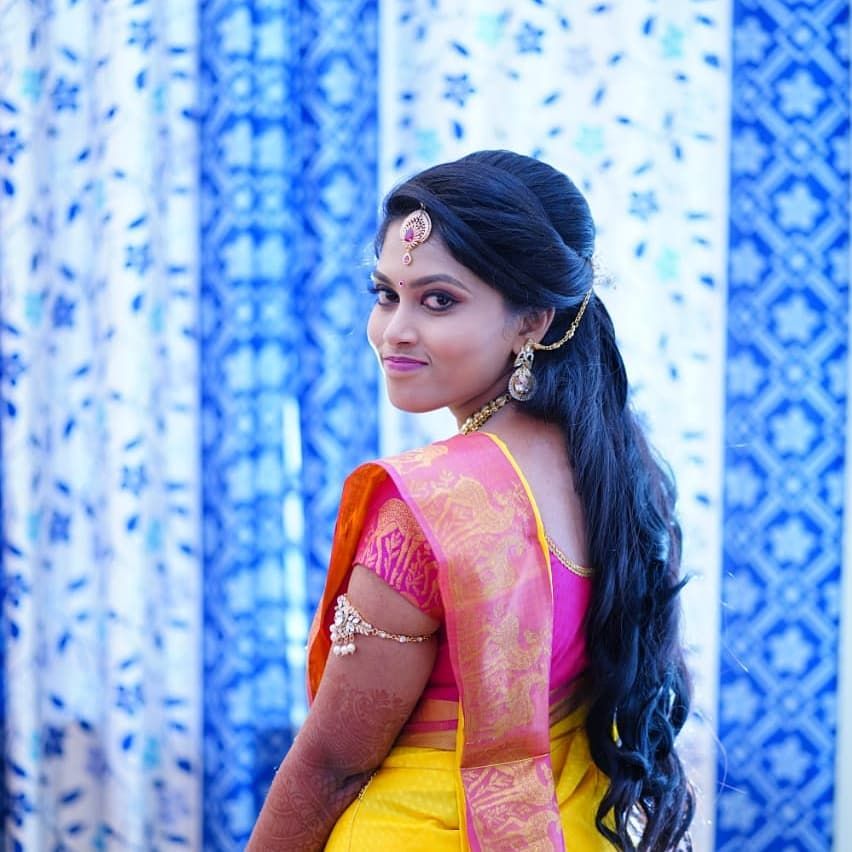 Image via Instagram
A semi-open hairstyle, with a twisted portion going all the way to the back is a perfect choice for brides who prefer minimal. The bumpit adds drama and volume to this otherwise boring hairstyle and makes it bride-appropriate.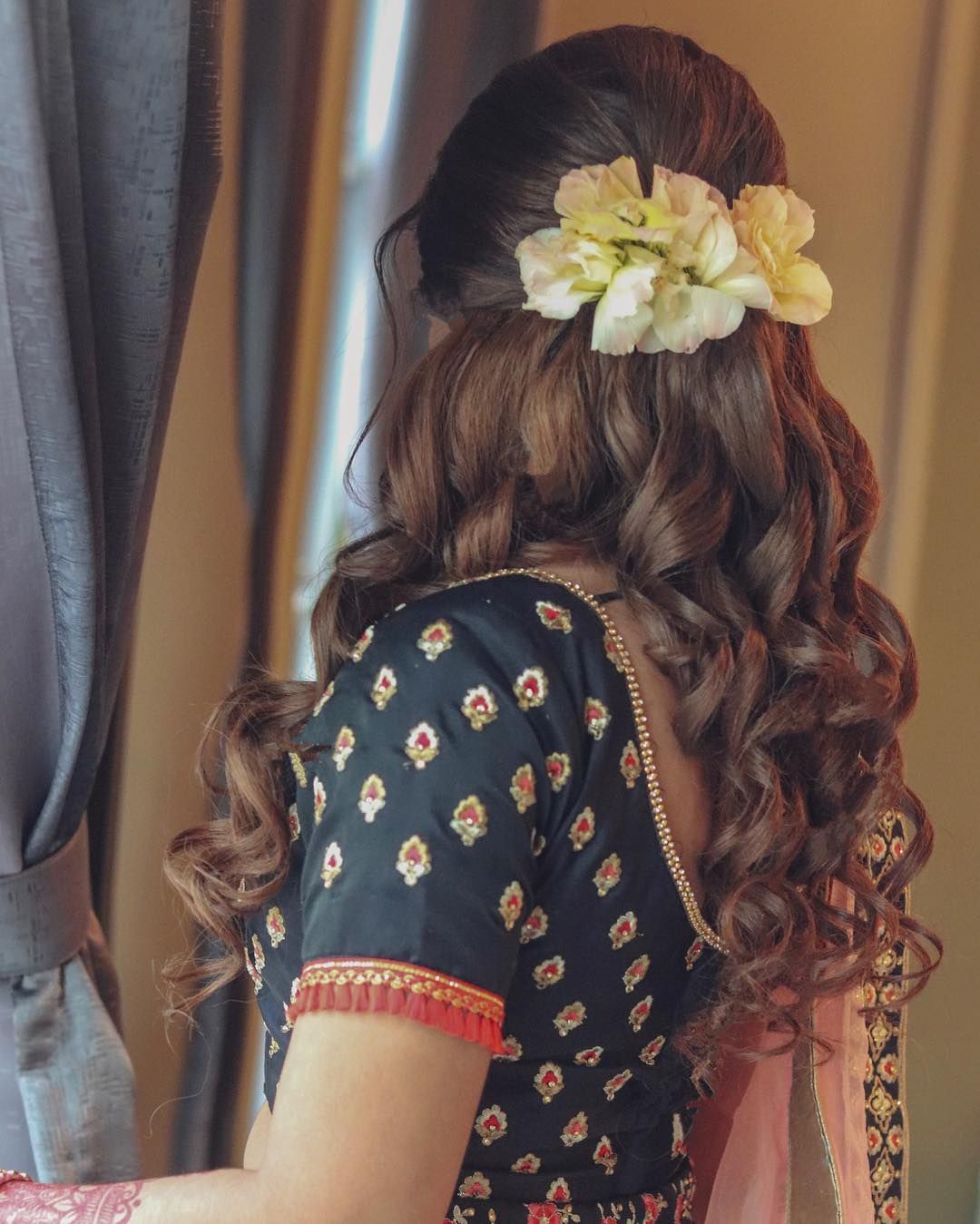 Image via @thestyles_bysha
Pull back hair from the front, while adding a bouffant to add some drama! Put some interesting flowers to enhance those tight curls.
Image via Paperboat Wedding Photography 
Instead of adding a hair accessory, this bride wore waterfall earrings. With mid-part twisted, half updo, she had the option to wear an intricately detailed gold mangtikka, for a modern meet traditional vibe.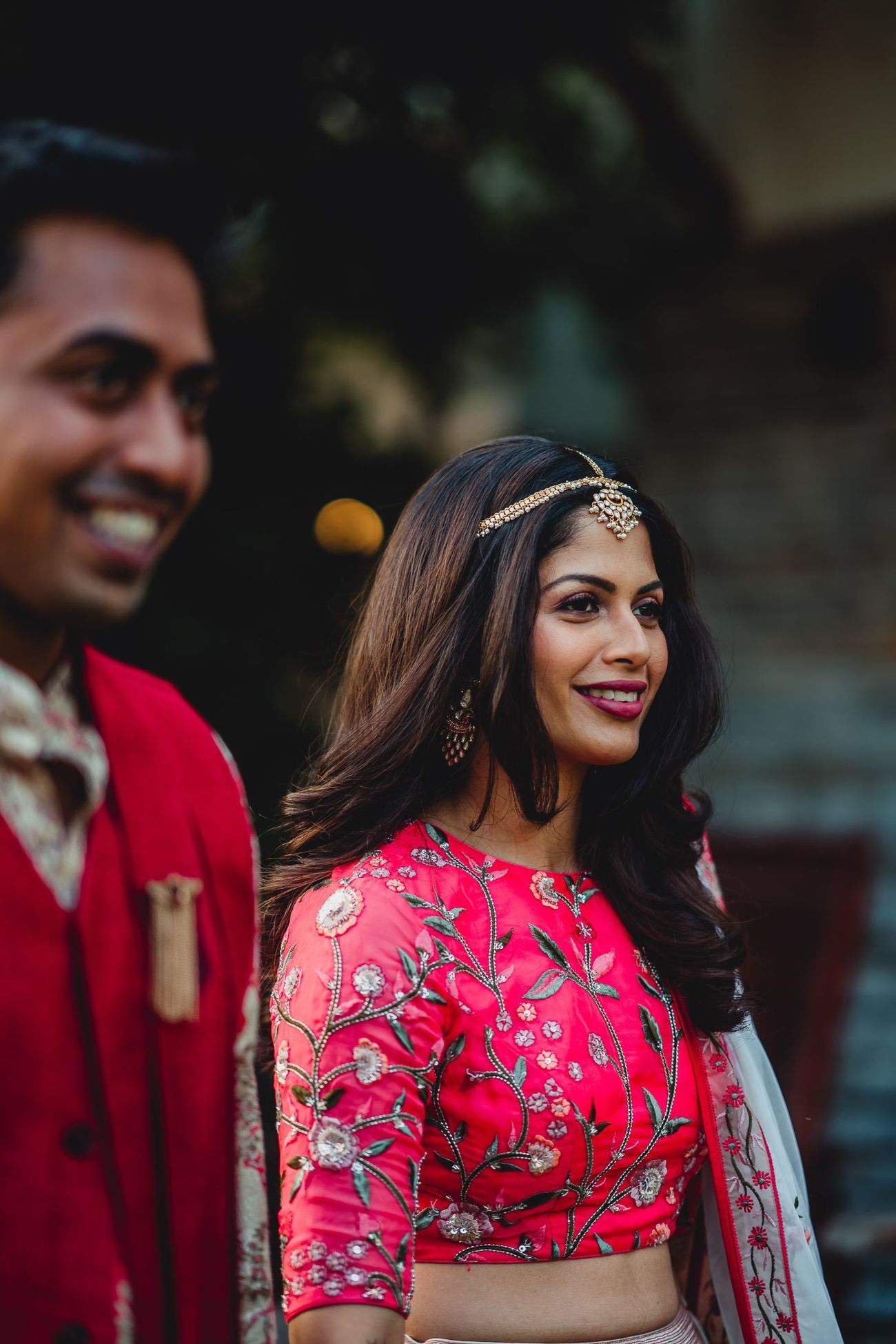 Image via Vivek Krishnan photography
While this south Indian bride kept it simple and minimal with soft waves, the sleek matha patti added the right amount of exquisiteness to the look. Gels perfectly with subtle makeup, and trust us, you'll look superb.
Modern Twist To A Braid
The wave of eccentric braids hit the north Indian brides sometime back, and it has now reached south India as well. And we're ecstatic to see this change. The brides look offbeat and there is nothing mainstream about each and every look. Generally accessorized with motif flowers like rosebuds or baby breath, these braids are gaining immense popularity amongst modern brides off lately.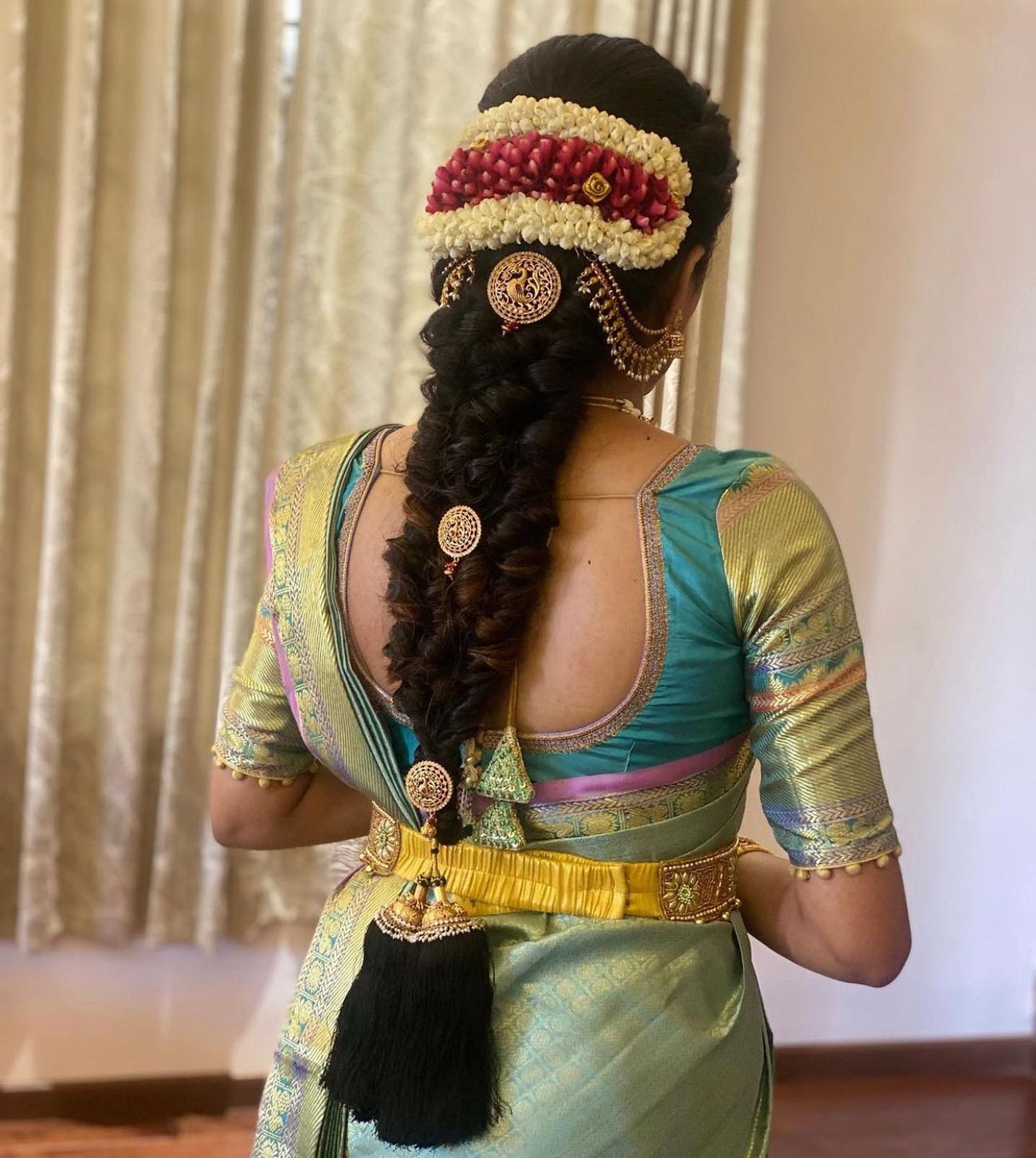 Image via @nageshmakeover09
We live for unique braided hairstyles, and this one outshines them all!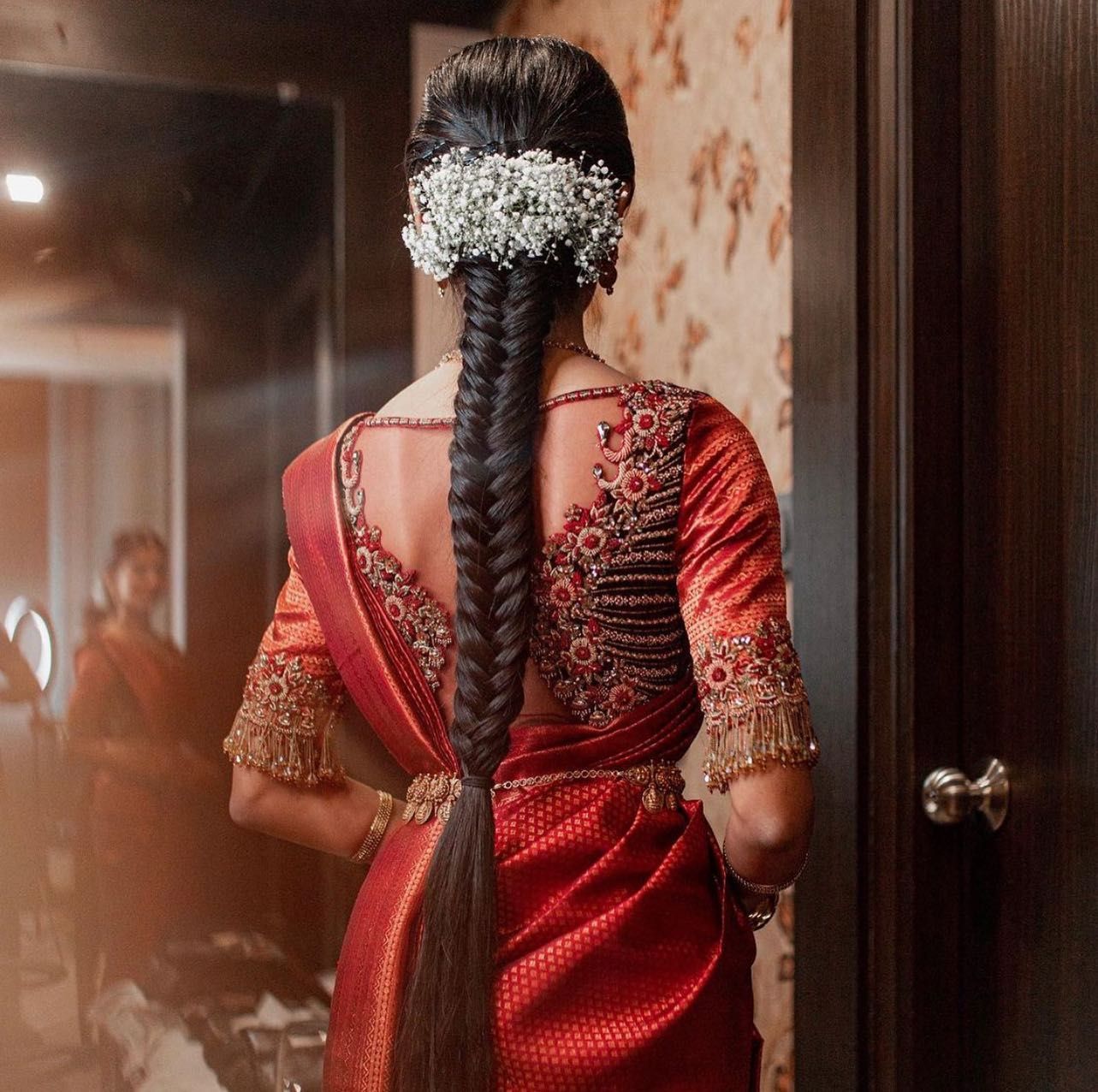 Image via @salmapromakeupndhair
A simple braid adorned with gypsophila is what you need to amp up your modern ensemble.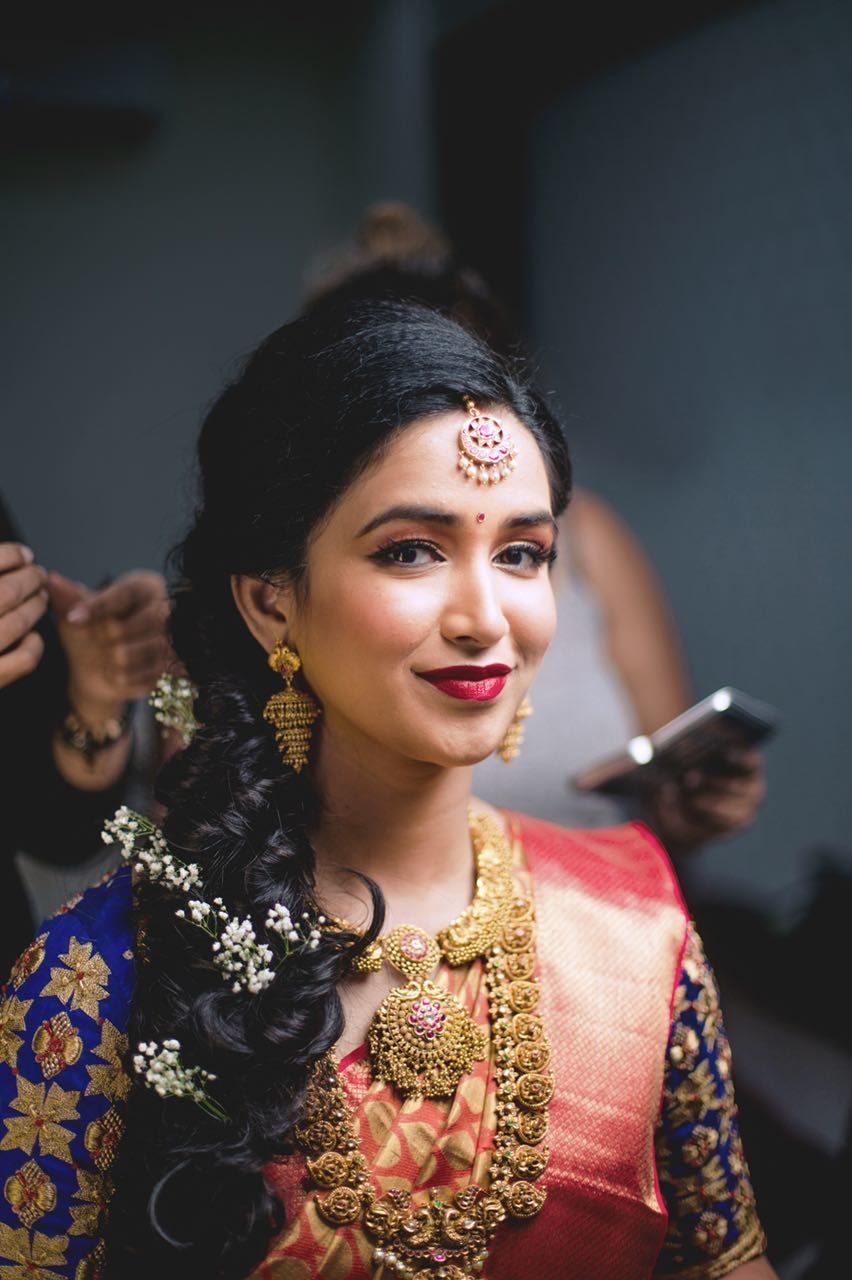 Image via GlossNGlass
Crimped hair, excellently twisted into a messy braid, adorned with baby breath looks quite classy and graceful. This south Indian bride has styled this look with intricately crafted temple jewellery and kept her makeup bold for that oomph and glamour!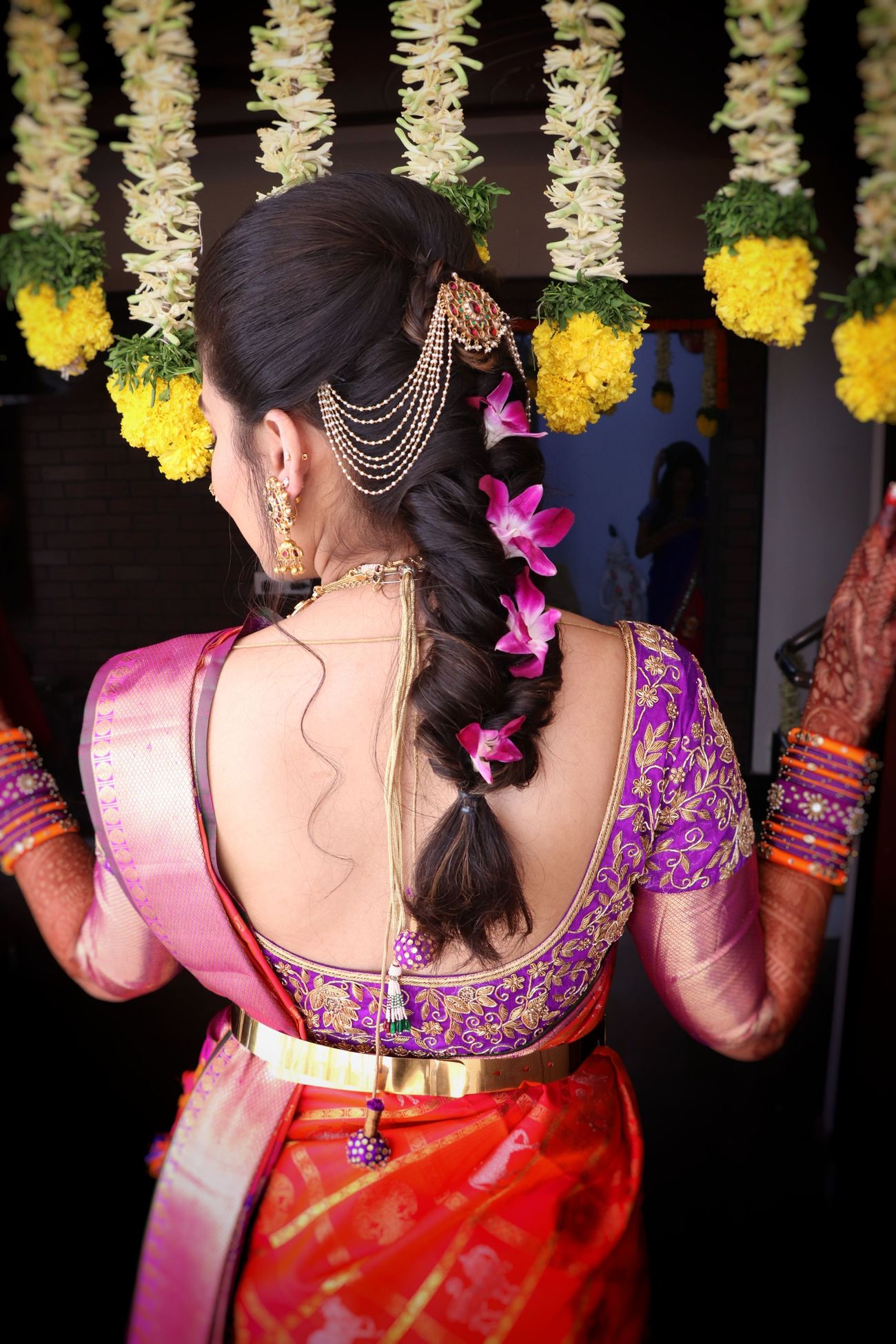 Image via Make-up by Afsha Rangila 
That's one easy-to-carry, neat braided hairstyle, and we're floored with how it is adorned with orchids and a waterfall accessory!! It impeccably matches the blouse and we really haven't seen any bride using orchids on her wedding day hairdo, so it isn't mainstream.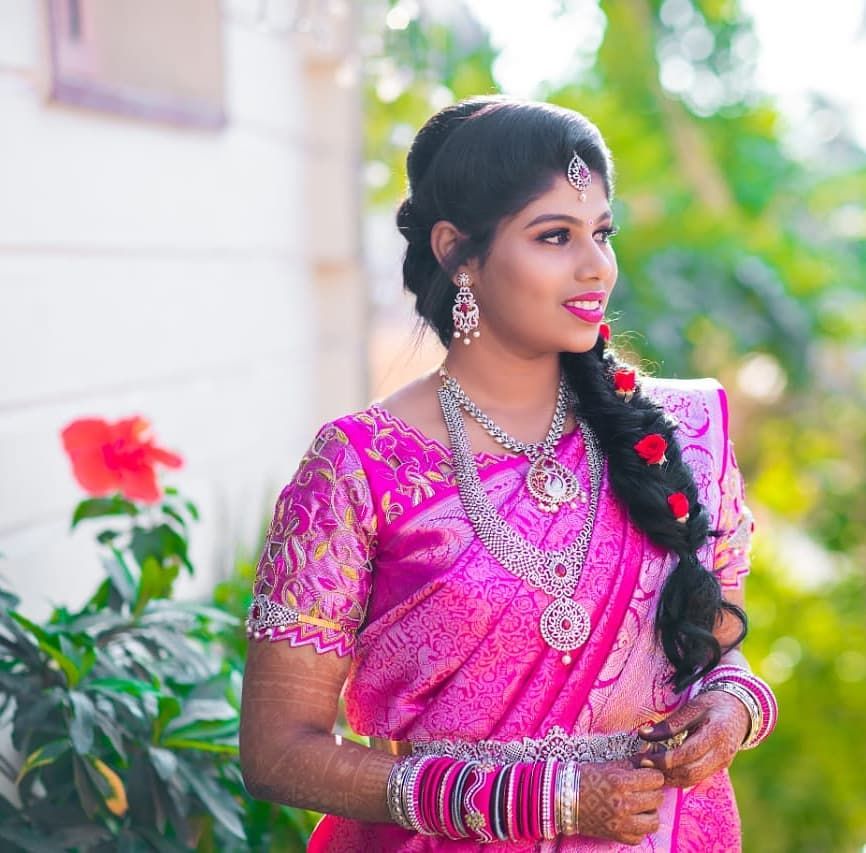 Image via @bloombridalstudio
Side swept fishtail braid has its own charm and beauty. All it needs is dainty accessory or motif flowers for a delicate, feminine look. Love how this south Indian bride has styled her look with pristine diamonds for a diva-like appearance.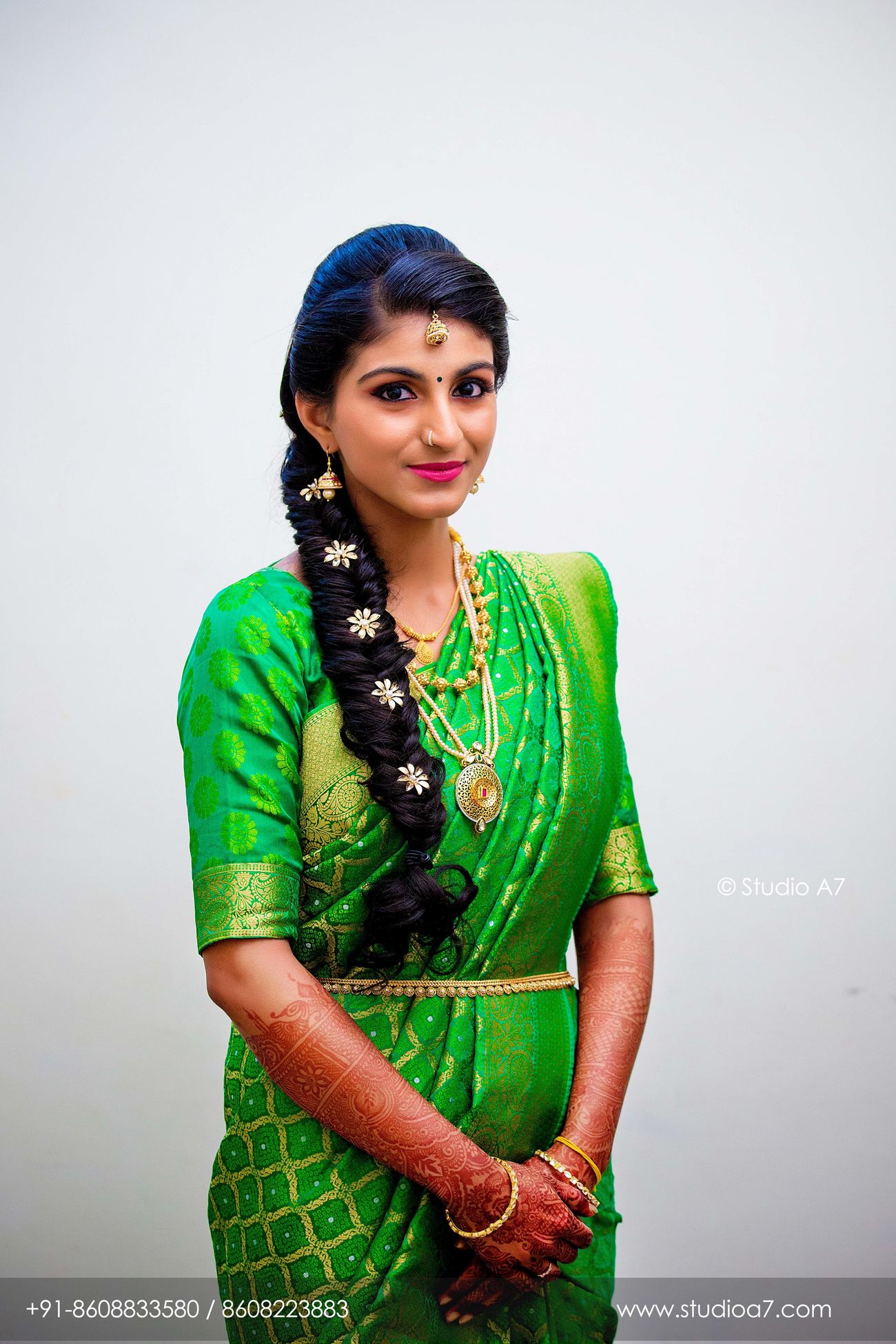 Image via Studio A7 
Looking for something subtle? This bridal hairstyle is apt for an engagement or any other pre-nuptial ceremony. Keep the jewelry and makeup light, just like how this bride did.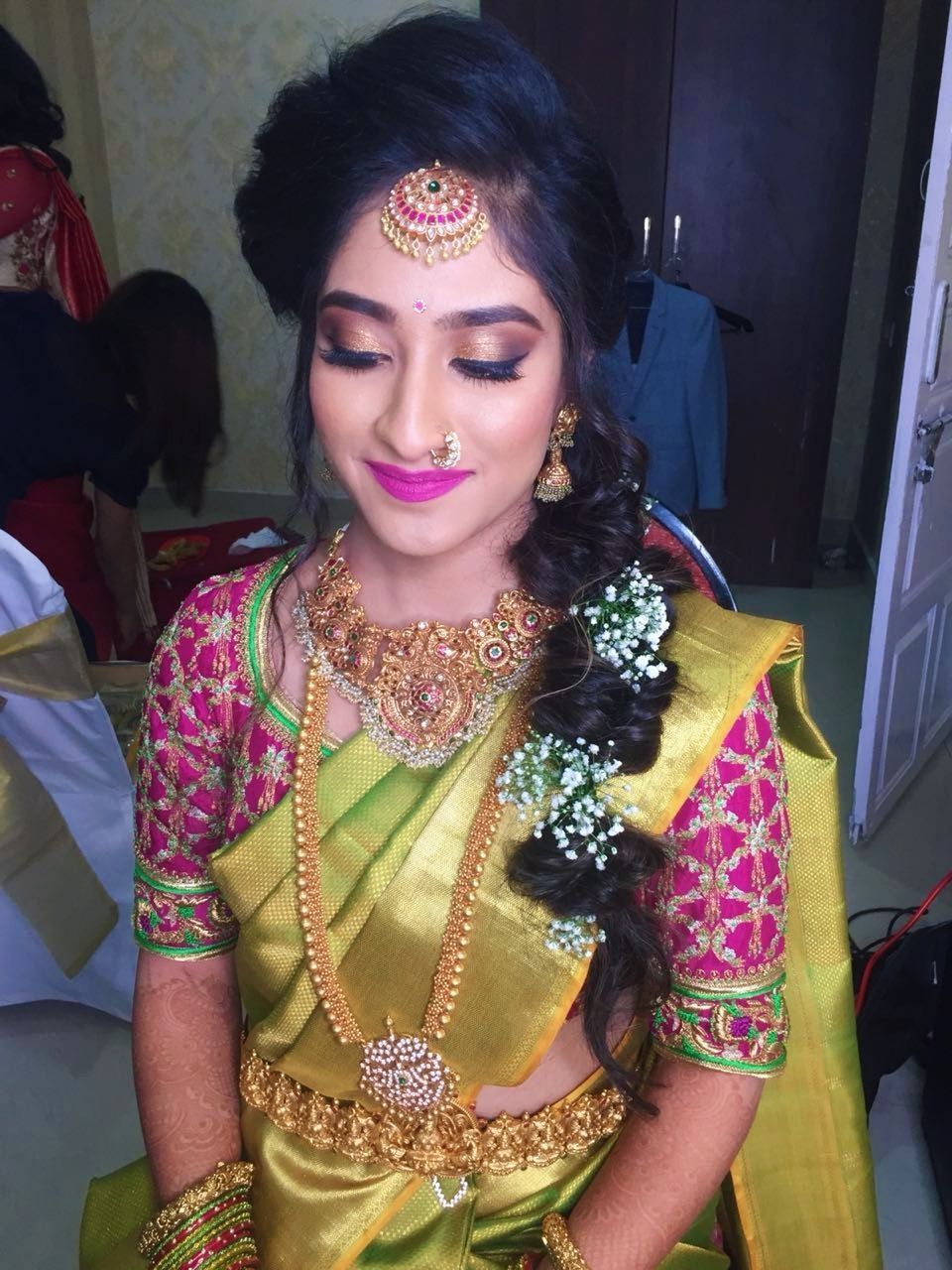 Image via GlossNGlass
With bold eyes, vivid lips, and a fun, messy side braid, it's difficult to pick one favorite element from this bride's look. Everything is just perfect to the T! Can't help but fall in love.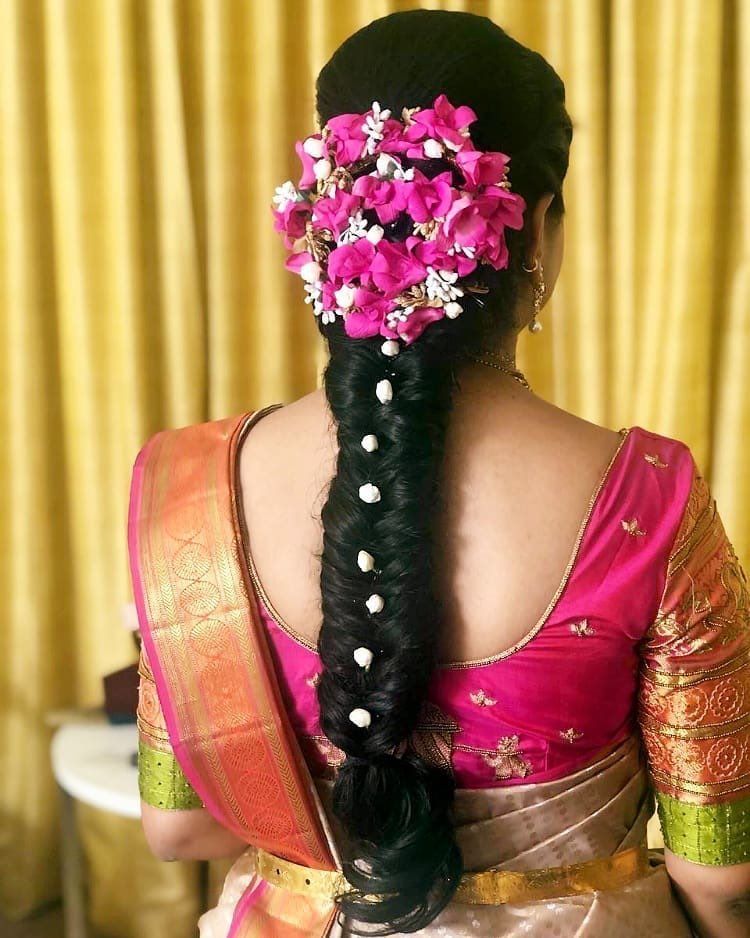 Image via @bloombridalstudio
This south Indian bride played it smart by going over the top with flowers around the bun while adding just the buds on the braid. This wedding hairstyle works really well if you're wearing a heavily embroidered saree and want to keep a balance between the two.
Wear A Bun
Hair buns are an intricate part of Indian weddings! Be it an engagement or a wedding you do end up making a bun for at least one of the ceremonies.  While earlier it used to be a simple round bun, now you have the convenience to book a professional hairstylist from a list of bridal makeup and hair artists, to get a trending hair bun made for yourself. Buns are classic and keep you at ease, while you're busy shaking a leg or greeting the guests.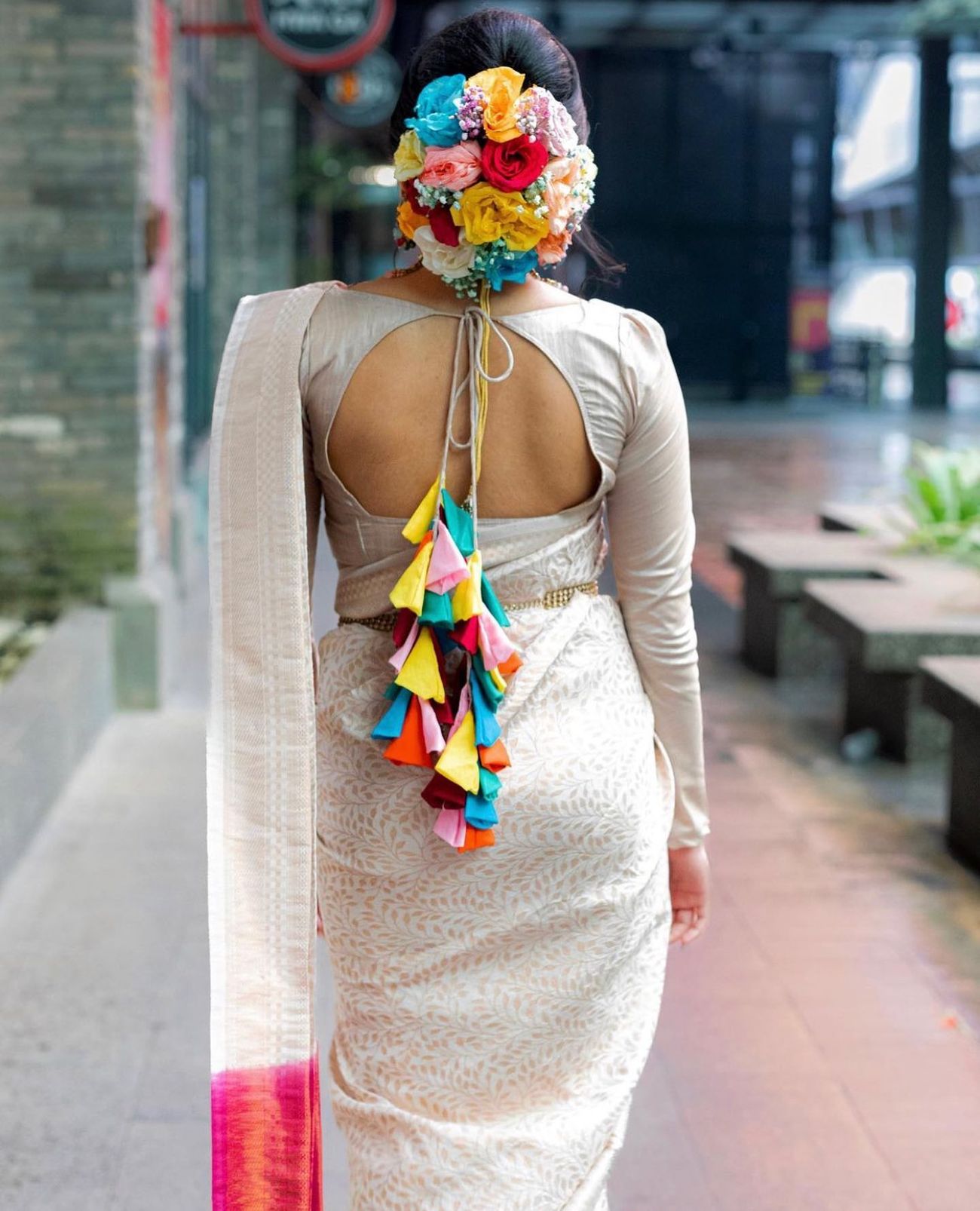 Image via @makeupbynrv
Adding some vivid hues to your mundane outfit with a floral bun. Nothing can beat the uniqueness of an Insta-worthy hairdo.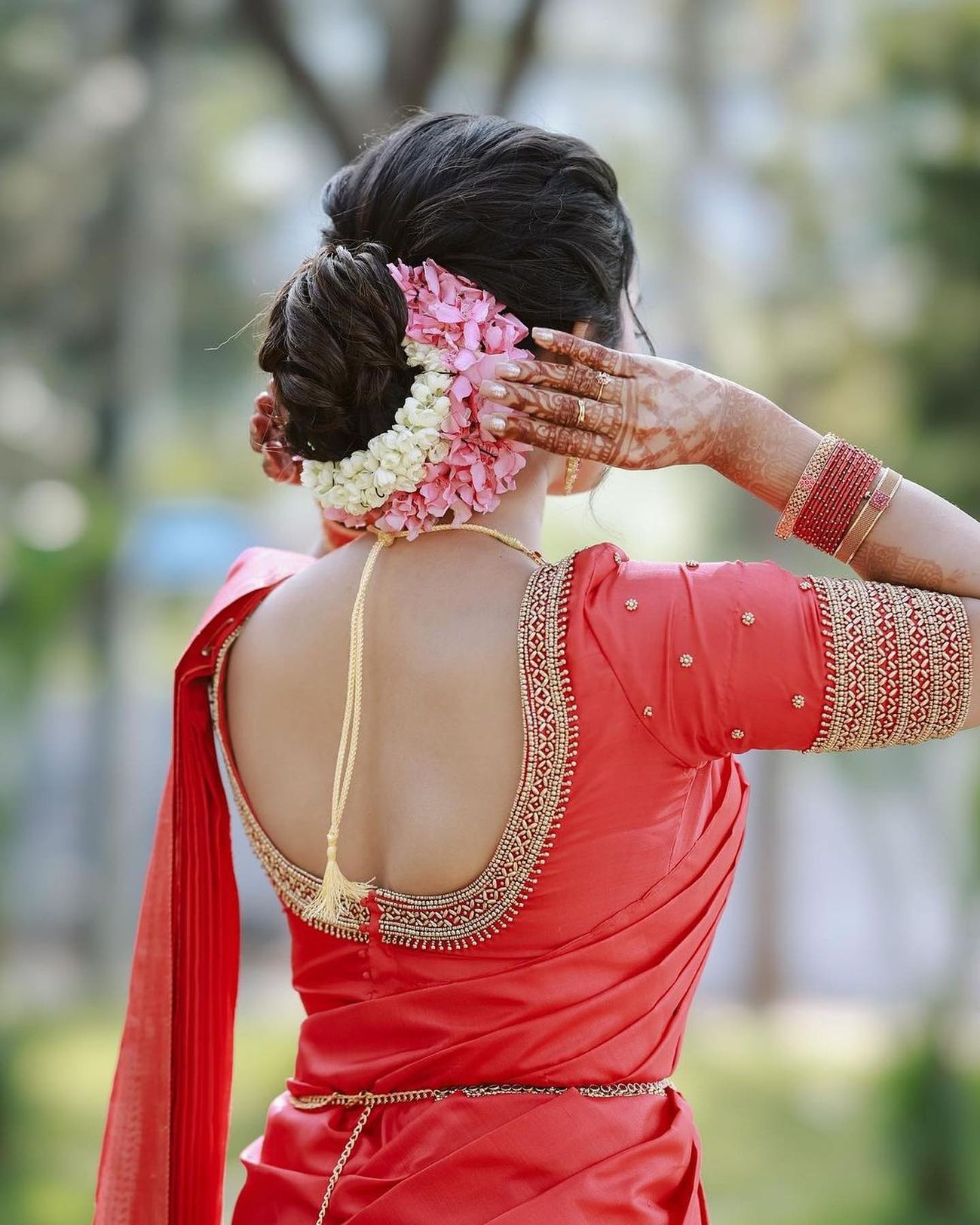 Image via @makeupandhairbysagallya
Tousled loose bun adorned with fragrant blooms, this bridal hairstyle oozes minimalism.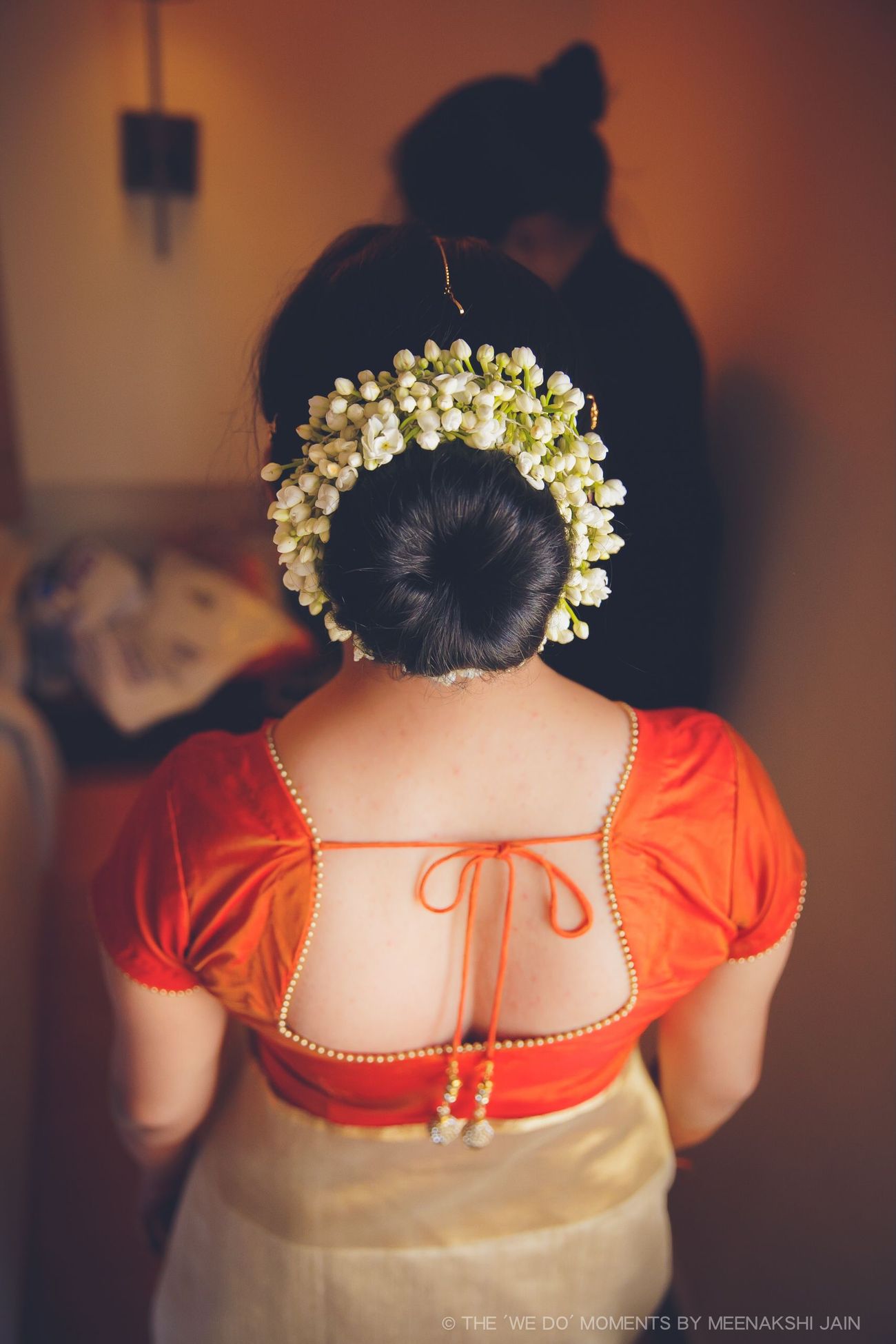 Image via Beauty and the Brush- Makeup by Sutapa 
We all know this hairstyle is purely traditional and yet so attractive! Donut bun adorned with fresh white flowers.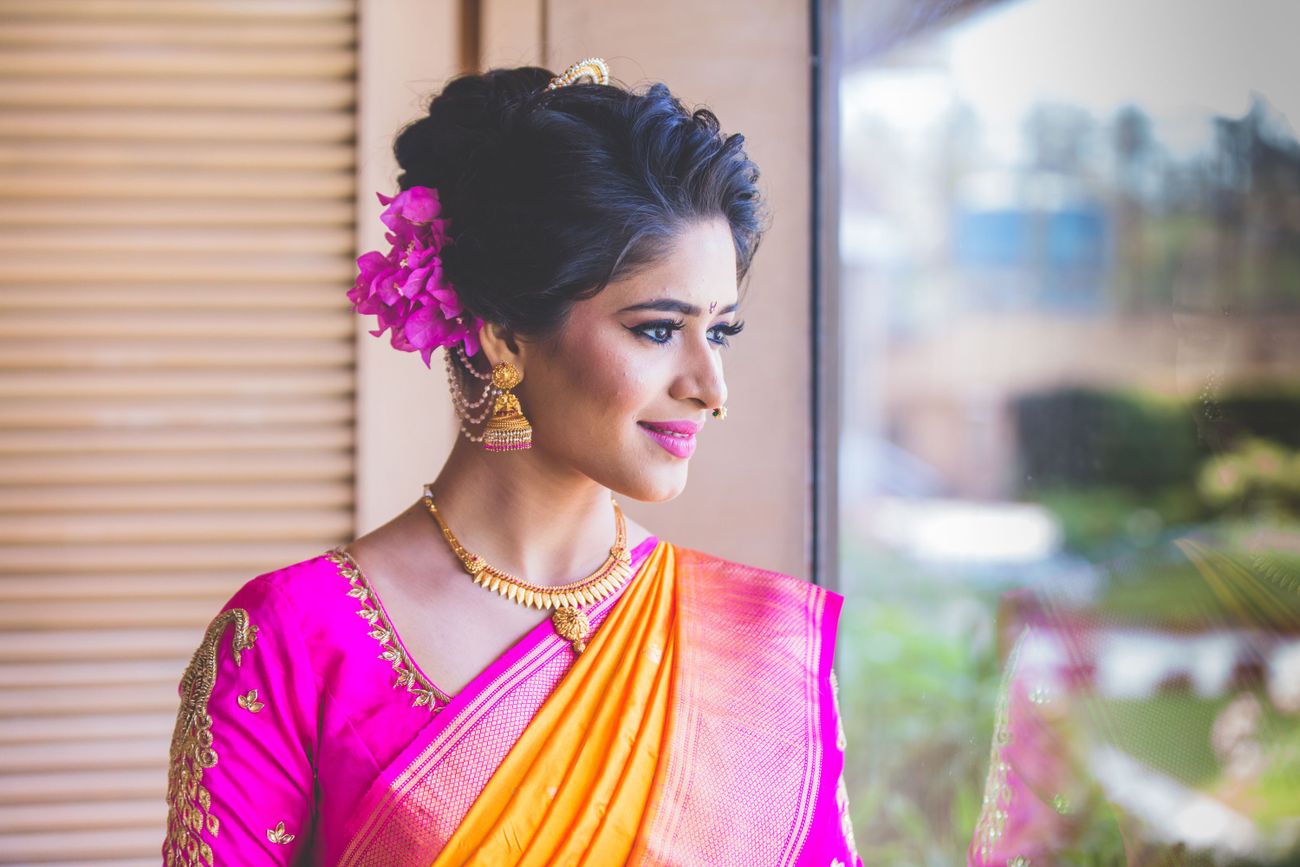 Image via Mithilesh Choubey Fotografia 
This south Indian brides gave mogras and roses a miss and instead adorned her modern bun with bougainvilleas. She kept is minimal by putting it on one side. Truly an elegant hairdo.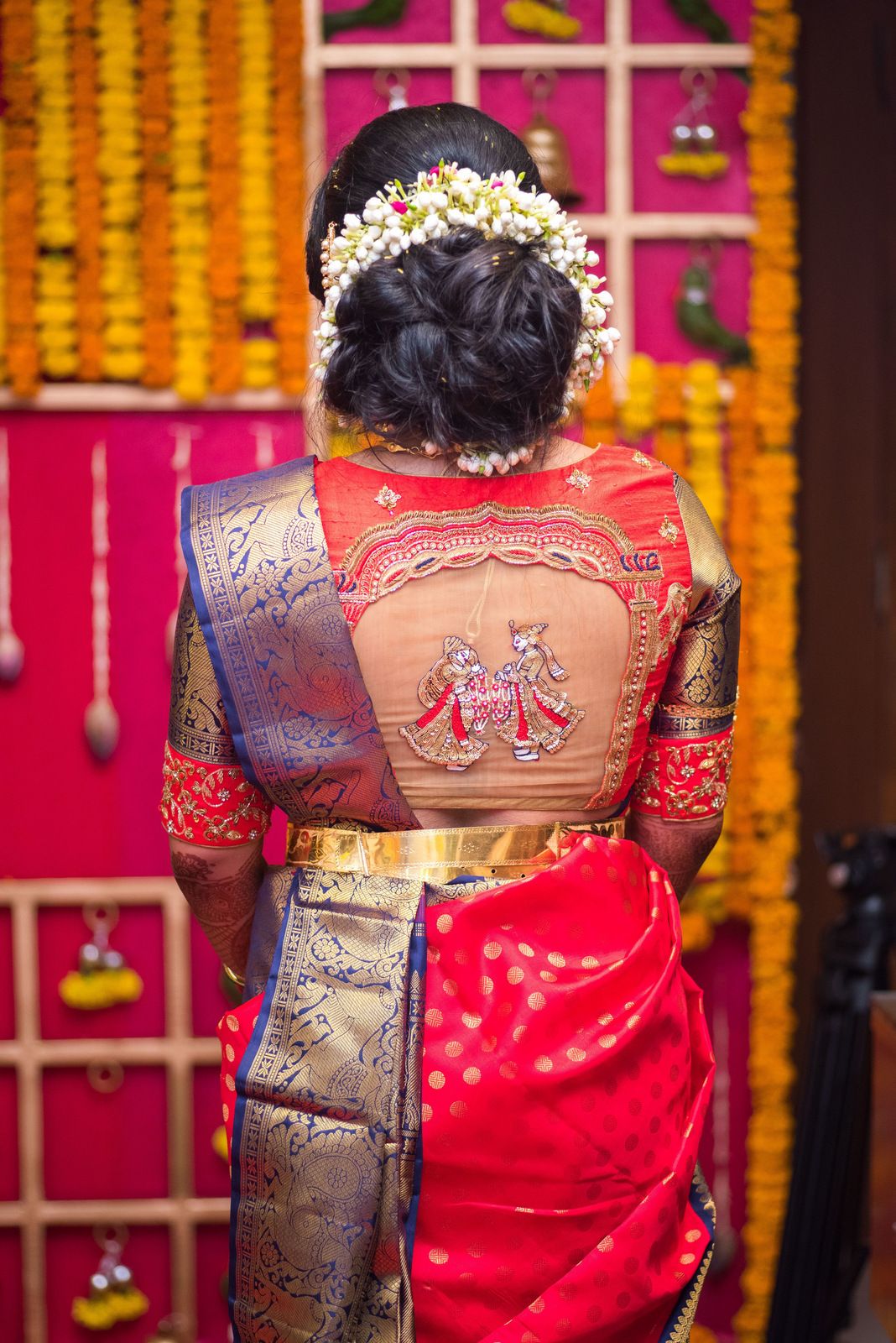 Image via Make-up by Afsha Rangila 
This bride brushed back her long hair and transformed it into an twisted oversized bun. Since the bun is a statement in itself, she kept it easy by outlining it with fresh mogra! Like it? Nah, lovedd ittt!!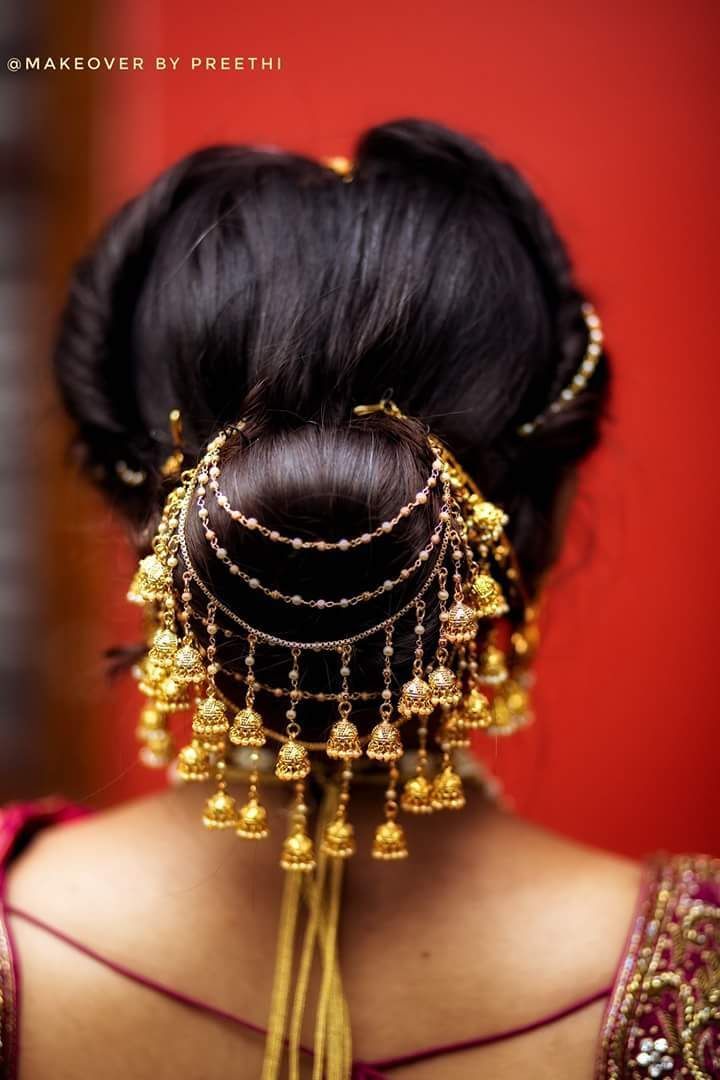 Image via Makeover by Preethi
Instead of using flowers, this bride used this gorgeous hair accessory to style her bun. Quite contemporary, to say the leas!
Image via Vivek Krishnan photography 
This bride concealed her bun with a net to keep fray hair at bay. Neatness on point, we must say! Lastly, adorned it with a billa (coin) and gajra made of faux roses and mogra.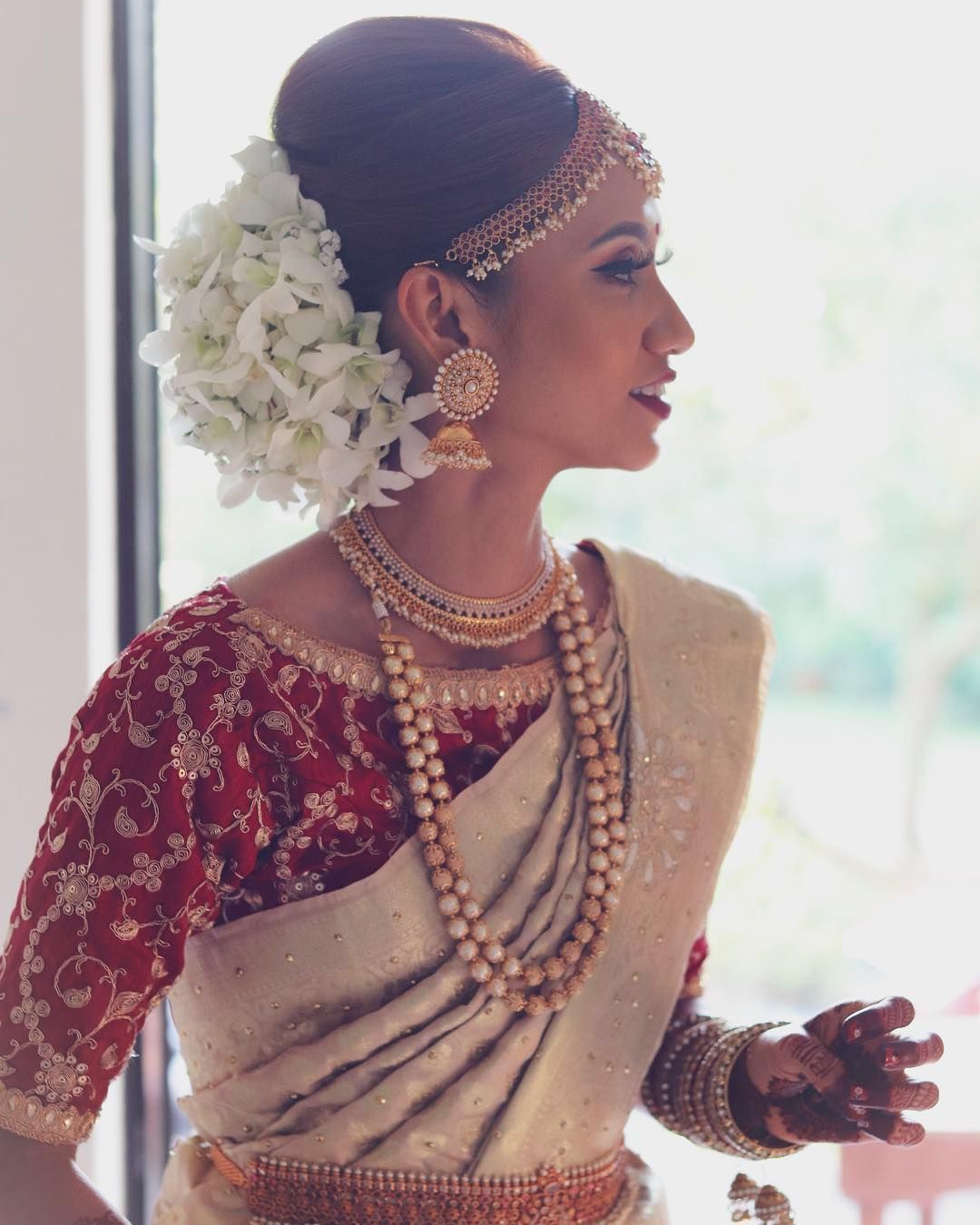 Image via @thestyles_bysha
Love this beautiful combination of white and red. The MUA dolled up this south Indian bride with fresh white Orchids and added a contrast by applying a dark red lipstick. A quaint matha-patti adorned over the bouffant made her look like a dream. So magical!
With this we come an end to this loooong list of South Indian Bridal Hairstyles! Phew.. wasn't that some major inspiration for you all?! Also, don't forget to bookmark and comment below to let us know your favourite amongst these. Go ahead book party makeup & hairstyle and shine like a star on your special day.