How Much Does A Budget Destination Wedding In Jaipur Cost?
BY Sakshi | 10 Jul, 2018 | 57740 views | 7 min read
The idea of a destination wedding in India is not new, but it sure hasn't lost it's charm. With that royal old world charm and stunning palaces, it's no wonder that Jaipur is a super popular destination wedding venue! If you've always dreamt of a fairytale wedding with a majestic backdrop of a palace, then this is one place in India where the magic can truly happen and make your dream come true! But if a budget wedding is what you're looking at, then one question is bound to come up -
How much does a modest destination wedding in Jaipur cost?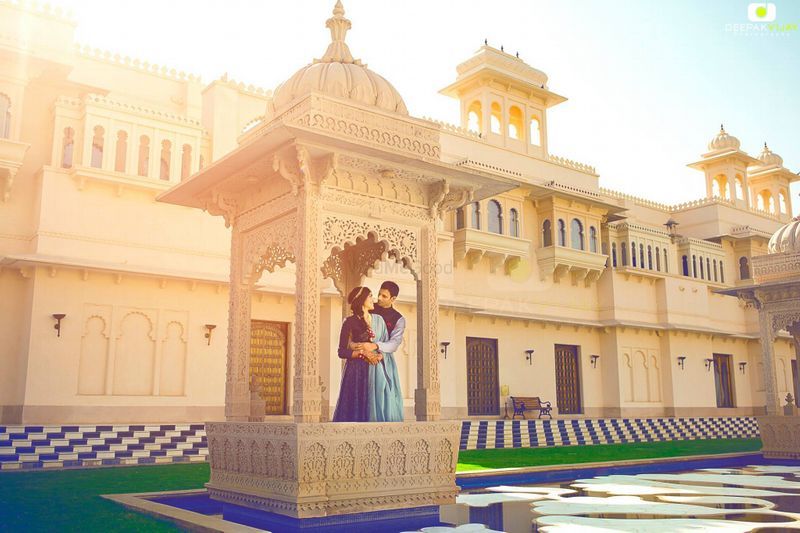 Image via Deepak Vijay Photography★ 4.6
So let's deal with it one thing at a time. We are not including the destination wedding cost for photographer, videographer or bride or groom's trousseau and MUA in this, as these costs are things most people choose to splurge on as per their pockets. And of course, hiring a wedding planner for a destination wedding in India does add on to the cost, but makes things a lot simpler for you as they know the reliable vendors and save you the hassle of running around and bargaining.
Destination Wedding in Jaipur Cost As Per Days and Events
Assuming this to be for a 2-day wedding, so rooms are ideally booked for 2 days and 3 nights. Something like this:
Day 1: Guests arrive by check-in time, have lunch arranged by you and then followed by an event like Mehendi in the day or evening followed by Sangeet Dinner.
Day 2: Guests have breakfast, followed by Day or Evening wedding and Reception at night.
Day 3: Guests freshen up and leave post breakfast.
Destination Wedding Cost As Per No. Of Guests
So lets assume you are expecting between 150-200 people, who are flying down at their own cost.
Transport cost: None as guests fly on their own.
Destination Wedding Cost For Venue For Functions
Jaipur has quite a history and a royal charm to it, and that is why it has recently been declared as UNESCO World Heritage CIty, which makes it an even more sought-after location for a destination wedding in India. When you plan a wedding here, you have two options:
A palatial location which is centuries old, and gives the perfect backdrop for a wedding. But be aware that a lot of destination wedding venues in Jaipur only serve as the venue to host festivities and do not offer accommodation and rooms.
If you do not want this option, you can always opt for a palatial hotel or resort instead, which will of course offer rooms as well in addition to having the royal feel.
So basically, 2-nights stay at destination wedding venue in Jaipur say palatial hotels or actual palace venues (plus separate accommodation) for about 150 guests could cost anywhere between Rs 10 lakh to 40 lakh.
Another advantage is that you can find some offbeat locations a little out of the defined city limits, venues which are ideal for an intimate guest list of less than a 100 people. One thing to keep in mind is that since Jaipur is a hot destination wedding city, you should do all your bookings way in advance.
Destination Wedding Cost For Accommodation & Food
The wedding venue and accommodation make around 60% of the cost, so that can make a considerable difference. We are assuming the accommodation for the guests being at a nice luxury resort, because when it comes to a destination wedding in India, that's one area where you do not want to pinch pennies! Since your guests are flying all the way down to your wedding, you want to make sure they have a comfortable stay and a good experience. One tip we can give you here is prefer double occupancy, and club families with kids together by paying more for extra bedding. So, for about 200 people, that would roughly come up to 100 rooms. Also, bear in mind you also have the option of accommodating guests at hotels near the wedding venue instead of the venue itself.
So as far as the palatial destination wedding venue in Jaipur, minus the rooms go, they have packages combining venue, meals, may be some standard decor, which come up to about Rs 10,000 to 20,000 per guest per function if you guarantee a minimum number of guests. So for a day's festivities without accommodation, this can cost you about Rs 15-20 lakh per function. Plus, you will have to book rooms some place else, which add up to the cost.
If you compare that to hotels and resorts, these turn out to be more economical at about Rs 3000-7000 per head for the functions, which would come up to about Rs 4 to 10 lakh for a gathering of 150 people with food included. As far as the accommodation is concerned, the top end 5-star deluxe heritage hotels cost about Rs 30,000 to 40,000 per room per night. But for a budget wedding, you can pick 4 or 5-star luxury hotels where the stay comes to about Rs 8,000 to Rs 15,000 per night per room. Also, most hotels and resorts in Jaipur do not charge separate rentals for the venue. However, some prime wedding venues cost Rs 50000- Rs 300000 for wedding lawns and courtyards.
Destination Wedding Cost For Decor
If you plan on keeping things modest, which is very possible with beautiful surroundings, earmarking Rs 10 to 12 lakh budget for the decor- which includes floral arrangements, mandap, lighting etc is a good amount. If you want to go grand, then sky is the limit- it could go up to Rs 35-50 lakh as well, which could go way higher as well.
Miscellaneous Costs
This list could be as long as you want it to be, but some other major cost factors to consider are:
Wedding planner or coordinator.
Transportation from hotel to venue and back.
Entertainment for guests like local folk artists.
DJ & Sound equipment rental.
Band, Bajaa & Baraat.
Mehendi artists
Favours for the guests
Pandit
Add ons & Tips
Breakfast would be included and on the house. You can get lucrative deals for group lunches and dinners if you ensure them a minimum number of people everyday.
Most of the luxury hotels and resorts do not allow you to get your own alcohol, so you will have to source it from them itself, which will of course be at a higher price than the market rate. You can save some big bucks by serving IMFL instead of expensive brands.
A lot of hotels put things like the laundry and the minibar on the house in case of bulk bookings, so make sure to talk to them about this or getting a discount when you seal the deal.
Finally...
So all in all, we can easily assume that a modest destination wedding in Jaipur, which is still pretty luxurious can be wrapped up in a budget of about Rs 50-70 lakh for a guest list of about 150 people. Of course, there are a lot of things which can increase what a destination wedding in Jaipur cost, even going into a couple of crores, but if you want to keep it limited to basics then that is a good estimate for a destination wedding in India to keep for only the venue, stay, decor and the extra costs related to it.
Now go ahead and plan your dream destination wedding in Jaipur without further ado!
ALSO READ: So How Much Does a Destination Wedding in Goa Cost?