Its not everyday we get a wedding that happens in Jamnagar but this one was so gorgeous we are wondering why we don't have more Gujju weddings lined up.  Mansi & Shaunak's pretty day  was  intimate and effortless with with the bride and groom in beige, the sweet "Here Comes The Bride" signage and the pretty avant-garde mandap with an awesome flower curtain. So chic! All of the magic of a dreamy day wedding was captured to it's hilt by 
Burn Pixels Photography
.
Meet Mansi & Shaunak 
The Wedding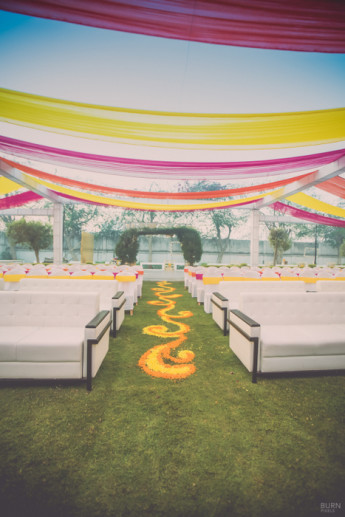 From The Bride: 
"My wedding was the coming together of two families and it was a beautiful affair. One great place to host a wedding is in a small town like Jamnagar, it was effortless. My day wedding was a beautiful one with great decor and excellent photography. The wedding decor was eclectic and modern and suited our taste." says Mansi.
"Also, on the day of the wedding, I did my own make up since I couldn't find any good make up artist in Jamnagar. I anticipated this problem after knowing what happened with my friends who got married earlier and took make up classes in California (where I'm based) before I came down to India for the wedding." adds Mansi.