How to Throw a Bollywood-Themed Sangeet #LikeaBoss
BY The WMG Bride | 25 Nov, 2015 | 17083 views | 4 min read
In every Indian couple, there is a Bollywood buff within. Those DDLJ songs come blasting from the speakers, the moment the pandal goes up. And what would be a better way to pay tribute to this love by hosting a Bollywood themed sangeet at your wedding! The truth: Everyone hosts one Indian-themed event on the wedding week and each one these days, looks the same. The good thing about the theme is that 1. It's easily done 2. You get props quickly ( Esp if you're a last-minute person) and 3. It's universally loved by all. That's why we are here to give you a quick guide on how to throw a Bollywood-themed sangeet like a boss with new ideas and DIYs.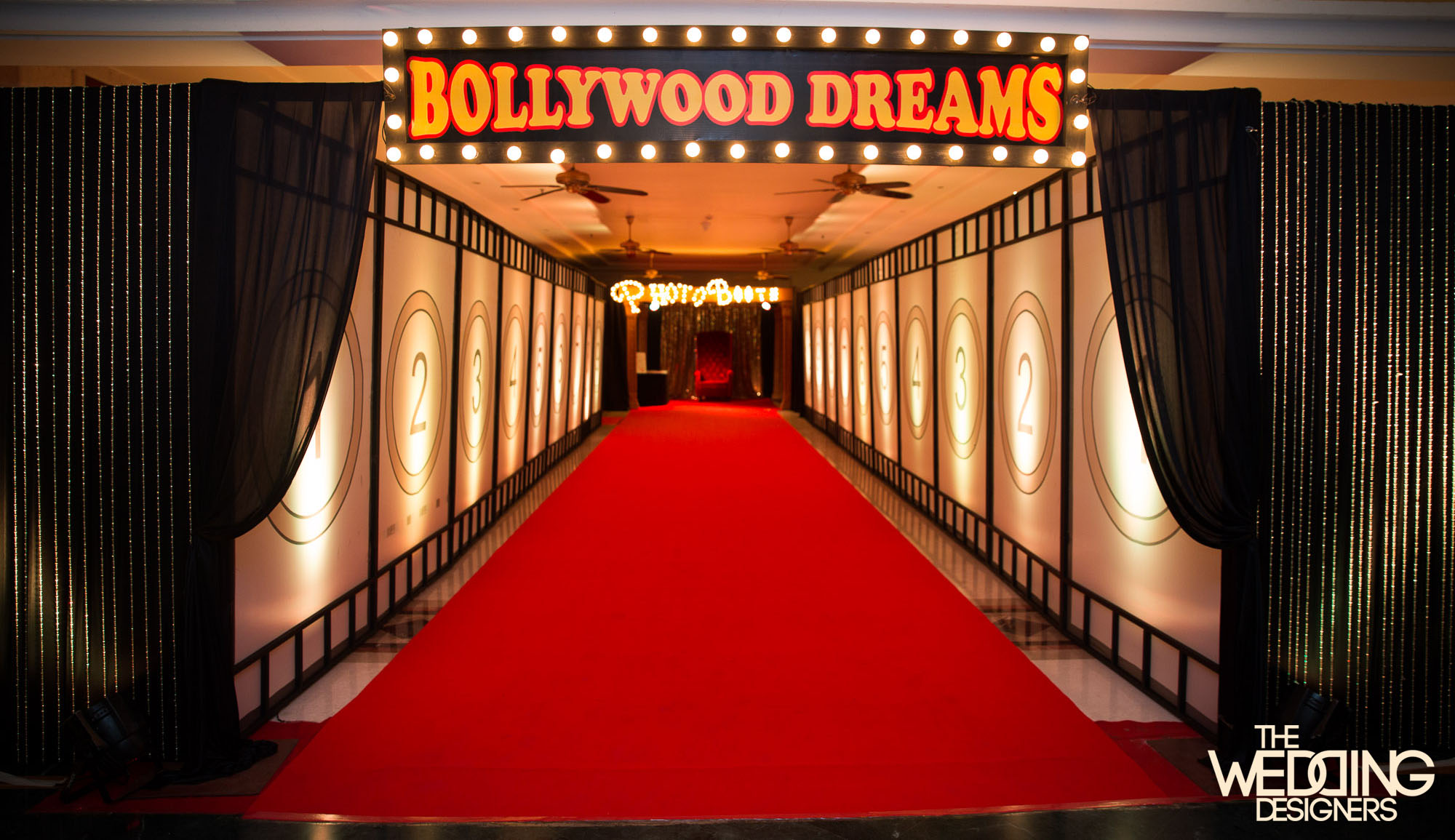 Start with the Invite
The invite for your sangeet has to have oodles of drama.
Have your caricatures made in your favourite actors and actresses' dresses
Have your favourite song be adapted into your invite!
Add in cute whistles (those 10 buck neon ones you get on the road!) to add drama.
You can even add those cute mirror aviators a la Dabangg-style to each invite.
Your invite can even look like a broadway ticket or cinema ticket.
Picture Courtesy: Po Tweet Invitations
Decor it with Drama
Have a red carpet if you are having an award ceremony night.
Have a personalised movie poster made out of the couple and hang it at the entrance like a movie theatre.
You can also have a photo booth at the entrance at have a 'Box-Office' kiosk to give away hard copies of the pictures.
The stage and the seating areas can be done up with bright and bold colours. Have your stage replicate an award night (think Filmfare or IIFA!)
Try to blow-up your pictures in a vintage poster - Dev Anand-style.
Make the event look like a movie premiere - cocktail dresses and red carpets and seating arrangements done in style! Even Bollywood-printed cushion covers.
Hang actor and actress murals or impose them on star-shaped hangings so it looks kitschy.
Hang in posters of old movies with lighting around them like in the olden days.
Make your favourite scene from a movie your backdrop using flex. Maybe SRK's post on the hill - the valley is the backdrop and anyone can lift their hands up for a photo-op.
Put up Arabian lamps and big chandeliers to give a Sanjay Leela Bhansali vibe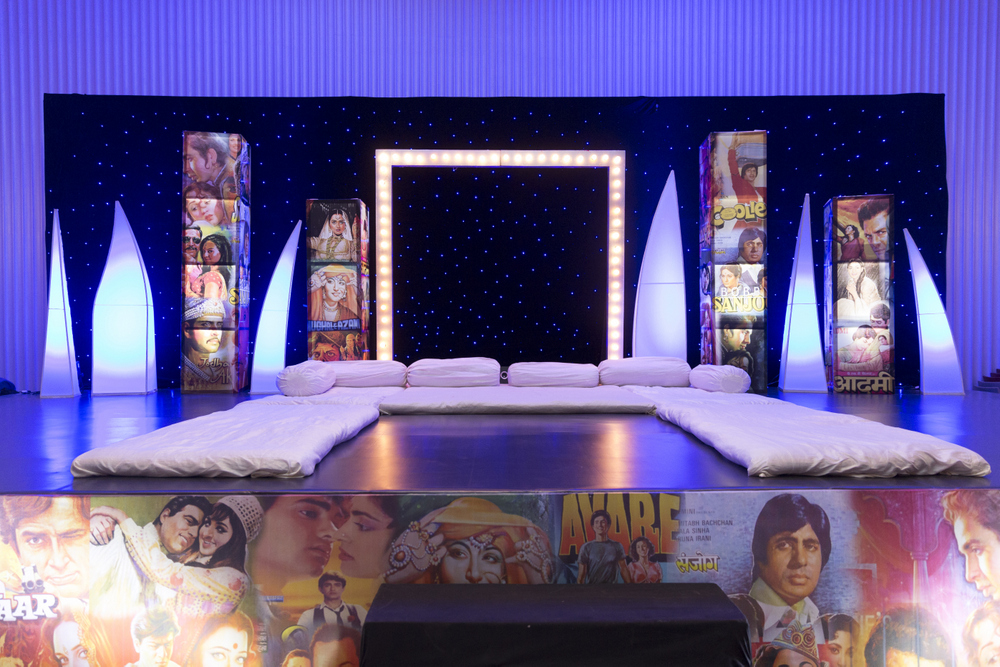 Picture Courtesy: Ridhi & Prateek's Wedding 
Food Fun
You may think that how can we go Bollywood with FOOD?? Yes you can, with names!
Add cute name tags to each dish - "Maa ke haath ka Gajjar ka Halwa", "'Luv Shuv Tey Chicken Khurana" or "Bemisal Basundi"!
Serve filmy food gleaned from all movies - biryani, chaat, samosa, bread pakora.
Make a movie cake - with Bollywood ideas - a theatre maybe, a nice tower where SRK is dancing or a retro movie pose etc.
Song List + Entertainment Ideas
It goes without saying that all your performance songs have to be Bollywood, but to infuse that extra dose of Bollywood – go with a theme. All retro songs or maybe all Govinda dance songs or even the 90's! We got some
great playlists
already. Obviously, performances on stage can also work in tandem with the songs. You can ask your bridesmaids to enact your favourite scenes from movies and personalise them with your names.
Photo Booth
For a sangeet this dramatic, you need a photo booth equally dramatic to create memories! Have cut outs of famous movie characters like 'Gabbar' 'Basanti' 'Raj' 'Prem' and capture pictures.
You can also have a complete video booth with a car cut-out and a projector screen next to it, which looks like the car is moving!
Put up props from famous movies - the double scooter from Sholay or the lighting from Band Baaja Baraat or the canopy in Yeh Jawaani Hai Deewani.
Your biggest inspiration must be the song "Woh Ladki Hai Kahaan" from Dil Chahta Hai or "Phil Milenge Chalte Chalte" from Rab Ne Bana Di Jodi. Both songs have great props and give attention to a modern way of setting up retro ideas.
Wedding Favours
Aviators aka Dabangg
Old Movie DVD Favours
Cute Dupattas
Star-shaped Cookies
Lac bangles + Karvachauth jaalis + bindis + temporary tattoos
Add colourful dupattas all men can wear to pose like Dev Anand with a scarf
Have an idea that you think will fit with this Bollywood theme? Tell us in the comments section!