Jaipur Wedding At A 300-Year-Old Mandir With A Regal Bridal Look!
BY Anupriya | 15 Jan, 2021 | 162259 views | 8 min read
A bride with a love for old world charm, a 300-year old mandir as the venue & the guestlist of 150, this wedding was nothing short of phenomenal. 
Surreal is the word that comes to our mind, each time we scan through Mehandi & Shivam's wedding chronicles captured through the lens of Sam & Ekta - Sonder Frames★ 4.7 . Woven with top-notch decorations, heritage feels & a bevy of stellar bridal looks, this wedding was a beautiful 'by-product' of the bride's vision & the tireless efforts of the team on-board. Mehandi pulled off not one, not two, but as many as five show-stopping looks. However, her unconventional wedding look had to be our most favorite one. She picked a traditional olive green lehenga with contrasting double dupattas, and added a modern twist to it with her open tresses. And it would be safe to say that she's gonna lend some serious inspo to all the 2021 brides out there!
Don't believe us? Dive straight in to witness their loved-up moments & read out some more interesting highlights penned by the bride herself. 
Meet Mehandi & Shivam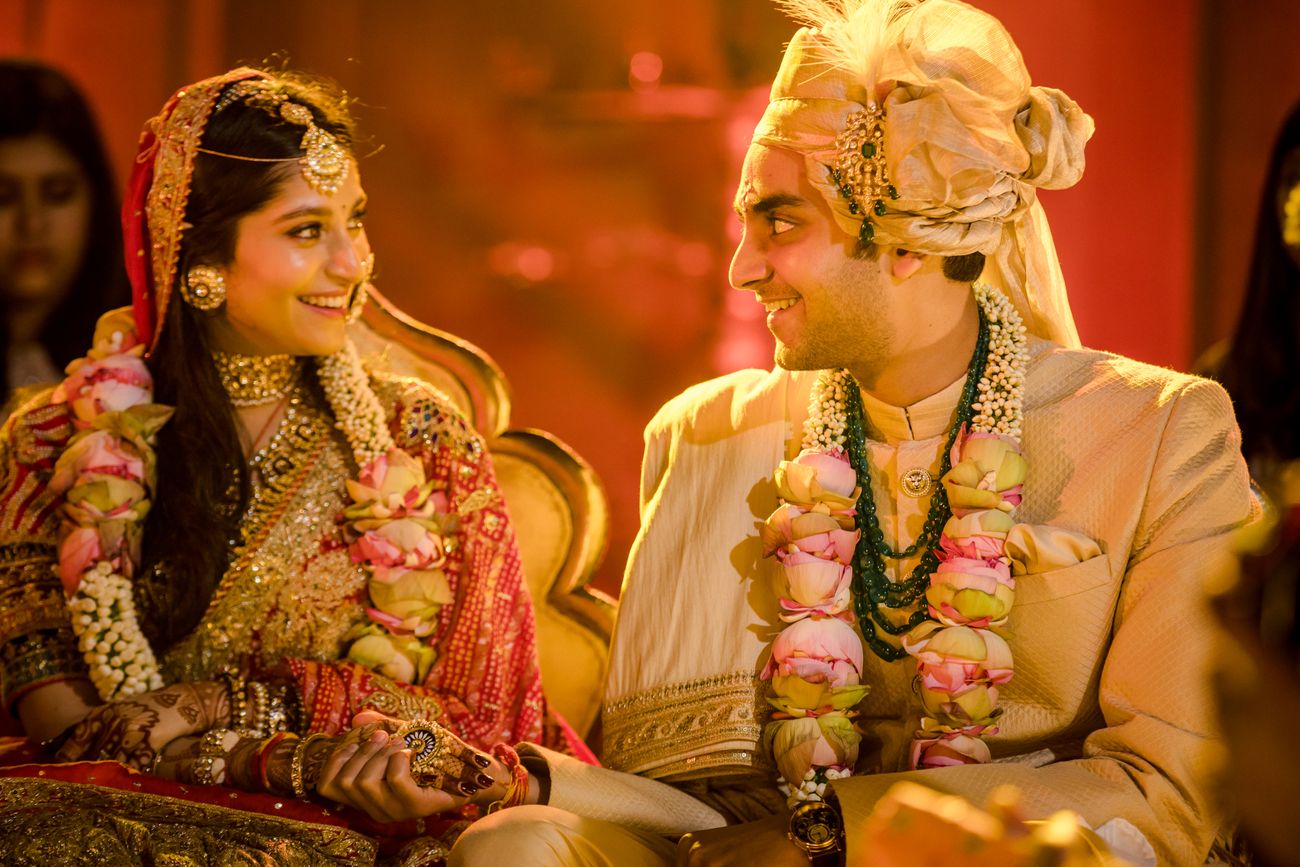 "Ours was a love marriage, Shivam and I met in London at a club called Project. We in fact argued on something that night and he found me on Facebook to apologise and get in touch. The apology was obviously just to be able to talk, not like he was actually sorry. Lol. We were talking for about 2 to 3 months but then lost touch for 4 years. In July 2019, he texted me again and we got talking. It just took both of us about 4 months of talking that we knew this is it and then there was no stopping. We got engaged on February 2nd , 2020 and then planned to have the wedding in December."
The Gaur Pooja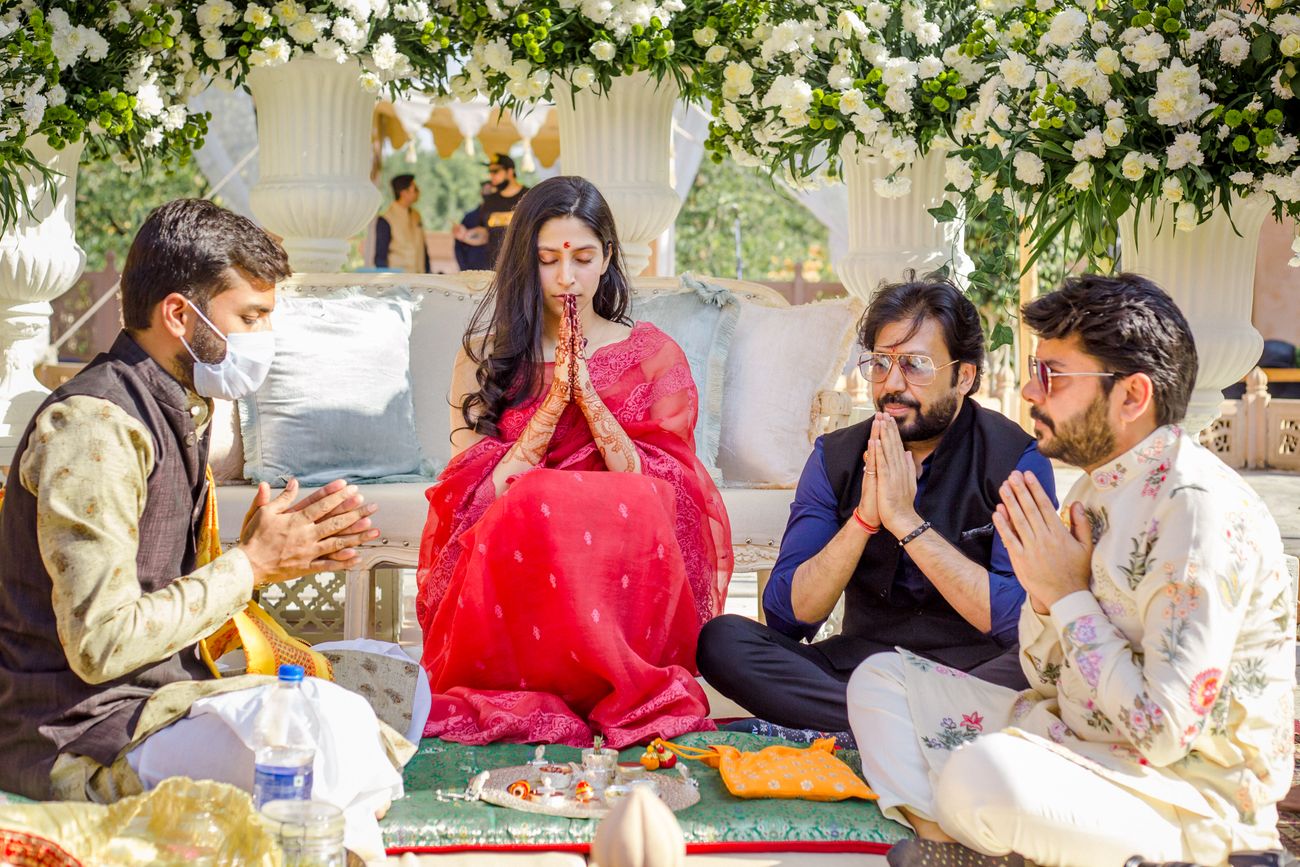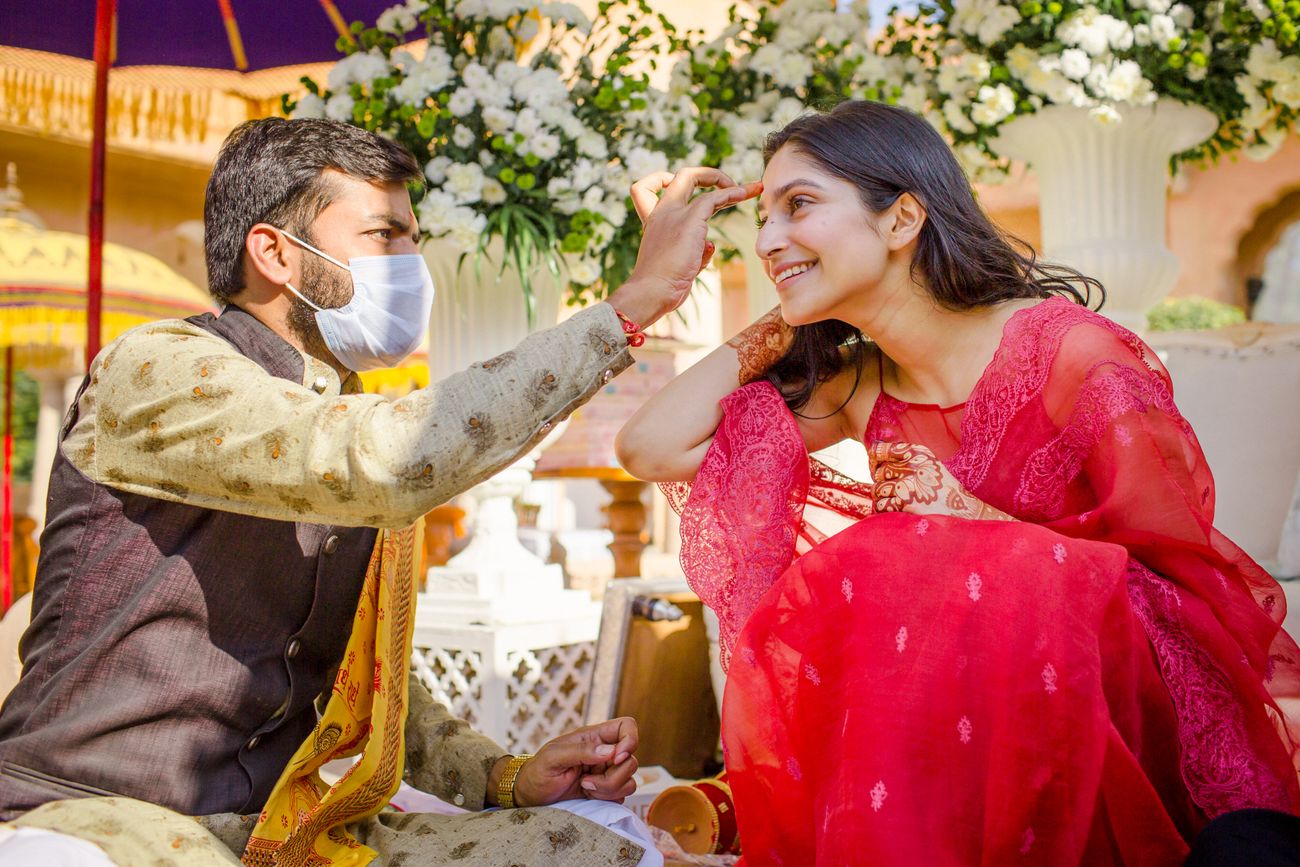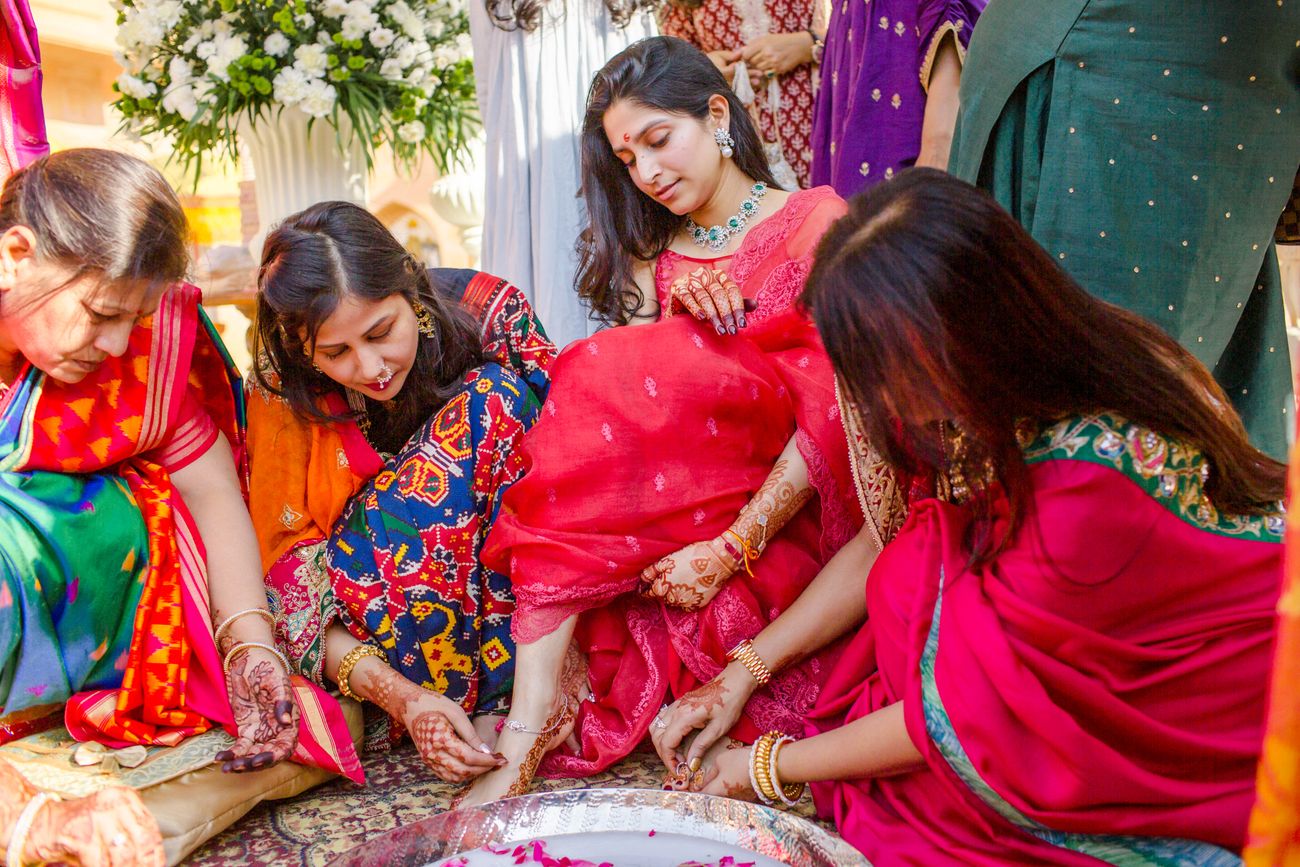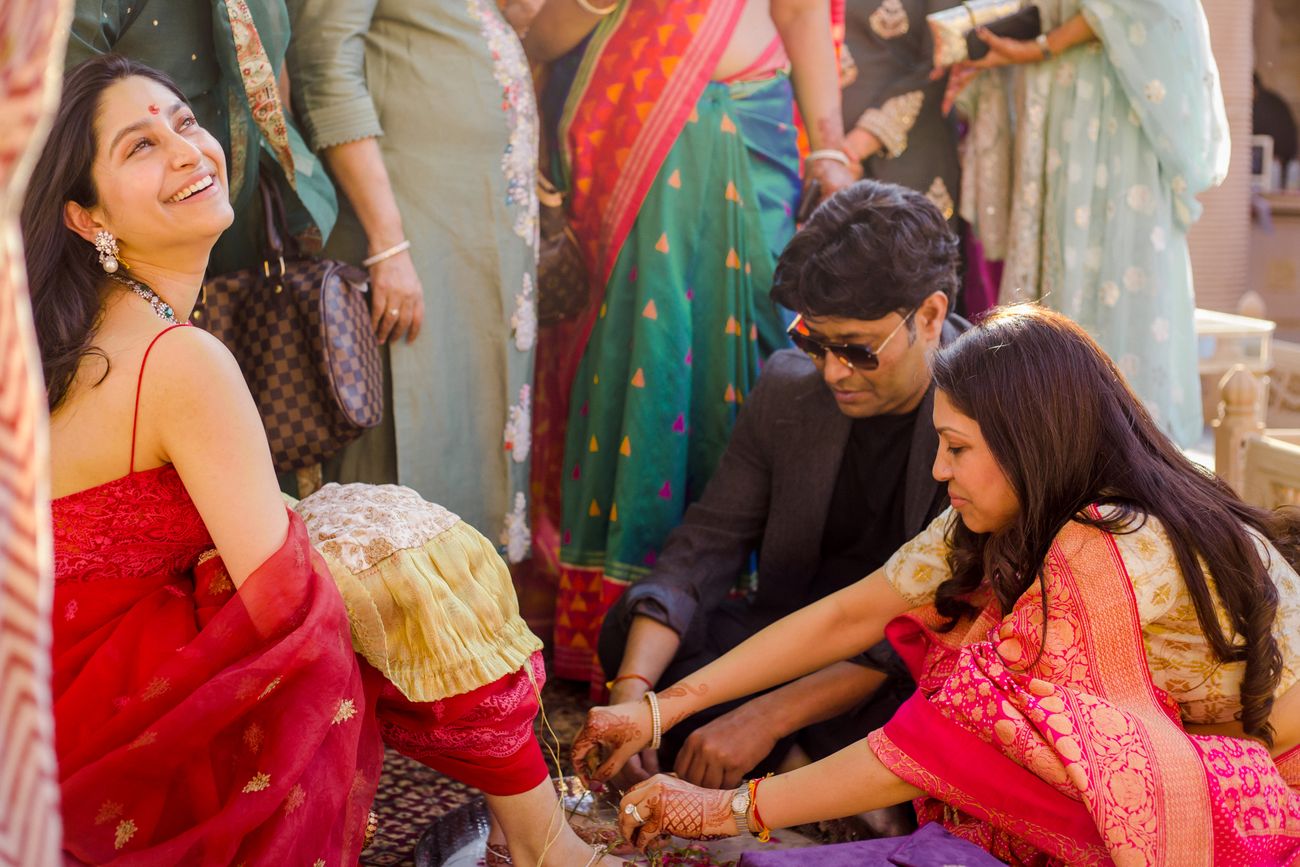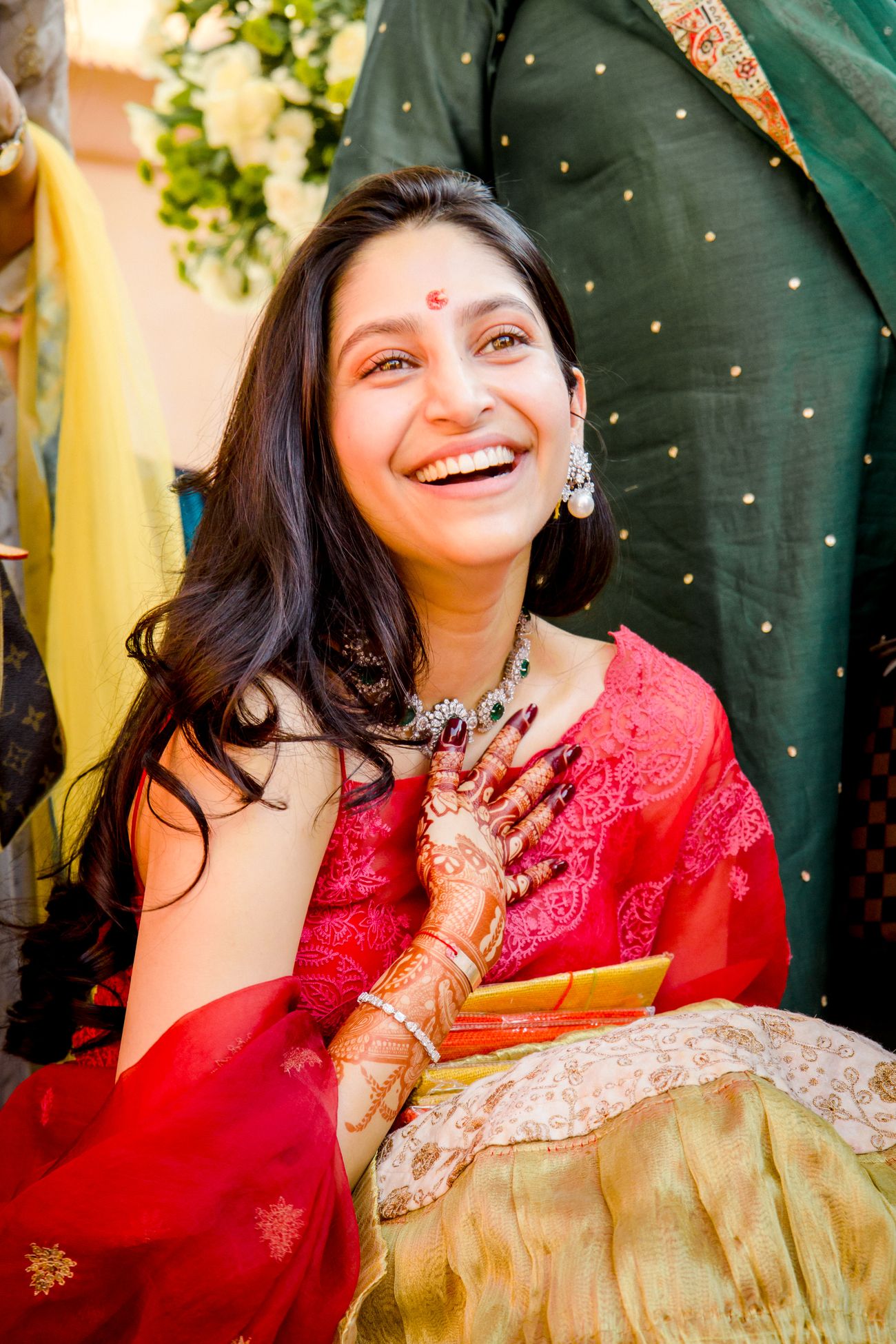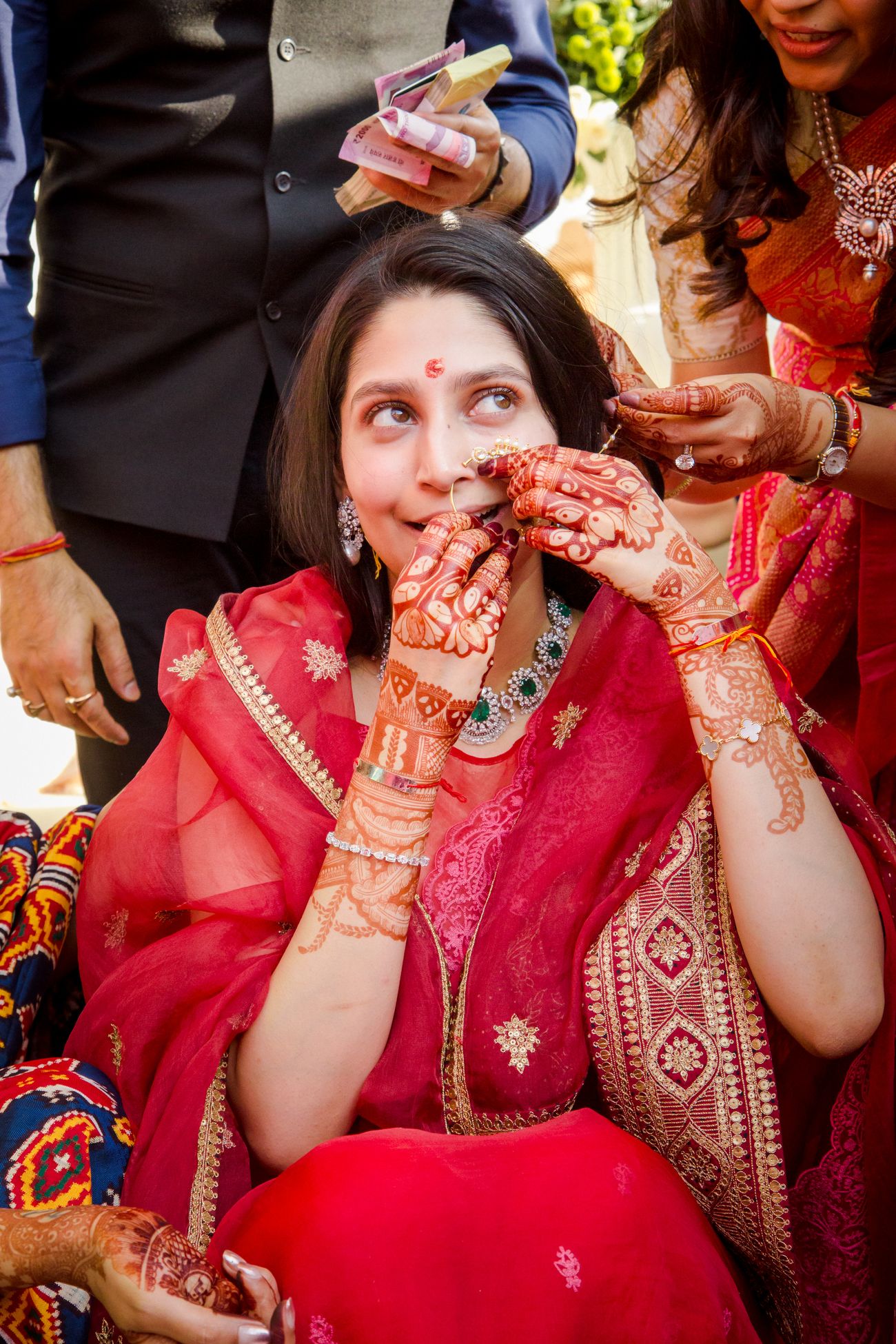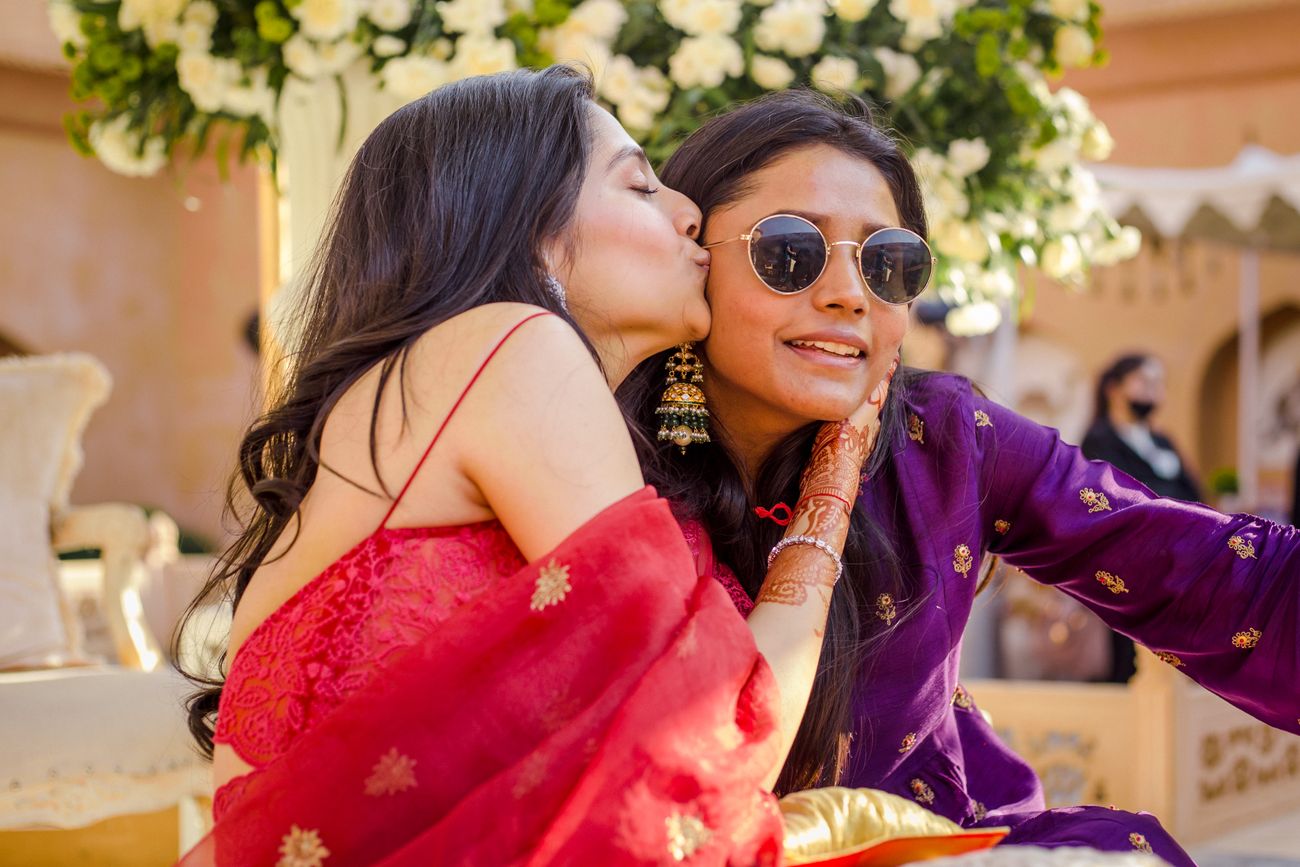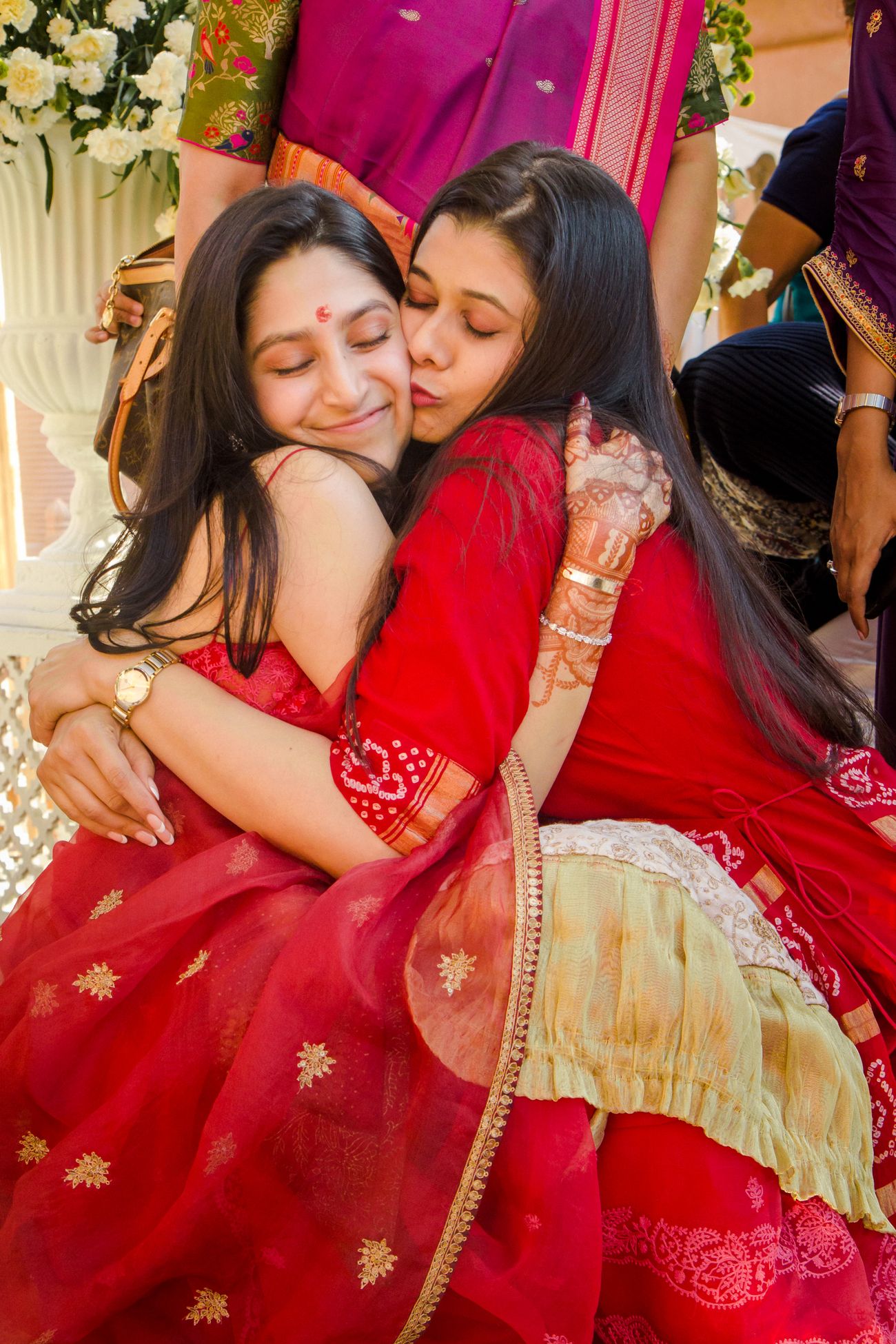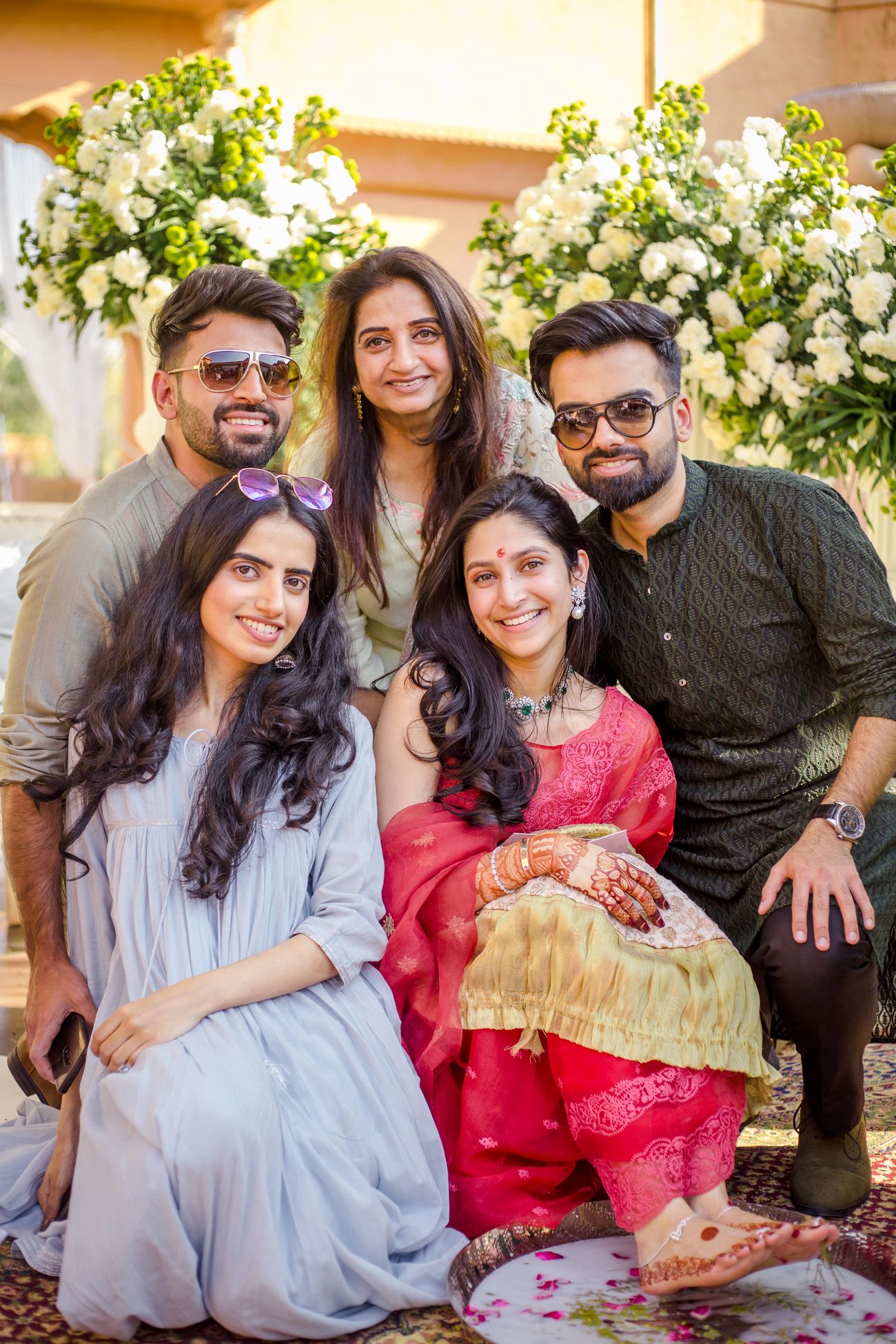 The Bhaat Ceremony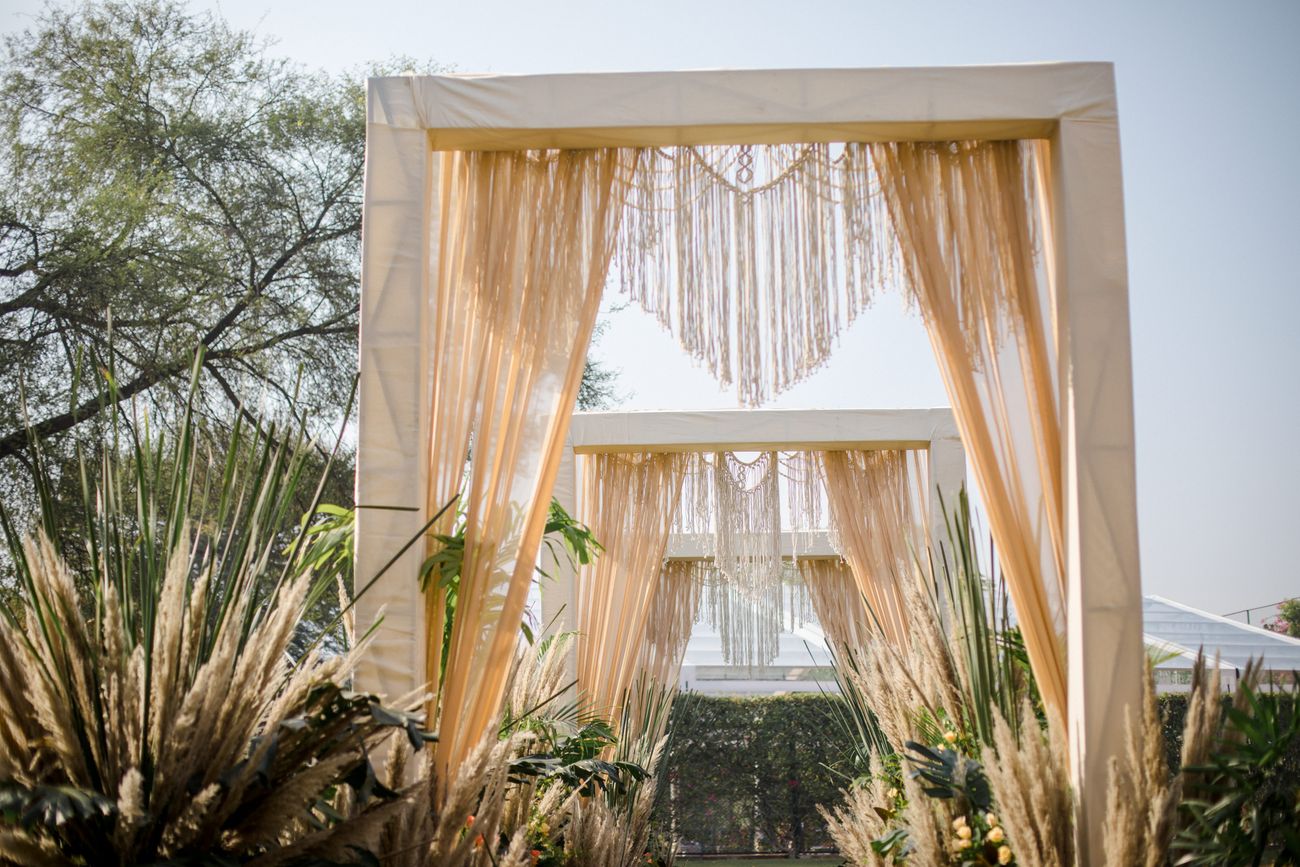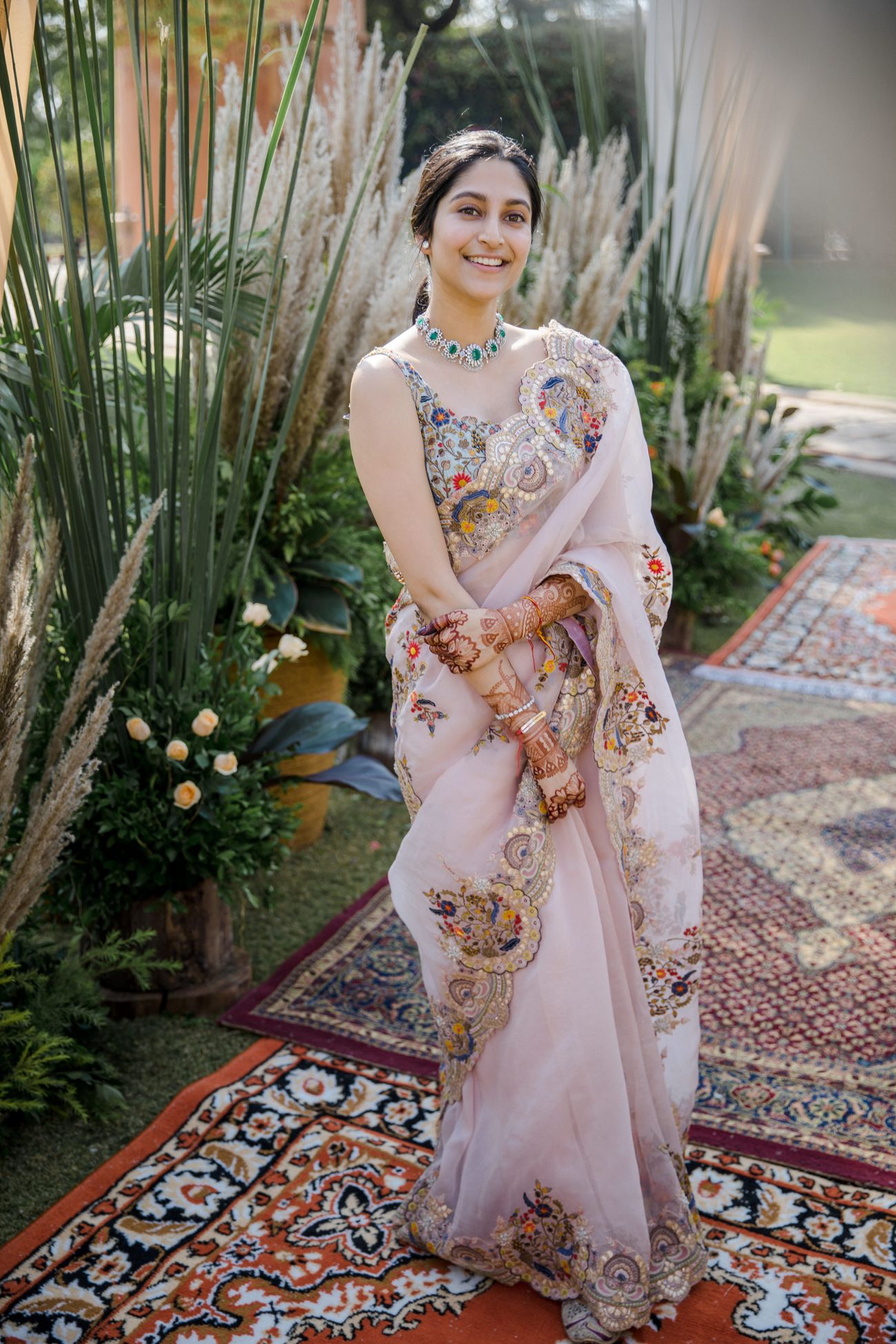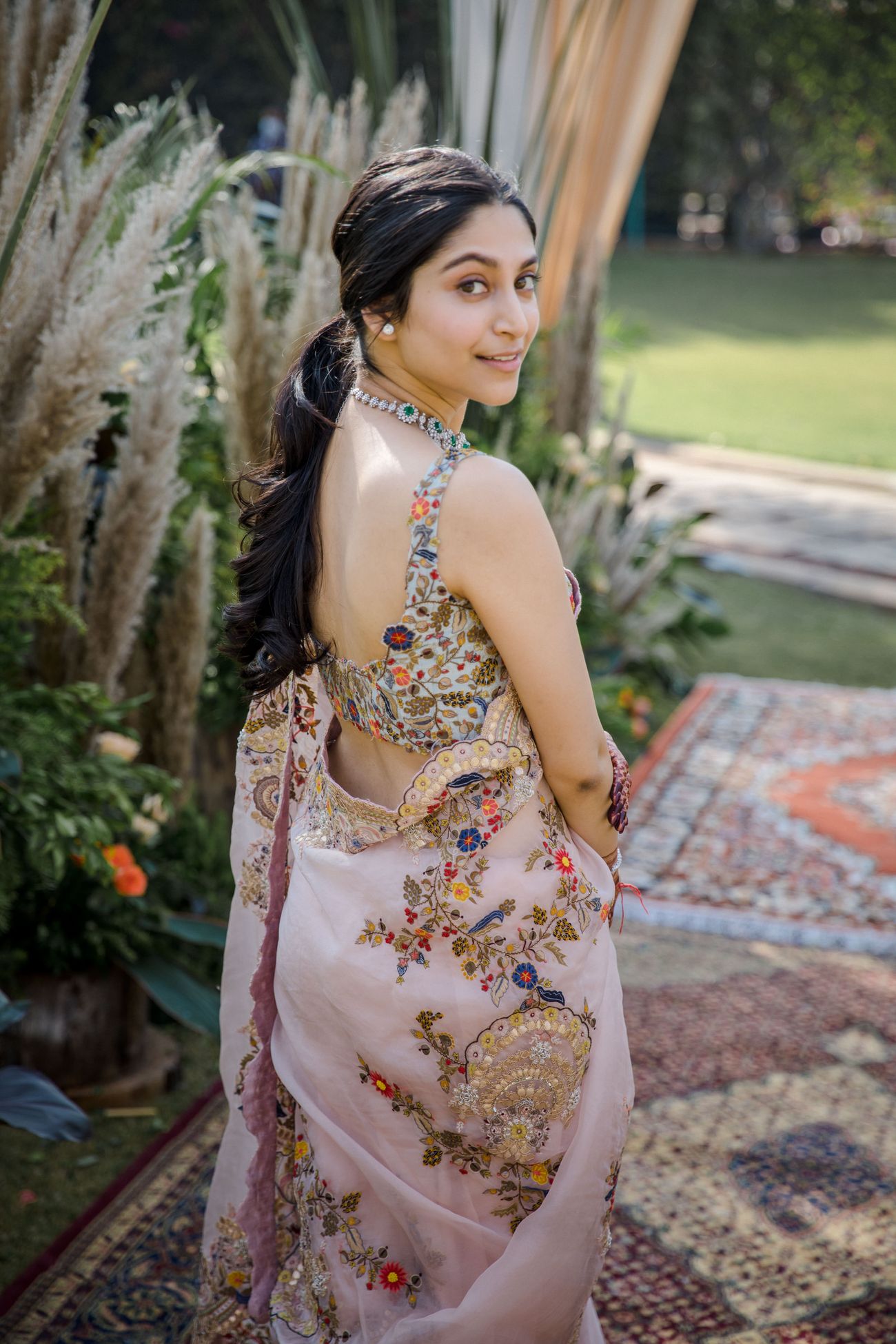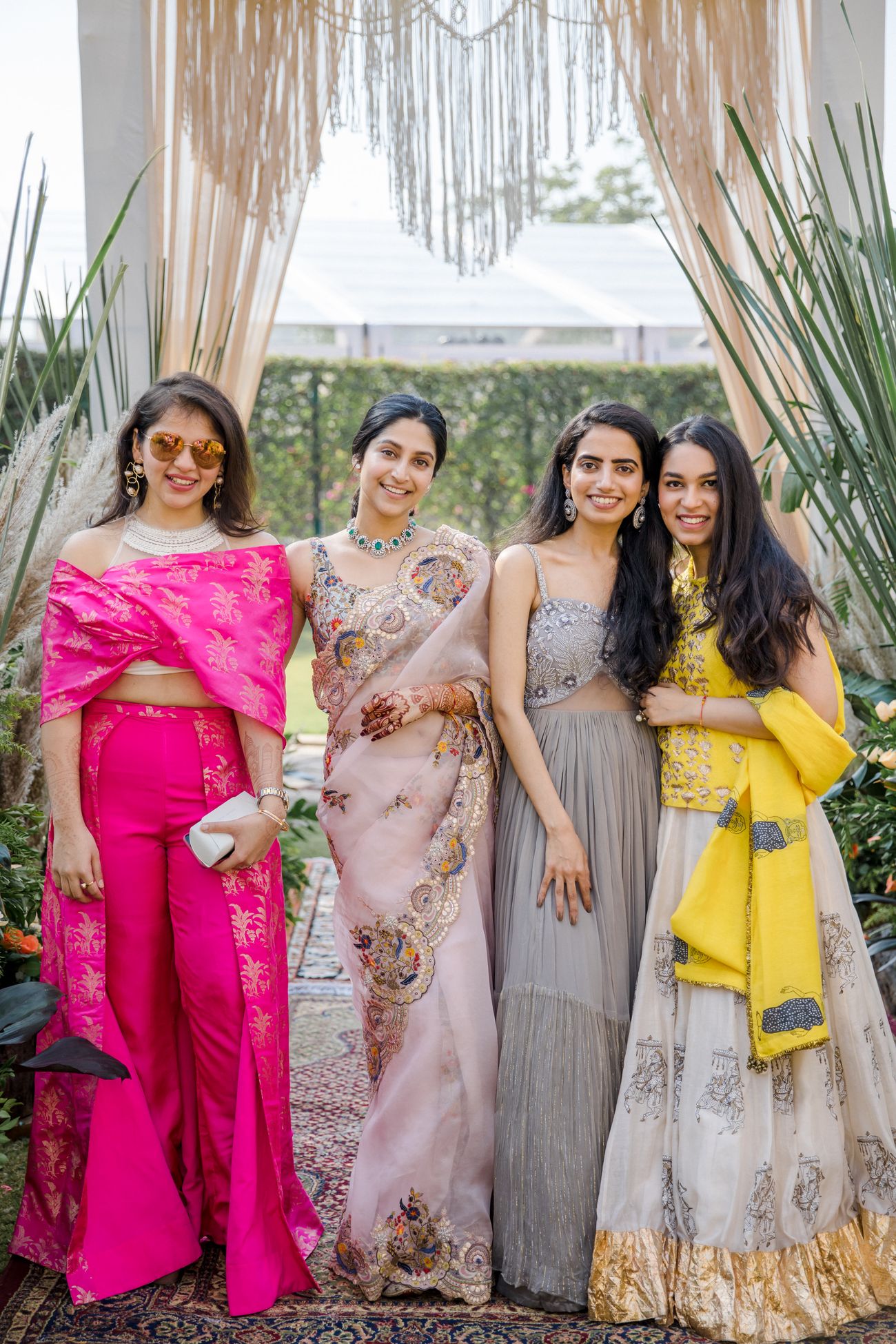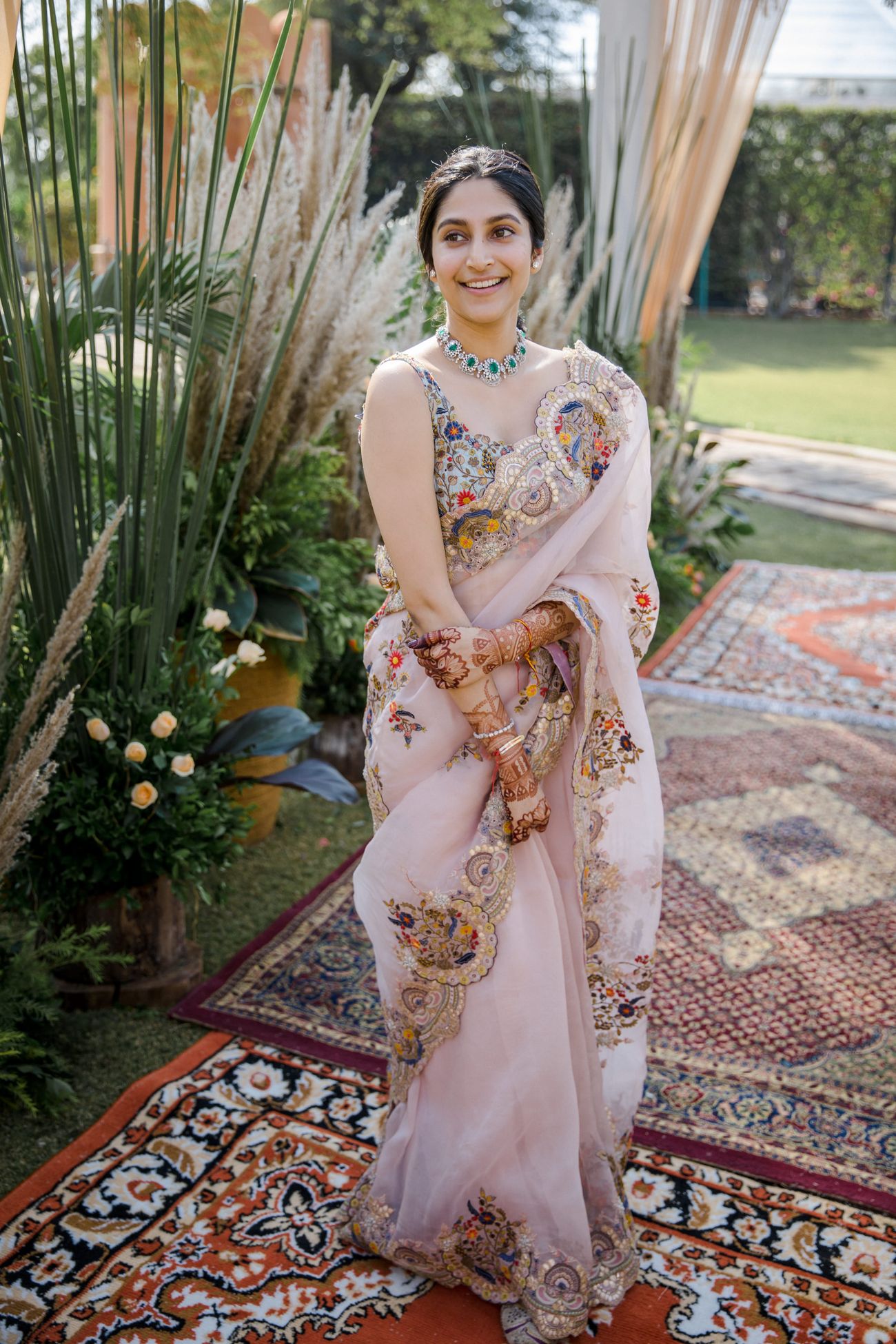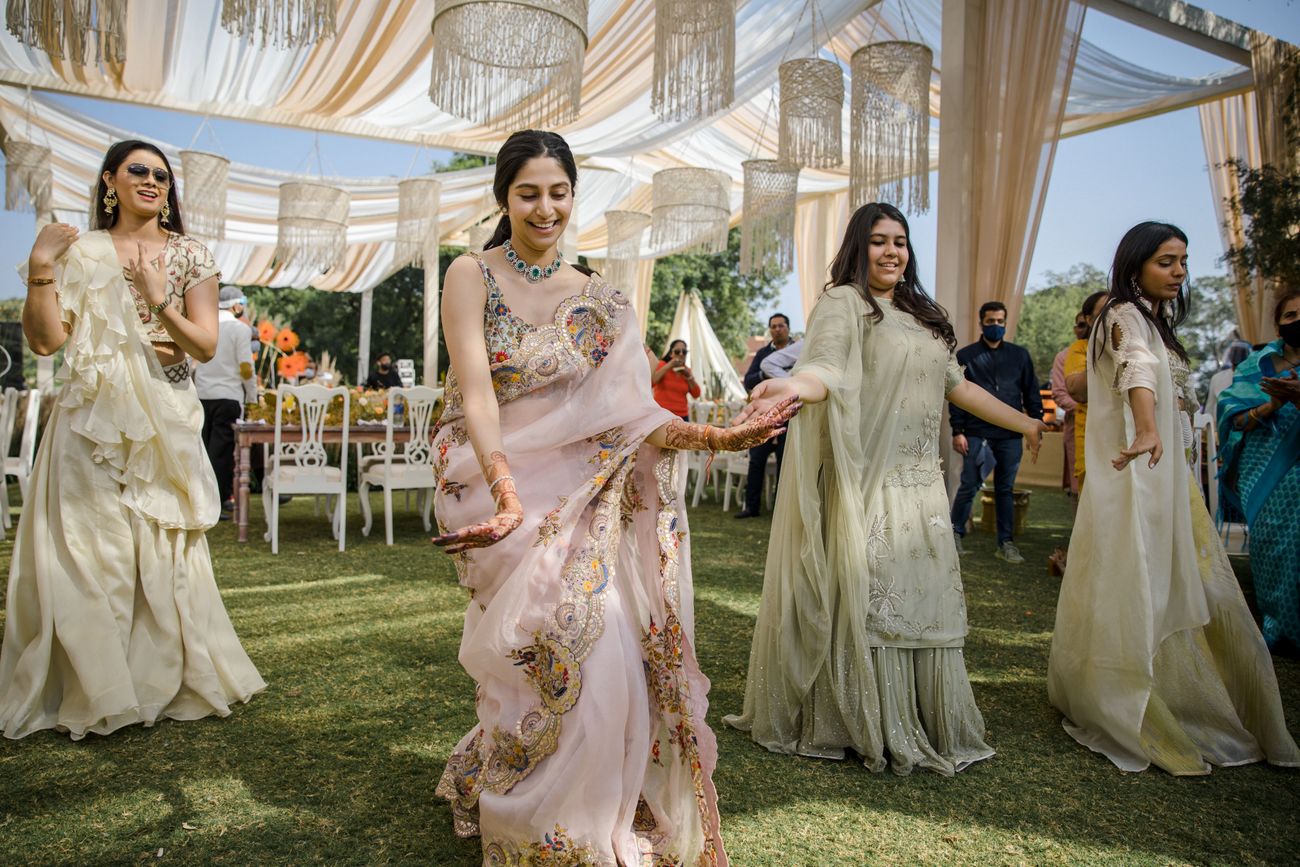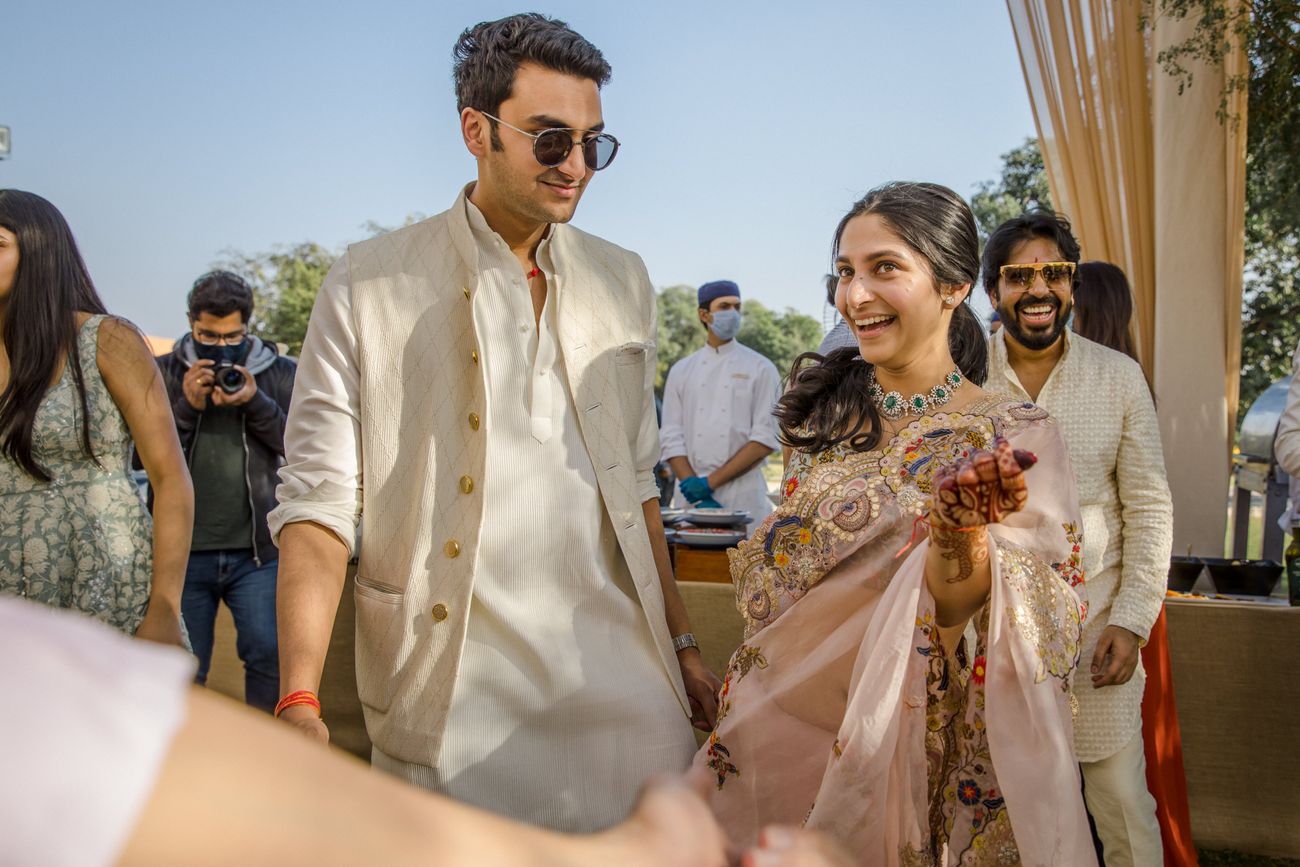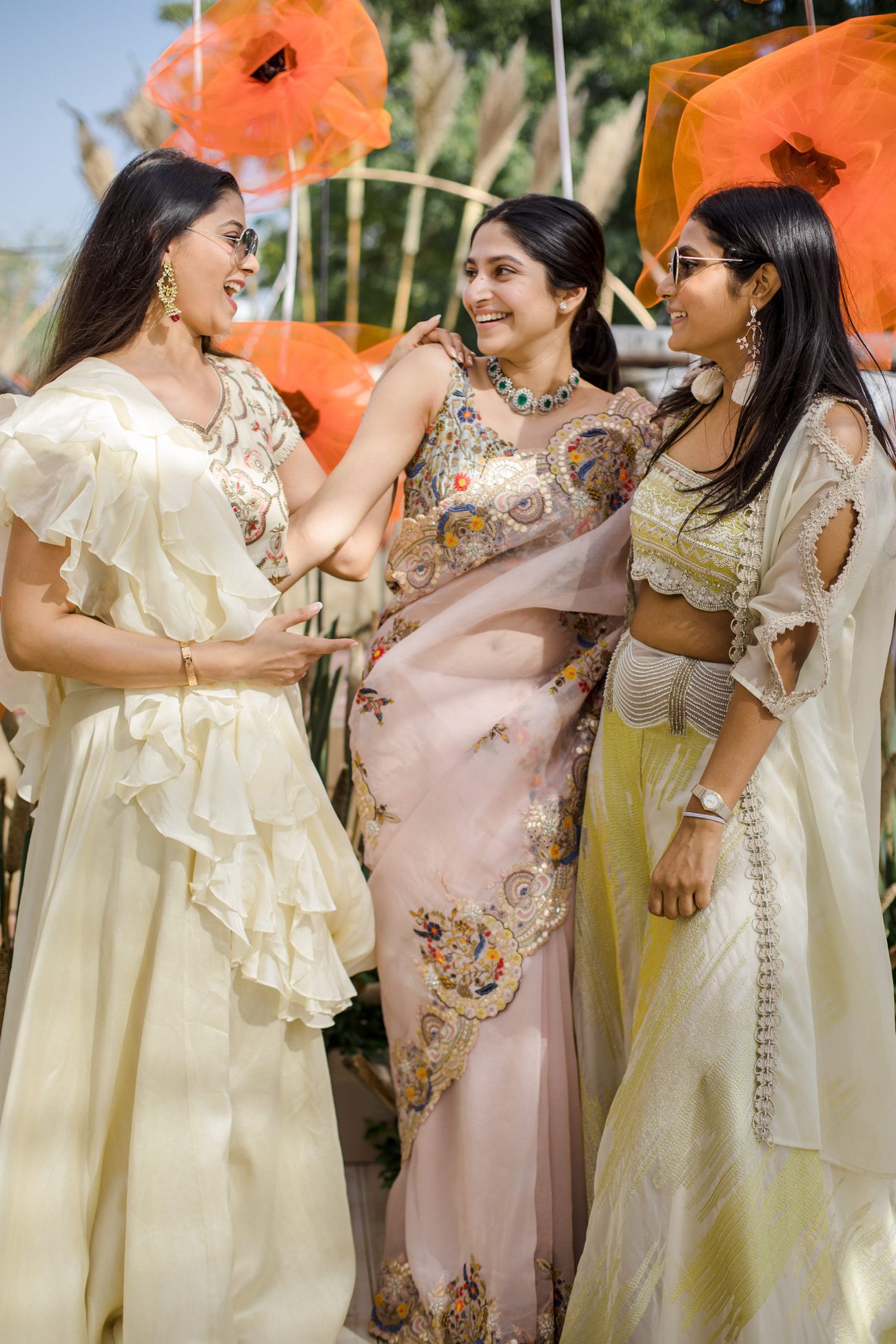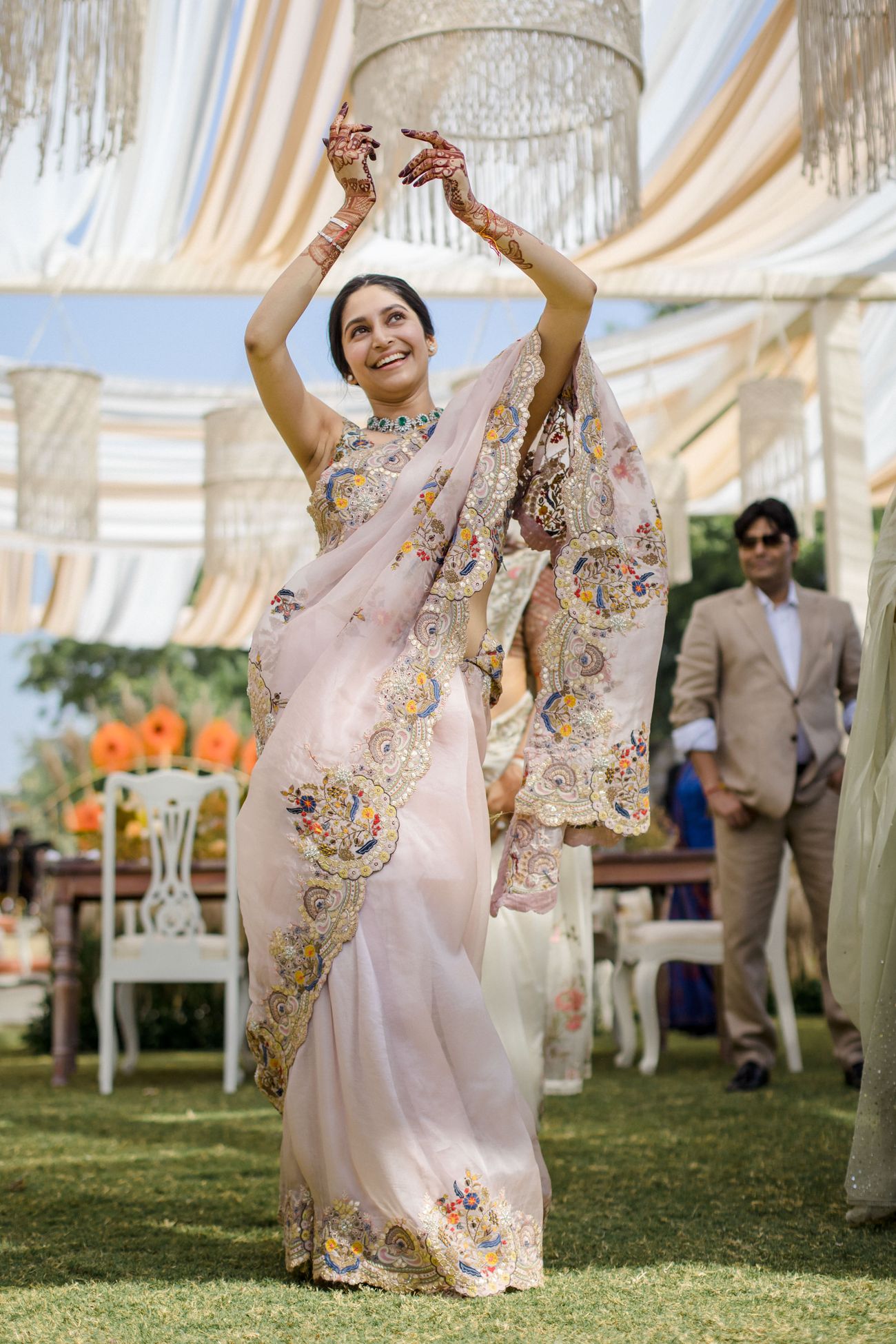 The Sangeet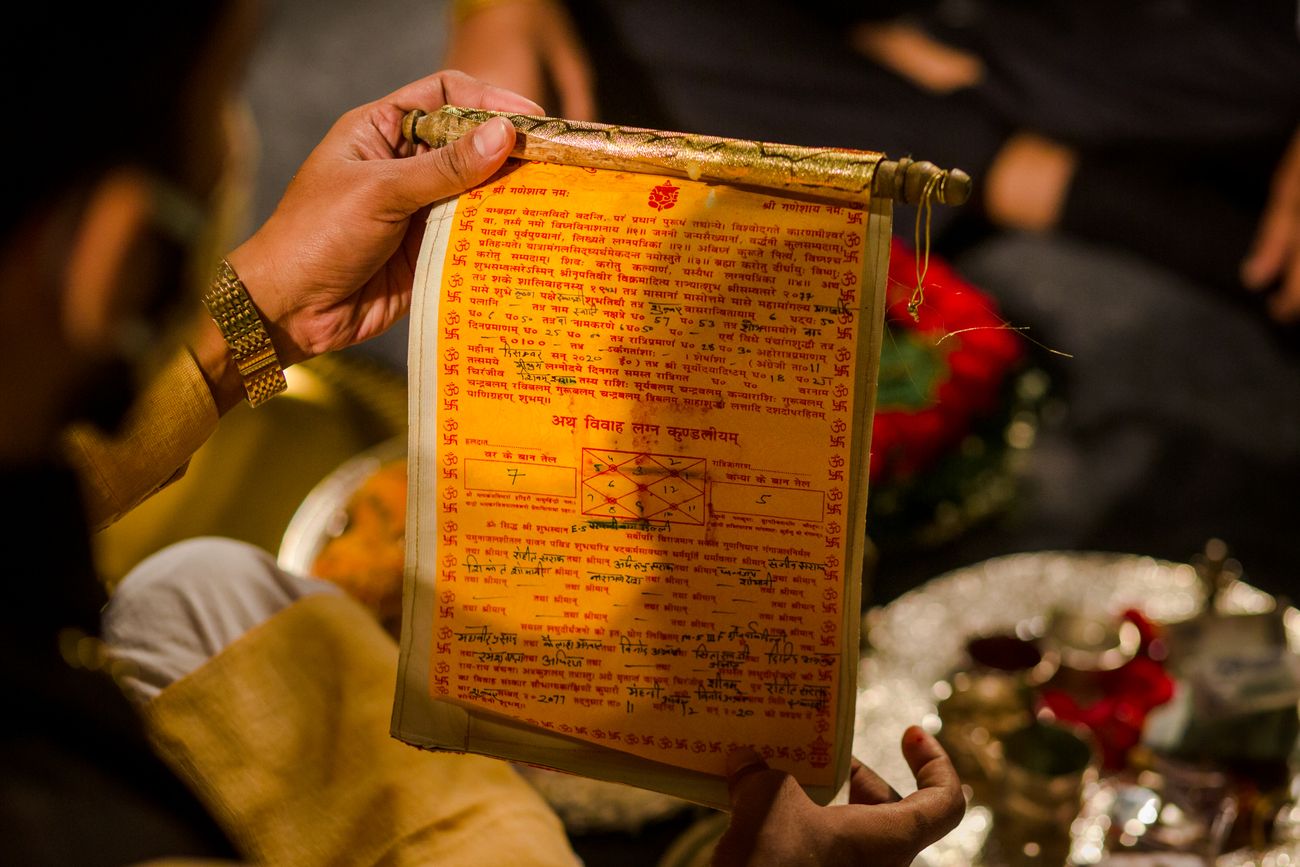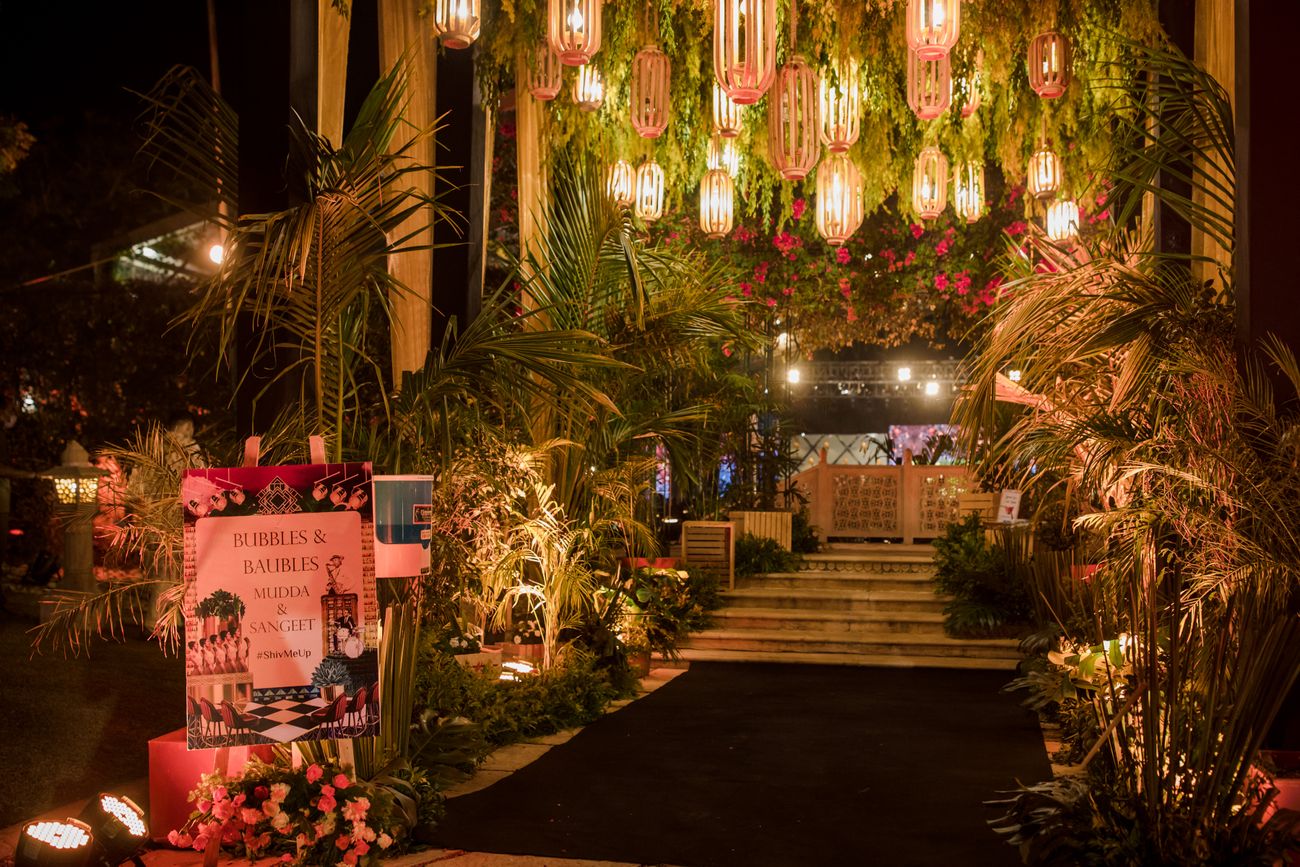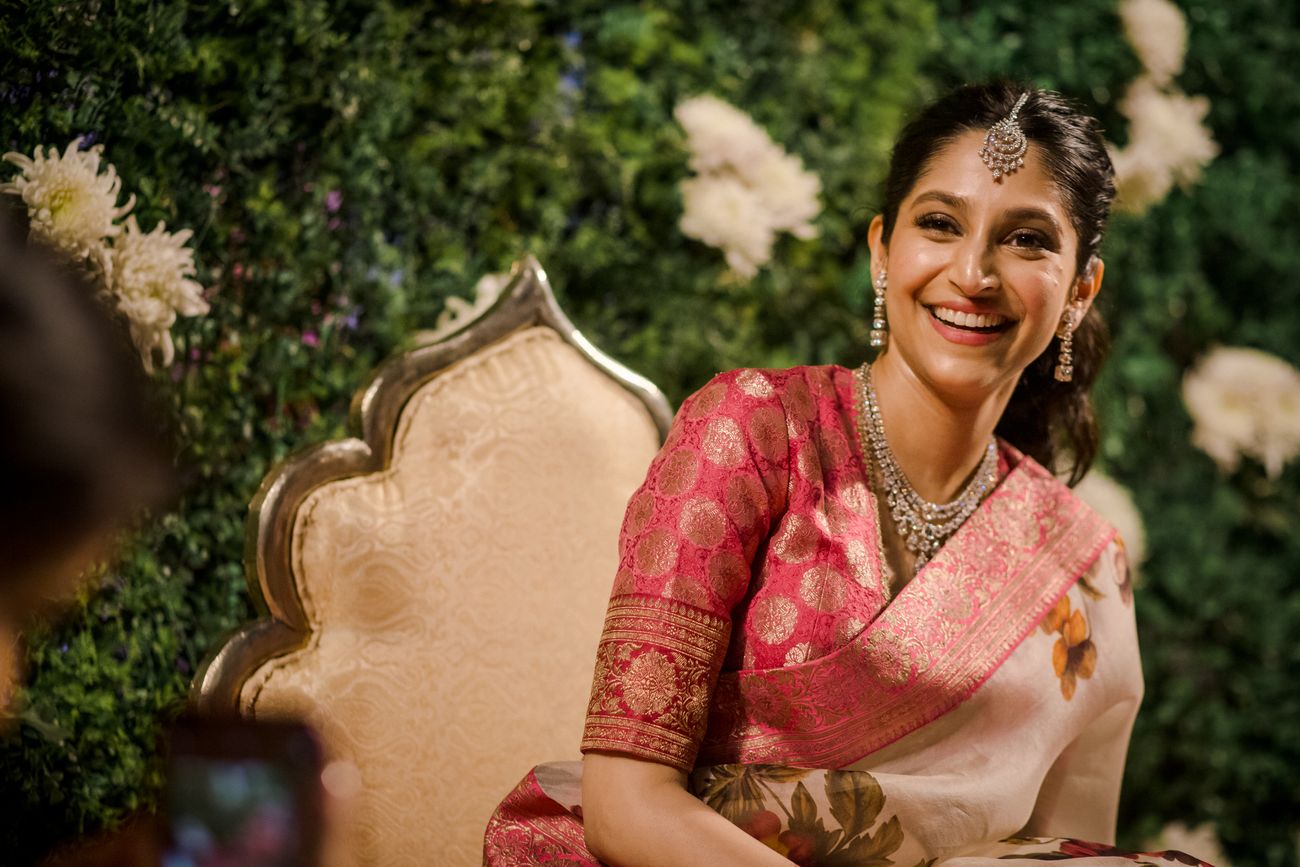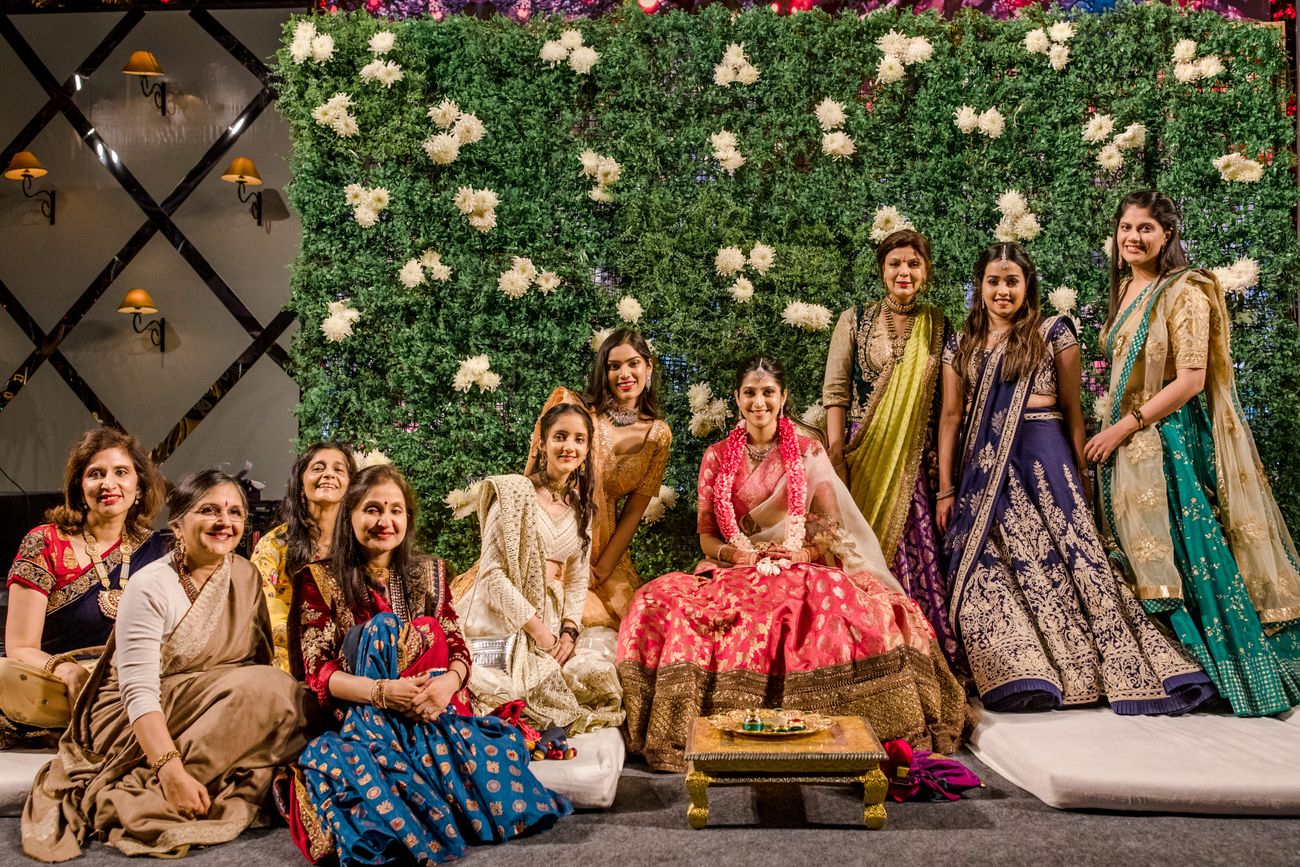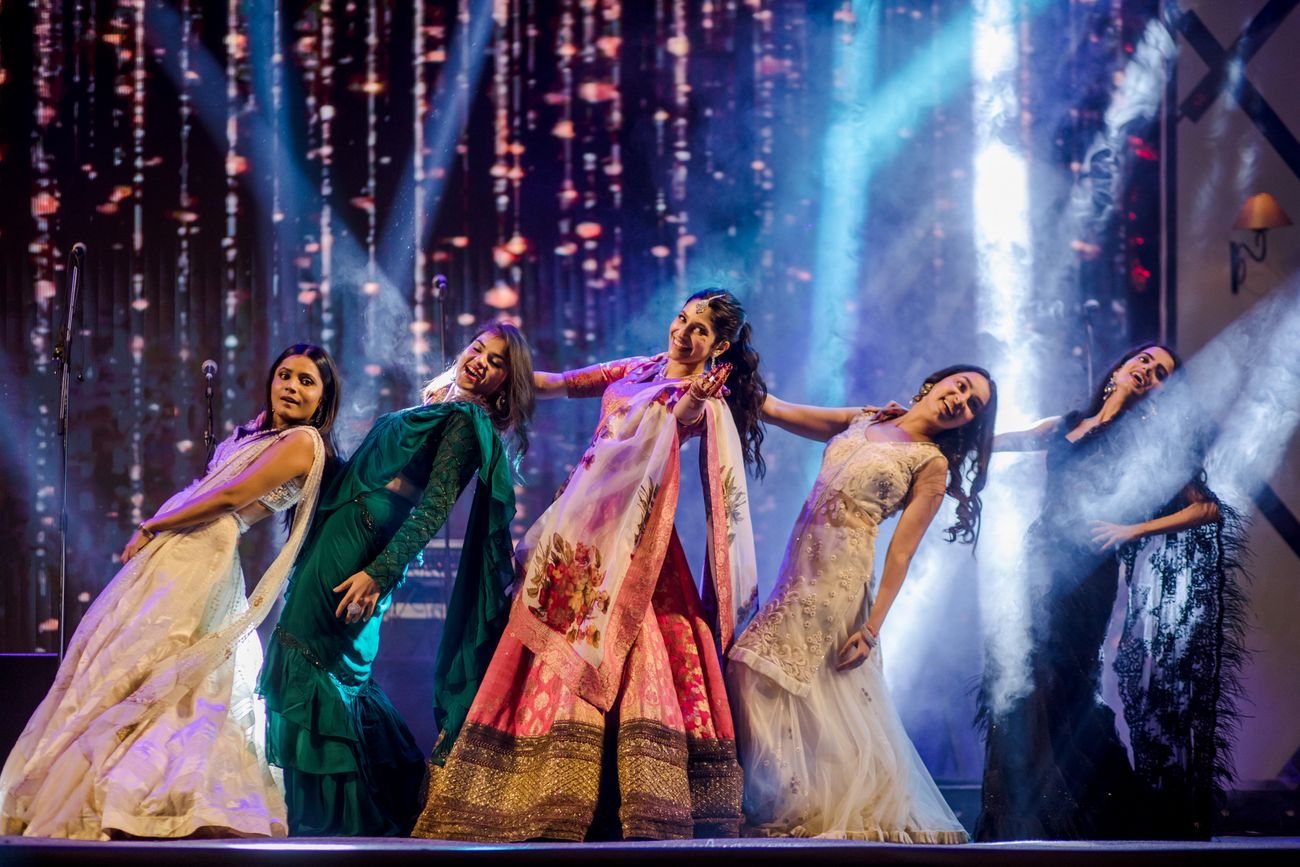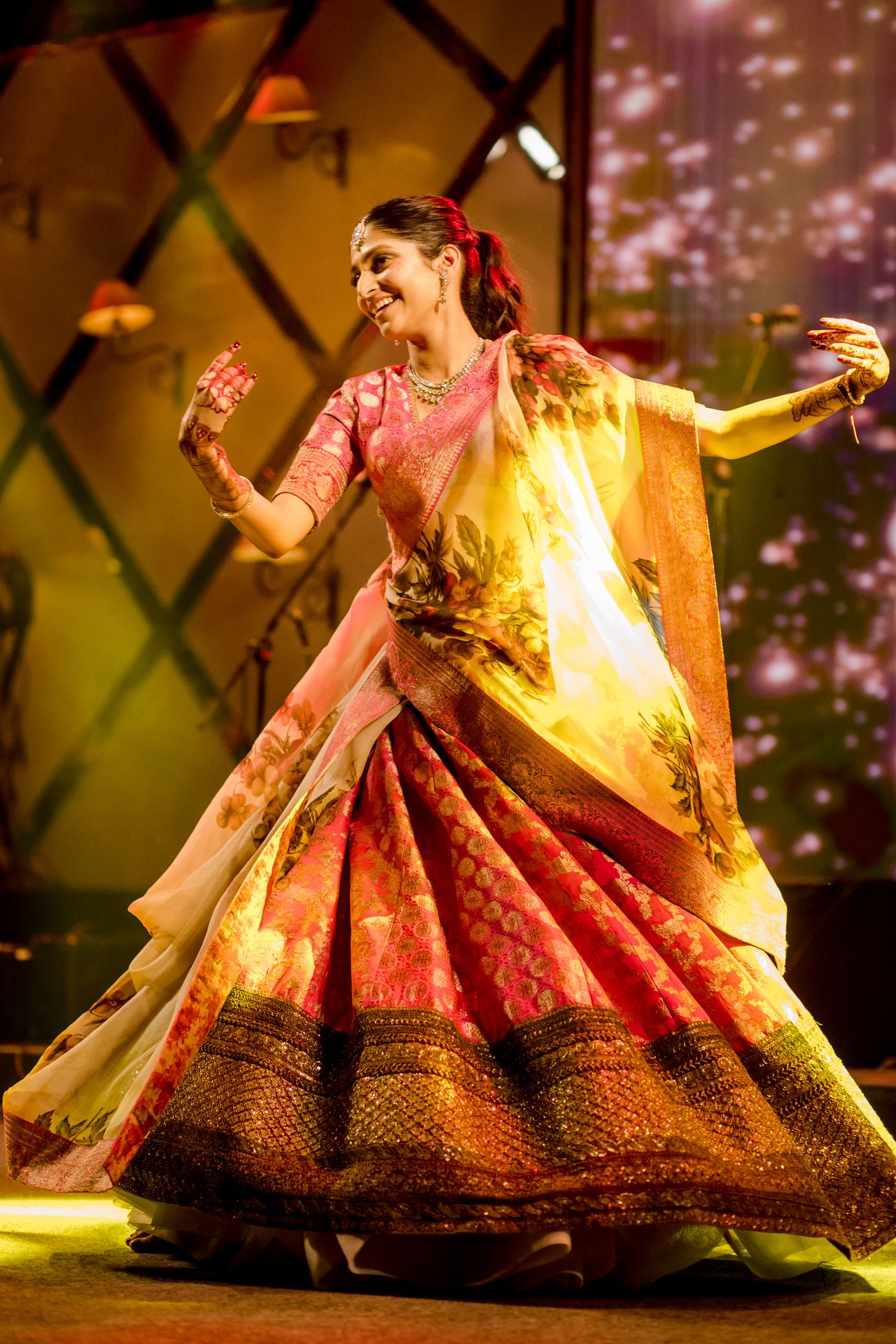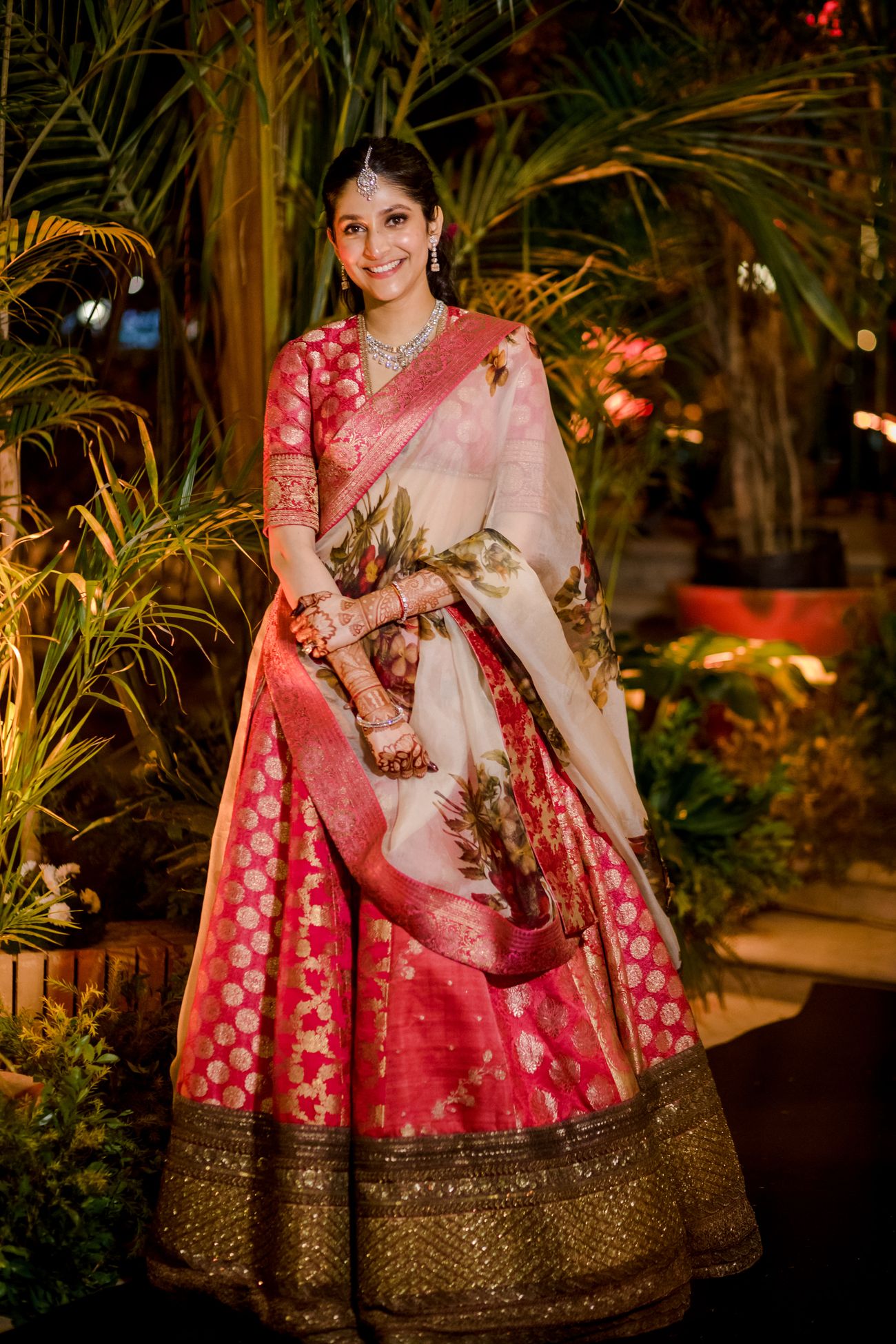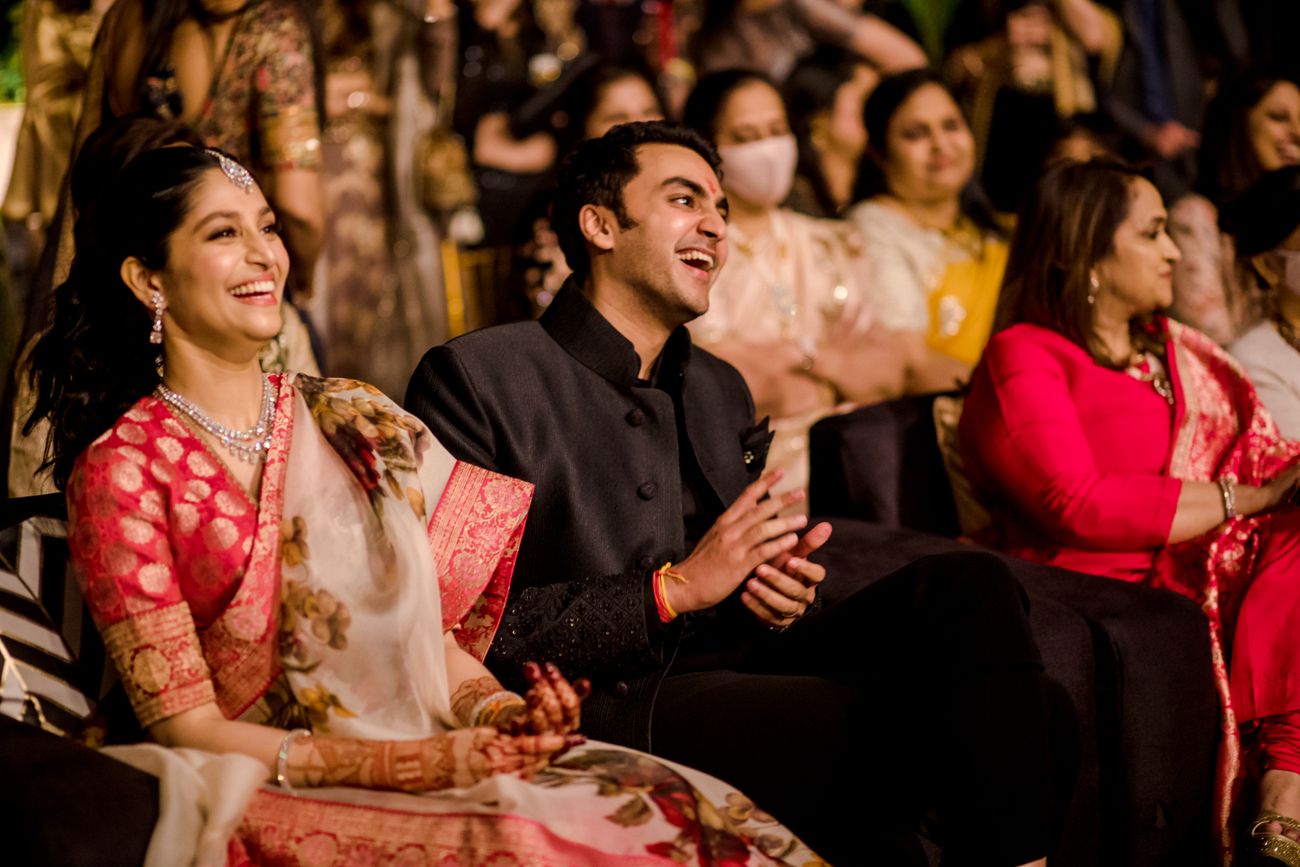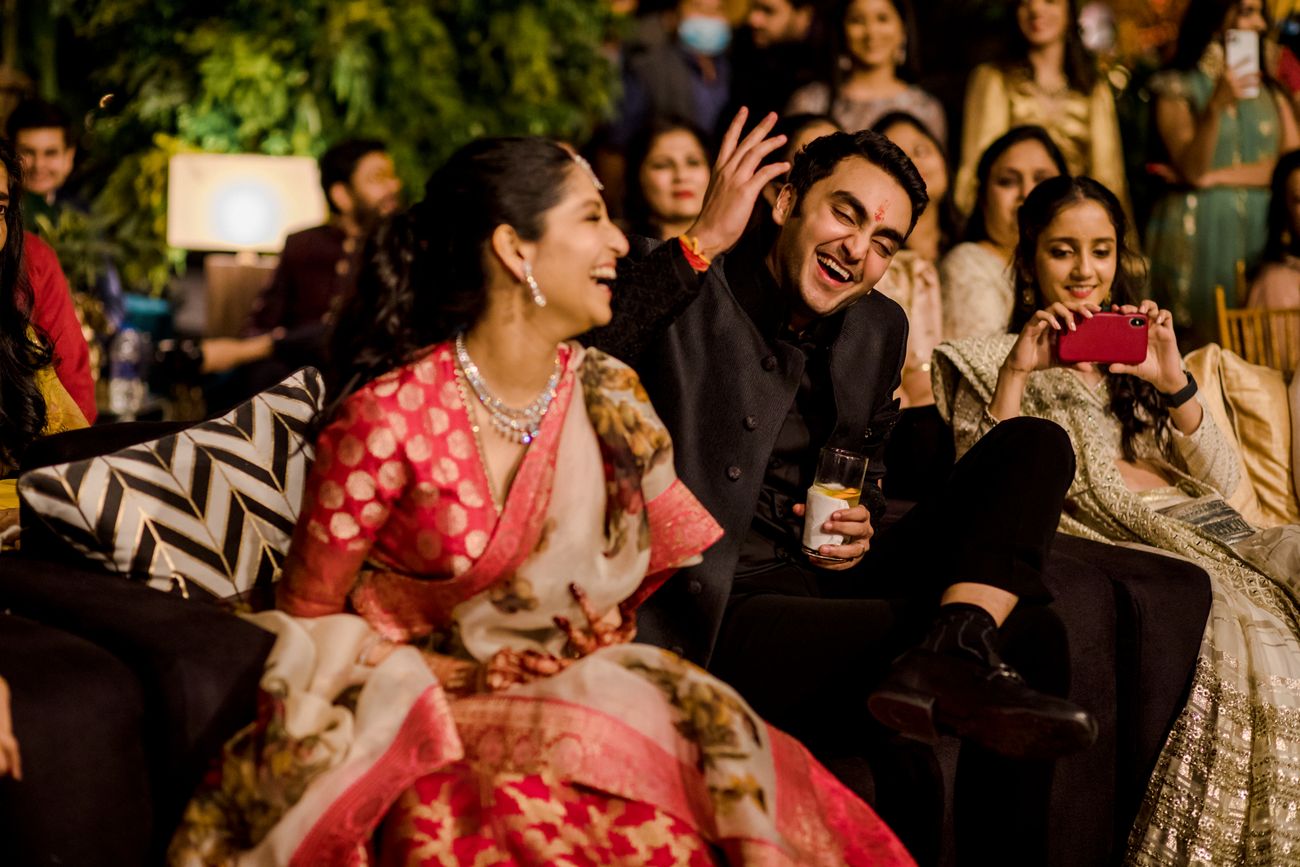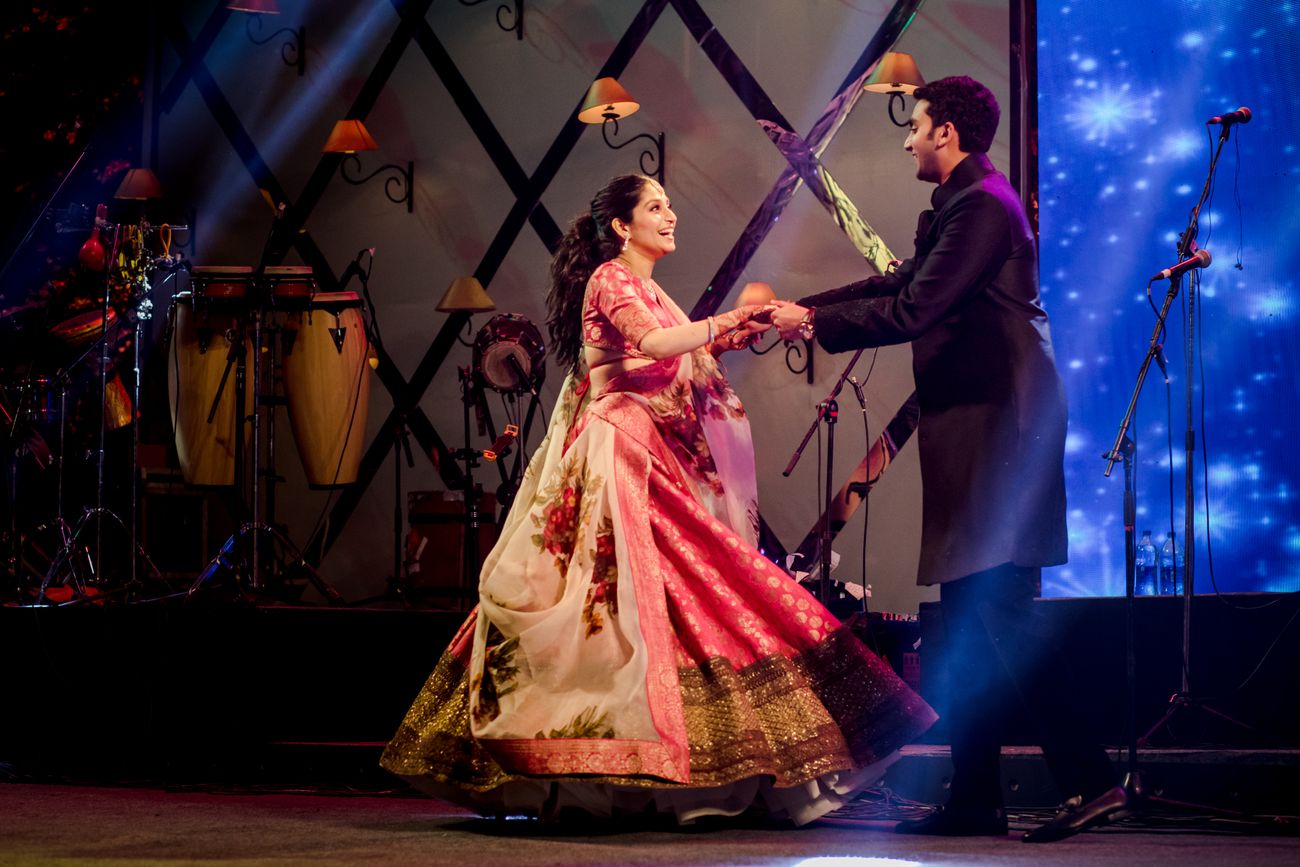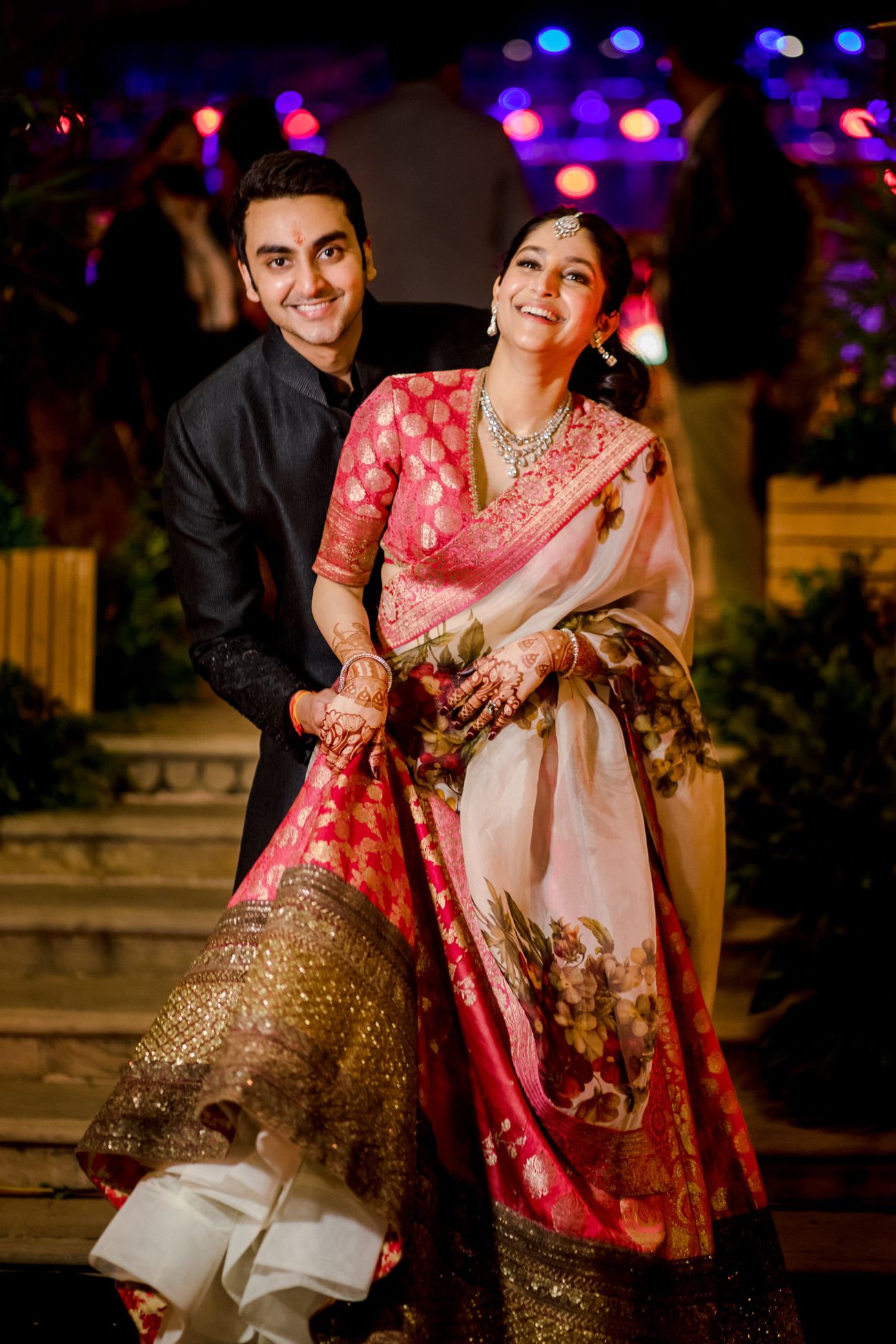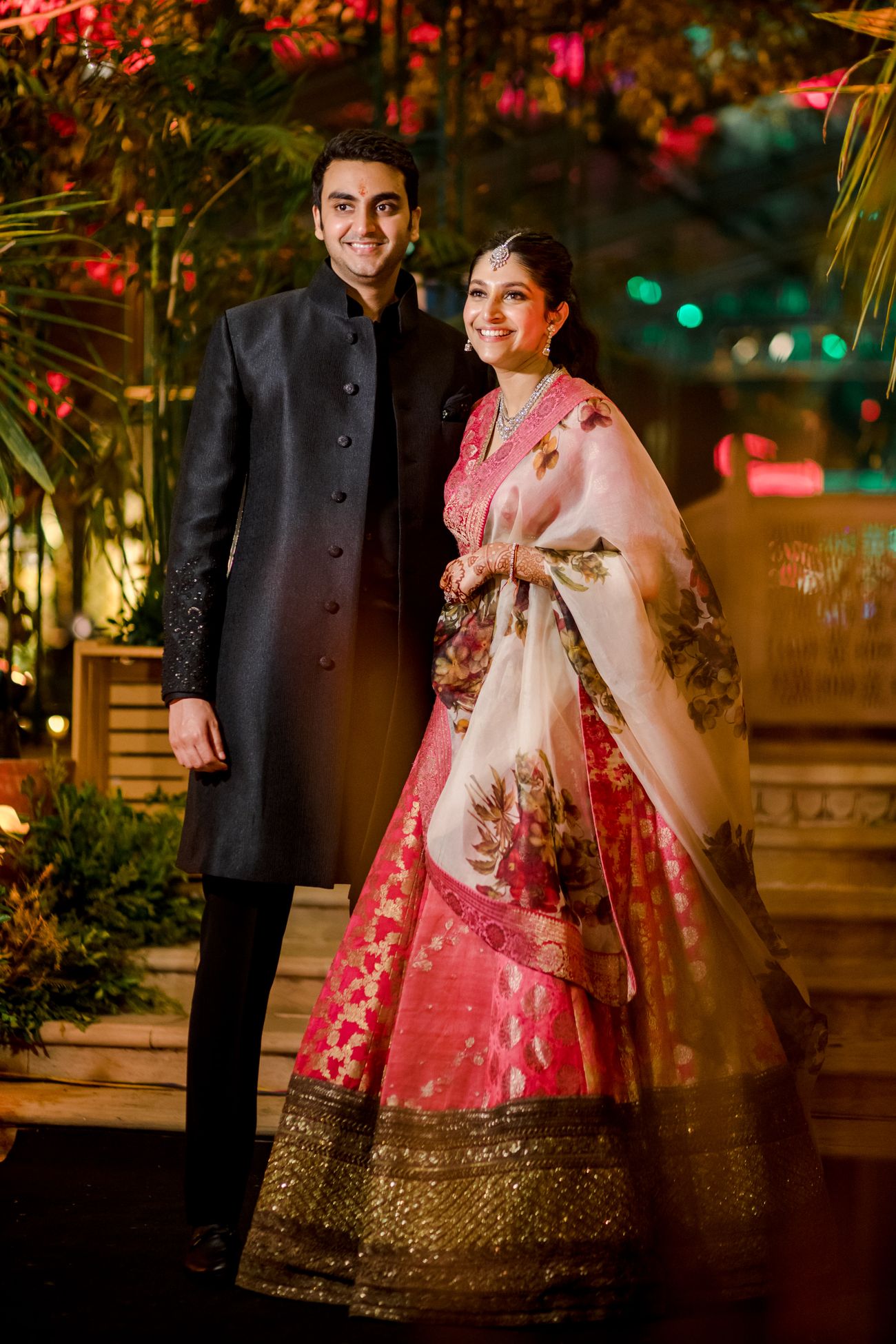 The Haldi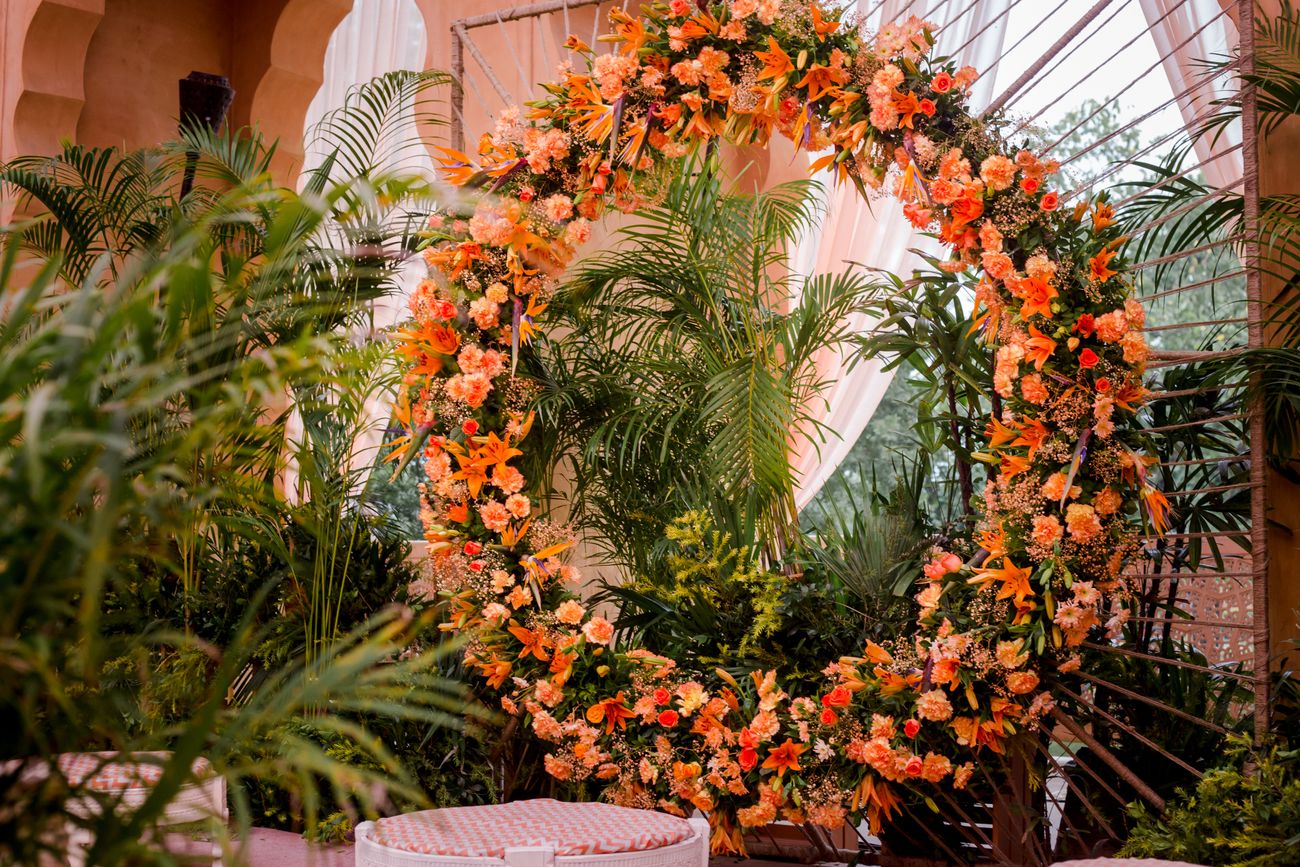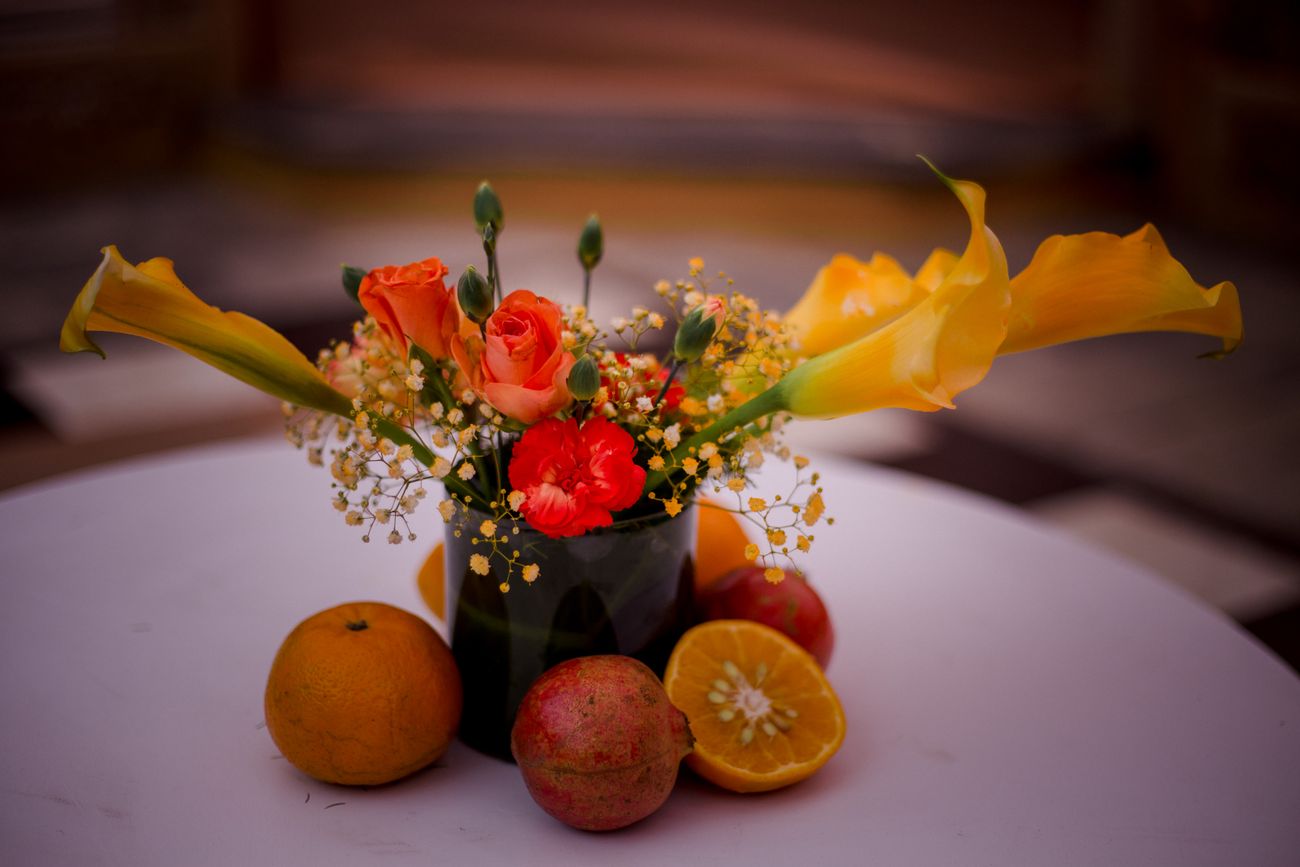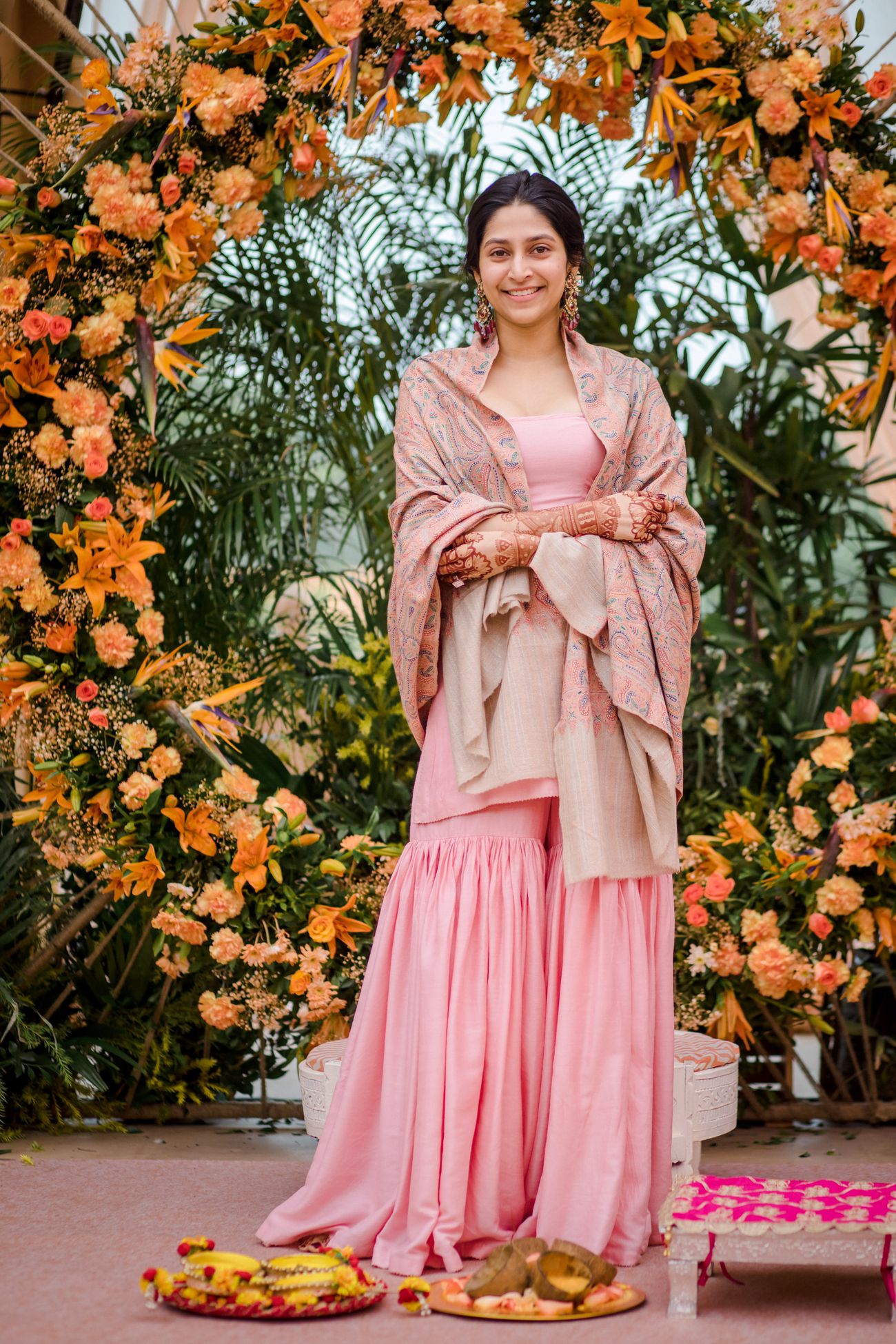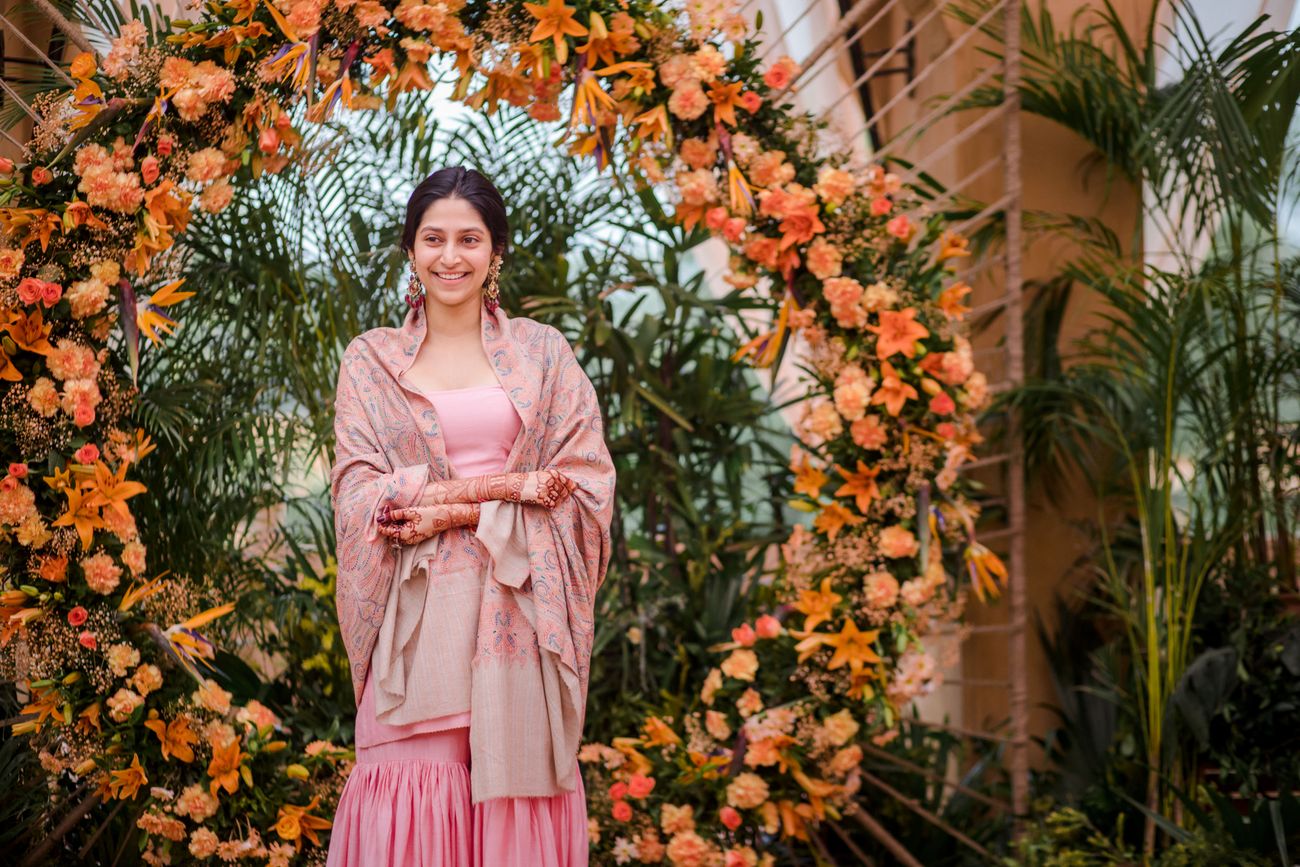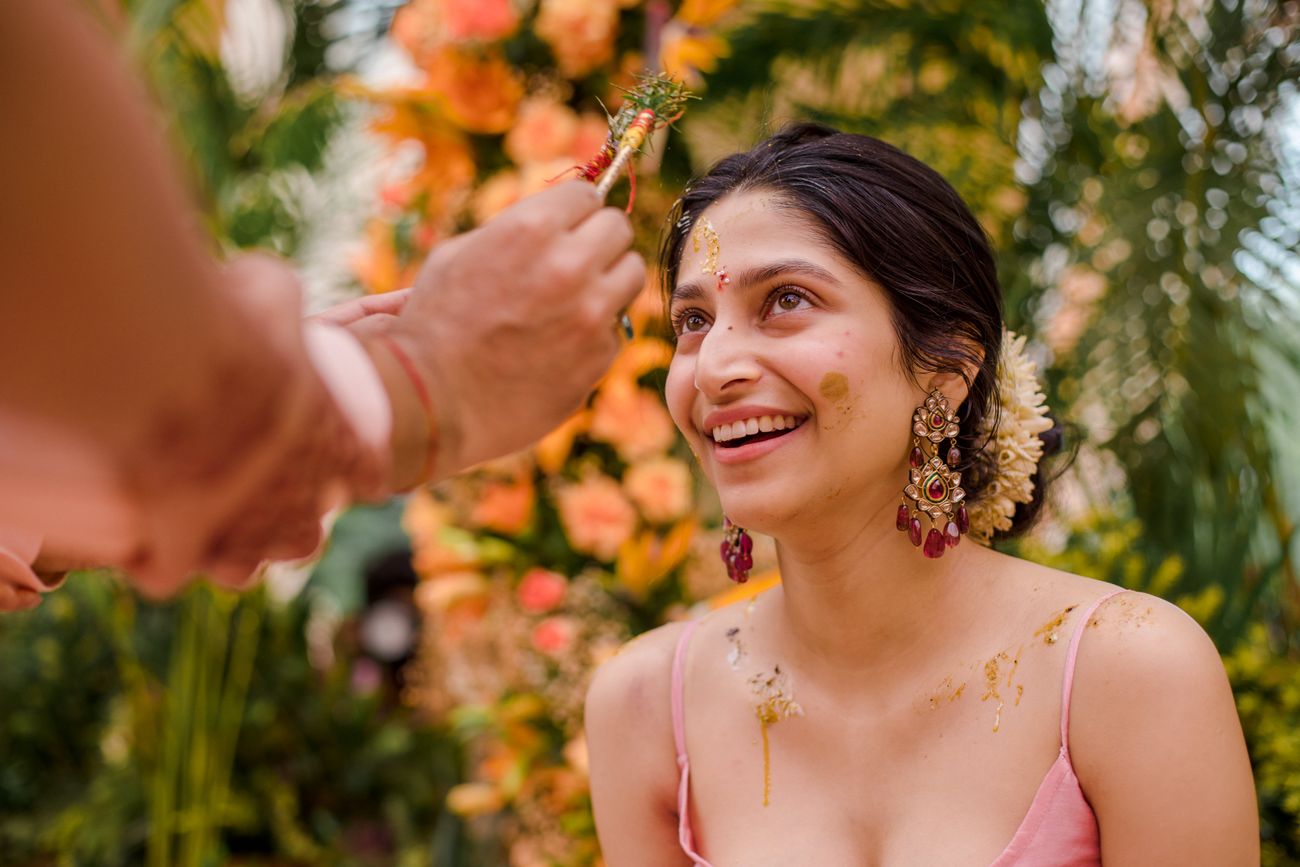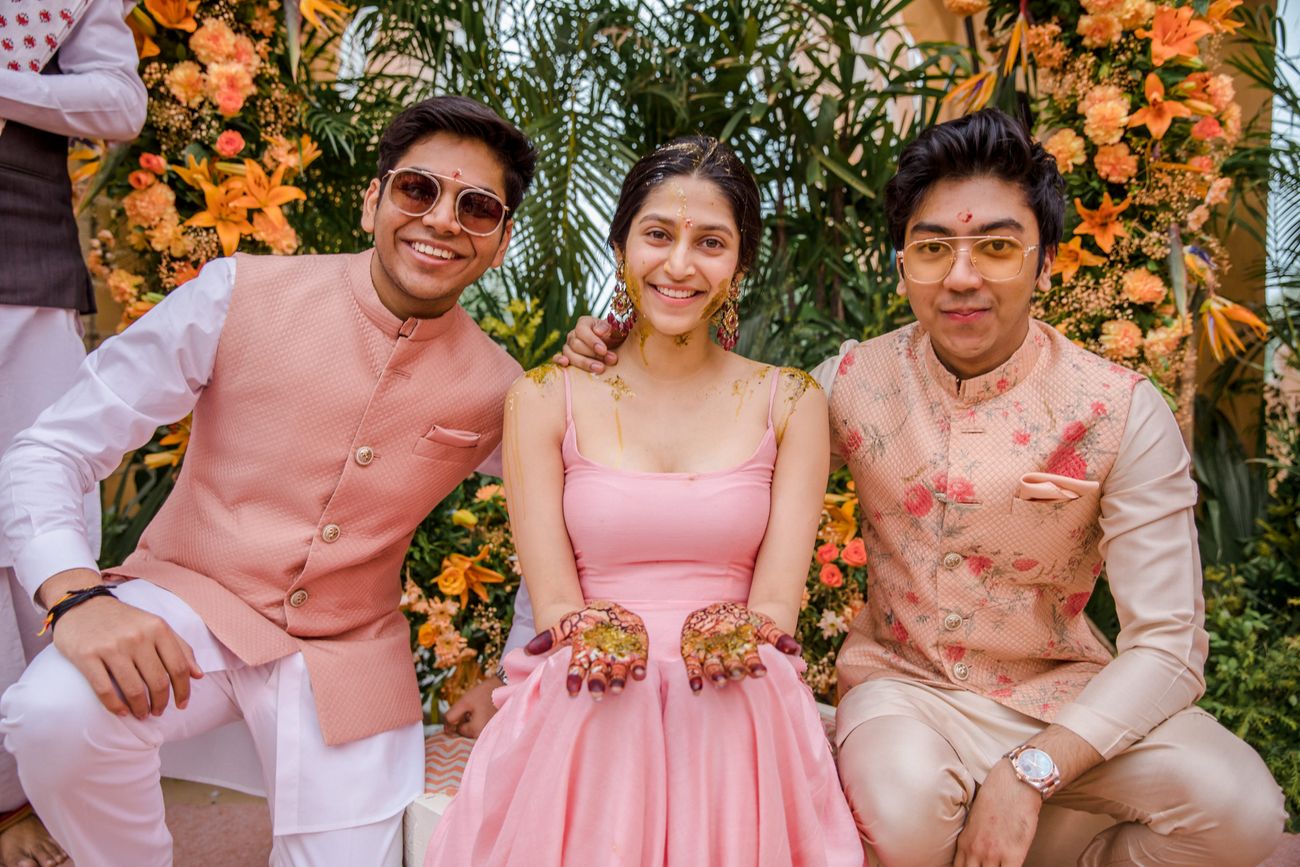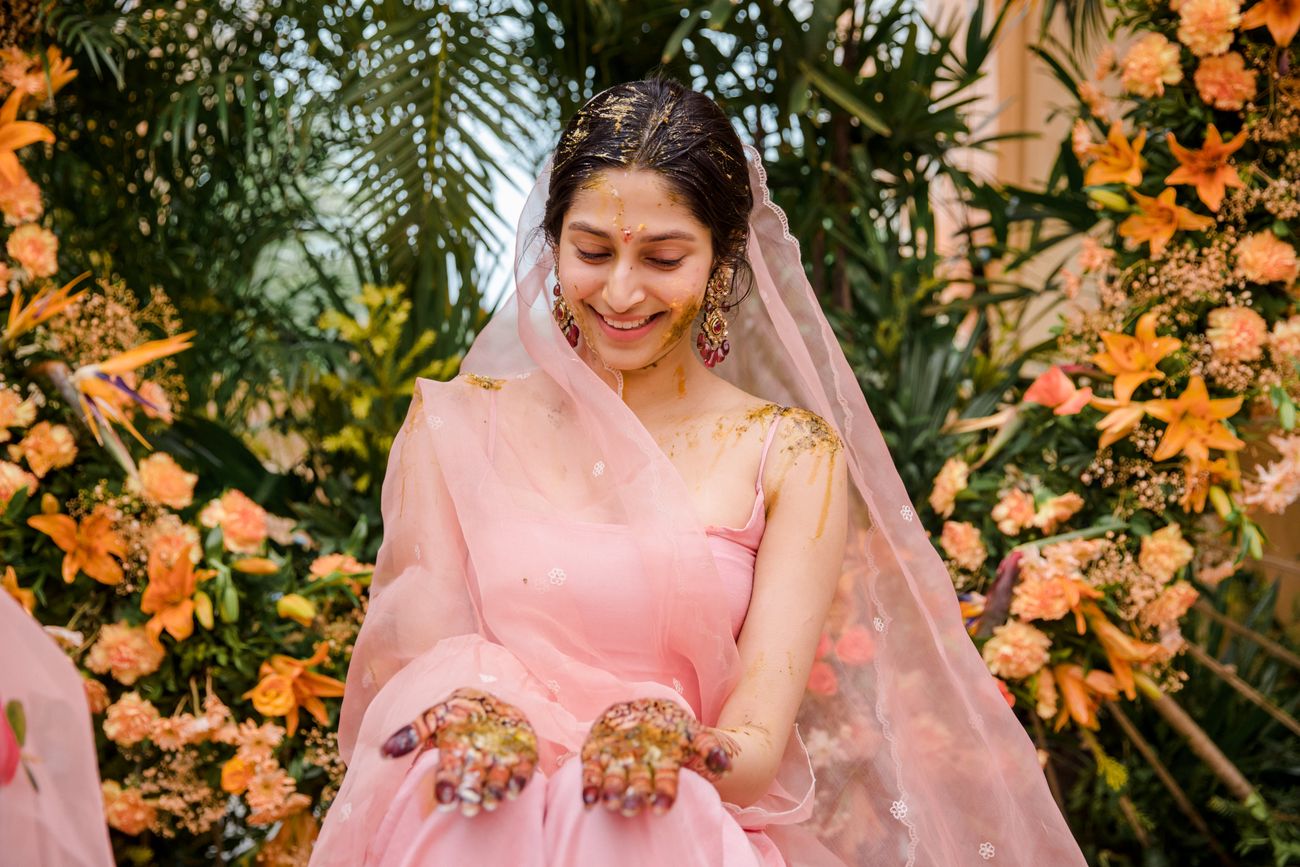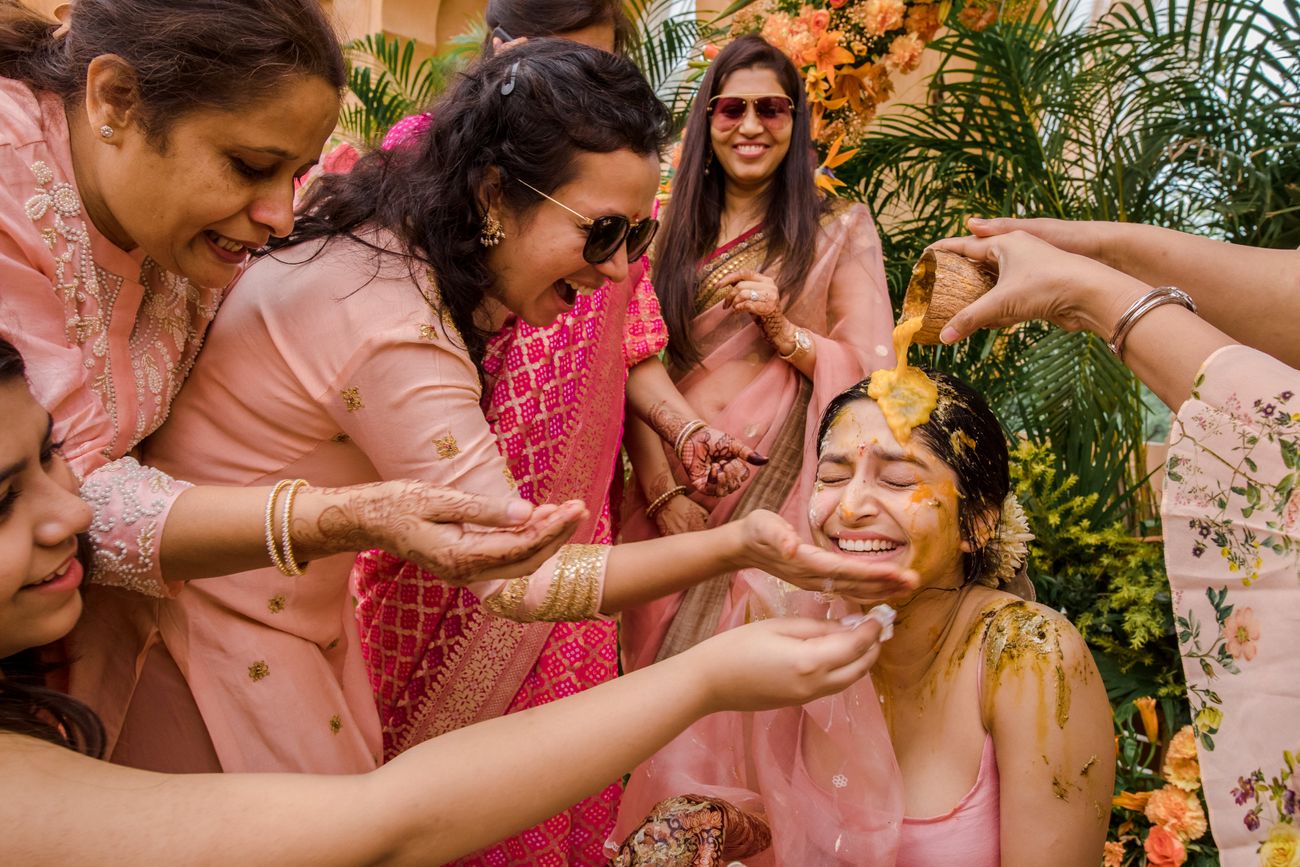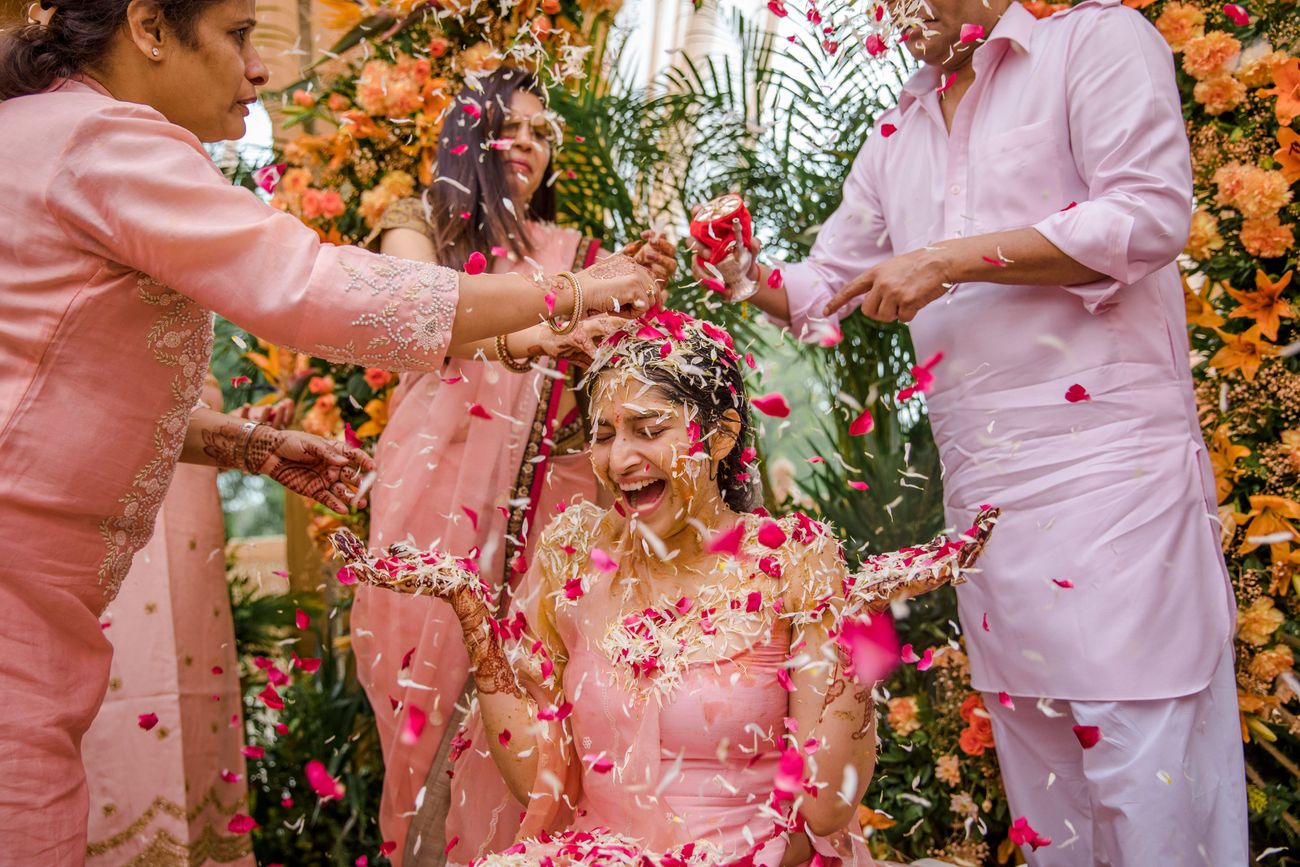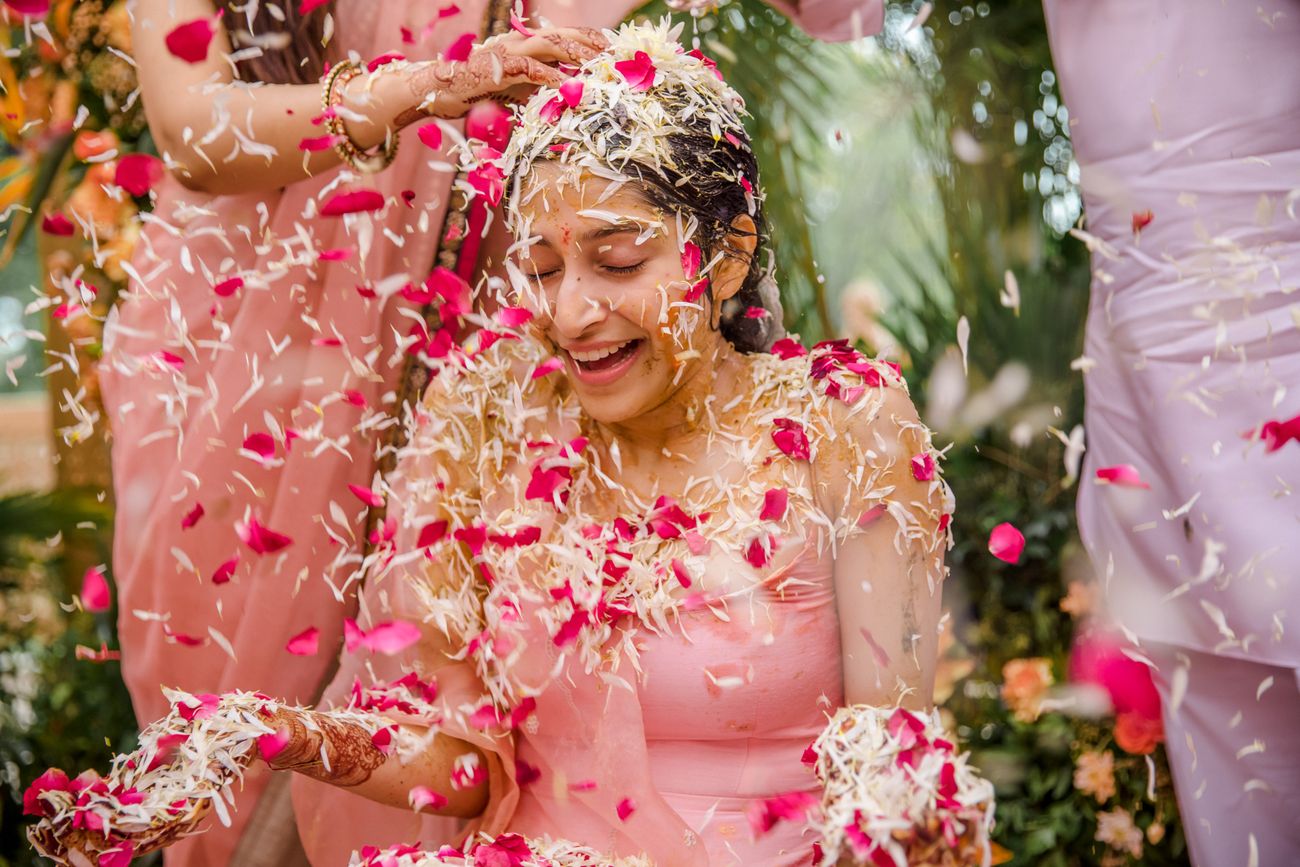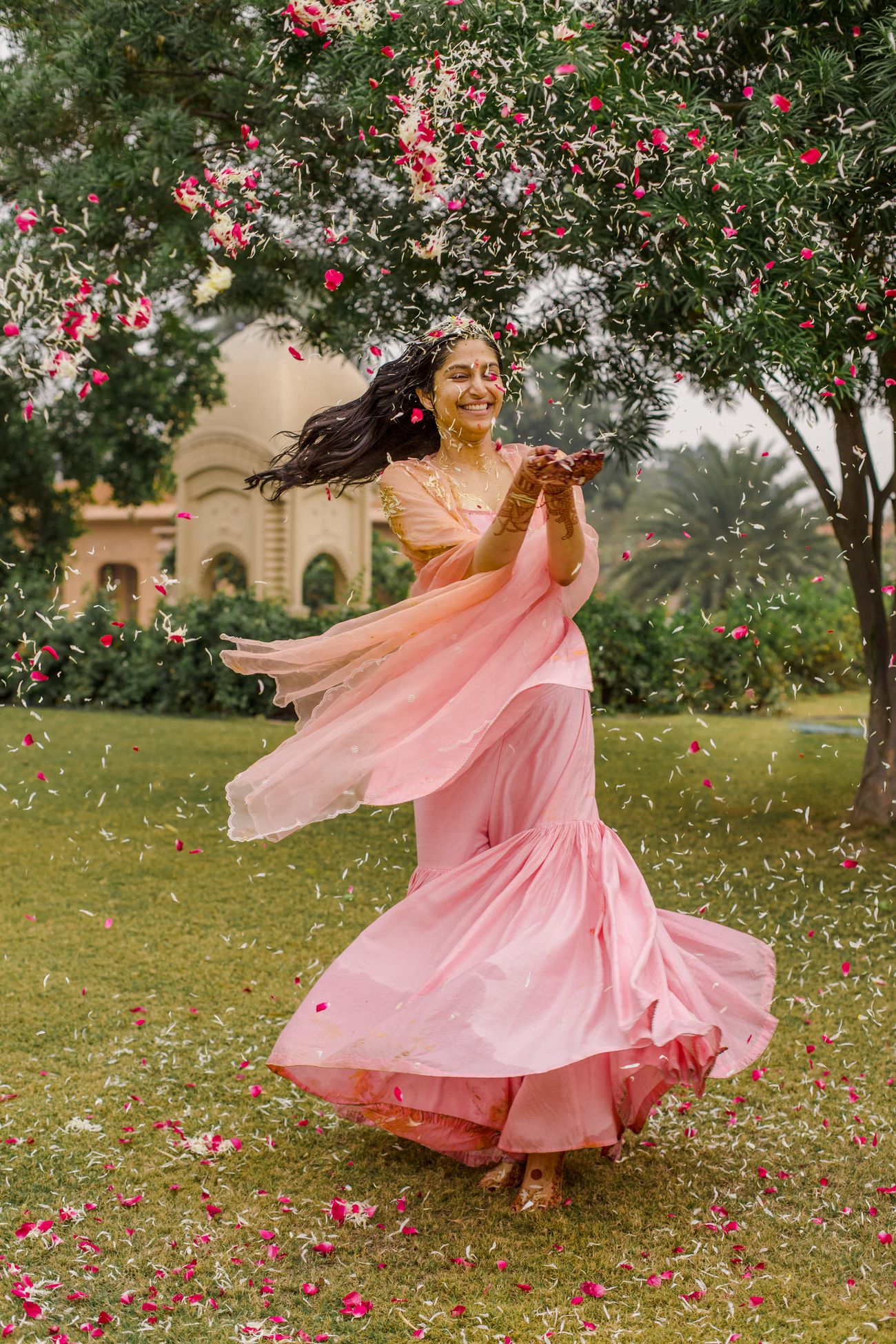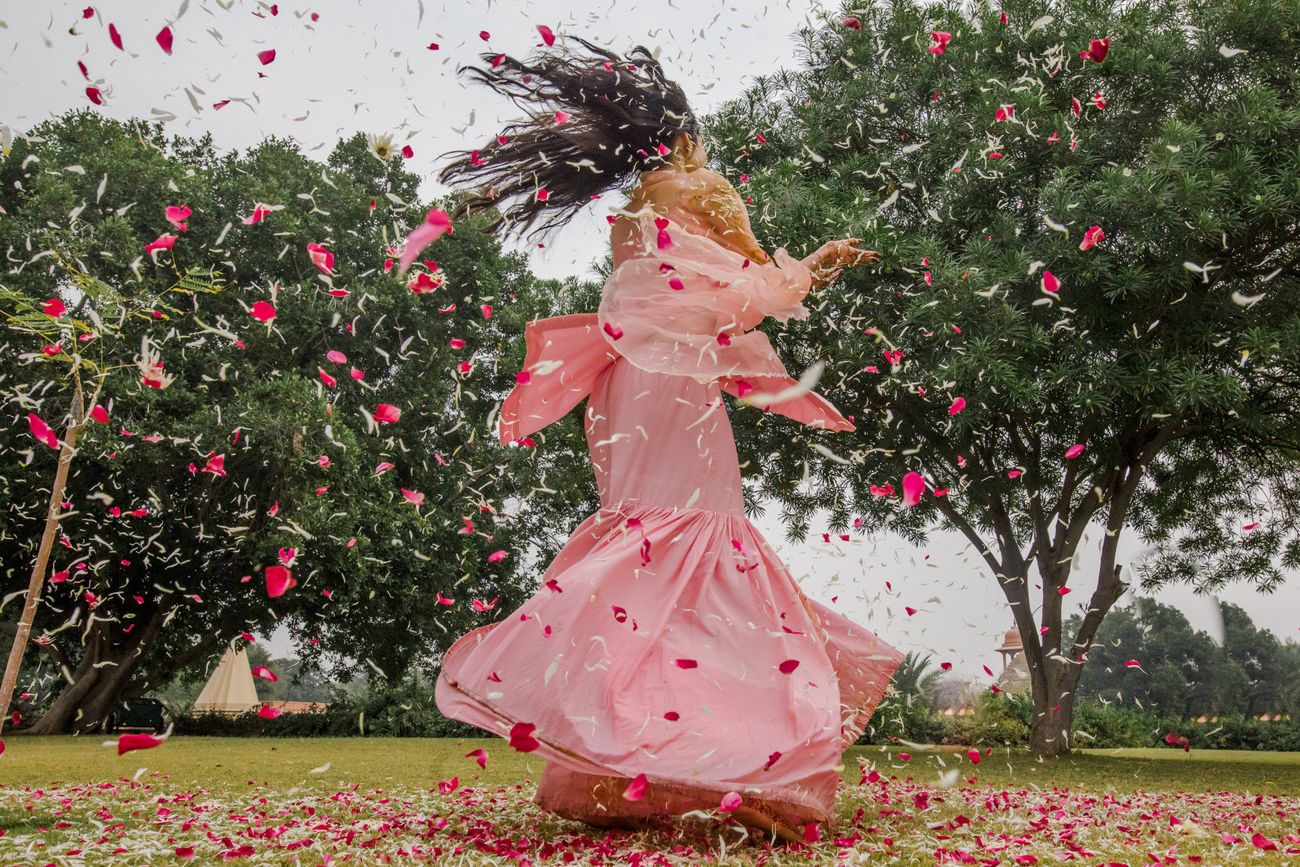 The Wedding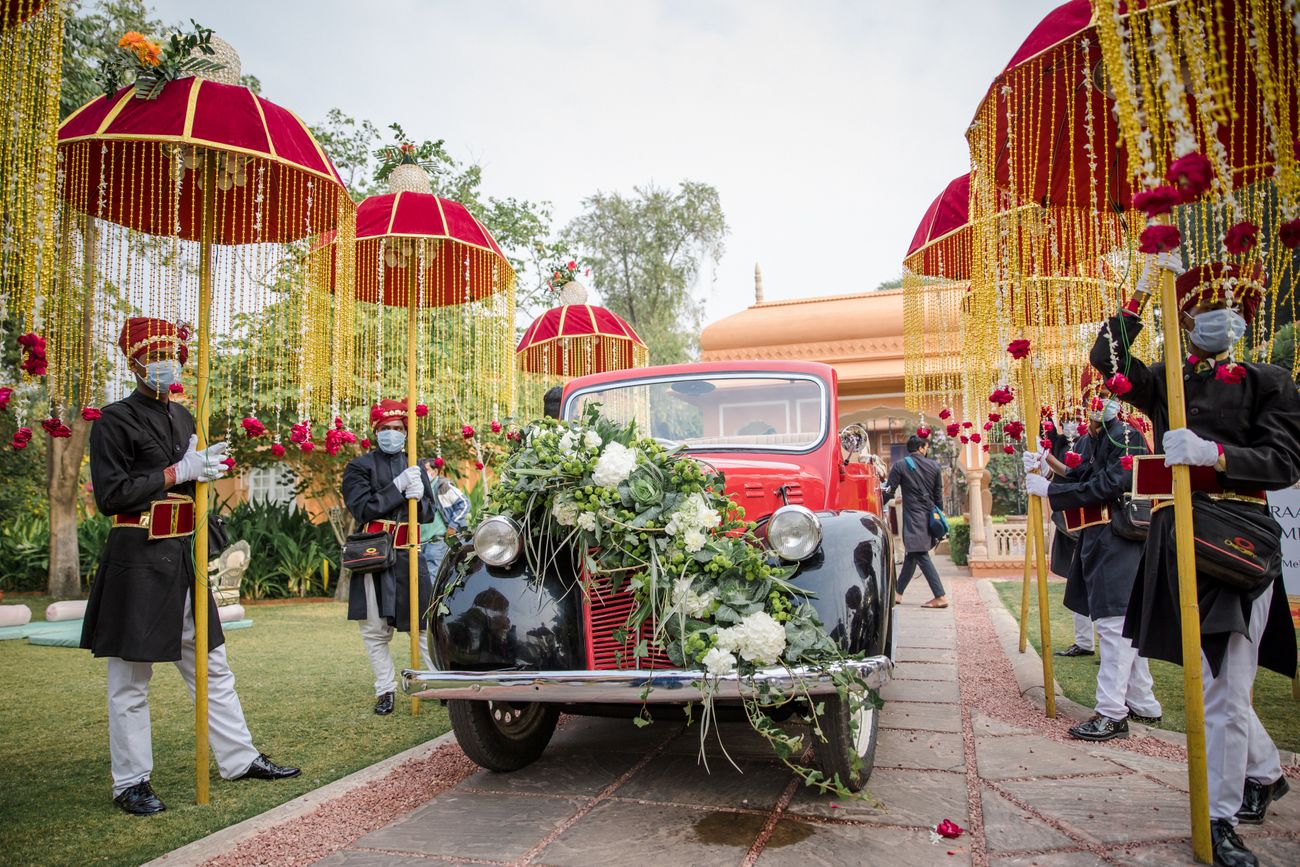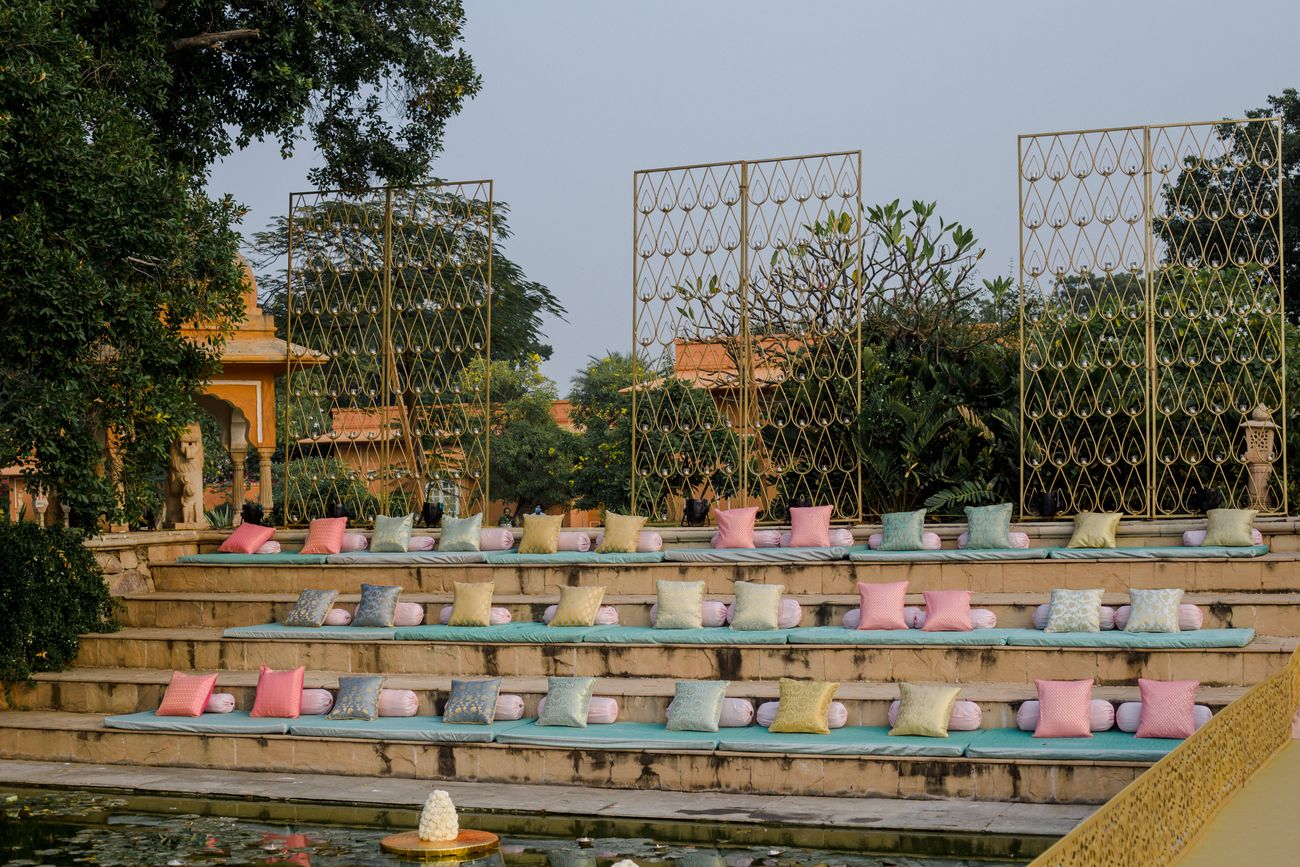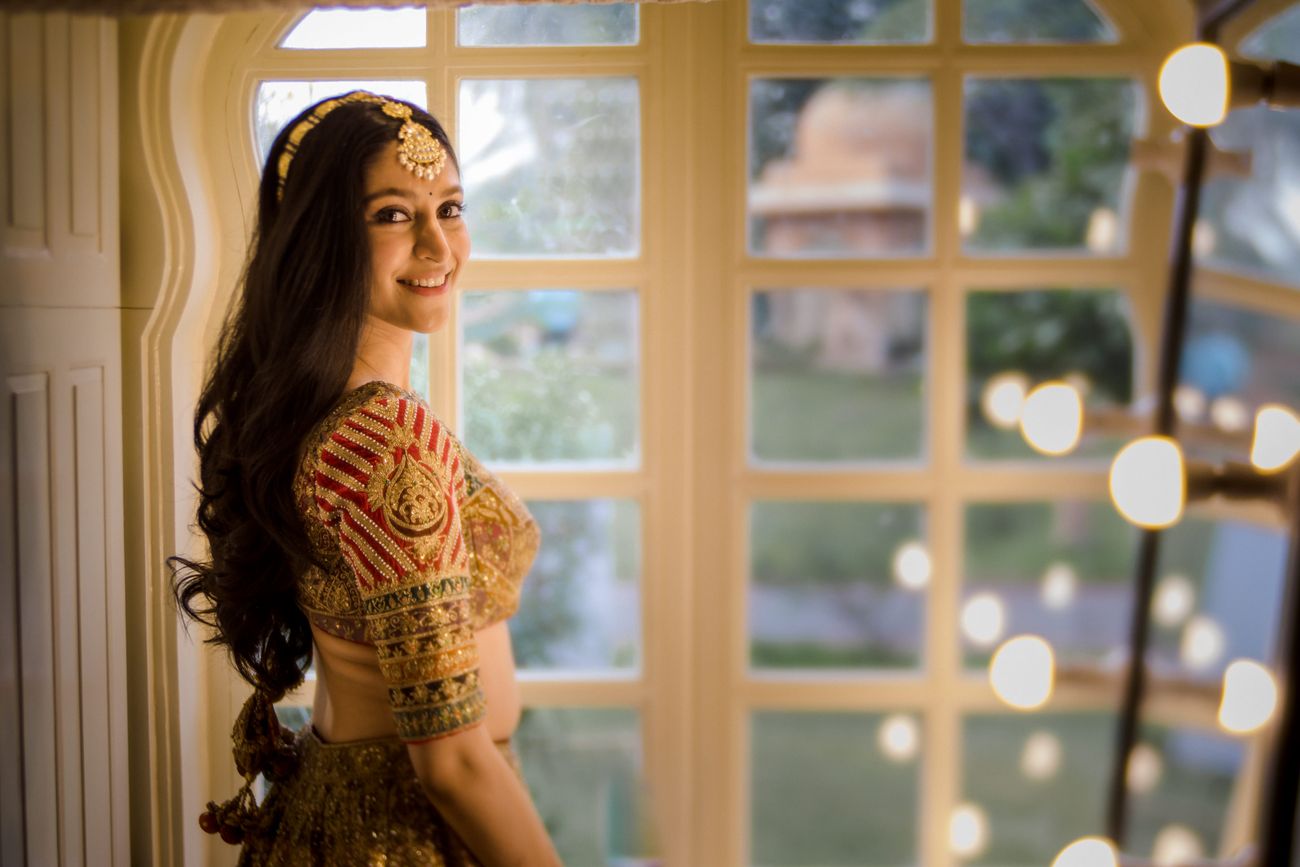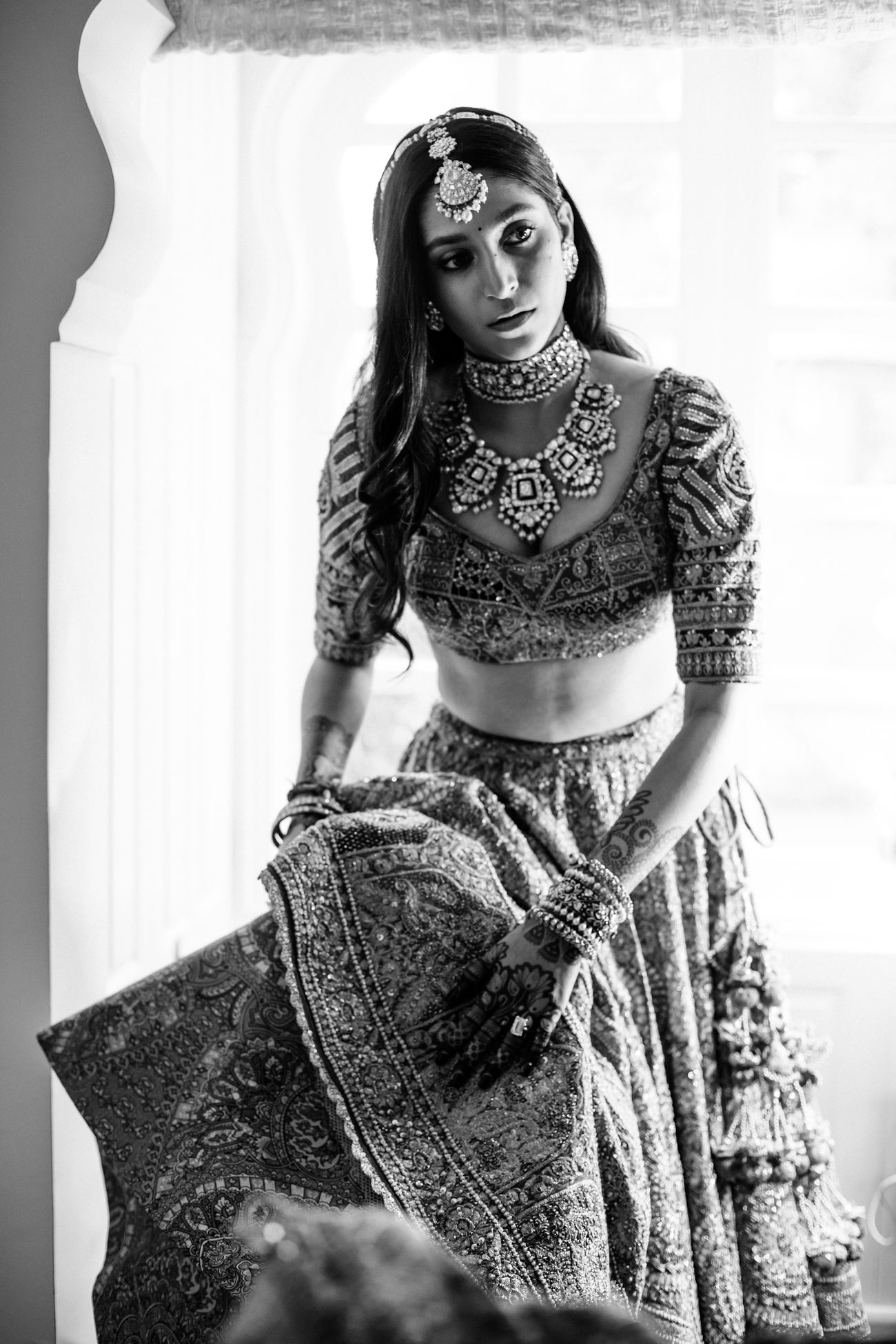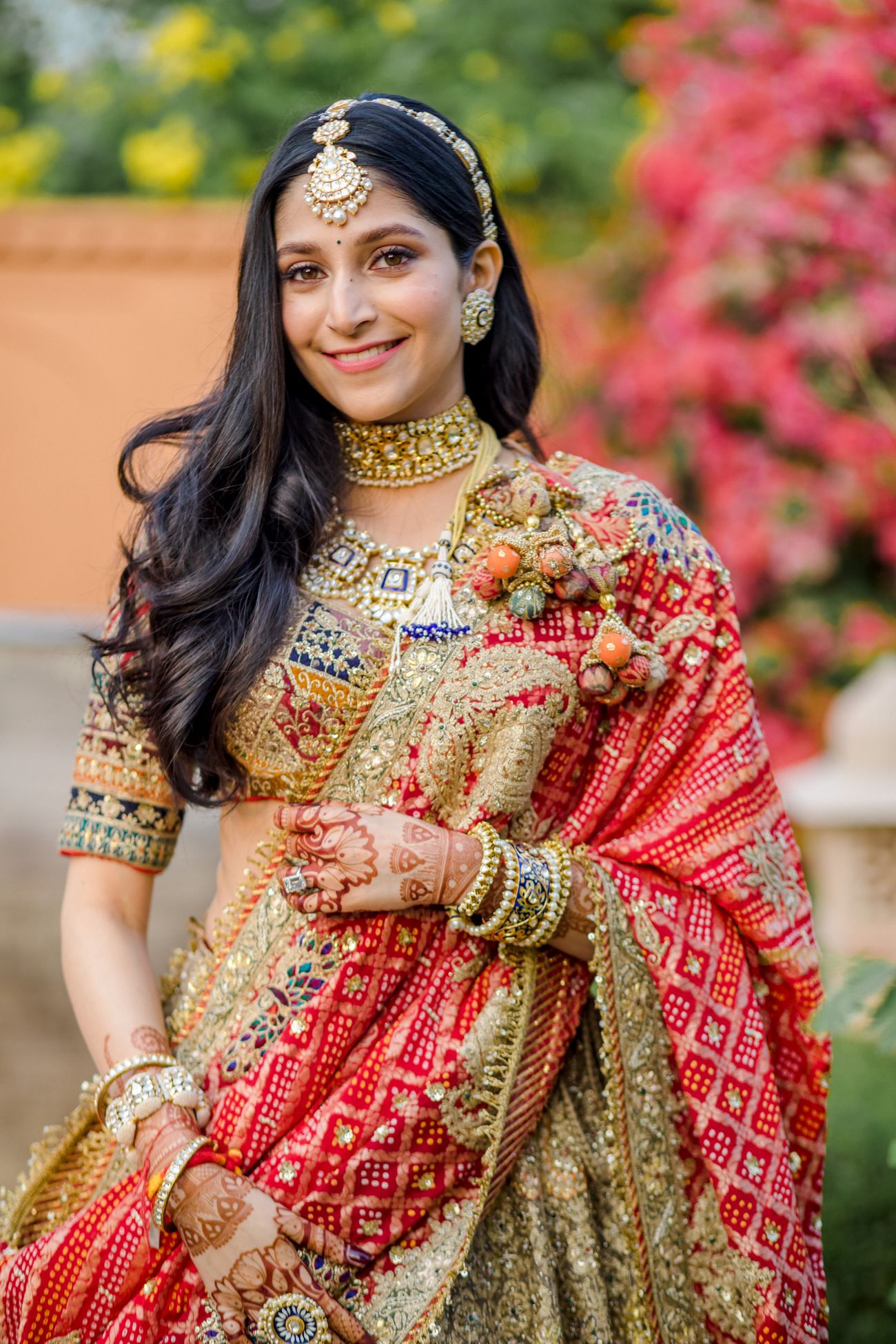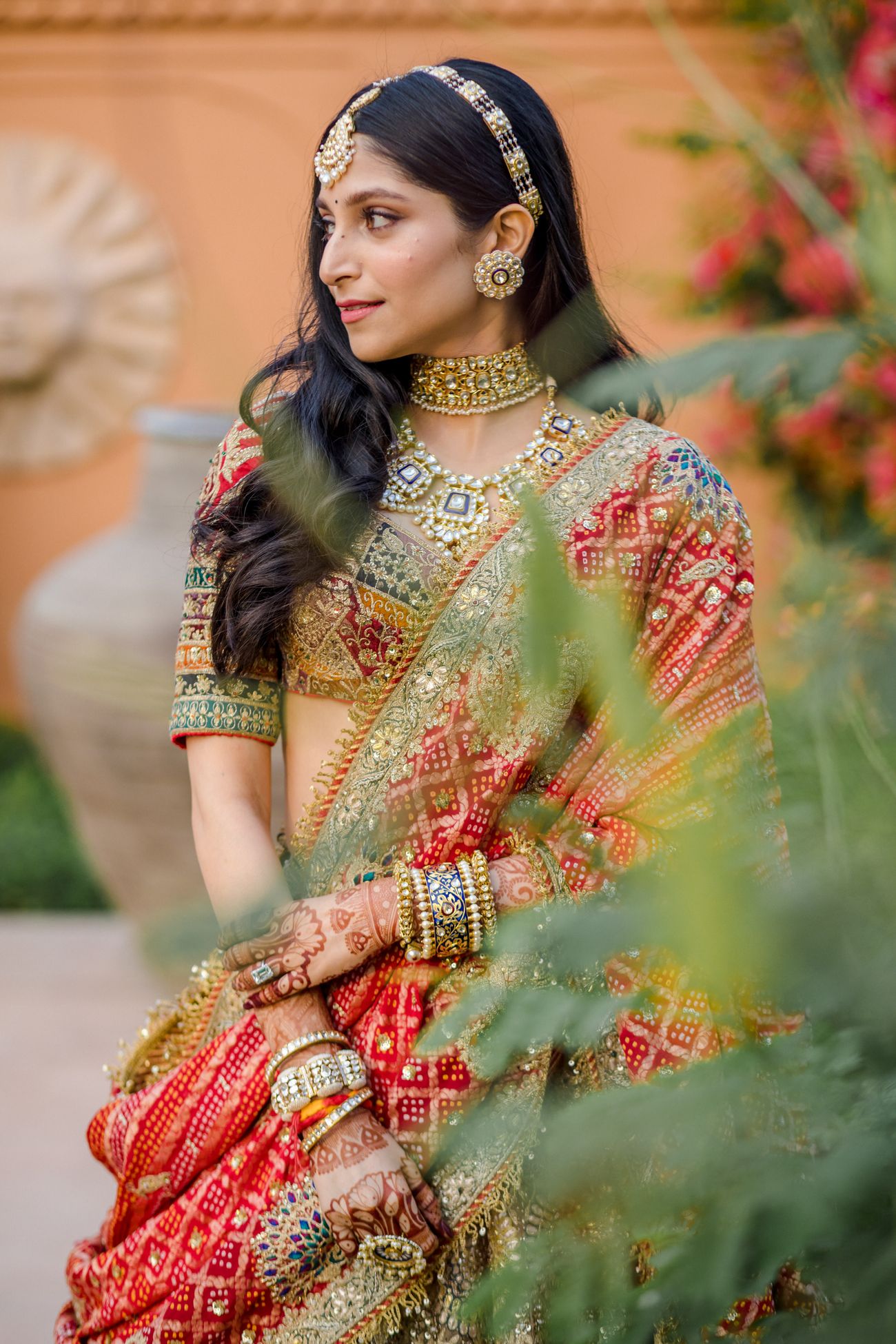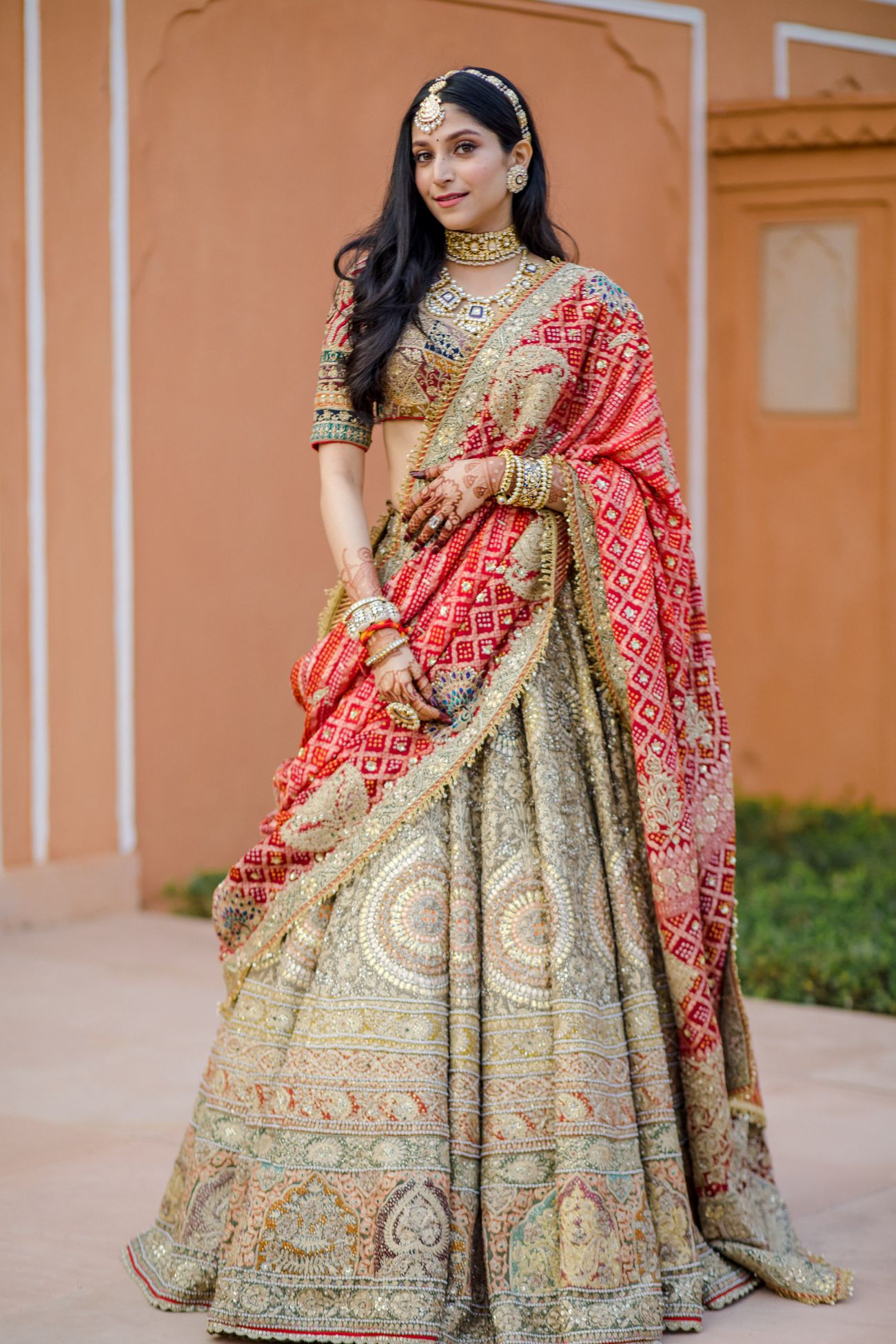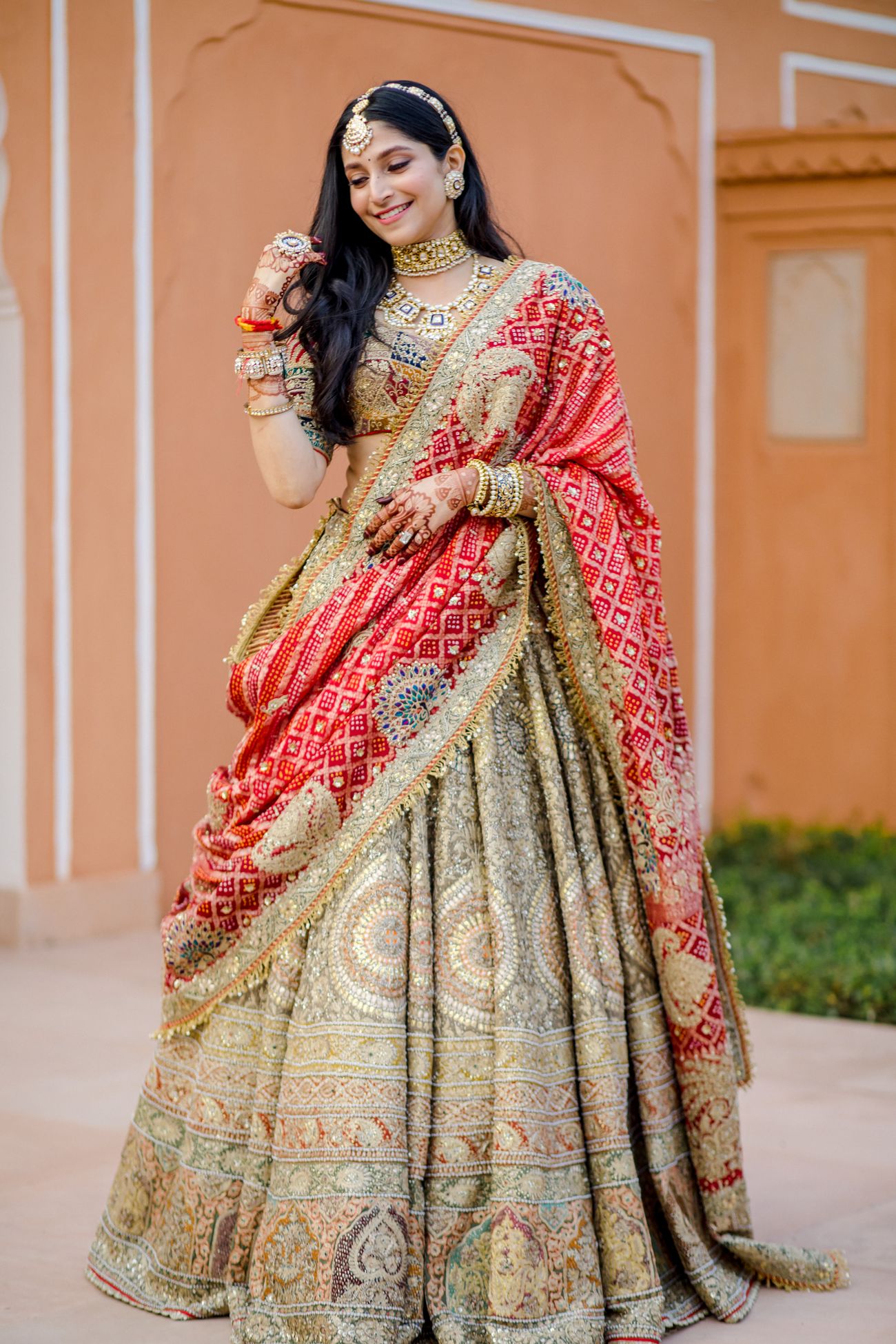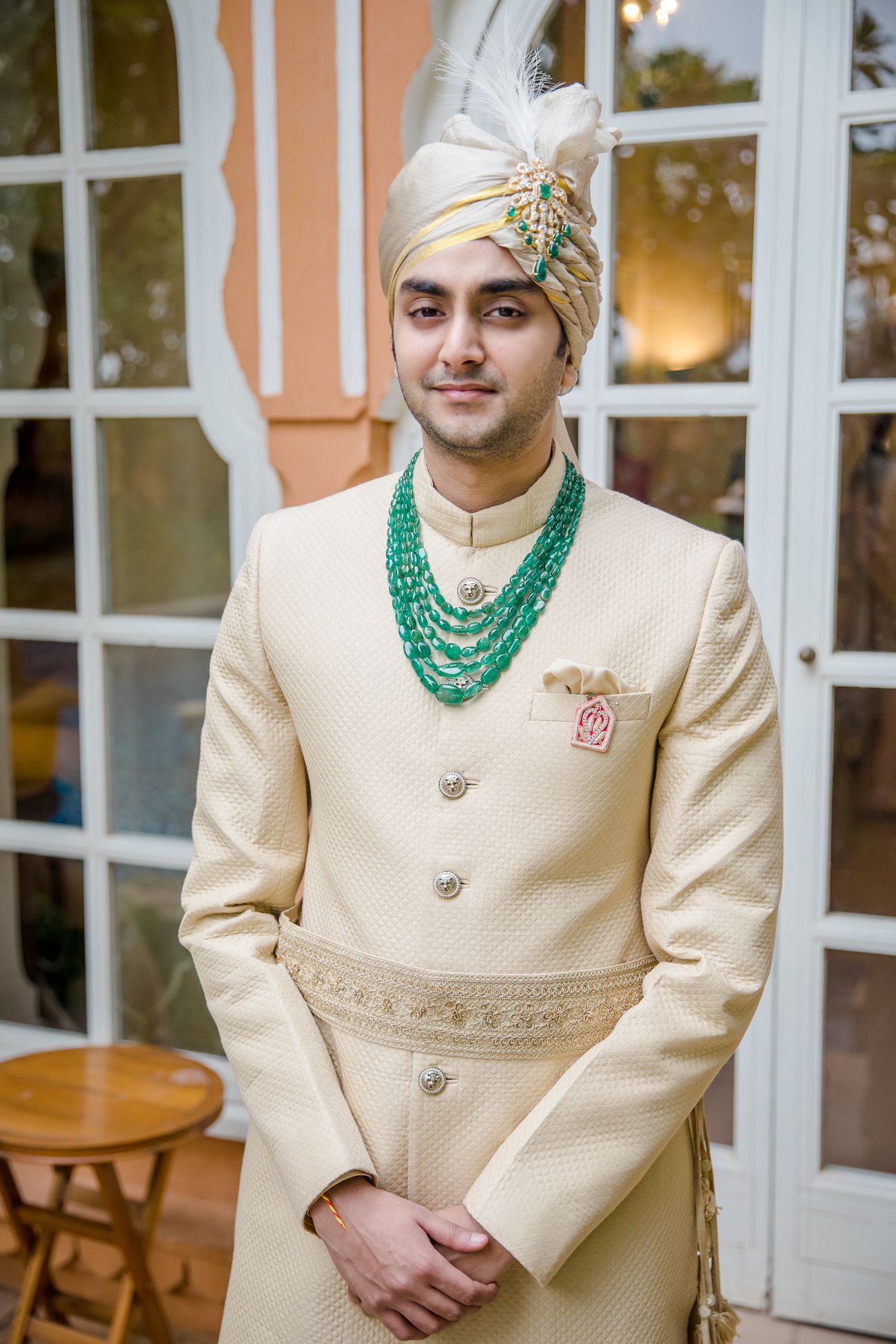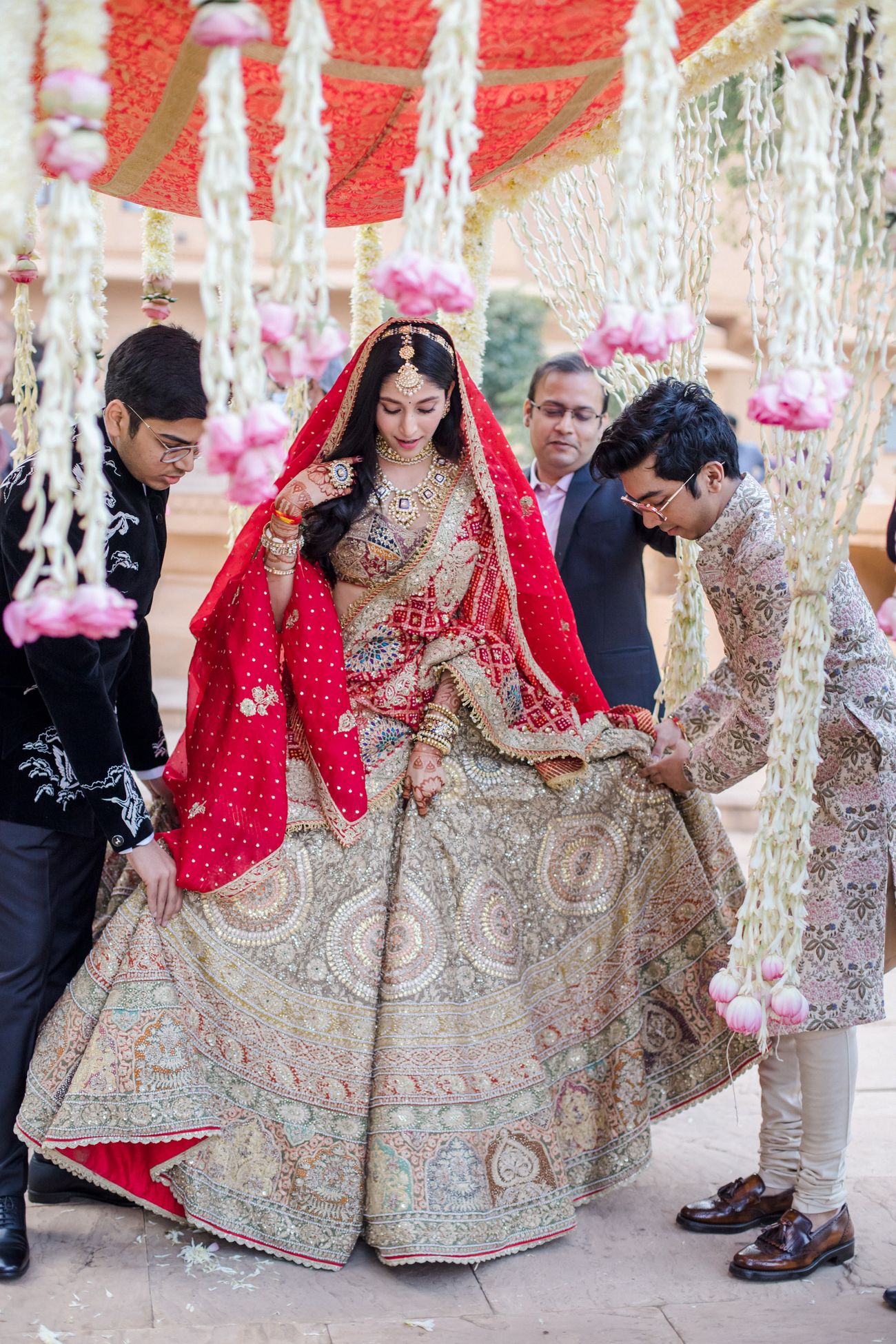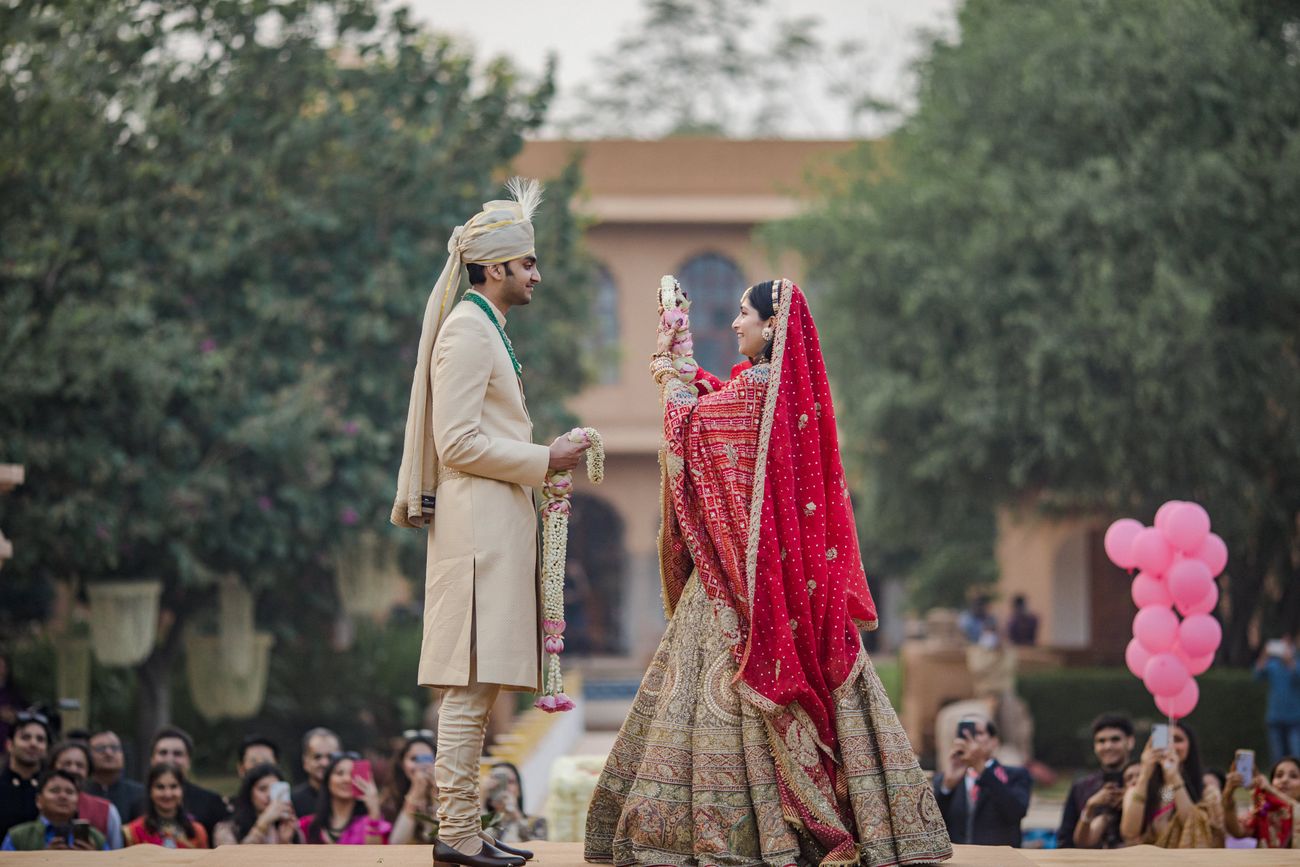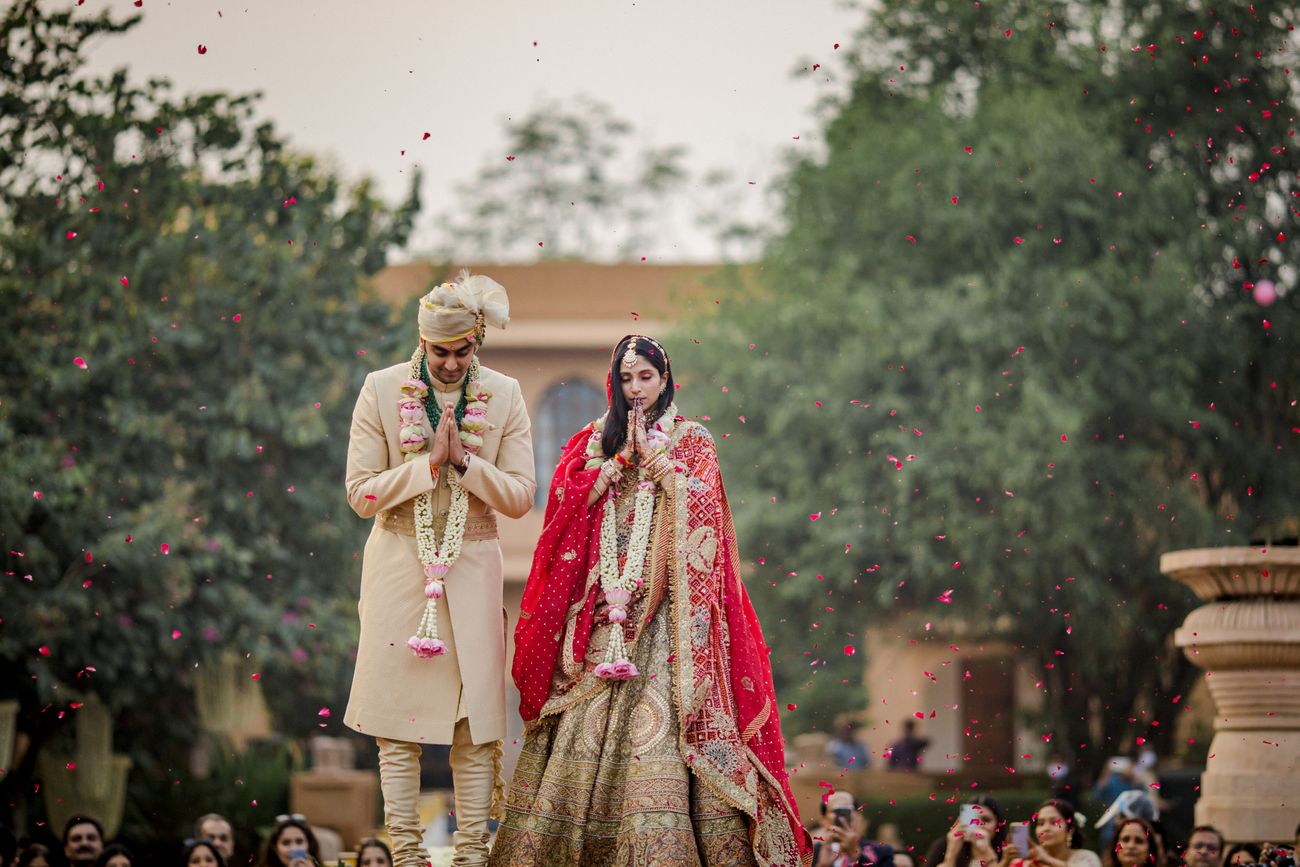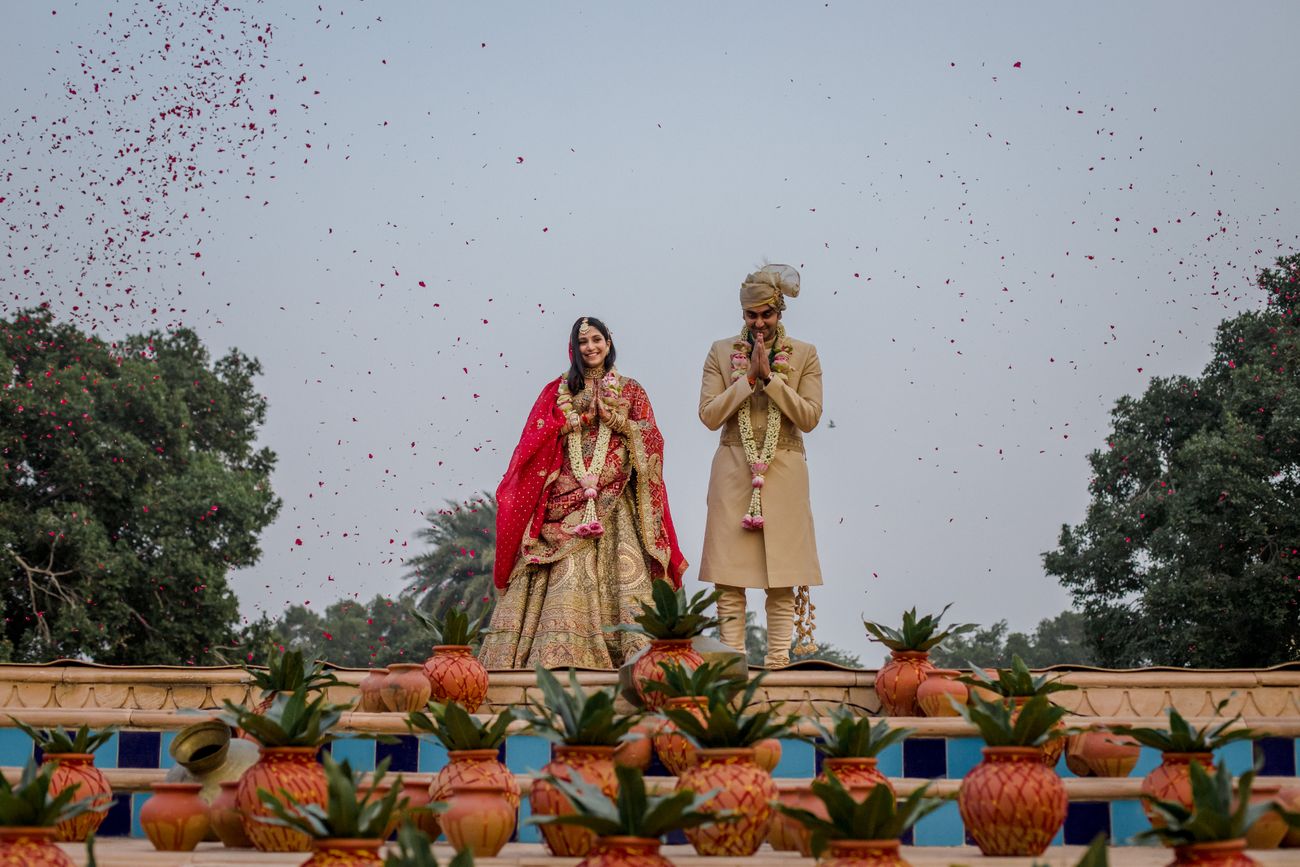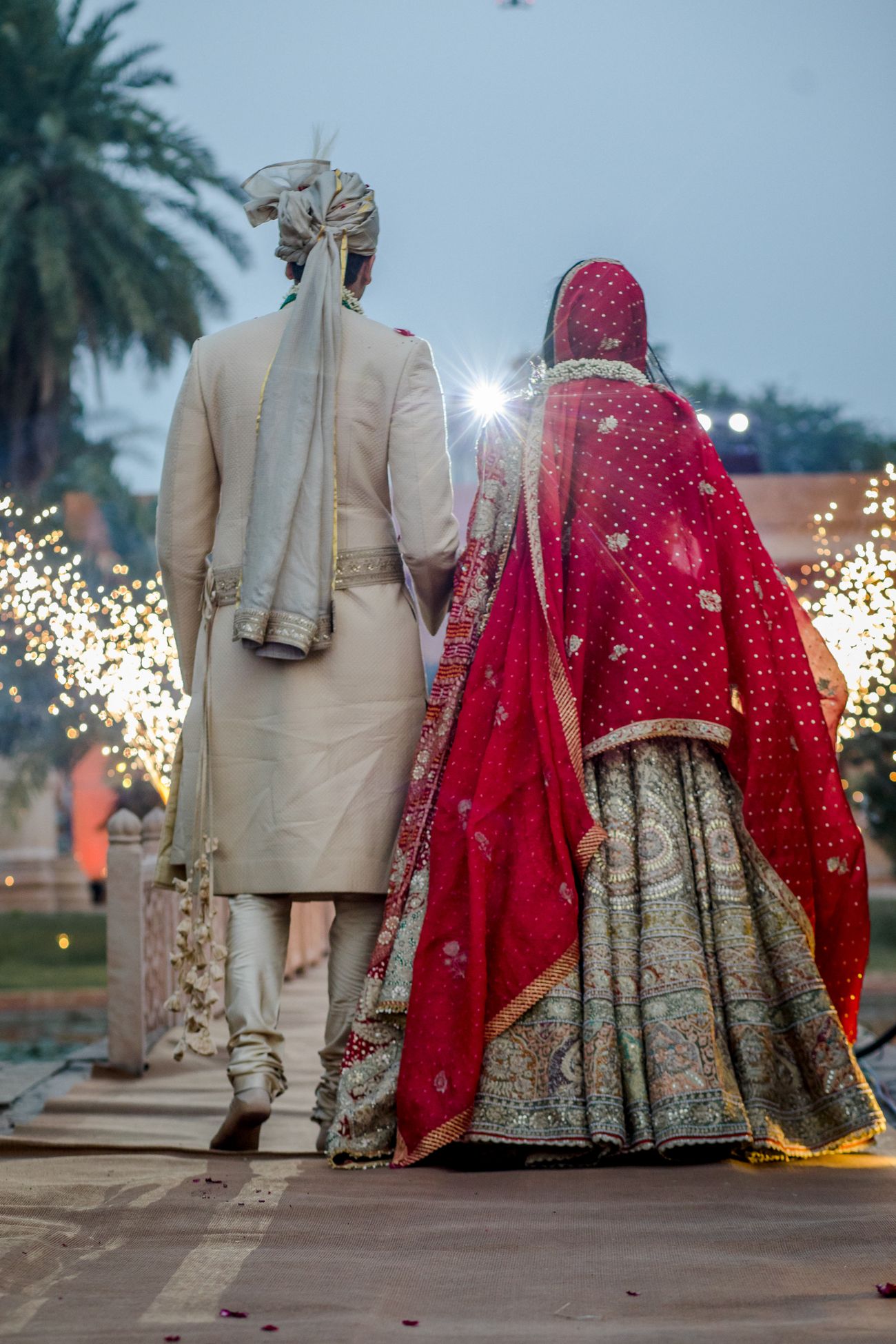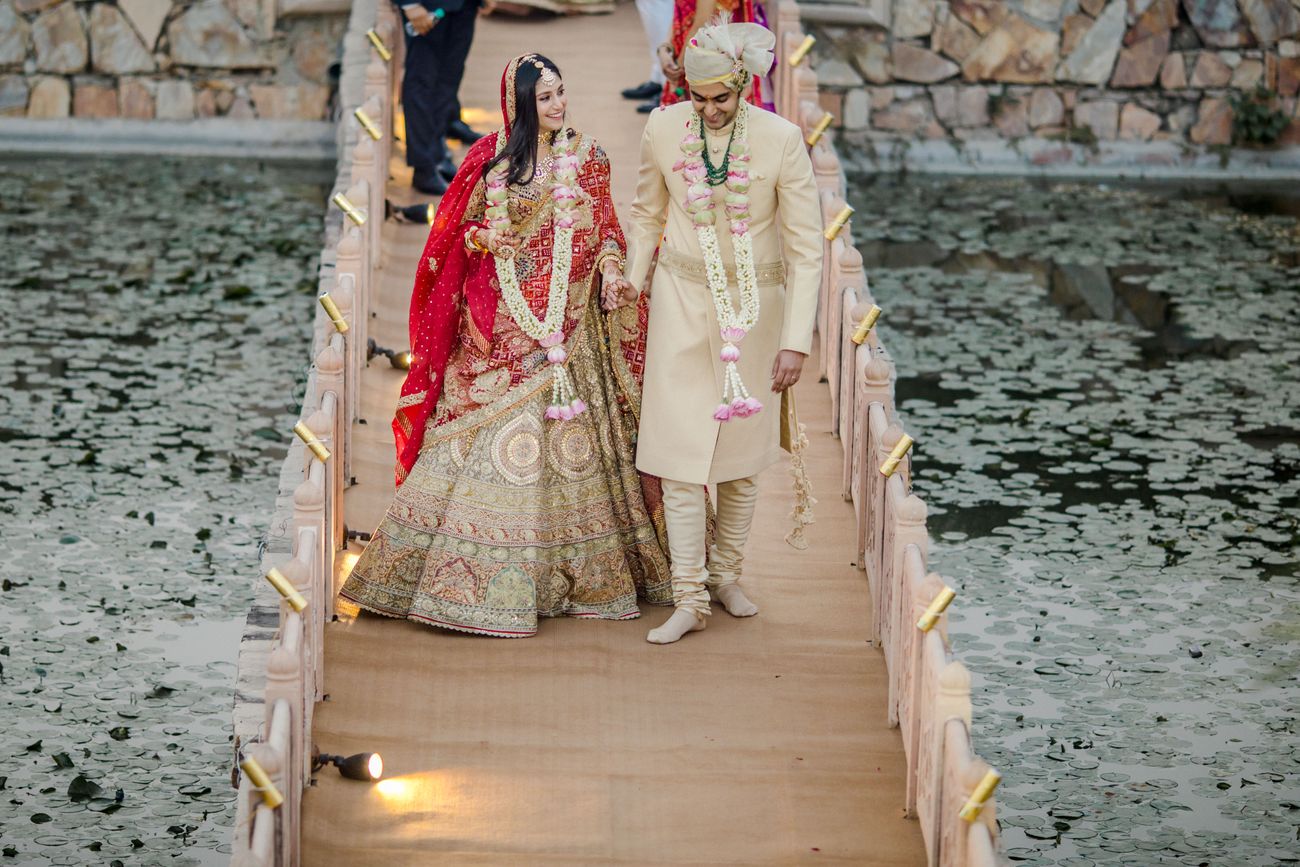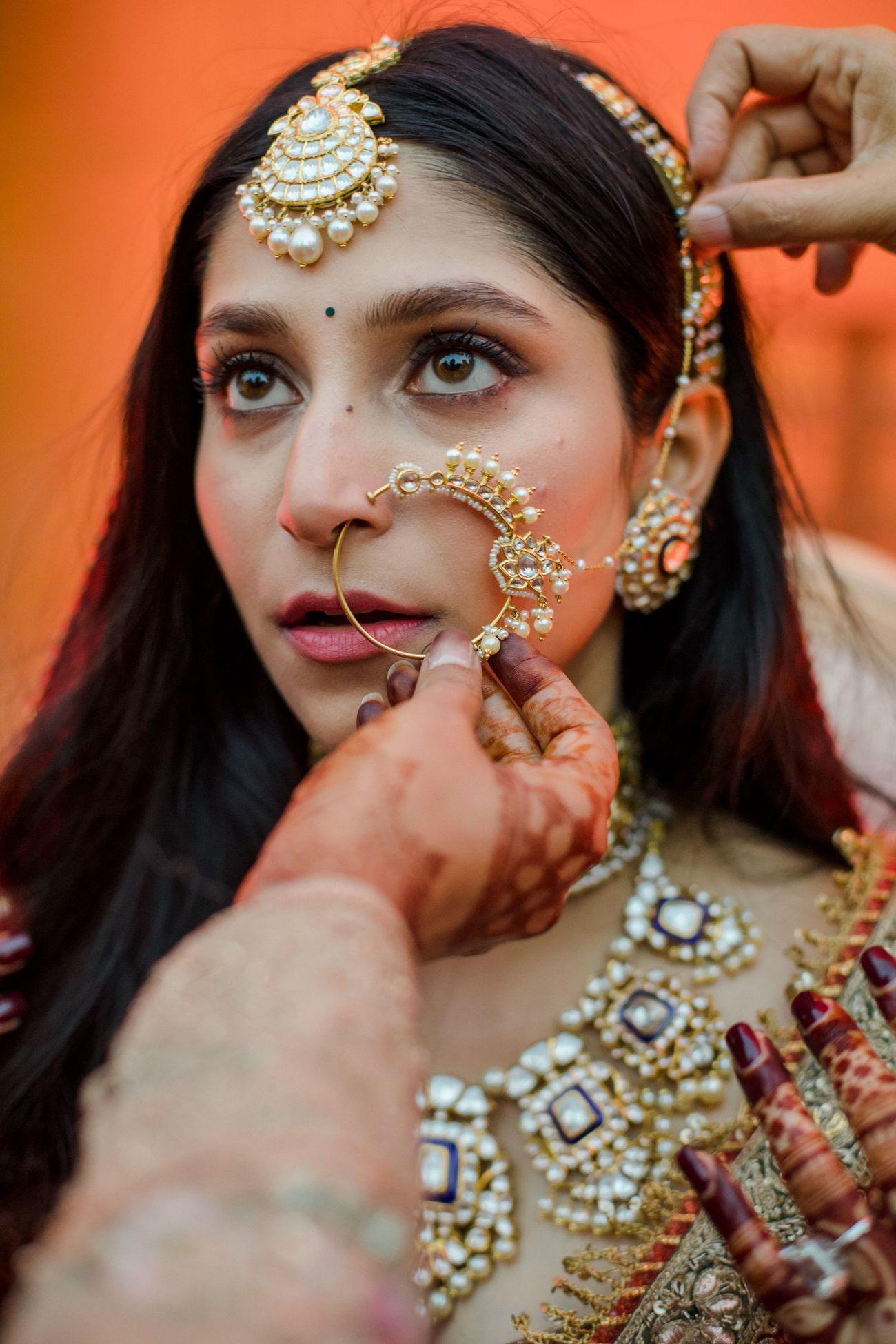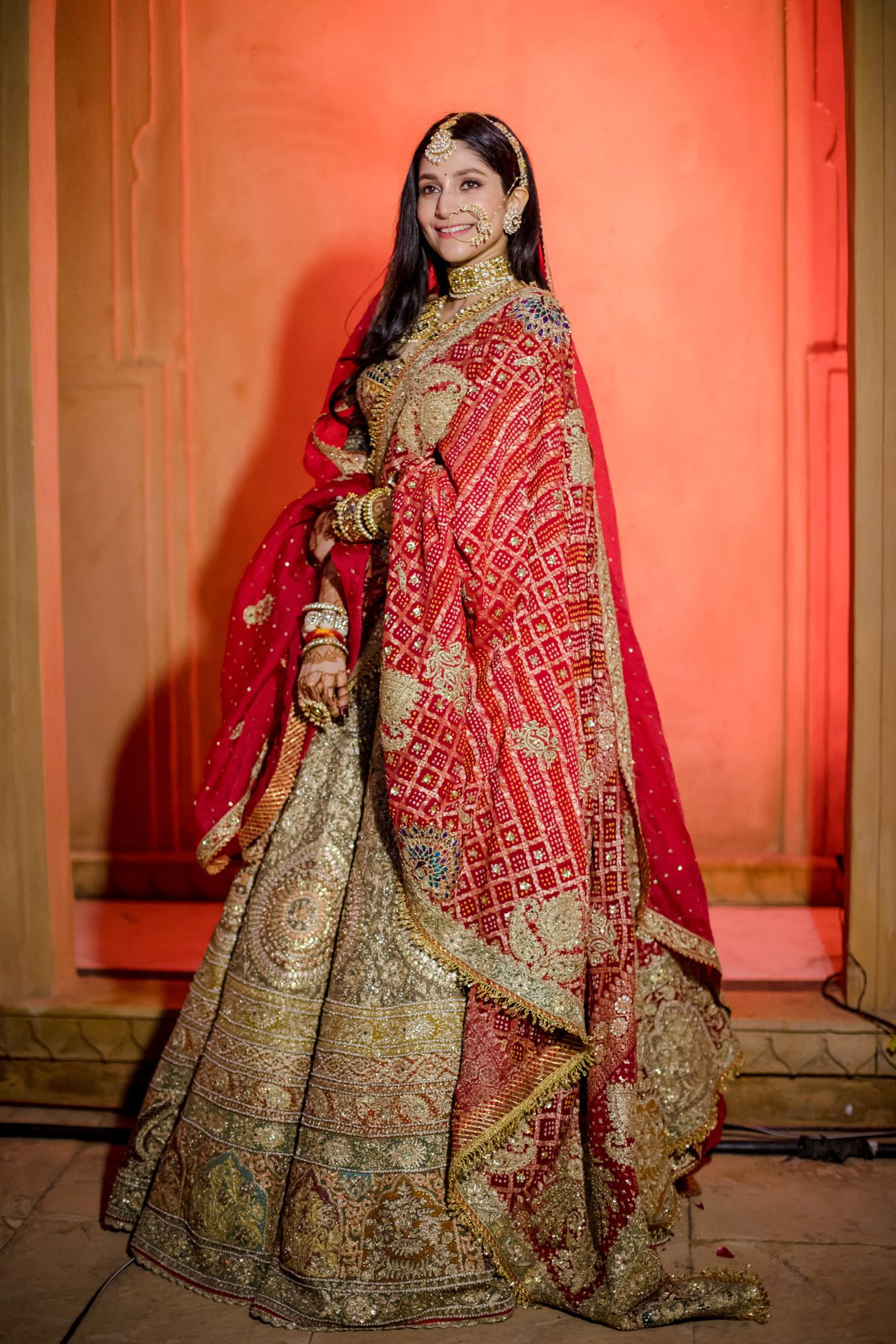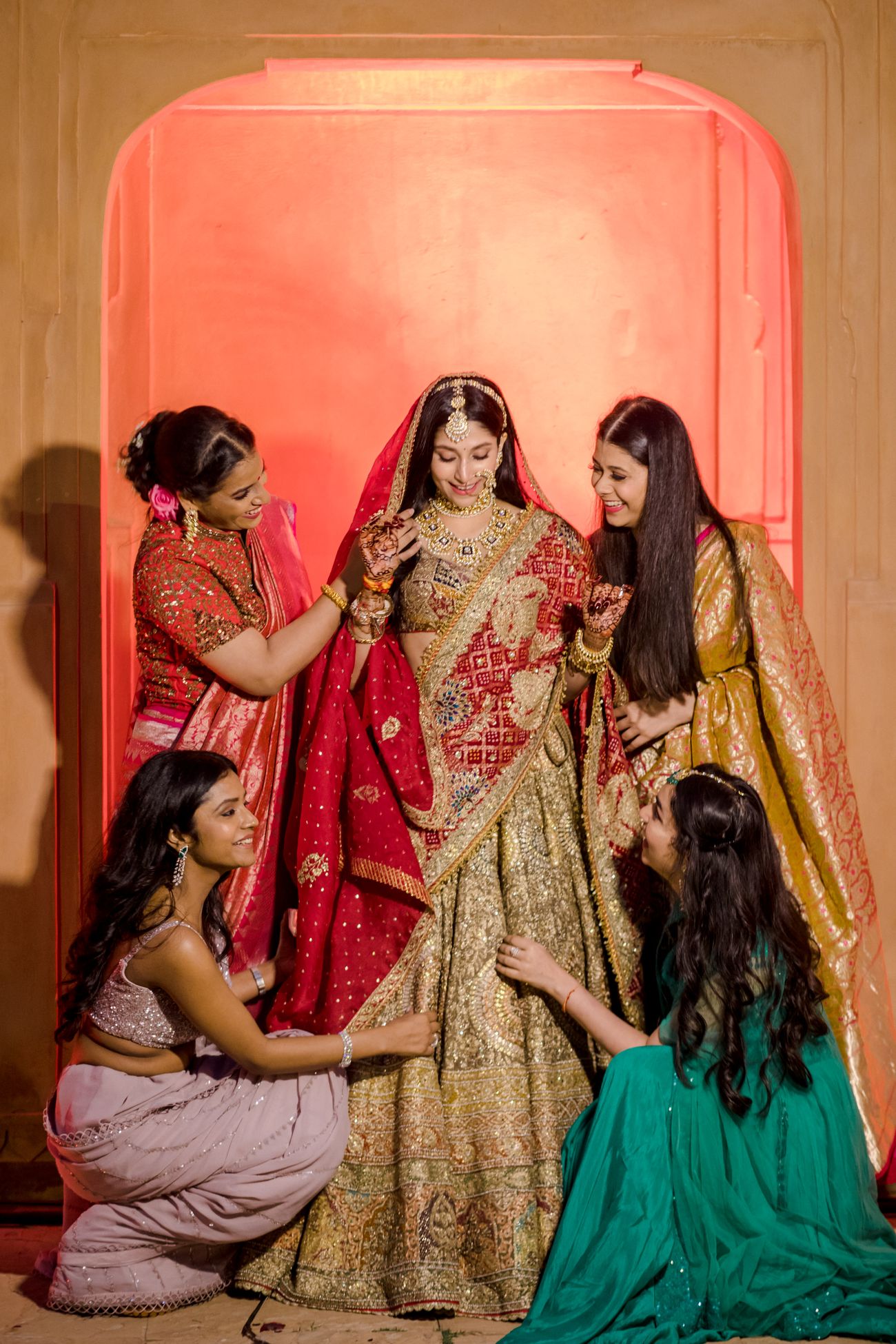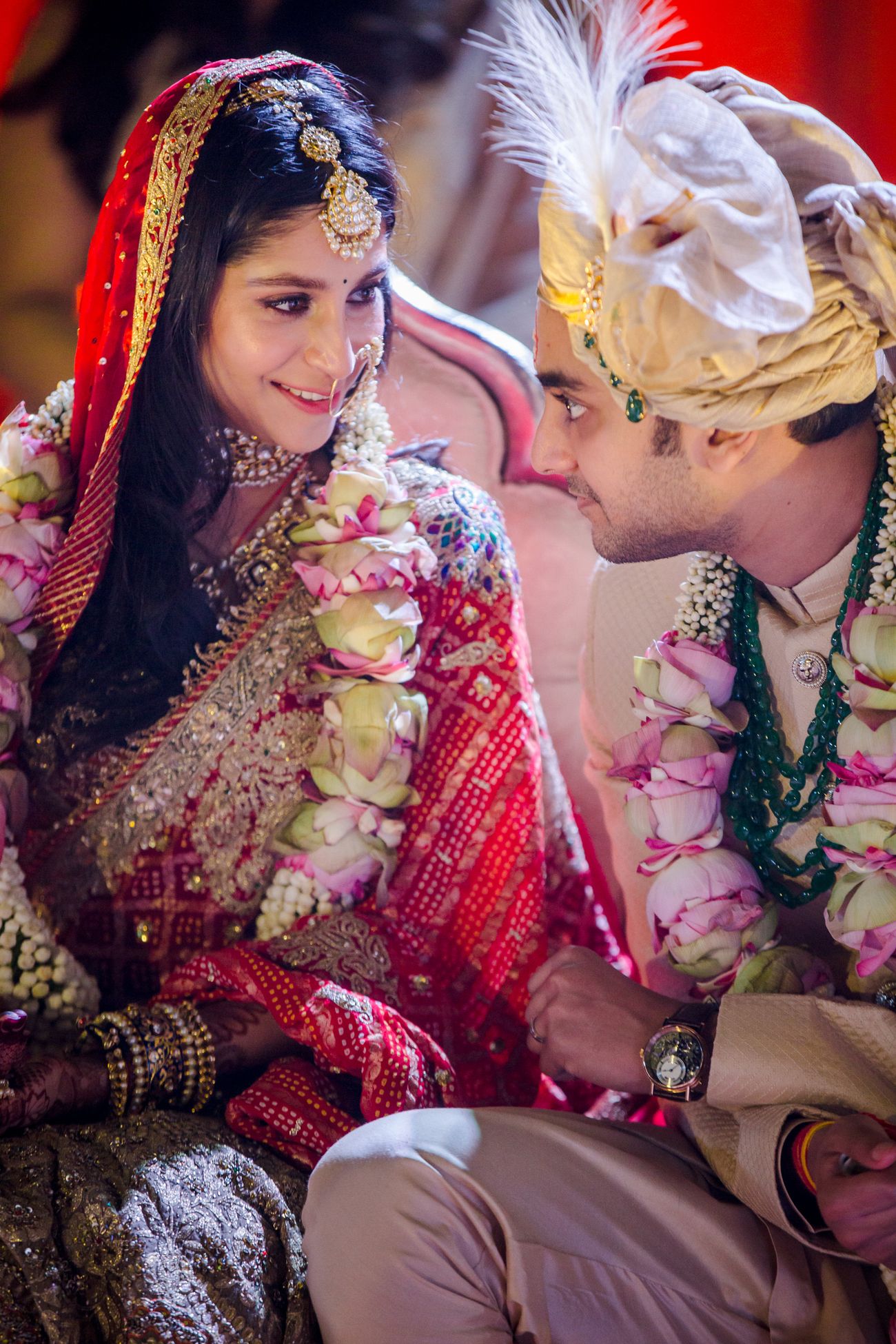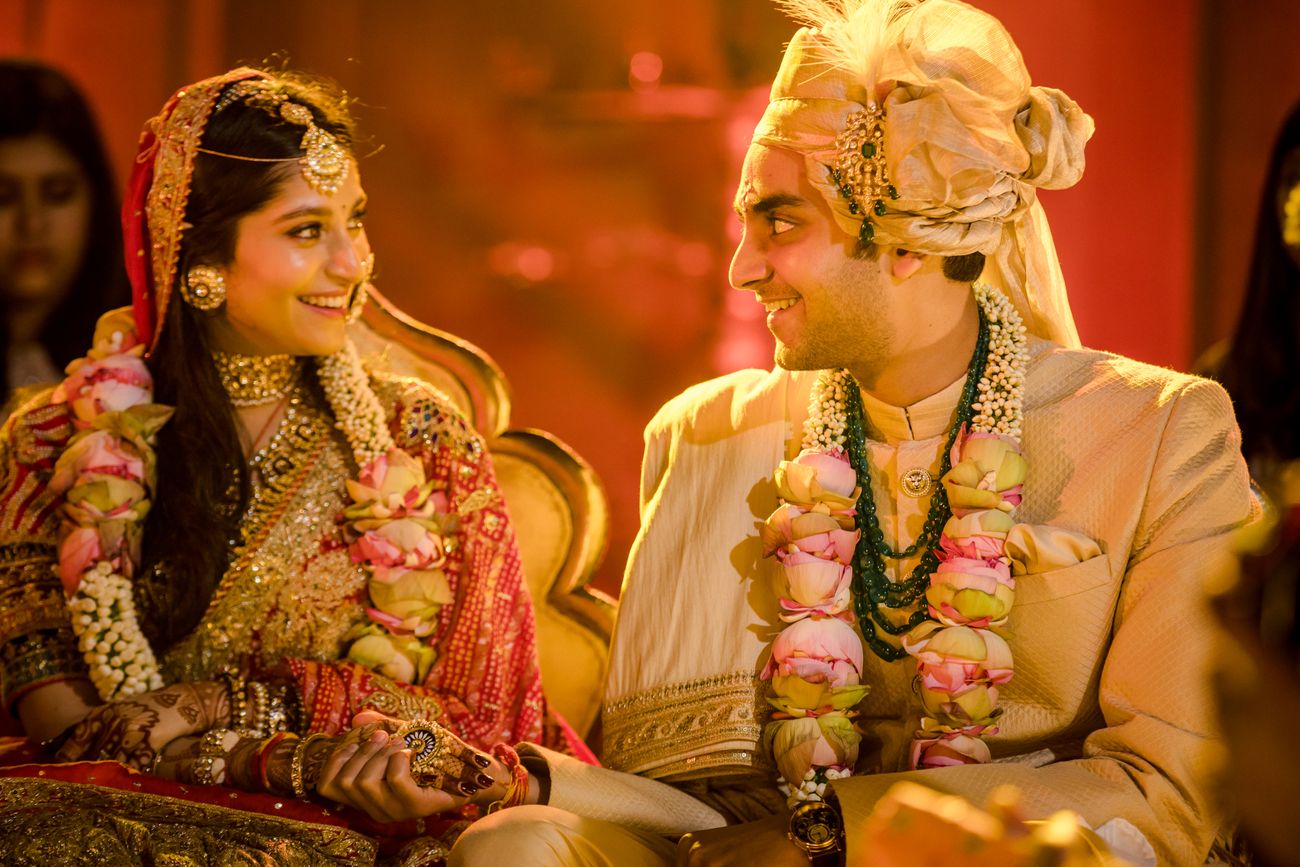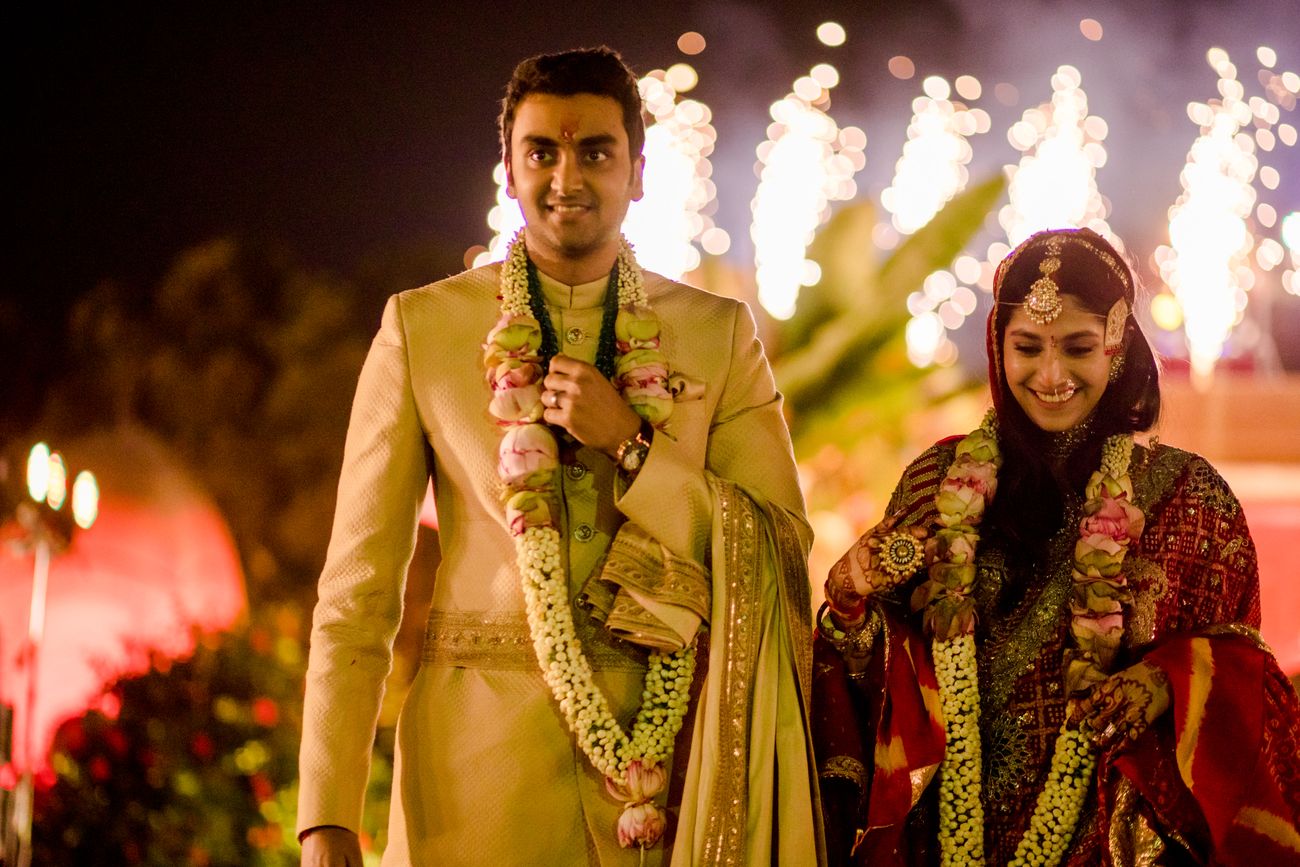 From The Bride
Gaur Pooja: 
It is a very homely function and I wanted it to be simple under a dropping chaadar , flowers in my back like it's being done in the balcony or the terrace of my own house. For this function , I chose to wear a bright red saree from torani. It wasn't typically traditional. It had a modern feel to it yet the colour brought the whole look out. I paired it with a diamond and emerald necklace, a diamond tennis bracelet , and matching diamond earings, all from our family jeweller in Kolkata.
Welcome dinner:
The decor for this function was simple and by the pool side in our villa. The whole idea was to keep it simple and welcome them to our home. The theme was filament bulbs, white drapes and baby's breath. I wore an outfit from Anamika Khanna and my mothers Polki necklace with Polki studs.
Alfresco Lunch/Bhaat:
For this function, the vibe was of a cozy summer boho brunch. It has teepe tents, an entrance full of Turkish killims, pampas grass, beige and ivory drapes and lots and lots of macrame with a lot of rustic wooden furniture. The function started off on a traditional note but with a modern vibe, and was later followed by a champagne brunch. I wore a saree by Anamika Khanna. I kept my make up very very light and simple, tied my hair in a simple ponytail to just be at ease and have fun.
Sangeet/mudda:
The vibe I wanted here was one of a lounge but still with a few homely elements. Imagine it like those cozy, small lounges with lots of lamps, photo frames on iron rots like how they would be when you go to someone's home lounge. Each table had details like a typewriter, show pieces and not-so-conventional pieces. We also organised a live teppanyaki in the middle of the lounge to give it more of a personalised restaurant feel. We had a mad dance set by both families and speeches by our friends and cousins. I wore a pink lehenga with diamond jewellery for this ceremony. Further accentuating the look, I tied my hair in a messy high ponytail.
Haldi:
For haldi I wanted a very fresh decor with fruits, birds of paradise. I did not want a conventional decor like the usual all-things-yellow. There was actually no yellow allowed at this function. There was no haldi also, we did it with fruit pulp in coconut shells. Everyone was dressed in peaches and pinks. We ended it with phoolon ki holi.
Pheras:
I always wanted my pheras in the mandir. I was lucky to have one that too at a property so pristine & 300 years old. I did not want a typical mandap with a covering, We planned it like 4 fresh banana trees with gold brass leaves and a spillage of flowers and brass pots with lotuses and Rajnigandha to look like a garden. The pond had lotuses and lots of candles and Diyas. People were made to sit on the amphitheater a little afar to see it from a slight distance. There were live bhajans by Siddharth Mohan- He did the pheras for us. I wanted a very pristine vibe and I got one. I wore a Rimple Harpreet lehenga for the wedding and the jewellery was from Sunita Shekhawat
Reception:
The colour theme for this one was a deep purple and burgundy with velvet drapes. We wanted a  feel of royal & cozy home drawing rooms with a hint of grandeur. So we had personalised love quotes and photos on the tables , paintings on the walls, wallpaper and mirror clad walls. I wore a wine sabya saree with diamond jewellery. I let my hair down, and let go and drank to the bone.
Vendor Reviews
Wedding Venue: The Oberoi Rajvilas, Jaipur
I always wanted a home-style traditional Marwari wedding. But a grand celebration, just with very very close people like old times with about 150 people because I have a huge family and Shivam has a huge friends like family circle so they total up to that number. I also wanted to do my pheras in a mandir with bhajans going on. We hunted for the perfect property and hunted like how. Rajvilas had everything I needed. The perfect number of rooms, a beautiful heritage to the hotel, an old royal home like feel and a 300 hundred year old mandir in the middle of a lotus pond. It was just how it was just meant to be, made for my wedding. Hence a no brainier, we finalised it within hours from seeing it.
Wedding Planner: Touchwood Group
Our wedding planner was touchwood group. Oh god , I can go on and on praising them. They are family to us now. I have been told from all my guests and when I say all, I actually mean all. The planning and management was seamless.  I just had to utter what I needed and those people got it done. Trust me; me, my mother and my father are excessively particular people about things and they didn't disappoint us at even one place. Their problem solving and finding immediate solutions is their asset and that's much needed in weddings and especially with COVID making it worse.
Wedding Photographer: Sam & Ekta
Me & my family and my husband and my in-laws family are simply in love with their work. Shivam and I are in love with them. Their work is so so good, they are so personal with every image they take, it's alll so natural like you can literally attend the wedding again just seeing their photos. It's real. Such positive vibing people and so effortlessly good at what they do. Loved them!
Wedding Decor: The Wedding Design Company
Our decor team was wedding design company. Their work is impeccably good. I had images and ideas set for each of my decor and looks. I had stories planned to the T. They understood it sooo well, bettered it and gave me something so gorgeous , you can imagine.
Wedding Caterers: CCi, Vicky Ratnani
Our caterers were CCi and Vicky Ratnani. They are superb. We worked sooo hard on doing up the menu to go with the feel of the wedding functions and decor. They put their heart and soul into it. I haven't ever heard so many praises for food and the personalised services.
Wedding Invite: Graphic Designer Friend
Our invite was based on montage theme and was adapted from our decor. It was to give a complete feel of how the wedding will be. It was done by me, my sister and her graphic designer friend.
Vendors: Wedding Venue: The Oberoi Rajvilas, Jaipur; Wedding Photographer: Sam & Ekta - Sonder Frames★ 4.7 ; Wedding Planner: Touchwood Group★ 5 ; Makeup Artist: Geet Sukhani Studio★ 5 (Day functions), Bhavya Arora (Sangeet), Elton Fernandes★ 5 (Wedding); Wedding Decor: The Wedding Design Company★ 5 ; Bridal Outfits: Torani★ 4.1 (Gaur Pooja), Anamika Khanna★ 5 (Welcome Dinner, Bhaat Ceremony), Rimple and Harpreet Narula★ 4.8 (Wedding), Sabyasachi Mukherjee★ 4.9 (Reception); Wedding Invite: Graphic Designer Friend; Wedding Caterers: Creative Cuisines Inc★ 5 , Vicky Ratnani