Mandate Neck Pieces To Ace That Bridal Look
BY Meenu | 03 Mar, 2020 | 13531 views | 3 min read
What is a South Indian wedding without jewellery? You all must be familiar with the layers of jewelry the bride decks herself in. These are our absolute faves of the lot and no doubt must haves for all you brides to be!!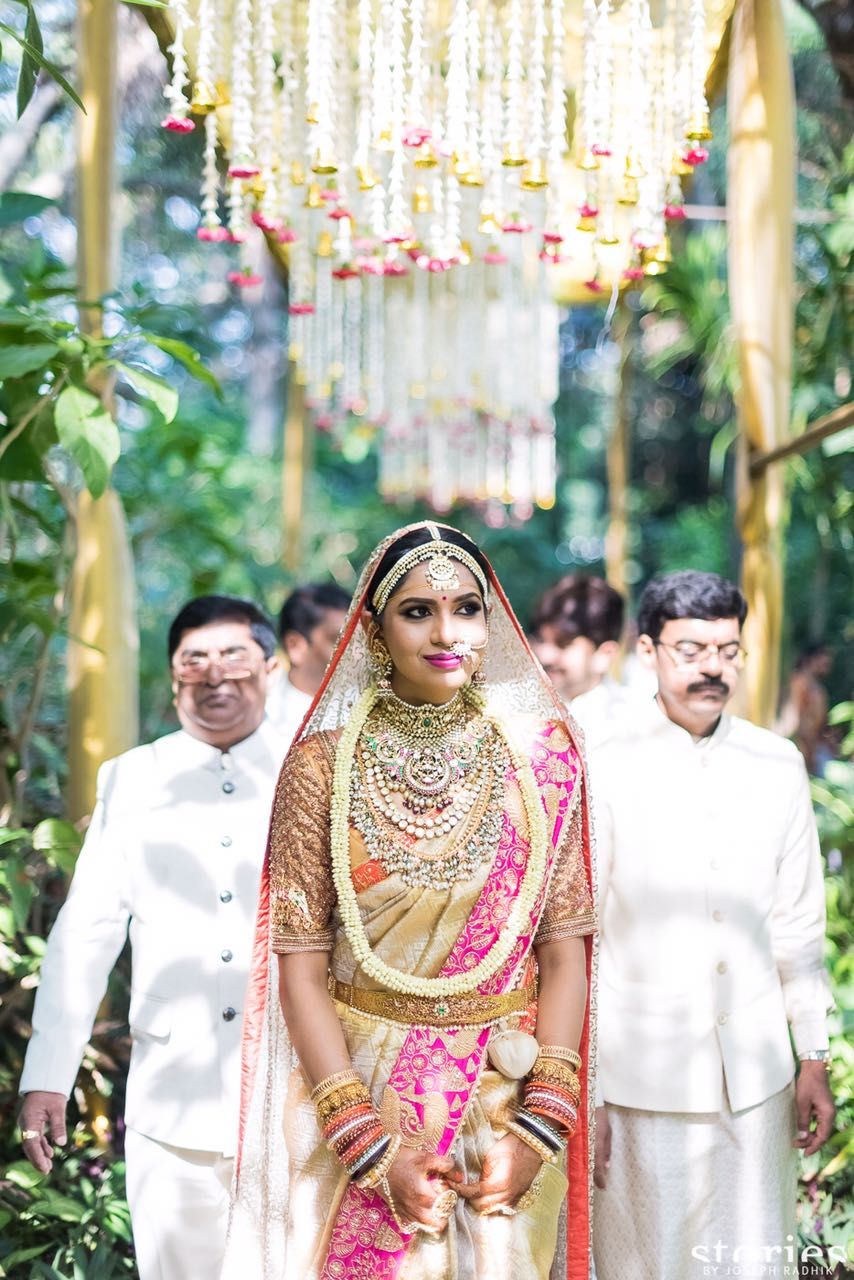 Image Via: Stories by Joseph Radik
Kaasu Mala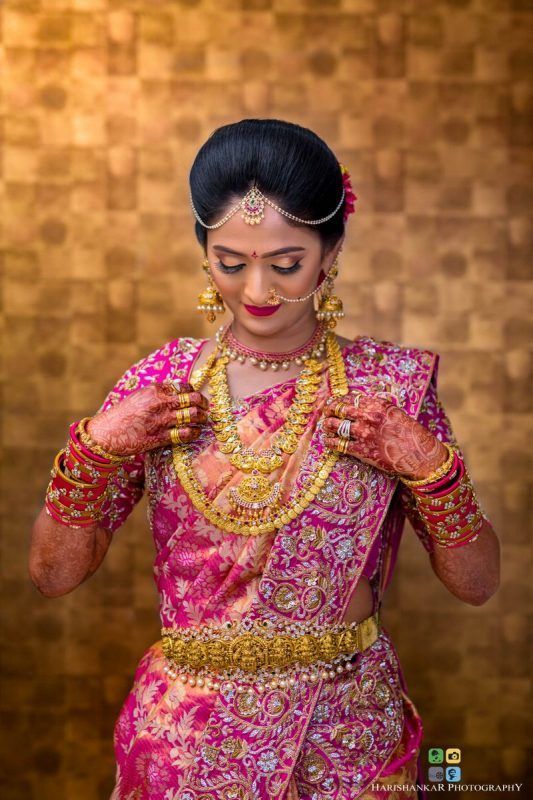 Image Via: Harishankar Photography
Literally translated as the necklace of coins. Almost every culture in Southern India has their own version. Some have a choker style, while some opt for a heavy long one in yellow gold while some go for a stone studded Kaasu Mala. This bridal necklace can never go out of style and is a must in your jewel box.
Maanga Mala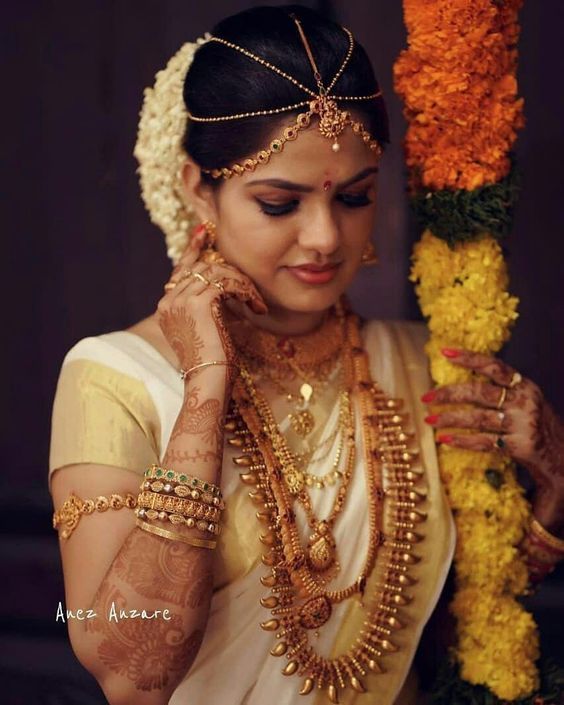 Image Via: Anez Anzare
As the name Maanga implies, this is a neck piece that has motifs in the shape of paisleys. There are some awesome designs that you can have with the Maanga mala. You can shorten it and make it like a choker or you can wear it long. If you prefer the long option, make the paisleys bigger and add some ghungroo inside each of the paisleys to make it quite exotic. A maanga mala looks beautiful in antique finish too!
Gutta Pusalu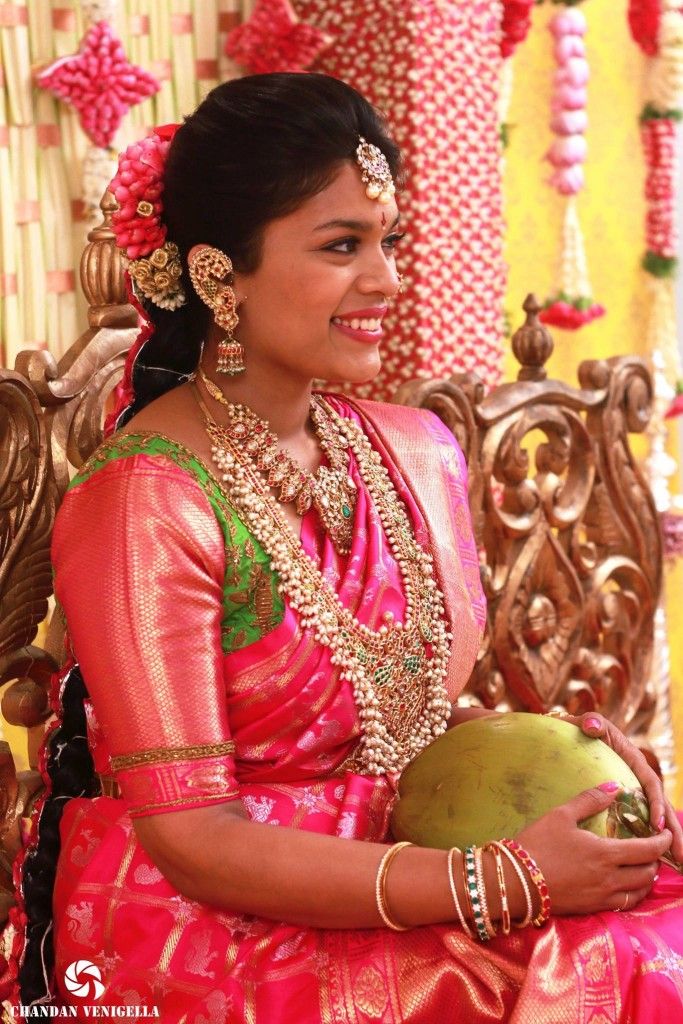 Image Via: Chandan Venigella
Having its roots in Andhra, a Gutta Pusalu refers to the unique design of the necklace that has small groups of tiny pearls that makes it look like a group of tiny fish. Gutta Pusalu is now trending all over the south as it looks completely unique and can work well even in a white gold base. The pearls add its own drama and this is one spectacular piece to own!
Palaka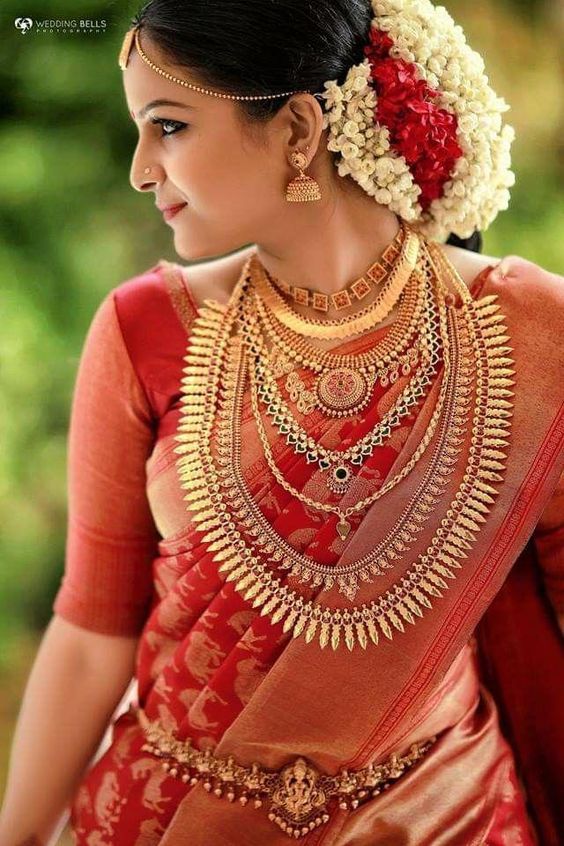 Image Via: Wedding Bells Photography
An exclusive from God's own country the Palakka mala is again a long or short must have neck piece. This is made in yellow gold with green and ruby stones. It's a unique design and though it has bits of green this works well with most traditional pattu sarees.
Haarams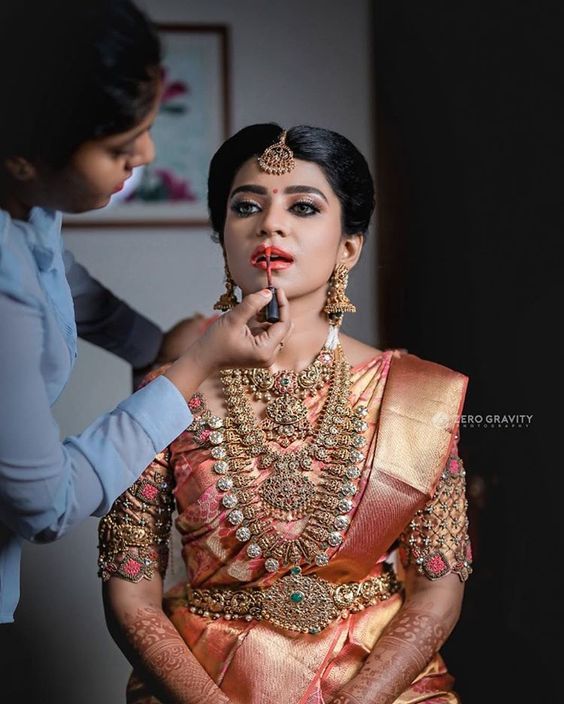 Image Via: Zero Gravity Photography
Just like the Maharani haar there are plenty of haar options for the South Indian brides and they are called haarams. Be it the heavy gold ones or the ones that have a mix of gold and stones or of small beads of gold in layers the haaram is a must have.
Statement Neck pieces in Antique Finish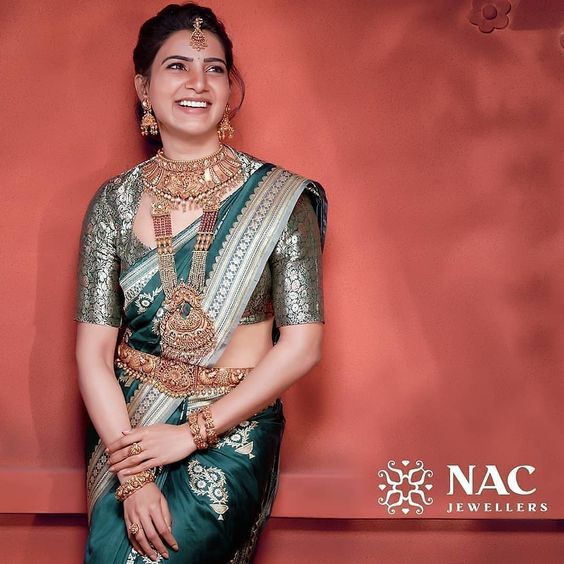 Image Via: NAC Jewellers
The antique finish neck pieces have a special place in a bride's heart. They look so unique and the vintage vibes work so well with the flowers, the traditional sarees. So a statement neck piece in antique finish is all the more a wow factor! The Krishna Radha or the Ganesha piece or the Lakshmi devi added necklace is a true find.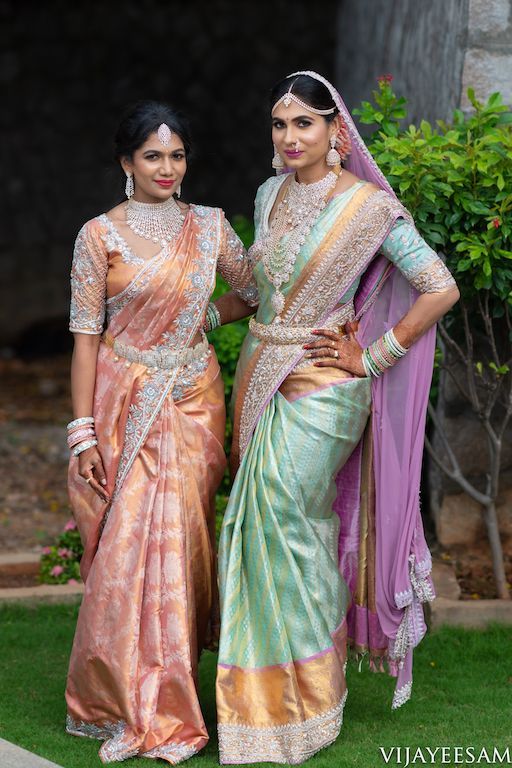 Image Via: Vijayeesam
The best thing about all these must have neck pieces in your bridal kitty is that you can choose the way you want them to be. You can go for all in simple yellow gold or a mix of yellow gold, antique and Kemp. You want to go all out try the complete diamond look. It looks fantastic too!!