Breathtaking Marigold Decor Ideas Apt For Your At-Home Ceremony
BY Garvita | 18 Jan, 2021 | 108306 views | 4 min read
So to be honest, there was a little bit of genda phool saturation that happened previously, after all, it was there everywhere! But after stepping into the new normal, we are back to lovin' the good 'ol marigold, and we loved how the coronial couples utilised it to amp up the decor of their at-home/ backyard weddings. Absolutely creative!
So here are some fabulous genda phool decor ideas which looked amazing, and might serve to be the perfect inspo for your upcoming wedding in 2021!
Isn't this beautiful setup oozing out sunshine?!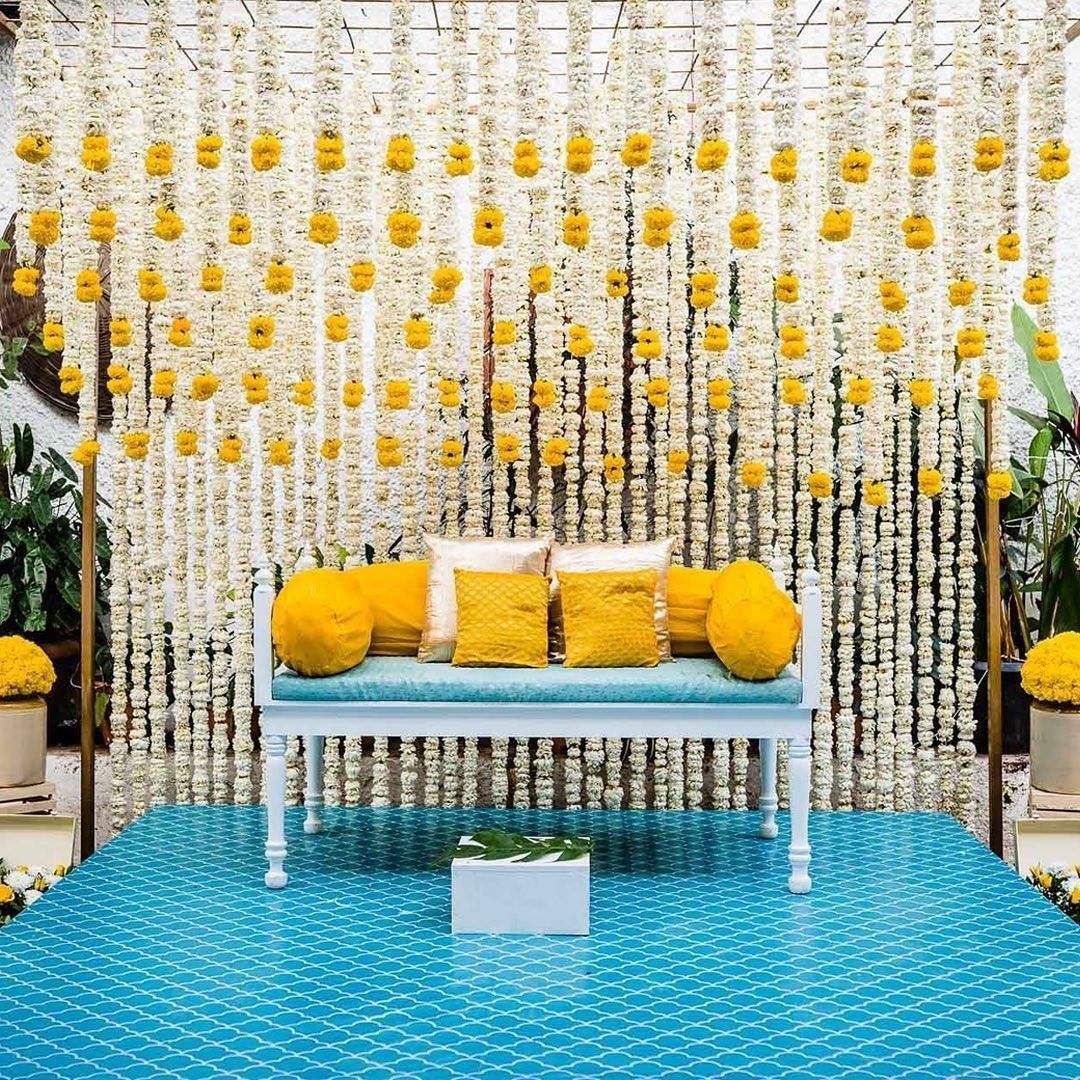 Image via Its an Affair
Totally digging that pop of blue! Adds a wave of freshness to an otherwise basic decor.
Loving this vivid-hued home wedding decor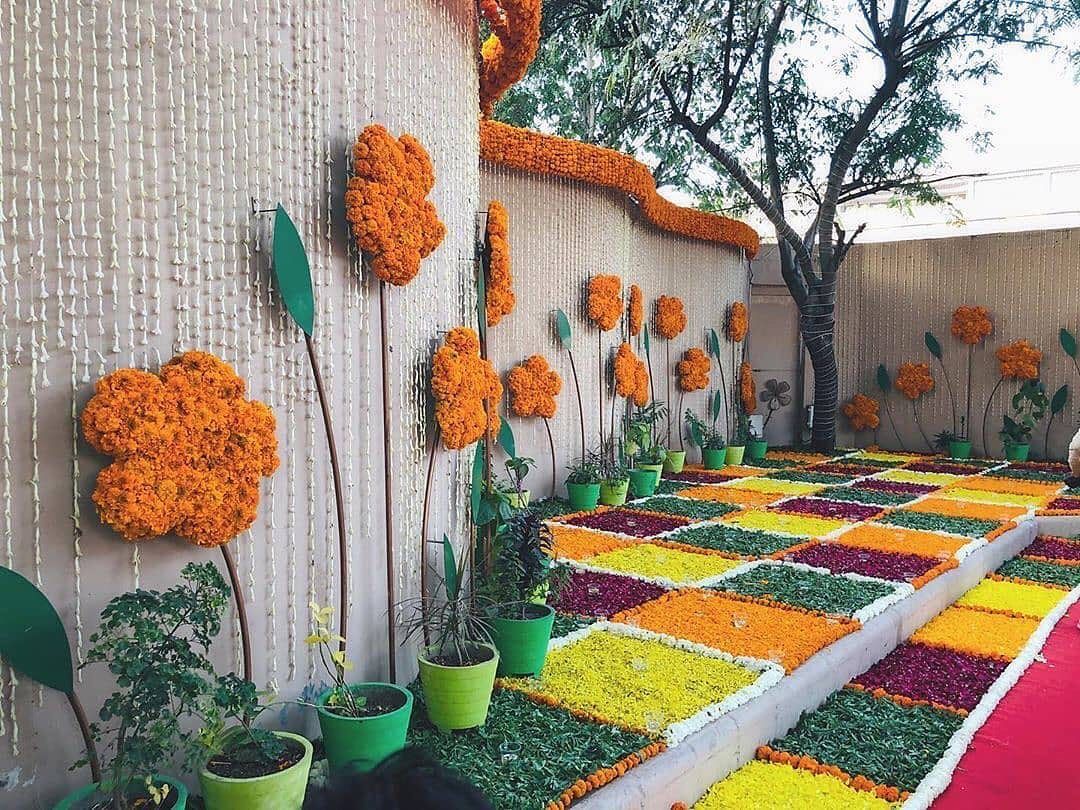 Image via Advent Decor & Production
Want to give your shaadi-wala ghar a beautiful makeover? This home wedding decor will serve you just the right kind of inspiration!
Save this cool Haldi decor idea right away!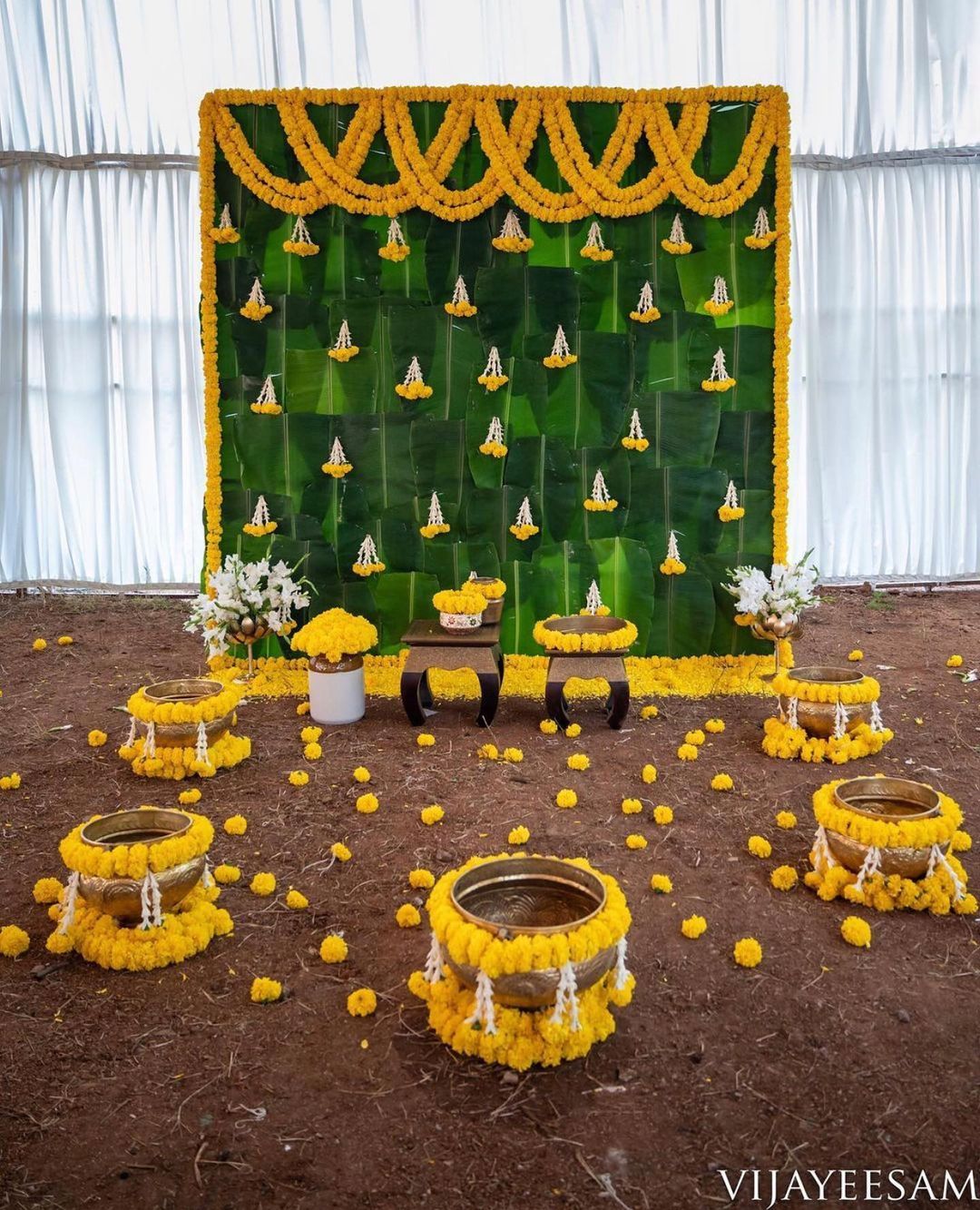 Image via Vajroutsav Events
Planning an 'at home' Haldi set up? This one can be easily pulled off on an affordable budget
Sending some minimal vibes your way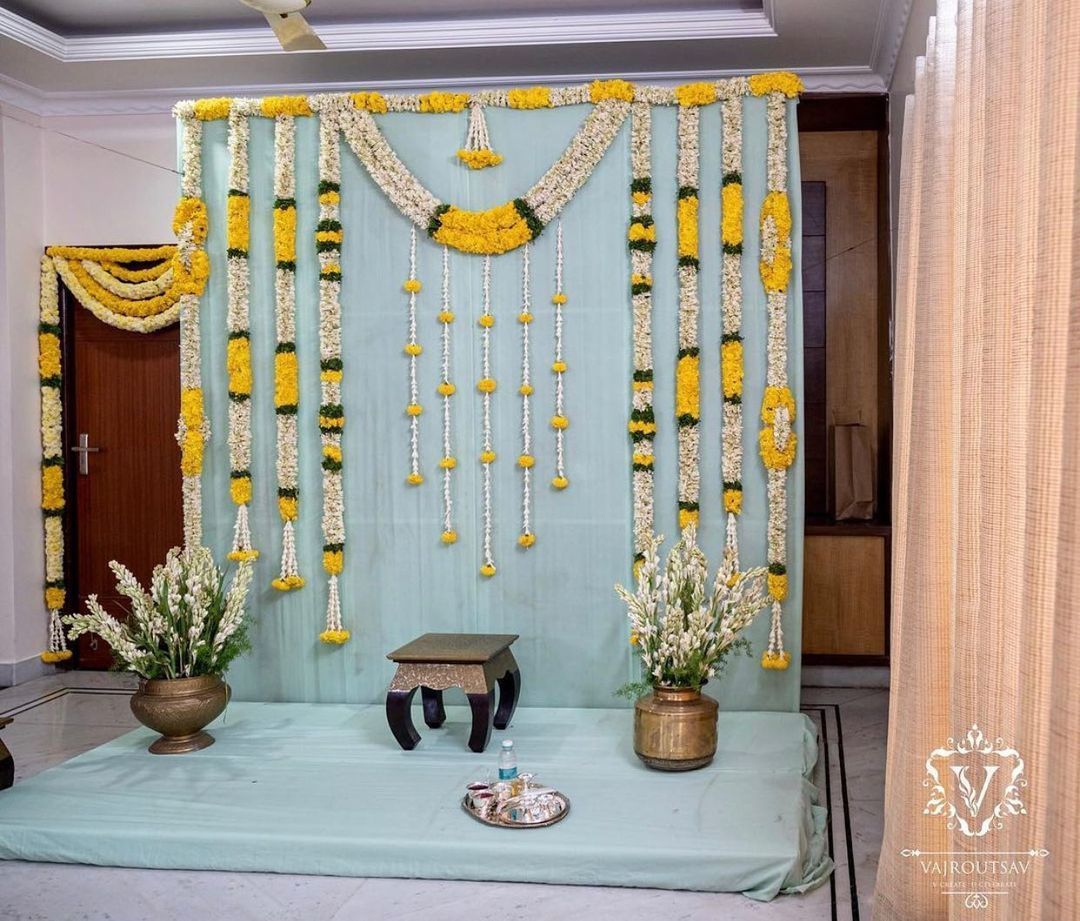 Image via Eesam & Co.
In awe of this pastel-hued Pellikoduku decor with a mix of white & yellow marigold flowers.
In awe of this entrance decor trimmed with vivid marigold strings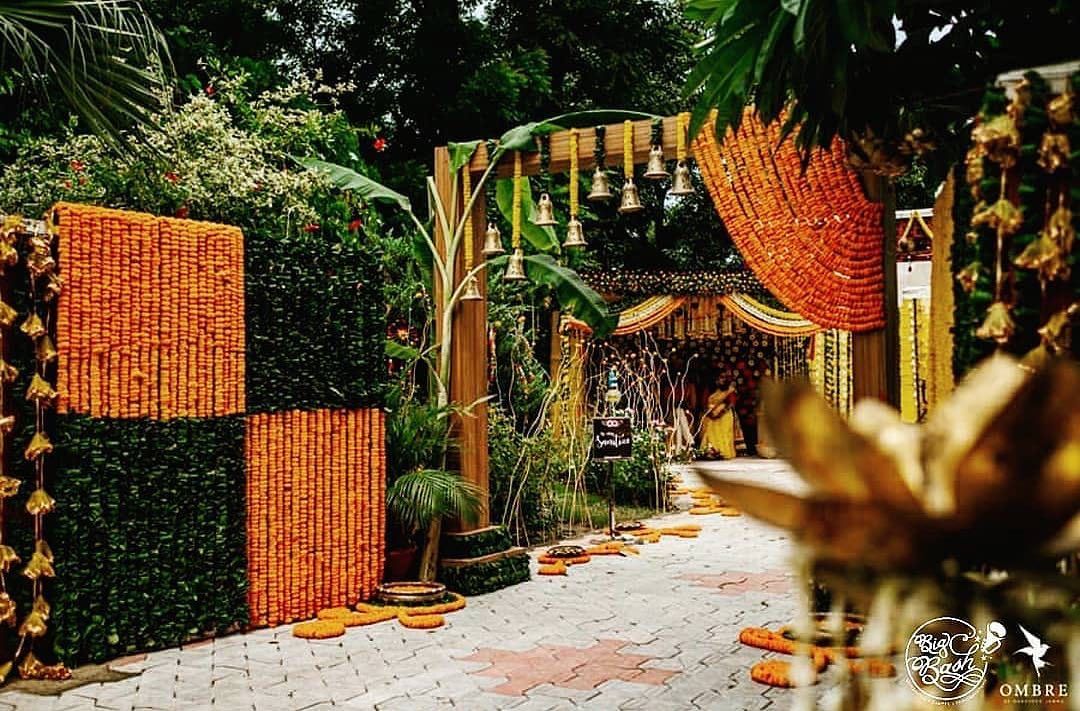 Image via Big Bash Entertainment
Isn't this decor idea super apt for your at-home ceremony? Be it a mehndi or a wedding you can keep this one placed throught the celebrations. No change needed!
Or keep it simple with something like this?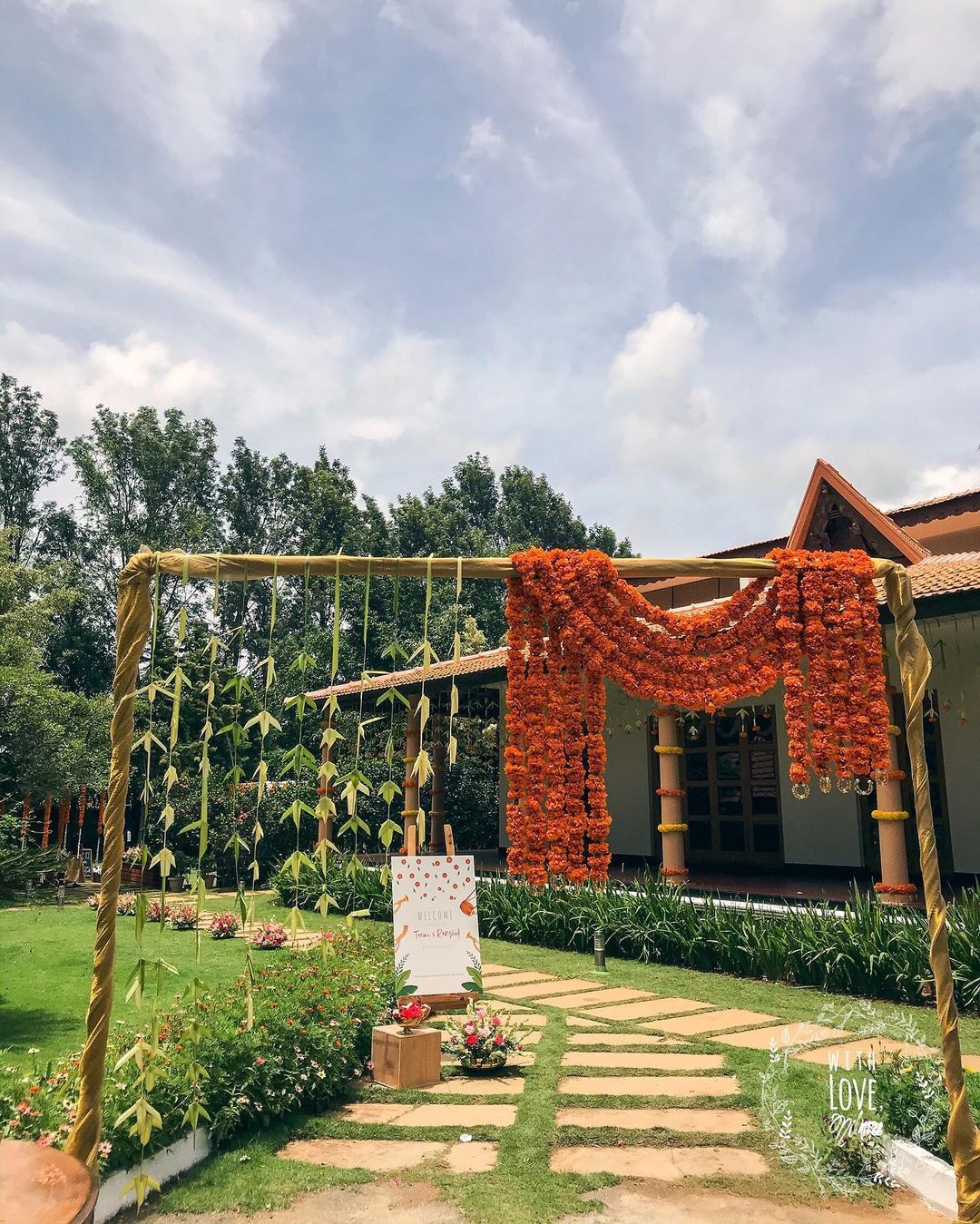 Image via With Love Nilma
Don't want to go OTT with the entrance? Take the minimal route with marigolds & coconut leaves.
This mandap decor has our hearts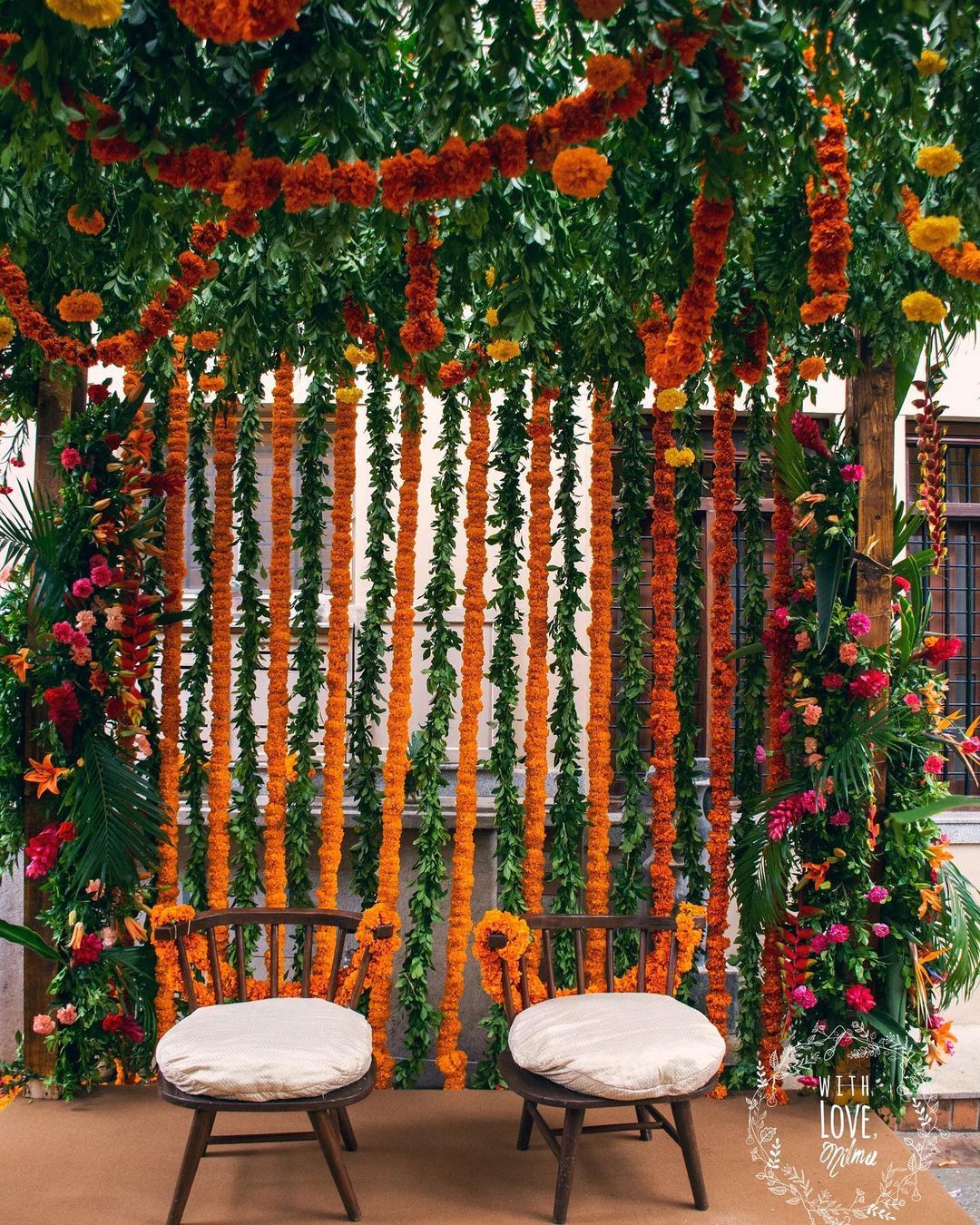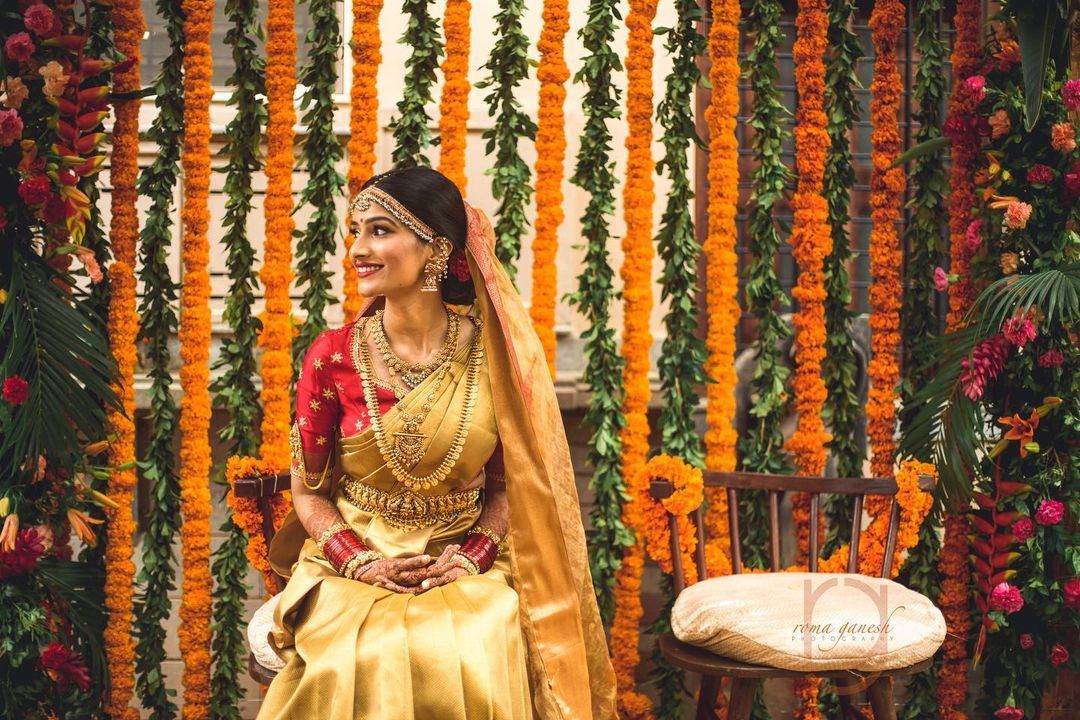 Image via With Love Nilma
This gorgeous at-home mantapa, adorned with genda phool and a plethora of foliage serves the perfect inspo for an afforable DIY wedding
Ever thought about a wedding cake adorned with marigold flowers?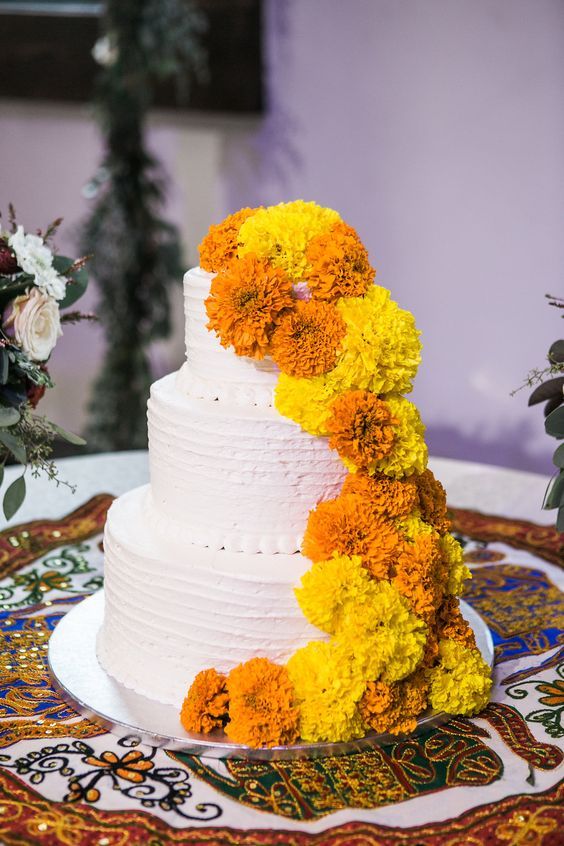 Image via Pinterest
This is something fresh and can instantly lit up the mood of a simple celebration! How about cutting a mehndi cake like this one?
Nothing beats a handmade floral rangoli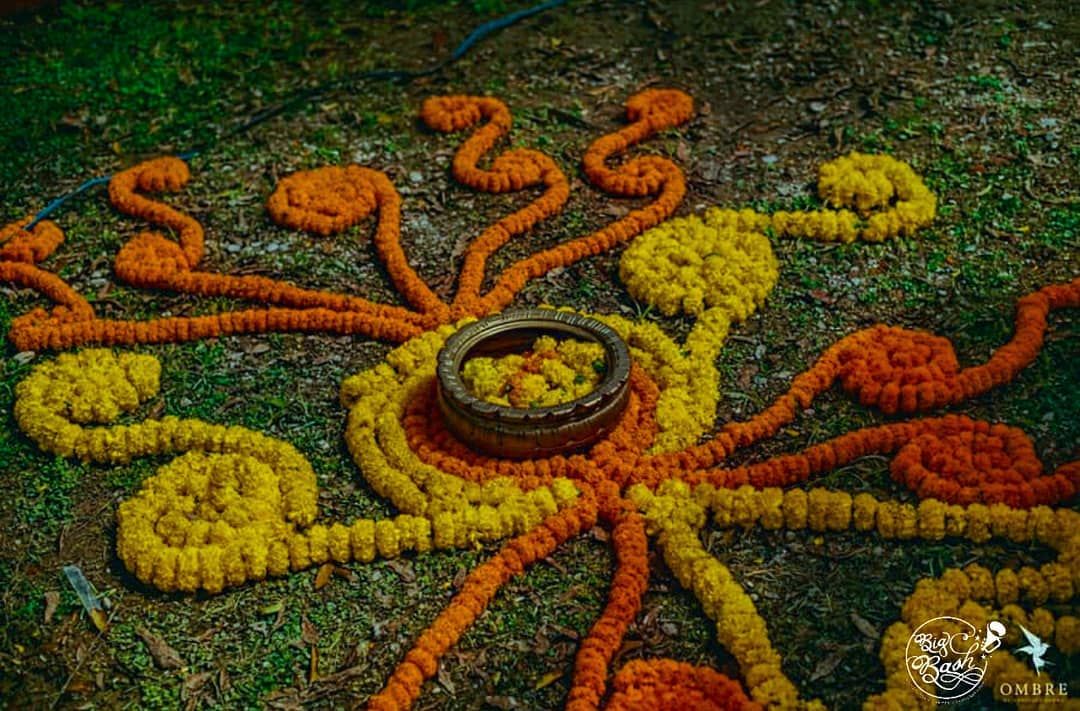 Image via Big Bash Entertainment
One of our favorite genda phool decoration at home ideas! An instant addition of a bright color scheme
Obsessing over this table setting with marigold flower arrangement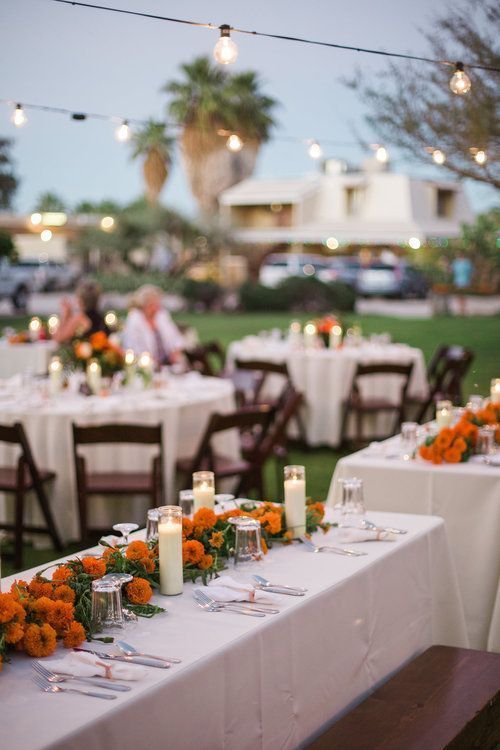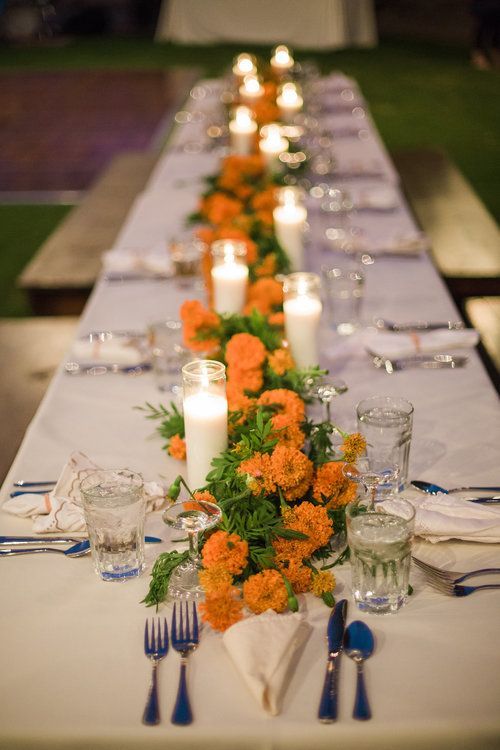 Image via Pinterest
Totally bookmark-worthy!
Genda phool decoration at home just went a notch higher
Image via Pinterest
This simple marigold decoration just defied the notion of 'gendaphool being too traditional' like a boss! Love it?
This one with the contrasting orange and yellow strings!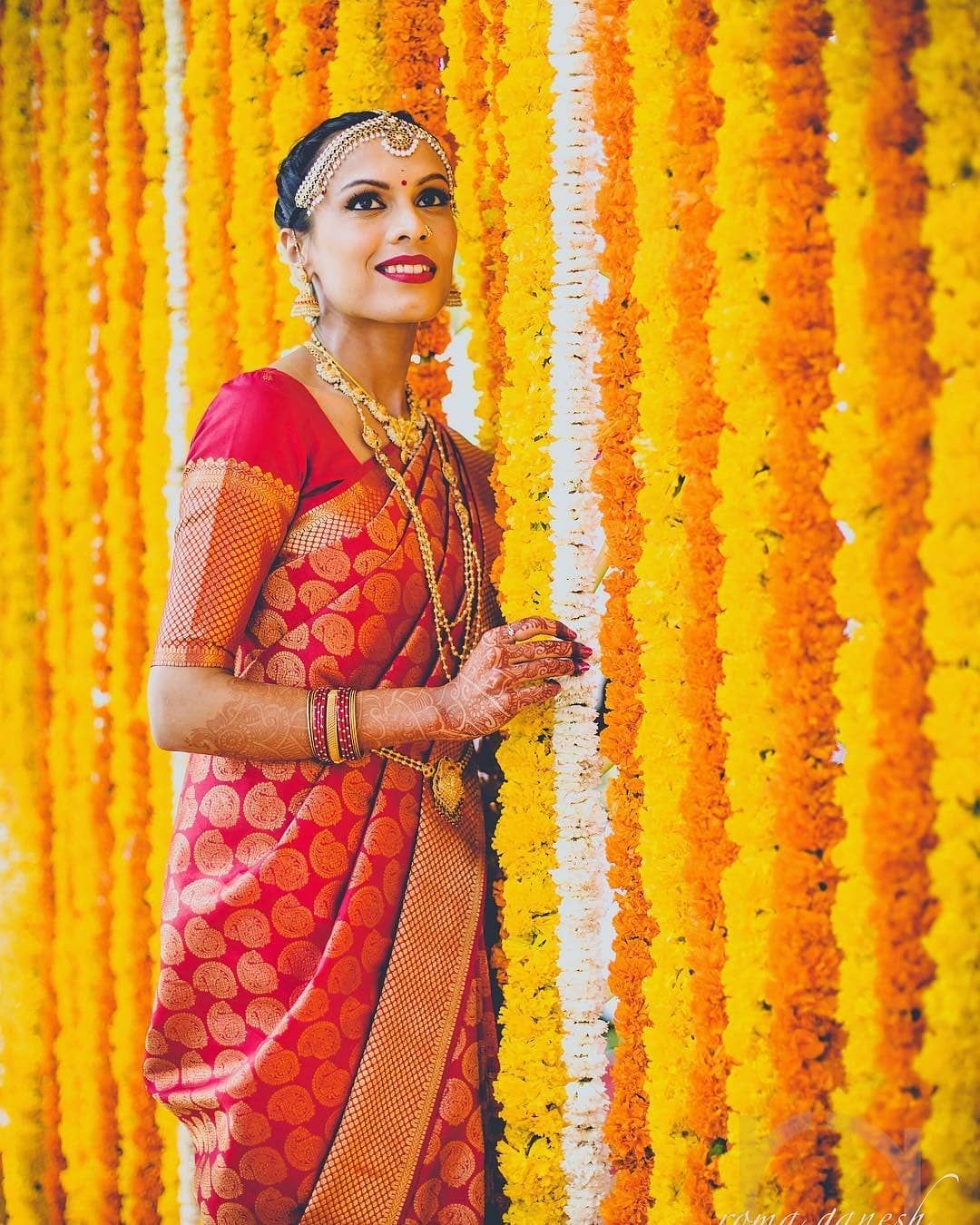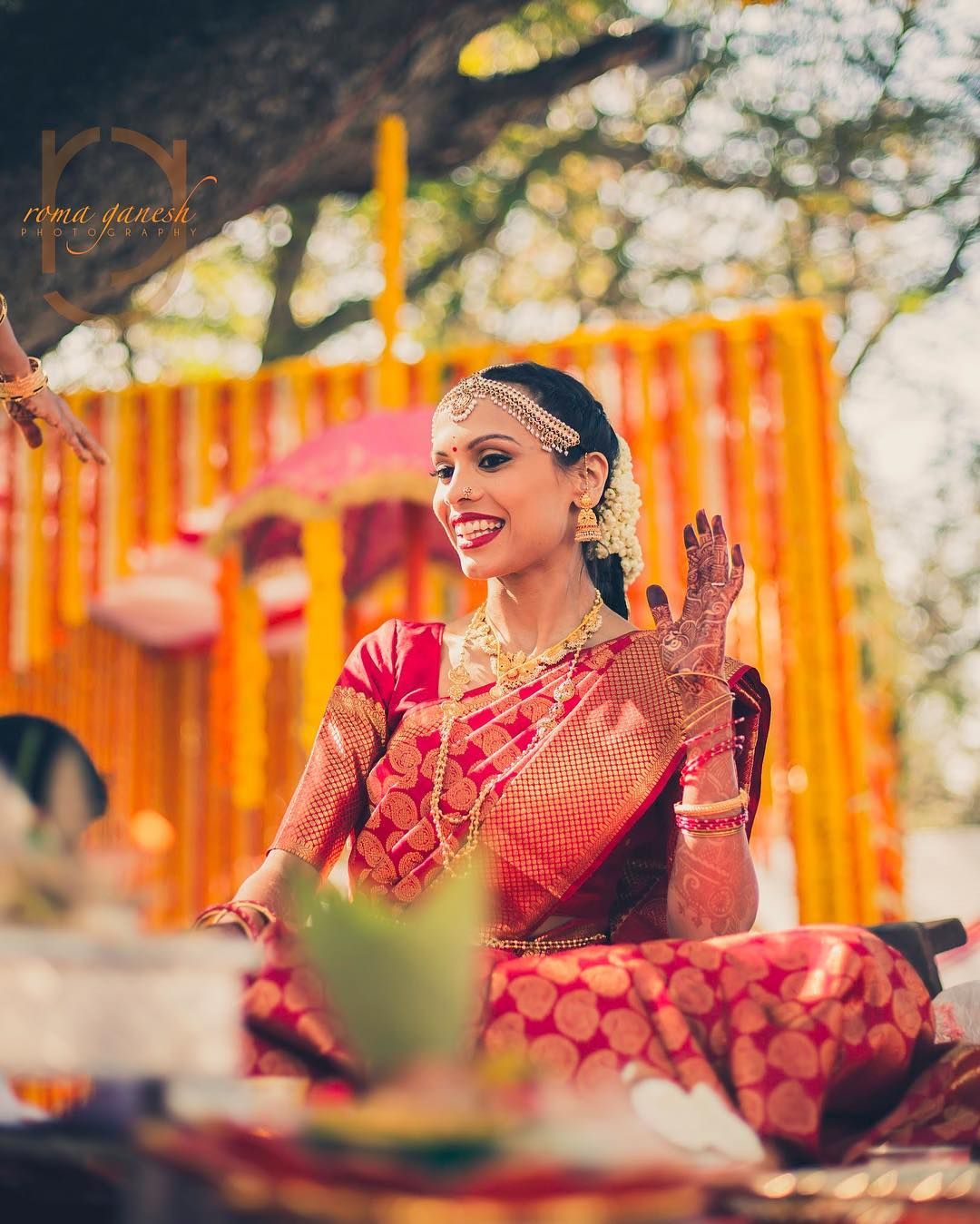 Image via Roma Ganesh Photography★ 5
This one is so perfect for South Indian weddings- love the play of colour!
A floral curtain photobooth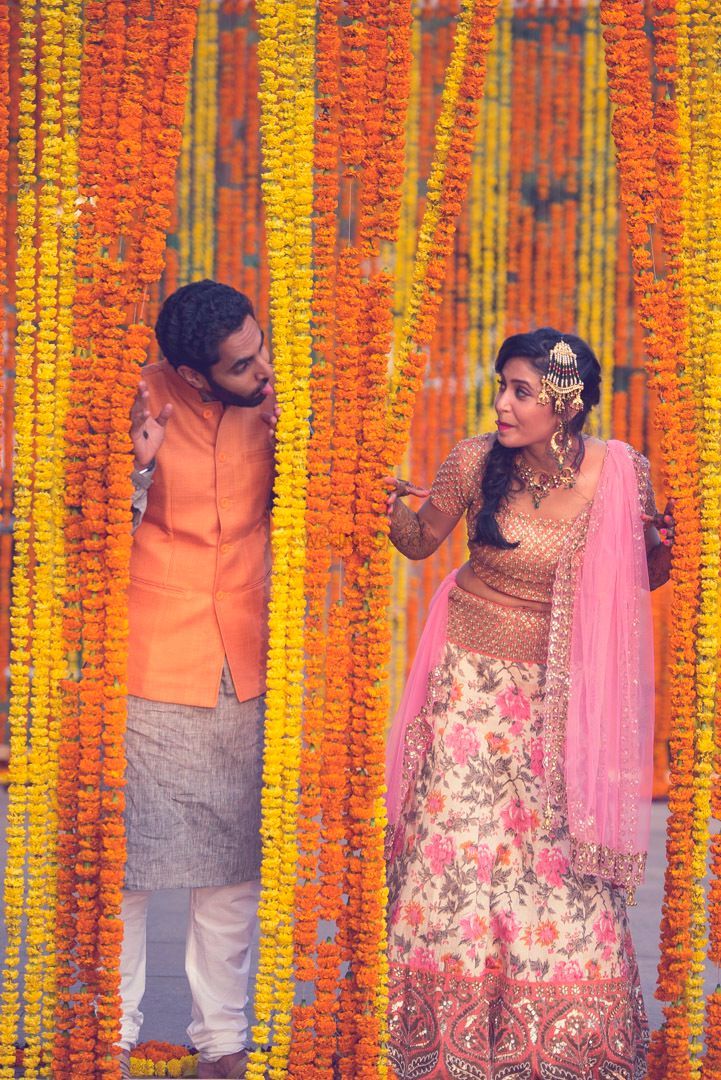 Image via Studio F2.8
Makes for bright and happy one!
This one that matches the bride's lehenga beautifully!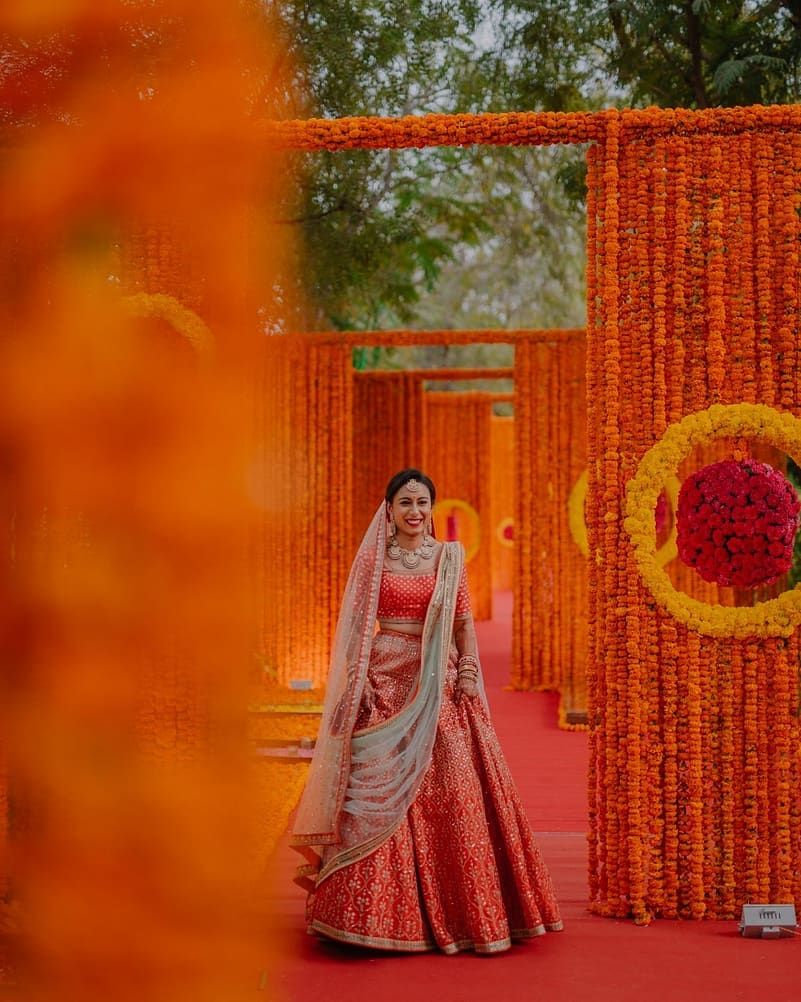 Image via The Royal Affair★ 5
How pretty is this? The shade of the marigolds matching the bride's lehenga beautifully!
This elaborate mandap which looks so grand!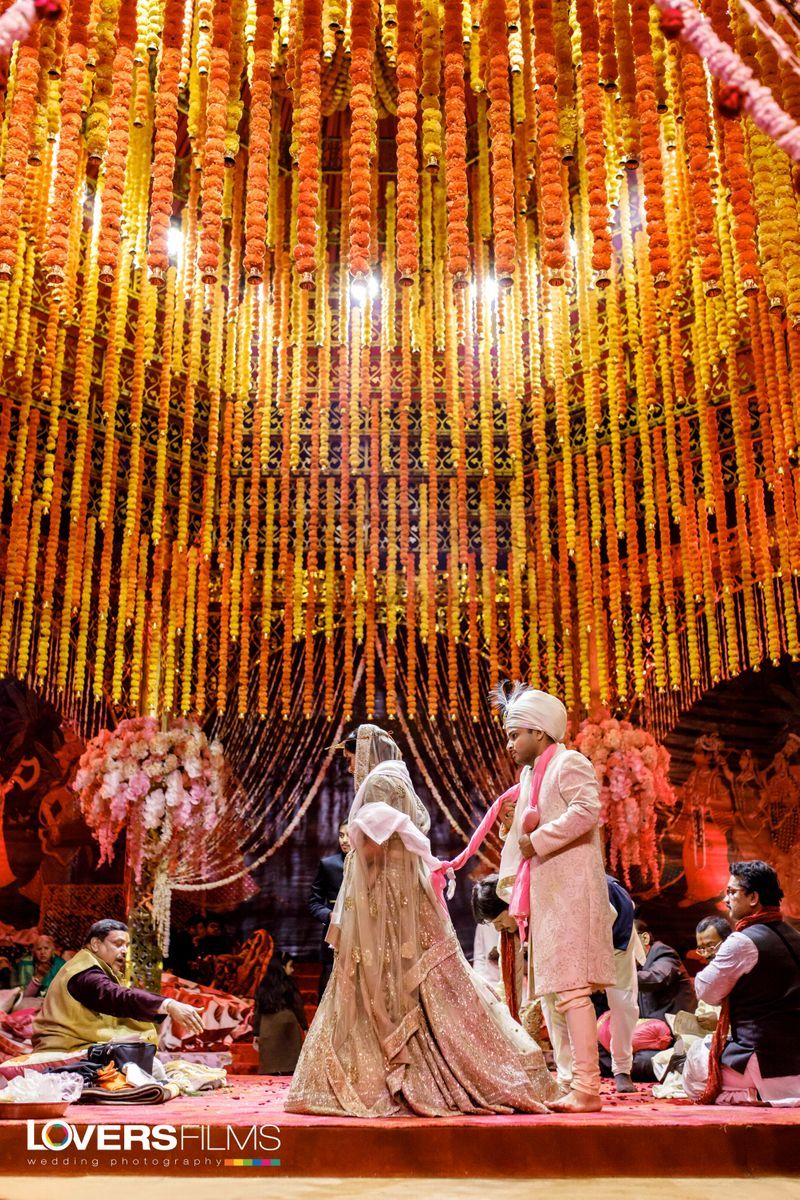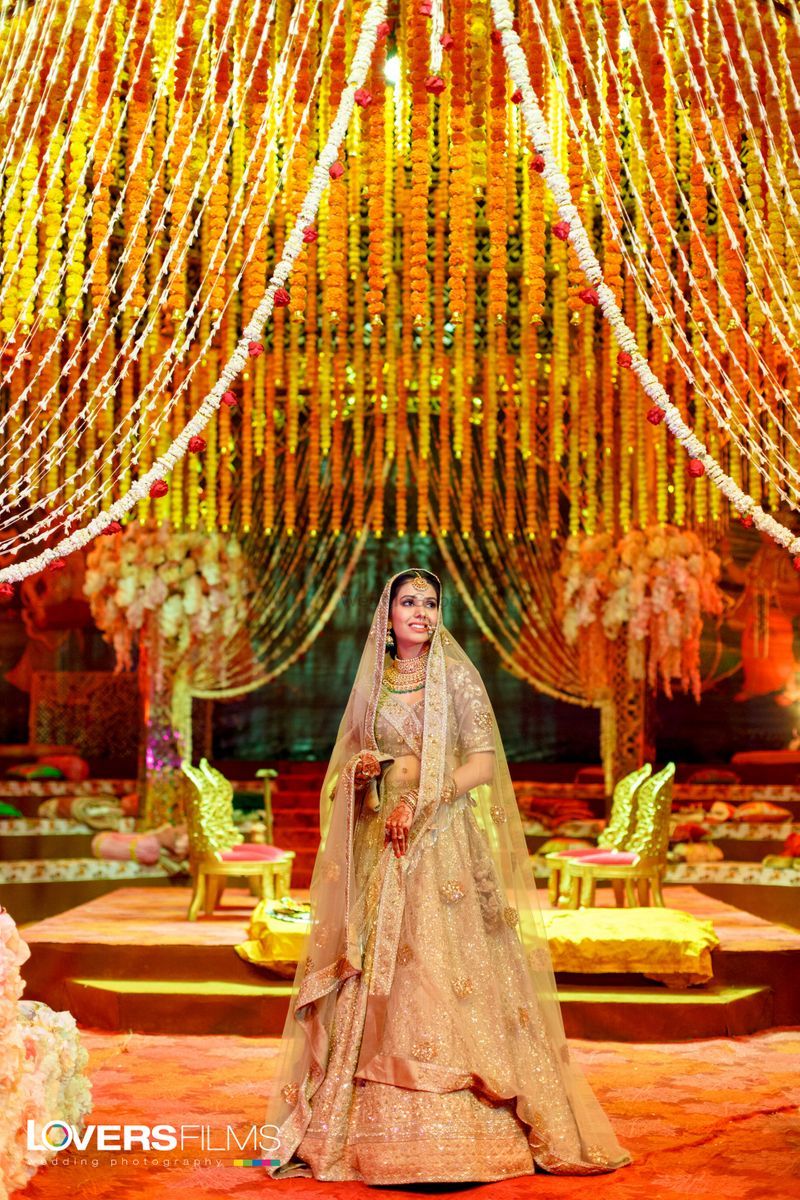 Image via Lovers Films★ 4.9
Now that's a memorable mandap isn't it? So grand and looks amazing in photos!
This mandap which has a beautiful ombre effect!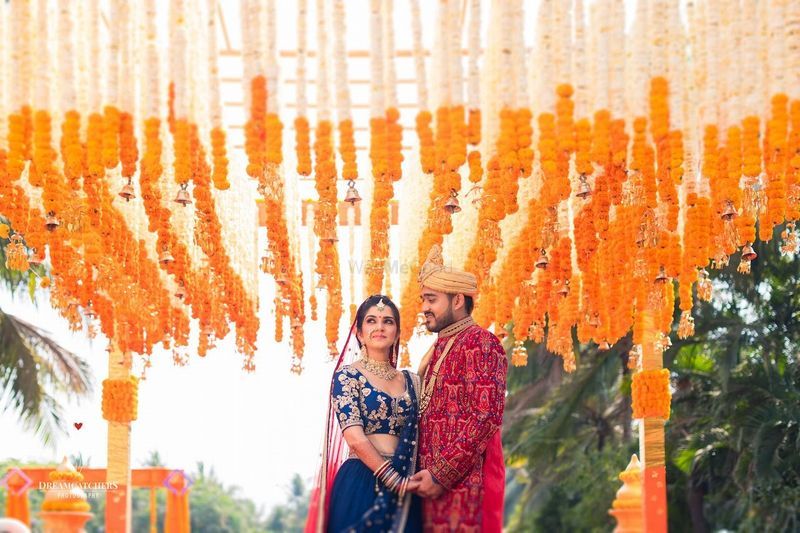 Image via Richa & Khushil (Mumbai)
Now that's a refreshing Mandap- so unique and pretty with the ombre strings!
A genda phool chandelier!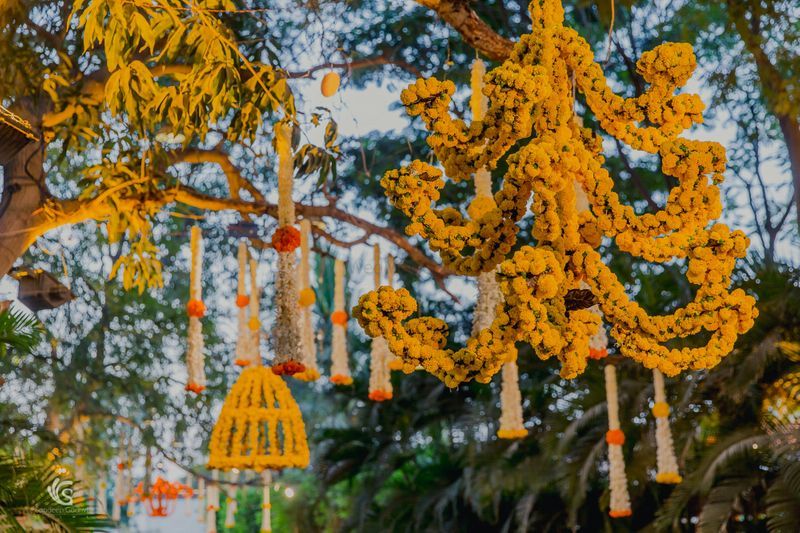 Image via Sandeep Gadhvi Photography★ 5
That's new and pretty isn't it? A great idea for some statement decor!
Or something cool like this!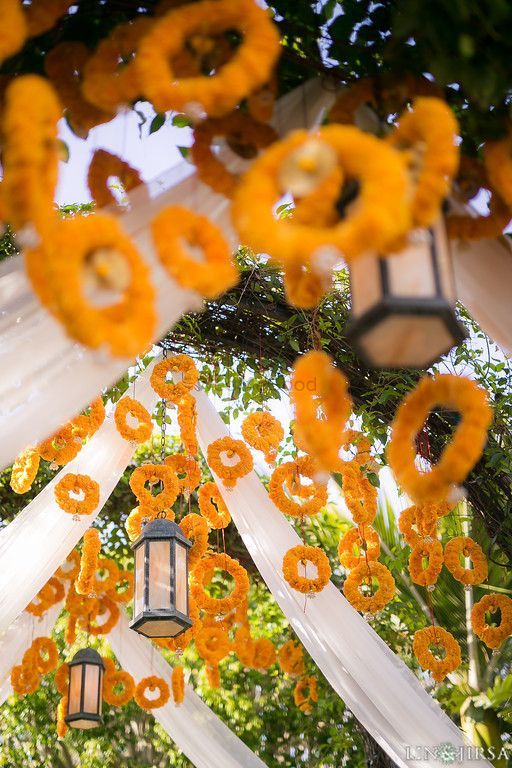 Image via Diviya & Sumit (USA)
This is another cool idea which looks so unique !
Genda phool draped entrance decor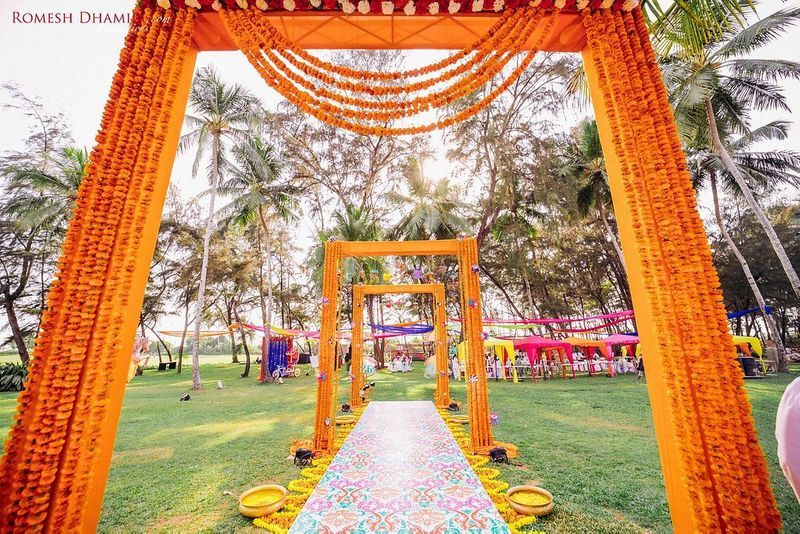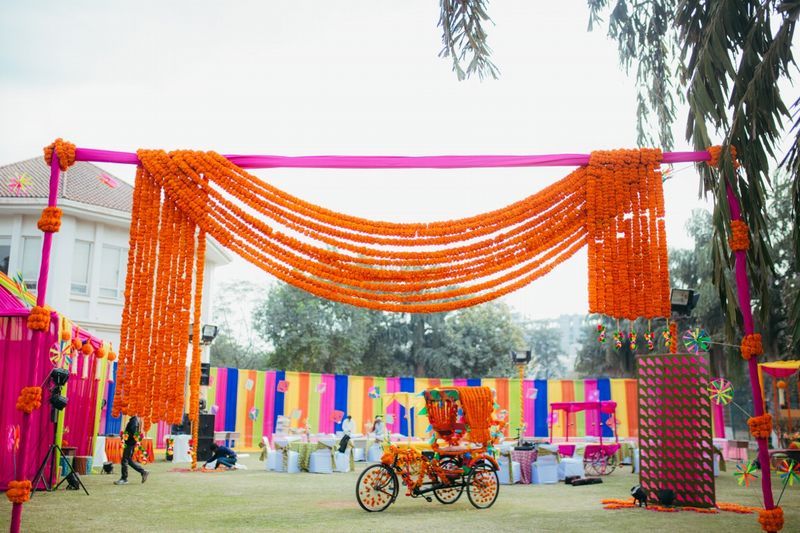 Image via Karisha & Paresh (Goa) and Beginnings For You★ 5  
Genda phool for the entrance decor is also a great idea- and looks amazing!
This genda phoolon ka chadar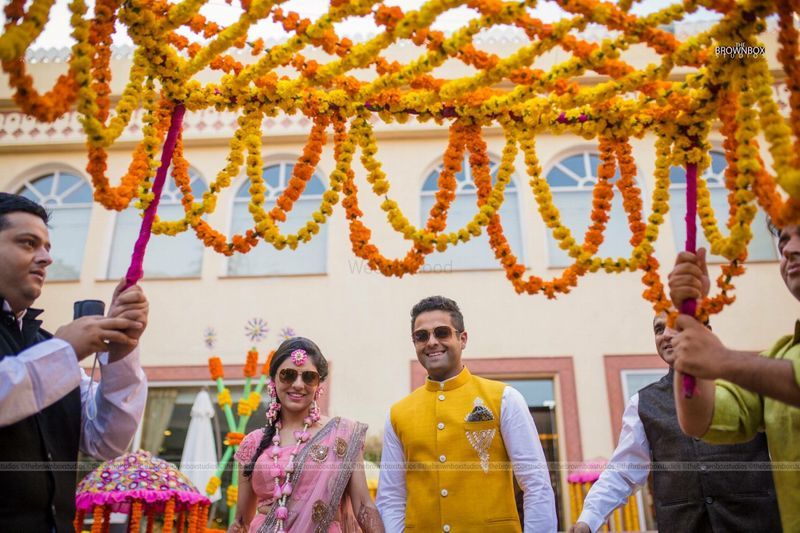 Image via The Brownbox Studios★ 5
An all-genda phoolon ka chadar also looks quite great! Especially for the Mehendi!
Or a floral umbrella!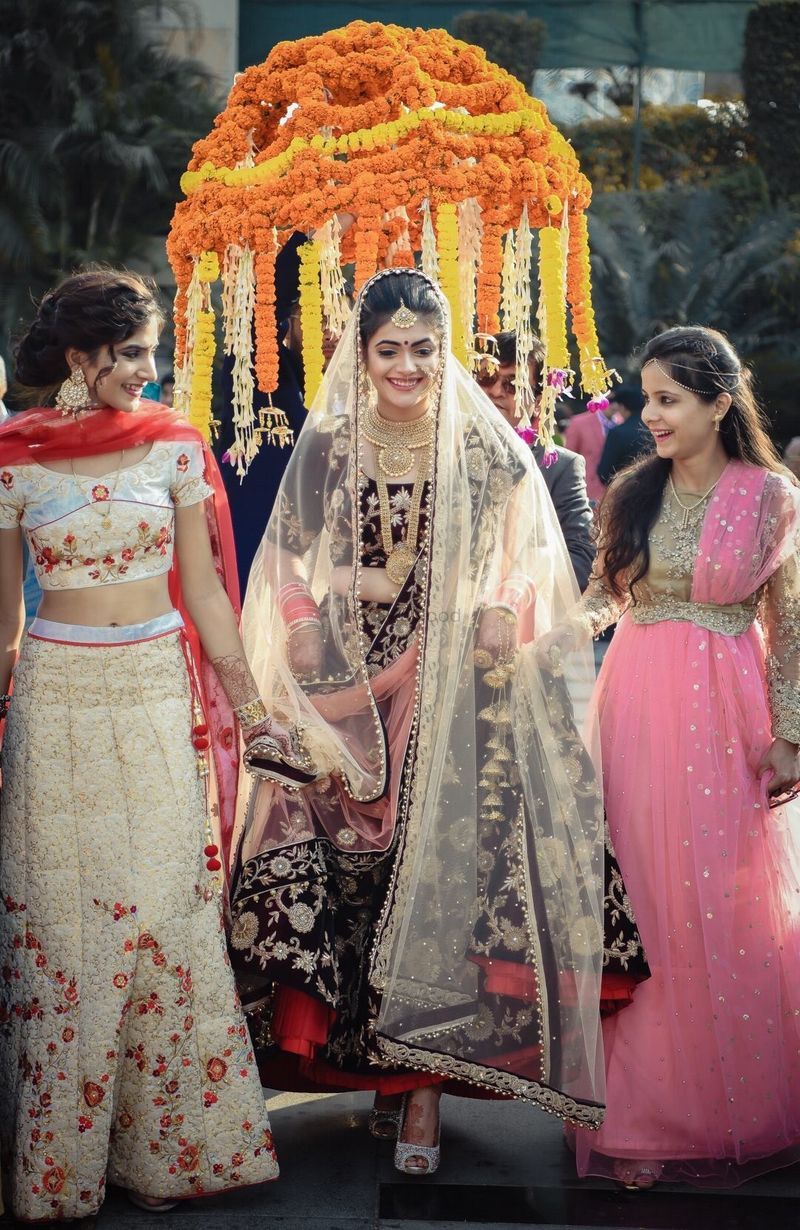 Image via Sumit Clickography★ 5
A floral umbrella works well too!
Floral string curtains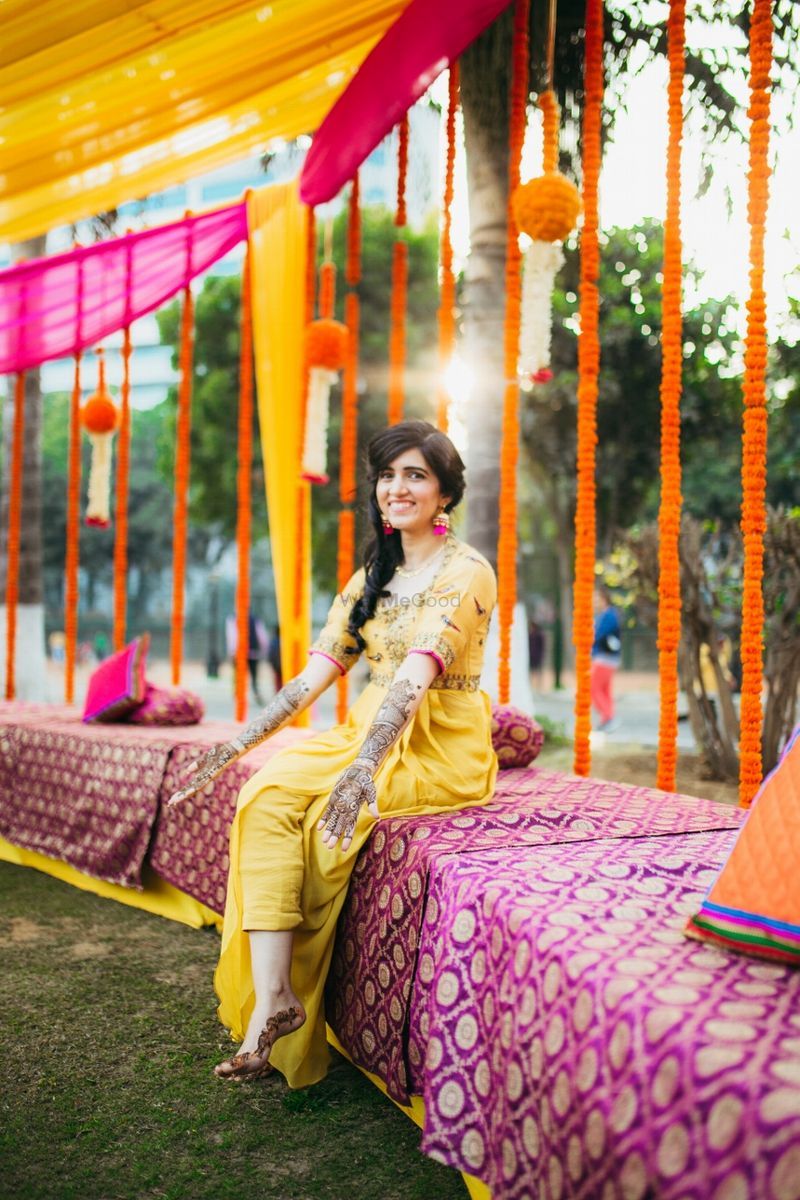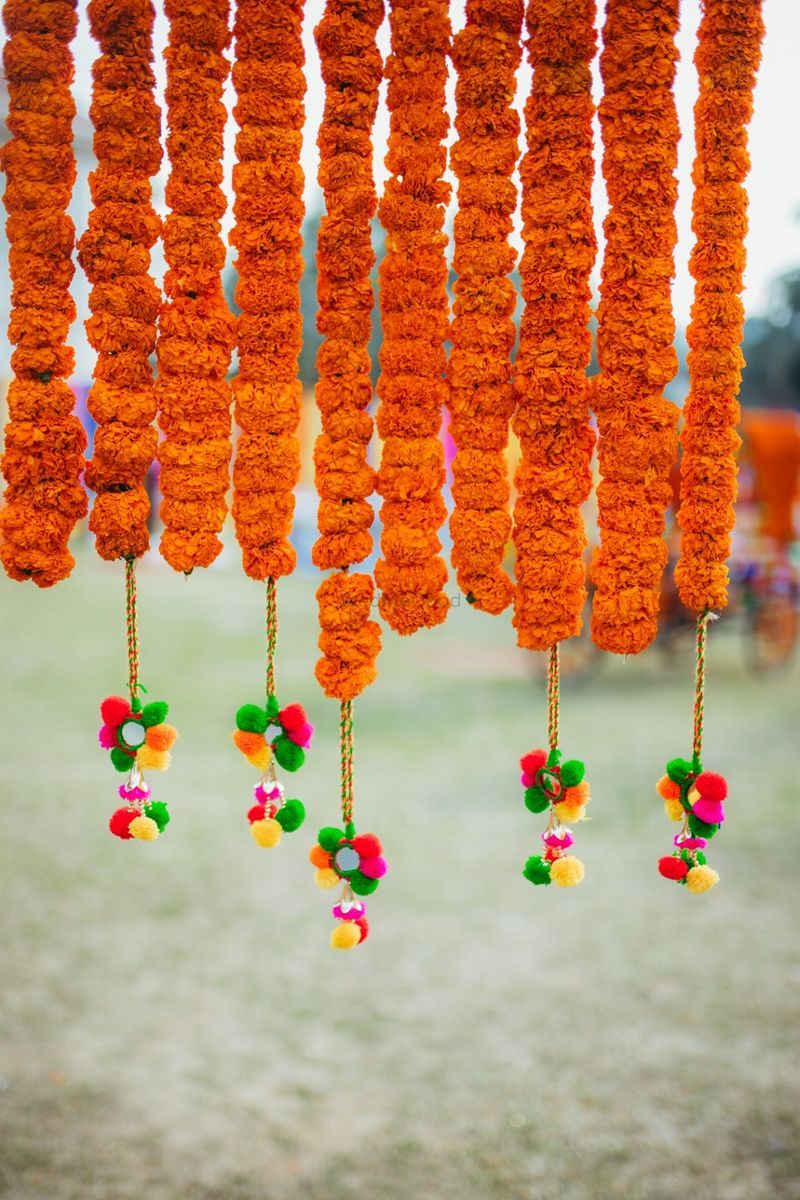 Image via Beginnings For You★ 5  
This one is a little minimal, but super cute and happy!
So, what are your thoughts about this timeless decor trend? 
ALSO READ: #Trending – Marigold Hair Buns That We Are Loving For Intimate Weddings!