Pre wedding shoot with Polka dots & Bow ties !
BY The WMG Bride | 10 Jan, 2015 | 17110 views | 3 min read
Yellow polka dot balloons- check. Suspenders and bow tie on groom to be- check. Adorable sunshine yellow sundress on bride- check. Picnic baskets and wine- check. Couple with adorable chemistry- triple check ! Balloons seem to be the prop of the season for pre wedding shoots these days and we love these yellow ones with the red polka dots. Way cute ! Photographed by Hitched and Clicked★ 4.7 this pre wedding shoot captures everything from signature Bollywood style 'falling of autumn leaves' to the effortless playful chemistry these two have in this shoot that's smattered with polka dots and bow ties !
Meet Gunjan and Pankaj
In Gunjans words "I come from an extremely traditional Kashmiri Pandit set up. In contrast, Pankaj is from a chilled out and flexible Sindhi Family. Confessing to my parents was a challenge in itself, wherein it came to a situation where Pankaj had to have multiple conversations with my father to prove that he is "the guy" for me..! Phew..! Also, this aint where our problems ended. We had at the same work place - which was an added problem for us. We couldnt be seen together "publically" - so basically most of our dates were in restaurants/ clubs/ lounges where noone goes (as in the less popular ones) or we had to go with our respective friends.. Always!! Talk about being filmy. None the less, we managed our way through and I am lucky to have found my best friend and partner in Pankaj!"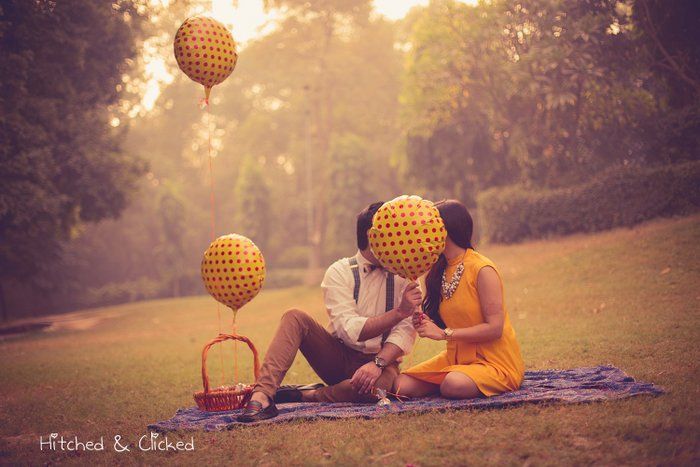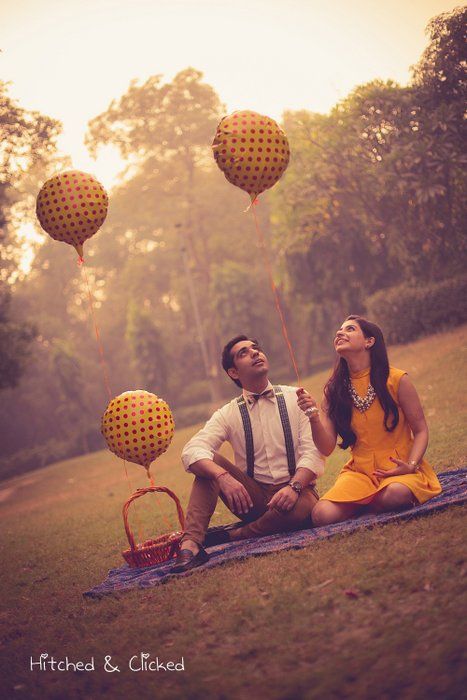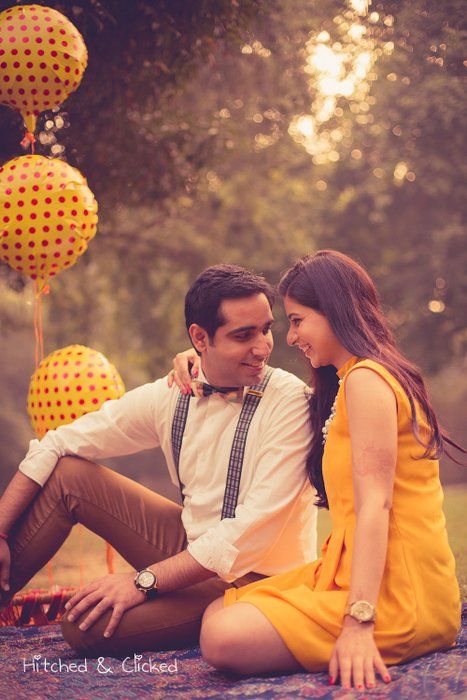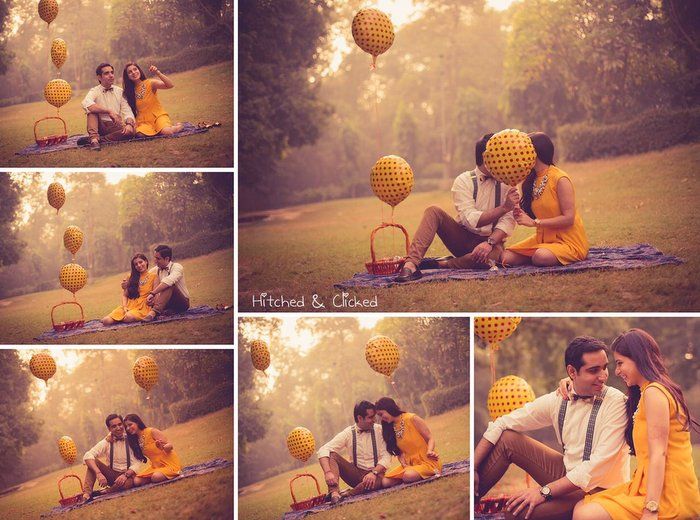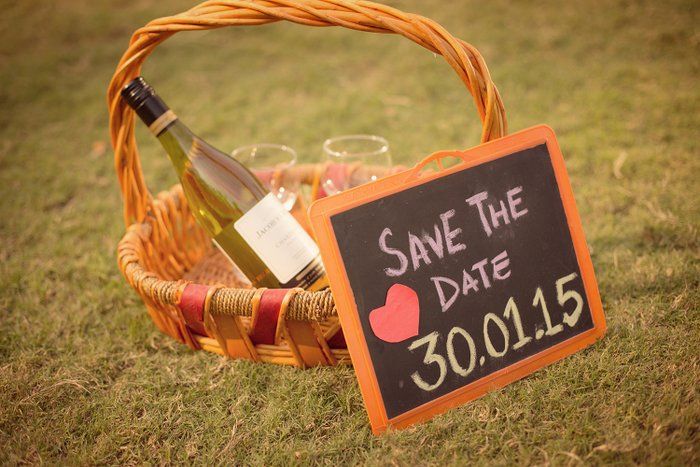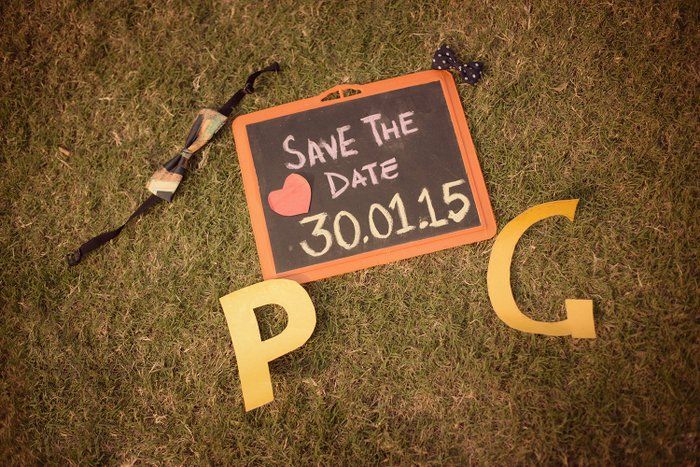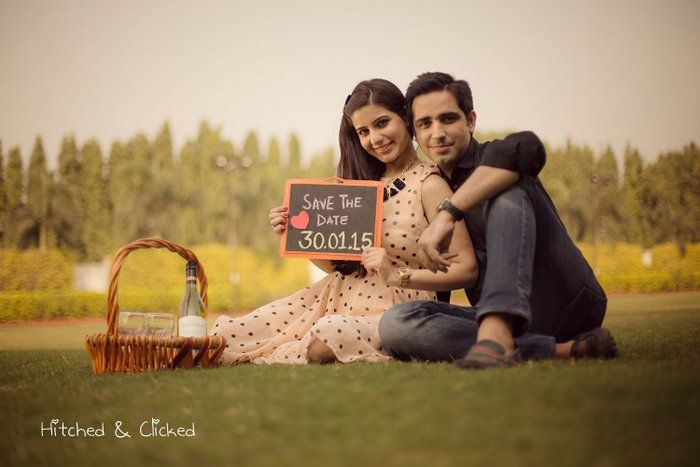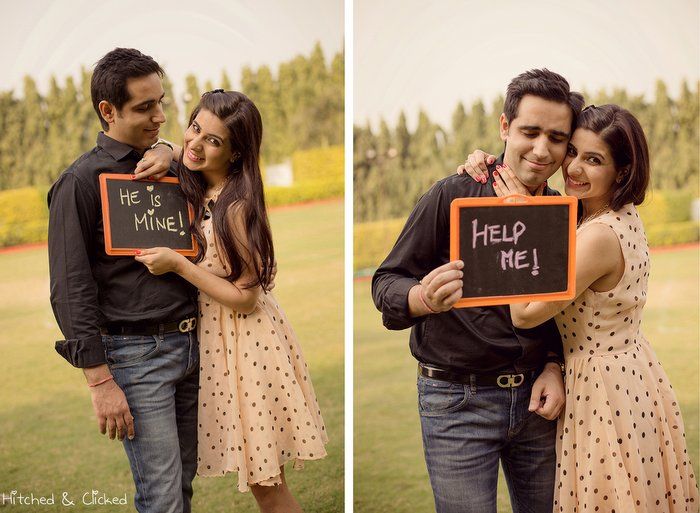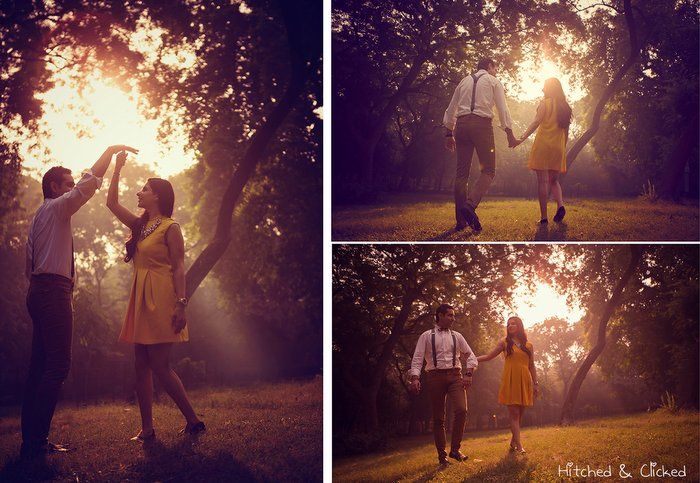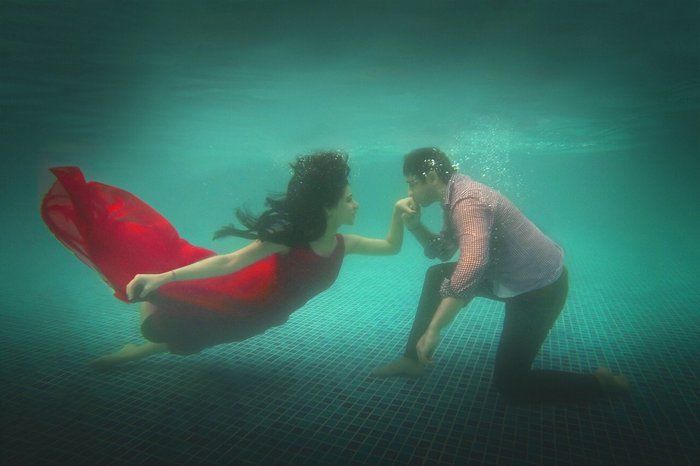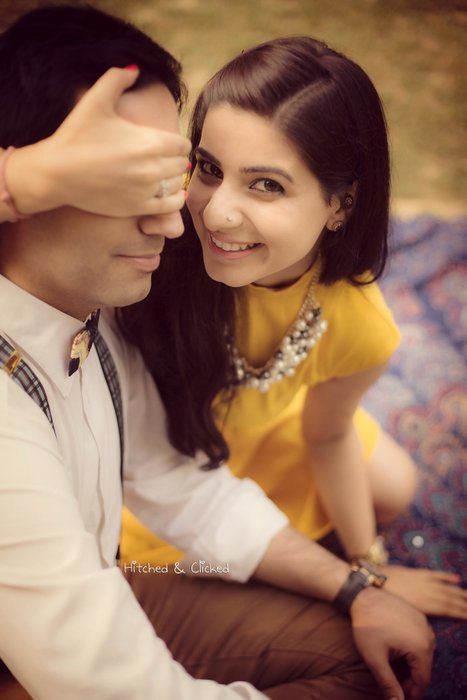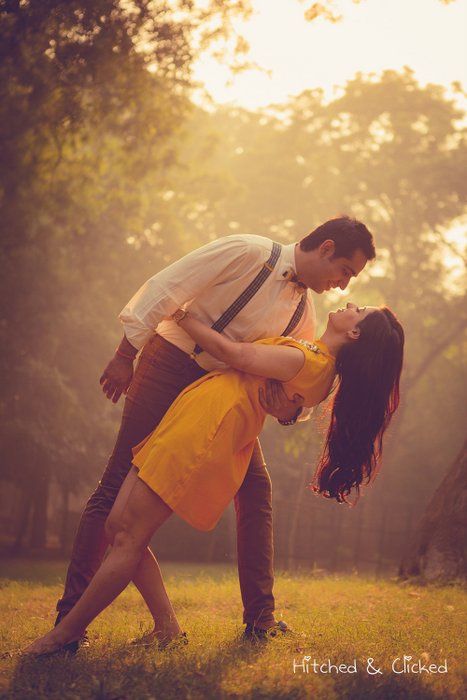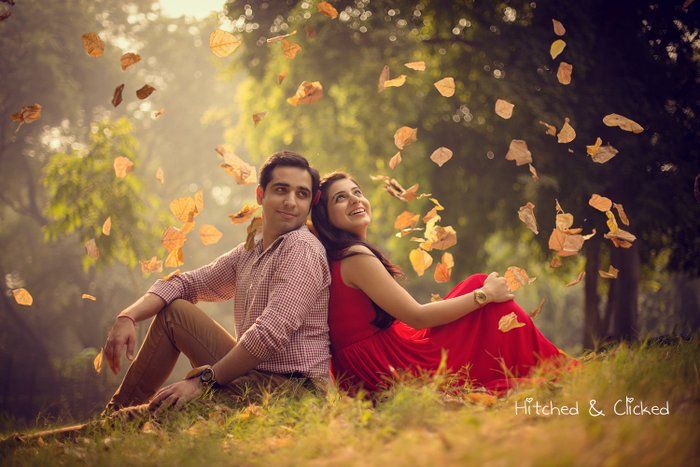 From the bride:  The location we chose for the shoot was Haus Khas Village and we started at 5:00am in the morning! (Phew.. gives me jitters when I think about it now!). But going ahead with our photographers Hitched & Clicked's advice of having sn early morning shoot with natural light paid off and looked wonderful. The props (ballons, glasses, bed sheet, basket, etc.) were all suggested by them and they went into the  minutest details such as matching my dress with balloons!
The second location was Country Inn and Suites. We wanted to do it there as we are having our Engagement Function there – attached with the venue and thankfully there werent any  permission problems using the pool. After doing exactly 120 shots underwater, in the start of winters (yes.. it was in November!), we were thrilled, excited and COLD.  Not only were we in water, but both Gaurav and Astha (from Hitched and Clicked) made sure they were in it with us..!  My fiancé (Pankaj) had already discussed the underwater proposal idea with them which came as a pleasant surprise to me! In a nut shell, we enjoyed every bit of this experience.
Venue: Hauz Khaz Village and Country Inn and suites (for underwater shoot) . Photographers: Hitched & Clicked