Pre Wedding Shoots 101: Where, What, How !!!
BY The WMG Bride | 23 Jun, 2014 | 2601 views | 6 min read
So Pre-wedding shoots are kind of the norm nowadays rather than the exception, but it can be a bit confusing . What location do you pick, what do you wear and what exactly do you do at a pre-wedding shoot ?I got talking to two pre-wedding shoot specialists- Namit Narlawar from Mumbai and Rishabh Sood (Candid Tales from Delhi) to give all the details on pre-wedding shoots !!!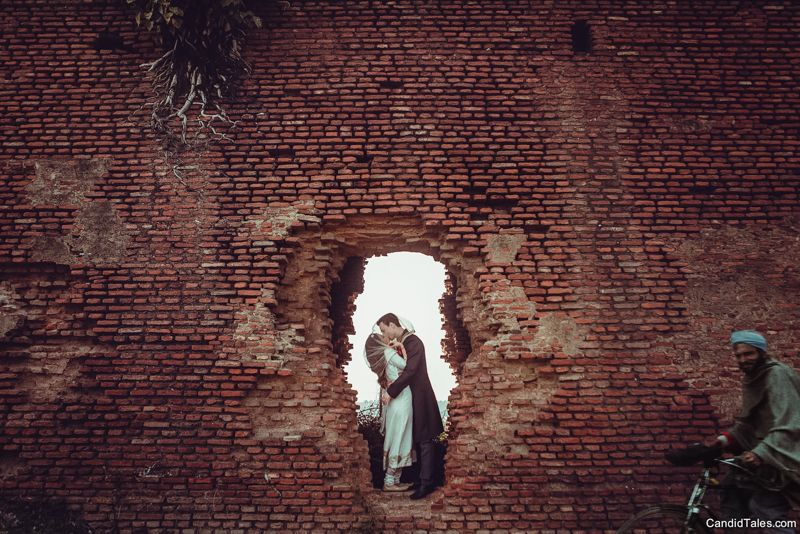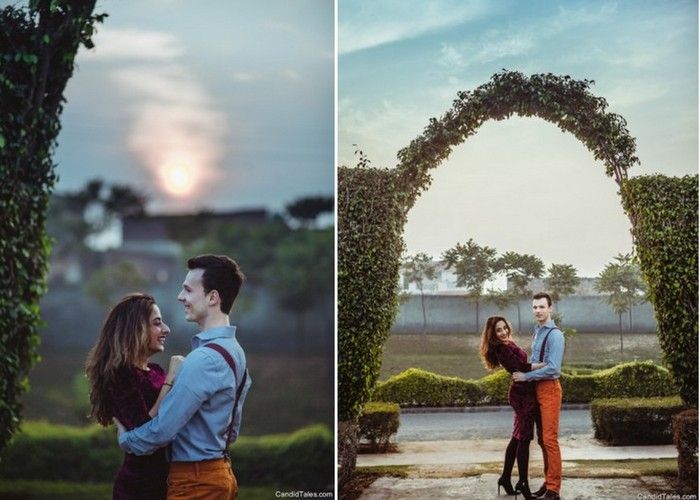 Photos above by Rishabh Sood (Candid Tales)
Why are Pre-Wedding Shoots important?
Rishabh : Pre wedding shoot helps create a rapport between our team and the couple. It is the time when we can connect with the bride and groom, We encourage the couple to bring ideas to the table and share their story with us from which the shoot can be inspired to create something timeless(yet something which they can connect to) Indian weddings tend to get a bit chaotic with a number of rituals and so many things to be taken care off. Pre wedding shoots give the couple some intimate time, away from the hustle bustle, which is spent making beautiful pictures.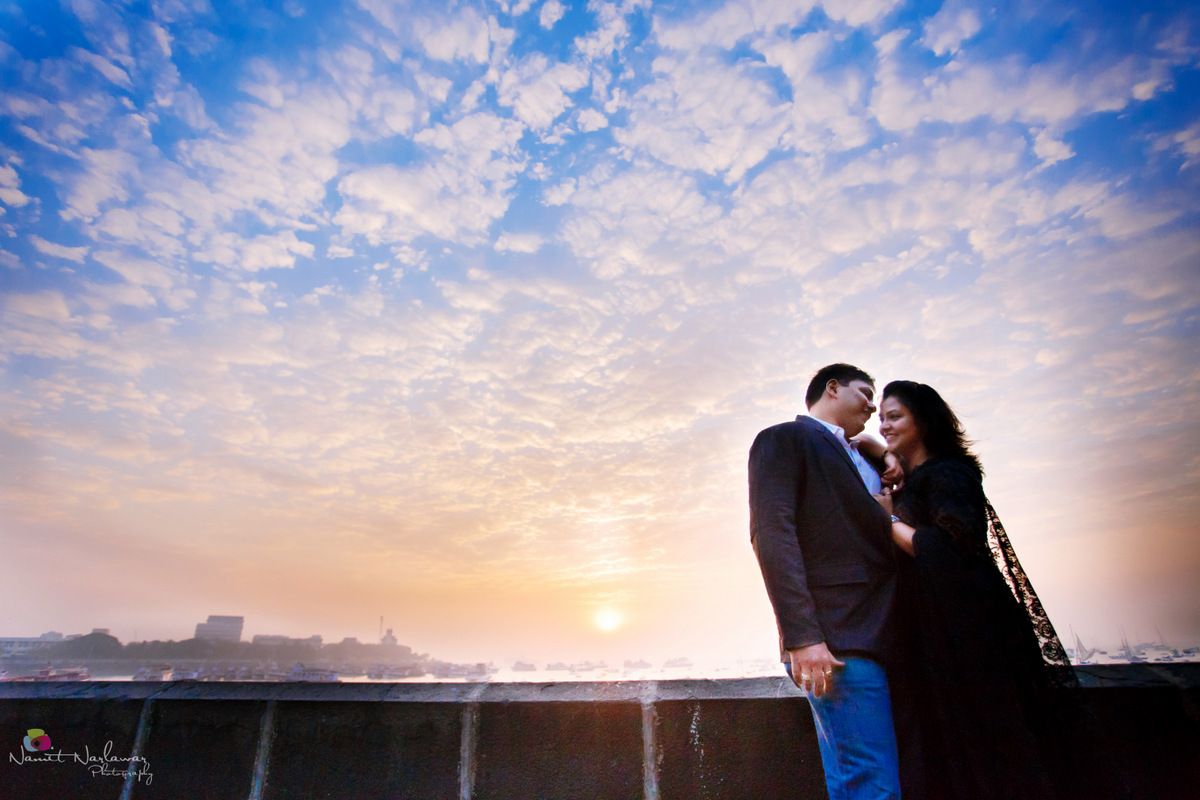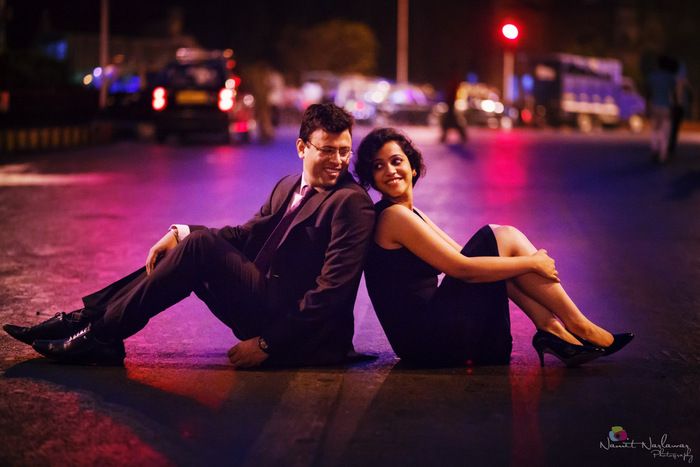 Photos above by Namit Narlawar 
Guys, any ideas as to how a couple should choose a location for pre-wedding shoots?
Namit Narlawar:
Historical places and iconic structures usually have details and give depth to the pictures. Historical places are always a great choice because they represent standing the test of time in a sense, and are symbolic of strength and tenacity in good times and bad. Much like what every couple wants from a marraige. Also, iconic structures from cities that the couple grew up in couple are a great way to show pride in your roots, and have sentimental and nostalgic value. This can be a beautiful way to always have your hometown be part of your wedding memories no matter where in the world you go.
I, personally, love natural settings because of the greenery and mountain views that lend a touch of romance to pre-wedding shoots. For couples who are not so shy, public places are a great way to capture fantastic moments, keep it real, and make them feel like the center of attention too! At the end, though, It's all about creating memories that will symbolize your life's journey and celebrate the joy of finding that special someone to share your life with.
Places in Mumbai to consider: The shoots I have at CST, Bandra-Worli Sea Link, Kargar and Gateway of India have resulted in some brilliant pictures that my clients (and their friends on Facebook!) have loved. These are my favorite locations in Mumbai because they have details and character that make for beautiful pictures. I would also love to shoot at Dhobi Ghat some day.
Rishabh :
We tend to love locations that offer geometric formations to play with. Other than that, throw us in a dingy 8ft by 8ft room with the couple and we will create some fantastic pictures :) Location does plan an important role and a lot of photographer have rules that they specifically want to shoot early morning or in the evening.
Delhi has a whole lot of beautiful spaces for pre-wedding shoots. One of our favourite pre-wedding shoots was actually done near Ludhiana. The goats, the muddy farms, travelling to multiple locations, picking up a relative in between, McD order troubles and yea a whole lot of kisses ensured this was one of our most fun shoots (First two pictures in this article)
 Places in Delhi to consider: The Garden of 5 Senses, The tomb behind Hauz Khaz village , Lodhi Gardens, and tons more !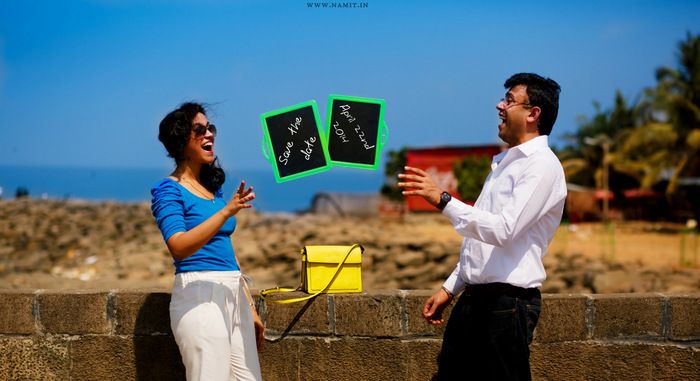 Photo by Namit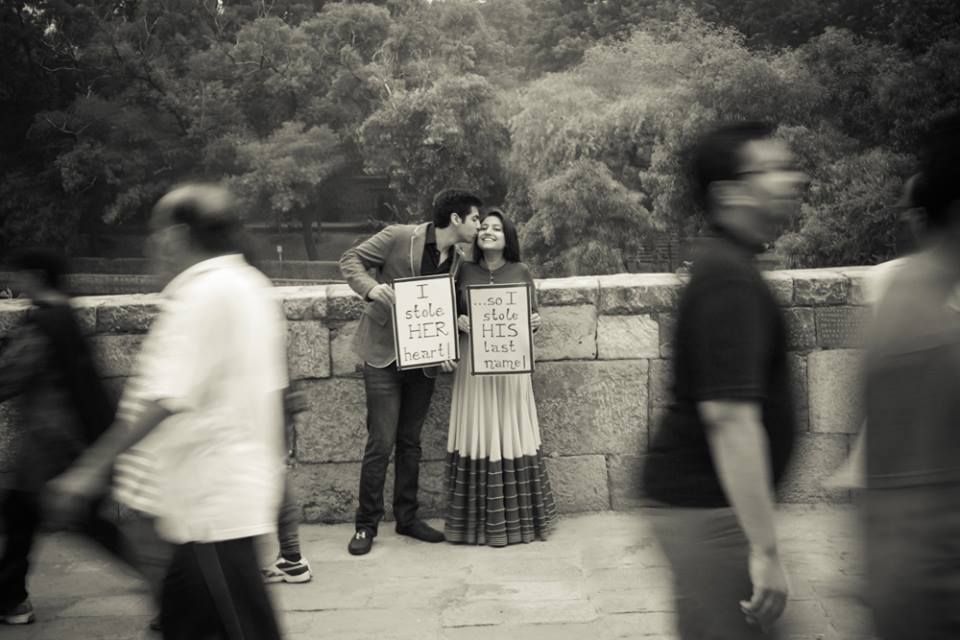 Ph0to by Rishabh Sood
So what kind of outfits should a couple be wearing for a pre-wedding shoot?
Namit :
Unique pictures come from couples projecting their own personality. It is important, though, that the couple wears colors and outfits that compliment each other. I recommend three or four changes of clothes for pre-wedding shoots; usually a mix of Indian and Western, casual and formal for both. Sometimes couples are unsure about what to choose and, in the past, my clients have even exchanged pictures with me on WhatsApp and I have been happy to help them decide. In fact, doing so also helps me brainstorm the kinds of shots/location that will work best. The most important thing the couple should keep in mind is to be themsleves, have fun, and enjoy the limelight! Rishabh:
Pastel colors work beautifully in general. Bright colours work well with bold people willing to carry them off in style. It is driven by personal taste to a large extent. Same is with the outfit that they wear. The couple has to be comfortable in what they are wearing. Not being rigid in this helps give every shoot a different perspective and a touch of personality that defines it as their own.  If you aren't sure as to what would suit you the best it is always a good choice to hire a stylist to help you out if your budget allows you to.
Wed me good: If we can throw in our two cents, i think it's always nice to have atleast one outfit with some sort of a light , fluttering element. It could be the dupatta of your anarkali, it could be a flowy, wispy dress. Something which can generate movement and be captured on camera. Apart from this, pre-wedding shoots are all about romance so breathable, soft clothing in romantic colors would always capture the mood well. If you are wearing a bright color, make sure your other half is wearing a complementing one so as to not completely over power the photograph! (Eg: If you are wearing orange, your guy should probably wear a blue, if you are wearing a Hot Pink, make him wear a pista green and so on)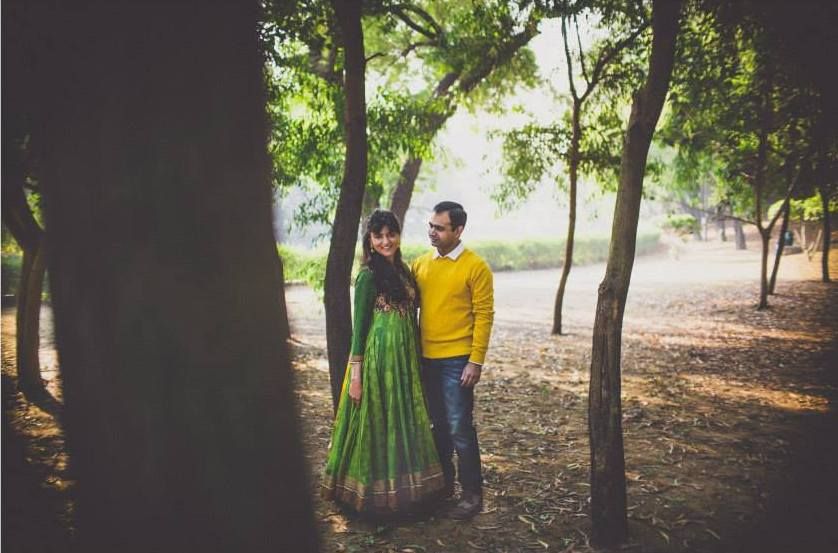 Photo by Rishabh
Photos by Namit
 Some things to keep in mind for great pre-wedding shoot photos:
Pick a time early morning (5:30 am to 10:30 am) or in the evening. Peak day time has harsh sunlight and too many passers by
The results of a pre-wedding shoot really depends on the couple themselves and how completely comfortable they are with each other.
While you should stick to your personality, its always nice to get some outfits in pretty, fluttering dresses which can catch the wind and show movement in a photograph
Know what style of shoot you want- ultra romantic shots would just include you and him getting comfortable (read: snuggling) in your location. If you want a more fun shoot, then think of props, ideas and stories your pictures could tell.
Pricing: Pre-wedding shoots from a good candid photographer would generally start at about 20,000 Rs for 5 hour shoot. However, if you are hiring a candid photog for your wedding, then most of them actually throw in a pre-wedding shoot for free.
In Delhi: The garden of 5 senses, Zorba, The tomb near Hauz Khaz village are all nice options for Pre-wedding shoots.
Rishabh's facebook page: Rishabh Sood
Namits Facebook Page: Namit Narlawar