The 20 Prettiest Lehengas on 2017 Brides : WMG RoundUp
BY Sakshi | 23 Dec, 2017 | 11732 views | 4 min read
Another year, another round-up.. but trust us when we tell you that this had year the prettiest, trendiest, most offbeat lehengas we've ever seen or featured! Here are the best lehengas we spotted on 2017 brides- the ones you guys loved on the WMG app, the ones that got the most number of saves on wedmegood app..the ones.... you get the drift.
Tania's pretty pastel lehenga by Anita Dongre that's so refreshing!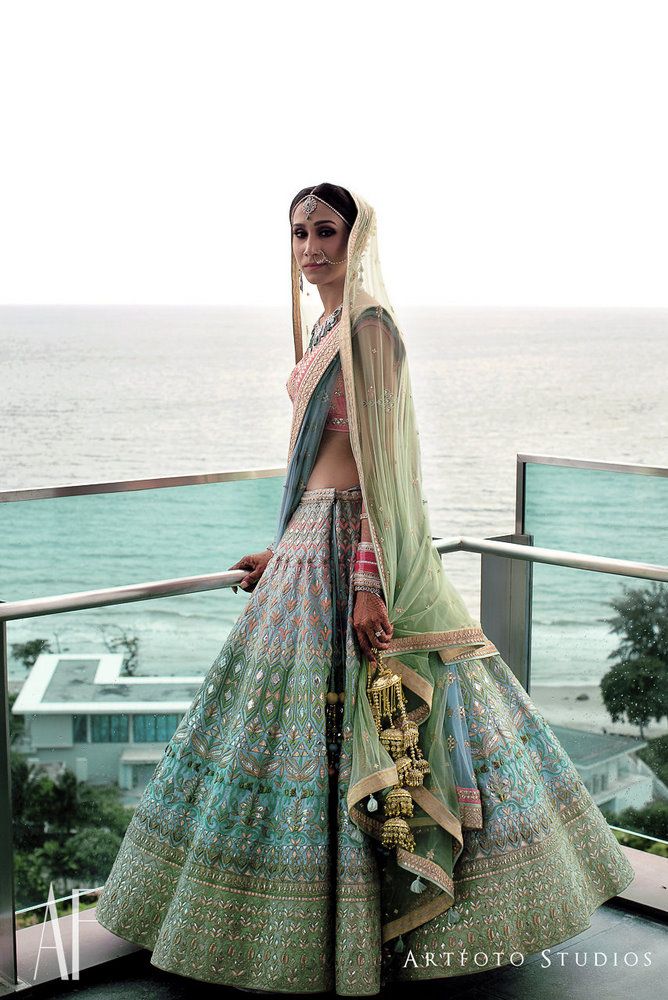 Image via Tania and Vidhu's Wedding; Outfit by Anita Dongre★ 4.9
In hues of aqua and pink, this one was so refreshing from all the ones we have seen
The grey-lilac Shantanu & Nikhil lehenga that had us at hello!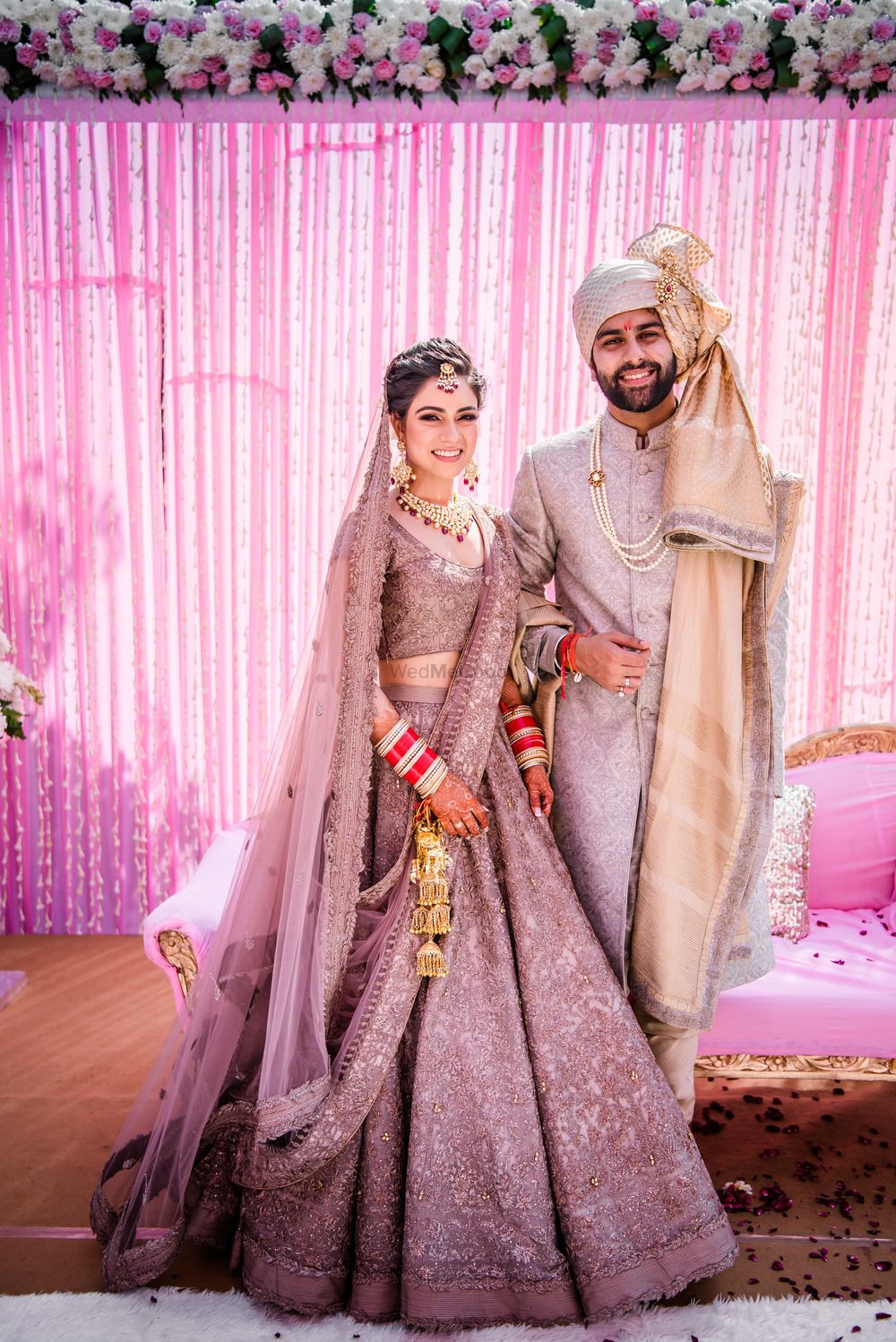 Pic via Snapsoul
In a unique lavender, wth a wide ghera, this outfit had us at hello. Classic Shantanu Nikhil with oodles of intricate embroidery
Natasha's blush pink lehenga by Bzai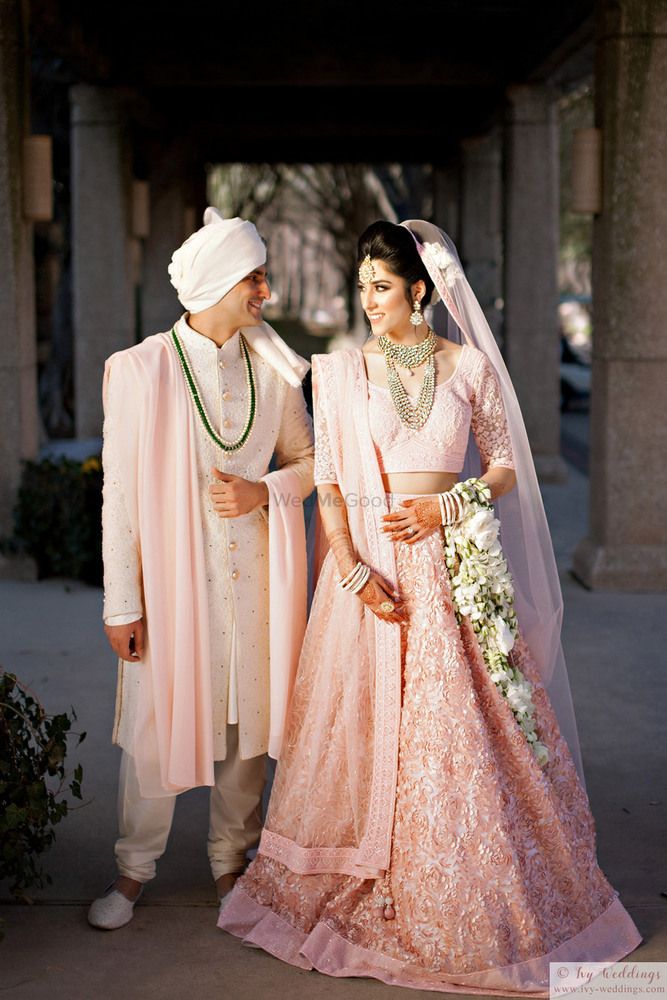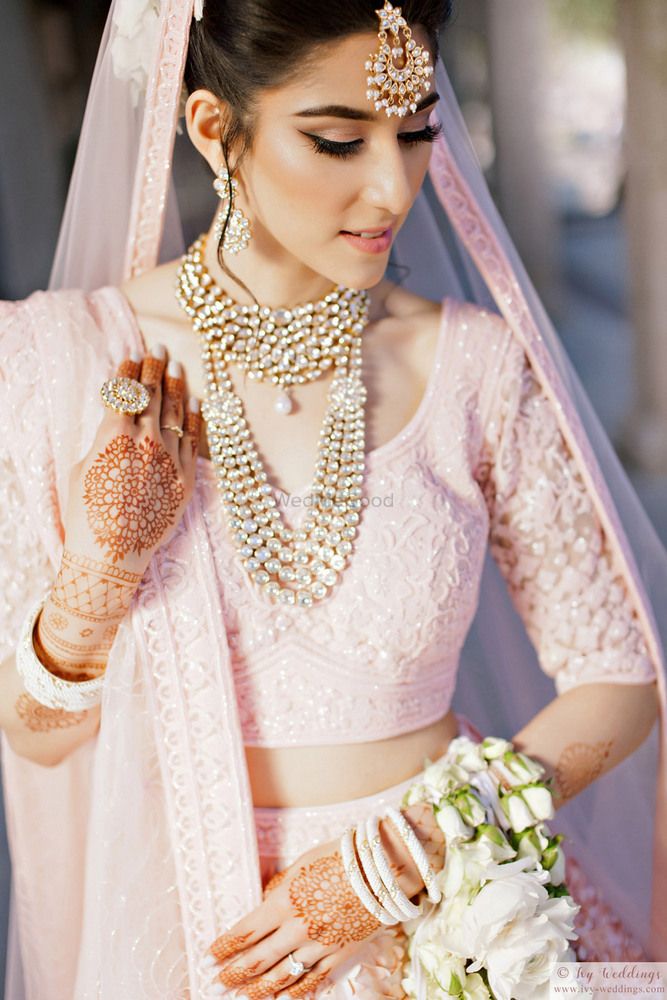 Image via Sandeep and Natasha's Wedding; Outfit by bZAI by Natasha Arora
On first look, it's a plain lehenga, but still so so pretty! Love how pleasing to the eye it is!
Anupreet's white and gold lehenga by 'Sidhuji by Anupreet Sidhu'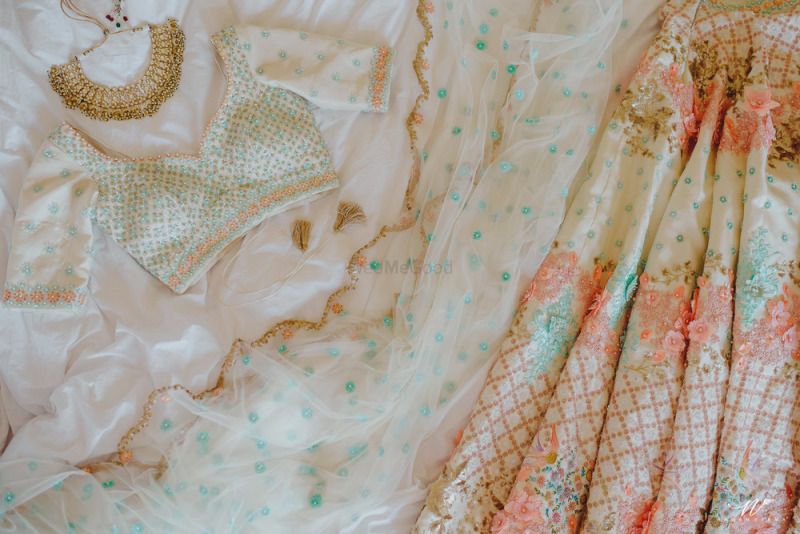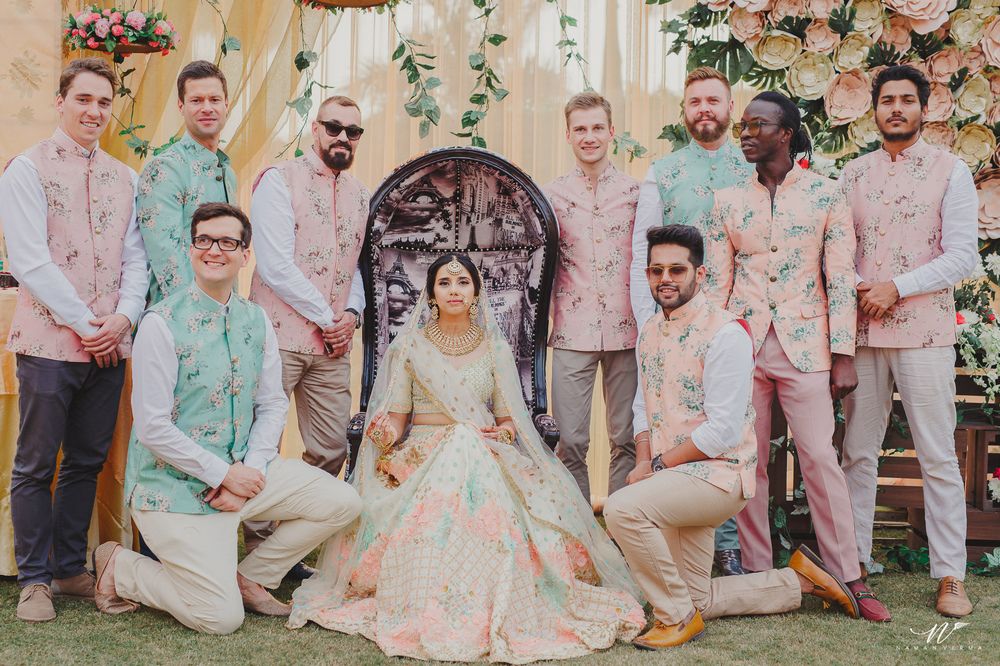 Image via Anuprit and Akshit's Wedding; Outfit by Sidhu Ji★ 5
A bride who wore a pretty outfit like that one, and what's even better is that it's from her own label! Love the refreshing choice of colour on white! So pretty! 
Anushka Sharma's pretty pastel bridal lehenga by Sabyasachi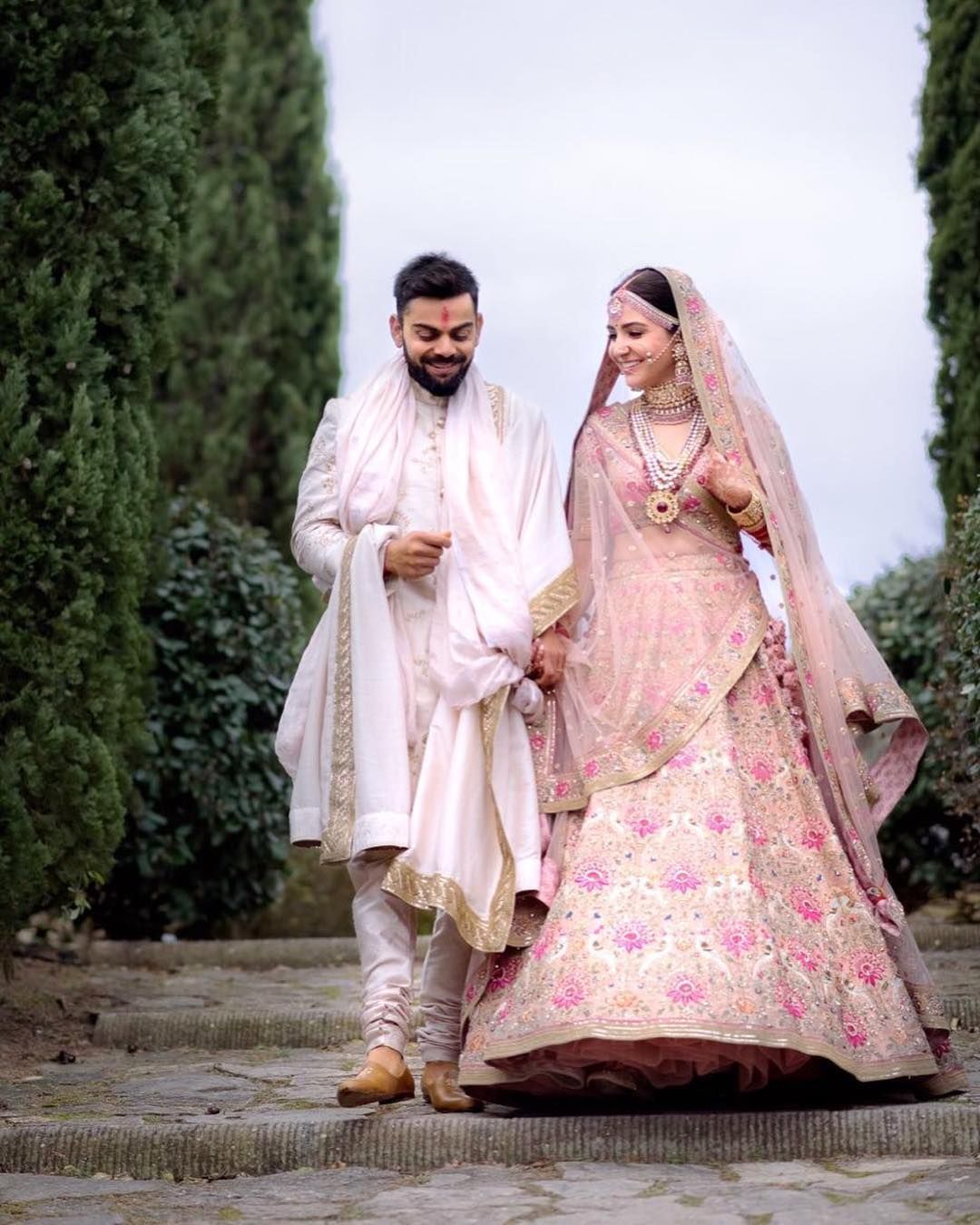 Image via bridesofsabyasachi; Outfit by Sabyasachi Mukherjee★ 4.9
I mean, how could we not add it to the list? The lehenga was too pretty, hand-embroidered and embellished with floral motifs! 
Aanchals mint and bright pink lehenga with that awesome blouse!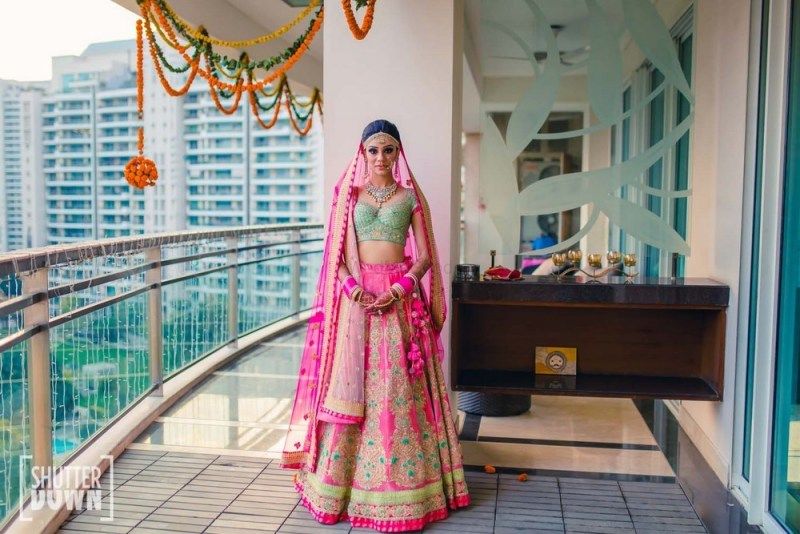 Image via Aanchal and Rahul's Wedding; Outfit by Sabyasachi Mukherjee★ 4.9
The blouse really did it for us as far as this lehenga was concerned- not only is the combination so pretty, but how pretty is the design of that blouse?
Mehers saffron hued lehenga by Surekha Jain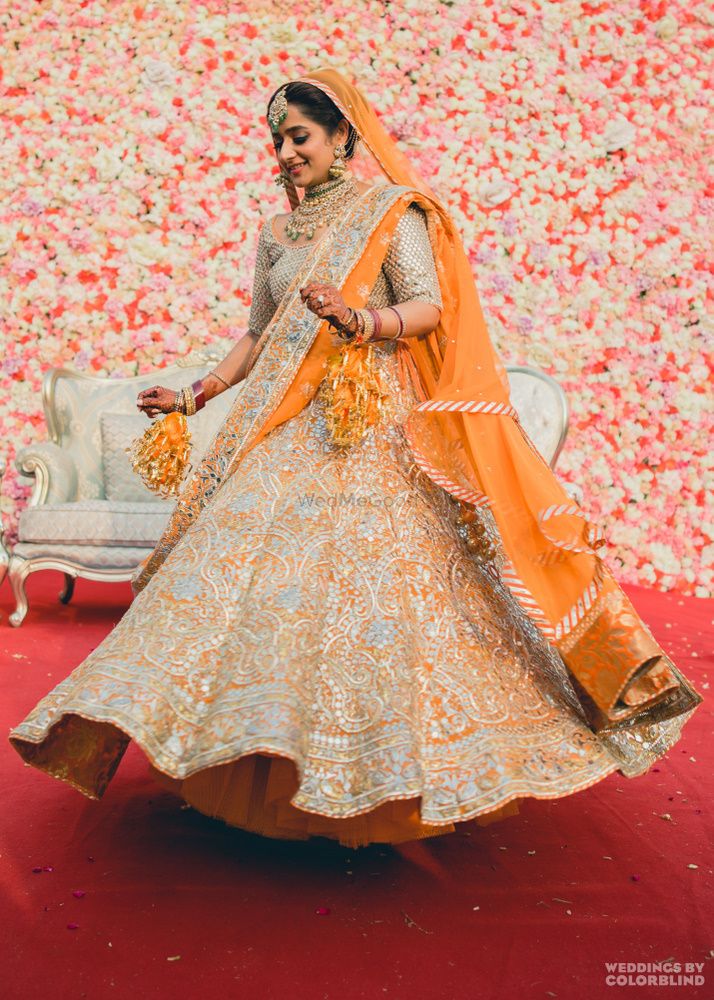 Wedding: Meher & Simran . Lehenga by Surekha Jain
 We love it when brides wear unique colors and Meher's saffron (or laddoo colored lehenga) was a dream
Amrita Puri's ivory and gold lehenga by Sabyasachi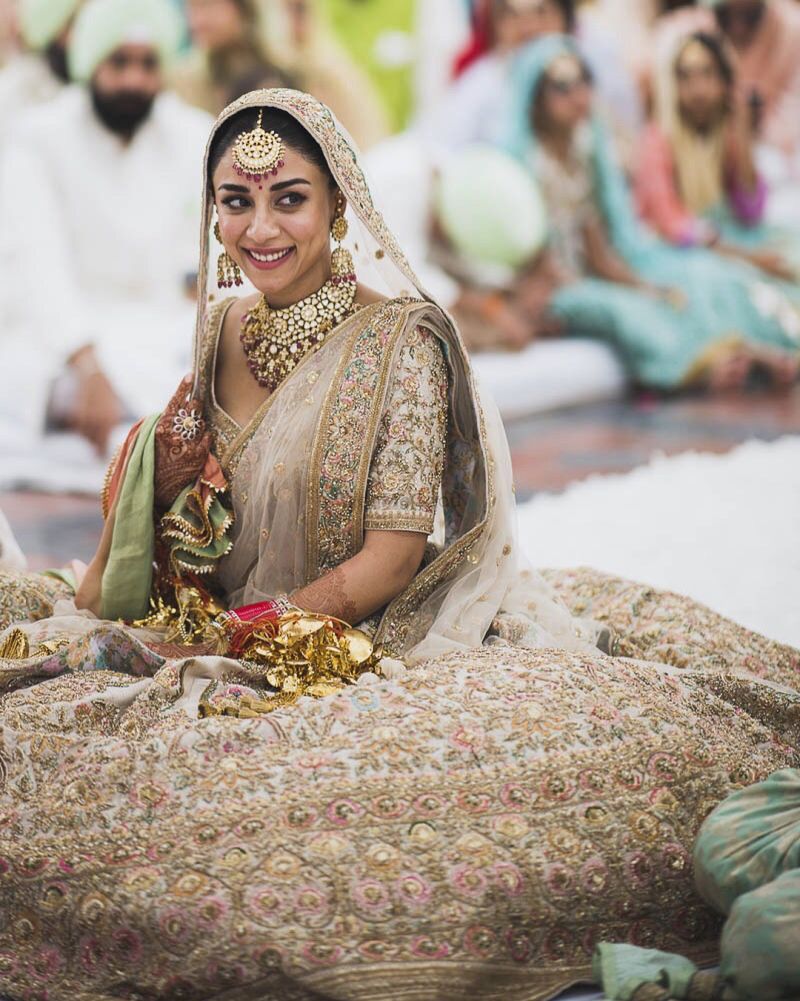 Image via Élan Events by Nipunika; Outfit by Sabyasachi Mukherjee★ 4.9
This one was another stunner! Ivory and gold lehenga with floral motifs embroidered all over- the lehenga really stood out and how!
Samantha Prabhu's gorgeous lehenga that had a pretty unique hue!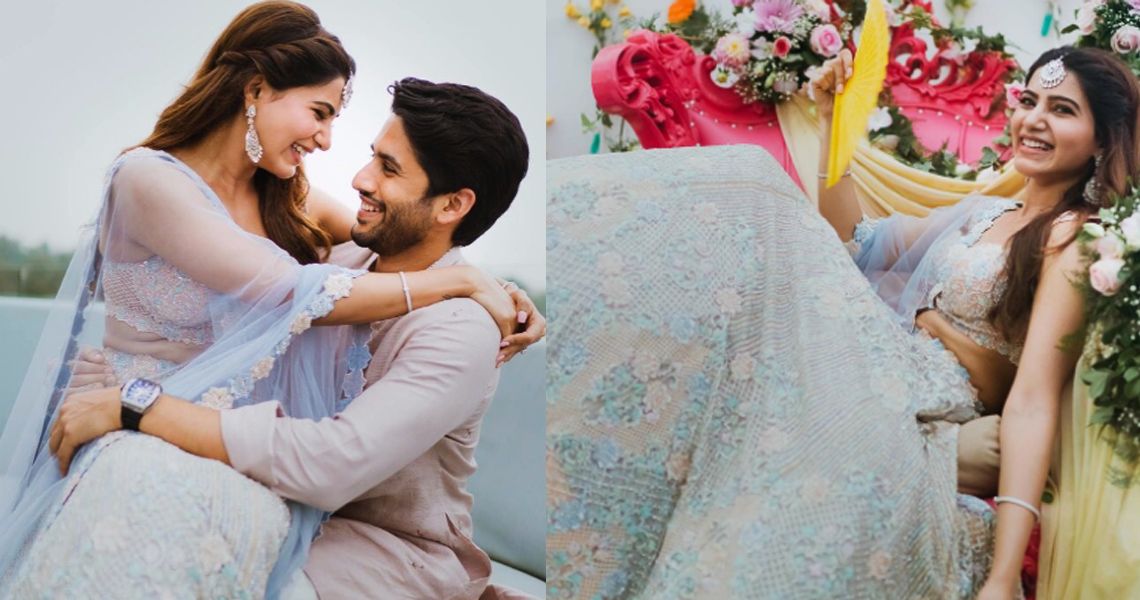 Image via #ChaiSam Wedding; Outfit by Koecsh
That's the kind of lehenga that would be worn if fairytales were real! I mean, just look at that gorgeous shade of lilac and blue! 
Paridhi's mint green lehenga by Frontier Raas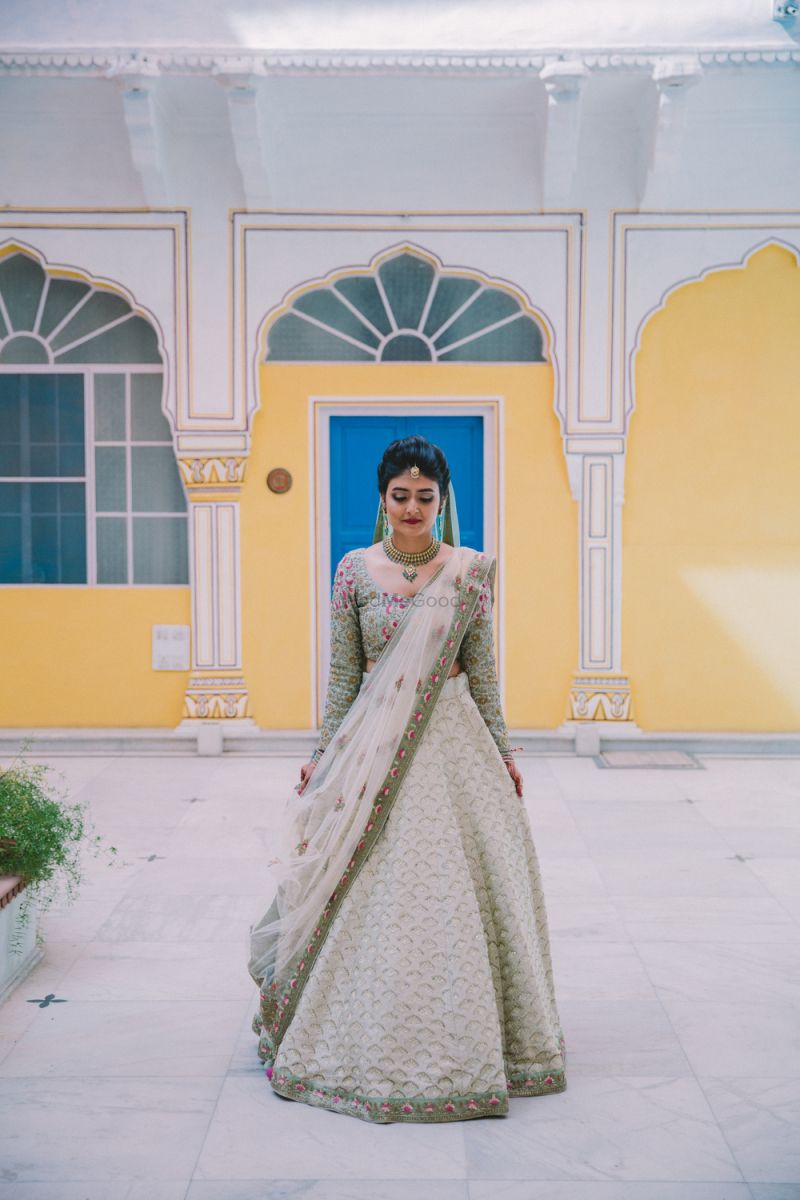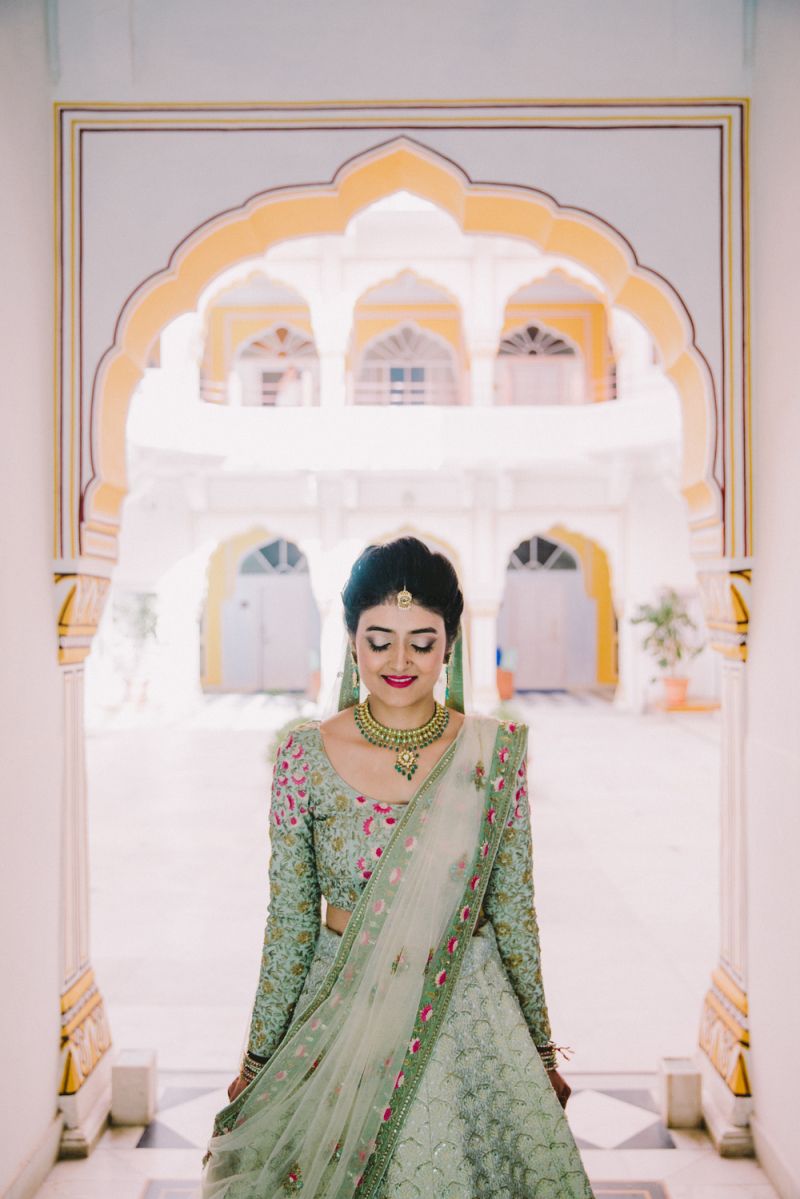 Wedding : Paridhi & Suparno
Nitisha's candy pink lehenga by Devnaagri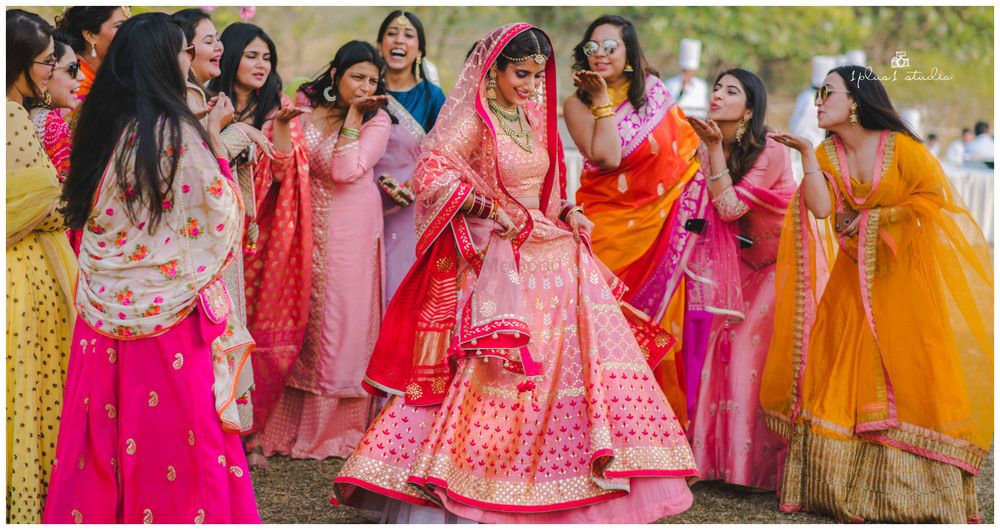 From the wedding: Nitisha & Yuvraj, Outfit : Devnaagri
The lightweight fabric and the soft candy pink made this perfect for brides who want to keep it super light . 
Sri's ombre lehenga by Anarkali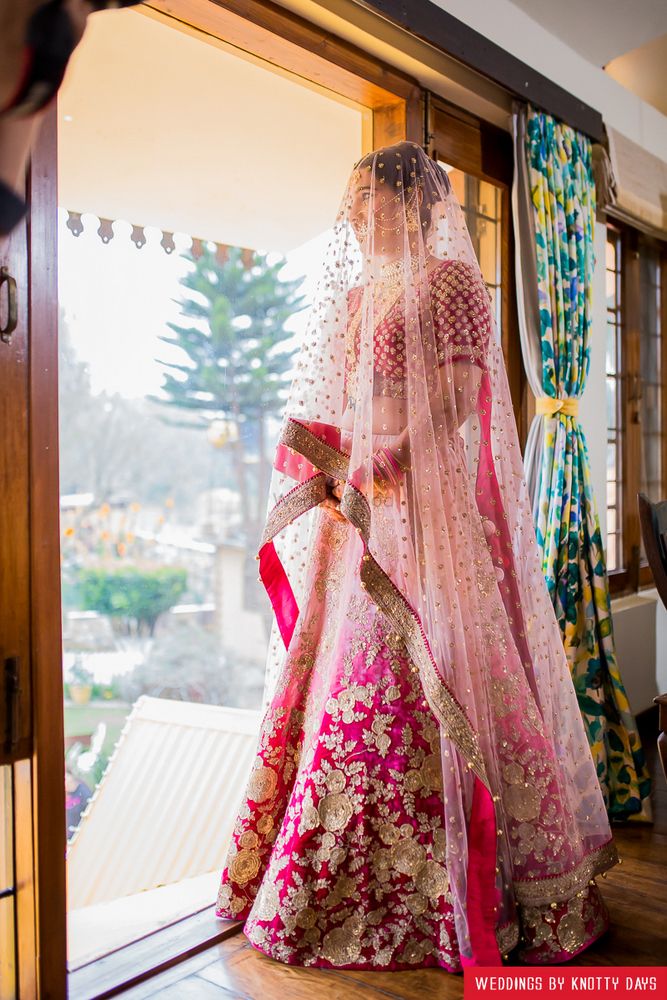 Wedding: Sri & Sau. Lehenga: Anarkali arol Bagh
We loved this ombre pink lehenga with zardozi gold roses 
This lilac prettiness which was just dreamy!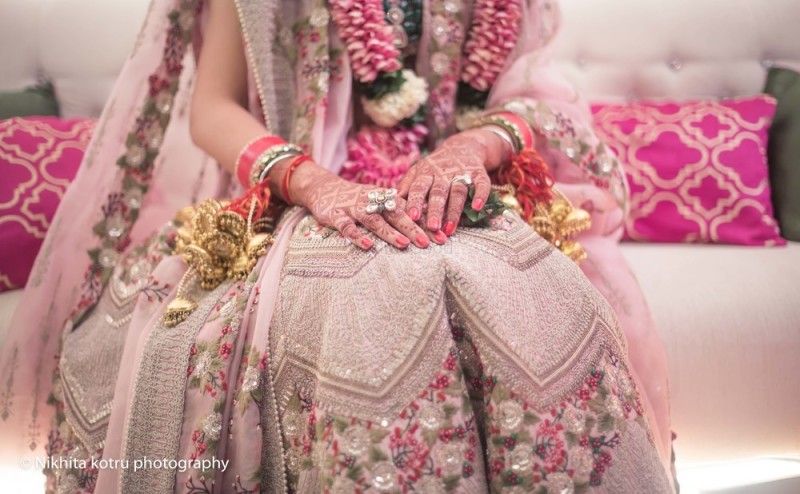 Image via Anuja and Umang's Wedding; Outfit by Anamika Khanna★ 5
An offbeat shade like that and that pretty floral embroidery made this one a winner! 
Sareena's raspberry colored lehenga by Sabyasachi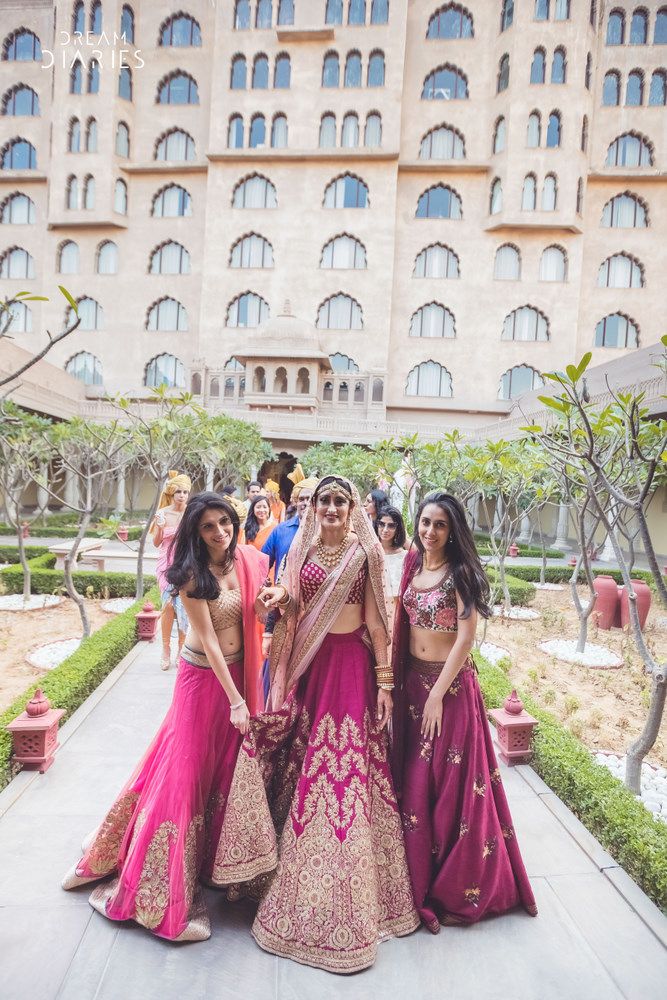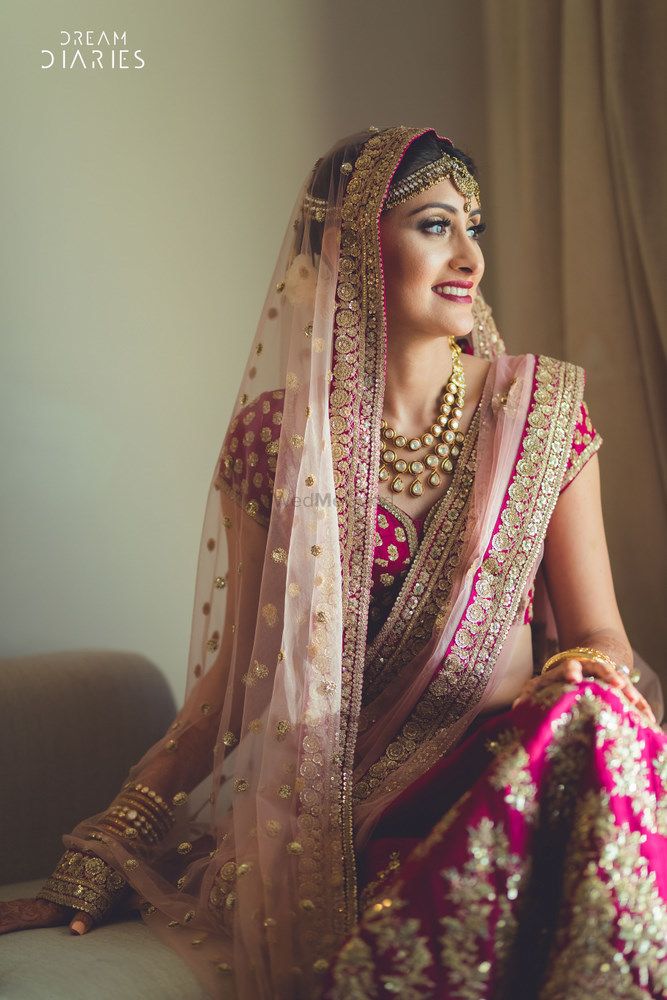 From the wedding: Sareena & Manav
Mansi's Ivory fringed lehenga by Abu Jani Sandeep Khosla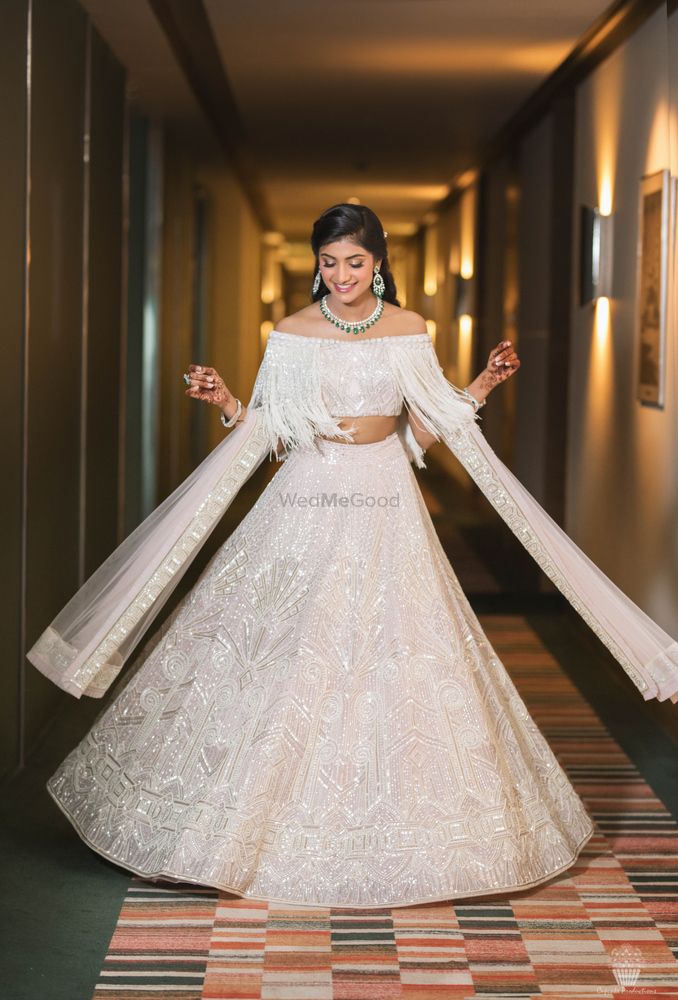 Image via Arvind and Mansi's Engagement; Outfit by Abu Jani and Sandeep Khosla
That's one dreamy lehenga right? Love the fringe and the in built dupatta- so trendy and amazing!
Aastha's orange beauty by Anita Dongre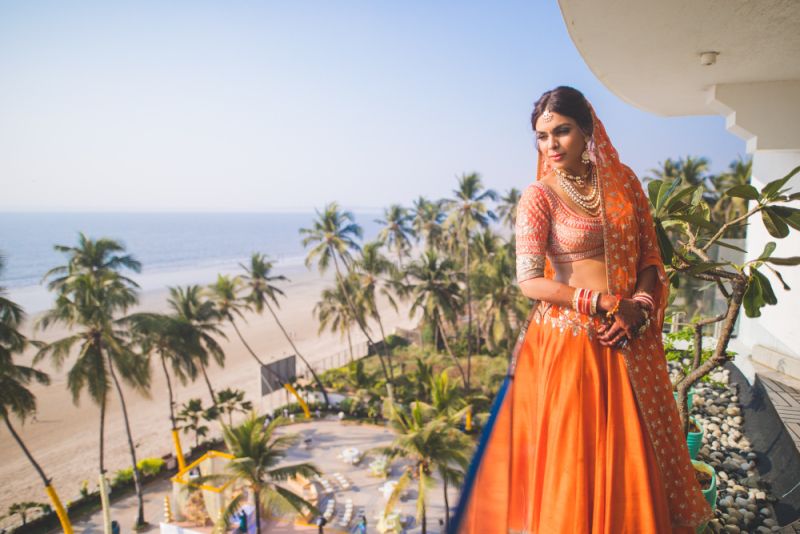 Image via Aastha and Karan's Wedding; Outfit by Anita Dongre★ 4.9
A bride in top to toe orange? Now you don't get to see that enough, especially when the lehenga lets the colour do all the talking!
Nikita's lilac lehenga with a waist belt by Tarun Tahiliani
Image via Yash and Nikita's Roka; Outfit by Tarun Tahiliani
Now that's a lehenga fit for a princess! Love the pretty work and that unique floral waist belt!
 This icy blue lehenga that's so offbeat for a bride!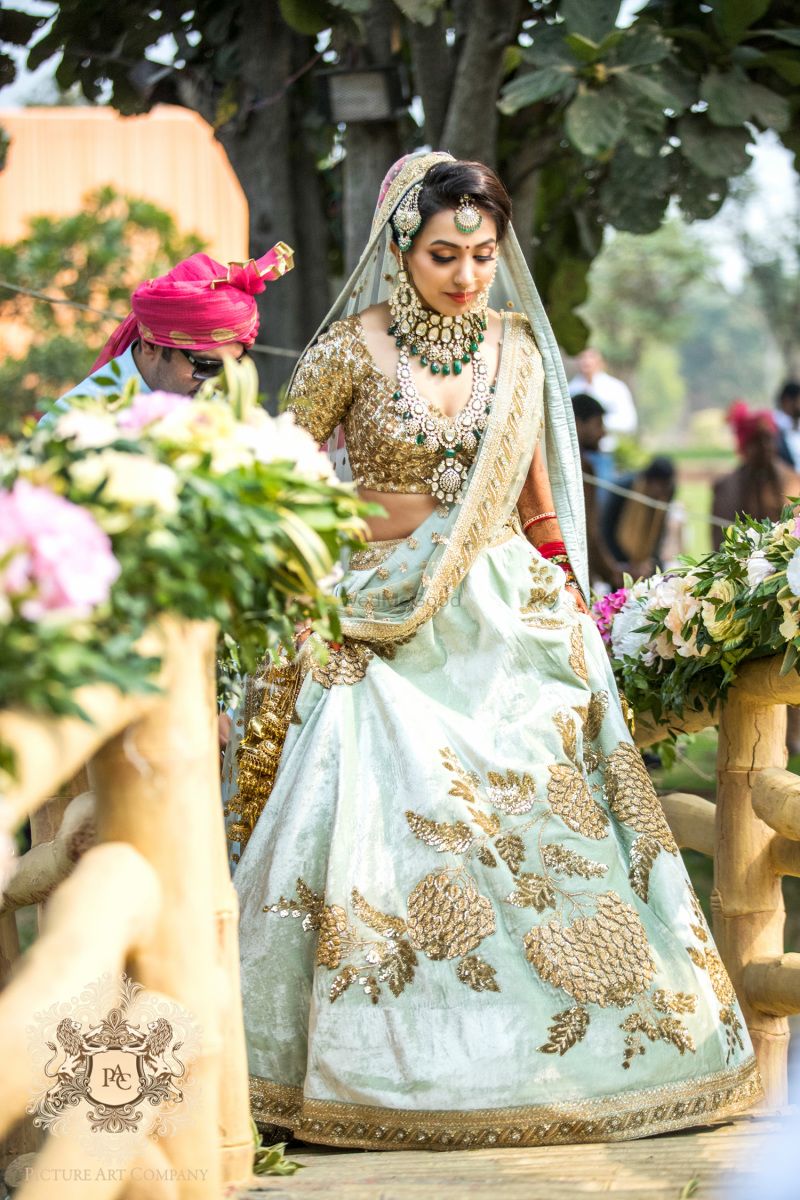 Image via Nayana and Jai's Wedding; Outfit by Sabyasachi Mukherjee★ 4.9
It's not everyday that you see a bride rock a pretty shade like that one, so this had to be on the list! So offbeat and pretty!
Nandini's sage and red lehenga by Anju Modi
This red bridal lehenga that's traditional, but still so pretty!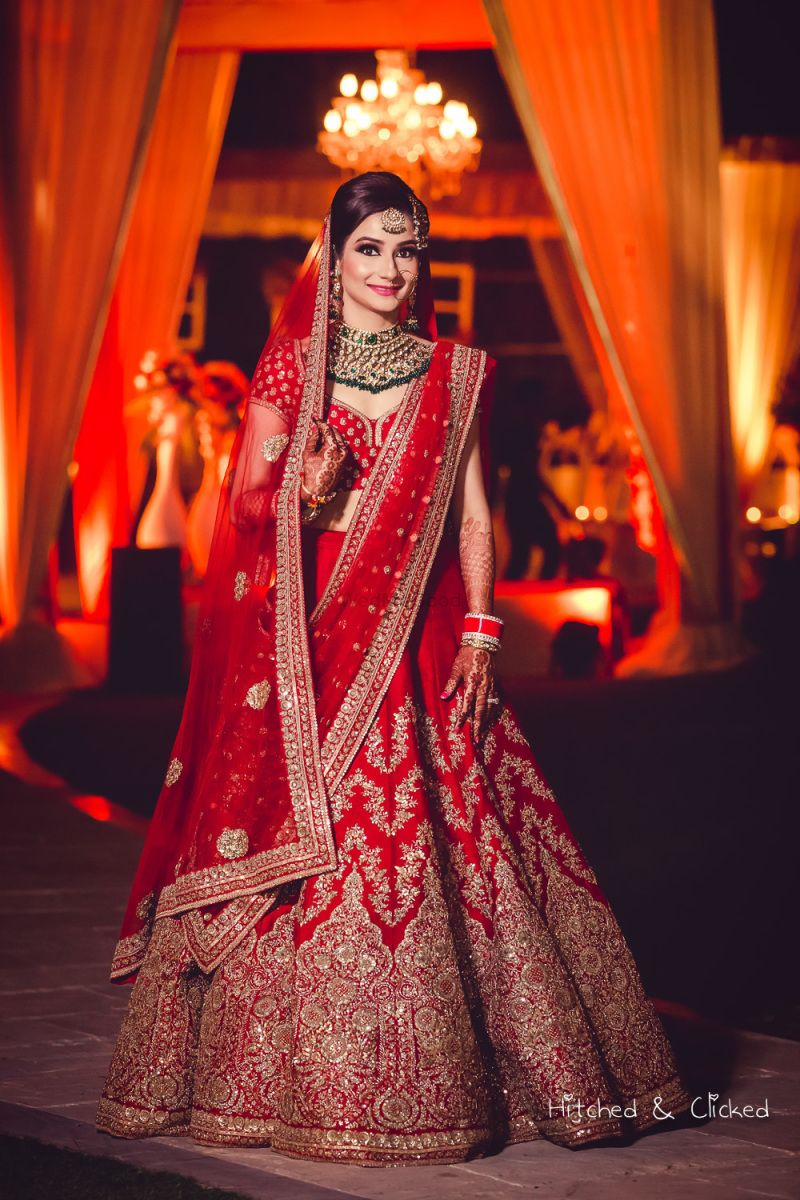 Image via Arshiya and Akshay's Wedding; Outfit by Sabyasachi Mukherjee★ 4.9
I know, you're gonna say another Sabyasachi, but how gorgeous is this one? It's red but nothing like the ones you usually get to see!
The pretty lilac Rahul Mishra lehenga we were gushing over!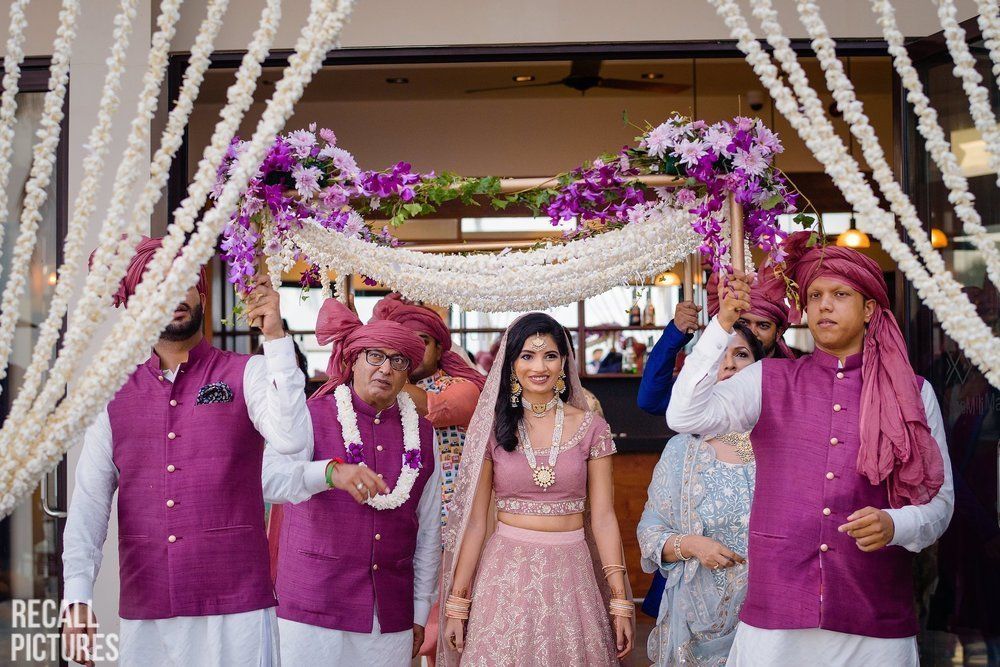 So, which one is your favourite?