The best bridal beauty kits in India for your trousseau !
BY The WMG Bride | 13 Dec, 2014 | 1788 views | 3 min read
No matter which makeup artist you hire for your wedding makeup, you will always need some a solid makeup kit to survive in the big bad (ok not so bad) world of celebrations and parties . While you may have read our 'What to buy for your makeup trousseau' post, this one is about the already assembled kits to take you through that process. So here we are with the best makeup kits available in the Indian market for you to glow like a princess after your wedding day too!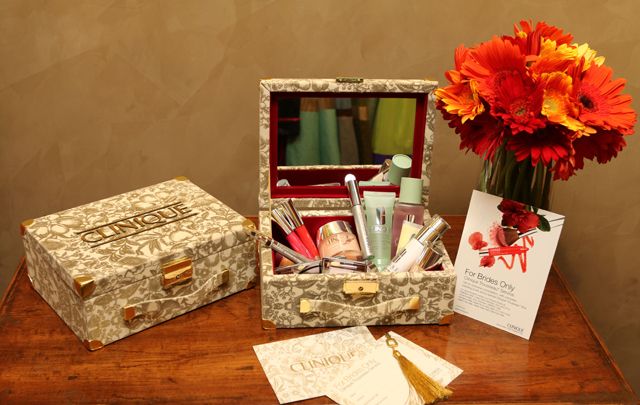 Clinique bridal trousseau service
This is not a bridal kit per se but a service by Clinique where you can attend a master class from the experts and then take home a box full of makeup and skincare suited to your skin tone and type. The experts recommend you the items based on your skin and tone and the best part- it comes in a box that is friggin gorgeous !
Price:- 10000 INR ( available at 10 selected Clinique stores in India)
Our thoughts: Super useful if skincare is your main concern , and great to have advice from a pro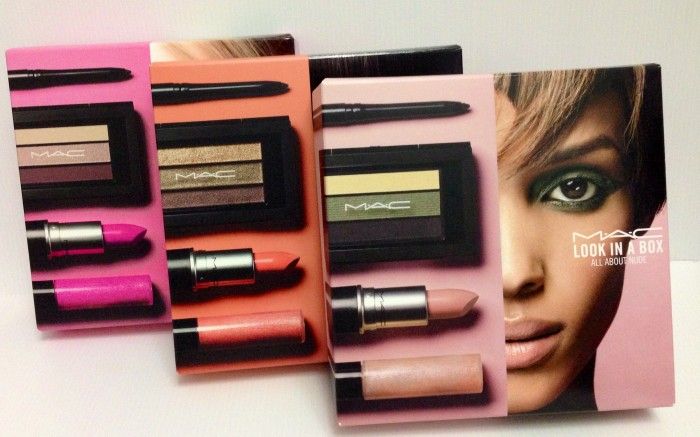 MAC has come up with 3 beautifully coordinated kits for different skin tones and 2 face kits. There is also a brush kit in the collection. The kits include one eye shadow palette, one eyeliner, one lipstick and one lip-gloss. Perfect for attaining one complete look.
Price:-  - 4800 INR for look in a box kits and 5800 INR for face kits.
Our thoughts: Very useful for one compact solution that covers all the basics. However the shades are fixed so not changeable.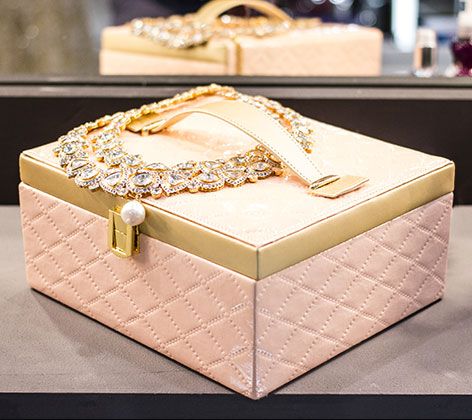 Lakme's Bridal box is designed by Manish Malhotra
So the thing about Lakme's Bridal box is that is absolutely STUNNING. It is not a kit per se, its just a bridal box which you can fill up with Lakme products of your choice. If you spend 4000 Rs on Lakme, you get the box free.
Price:-  - 4000 INR (If you spend around 4000 Rs on Lakme , you get this box free)
Lancome Absolu Voyage Palette
Lancôme Absolu Voyage Complete Makeup Palette:
This kit has  1 Compact Powder, 1 Blush, 1 Gloss, 6 Eye Shadows, 2 Concealers and 2 Crayon Lip Pencil, 2 Lip Colors, Includes An Eye Shadow Brush, 1 Mascara, A Blush Brush and A Lip Brush. Phew- should have you sorted. Only down side- that the colors complement mostly lighter , cooler skintones .
Price: 4,850 INR at Flipkart 
Color bar get the look makeup kit
These are the drugstore equivalents of the luxury counterparts. These kits have 3 variations according to skin tones. They contain 4 eye shadows and 2 blushers with corresponding brushes and a pressed compact powder.
Price: Available at all colorbar stores priced at 1750 INR.
Maybelline Instaglam Box wedding edition
On a budget? The Instaglam is perfect for the touchups and the essentials you need to keep with you at all times, this kit is specially coordinated for bridal makeup.
Price: Available at all major stores priced at 1699 INR.
So these are the best makeup kits (both drugstore and luxury) available in India right now. Do you have any others in mind? Did we miss any?
 Guest post by Mily