The Right Mathapatti for Every Face Shape!
BY Sakshi | 06 Sep, 2016 | 7860 views | 4 min read
Mathapattis are that piece of jewellery that add the 'bridal' to the bride! While a lot of brides these days are opting for them, a lot of you guys think that they are not for your face type or shape. Let us tell you, there's nothing like that! All you need to make sure is that the Mathapatti you choose matches your face shape.
Faces can be broadly divided into six shapes- Round, Oval, Square, Heart, Diamond and Oblong. So first and foremost, figure out your face shape using this simple chart, if you don't know it already!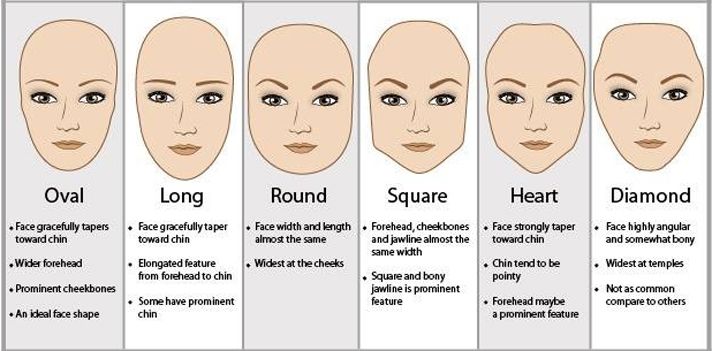 Photo Courtesy: thewigworks.wordpress.com
Oval Face Shape : Wear Anything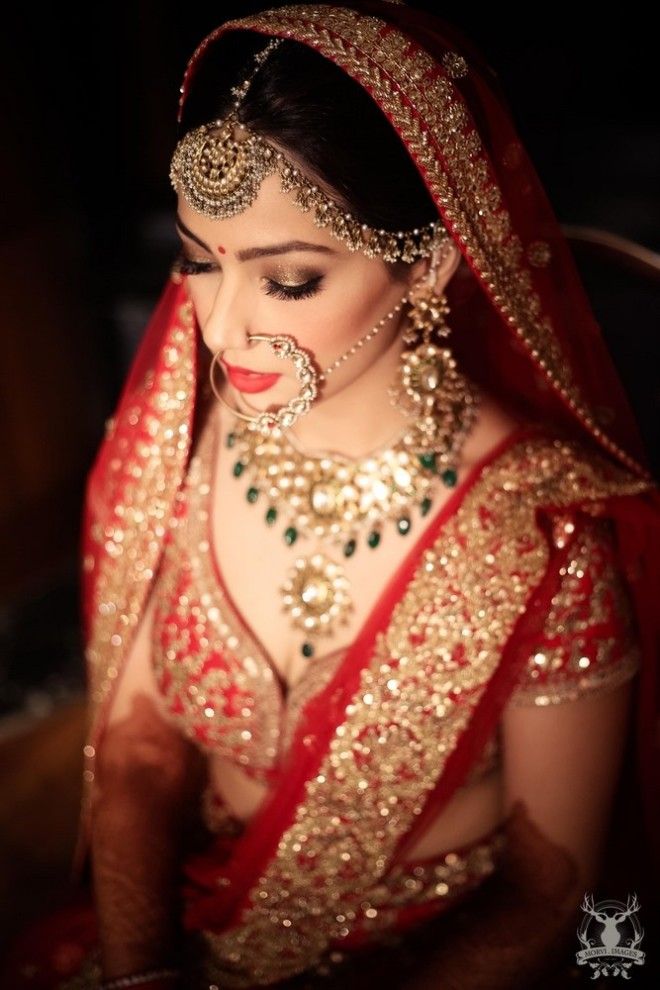 Photo Courtesy: Morvi Images Photography★ 5
Celebrity Face Reference: Sonam Kapoor, Ileana D'Cruz
You guys are probably the luckiest! Since your face and features are considered as the most symmetric of the lot, almost every style of jewellery suits your face- so there are a lot of styles that you can experiment with! Big or small, everything will suit your face, so just make sure to not overcrowd that delicate face of yours with too much jewellery!
Long Face Shapes: Go Chunky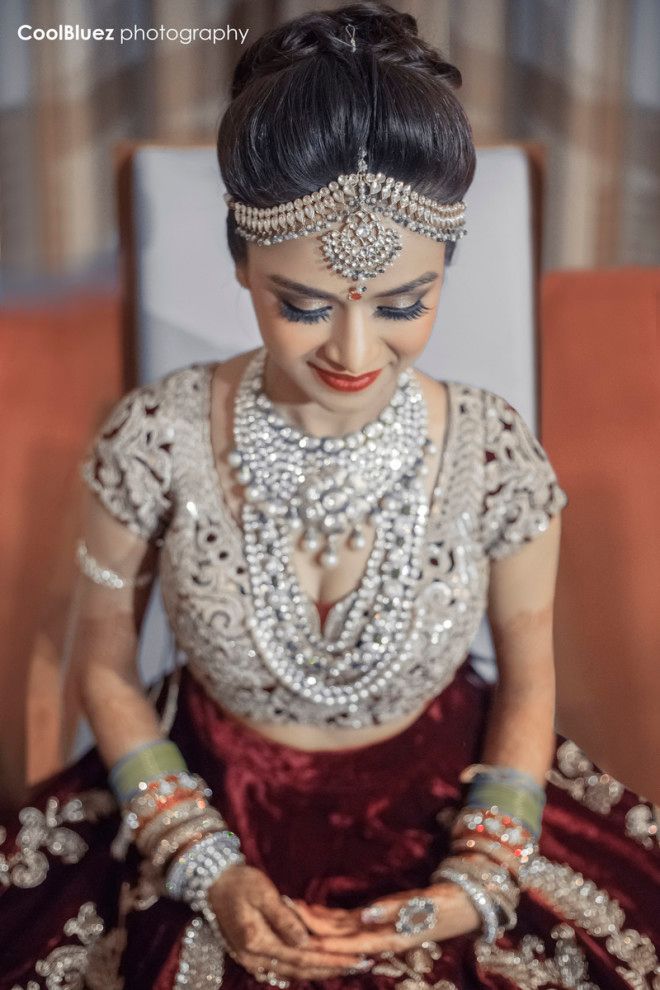 Photo Courtesy: CoolBluez Photography★ 5
Celebrity Face Reference: Katrina Kaif, Karishma Kapoor
You have a long face, which is much longer than it is wide. That is why you should take care that your jewellery does not make your face look much longer than it already is! Mathapattis suit your face, but the one you choose should add width and not length to your face. Large and bold statement Mathapattis will look amazing on you, so look for elaborate styles which become the highlight of your bridal jewellery. As far as the pendant of the Mathapatti is concerned, avoid anything angular and opt for round ones, those which don't have an angles or points.
Round Face Shape : Minimal and Pushed Back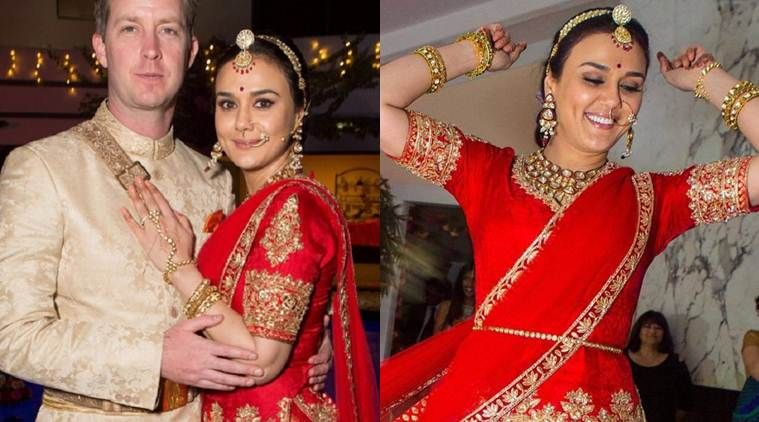 Photo Courtesy: Twitter
Celebrity Face Reference: Aishwarya Rai, Preity Zinta
Girls who have a round face shape try to cut down on the chubbiness of the face, not wanting to make it appear rounder that it already looks.  Avoid any Mathapatti which has a big round or roundish pendant- and opt for styles with a lot of angles and corners. Also, avoid massive Mathapattis which can hide a lot of your forehead, cutting down on the length of your face, so small ones look nice. Also, you may want to push back your mathapatti so it doesn't cut off height from your face.
Square Face Shape : Jhoomer or One sided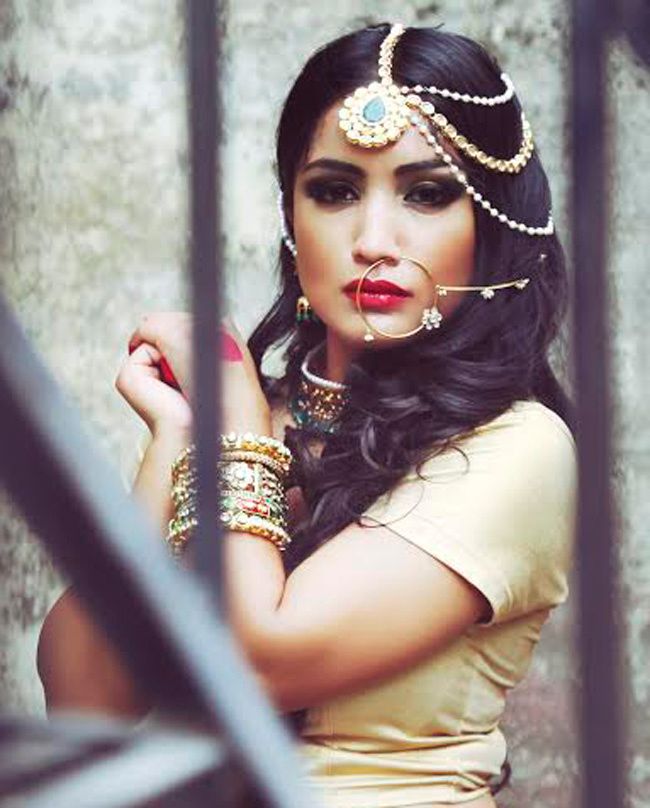 Photo Courtesy: India Trend by Parul Arora★ 2.8
Celebrity Face Reference: Kareena Kapoor
Your jawline and cheekbones are what stand out on your face, and gives it some edge and definition as compared to a round face. That is why your Mathapatti and other facial jewellery should work on softening those features. Jhoomers look good on these face type, as they distract from the centre of the face. That is why a one-sided Mathapatti will also look awesome on your face shape.
Heart Face Shape : Thinner or Multistrand ones
Photo: The Creative Lens★ 4.9
Celebrity Face Reference: Deepika Padukone, Alia Bhatt
You have a wide forehead and a pointed chin, which are the features that stand out on your face. So you should pick a Mathapatti that highlights your jawline. Delicate, draped chains would look great on your face shape. Infact , very few Mathapattis will not suit your face, but we think multilayer Mathapattis or ones with a thick chain look amazing on a heart shaped face.
Diamond Face Shape :Asymmetrical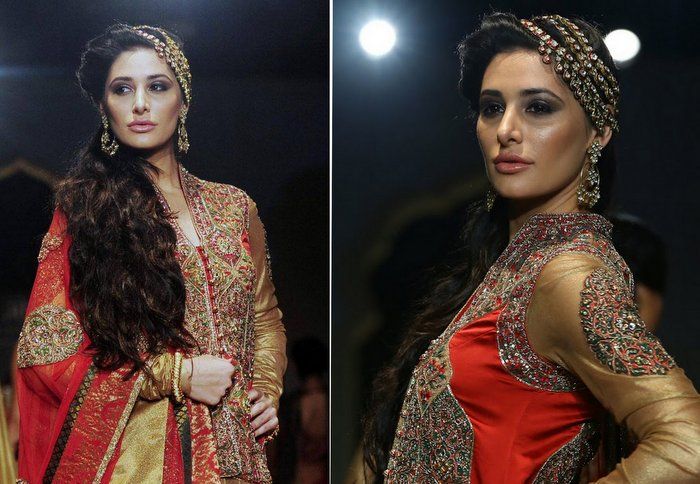 Celebrity Face Reference: Malaika Arora, Nargis Fakhri
Your cheekbones are your standout facial feature, to the envy of others! That is the reason why your jewellery your highlight your best feature! So the aim of your Mathapatti should not be to distract from your cheekbones. So do not opt for ones that lead the eyes to the centre of the face, especially broad statement Mathapattis with a lot of work on the centre. One-sided and assymetrical Mathapattis look nice on a diamond-shaped face.
So, found your ideal Mathapatti?