This Bride's Wedding Theme Was Inspired By Her Manish Malhotra Lehenga!
BY Sakshi | 05 Sep, 2018 | 6332 views | 2 min read
We love it when a bride does something unique, and especially when it's done in such a pretty way! Real Bride Komal, who happens to be one of the oldest designers at Manish Malhotra based her wedding theme around her bridal lehenga by the designer, which was a pretty ivory lehenga with butterfly motifs. She was styled by Manisha Kundnani of Brideloom, who made sure her look was beautiful! Waiting to see the lehenga that was so inspirational? Here it is!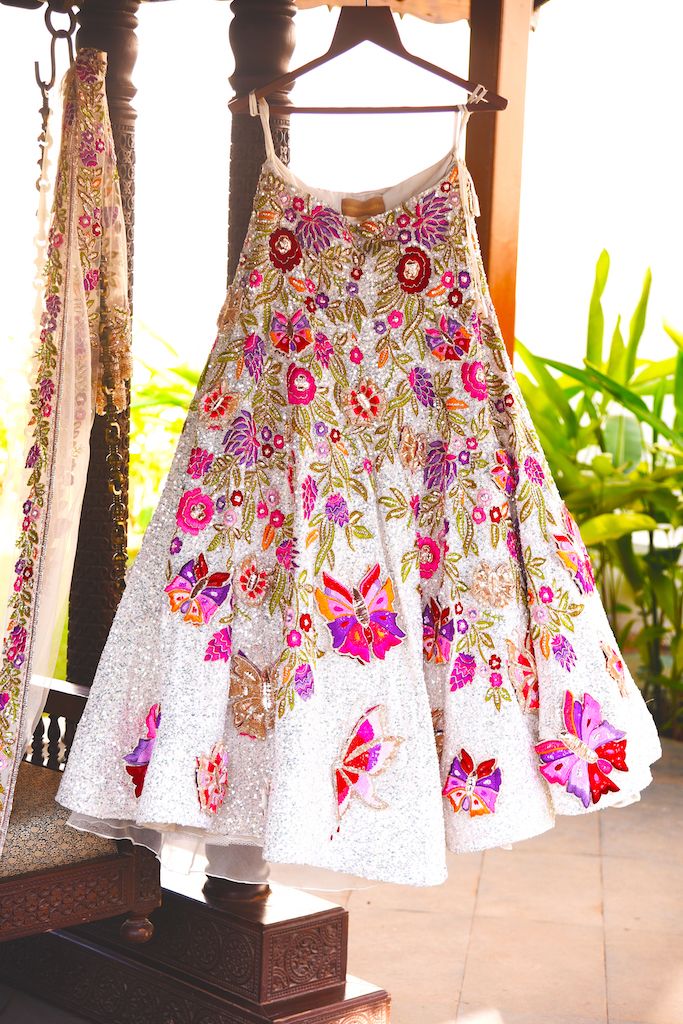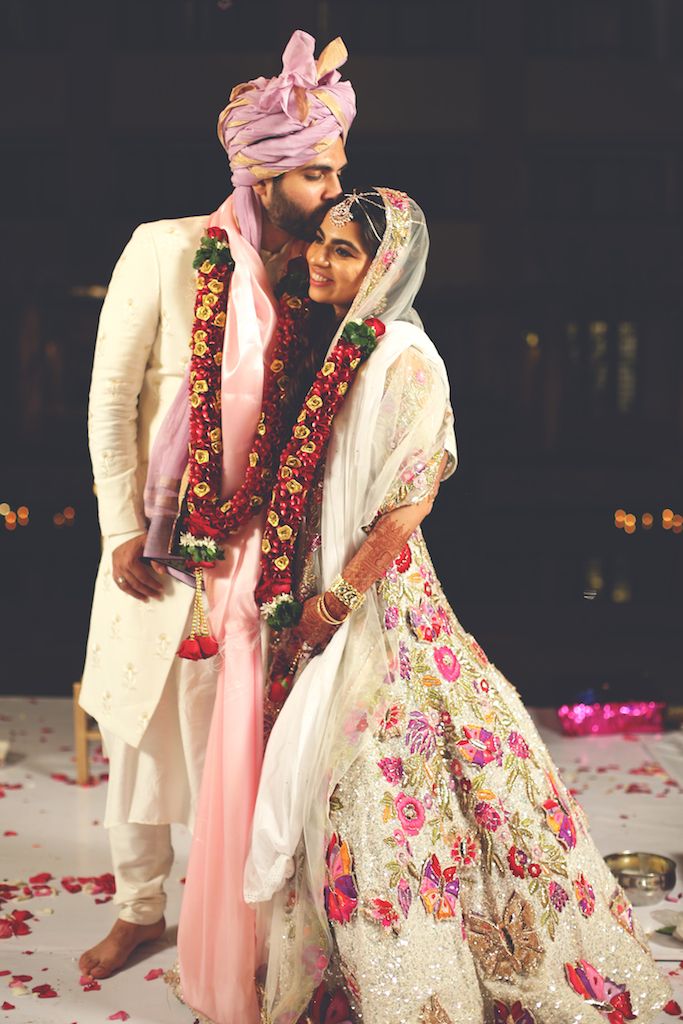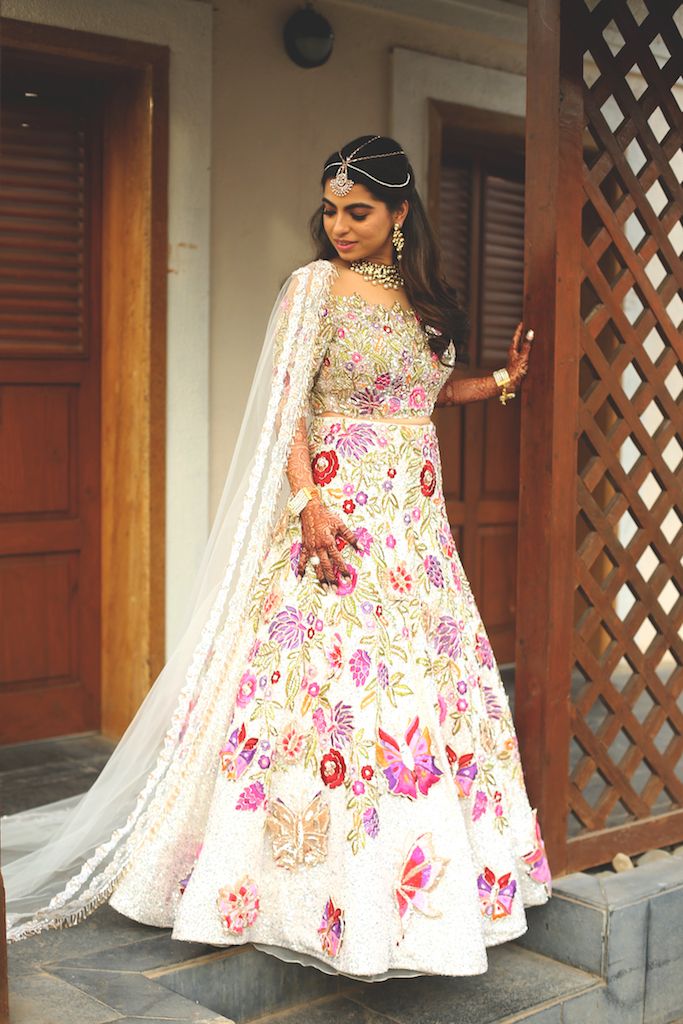 Gorgeous, right? Such a unique look, and how offbeat is that lehenga by Manish Malhotra for a bride! Here is the wedding invite and the 'Save The Date', which totally went with the theme!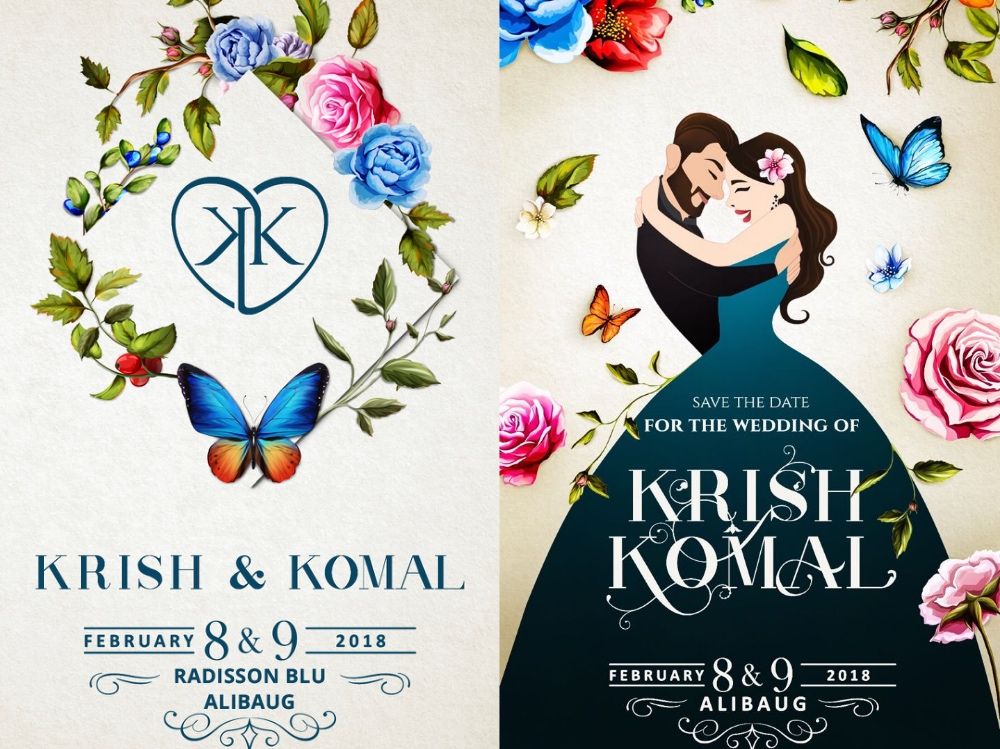 Not just that, the caricature on the 'Save the Date' was inspired by the couple's look from their Roka Ceremony with the butterflies around and the background being teal blue colour inspired by the Gaurav Gupta gown she wore!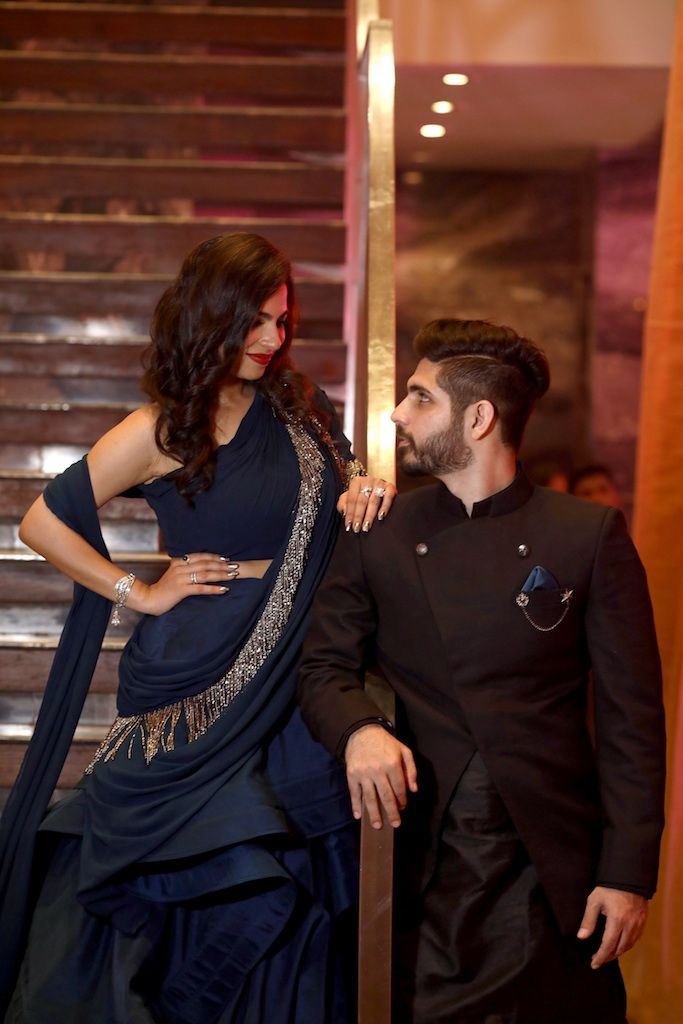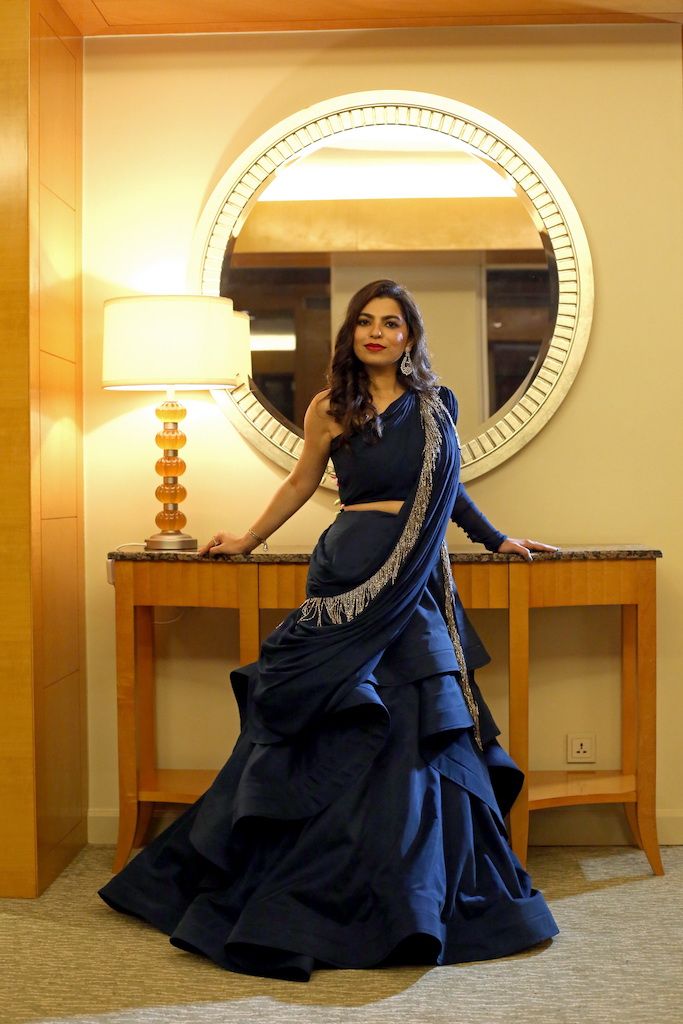 The bride wanted the theme of the wedding to be the mystery of her bridal lehenga. Graphic Designer Jyoti Chandnani curated and created the wedding invite as per the bride's idea! The wedding invite had colourful flowers and butterflies on an ivory base just like the lehenga. Not just that, even the rest of the artwork at the wedding revolved around the magical butterfly theme. The Hamper Box, Wedding Itinerary Book, Mehendi Bar, Dance Floor, Directions and Function Placards, Key Holder, Luggage Tags etc- everything was designed as per the theme! Even the bar decor- which looked fabulous!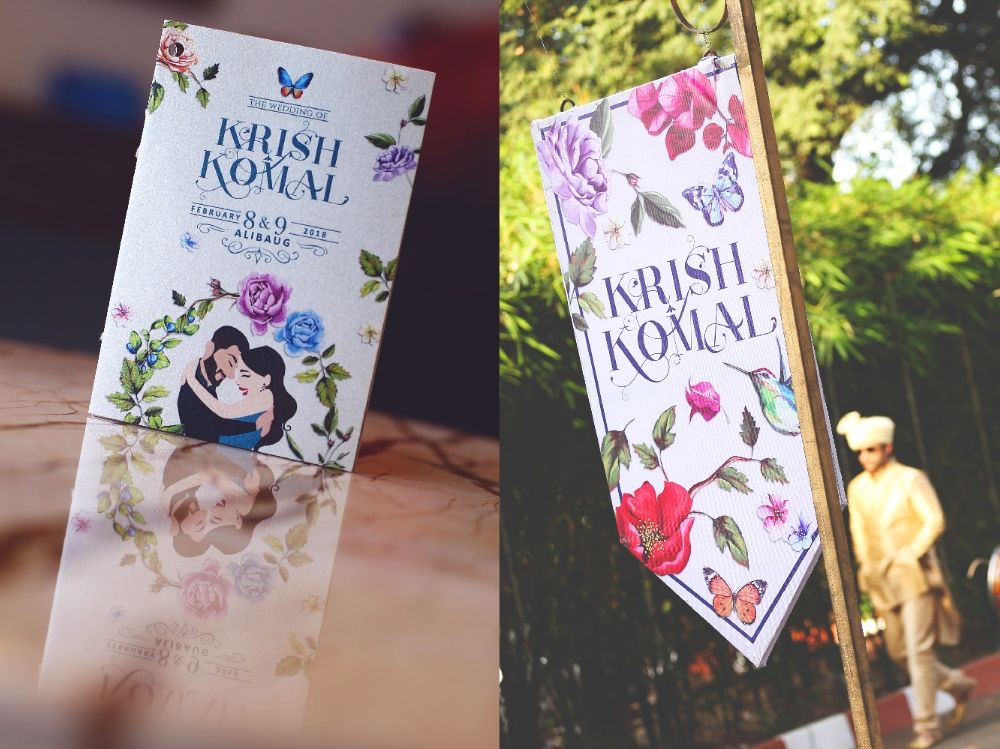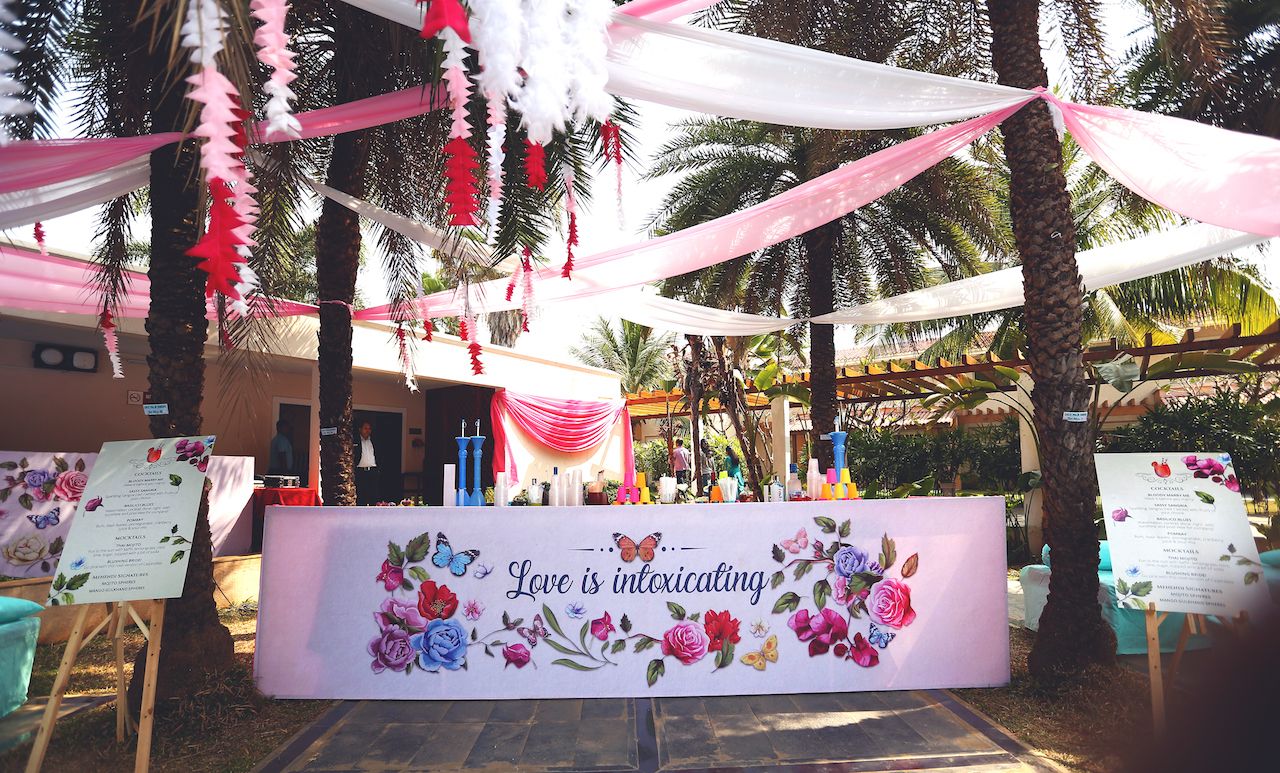 From the Stylist:
"Styling Komal was fun as she herself is a designer at Manish Malhotra since almost 10 years. She already knew what she wanted and her eyes were set on the Ivory Butterfly Lehenga from the designer's collection for her Wedding Day. Komal opted to be a Modern Bride, and as there was a lot of colour playing of the embroidery on the lehenga, we had to keep it minimal by pairing her outfit with a uncut diamonds set from Anita Dongre's Pink City in collaboration with Jet Gems. As far as her look was concerned, she kept her hair half open with an Outhouse headpiece and ditched the chudas and instead wore pearl bracelets on both hands."
Vendors: Stylist: Manisha Kundnani of Brideloom Graphic Designer: Jyoti Chandnani Photography: Uttam Videos★ 5