#Trending: Metallic Kanjeevarams That Stand Out So Beautifully
BY Meenu | 26 Apr, 2022 | 1011 views | 3 min read
Metallic outfits that gleam beautifully is the new bridal trend that's making waves, so why should it only be limited to bridal lehengas? Metallic kanjeevarams are here, and they do look amazing! With each wedding season, our brides are partial to a certain choice when it comes to their Muhurtham looks. Classics will always be classics, but this is a trend that we noticed that is completely lived even by those who lean towards the classics!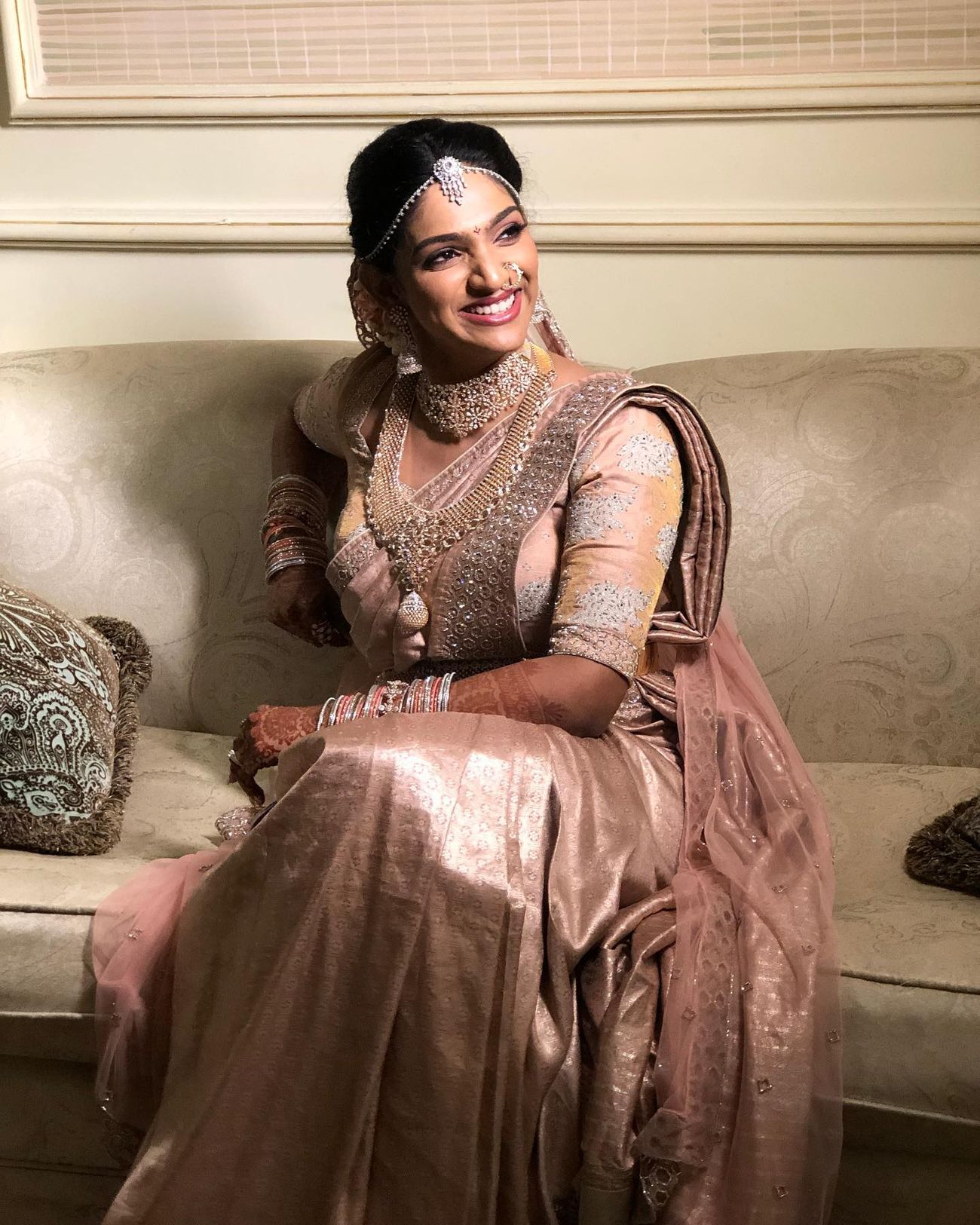 Image Via Manasa Makeup
When we think of metallic shades the obvious ones that come to our mind are gold and silver. Yes, they look stunning and they create a royal aura.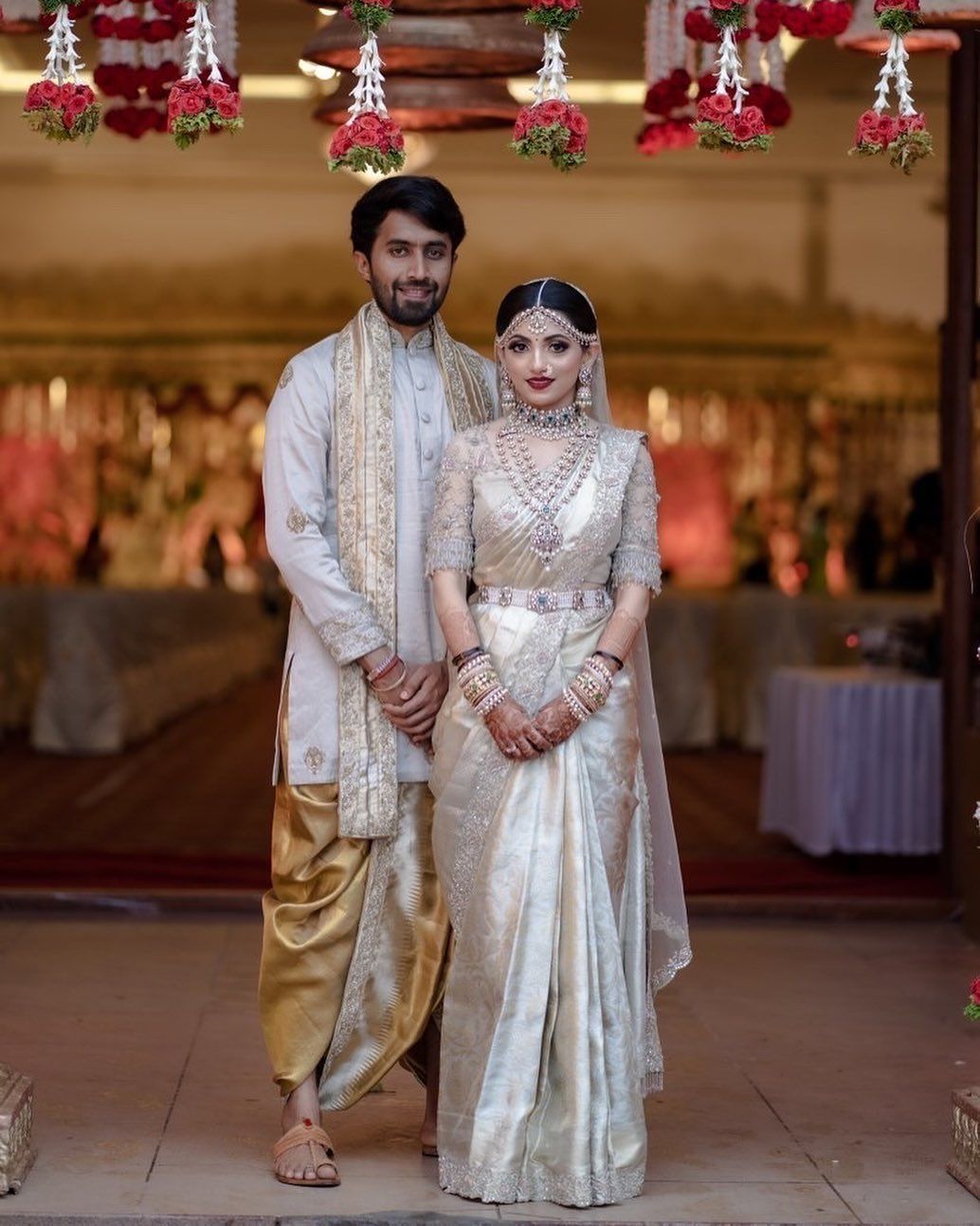 Image via Makeup Studio by Suu
But these days metallics are not just limited to golds and silvers. There are coppers and bronze shades are in, and they look fabulous too. There are even ones with a pastel tint like pinks and peaches with a metallic finish which look pretty darn good!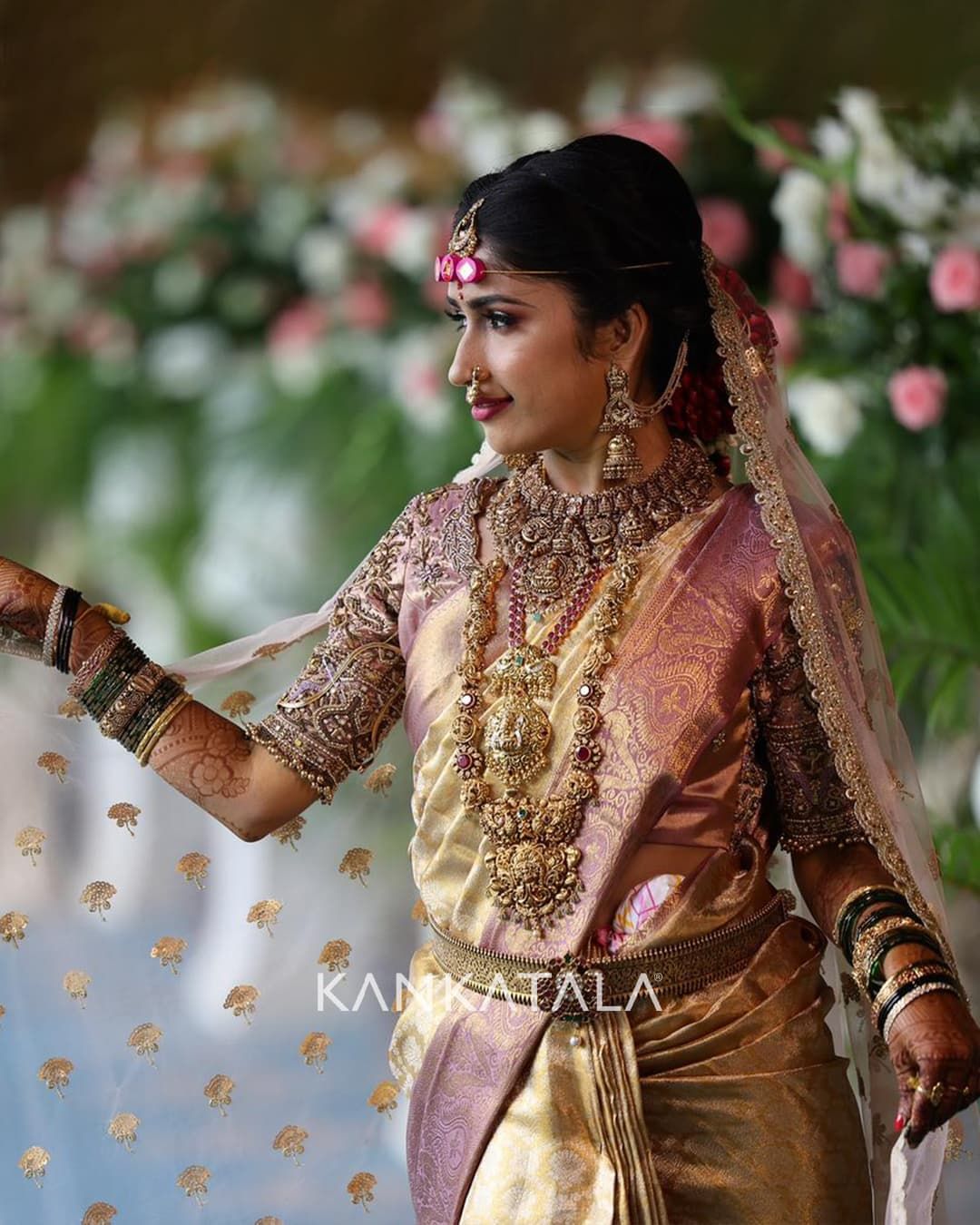 Image via Kankatala
The proof is right here! What other colors would we classify in this league and how to own this trend is what we are going to talk about.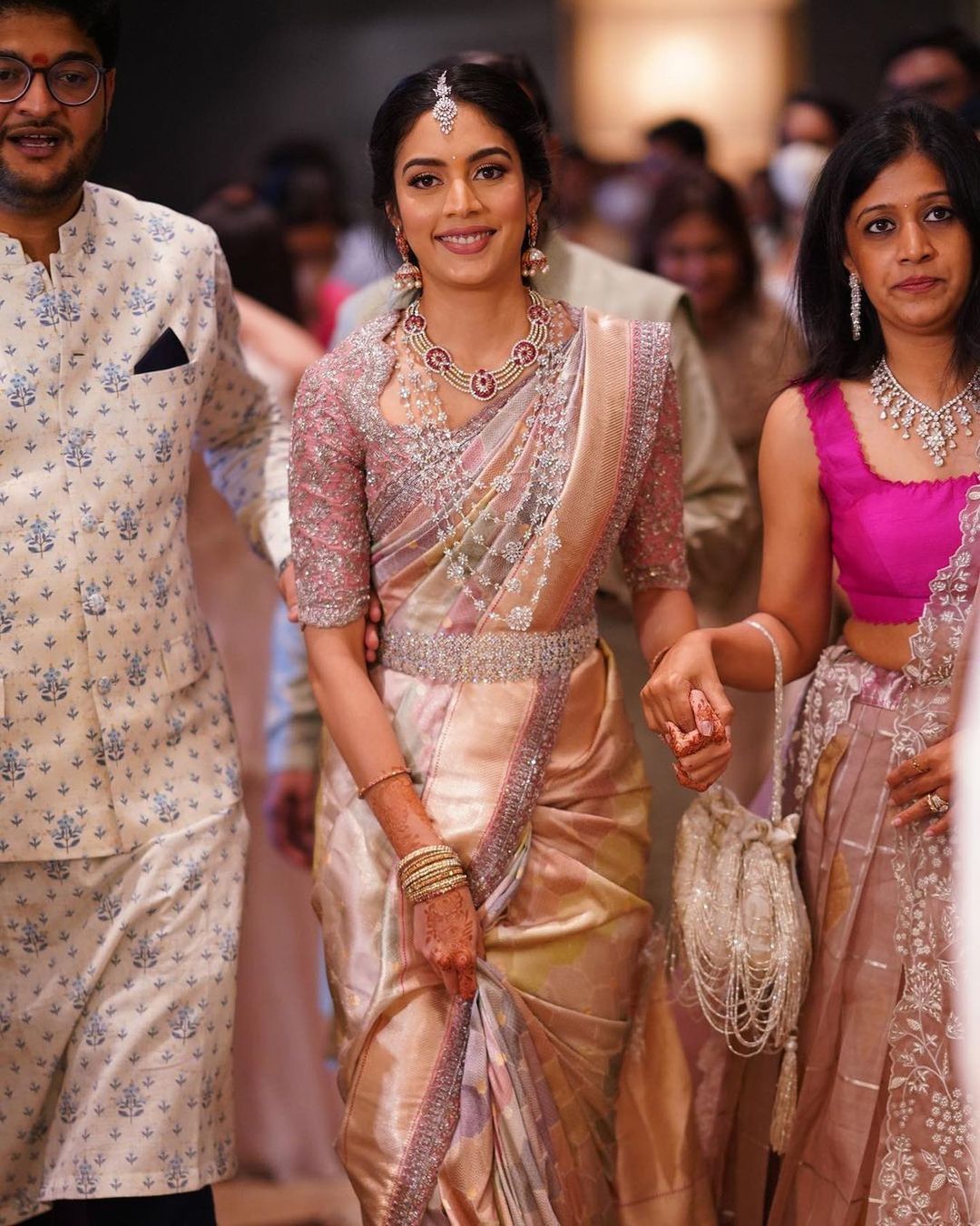 Image via Studio Birdsong
Some of our favorite looks include this beautiful metallic rose gold Kanjeevaram. Rose gold is a color that has captured our hearts and it has been making waves in Muhurtham looks too.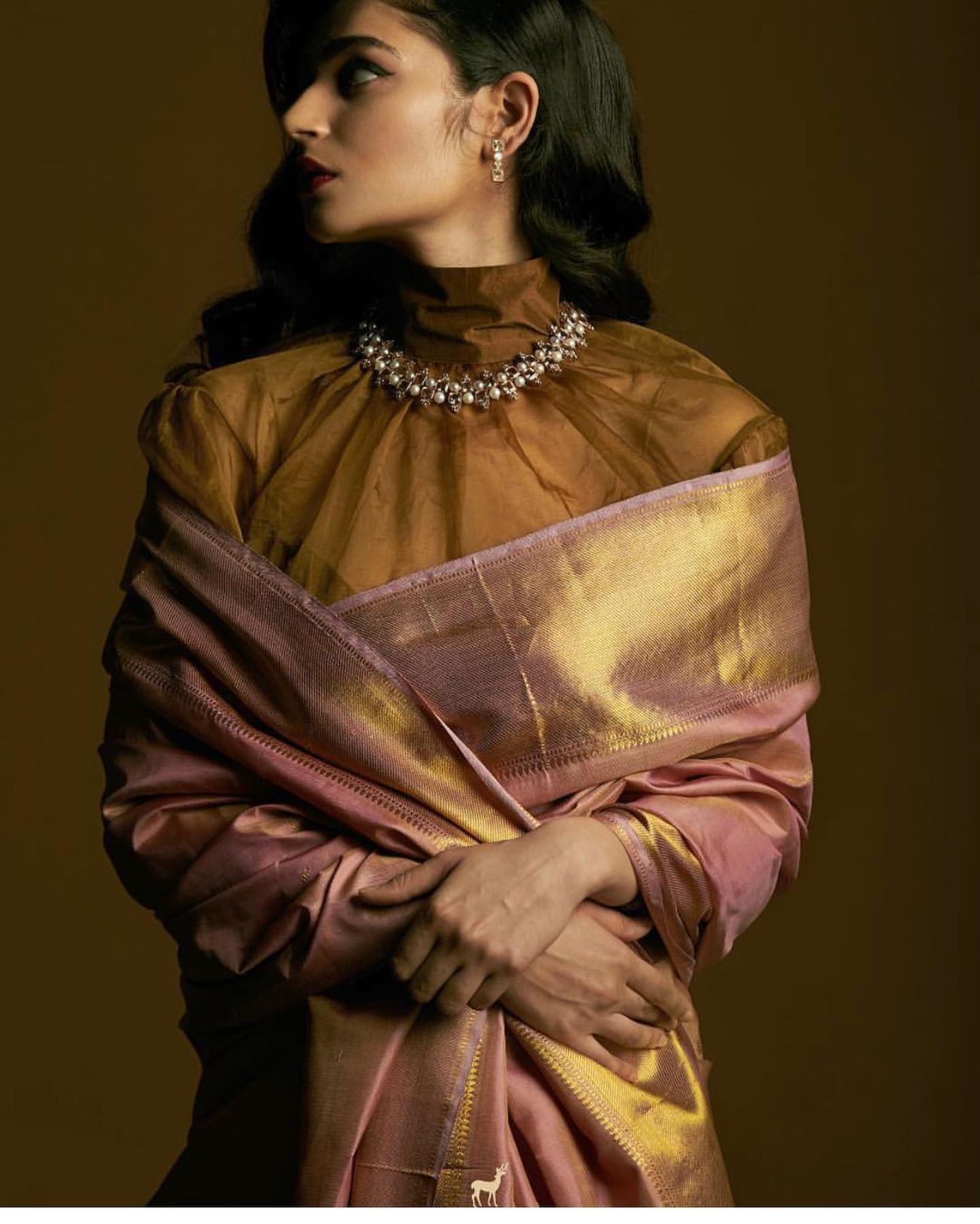 Image via Mogra
Pink is a favorite bridal color has taken a metallic avatar this season and brides are loving it, so are we!! Check out this beautiful metallic pink Kanjeevaram that is on point. So what are the colors that look awesome with a metallic finish? This is the first question you need to ask yourself once you decide you are going for a metallic Kanjeevaram for your Muhurtham.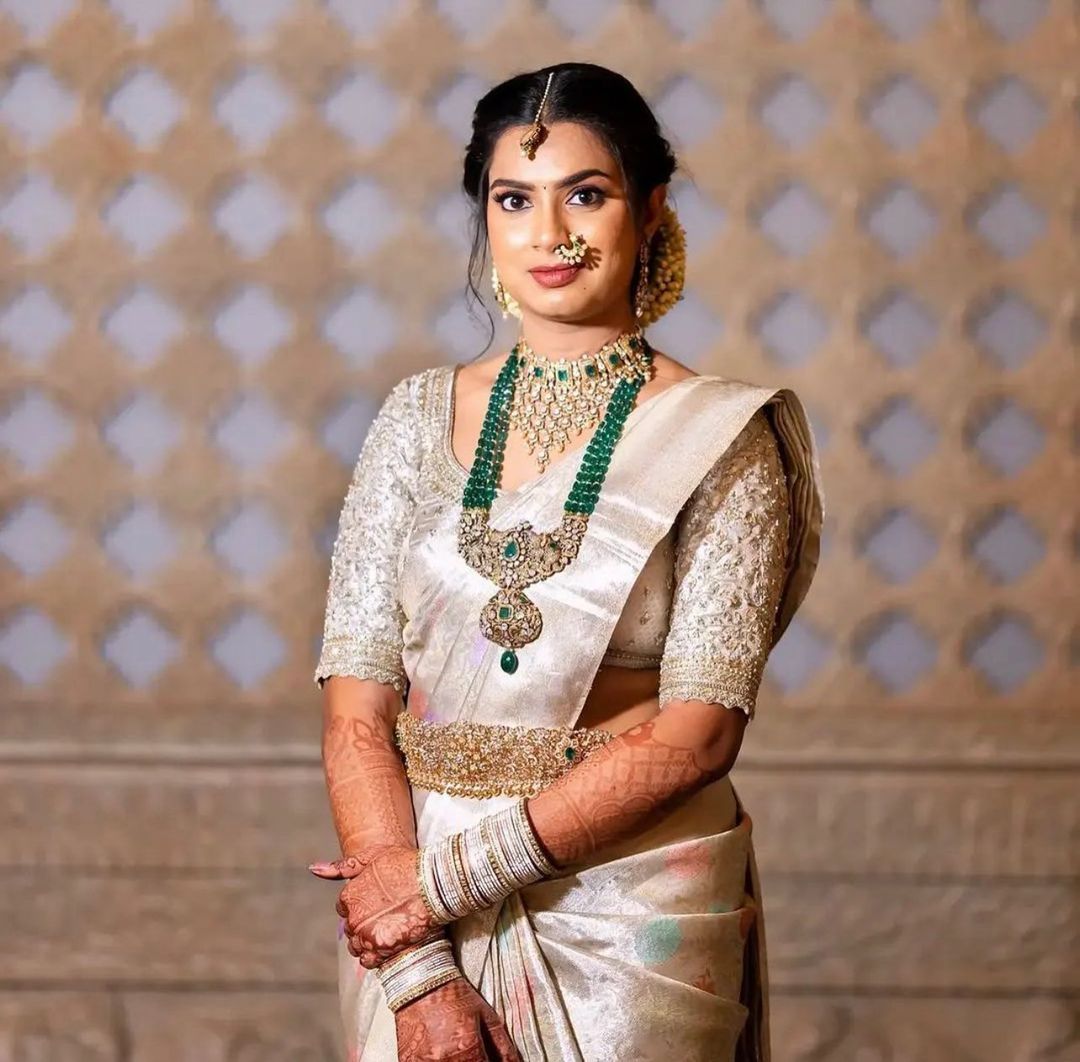 Image via Makeup & Hair by Kiinjal Mehta★ 4.7
Look for pastel shades transform from subtle, demure to a statement color in their metallic version beyond the sheen of silk. We love how a simple lavender/lilac tone base becomes so glam when we go for a metallic lavender Kanjeevaram.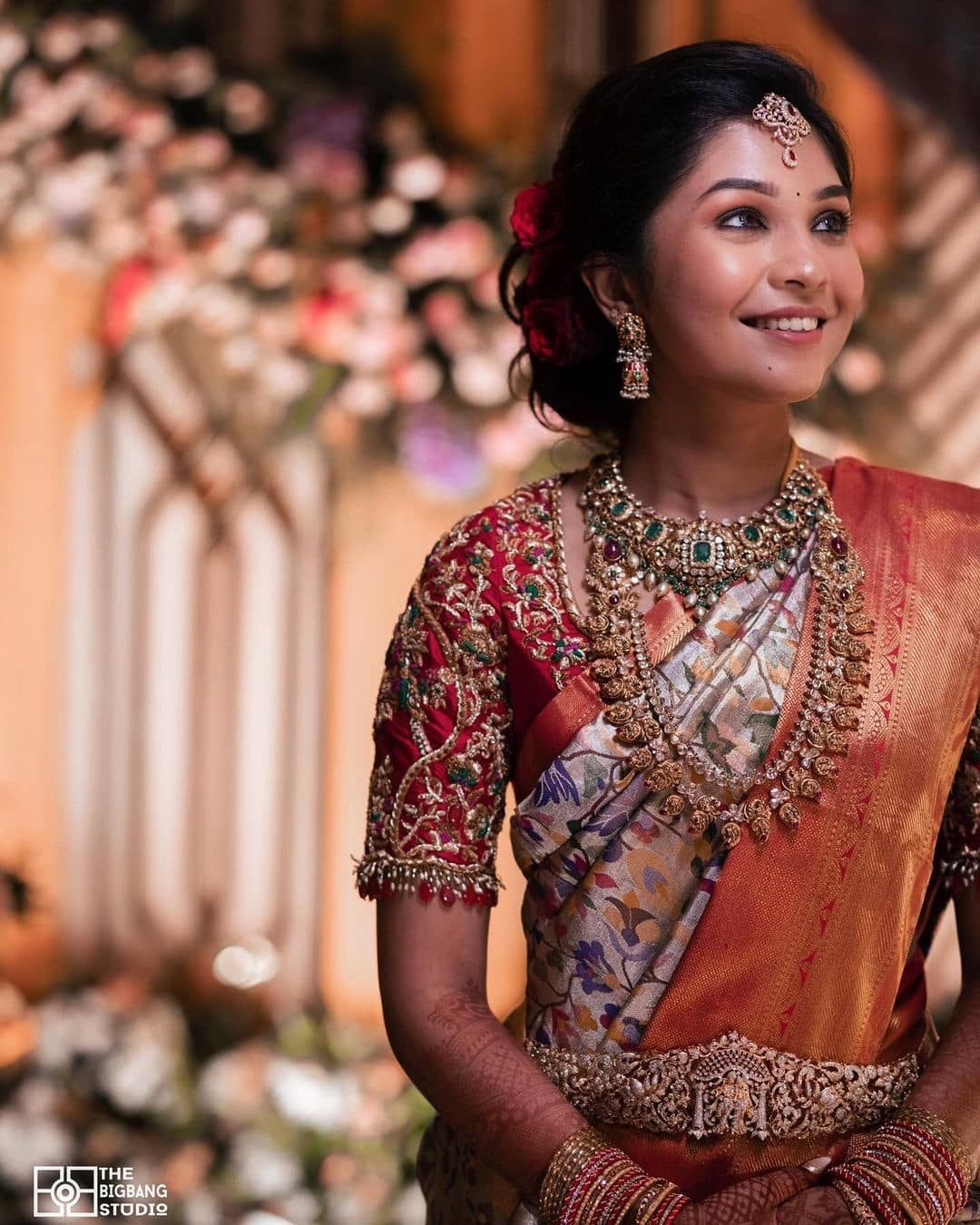 Image via The Big Bang Studio
This beauty has a tinge of silverish grey to it that is honestly a whole new level!!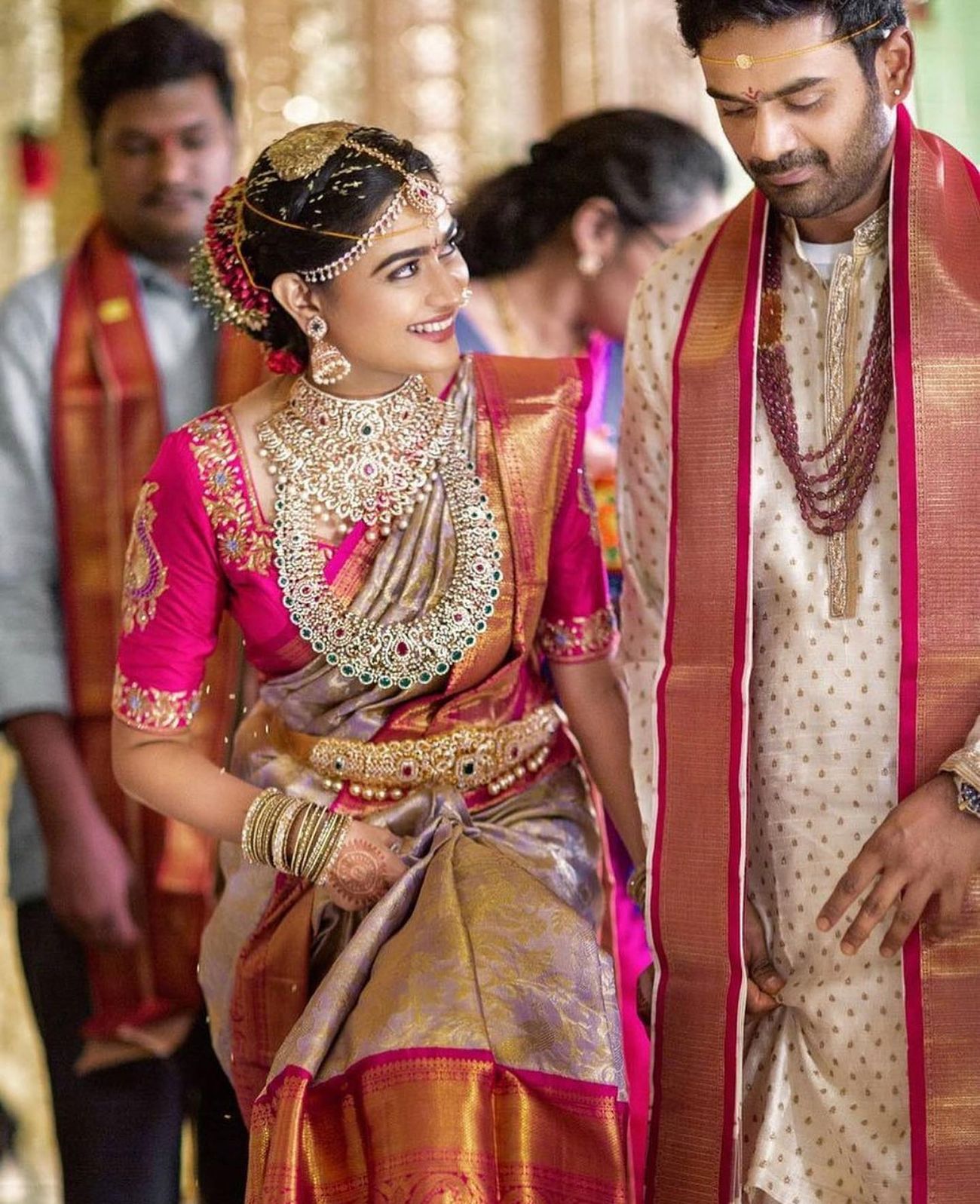 Image via Karthik Denny
If you thought that metallic shade Kanjeevarams need to have a heavy gold/silver border, think again. Here we can see how spectacular is a contrast border which is a traditional color on a metallic shade Muhurtham pattu.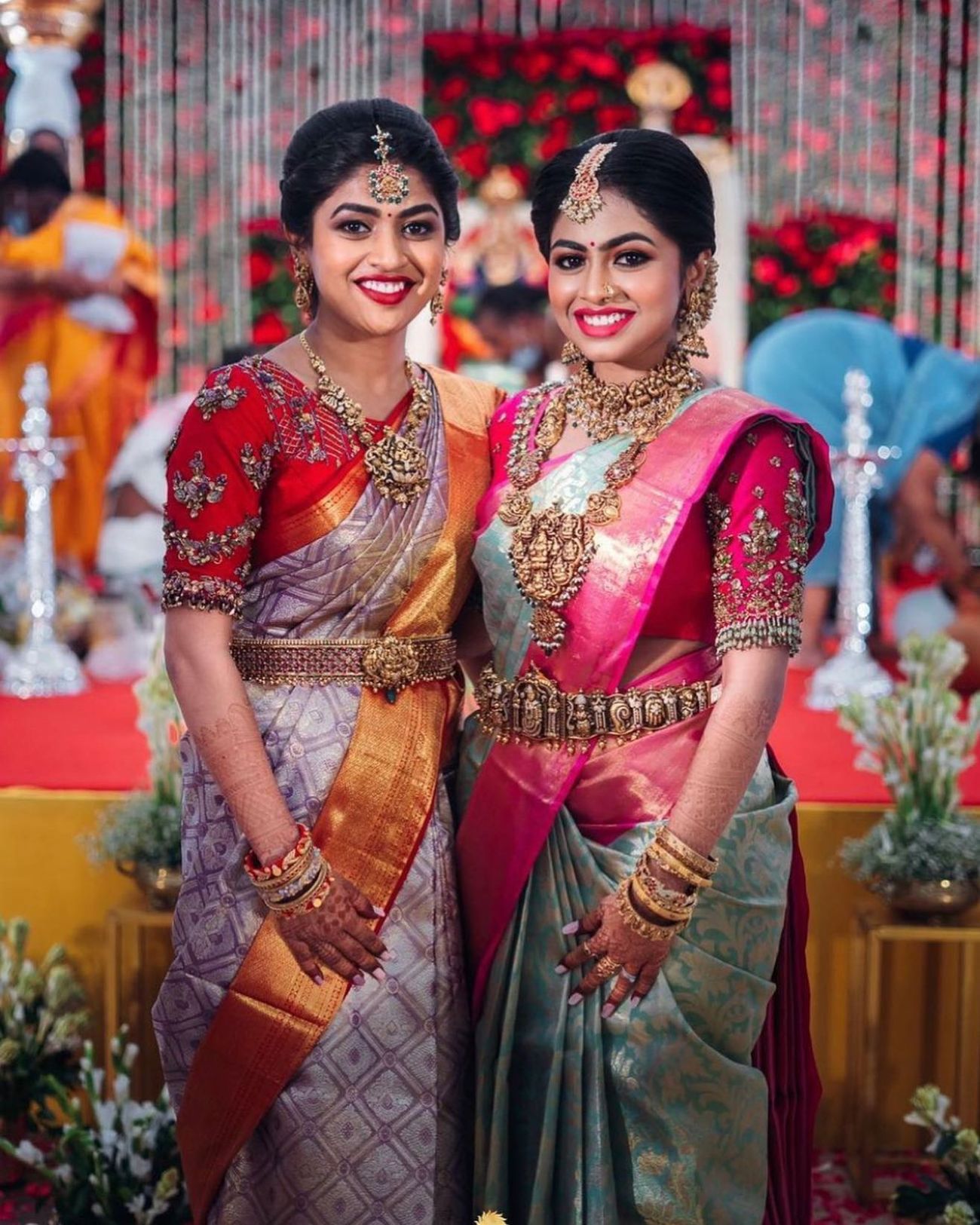 Image via Studio A Weddings
The same can also be said about the metallic blue Kanjeevaram with the contrast rani pink border.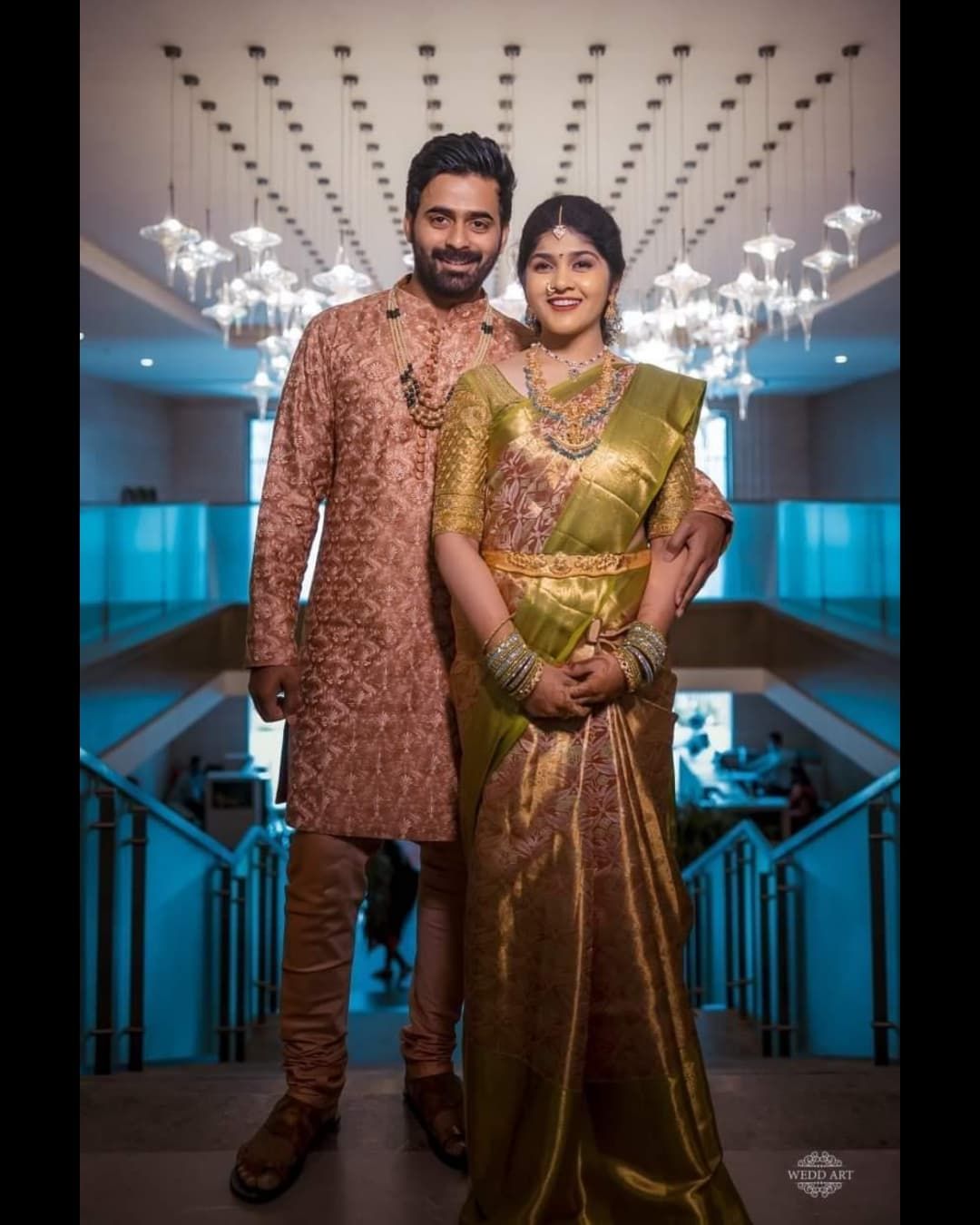 Image via Weddart Studios
How about a printed metallic Kanjeevaram for your Muhurtham? We all know that printed Kanjeevarams are equally trending as a Muhurtham pattu choice (we will come with our chosen ones real soon) we leave you to admire this choice which is the best of both worlds. We hope you liked our favorite metallic Kanjeevaram shades ruling the Muhurtham scene this season. Weddings could be intimate, that does not mean we need to be a subtle bride. So shine on!
Shop for more gorgeous sarees in the WMG Bridal Gallery here.