Watched FRIENDS Reunion? Now Take Cues To Plan A Friends-Themed Wedding!
BY Anupriya | 02 Jun, 2021 | 1381 views | 4 min read
After waiting for as many as 17 years to see the iconic cast of FRIENDS reunite on air, one last time, our wish finally came true! Friends: The Reunion aired on Zee5 last week, and boi, what a roller-coaster ride it was! Brimming with truckloads of nostalgia, some starry cameos and a dose of revelations, this mini sequel seemed like the perfect gift for all the FRIENDS' fans (including us). And our blog post is proof that we haven't gotten enough of it, just yet! 
Taking our love for the American sitcom a notch higher, we did some serious digging and extracted some uber cool ways one could add a flavour of it into their wedding. If you too belong to the FRIENDS fandom or bond with your bae over this forever-favorite series, how about a FRIENDS-inspired wedding? Wondering how to go about it and don't even have a "pla"? Well, we've got you covered!
Wedding Invites
One of the easiest ways of telling your guests that you're having a FRIENDS-themed wedding is by letting your wedding invite scream that. So when we came across these wedding invites, we knew we've got just the right kind of inspiration for you:
The one with FRIENDS written all over!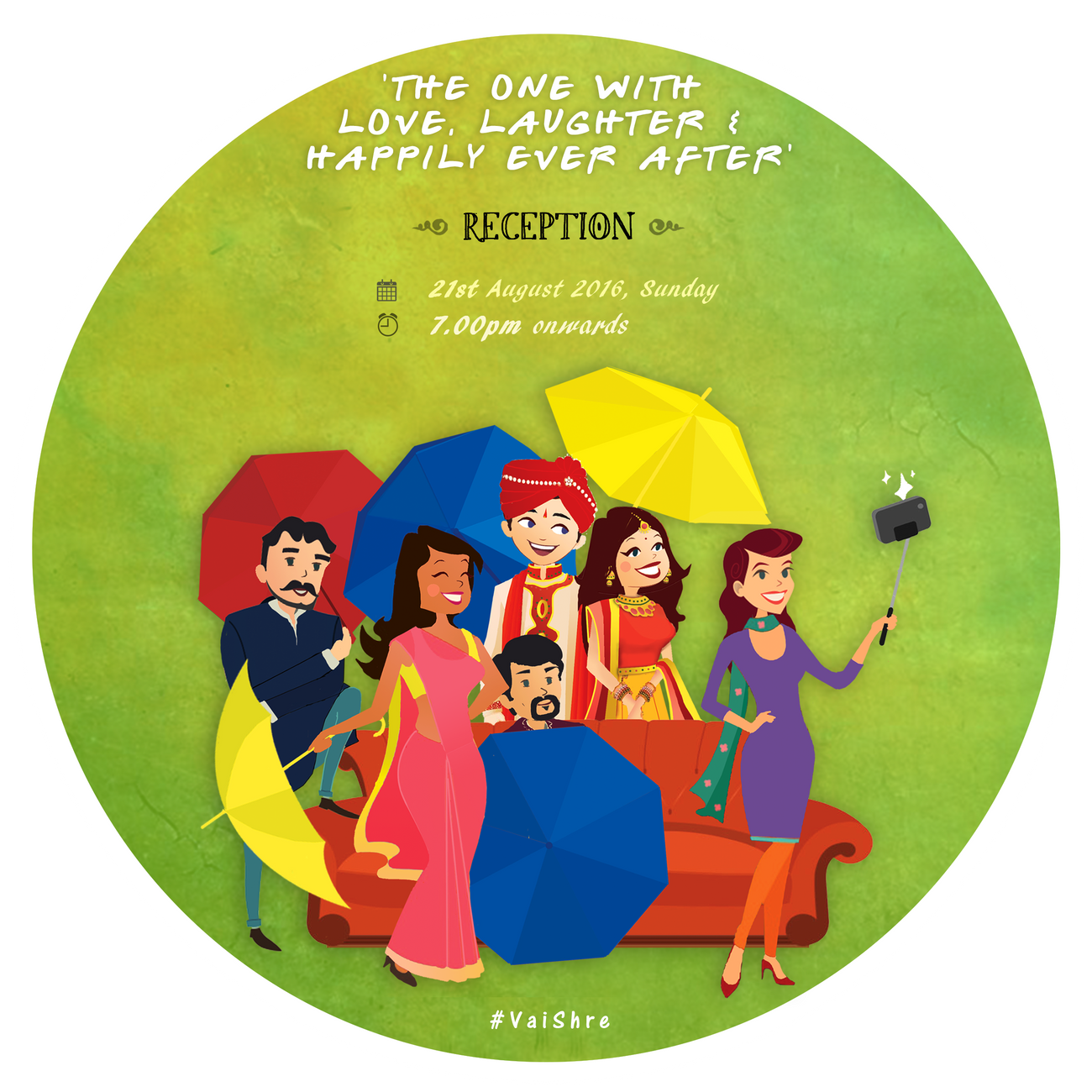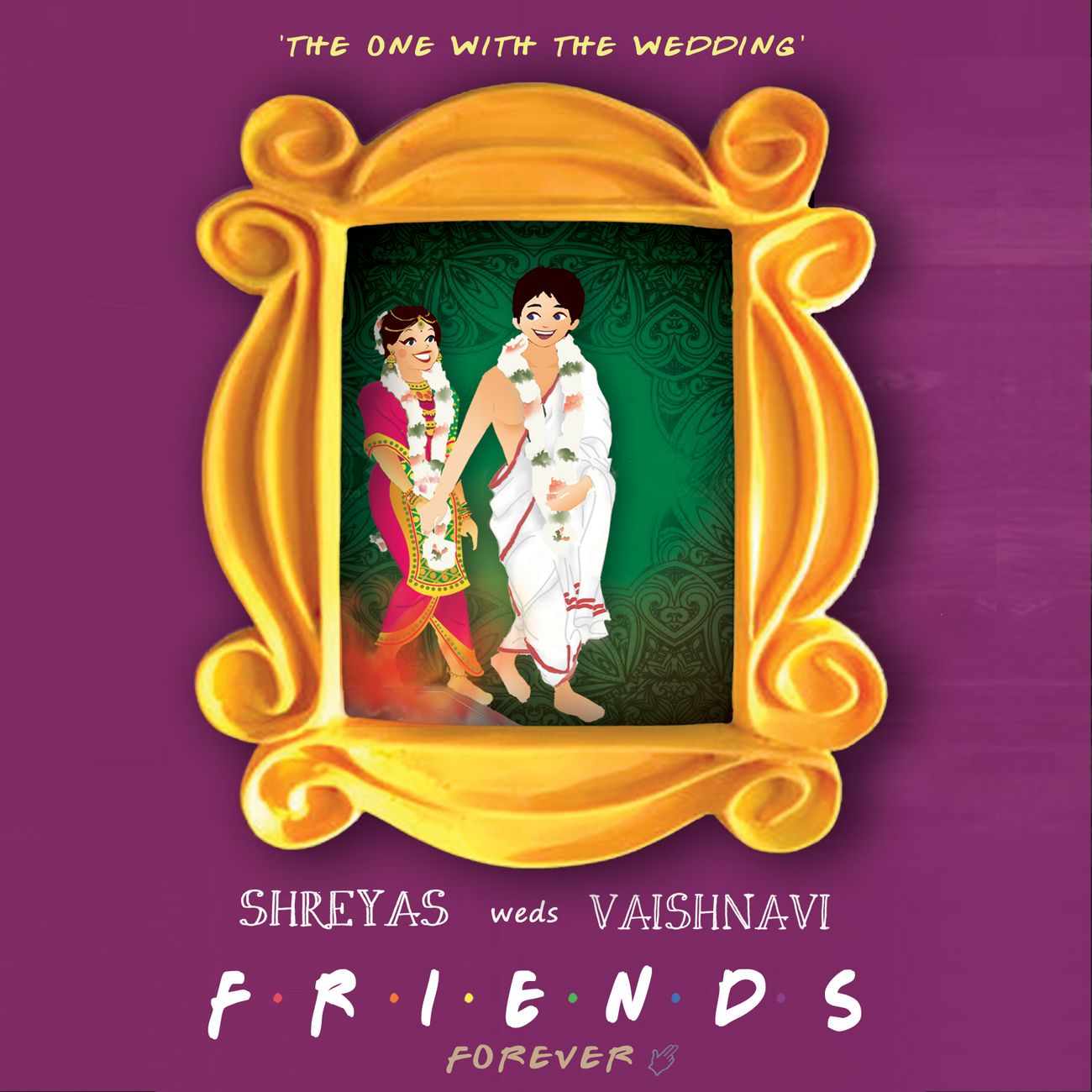 Image via Culture Curry
Here's a 'F.R.I.E.N.D.S' themed wedding card of  a couple who grew up watching the show together. Isn't it too cute? Take some inspiration add your personal touches to it.
And if he's your lobster, this one fits just well!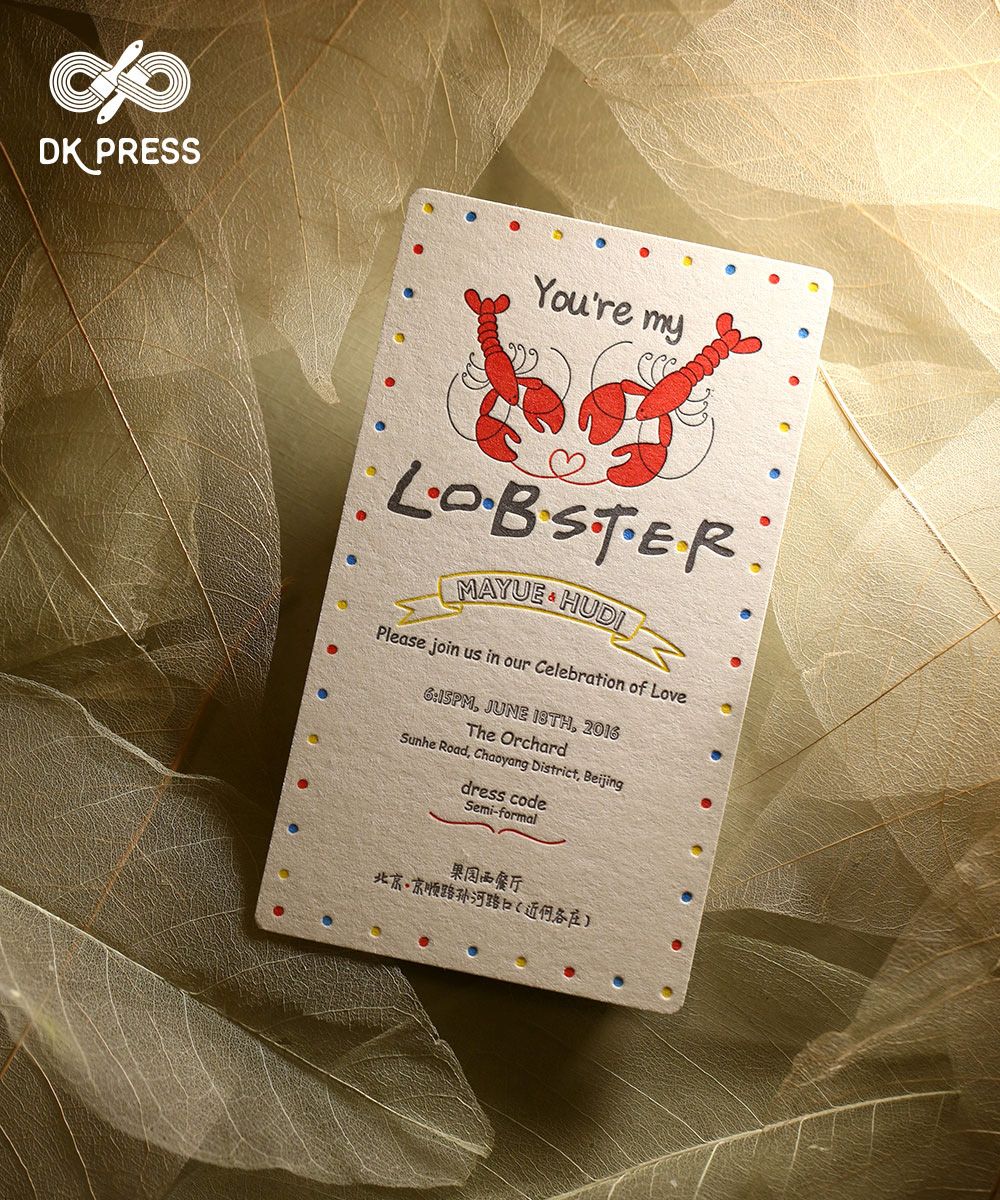 Image via Behance
Simple yet so unique, that's exactly how your wedding invite should look like! 
Wedding Favours
Edible or non-edible, you can definitely add a "FRIENDS-theme approved" stamp to all your wedding favours. And here are some cues we'd like to lend to you!
Personalised cookies for each of your guests? Hell, yes!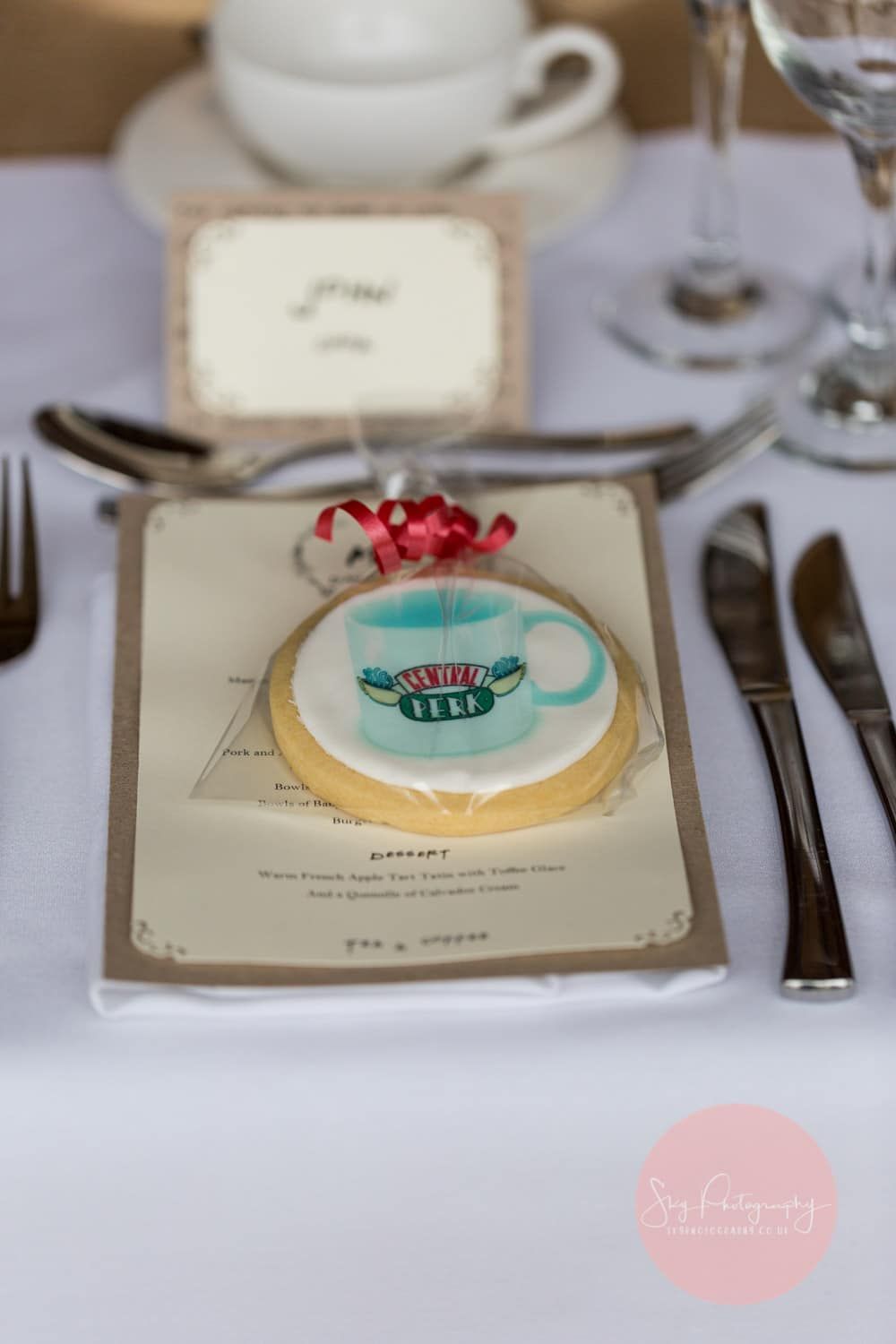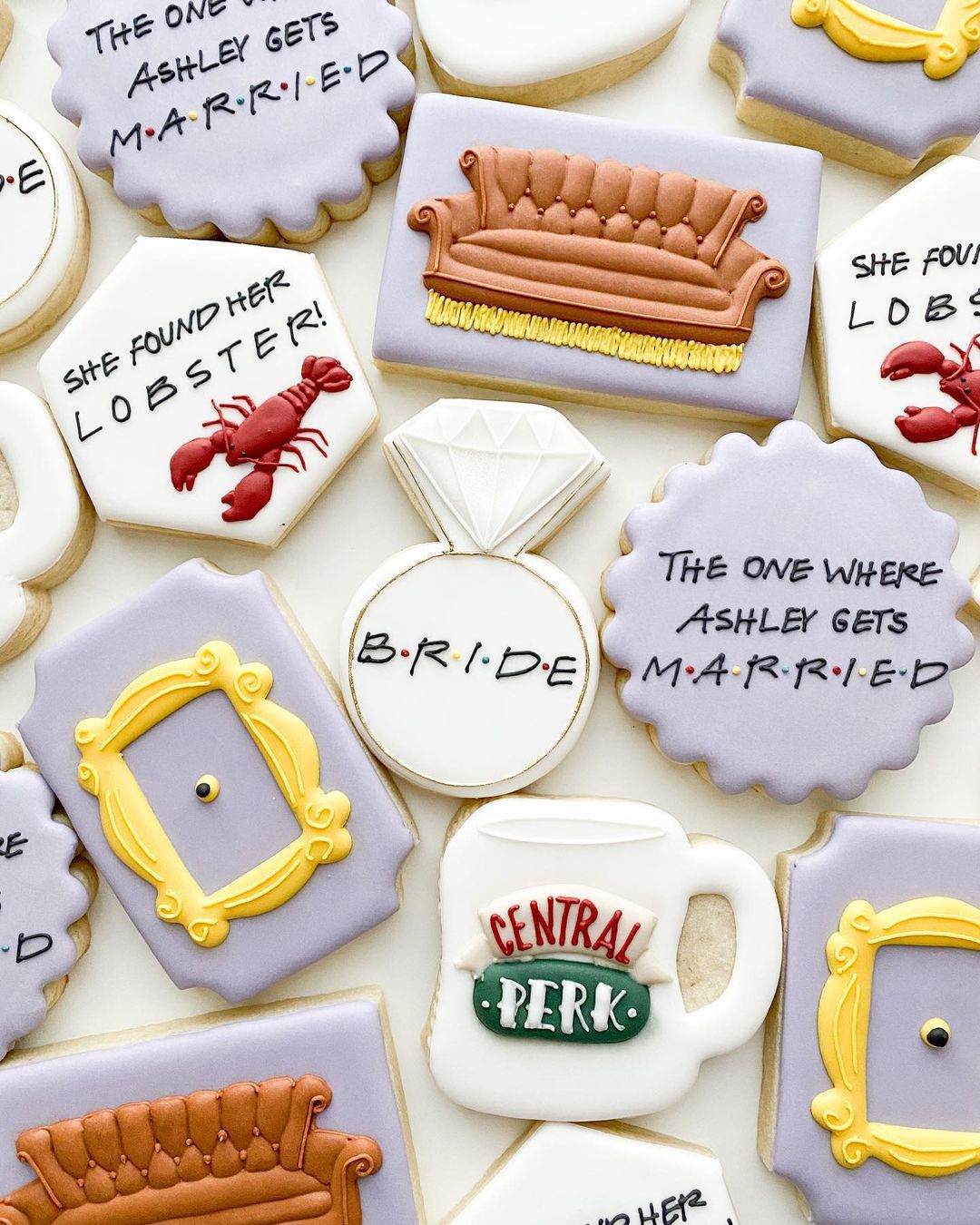 Image via Sky Photography , @bakedontheisland
Believe us, you can never go wrong with some sweet indulgence! Especially when it has such cute personal touches.
Give away mini honey jars, but take the FRIENDS route!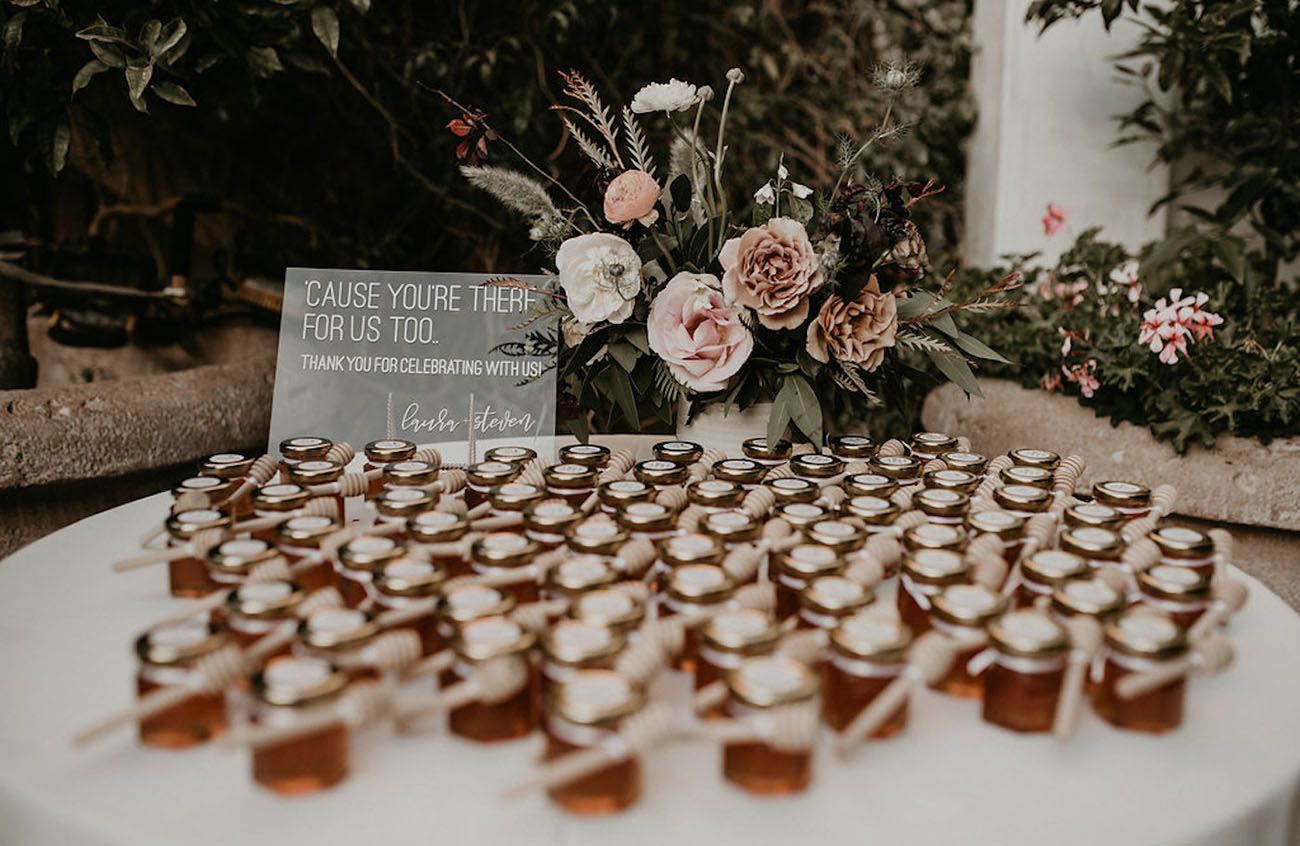 Image via Pinterest
You can keep the usual favours and go extra with a FRIENDS' inspired note or a quirky signage that you can see in the above image.
Bridesmaids favours on point!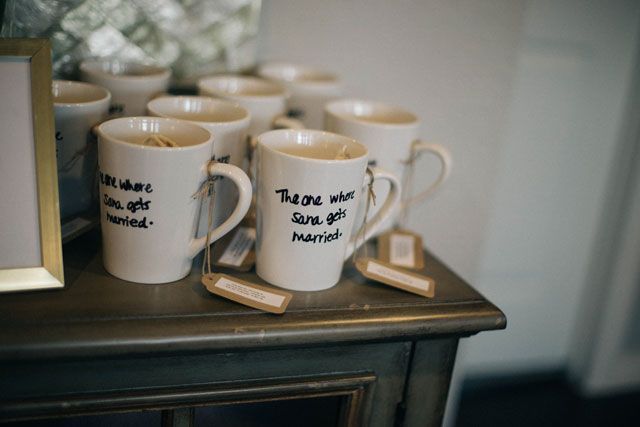 Image via Pinterest
When you gift these to your bridesmaids, could they BE any more excited for your big day?
Wedding Decor
And 'cuz we aren't on a break we had to fetch some FRIENDS-themed decor ideas too! Whether it's for your guest seating area or your photobooth, we have something for every nook.
This couple's FRIENDS' themed table arrangement is pure goals!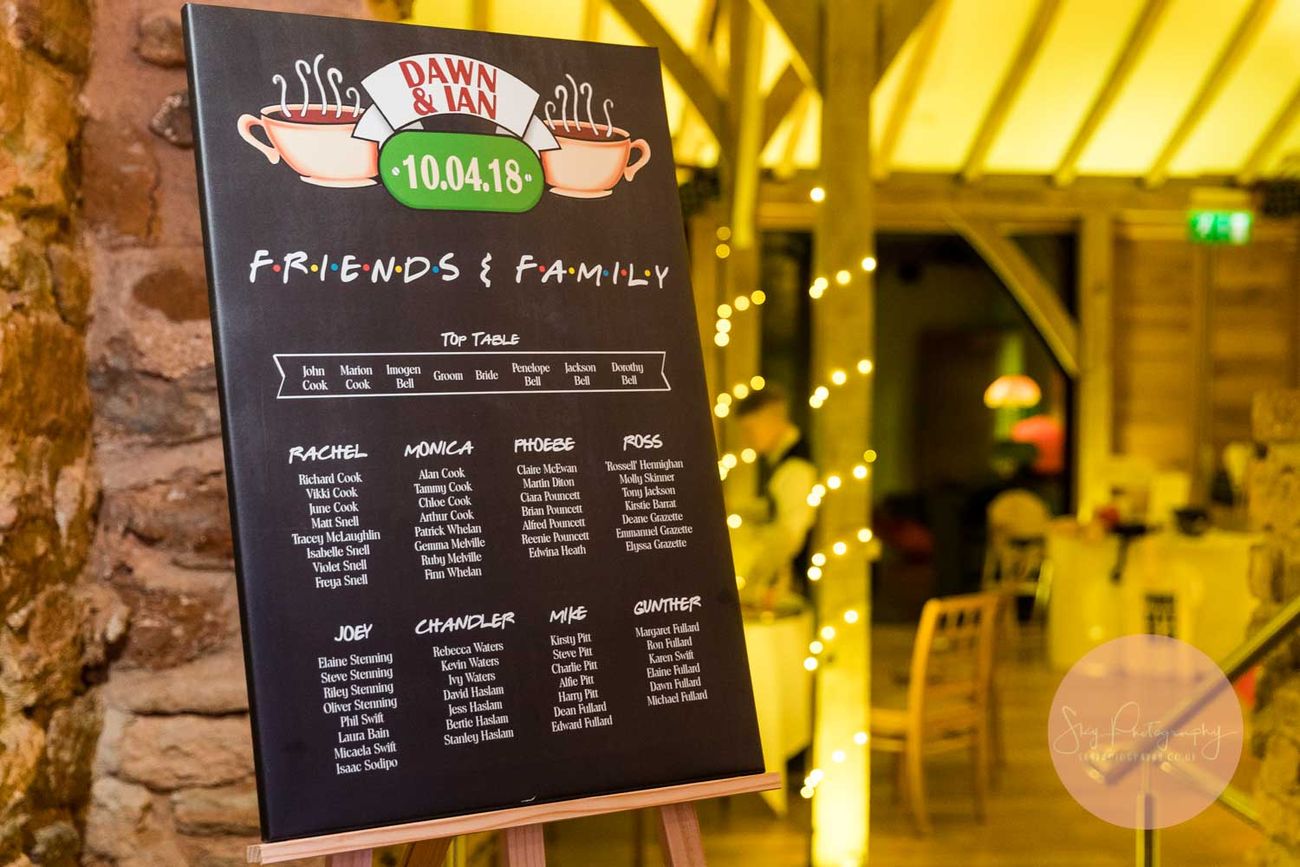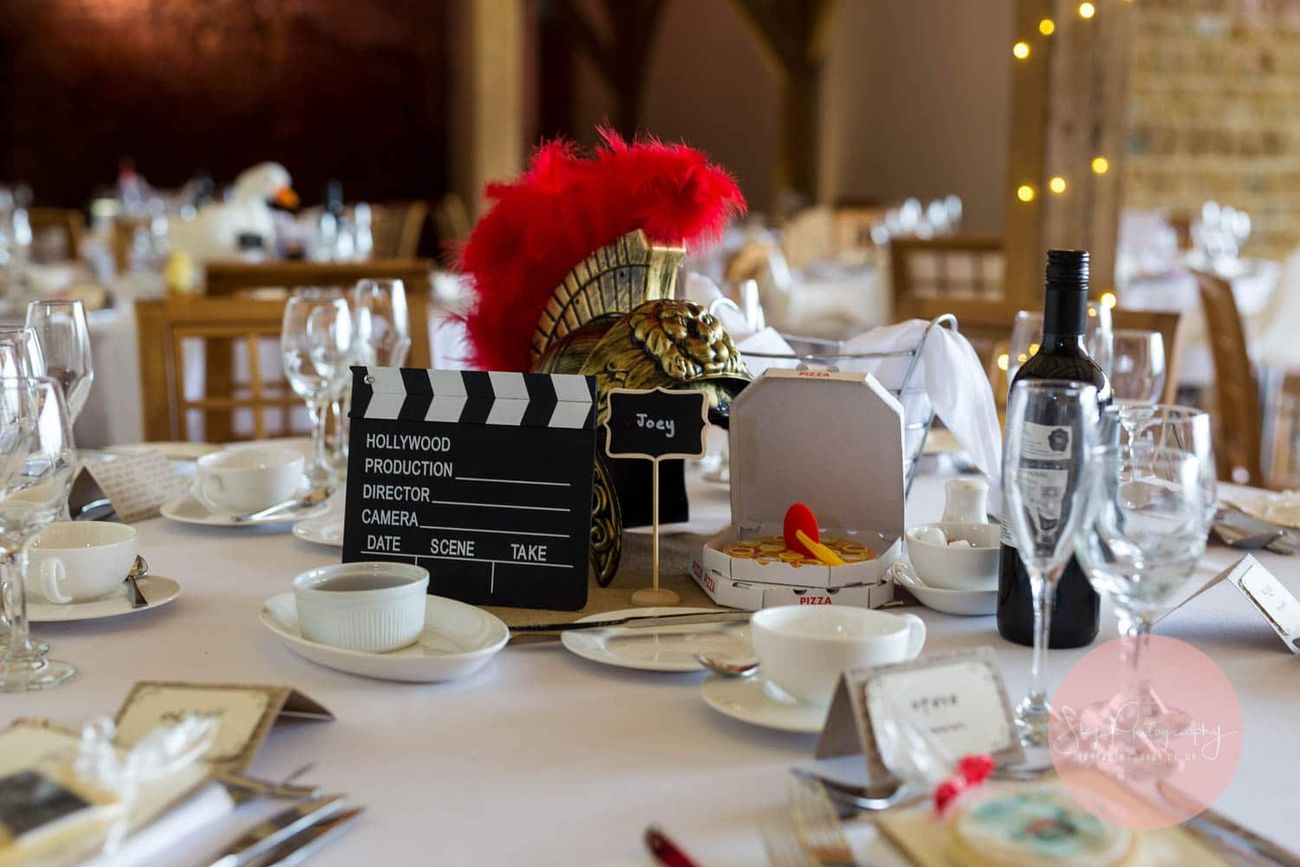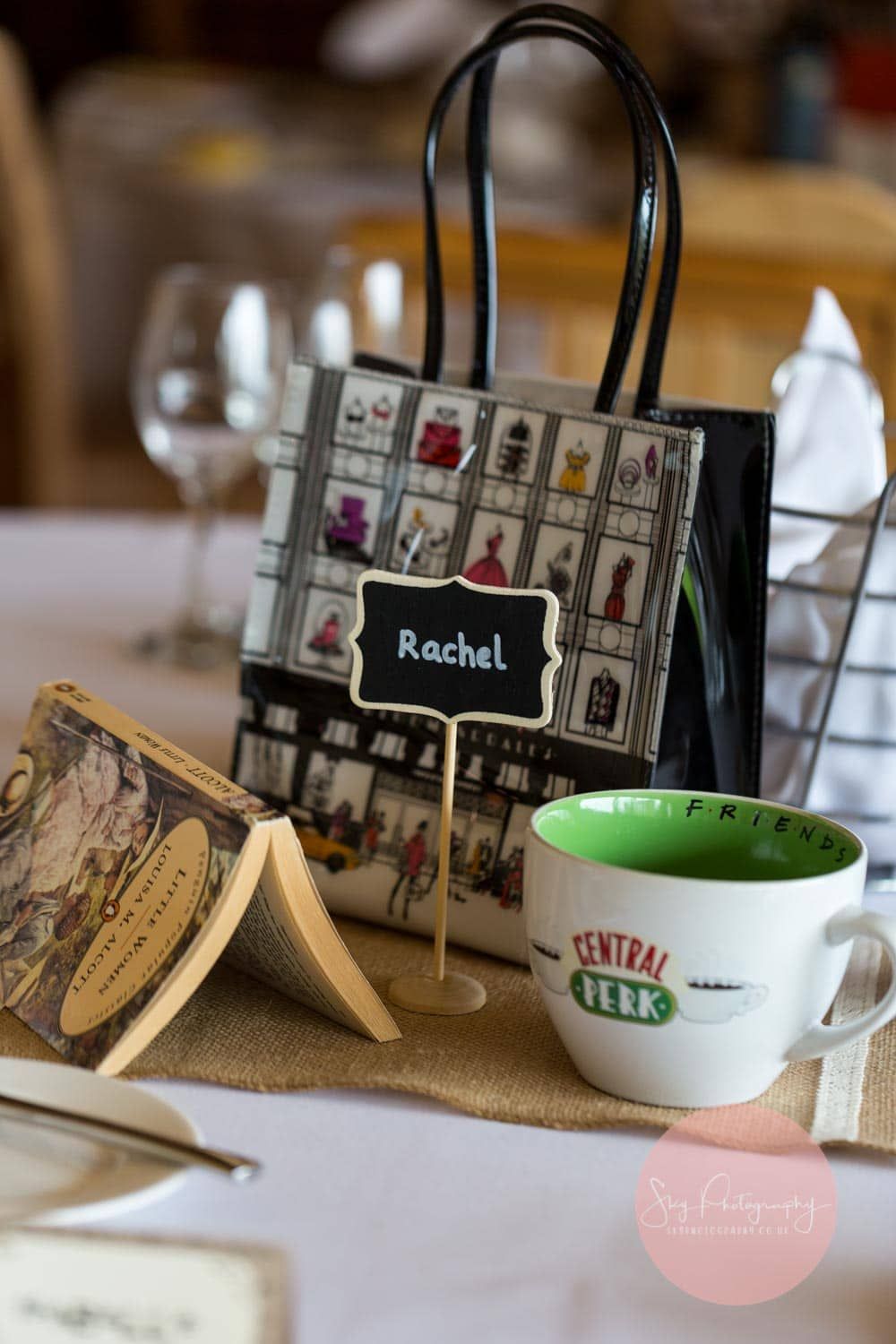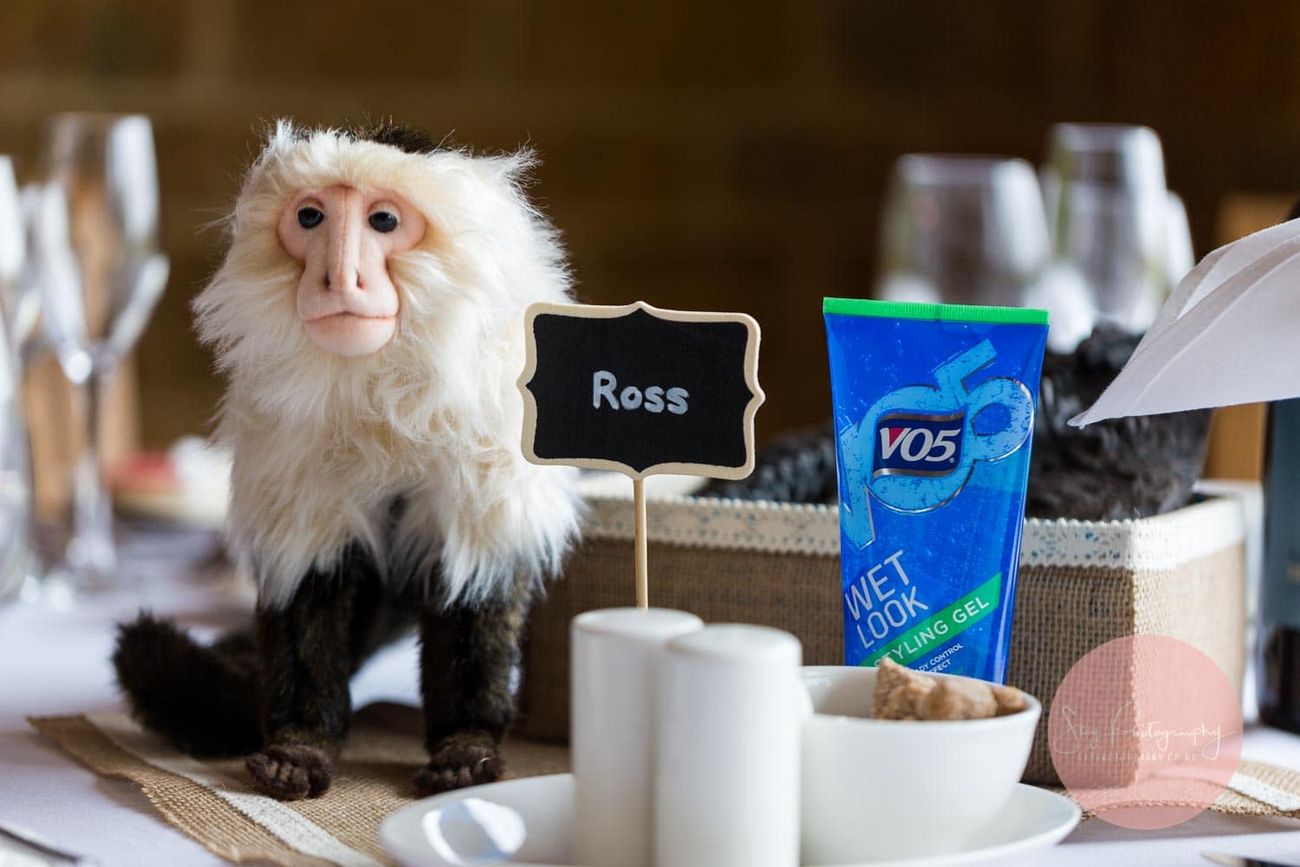 Image via Sky Photography
This couple infused a touch of FRIENDS into their wedding decorations very innovatively. They had a Central Perk-inspired table setup for their guests where each of the tables were named after a character and the guests were allotted seats on prior basis. 
Quirky signages with relatable verbiage can do the trick!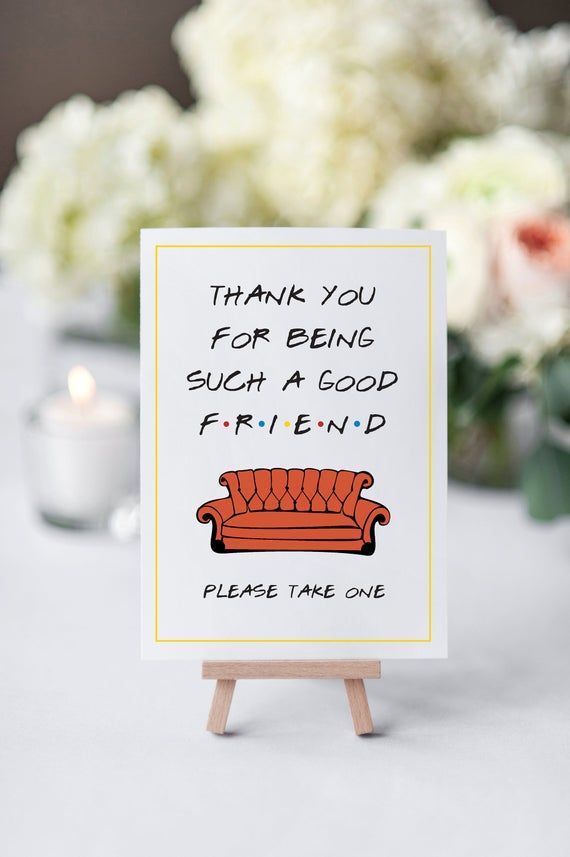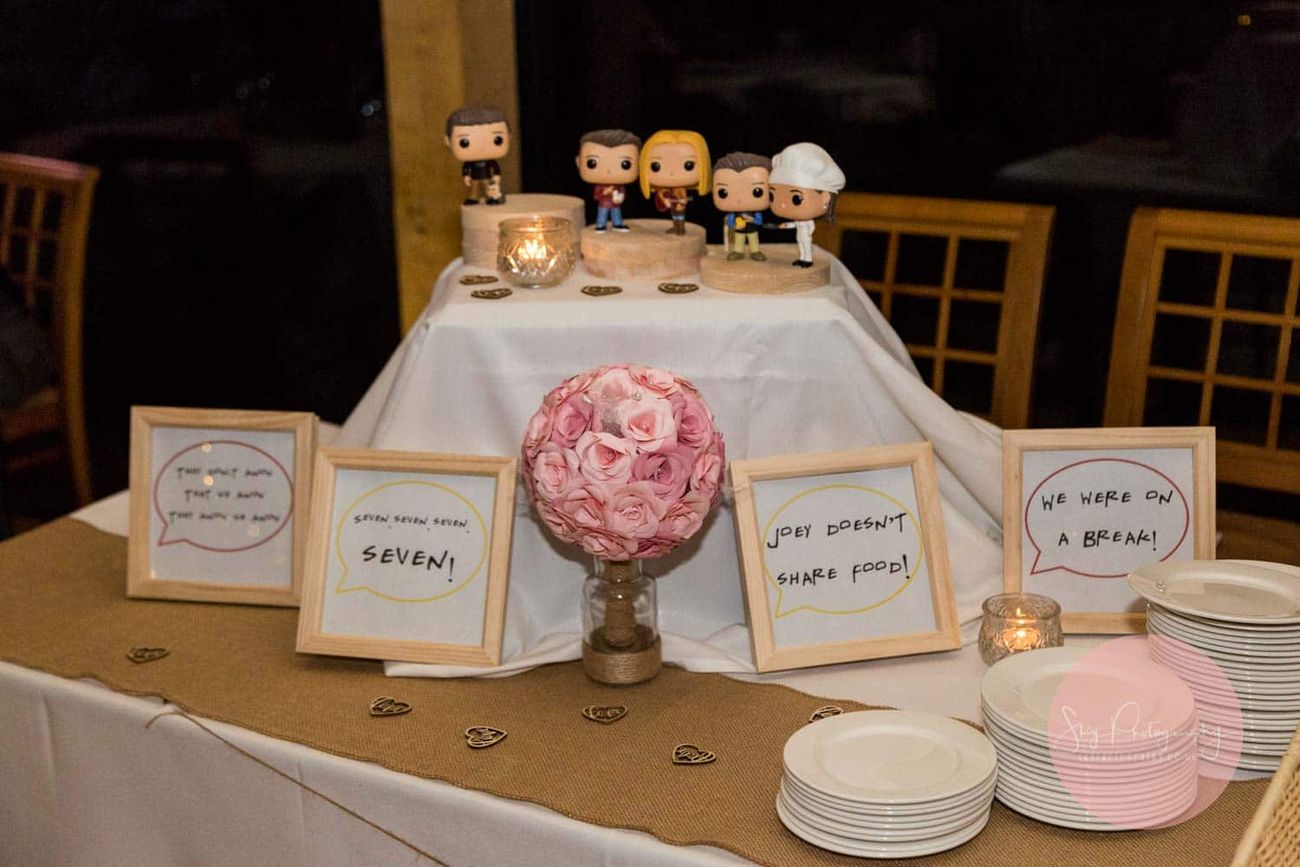 Image via Pinterest, Sky Photography
You can replace your usual table centrepieces with these uber chic ones.  PS. some cutesy bobbleheads always make for a great addition! 
FRIENDS-inspired photobooths and props can add life to your otherwise boring setups!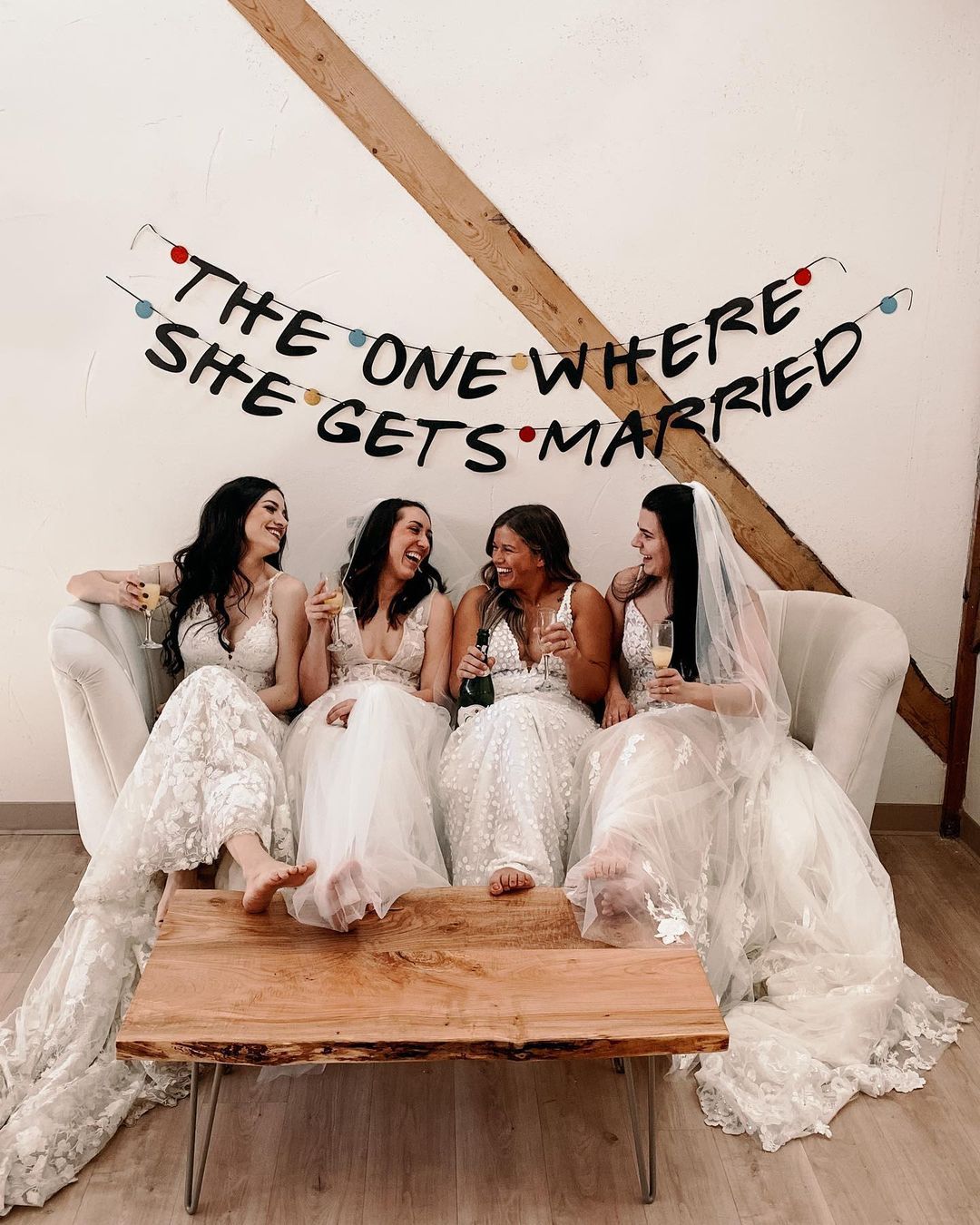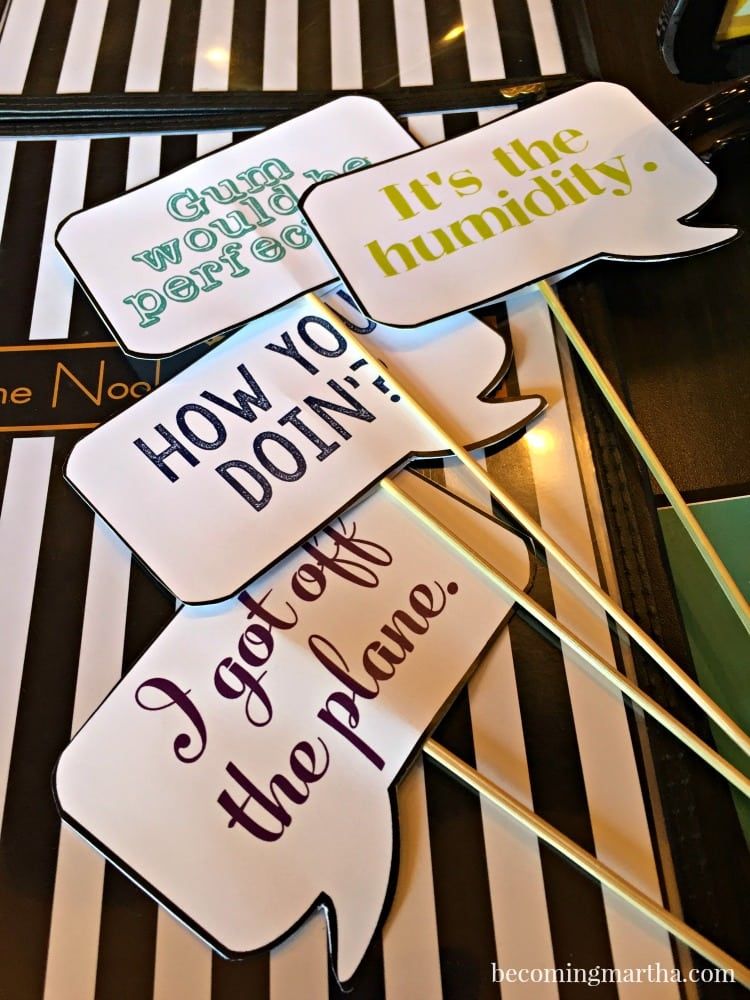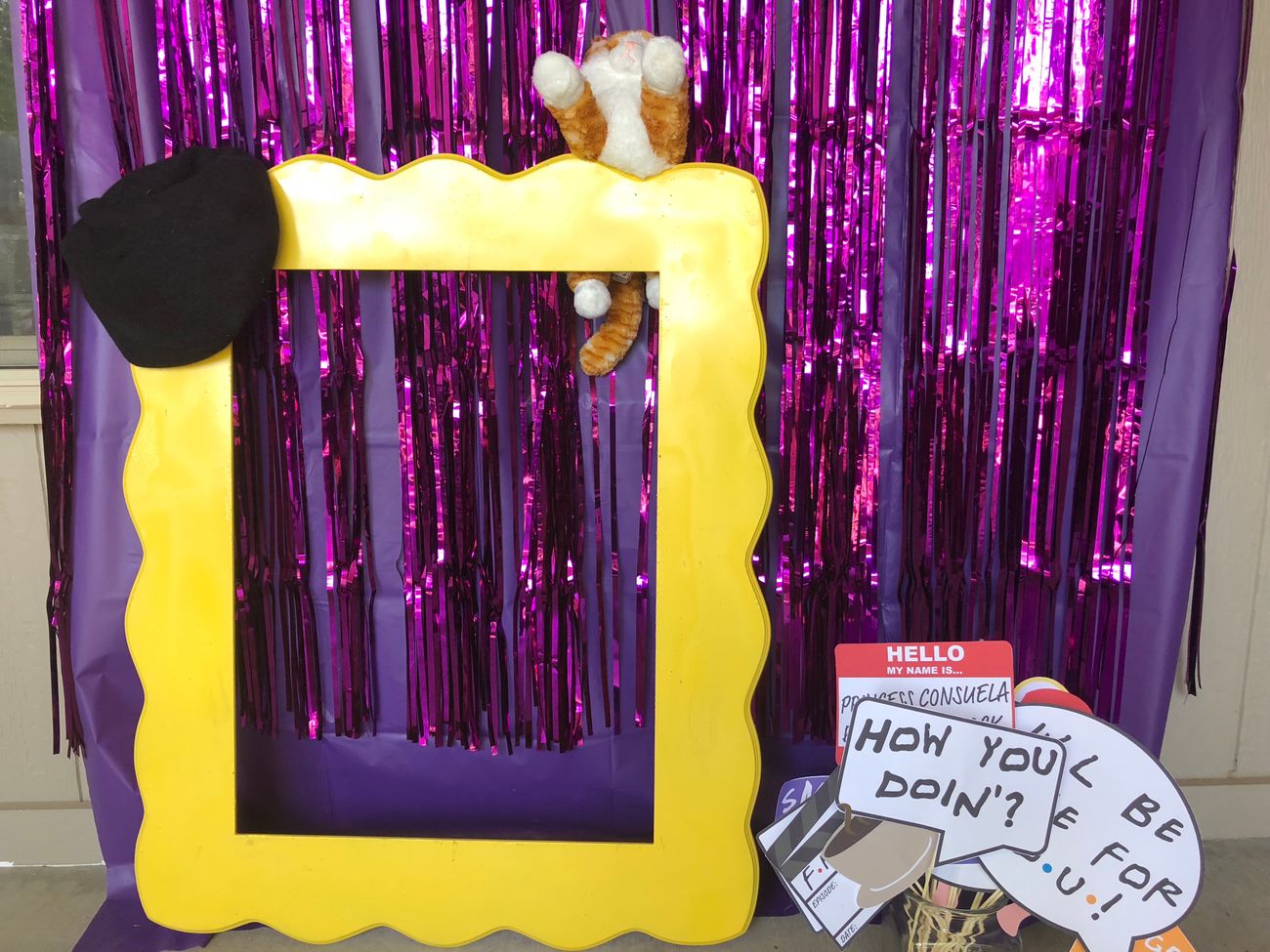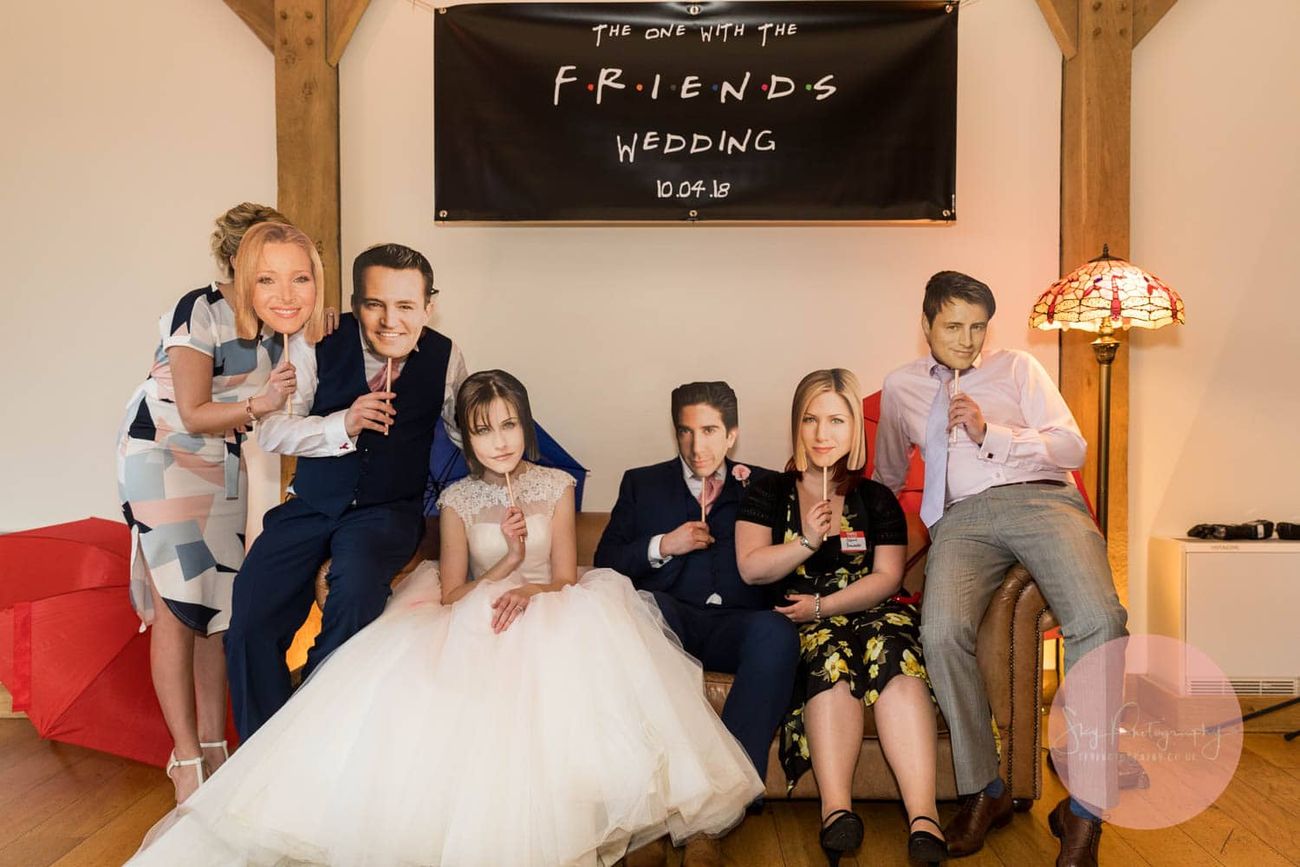 Image via nicolebriannphoto, Pinterest, Sky Photography
Photobooths are fun, and when they are themed around your favorite sitcoms, you feel more than involved! Not just because they are relatable, also because they scream YOU!
Wedding Cake 
Another element you can mould as per the theme of your wedding is definitely your wedding cake. It should go in sync with all the other elements of your big day. And these two picks are our peronal favourite:
This two-tiered cake that is baked to perfection!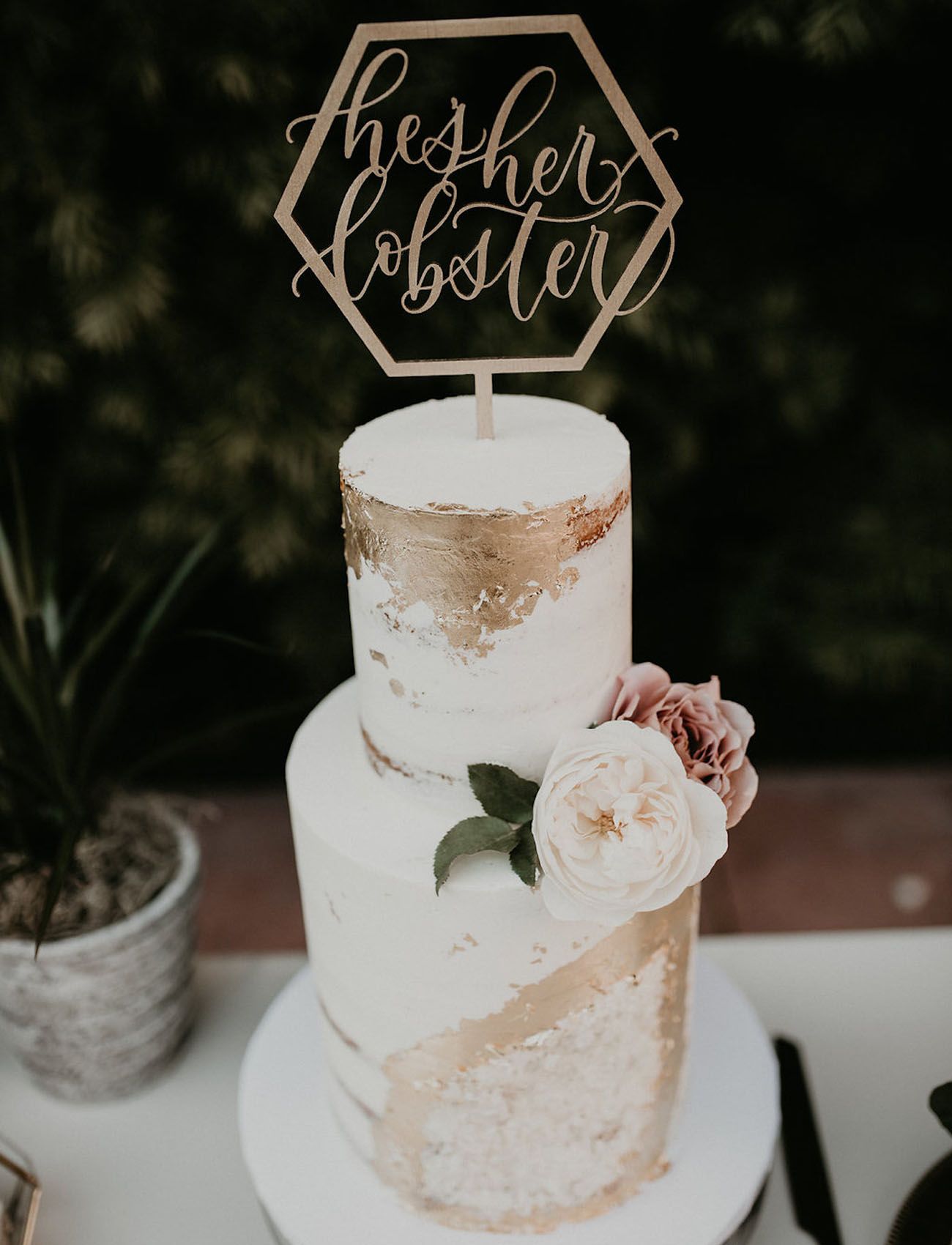 Image via Pinterest
Obviously, the "He's my lobster" insert acts as the cherry on top!
Another version of a similar cake insert that looks oh-so-cute!
Image via Pinterest
You don't know that we know you know how cool this wedding cake idea is going to be!
So, brideys, How you doin? Pinned enough ideas for your FRIENDS- themed wedding? Then, don't forget to show it to your wedding team and get them on the same page. PS. Just in case you need some help with that, we'll be there for you!