30+ Wedding Gifts / Favors for Mehendi & Wedding
BY Sakshi | 04 Apr, 2019 | 68081 views | 7 min read
Favours and gifts for the people who make your wedding special. It's always a great idea to give some sweet little things to the people who take out time to come be a part of your big day, and whether they are gifts for bridesmaids, or personalised wedding gifts or even a
gifts with the wedding invites
, these days there are so many things to choose from. So here are some common and some unique gifting ideas to take a pick from, which we have divided into these categories:
Edible Favours
Favours which not only are yum to eat, but also look festive and happy! The packaging will matter a lot for this one, and if you don't want to give the same old mithai dabba or dry fruits along with your wedding invite or at any of the functions, then here are some cool ones for you to consider!
Henna cupcakes and cookies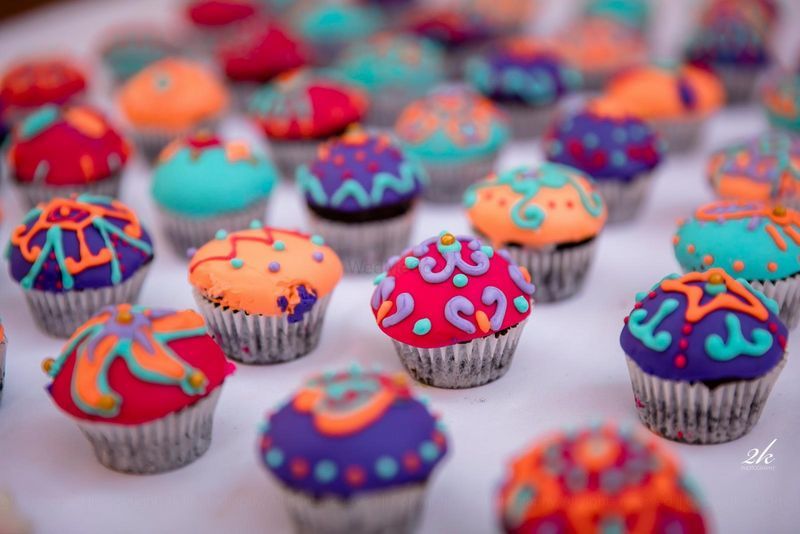 Image via
2k Photography
and
Vintage Nutters
How cute do these look? Henna themed sugar cookies or cupcakes are so adorable, and a great edible gift to give along with the wedding invite or on the Mehendi.
Flavoured sugars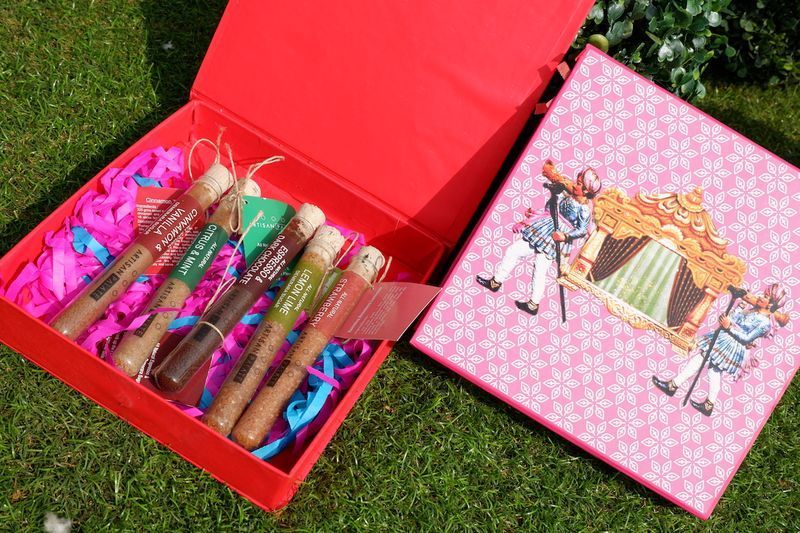 Image via
Nirali and Ribhu's Wedding
This is another new thing we saw a bride give out on her wedding- flavoured sugar, tea, coffee- all of these are such good options to give, especially when packed so cutely like this.
Macarons
Image via
Vintage Nutters
Who doesn't love them? And a lot of guests might not have had them before, so you can consider this as a favour too. There are so many options like plain ones, ones with henna designs on them or even custom printed ones with your names on it.
Spices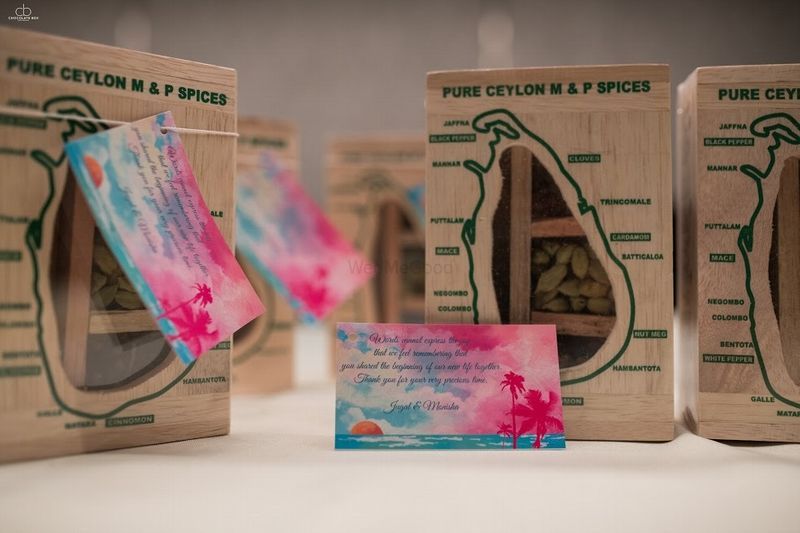 Image via
Anyonya
If you're having your wedding at a place which is famous for its spices like Kerala, Ooty or Sri Lanka, then you could consider giving this away as favours.
Mukhwas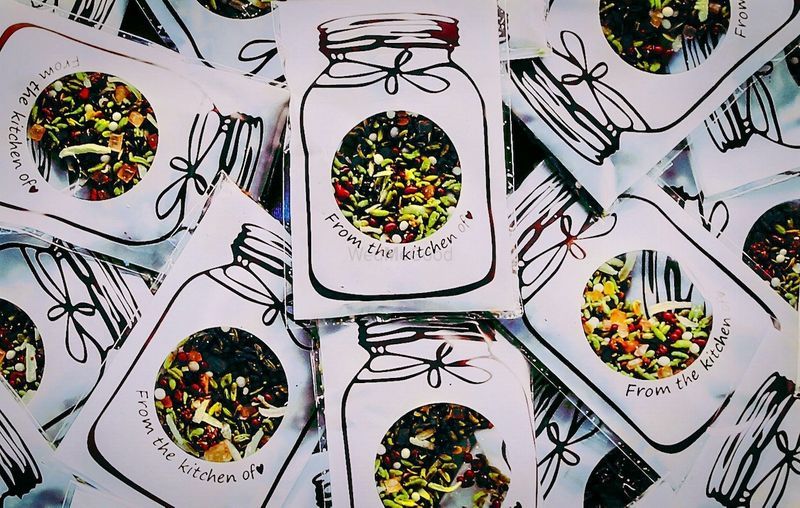 Image via
Shikha & Ankit
Mukhwas is another easy peasy gift to give, especially when packed in such a nice way!
Mehendi Favours
When you think of the mehendi, you think festive, bright and happy things! Here are some favours which might be specific to the Mehendi event, and make for great giveaways or gifts especially for the Mehendi.
Sunglass cases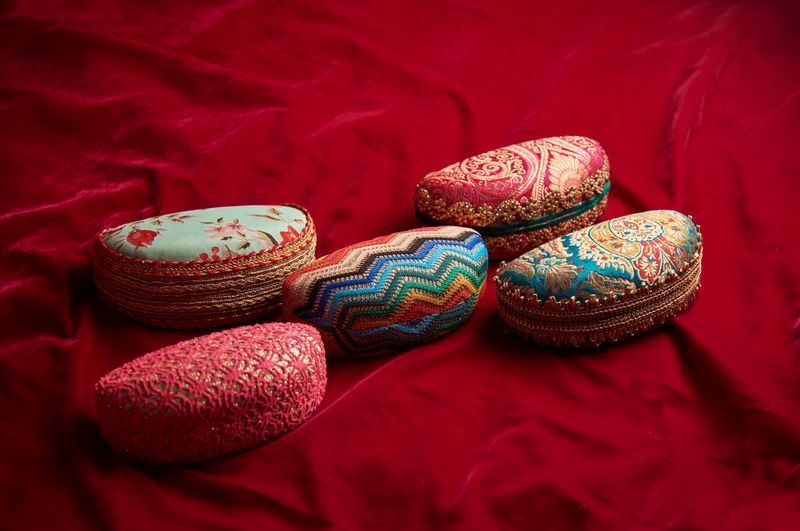 Image via
Pataaree
How cute are these sunglass cases with the brocade and lace work? There are a lot more types available if you're looking for something more trendy, but these make for amazing giveaways!
Pouches and Potlis
Image via
Sanam & Suhel (Delhi)
Pretty pouches and potlis- whether it is to carry by themselves or with some bits and baubles inside- these make for nice Mehendi favors.
Personalised totes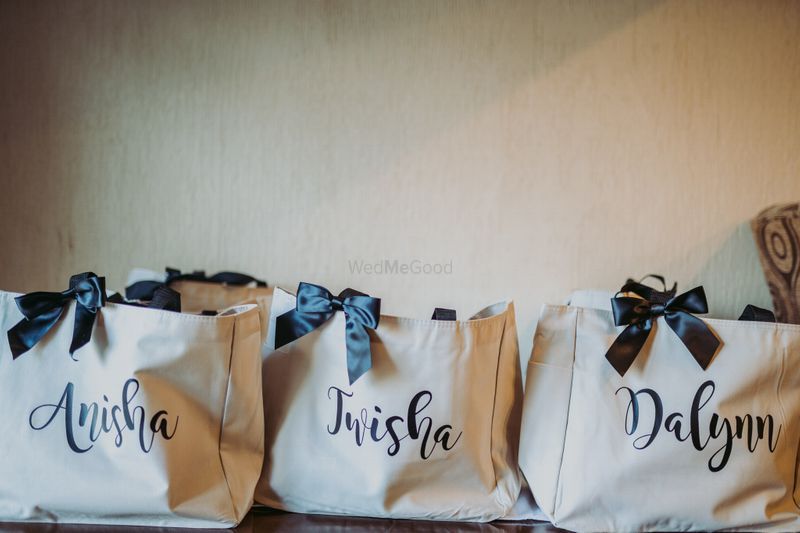 Image via
The Bombay Brigade
These are also so cute- make for great gift for the Mehendi, and you can even have the ones for your bridesmaids personalised and give the others plain totes or something with your wedding logo.
Pocket diaries with traditional prints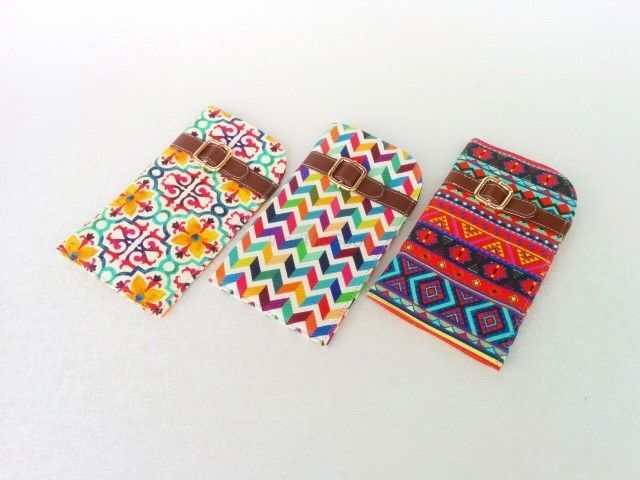 Image via
Moments by Riona
Pretty notebooks for their bags, you can get so many options- with ikat prints, Indian designs or even Mandala ones.
Leheriya photo frames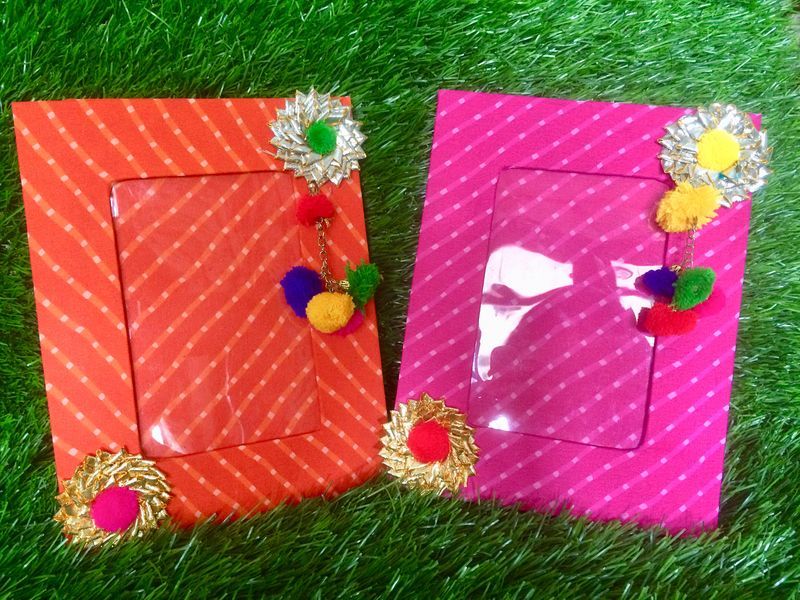 Image via
Adirag
Look so happy and Mehendi-appropriate! Happy happy with all the colour and the gota work.
Pompom keychains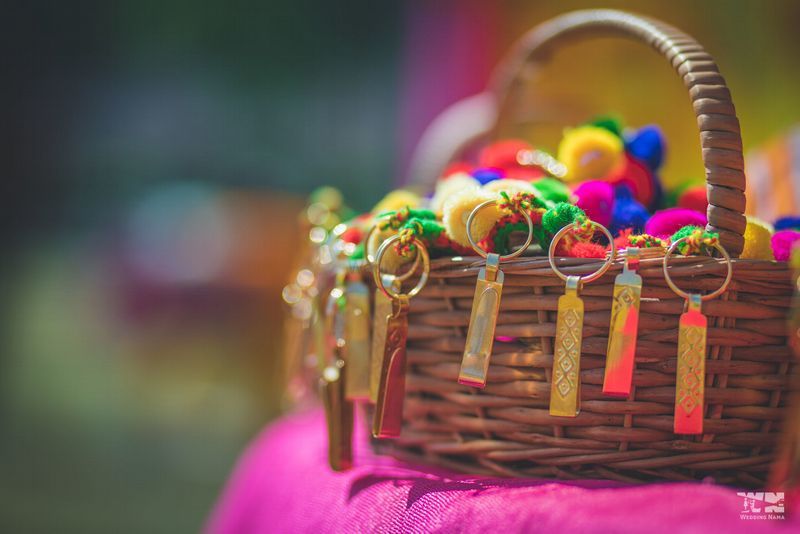 Image via
The Wedding Junction
Another small little thing for the guests to pick up and take with them. And if they are happy and festive, then nothing like it.
Brocade boxes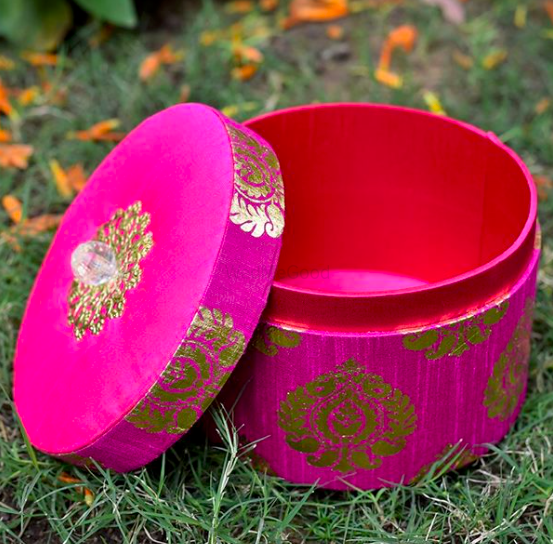 Image via
Crafthaat
These boxes look so pretty, and you can add just about anything to them or give them away for the guests to store their bits and baubles.
Wedding Favours
These are some nice classy favours that you can consider to give on your wedding day- from budget to slightly expensive options which are perfect to giveaway as wedding favours, whether it is as a thank you gesture when the guests are leaving, or to leave on their chairs or tables for them to find during the ceremony!
Scented candles
Image via Jo Malone Scented candles especially luxurious ones are something everyone will love and cherish! You can get a lot of different varieties or give away what is your fave scent or something that goes with your wedding theme.
Pins and Badges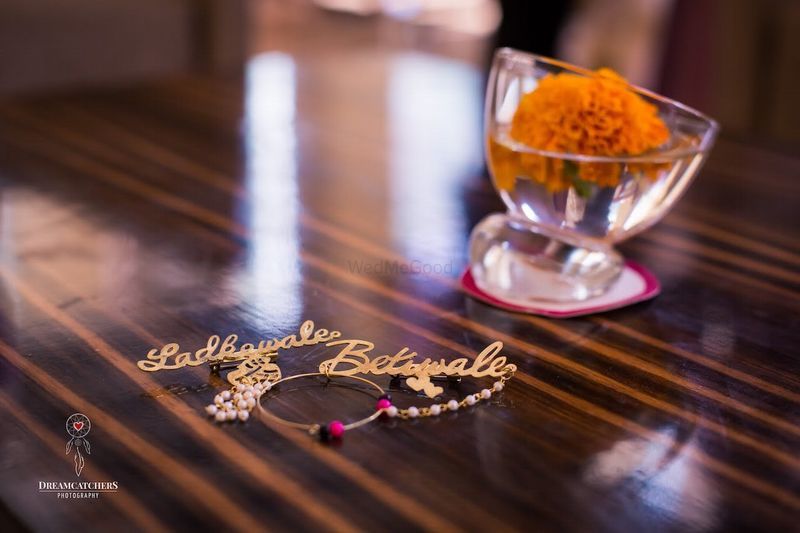 Image via
Richa & Khushil
What was started by one bride has become a trend now, and these are extremely popular these days, as badges and even as hair accessories.
Cocktail kits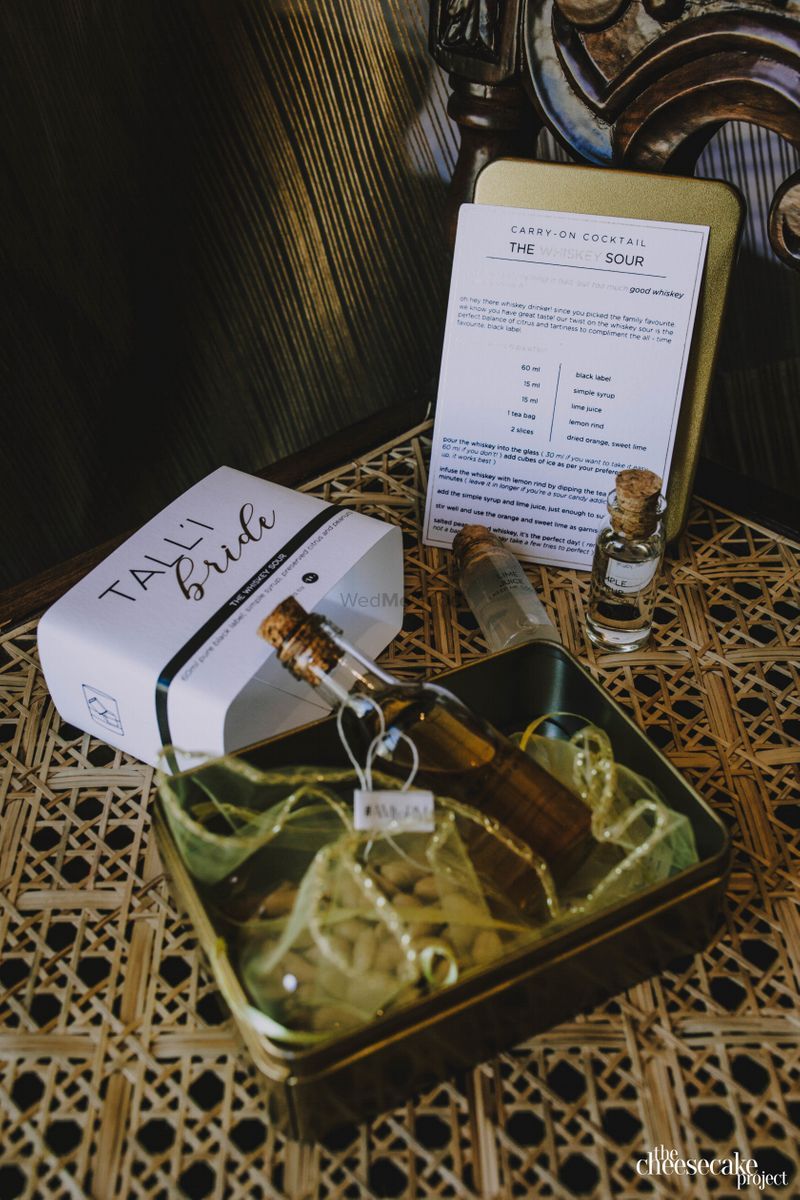 Image via
Avantika & Pratik
DIY Cocktail kits are great favours to give out on the wedding too, especially to your close friends like the bridesmaids and the groomsmen. Just throw in some small little things like alcohol miniatures, a shot glass and some peanuts in some cute packaging.
Chai or coffee hampers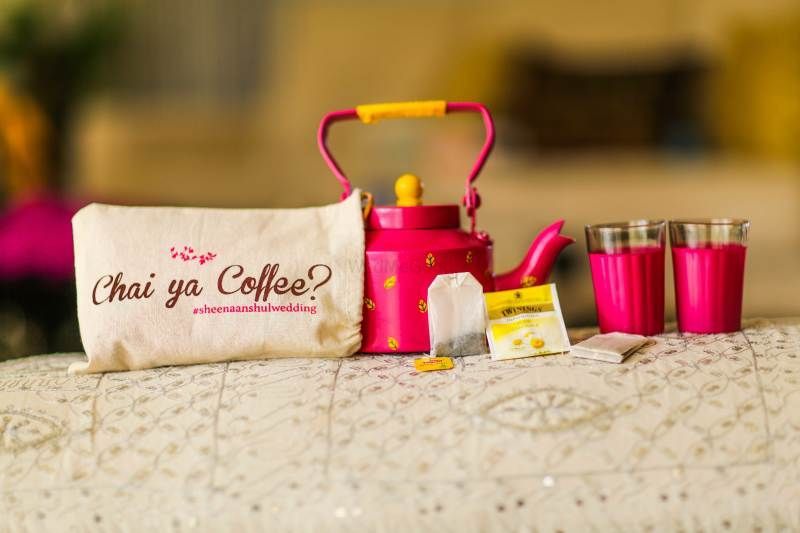 Image via
Design Tuk Tuk
This is also a great wedding favor we came across. Chai and coffee hampers with some nice tea / coffee, glasses and a cute little kettle in that delightful packaging.
Tiki cocktail glasses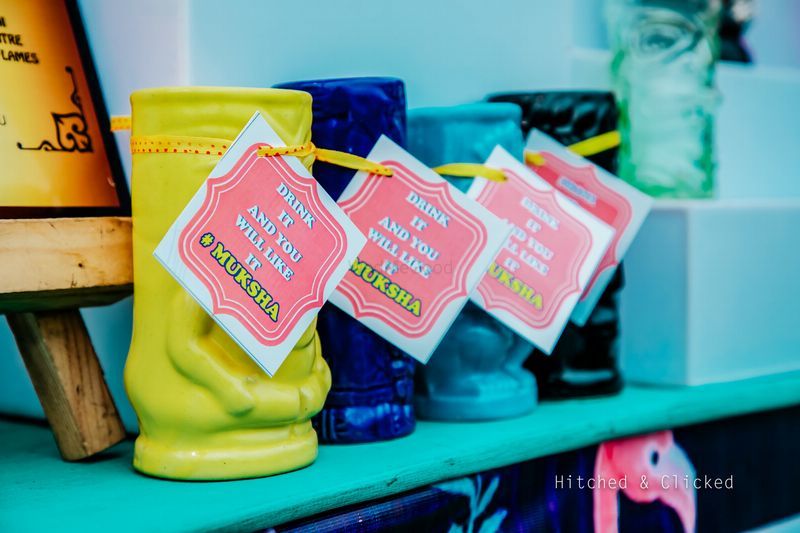 Image via
Preksha & Mukul
Tiki mugs or shot glasses also make for good wedding favours for the guests, and especially if you have a crowd that's fond of drinking!
Customised perfumes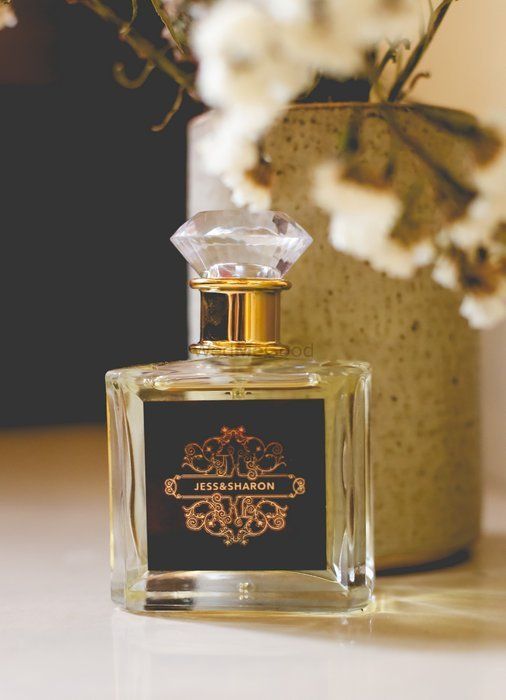 Image via
Sharon and Jess (Kerala)
This couple got a signature scent made and gave it to all of their wedding guests with some cute personalised packaging too.
Luxury Eternity Rose Box arrangements that last a year!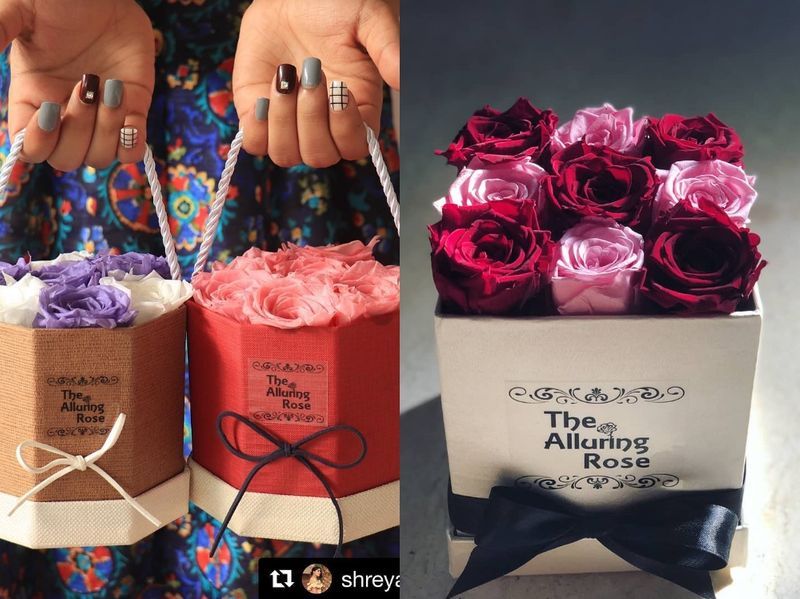 Image via
The Alluring Rose
These are roses and arrangements that last upto a year, so it actually makes sense to give these to guests! Something beautiful and unique!
Luggage tags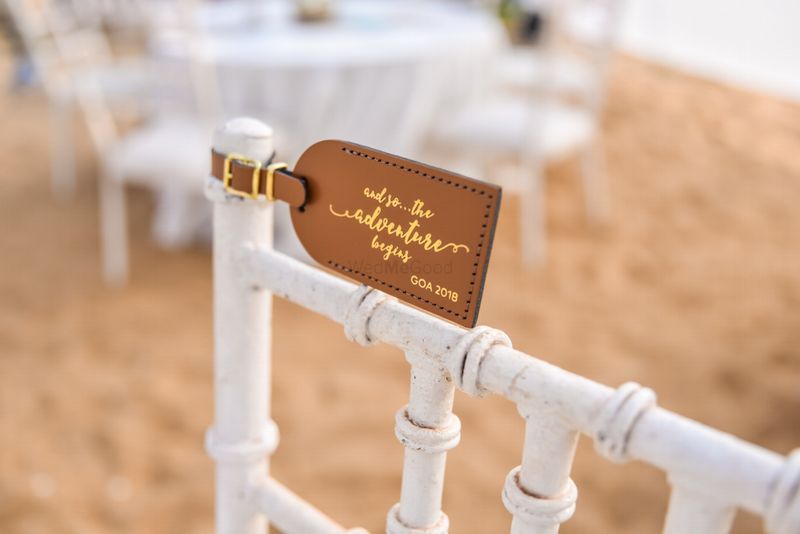 Image via
Malvika & Pranay
A cute idea for a destination wedding, this couple decided to put them for their guests on their wedding chairs!
Plantable pencils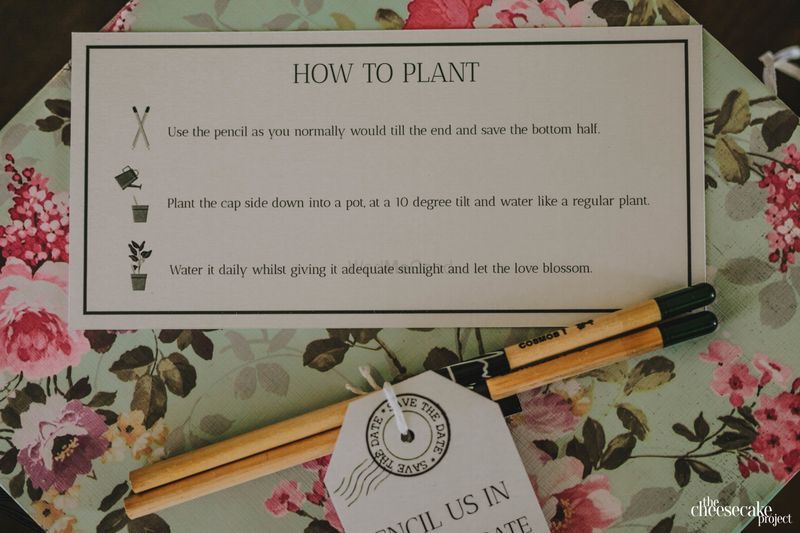 Image via
Avantika & Pratik
Eco-friendly gifts are also gaining a lot of popularity at weddings, and this one is such a neat idea and looks super cute too.
Potted plants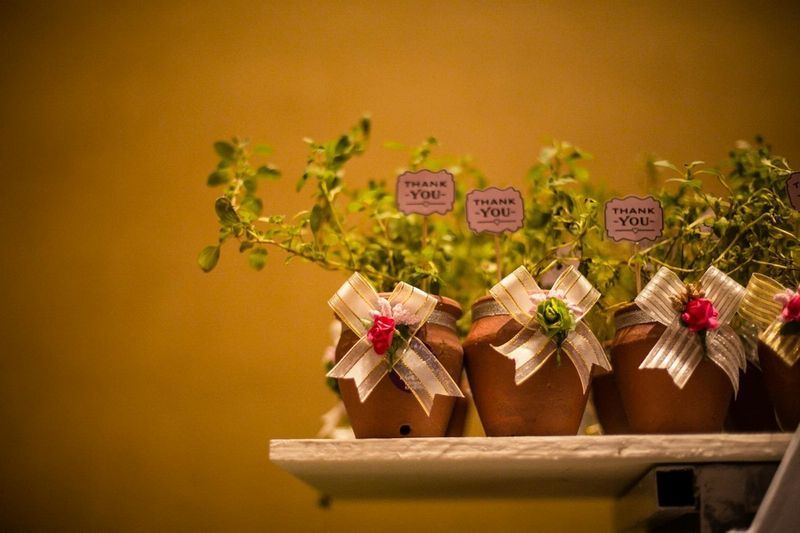 Image via
Aishwarya & Vikyath
Again, something that is great to give if you want to go green at your wedding, and while potted plants might be a better option for a local wedding, seeds and seed bombs are a better idea for a destination wedding.
Hand fans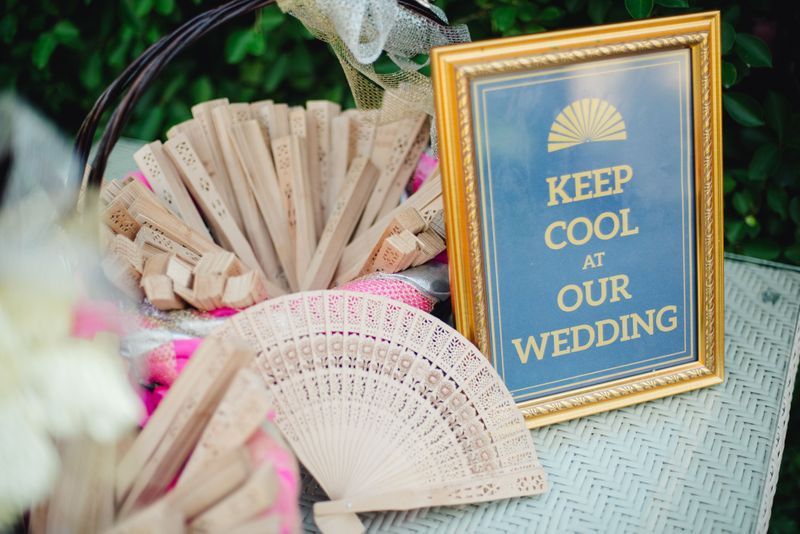 Image via
Revel Events
If its an outdoor wedding, then this is something that might come handy for a lot of guests!
Sanitisers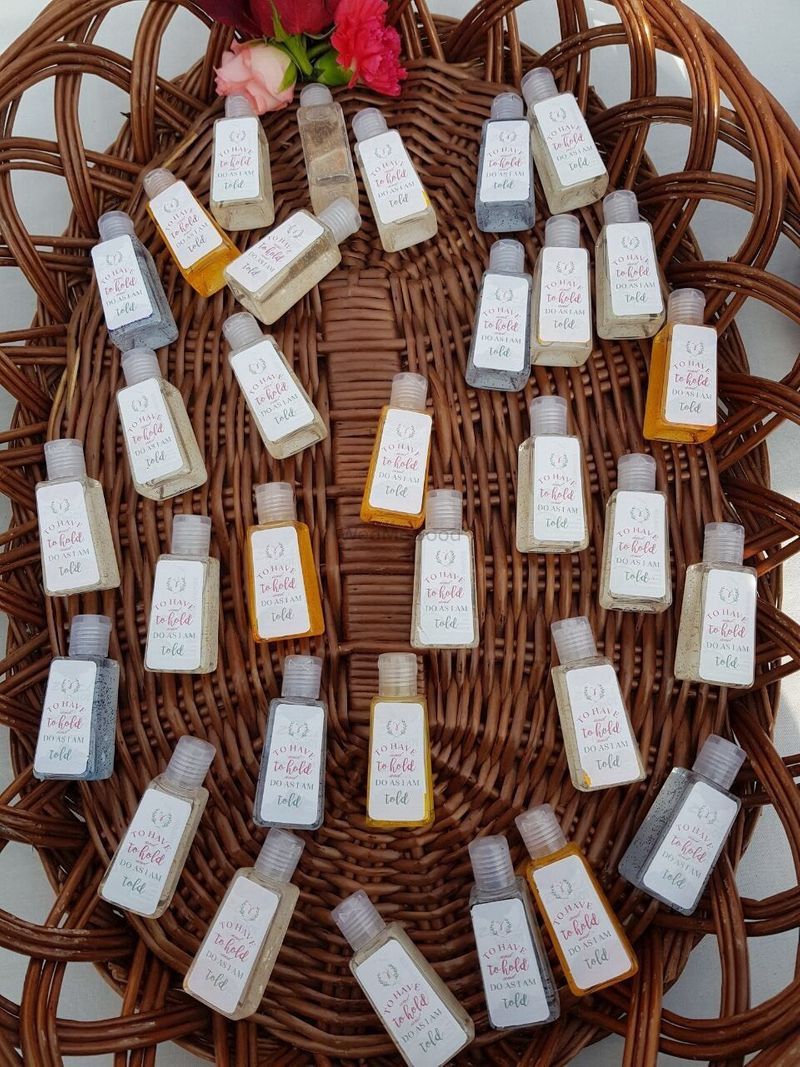 Image via
Gautam & Mansha
This couple had some cute sanitisers with personalised packaging on their wedding, and we love this idea of a pick-me-up!
Favours For Women
Embroidered bags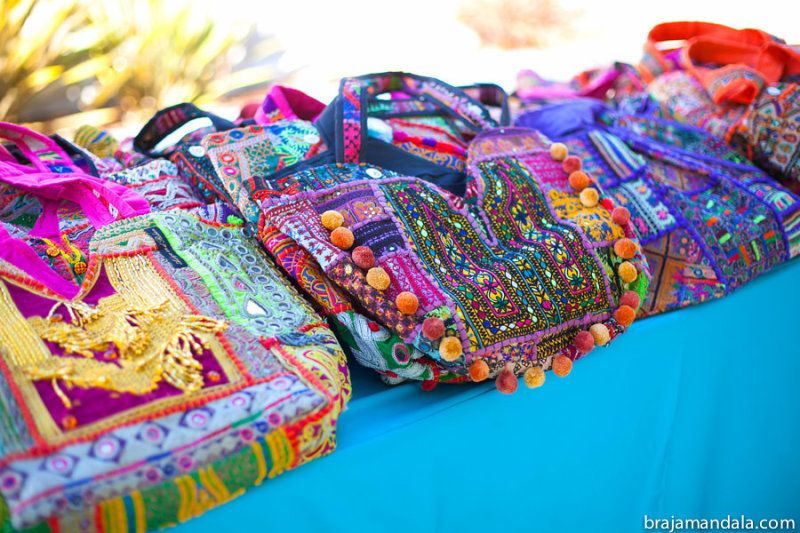 Image via
Aishya & Rohan (USA)
How pretty are these handicraft bags for mehendi giveaways? Get something ethnic that your guests will love!
Curated bangles or jewellery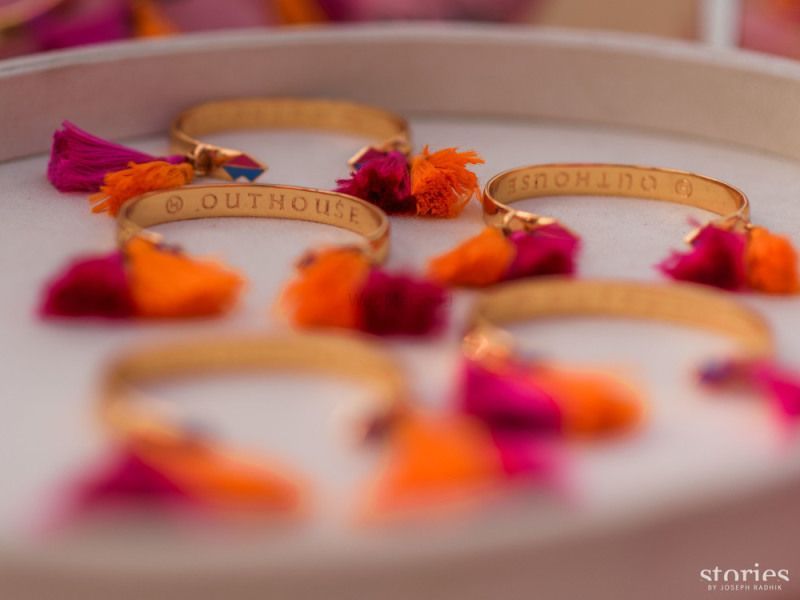 Image via
Summiyya & Arnav (Mumbai)
This bride got specially curated bangles from Outhouse for her Mehendi, and it's a gift that's simple and pretty!
Pretty zardozdi work boxes with saree borders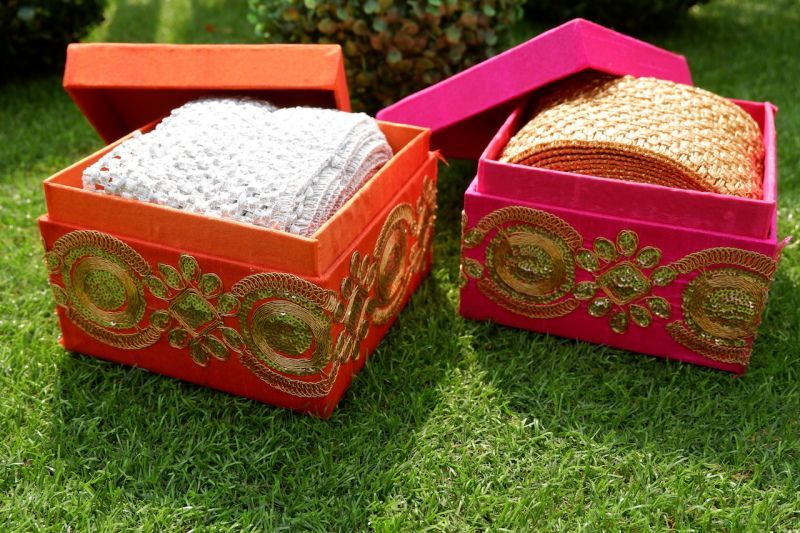 Image via
Nirali and Ribhu's Wedding
Now this is a unique gift we spotted one bride giving away too as Mehendi favours. A simple gift that we are sure will be loved by women!
DIY Jewellery kits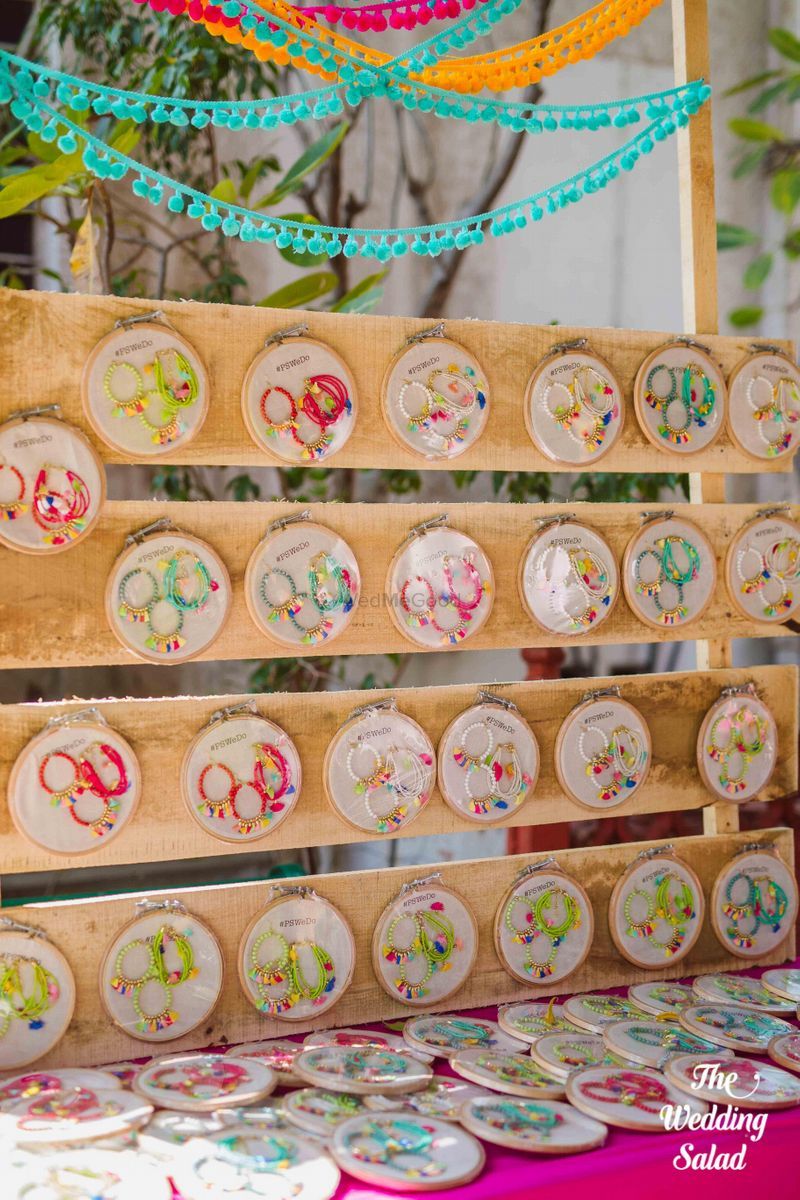 Image via
Vintage Nutters
DIY jewellery kits were another unique Mehendi favour we spotted in a wedding we featured, and we think it's quite a cool idea!
Clutch bags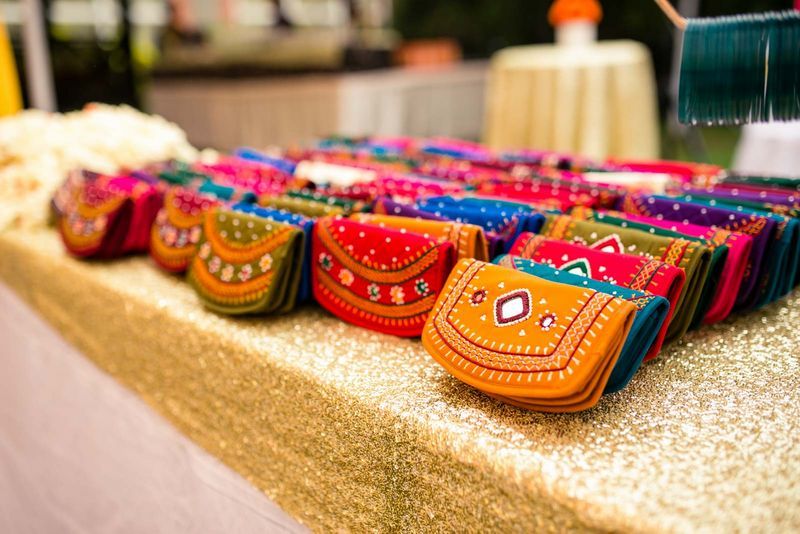 Image via
Ankit Singh
Something nice and safe, which will be loved by everyone! Keep enough colours and varieties so everyone gets something they like!
Scarves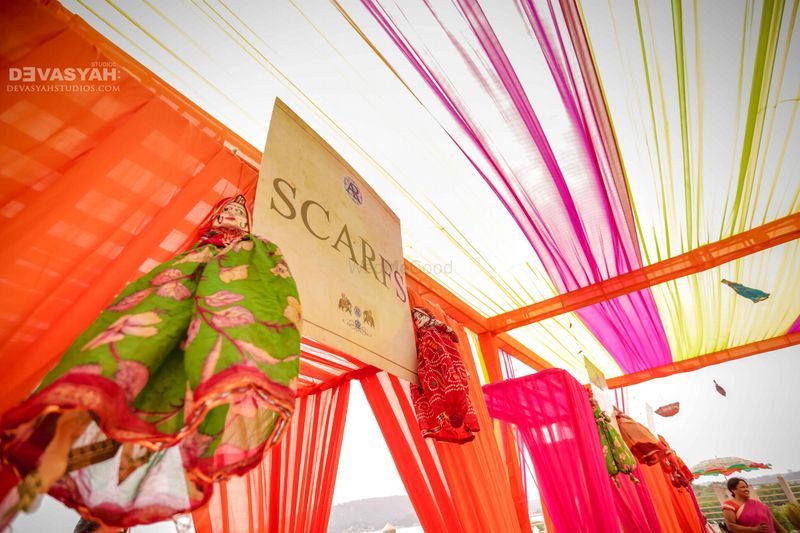 Image via
Devasyah Studios
Traditional scarves or dupattas also make for great mehendi gifts for women, and again, keep enough designs and options for everyone.
Gajra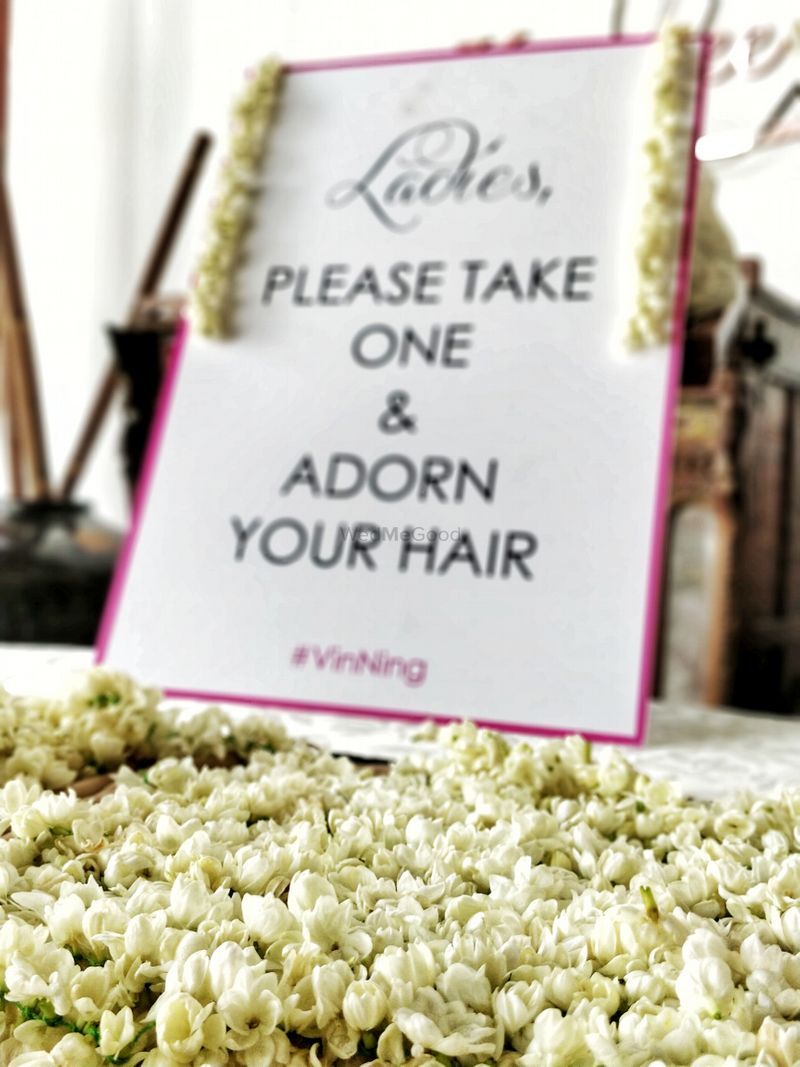 Image via
Pink Kurta Weddings
Simple and sweet, and a great idea for South Indian weddings when everyone would need a fresh one!
Favours For Men
Alcohol bottles
Image via
wedding_lounge
A nice safe bet for men and women, and especially when it comes with such cute packaging!
Ties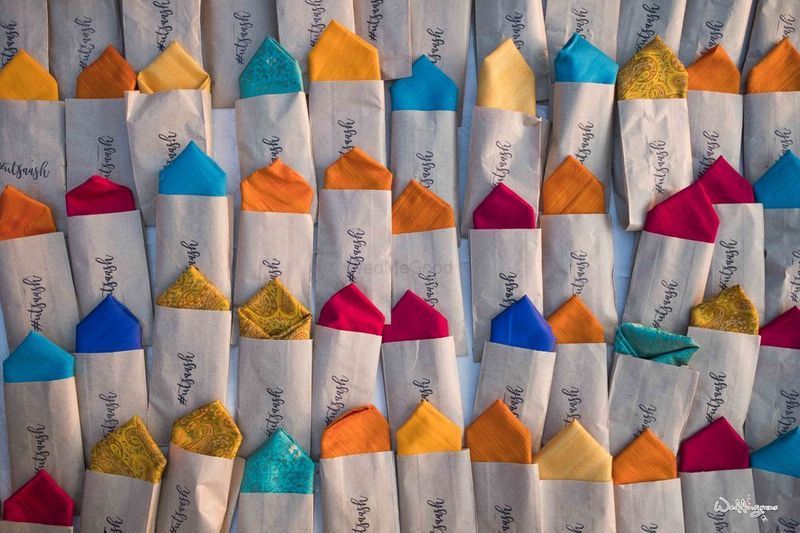 Image via
Utsav and Aashima
Ties of lots colours for the men, something you really can't go wrong with!
Customised Tshirts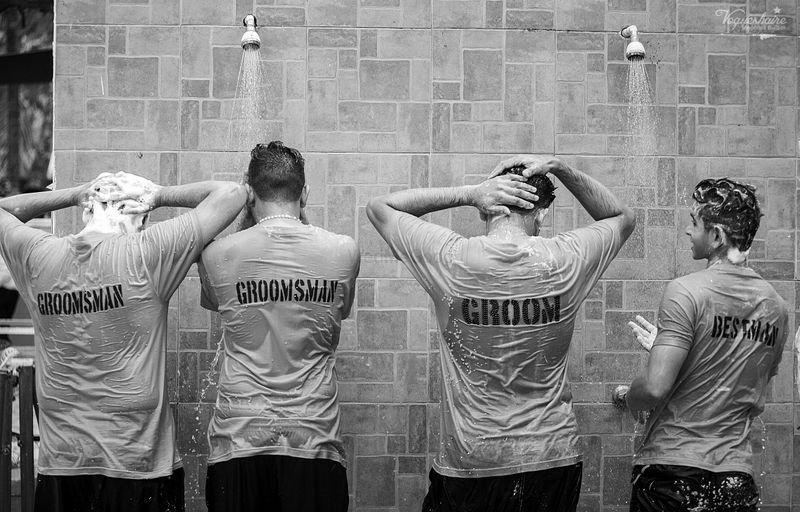 Image via
Vogueshaire
Tees are another great gift idea for men- you can get them customised or personalised as per your wedding party or hashtag!
Pocket squares
Image via
Neha & Eshaan
Another great idea like ties, this one is also nice, especially when you want the men to coordinate their pocket squares on the wedding!
Bow tie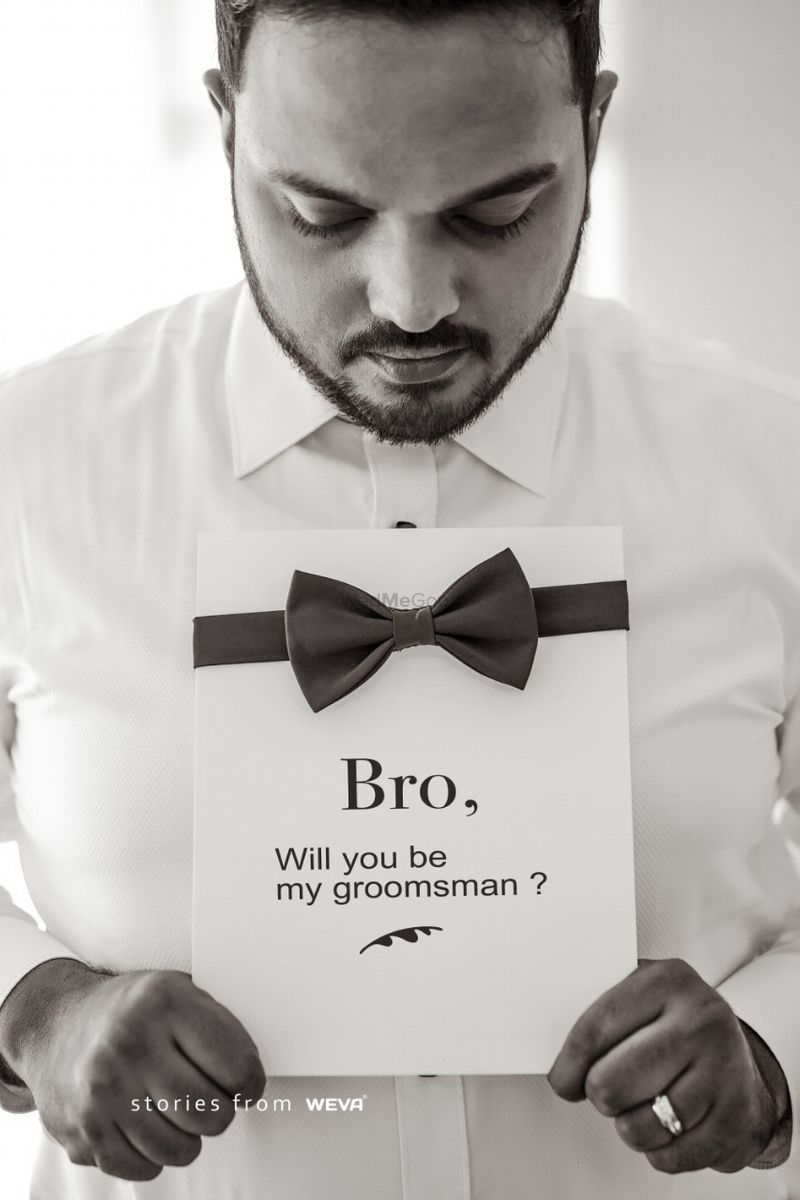 Image via
Weva Photography
Another sweet gift, especially when you want all the groomsmen to be coordinated!
Alcohol chocolates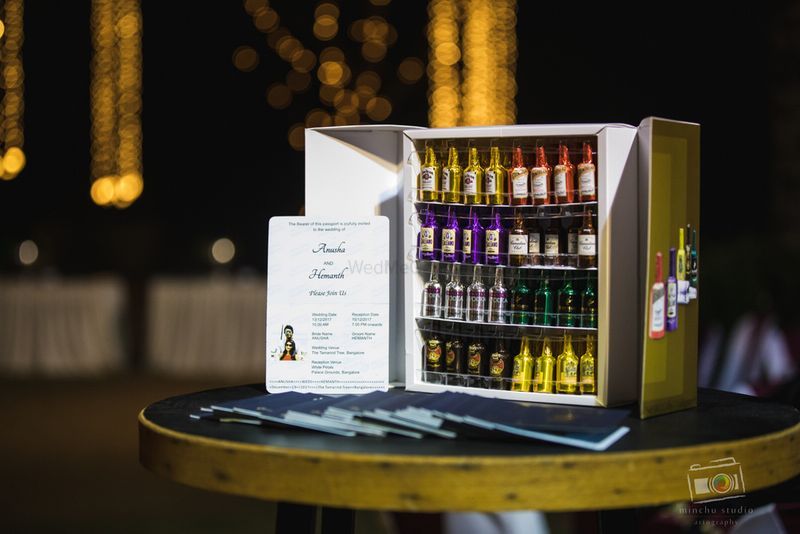 Image via
Anusha & Hemanth
Men love chocolates, and alcohol chocolates too! Even women do, but this is a safe gift to consider for them!
Find loads more favour and gifting ideas and vendors who supply them in the WMG Vendor Gallery.