17 Cool Sangeet Ideas That Will Have Your Guests Begging For More!
BY The WMG Bride | 08 Apr, 2016 | 5870 views | 5 min read
If there's one function that's the 'funnest' part of the wedding, it has got to be the Sangeet! It's the time when all the wedding running around and tensions take a backseat, and everyone from the oldest to the youngest person can have a good time! So how do you make sure your guests have an amazing time at the Sangeet? By adopting some of these ideas to make it even more fun!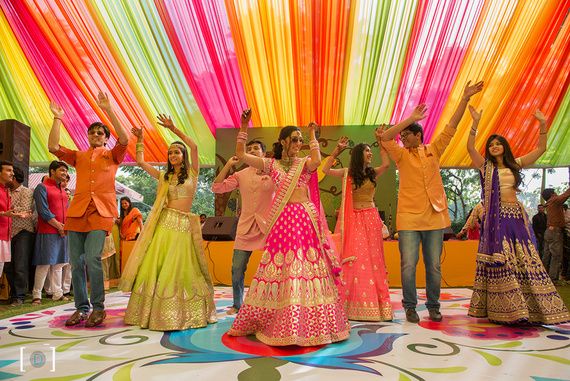 Photo: Dhanika Choksi Photography★ 4.9
1. Get your grandparents to kickstart the party!
If they're able to and willing, then how about you allow them to kickstart the celebrations? How cute would your Nanu look wearing shades and just simply swaying to 'Abhi toh party shuru hui hai' ?
2. 'DJ wale babu mera gaana chala do'!
How cool is a request box for the DJ? What's even more fun is that you could have the tissues, coasters or just some chits on the table converted to request chits on which your guests can demand their songs! Have the waiters collect them and pass them on to the DJ!
3. Enter in style!
Not only you guys, but have your close family and friends enter the stage in style... something like an Indian version of this which went viral on YouTube...!
https://www.youtube.com/watch?v=4-94JhLEiN0
4. Karaoke it!
https://www.youtube.com/watch?time_continue=133&v=7uSpaly_8JQSwitch to a Karaoke night between the performances and the usual DJ-music-dancing. You'll be surprised at how many enthu people will come forward... plus the set-up for it is easier than you think!
5. Chappal counter!
You know that feeling when you wanna really dance into the night but your high heels just won't let you? Well, to make dancing easier for the lady guests, have a chappal counter where they can dump their heels and wear flats to ensure longer and hassle-free dancing! Get some cheap flip-flops in various colours and sizes so that there's something for everyone!
6. Dubsmash it!
We are Indian, hence Bollywood is in our blood! Make a dubsmash video of your relatives and friends and play it at the start of the Sangeet. Have a combined video with hit Bollywood songs and dialogues which will definitely set the mood for the party!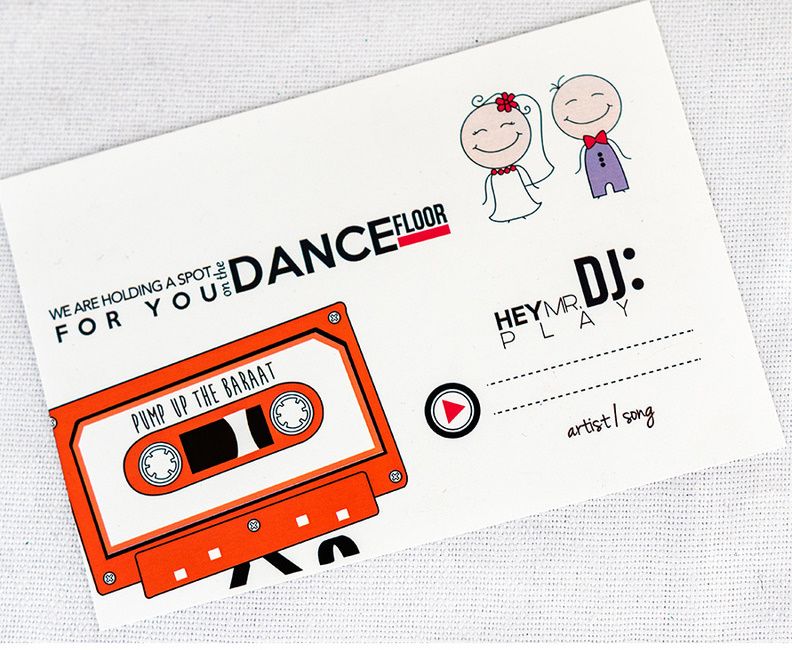 7. Flashmob it!
This will require a high amount of coordination and effort before the wedding, but it's gonna be so worth it! A lot of uncles and aunties still might not be aware of the concept of flashmobs, so get some friends and relatives to kickstart the Sangeet with a funky flashmob!
8. Let me blow my whistle baby!
Another fun idea could be to keep whistles at the tables which can be used to cheer the performers on stage. All that hooting and clapping gets tiring after a while, which leads to the energy level going down, but this way the party can be happier and louder for a much longer time!
9. Paper dancing for the couples!
Of course everyone will let the bride and the groom win, but it's bound to get people more involved... especially the couples!
10. Have a movie special theme for the Sangeet!
Love DDLJ or any other movie? How about you have that as the theme of your Sangeet? Have the entire décor, the stage and even the way you both dress up like the movie! Like a costume party but the bride and groom are the special ones.
11. Take a break!
It can get pretty monotonous to see one performance after another for the guests, so tell the emcee to take a break once in a while and involve the audience... like call them on stage and play some simple games like saying tongue twisters on stage or singing a song... with prizes of course!
12. Photobooth!
A funky photobooth with instant photos is a sure-fire way of winning the heart of your guests! Get some fun props and accessories like boards and glasses and you're all set!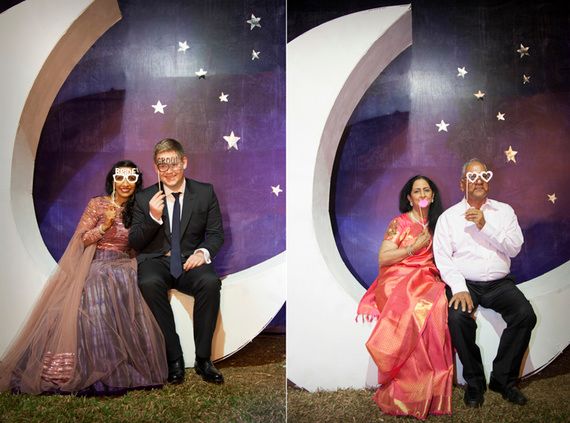 Photography: Priyanshu Asthana 
13. Arabian night!
If you're tired of the usual Sangeet parties that you've attended, how about you convert yours to an Arabian-themed one? There can be belly dancers for the youngsters and a sufi-ghazal night for the oldies, so that everyone can have some different sort of fun! What's more? You could even serve Sheesha and have Shawarma stations at the Sangeet to go with the theme!
14. Get a celeb to make you party!
Yup, if you can afford it, this can also be arranged! A sure-shot way of making the Sangeet a hit among the smitten guests is by getting a Big Bollywood Celebrity! Vir Das is funny? Get him.
15. Make a musical out of their love life! 
Do a theatrical performance with your cousins and friends to showcase your love with a musical - songs, drama, costumes etc. Could be fun!
16. Have a quiz
Family quiz, sibling quiz, bride & groom quiz, just any quiz where both families and the bride and groom get to know each other.
17. Play some real cool games
Nothing like indulging in some childish fun and all the while making sure your guests are having the time of their life and yes, we have a long long list. Go ahead, enjoy it.
Have cooler ideas? Let us know.