40 Engagement Songs For Bridal Entry
BY Apoorva | 23 Jul, 2021 | 158735 views | 8 min read
Now imagine this! Your engagement is around the corner and you're done with (at least you think you are) your outfit, jewellery, footwear but it still feels incomplete somehow. What is it that you are missing out on? Oh yes, your engagement entry song! Whether you are looking at a bridal entry song in Hindi or an English number or just a classic Bollywood track or something that is a bit modern & peppy, we have something for everyone on this engagement song list. Enough said, let's get grooving now?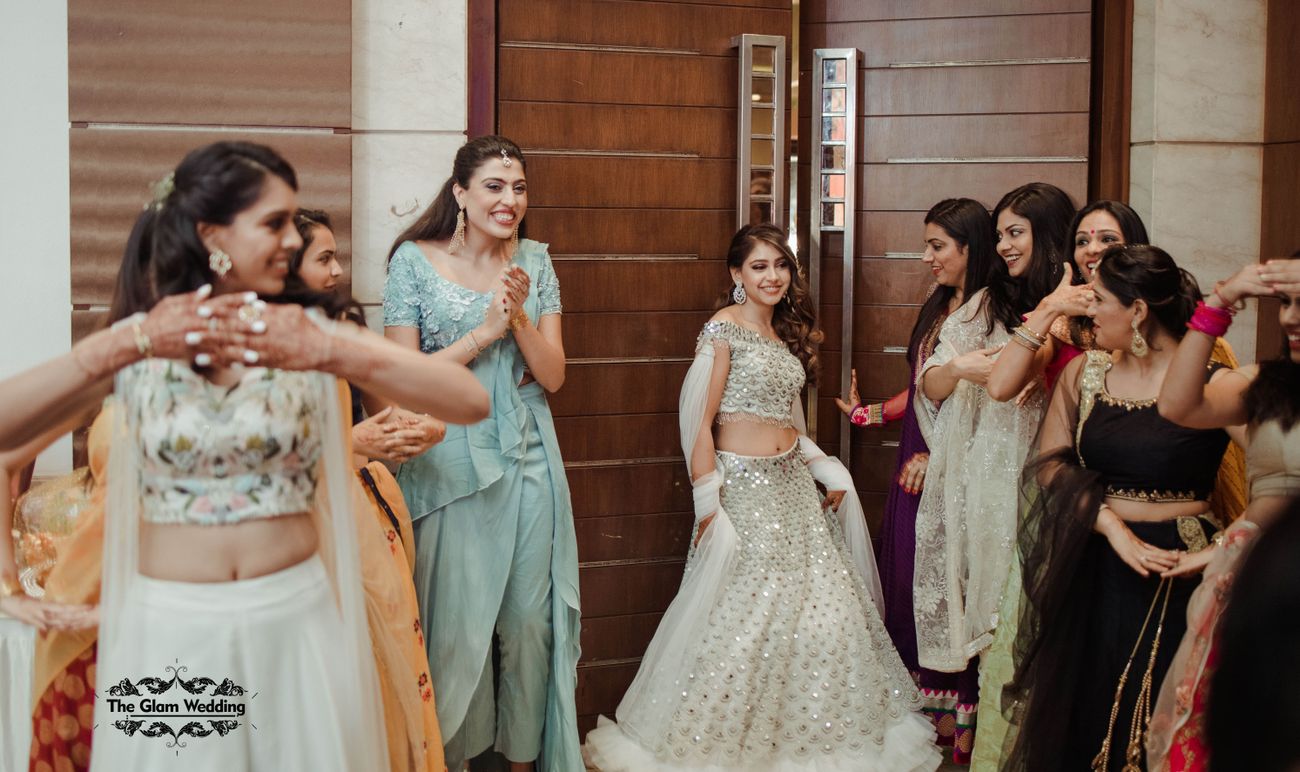 Image via Niti & Parikshit
Romantic Bollywood Engagement Songs
Every wedding function is incomplete without a run-through of Romantic Bollywood songs, you definitely need them to amp up the function! And who would want to walk down the aisle on a random song played by the DJ? You obviously need the right song, for a flawless entry. If you want to add an emotional, happy, and festive vibe to your celebrations, this Bollywood engagement song list is just perfect for you!
This bridal entry on an acoustic version of this track literally melted our hearts!
This romantic number by Arijit Singh is perfect for a slow yet royal couple entry! Take cues from this couple who made an entrance at their engagement amidst the glimmering fireworks.
A beautiful Bollywood song which hasn't been use for an engagement entry till date. So, you can be one of the first few brides-to-be to enter on this one - a trendsetter!
It's one of our favourite engagement songs in hindi! A melodic song by Rahat Fateh Ali Khan & Momina Mustehsan. Its lyrics and beats are something you would love to enter on.
This song by Arijit Singh is a true melody, so romantic and definitely will a dreamy vibe to your entry.
The starting notes just hit right, the song is calm, slow and intensely romantic best suited for the engagement entry song for the groom!
A song by Yasser Desai is again a romantic song to enter on.
A reprise version is a refreshing song to have a great bridal entry on your engagement day.
Hindi Bollywood Engagement Songs
On a hunt for that perfect Hindi playlist to walk down the Engagement aisle? well, we're sure you'll love these! From insanely cool, enthusiastic numbers that'll make your grab every eyeball to dreamy, lovey-dovey ones for a fairytale bridal entry, we've got everything covered. Just scroll down, and save the one that matches your vibe
Want everyone to get up and dance as you make a scintillating bridal entry at your engagement? Then this sing perfectly sets up the mood.
How can we miss this song from Veere Di Wedding? We bet you'll walk down the aisle with extra fun & zeal when a track is as energetic as this one.
will not only help you make a romantic solo entry but will easily express your unsaid feelings about your to-be-groom. This heart-tugging track should definitely be on your list!
Looking for mesmerizing engagement songs in hindi? Well, this song by Monali Thakur could be what you're looking for that great romantic engagement entry.
Another song by Monali Thakur could be an option, with its lyrics completely apt for your groom! Cause ladies, you're going to make your fiance's life better!
This is that one song you surely can have a couple entry on engagement.
Title track starring Varun Dhawan and Alia bhatt is another very peppy and energetic number and will boost up your engagement entry.
This remix starring sonam kapoor in the movie is a treat to the ears, if you are looking for a bridal entry song which is both and retro and modern this should be it!
Peppy Bollywood Engagement Songs
It's 2021, which means the perfect time to experiment with new ideas. If you plan your entry to be dramatic and loud, you need an entry song to match the vibe. A bridal entry that no one can forget for a long time. Time to enter on some peppy beats and add energy and swag to the engagement!
When we use the terms 'peppy Bollywood songs', this one automatically starts playing in our minds! And we can surely say, it will never go out of the wedding circuit anytime soon!
Plan to make heads turn as you make a dancy entry at your intimate engagement? THIS IS THE SONG THAT YOUR NEED!
A perfect blend of traditional lyrics, EDM and of course great beats would be a great option for you to enter.
It is a peppy remix if you want to enter in all that swag and style!
A great song for your couple engagement song would not only make you groove but your guests would love such a pepped up entry.
A fun song by Tony Kakkar & Neha Kakkar is surely a new age song and you would surely wouldn't mind entering in the coolest way possible!
by The Doorbeen Feat Ragini can be a great song for you to have a peppy entry.
This pop song by Diljit Dosanjh, Badshah, Aastha Gill can just light up your energetic engagement entry!
How about Punjabi Engagement Songs?
Making this party better in 3...2...1!! Well, if you're on the same page as us, we say you've got to ditch all those boring ideas, and enter with some thumkas and jhatkas on an energetic Punjabi engagement song! Wondering which one to choose? We have a engagement songs list!
#25 Waaliyan + Kithe Reh Gaya + Do Gallan
This mashup of our favourite Punjabi songs will surely help you grab all the eyeballs as you make a grand entry at your engagement! Add them to your playlist right away.
And if a mashup isn't your thing, just blindly lock this super fun track by Neeti Mohan! Trust us, this song is on every bride's playlist right now, be it a Mehndi performance or a bridal entry; it's trending everywhere.
is another peppy number with a touch of rap and is going to lead the whole crowd grooving.
is a song with some really cool music and trending these days.
by Guru Randhawa & Neha Kakkar from the movie Badhaai Ho has the beats to groove your body and just enter like a morni (peacock)!
by Sukh E is a complete Punjabi Pop song with all the craziness and is completely lit!
by Jugraj Sandhu is a romantic soundtrack and a complete love song, girls you can dance on this track dedicating to your man.
by Diljit Dosanjh is a mix of soothing and peppy tunes, is great for your bridal entry on your engagement.
English Songs For An Engagement Entry
There are a number of English engagement songs you can enter in the room for your better half. And we're sure, with this engagement songs list, you're bound to create a lovey-dovey impact on the guests and make them go awhh!
Oh my, this bride chose our favourite English song for an engagement entry! Not only it's super romantic, but also beautifully expresses her happiness to get married.
This is that one song you can surely ask your better half to make an entry with you on your engagement day. A wedding entry songs list is definitely incomplete without this adorable number.
from the movie Crazy Rich Asians is a heart-touching song, definitely going to give you and all your loved ones goosebumps when you enter! If you are looking for an emotional song, this ring ceremony entry song is just perfect!
can actually be the best song if you are looking for a song that is western, makes you feel young, and gets all smiles for your engagement entry!
by George Benson is an old-school song, with such beautiful lyrics and music could be the one song. This one's definitely one of our favorite engagement songs
by Lauv is the one song you can enter because yes, you like better when you are with your other half!
by Christina Perri is a beautiful song you can enter on your engagement day.
by the American Authors is certainly the best song. The song goes aptly with the time you'd witness!
Engagement too deserves a grand celebration the same way your wedding does. So, when you plan out every detail of your wedding day, give a little spotlight to engagement and plan entry for your engagement too, in which the engagement entry song also has to be given consideration, If you are not comfortable alone, get your husband-to-be and walk into the room on any of the engagement songs or probably your favourite couple song and make the event a memorable one!