8 Reasons we are in LOVE with this ethereal Jaipur Wedding
BY The WMG Bride | 27 Apr, 2014 | 1853 views | 3 min read
Reactions amongst WMG readers when they see a new wedding range from "OMG its Genuis" to "I want that outfit" to "This is what Im doing on my renewal of vows" , but sometimes we see a wedding and we go "Sighhhhh". This is definitely one of those - there is something special in this wedding that I can't quite put my finger on. Maybe its the french bride, maybe its the blush pink detailing, maybe its the rustic fort setting, maybe its the fact that two of our Handbook members-
Navdeep Soni
&
Tejasvini Chander
helped create this  but its all come together to create magic. Here are  10 reasons why we are in complete Love with this stunning Jaipur wedding.
#1: Because the bride and groom color-coordinated in the best possible way
Absolutely love how each the bride and the groom stood out in their elegant, understated outfits and yet managed to be so in sync with each other. Notice how the groom has incorporated both blush pink and red in his outfit to match the ombre tone in the brides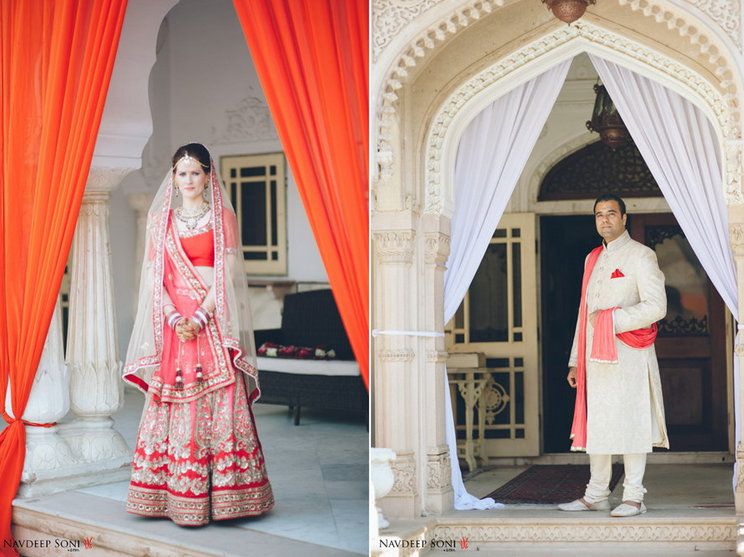 #2 Because the groom was man enough to wear pink
It takes a real man to wear pink, and this groom carried it off with total elan . Absolute love for his sherwani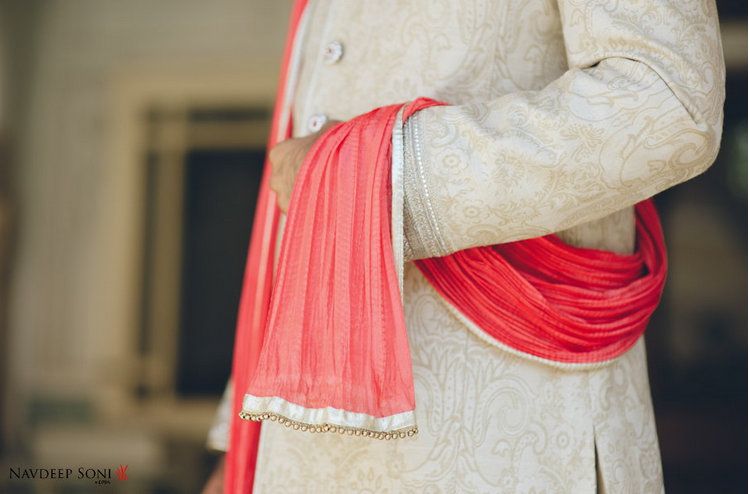 #3 Because these were undoubtedly the most 'pink' bandwaalas we have ever seen
So fun- maybe its because this is the pink city Jaipur!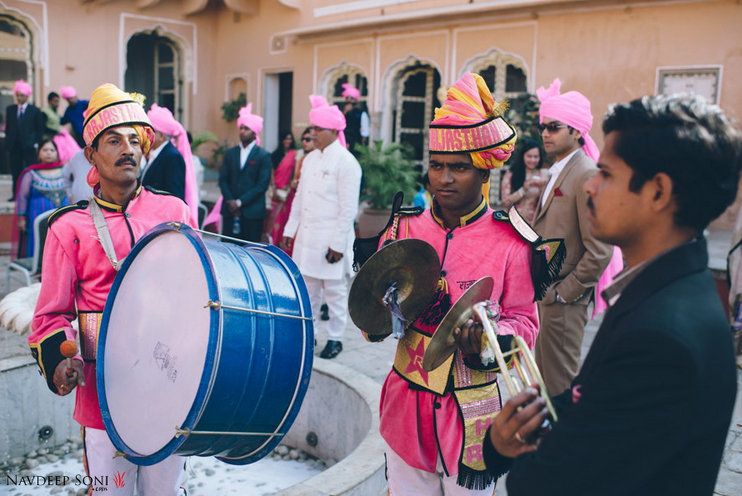 #4 Because there is a certain romance captured in the photos.
Can't quite put our finger on it, but the photos seem to just capture the love and romance between these two!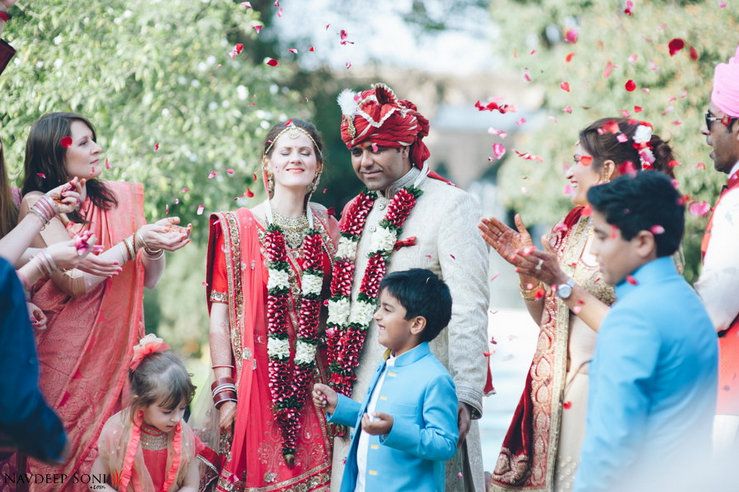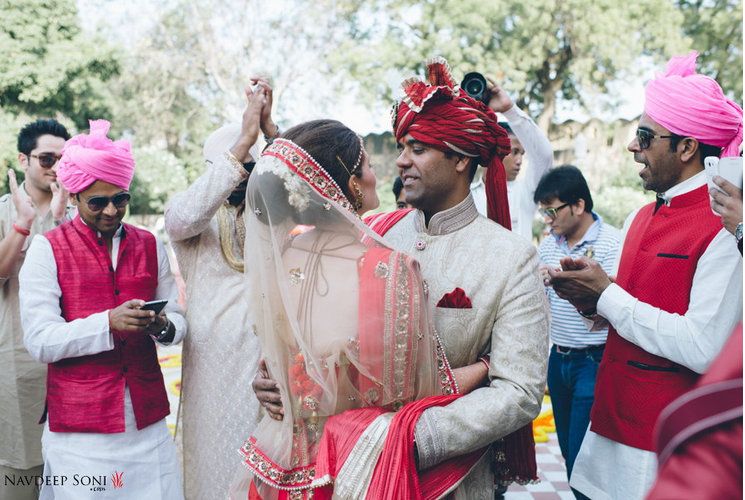 #5 Because we loved her bubblegum pink and lime green mirror work anarkali 
What a perfect, adorable mehendi outfit. Also a great pointer for Non Indian brides getting married to Indians- reds and oranges can sometimes be very over powering on them - softer tones flatter them best.
#6 Actually, we basically loved her all her outfits. This Anita Dongre lehenga is gorge too!
Love anything ombre and this is no different. The rose detailing in the borders is stunning and the coral-pink color at the top is lovely!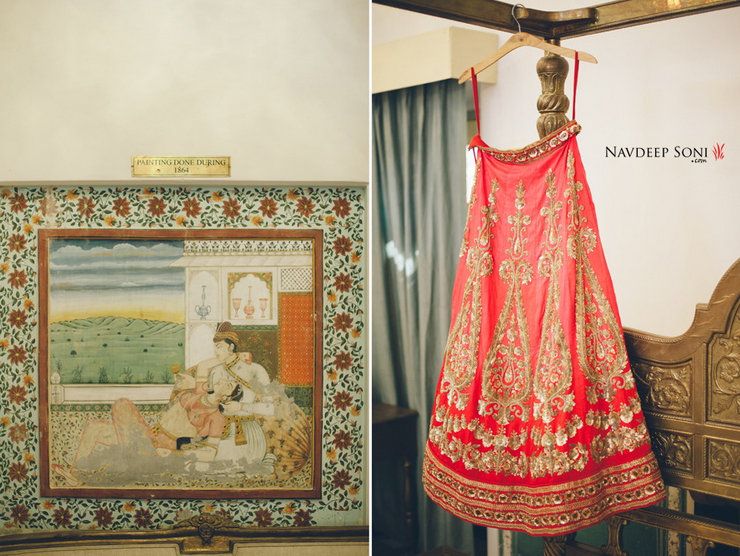 #7. Because she looked every bit the Indian bride on her wedding day (Gorgeous makeup!)
It's not easy for a french girl to get dolled up in Indian clothing and still carry them off with grace. But she did, and her beautiful, soft toned makeup was absolute perfection)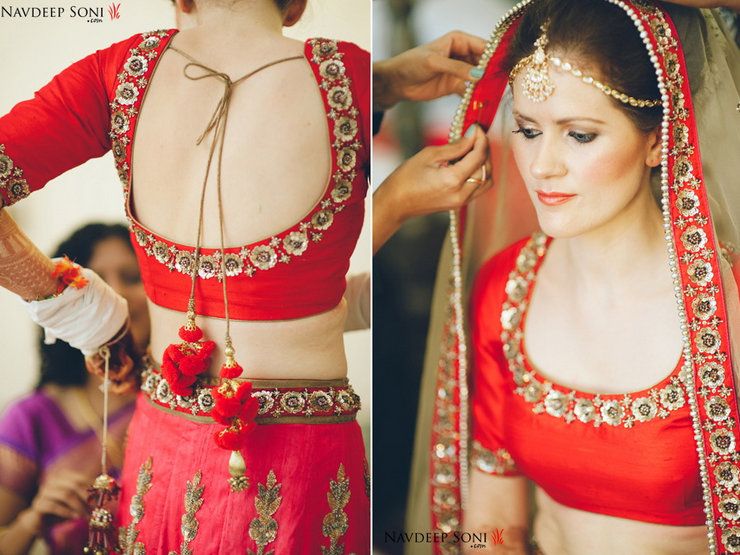 #8 Because the rustic fort setting was left relatively untouched
Thank god for the absolutely minimal decor in this already gorgeous fort setting.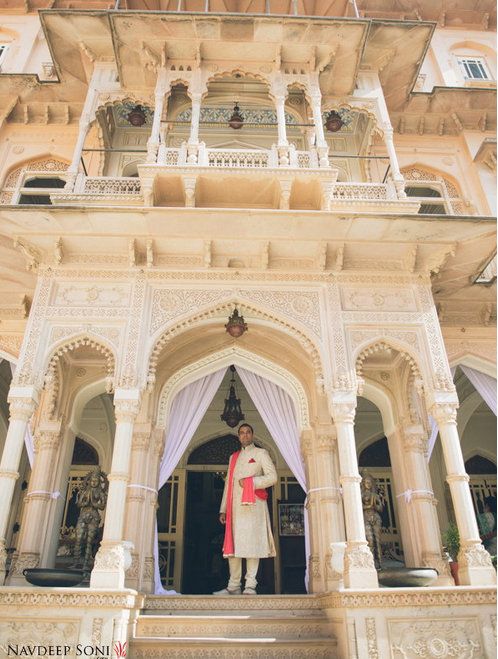 While the Bride and groom were unavailable for comment this is what Navdeep (Photographer) had to say: 
This destination wedding happened in Chomu Palace- a 300 year old property which is serene, calm and far from the maddening crowd much like this beautiful wedding itself. Laurie the bride chose to be the traditional Indian bride and looked every bit the part.
This is what Tejasvini (Makeup artist) had to say: 
"With all her knowledge of Indian traditions and customs, Laurie was more Indian than anyone else "
[handbook]
Tejasvini Chander
(Makeup Artist) is on our
WMG Handbook.
Read about how members are chosen here-
FAQ.
[vendor]
Vendor details:
Venues: Chomu Palace Jaipur | Makeup:
T

ejasvini Chander
| Photographer :
Navdeep Soni
|
Outfits: Anita Dongre Lehenga for wedding (is it a wierd coincidence her collection is called Jaipur bride) , Arpita Mehta anarkali for Mehendi
|