A Colourful Beach Wedding With A Hard To Ignore Bridal Lehenga
BY Aakanksha | 11 Jun, 2019 | 5836 views | 6 min read
Beach weddings are truly gorgeous. Hum of the crashing waves, a beautifully decorated mandap, and your loved ones all around, blessing you as you take the vows and tie the knot! Can you imagine anything more dreamy? No, right? Well, beach weddings are all about this and more, and Niharika & Trishy's wedding was definitely more. They had loads of fun in the three days of non-stop celebrations. From a pink mehendi to a pastel wedding, each of the functions were planned to the T by F5 Weddings★ 4.9 . Adding to the glamour was one of the most unique bridal lehengas we've spotted in 2019 so far, in a wonderful hue of peach and mint green. The wedding was captured beautifully by Sam & Ekta - Sonder Frames★ 4.7 and The Leela Kovalam was the perfect backdrop was this stunner! 
Meet Niharika & Trishy 
Niharika tells us how they met in flying school and how she planned a counter-proposal for Trishy, "Trishy and I met each other at flying school in 2009 and the attraction was instantaneous. I never thought I would meet someone in flying school as it was located in a remote area in India. Trishy is from Bombay and I'm from  Delhi. We had a fair share of long distance and then finally started living in the same city after a few years. We both are now working as Airline Captains. I come from a family of aviators and Trishy's family is into business, two completely different worlds but both of us having a common ground being our work. Having dated each other for almost 10 years before we got married Trishy always said that from the get go he knew he was in this forever, I on the other hand took a little warming up but if we could survive the long distance and take almost a billion flights to see each other after long days of work I knew that I'm head over heels for this guy.  
We both had work related goals that we wanted to accomplish before we got married. I had told Trishy to give me at least a years notice before the D date. I knew that Trishy had picked out the ring for me in August 2017 but he kept me waiting for a while before he finally popped the question. While I was patiently waiting to be asked to marry the man of my dreams I decided to get him a ring as well and planned a counter proposal for whenever it was to happen. I wanted both of us to cherish that moment together. We were in Jodhpur for a friends wedding after which we extended our stay in Jodhpur for a day and then were planned to go to Goa for an extended vacation. Trishy had booked an amazing room and had done a gorgeous set up at the Raas in Jodhpur were he finally bent the knee. He called a couple of friends over to celebrate his proposal. Little did he know that I had been carrying a ring for him as well. Just before we all could cheers I surprised him with a counter proposal. We got engaged in Jan 2018 and choose 19:02:2019 as our forever date." 
The Mehendi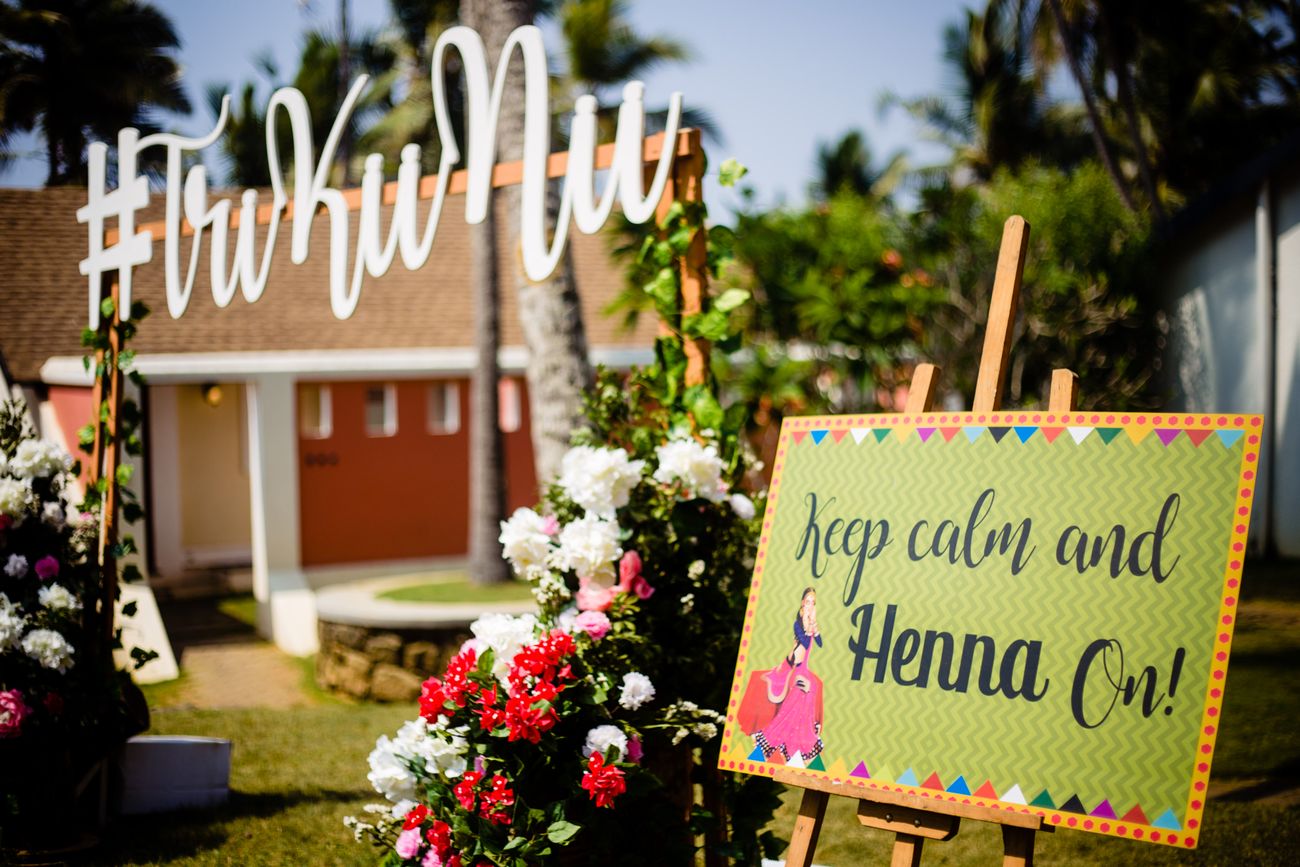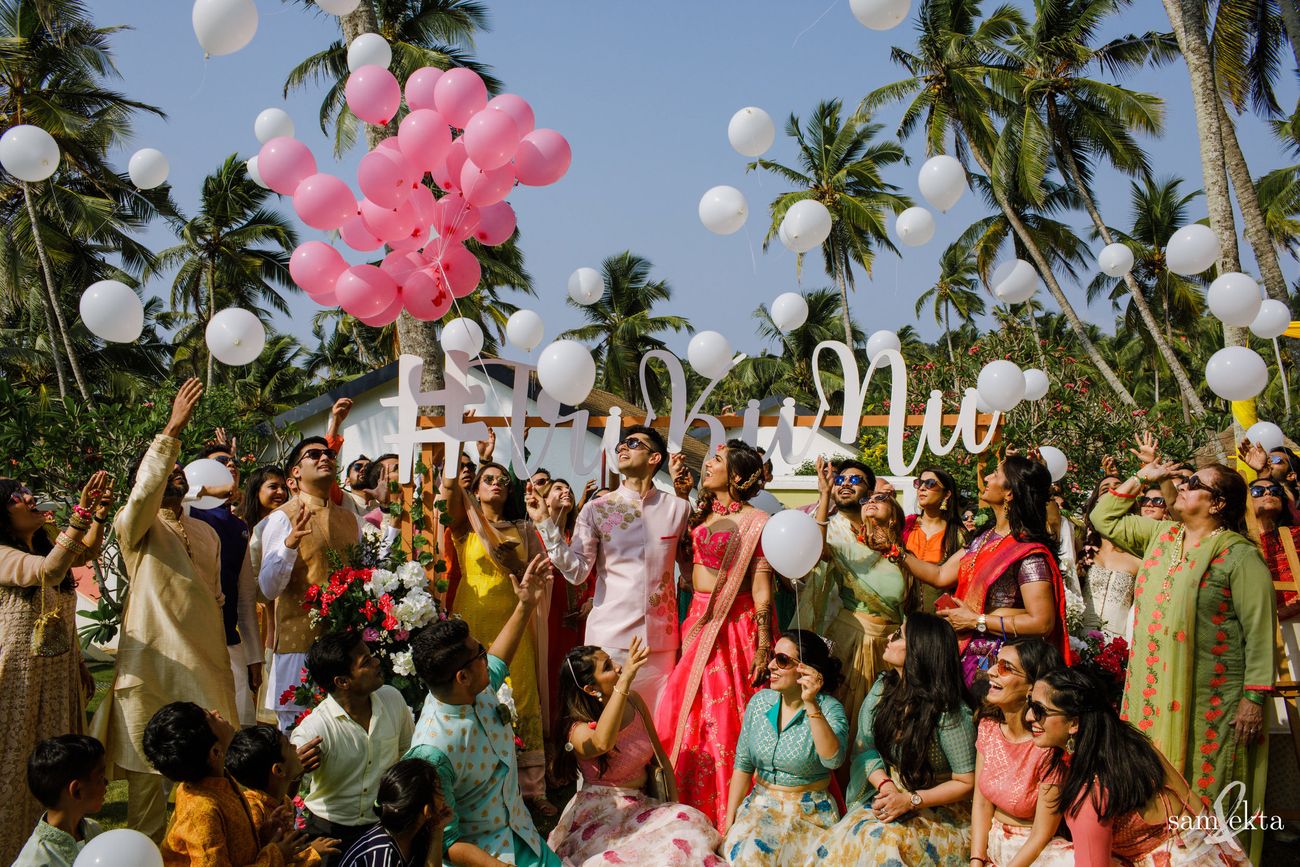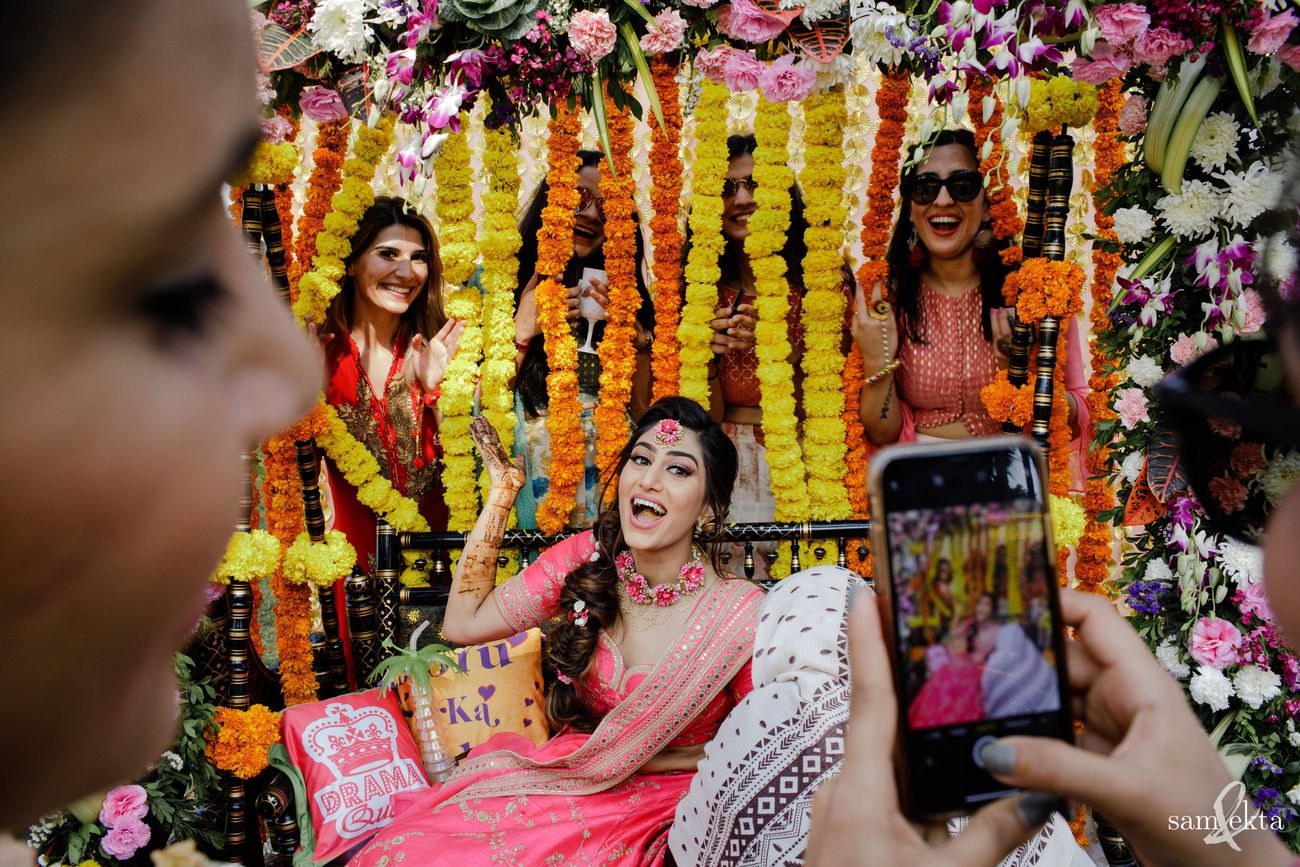 The Wedding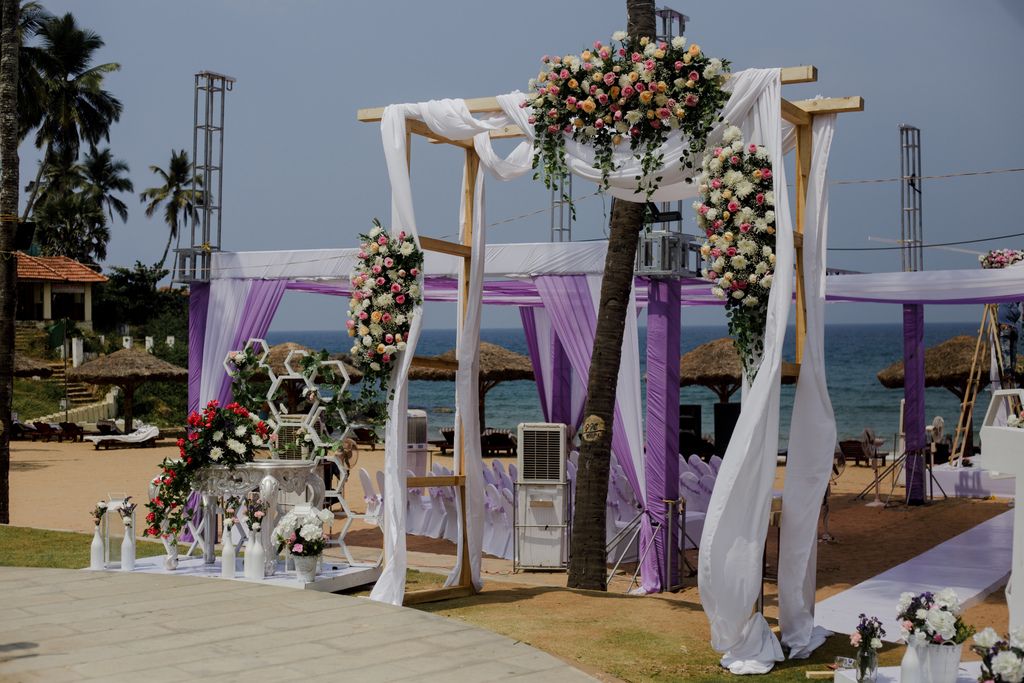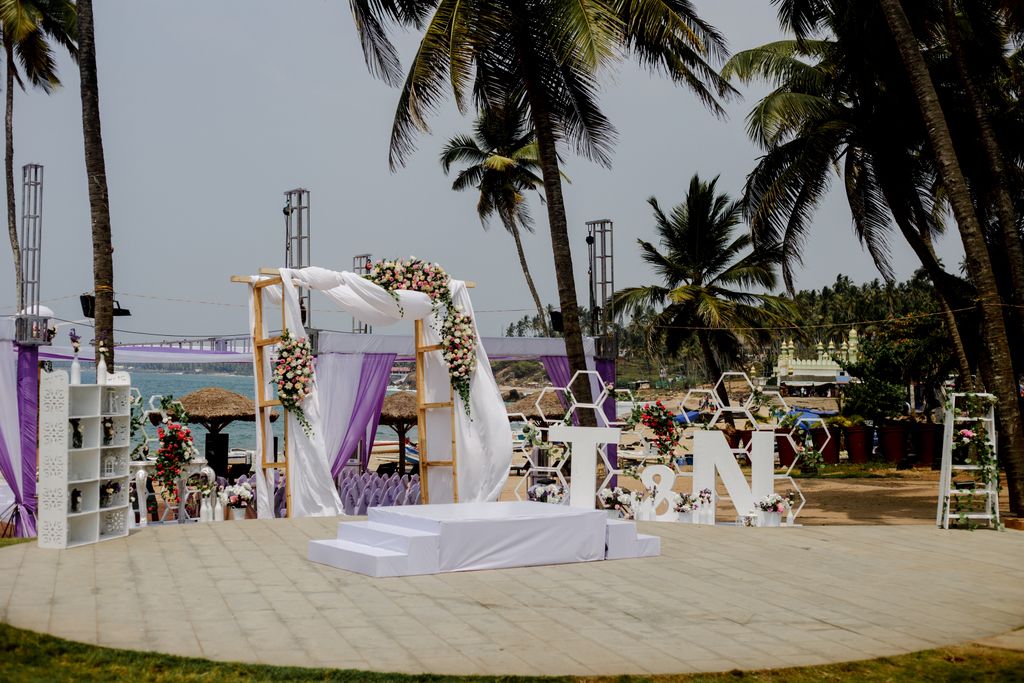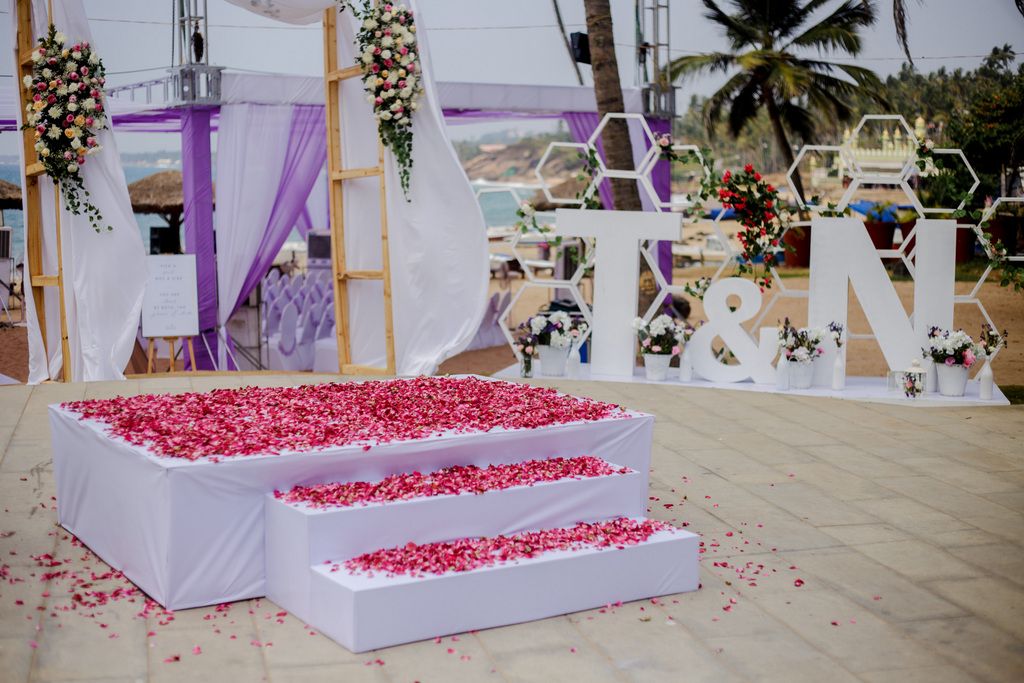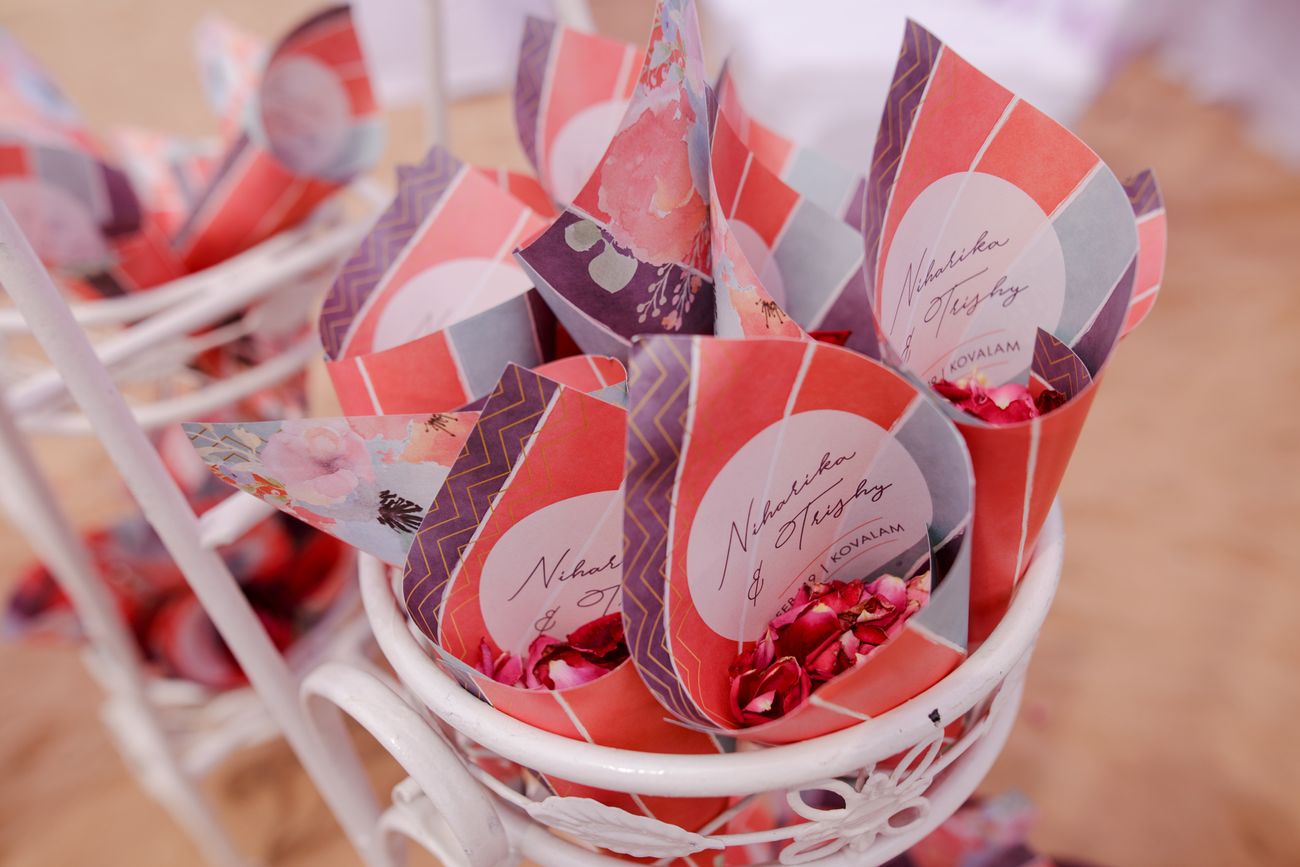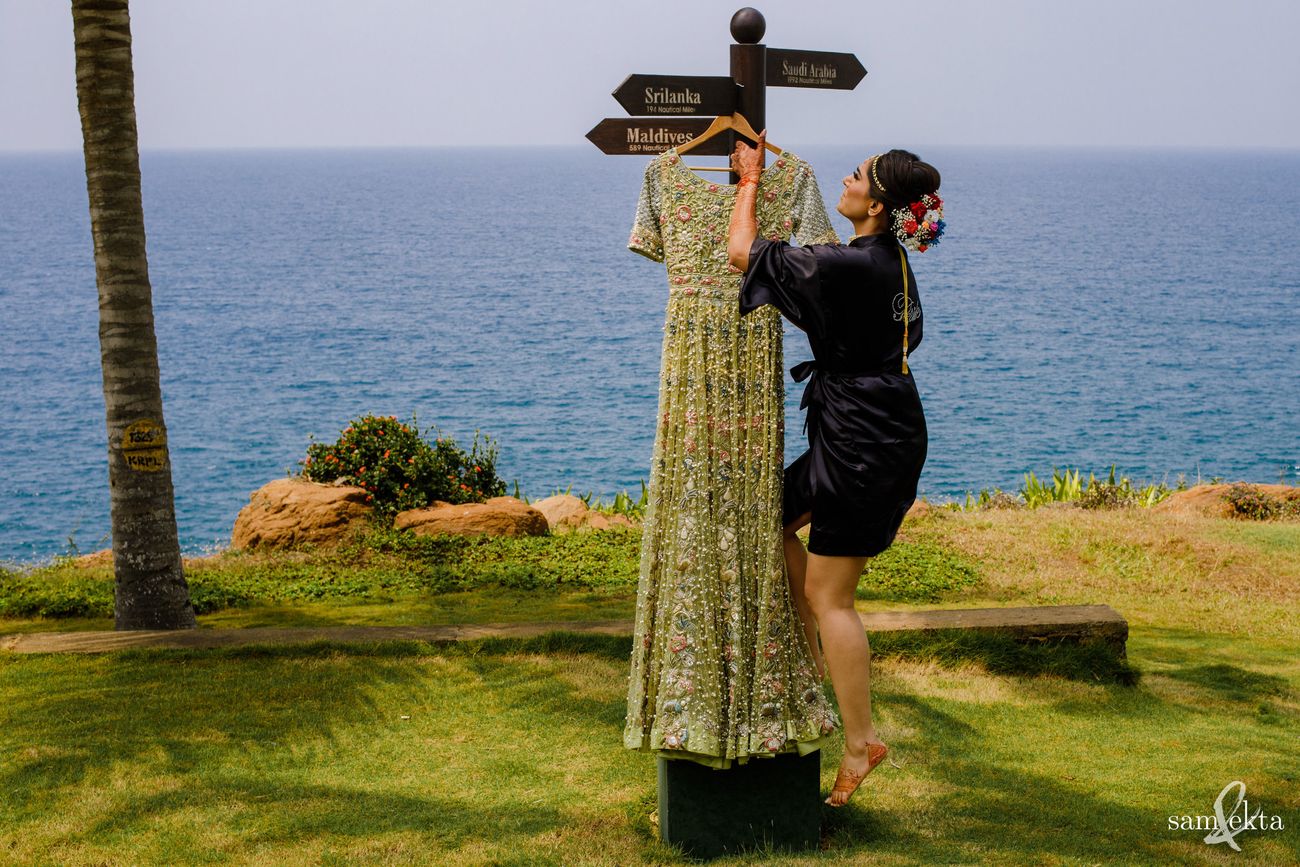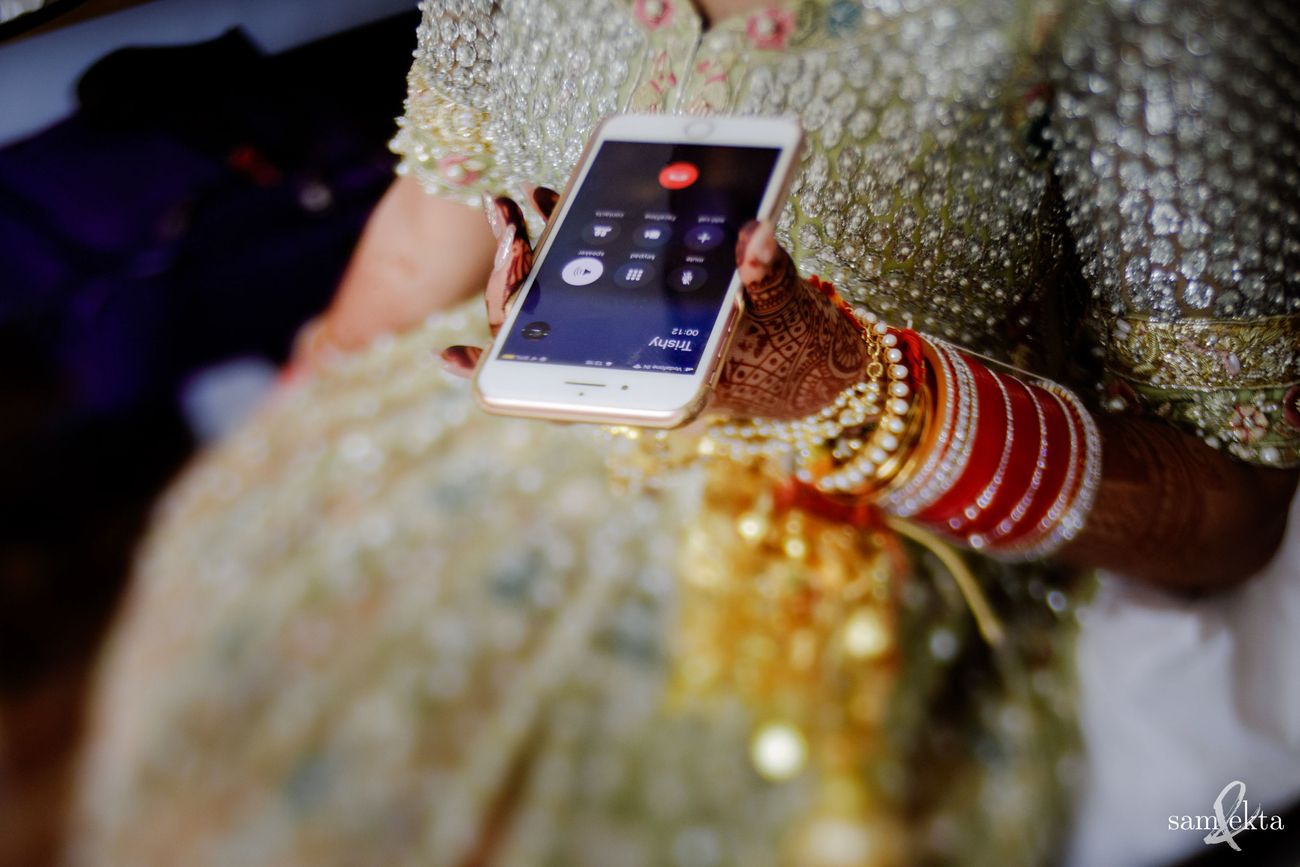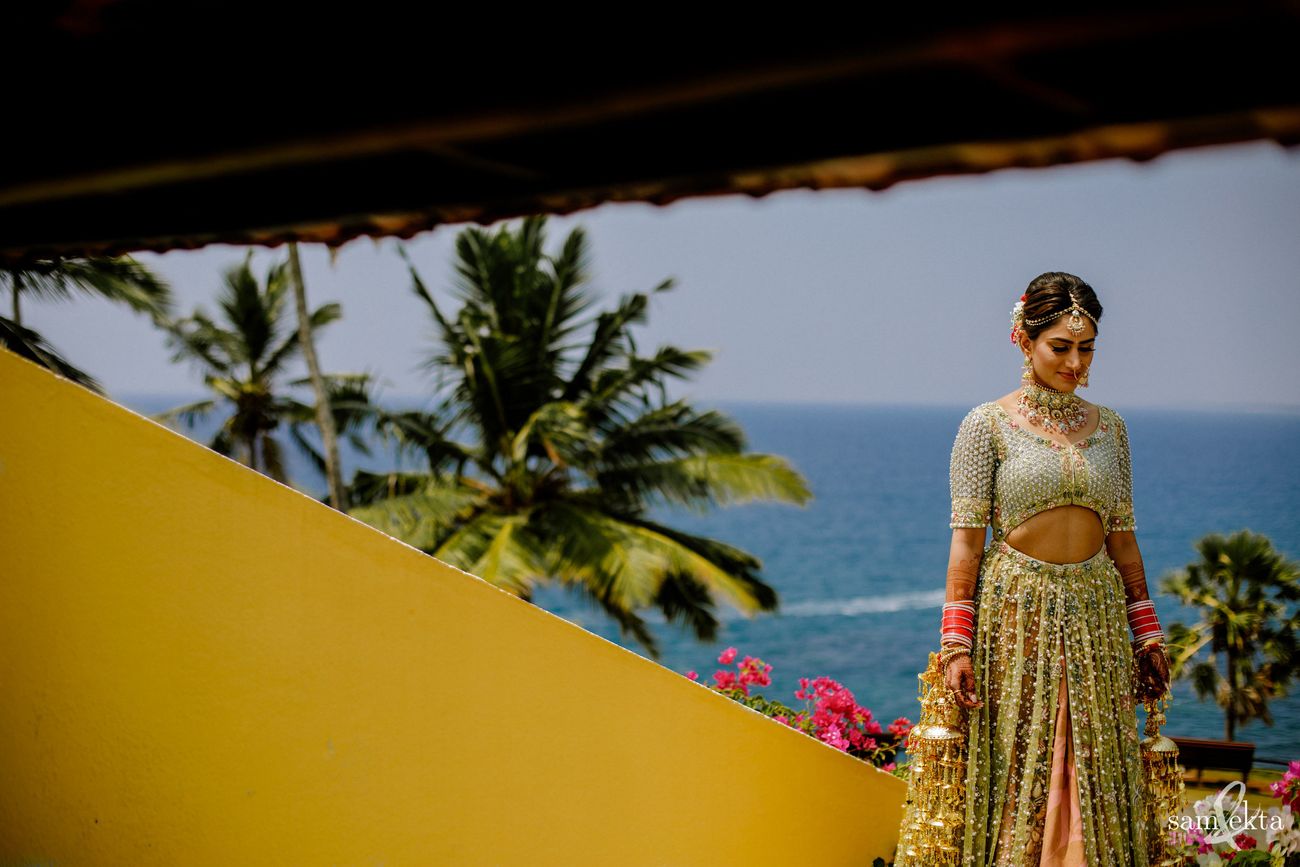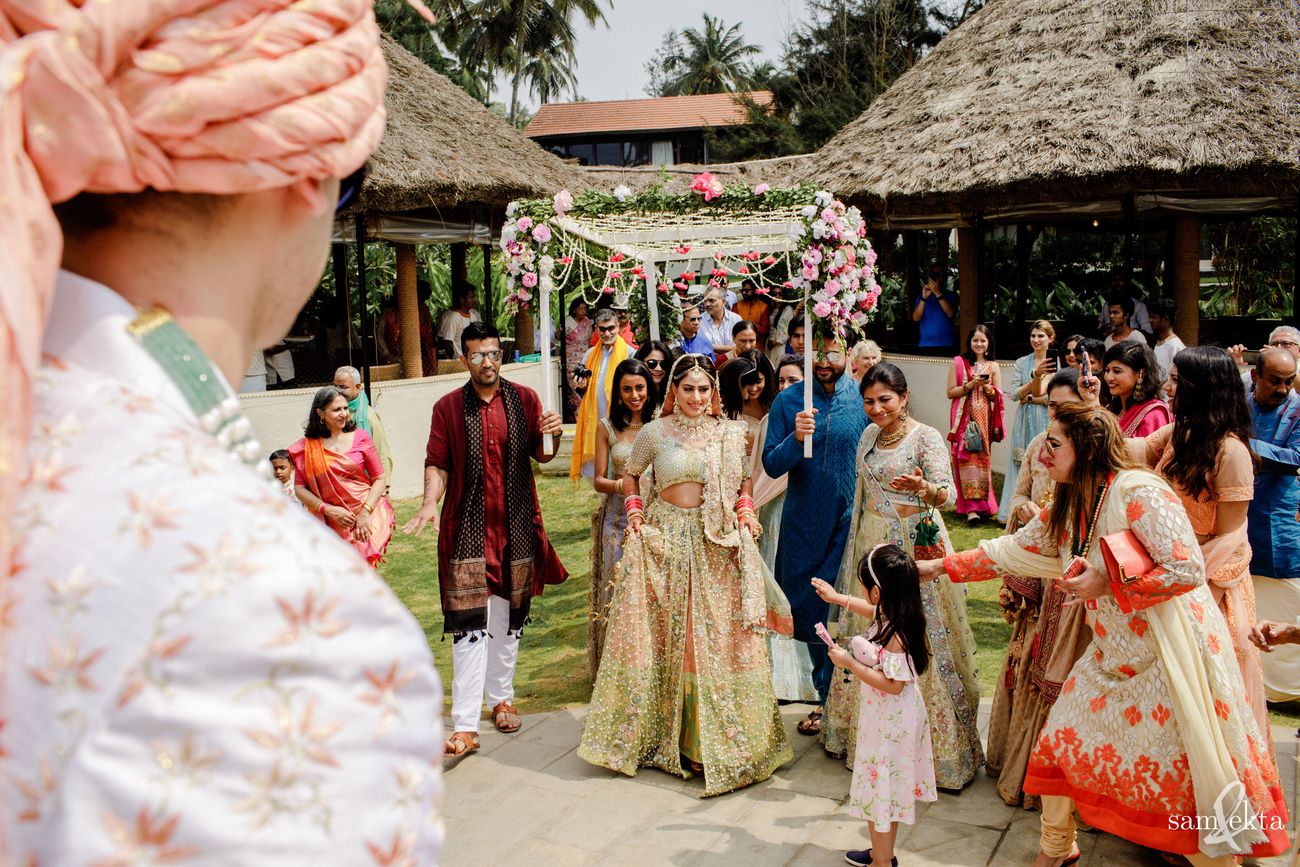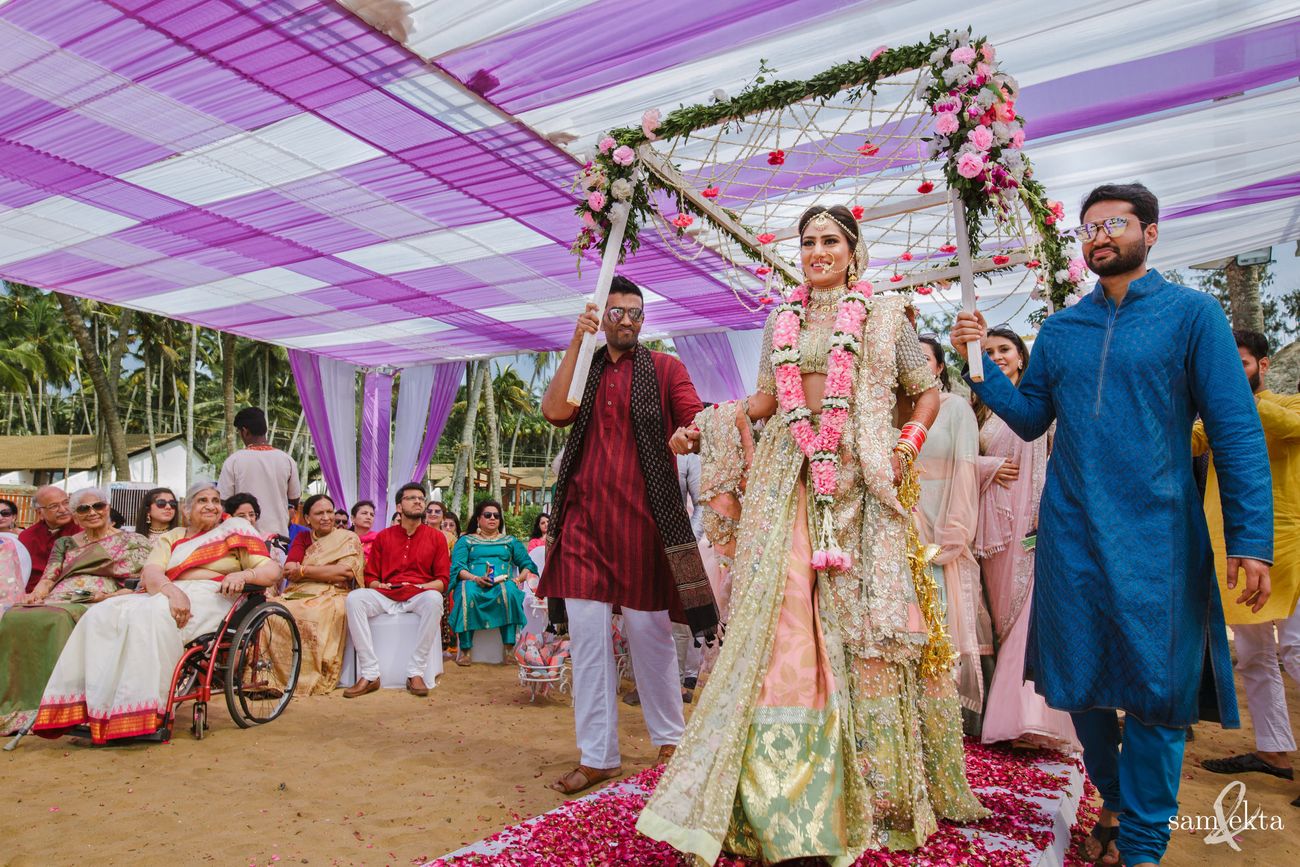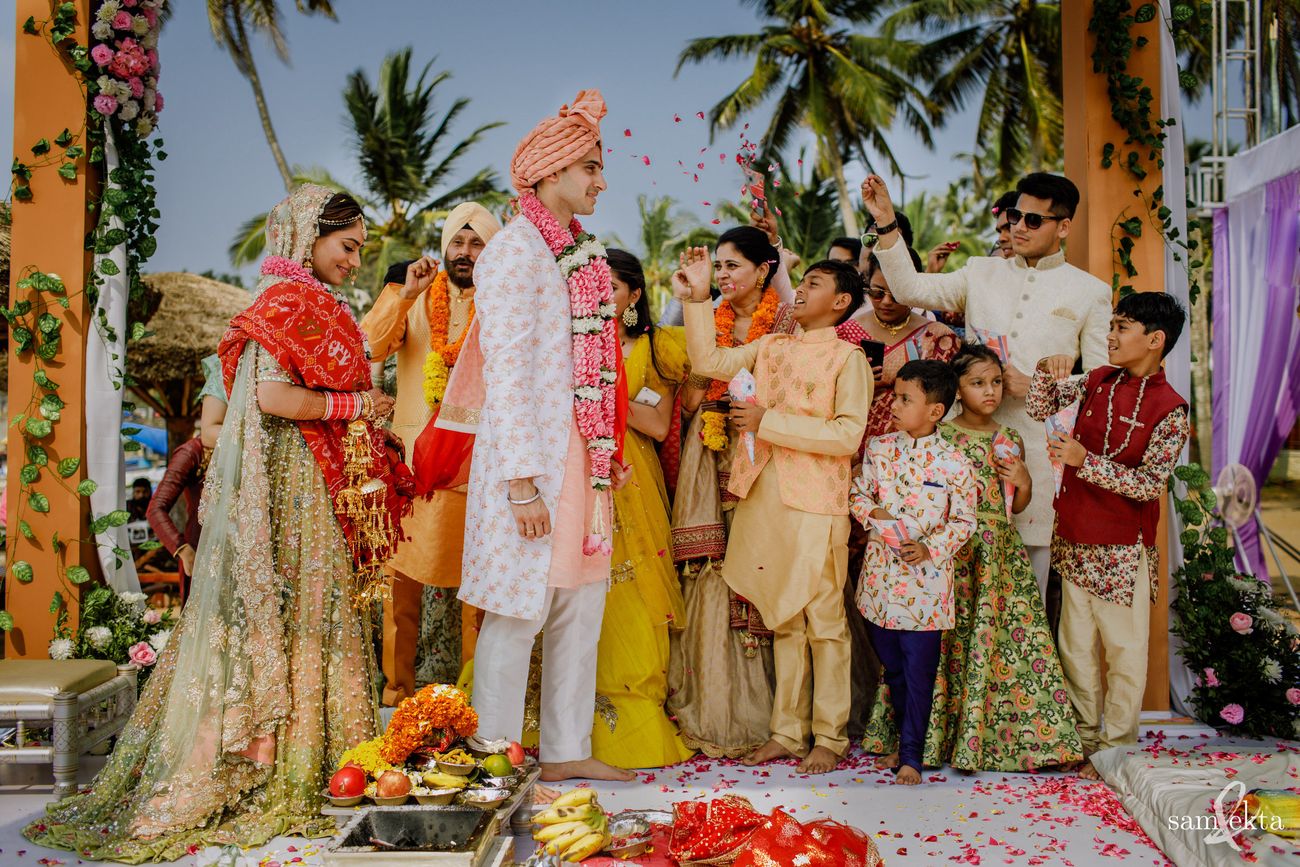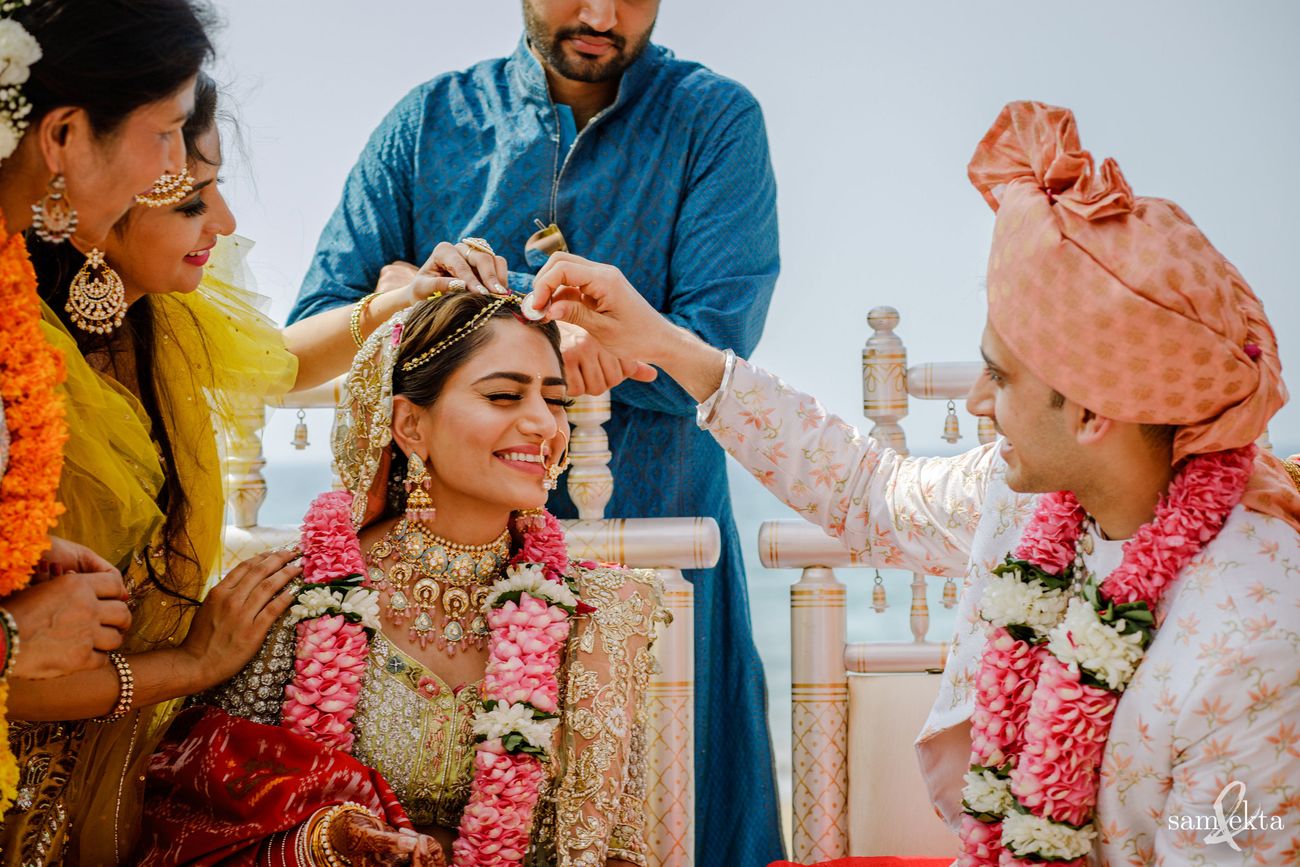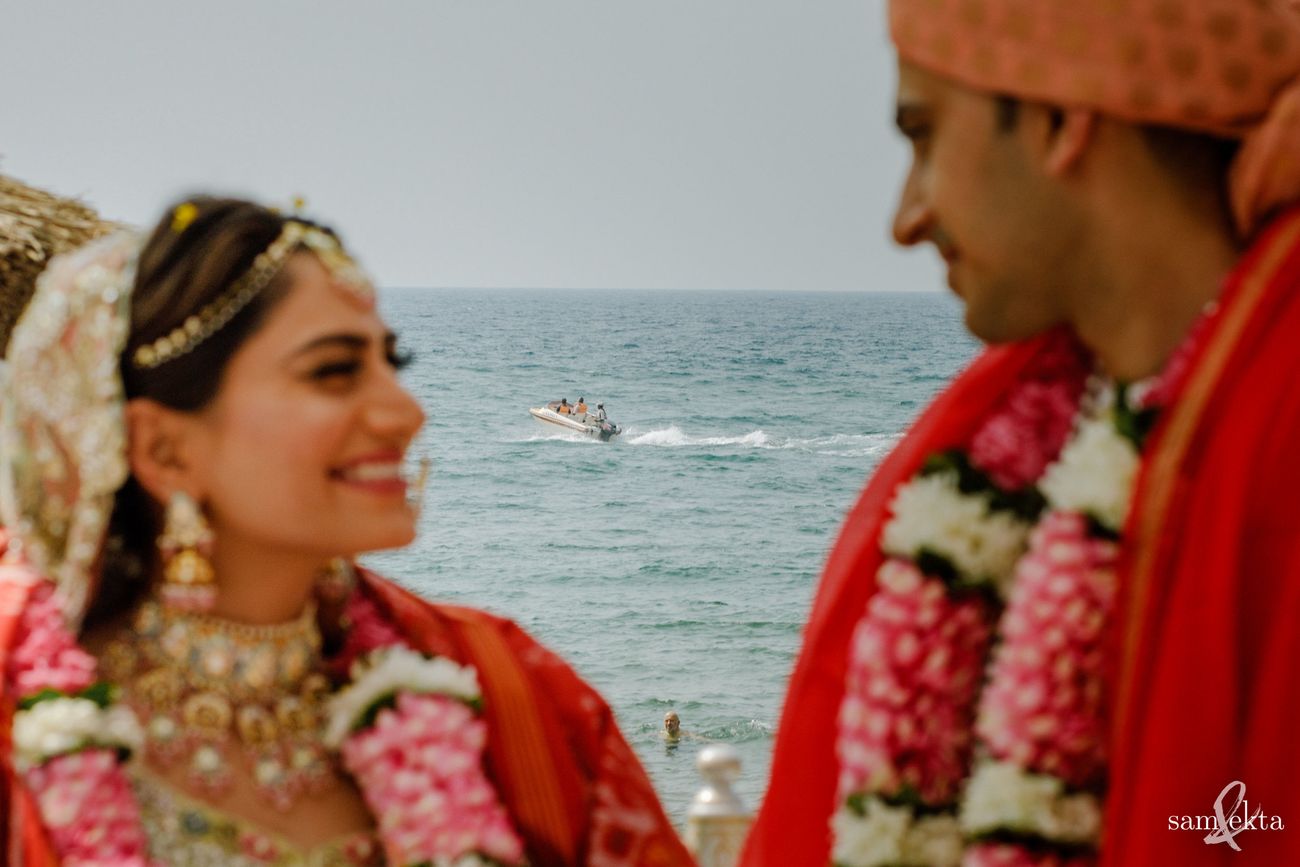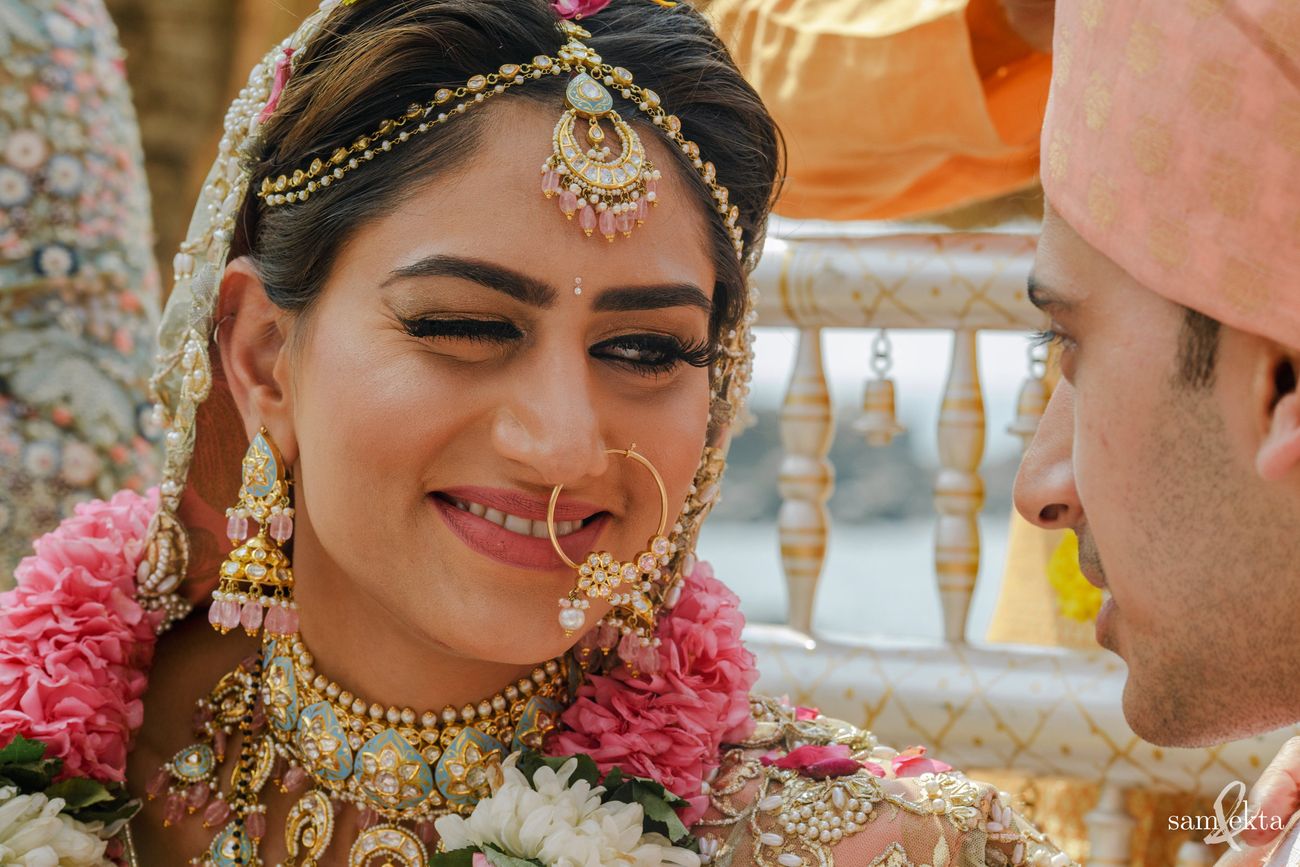 From The Bride: 
I was hell bent on having a beach wedding. We both did not want to get married in our respective cities that we belonged to so it had to be a destination wedding. Goa was one of our options but it had been done so many times that I wanted something different. When I was 8 years old I had visited Leela Kovalam and had a wild thought of getting married in the
hotel as it was nothing like I had ever seen before. Who knew that thought would come true. My family and I went ahead I booked the hotel blindly. Trishy had never been to property, he just trusted my choice and agreed to get married in Leela Kovalam.
Our wedding # was #TriKiiNii. The wedding celebrations were from 17th of February-20th. We had a games day, with custom t-shirts for both the brides' and grooms' side, followed by a flirty cocktail sundowner by the beach. The next day was a joint Haldi with the theme being yellow. The decor was simple, but the amazing shingharimelam of Kerala was our "live band" and made our Haldi absolutely unique. The Haldi was followed by a sundowner Mehendi in shades of Pink. The day ended with a Bollywood themed Sangeet where we also conducted an Awards Night! Third day was the wedding, with white and pastels theme, with my lehenga being flown in all the way from Pakistan. It was followed by a sit down Reception with a classic black and white decor, a proper seating chart and custom champaign flutes for every guest. 
Vendor Reviews: 
My Makeup makeup artist and hairstylist were Lekha Shah and Anita Sahil respectively. I loved ever single look that they created for me. They were such a pleasure to have on board and everyone loved the way I looked during all the events even Trishy loved it. I would recommend them eyes closed! Also I have to add I hate it if my hair gets pulled but when Anita was working I never felt it at all and that says a lot about how good she is.
Sam and Ekta, our photographers, they are artists not photographers like Trishy says and I strongly believe as well. I was so glad to choose them for our wedding. The best in the business and such a fun couple to be around. They are for like family to us now and we miss being around them and getting clicked by them of course.
SC Designers, she did all the creatives for our wedding and I can safely say our wedding wouldn't have been anything without her. She put all my ideas to life in the most beautiful way. Would strongly recommend her.
F5 Weddings are a very hard working team and our guests were very happy with how the wedding was planned. Some did say that it was the best planned wedding they had ever attended. They helped us be on track with the planning process and were good on their deadlines. The logistics were handled superbly well. They had done a few weddings at the property and gave us the best advice on planning our dream wedding.
Vendors: Venue: Leela, Kovalam, Kerala; Makeup Artist & Hairstylist: Makeup & Hair by Lekha★ 4.8 and Anita Sahil; Photographer: Sam & Ekta - Sonder Frames★ 4.7 ; Wedding Planning & Decor: F5 Weddings★ 4.9 ; Bridal Outfits: Mehendi - Sabyasachi Mukherjee★ 4.9 , Sangeet - Falguni Shane Peacock ★ 4.9 , Wedding - Elan Pakistan, Reception - Natasha Dalal★ 4.7 ; Groom's Outfits: Mehendi & Wedding - SS Homme, Sangeet - Kunal Rawal★ 5 ; Wedding Invites: SC Designers; Sangeet Choreographers: Happy Feet