An engagement in Delhi with Pristine Whites
BY The WMG Bride | 17 Aug, 2014 | 1833 views | 3 min read
It's not often you spot white at an Indian wedding , what with the mothers gasping in horror at the thought of that color coming anywhere near the bride to be. But we really feel, we need to see more of it - like in this engagement- right from the absolutely stunning engagement lehenga in white and gold to the white tones of the decor , and the whites in the bridesmaids outfits- this engagement is absolutely adorable.
Meet Manvi & Karthik
Theirs is a boarding school love story and a classic one at that because she is from Welhams and he is from Doon but they both actually met 10 years back in Basket ball national tryouts. From playing sports to playing hooky to meet each other, the rest as they say is history.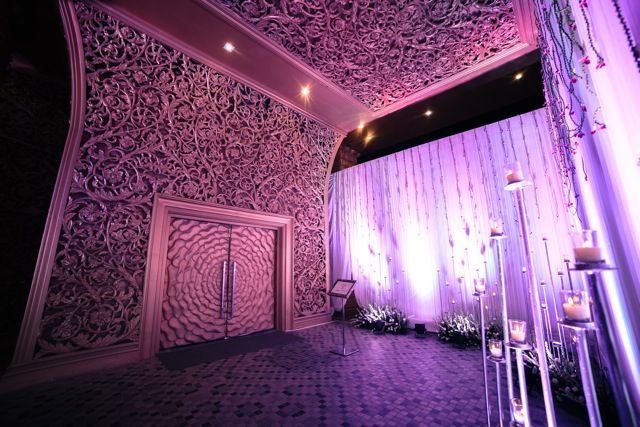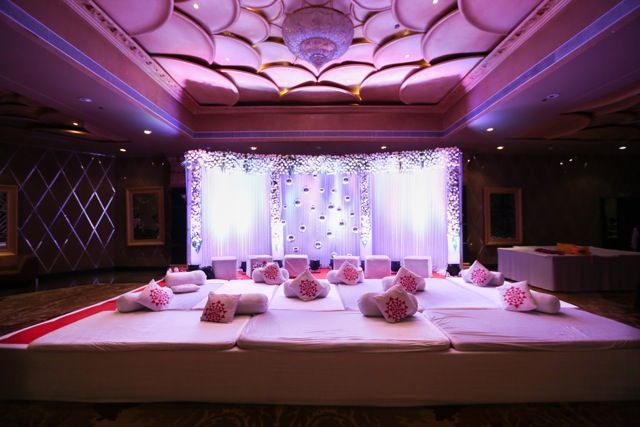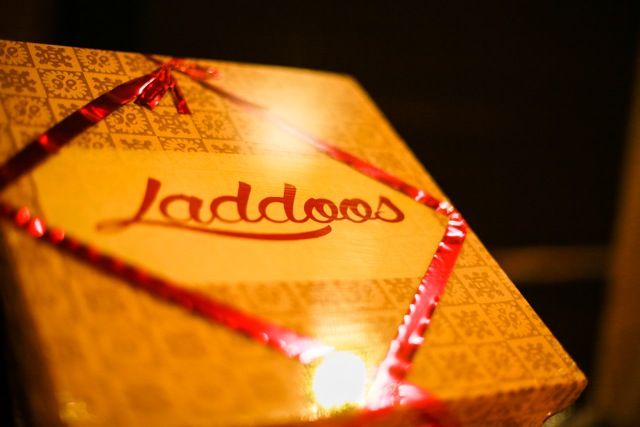 So cute! Mithai boxes labelled "Laddoos"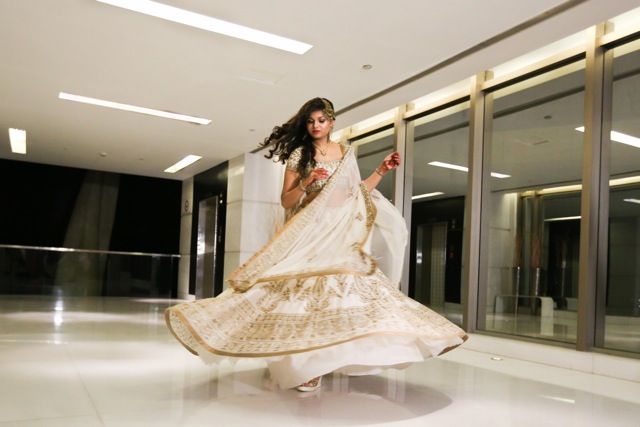 Absolutely Love that white and gold engagement lehenga (Vendor details in the end) and also the large jhoomer and earrings. The grooms peach waistcoat is super fab!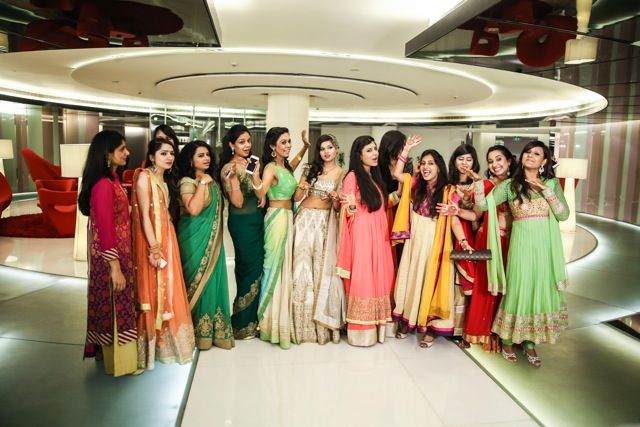 From the bride
" Our function was meant to be a small one, mostly symbolic as we were not ready to get married right away, but it turned out to be a grand affair. We started with looking for the venue. A cousin suggested Galaxy Hotel, Gurgaon and it was just perfect ! Their zinnia hall is really good, it hardly needs any extra decor. I truly believe 'Less is more' and had decided I wanted something in white .Trouble was no one seemed to agree with me ! I had seen all possible stores, designers etc. Maybe it was because of the wrong month (April) to go looking, but I really couldn't find anything which wasn't over the top, or ridiculously expensive and weighed a zillion kilos.
Luckily an Aunt of mine took me to Lustre in Noida (details given in the end) and I saw a white suit with this beautiful gold zardozi work and decided to convert the look into a lehnga. And it turned out fabulous and what was great was that it was super light.
We had a great team to make this event possible. Right from my makeup artist Saba who was a great recommendation. Only one word is enough for her 'Genius'. I think everybody should just book her blindly, to our photographer Sumedh. . He's really talented and the great thing about him is that he's exceptionally passionate about his work ! I think the pictures just speak for themselves.
Apart from that my mehendi artist also did a fab job and a shoutout to my super stylish sister who wore a pant sari (vendor details below) and my friends outfit too (vendor details below)"
Makeup Artist Saba is a member of the Wed Me Good Handbook . To know how members are chosen, please read our FAQ.
Venues
: Galaxy Hotel Gurgaon
|
Decor :
Handled by Venue
|
Makeup
: Saba Makeup Artist
|
Photography :
Sumedh Tandon
| Video:
7th click videography by Saptdeep
| Brides Outfits:
White and Gold Lehenga from
Lustre by Poonam & Meenu
(
A-5, SECTOR-15, NOIDA Noida - 201301
, Ph: 0120-4263303) | Grooms outfit Trousers and Shirt
from
Karan Nasir Moin
and
Waistcoat
from
Abhishek Gupta
|
Sisters outfit (the pant sari in white and gold) by Dharna GK , Friends lime green and white lehenga from Kyra (in Shahpur Jat Delhi Jungi House)
|
Wedding jewellery
- Kayoor Jewellers Moradabad
| Mehendi : Suraj Mehendi Wala 9990421067