Elegant Wedding In Jaipur With A Bride In A Unique Color
BY Latha Sunadh | 23 Oct, 2017 | 4422 views | 4 min read
A bride who worked day and night to make sure her wedding colour scheme is not run-of-the-mill - that's Paridhi for you. Her Mehendi had hues of indigo, away from all the marigolds and yellows we always see and her lehenga is an indescribable shade of olive/ gold/ mint thats beyond gorgeous. The venue, Diggi Palace was a revelation and her Photographers, George Seemon Photography★ 5 Seemon and Staj made sure every brilliant moment is captured to perfection!
Meet Suparno & Paridhi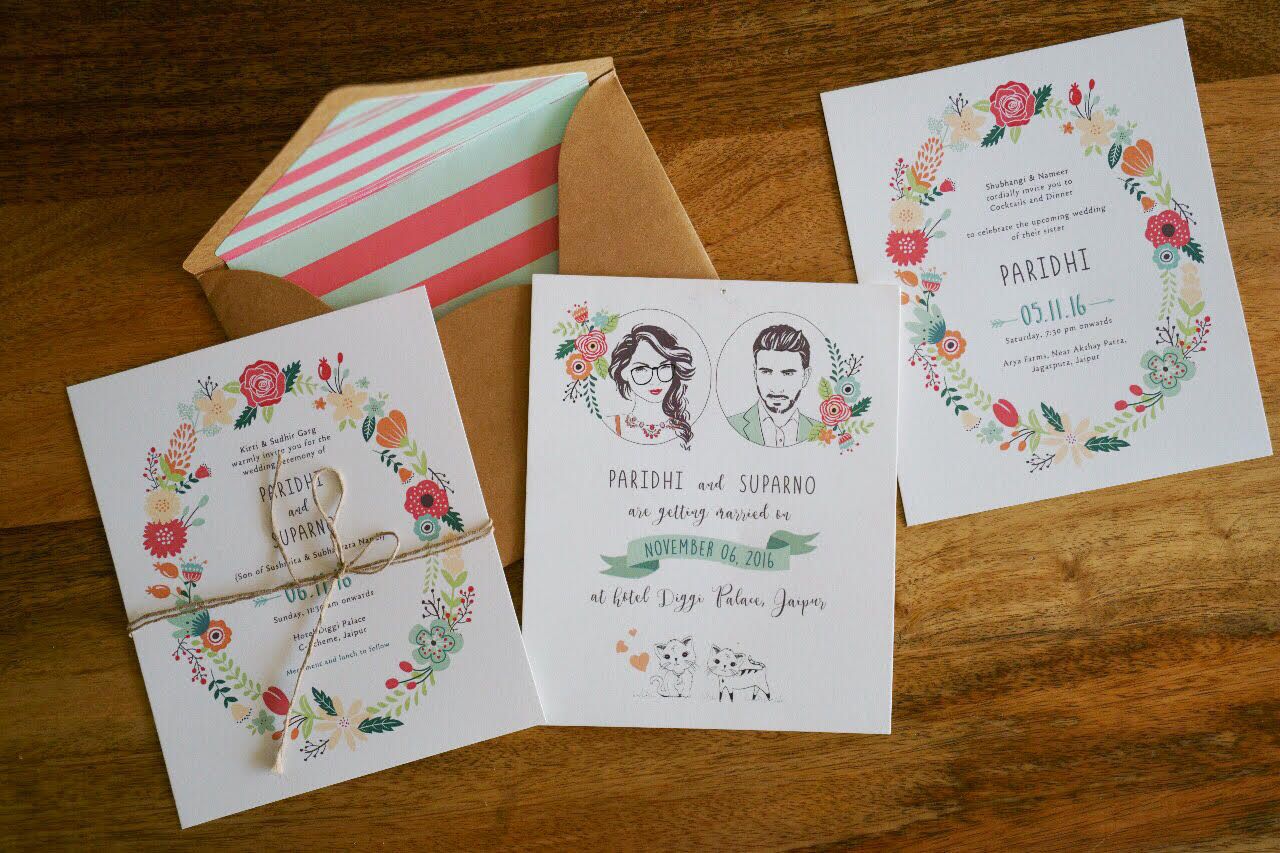 "Suparno and I had been dating for almost 10 years when we got married last year in November. We met through common friends in my first year of college in Mumbai and since then there has been no looking back. He had finished his MBA and was about to start his first job and I was in my first year unaware of the fact that this guy could be the one. Currently, we live with our two cats Nibbles and Polo (You'll see their animated versions on the invite as well) in Mumbai. I work with Barclays Investment Bank and Suparno is a data scientist with Barnes and Noble," says Paridhi. 
The Cocktail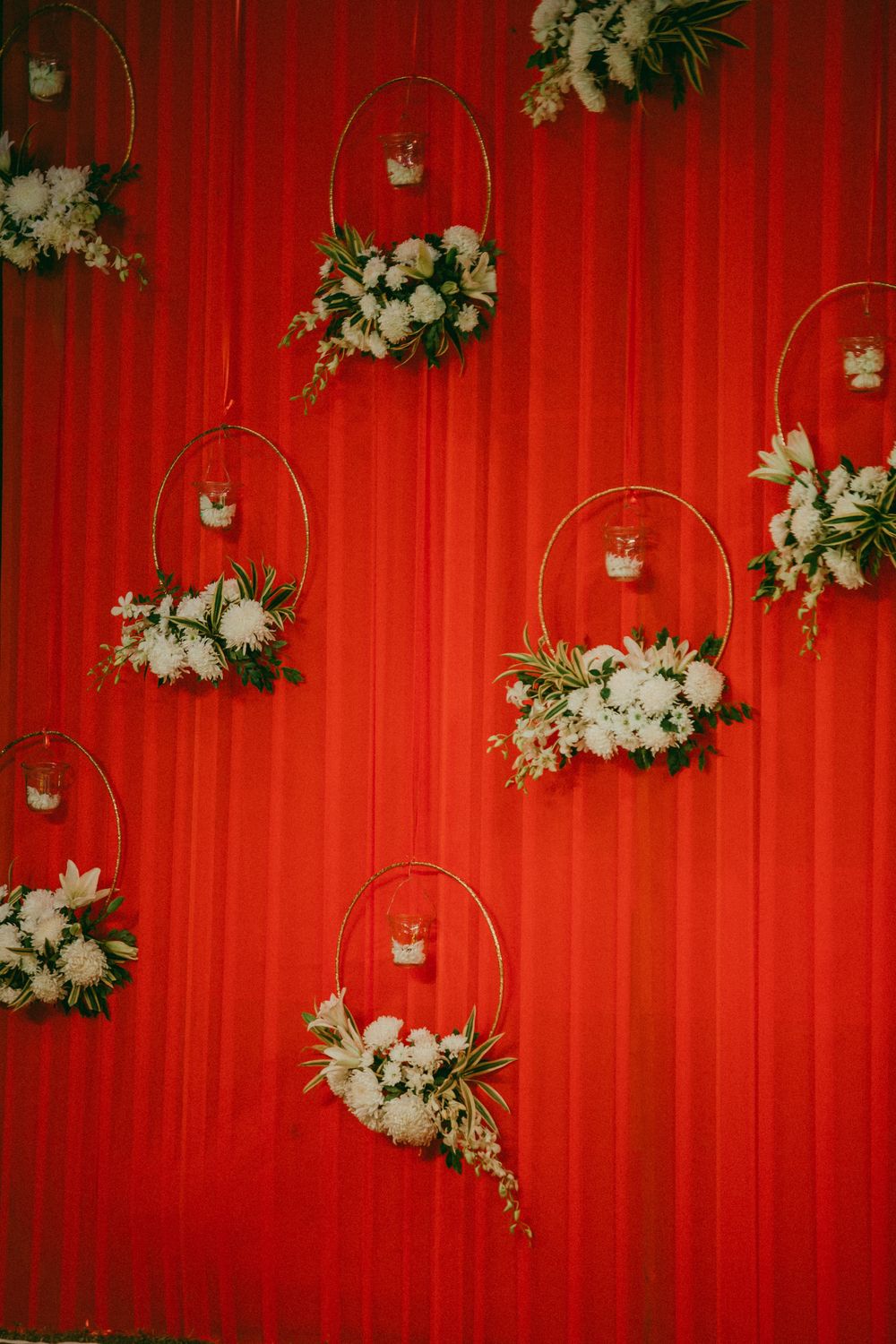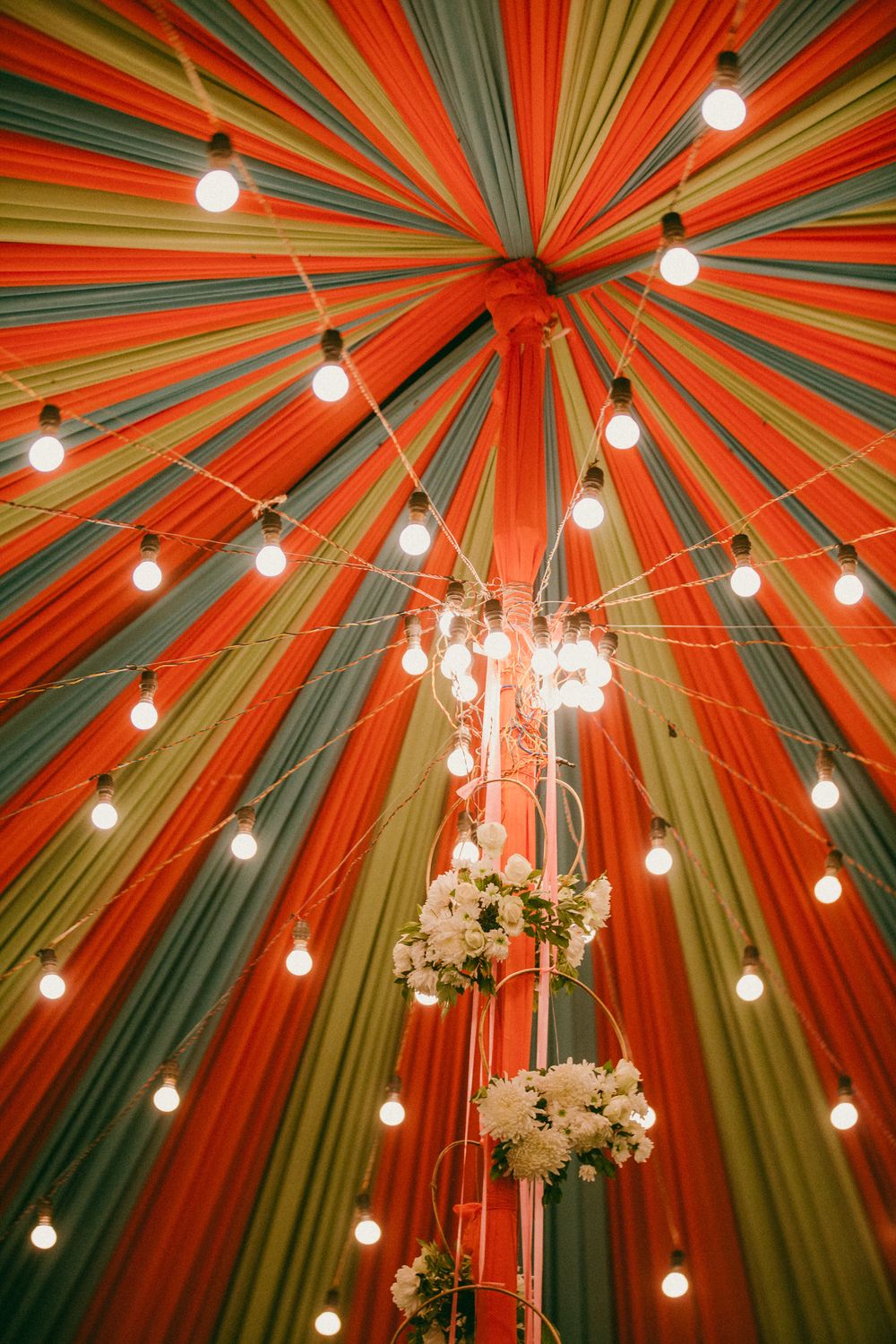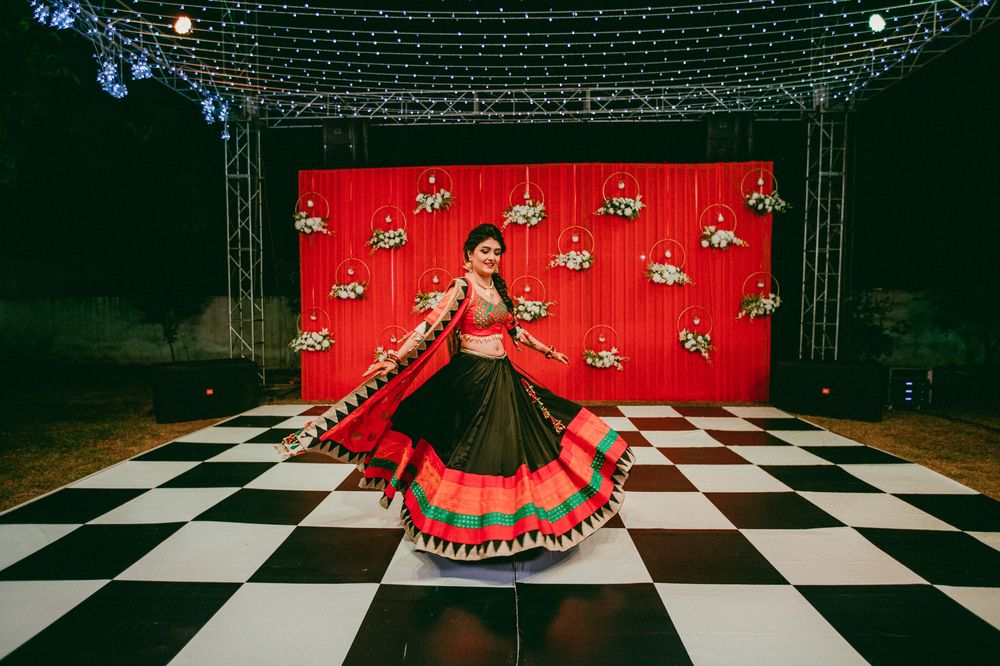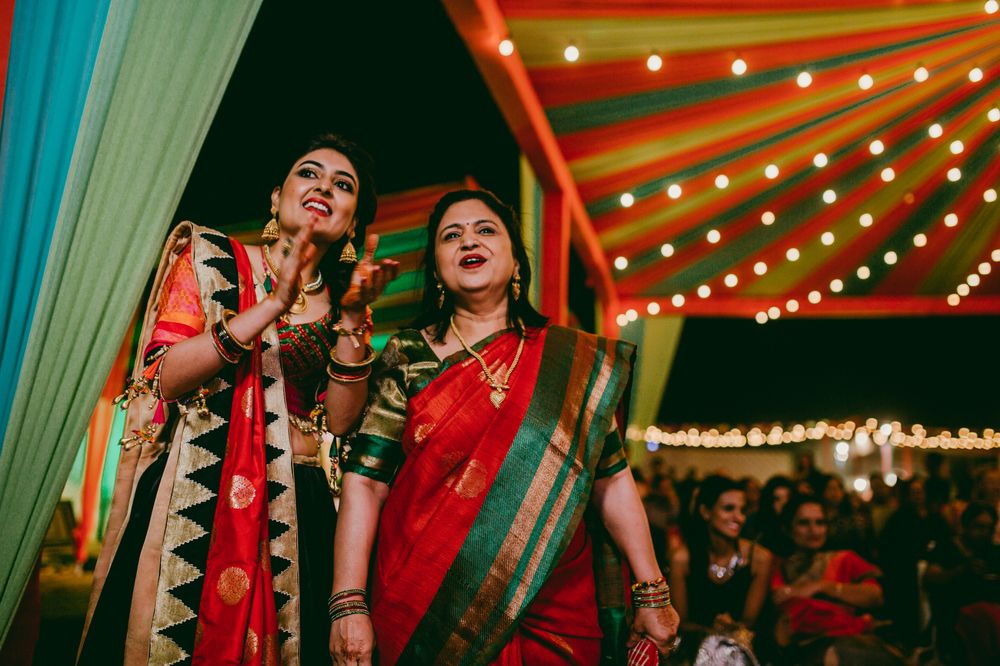 The Mehendi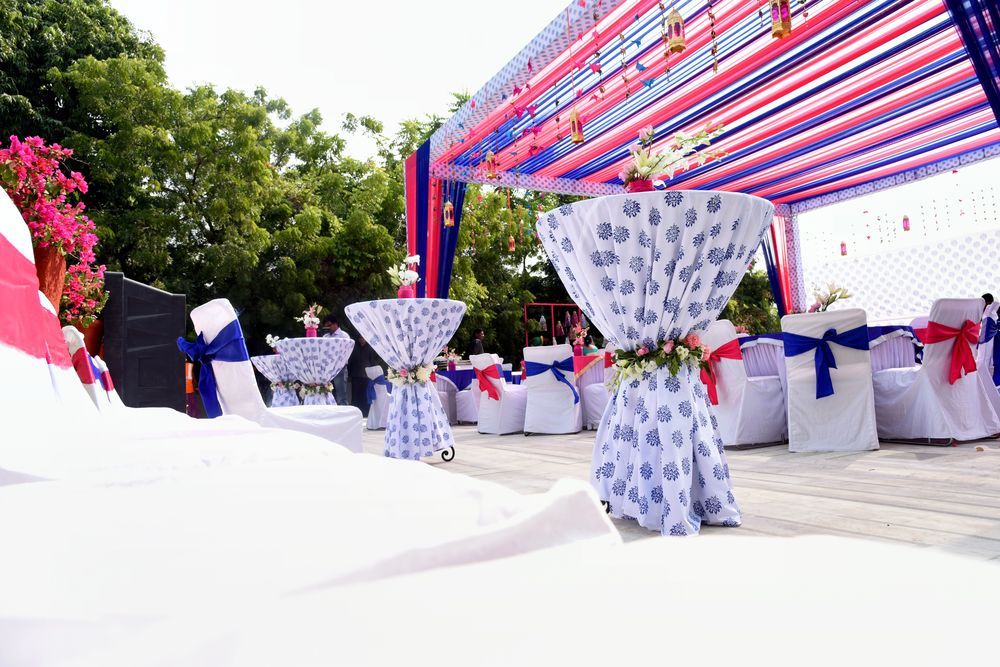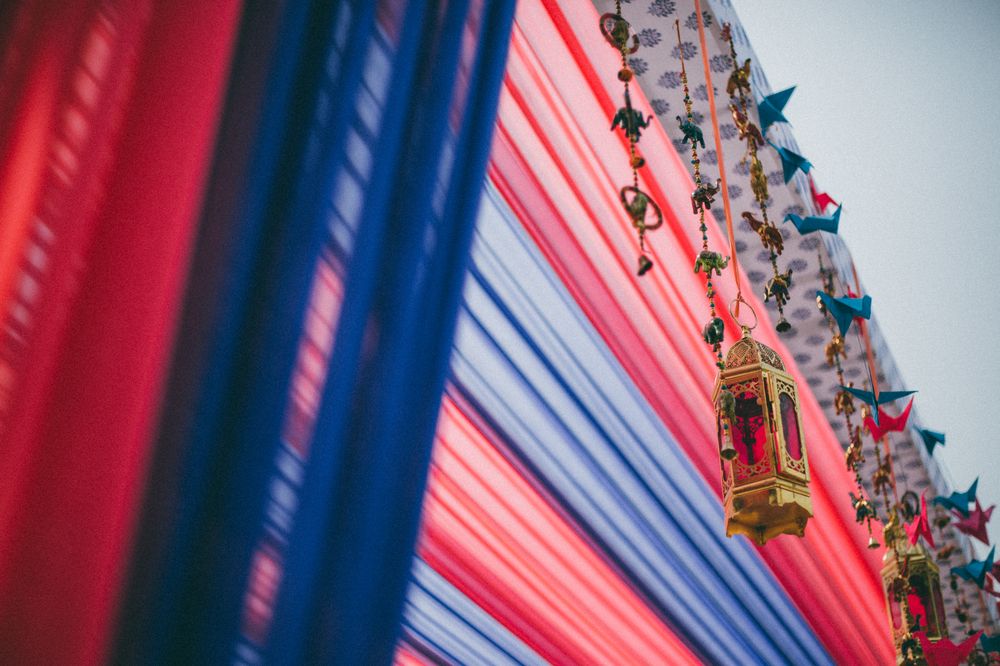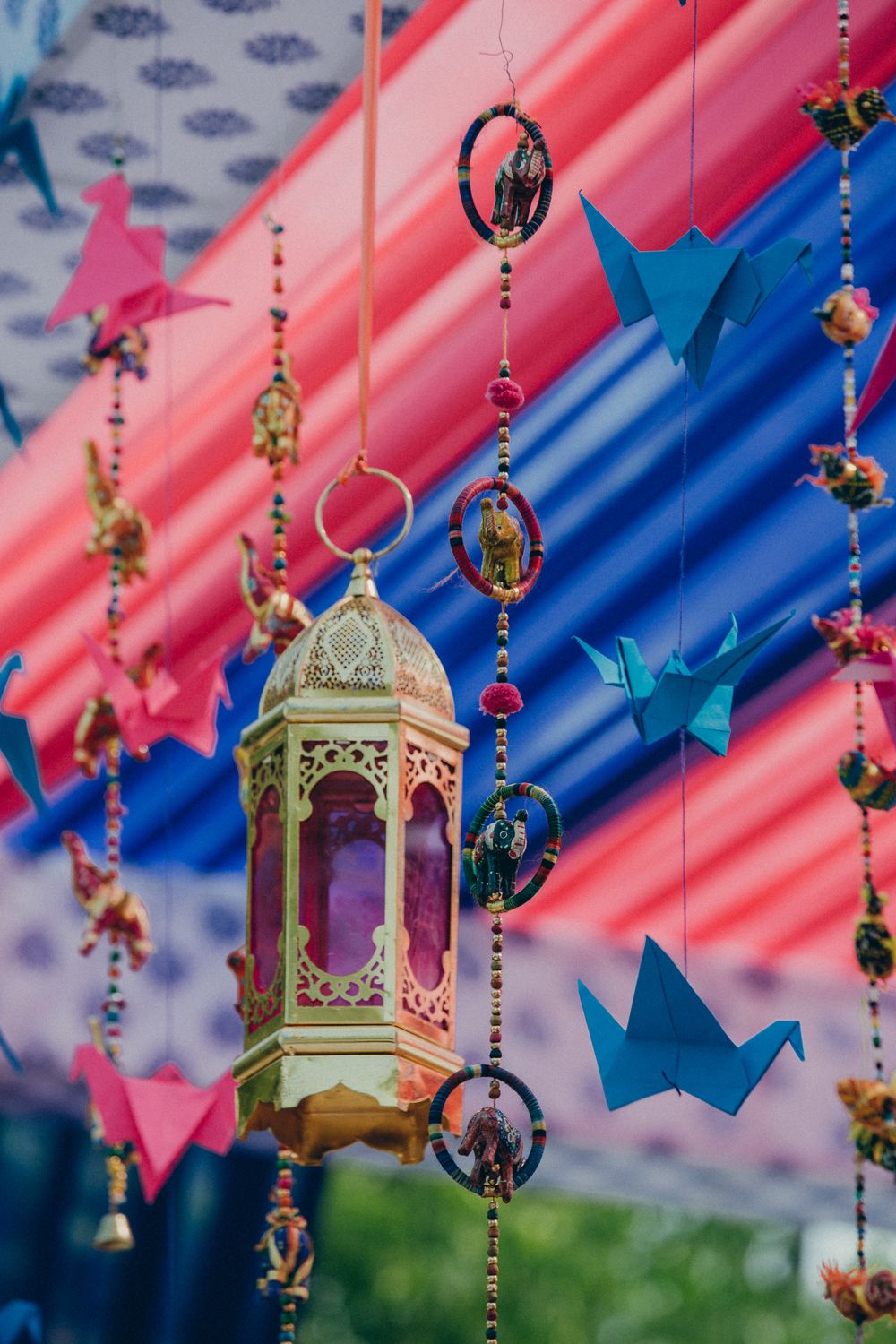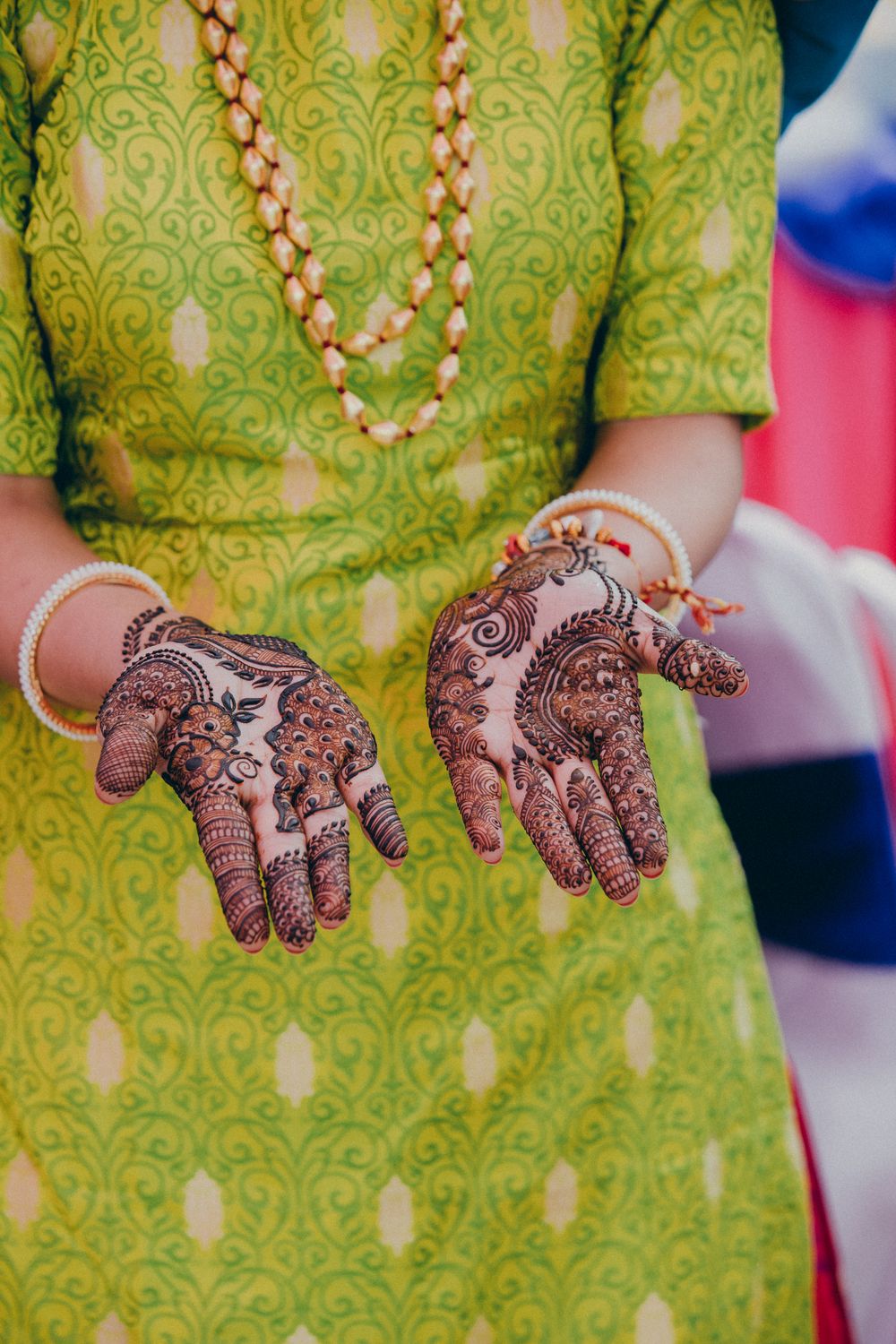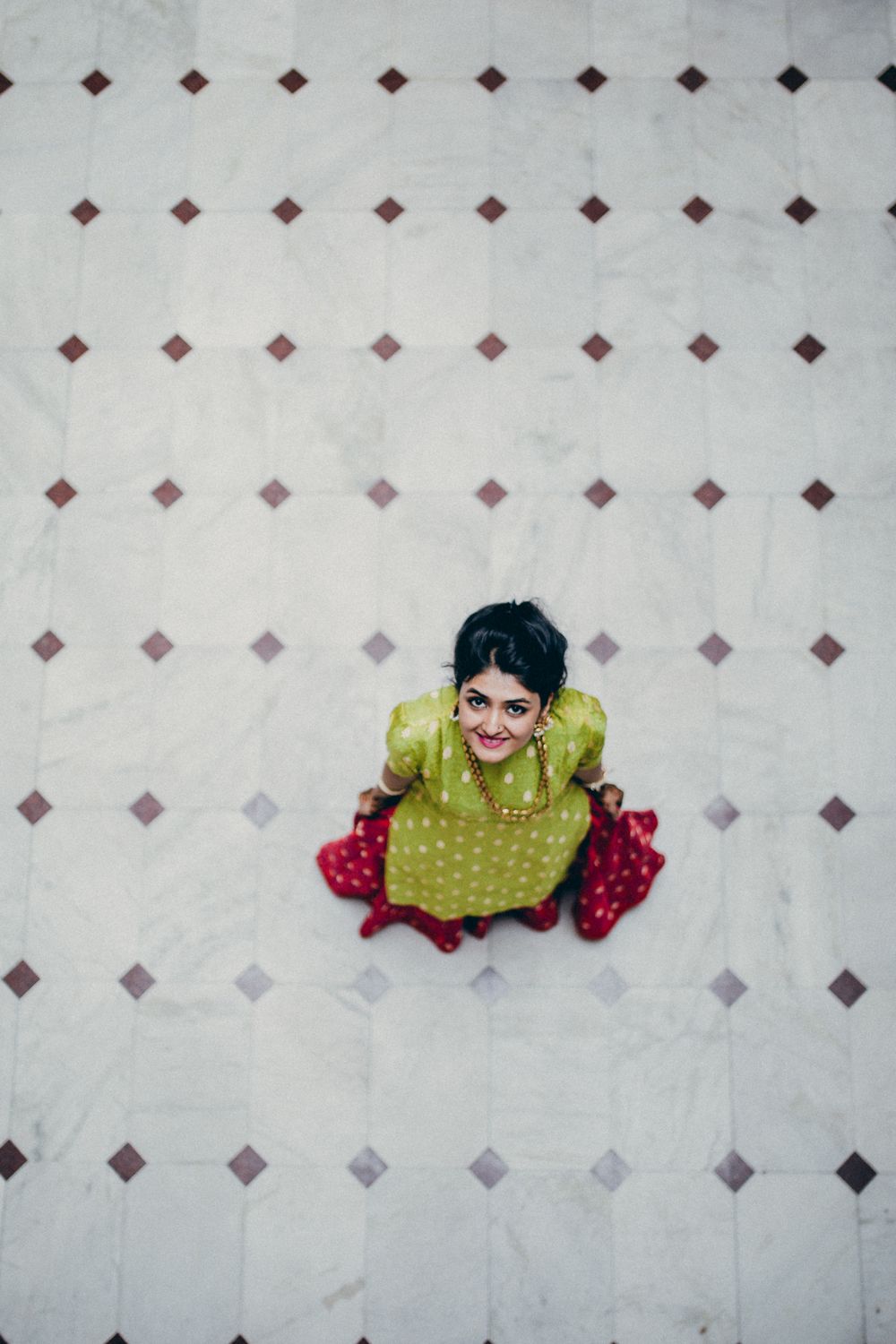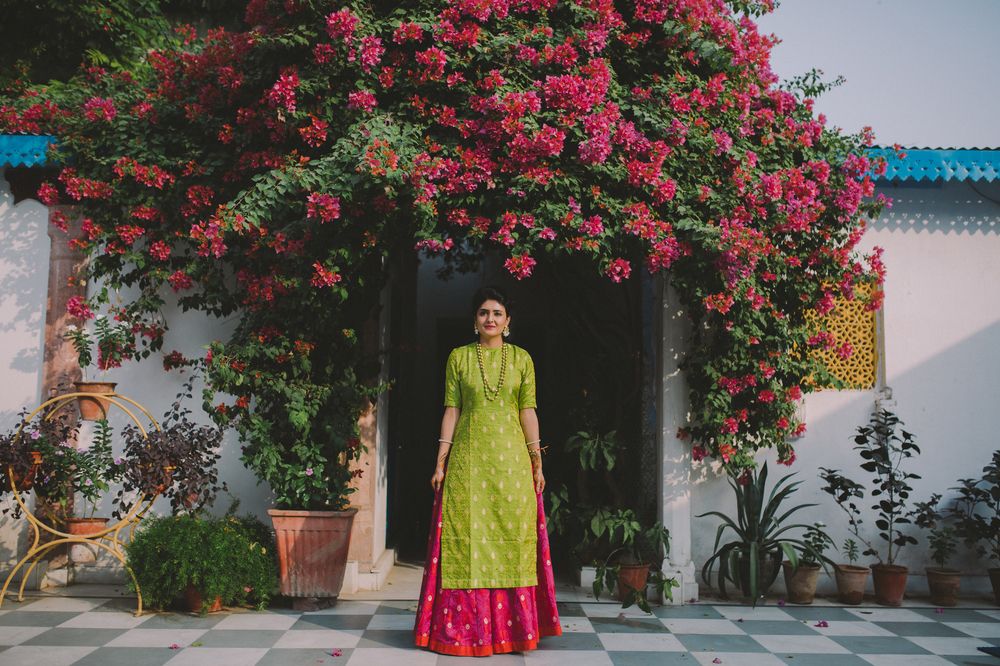 The Wedding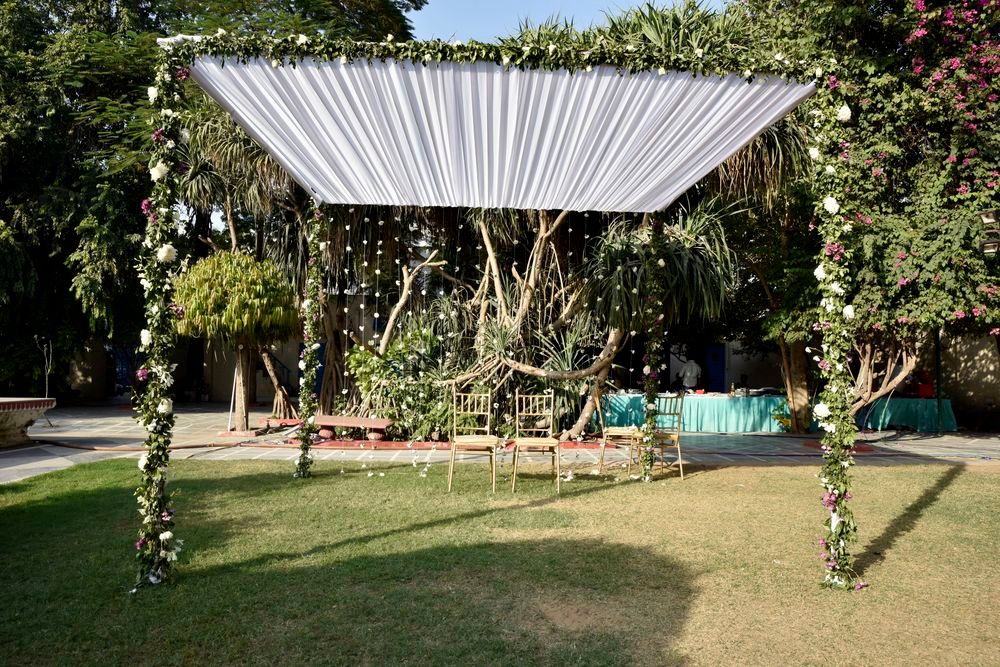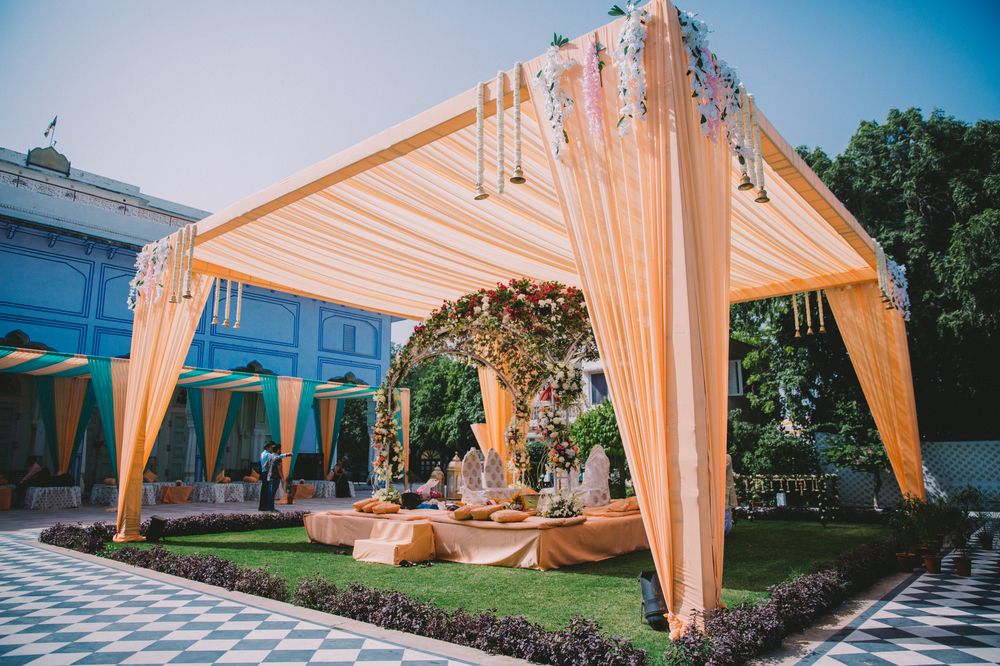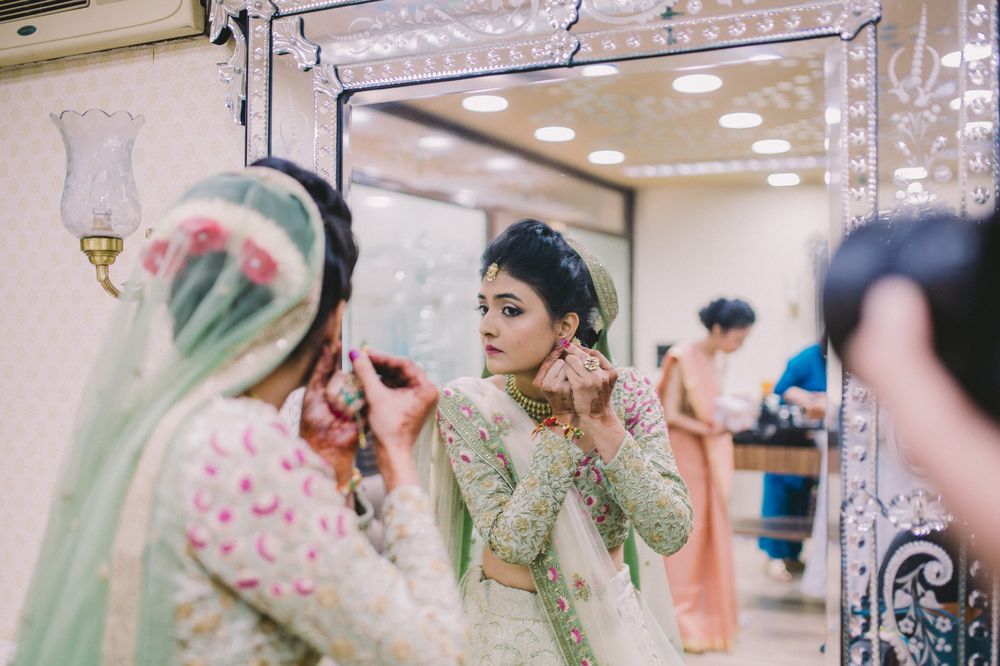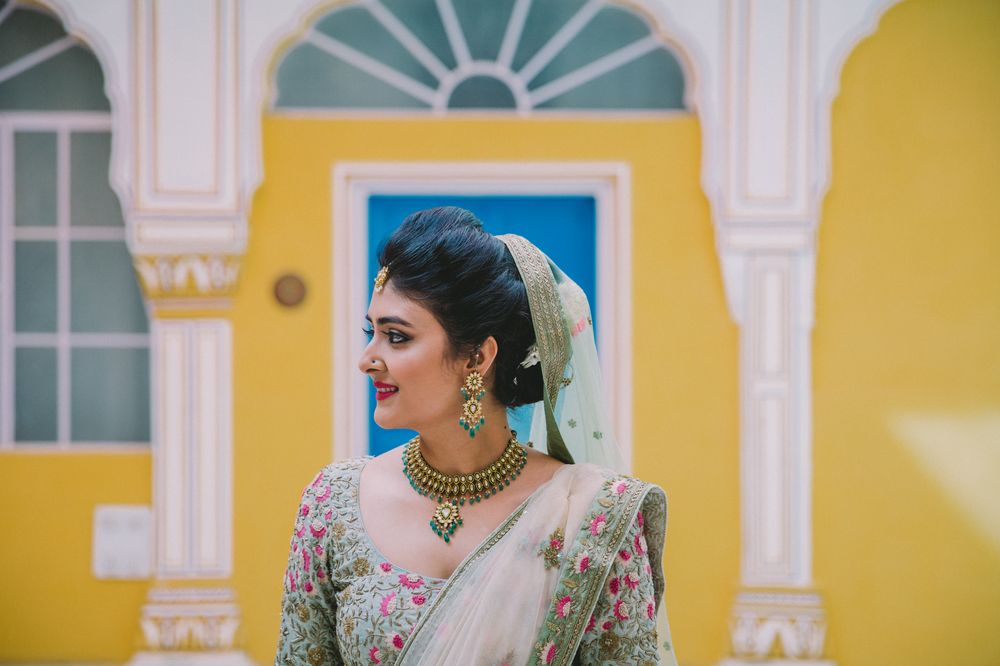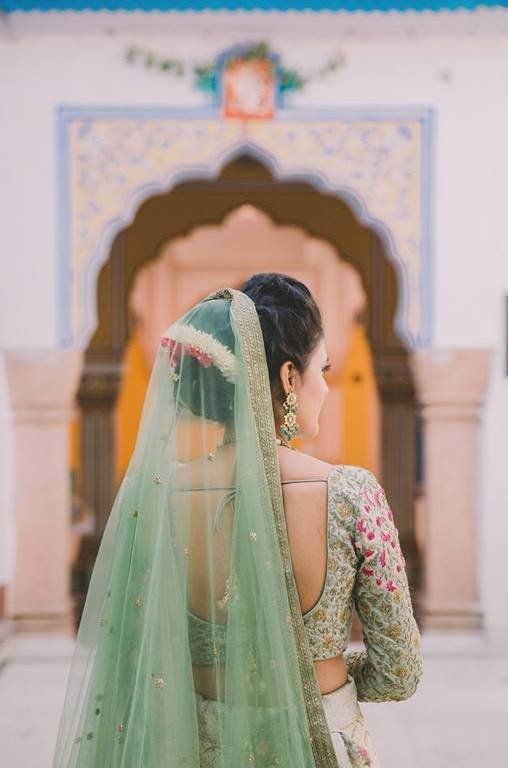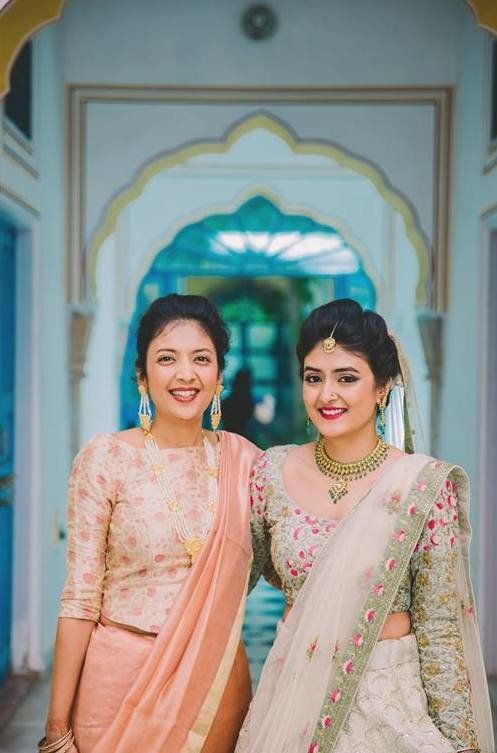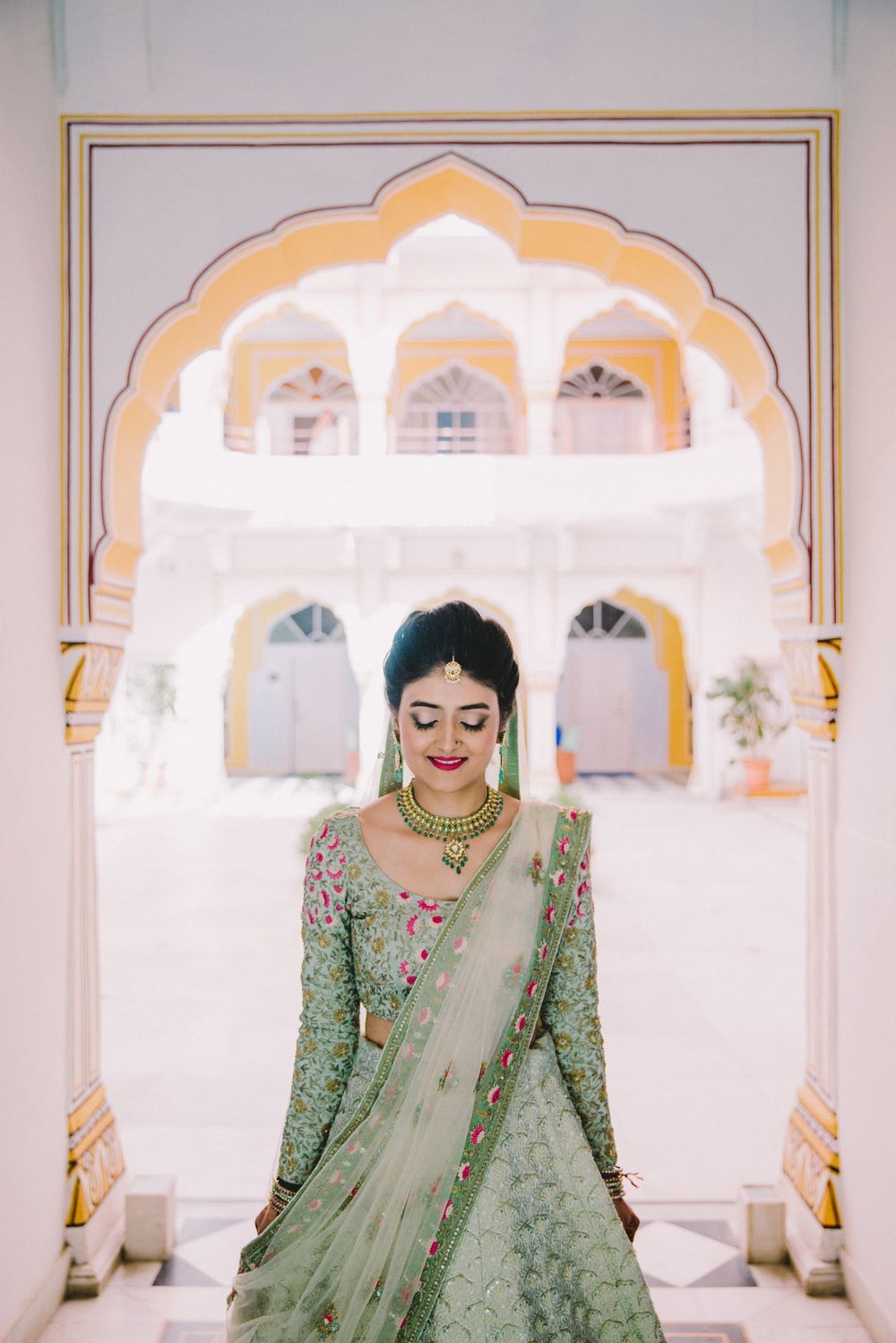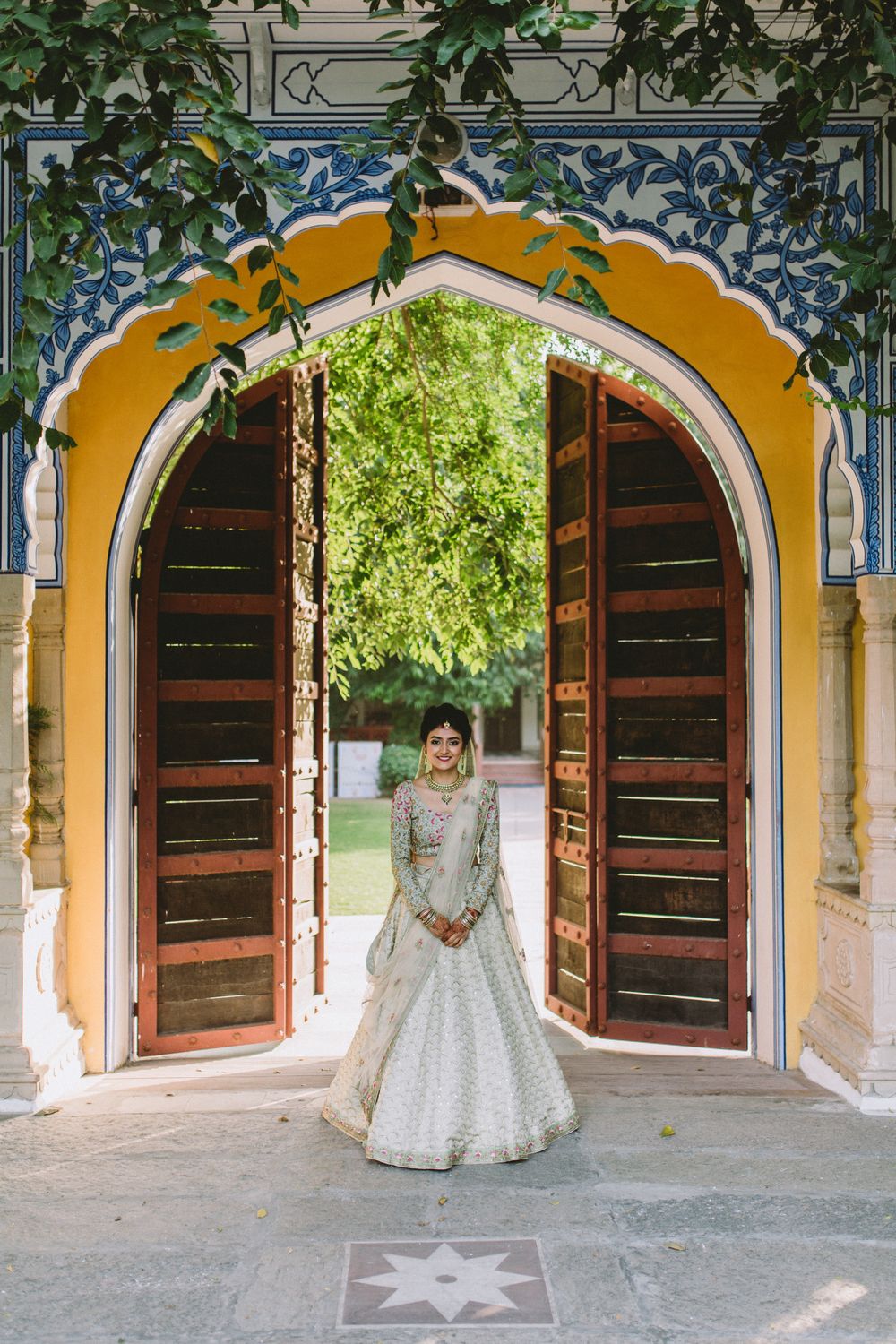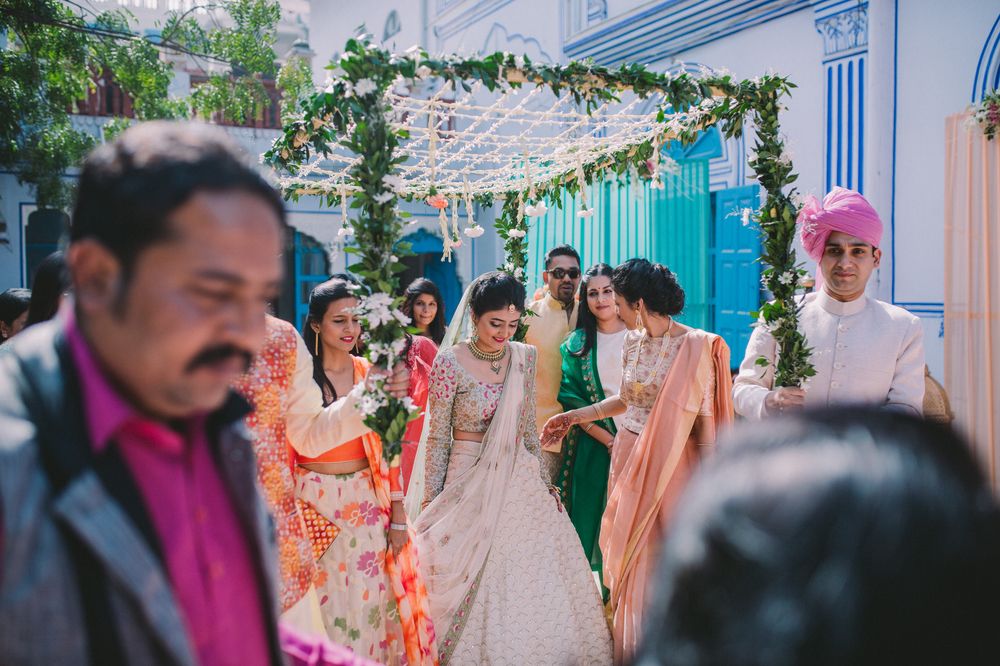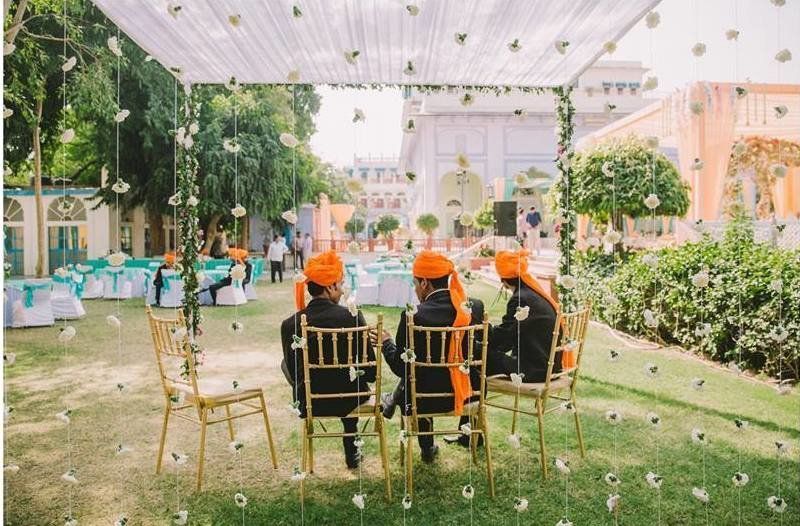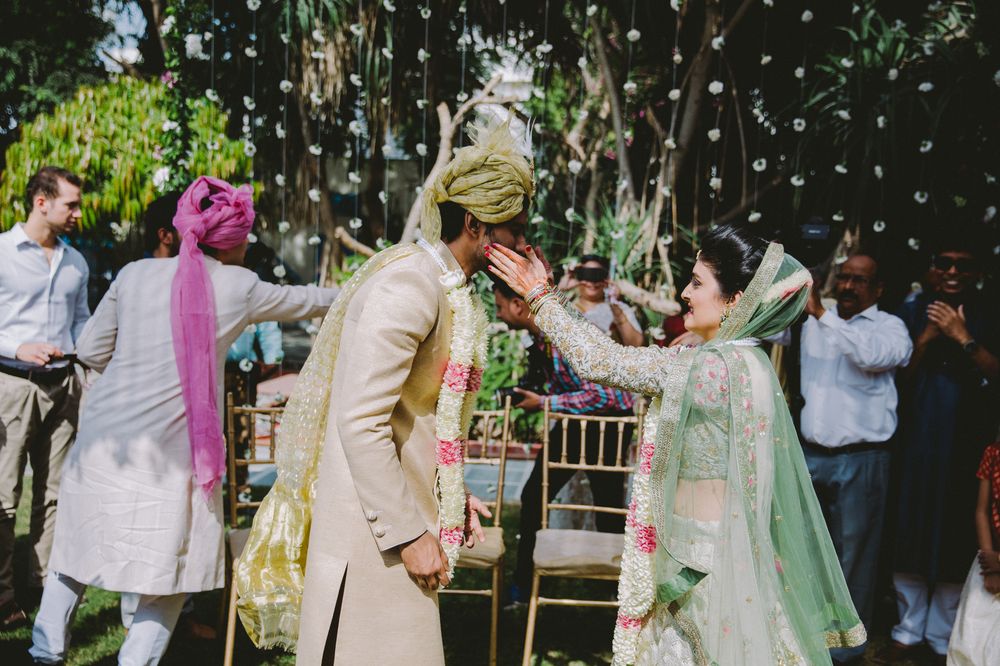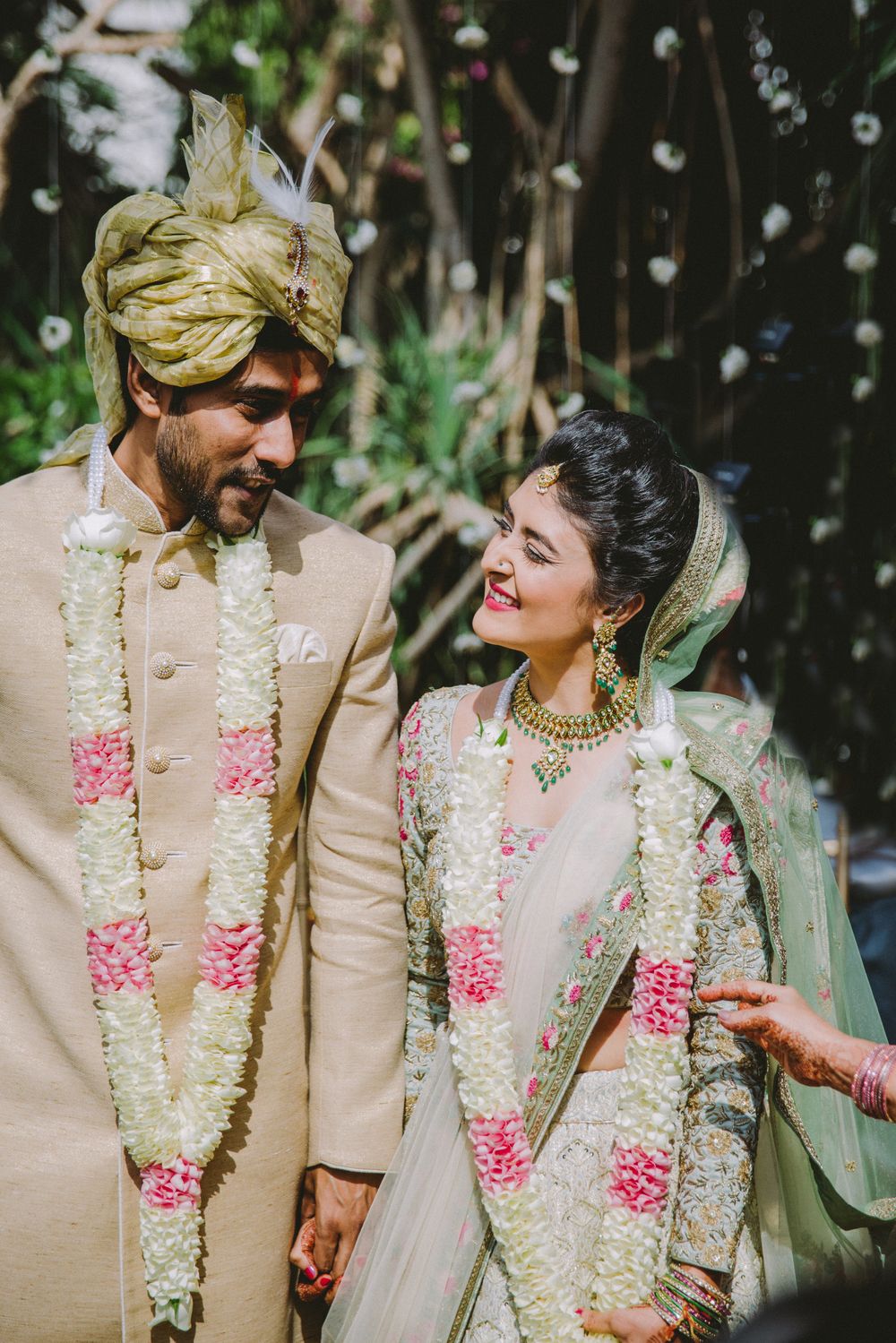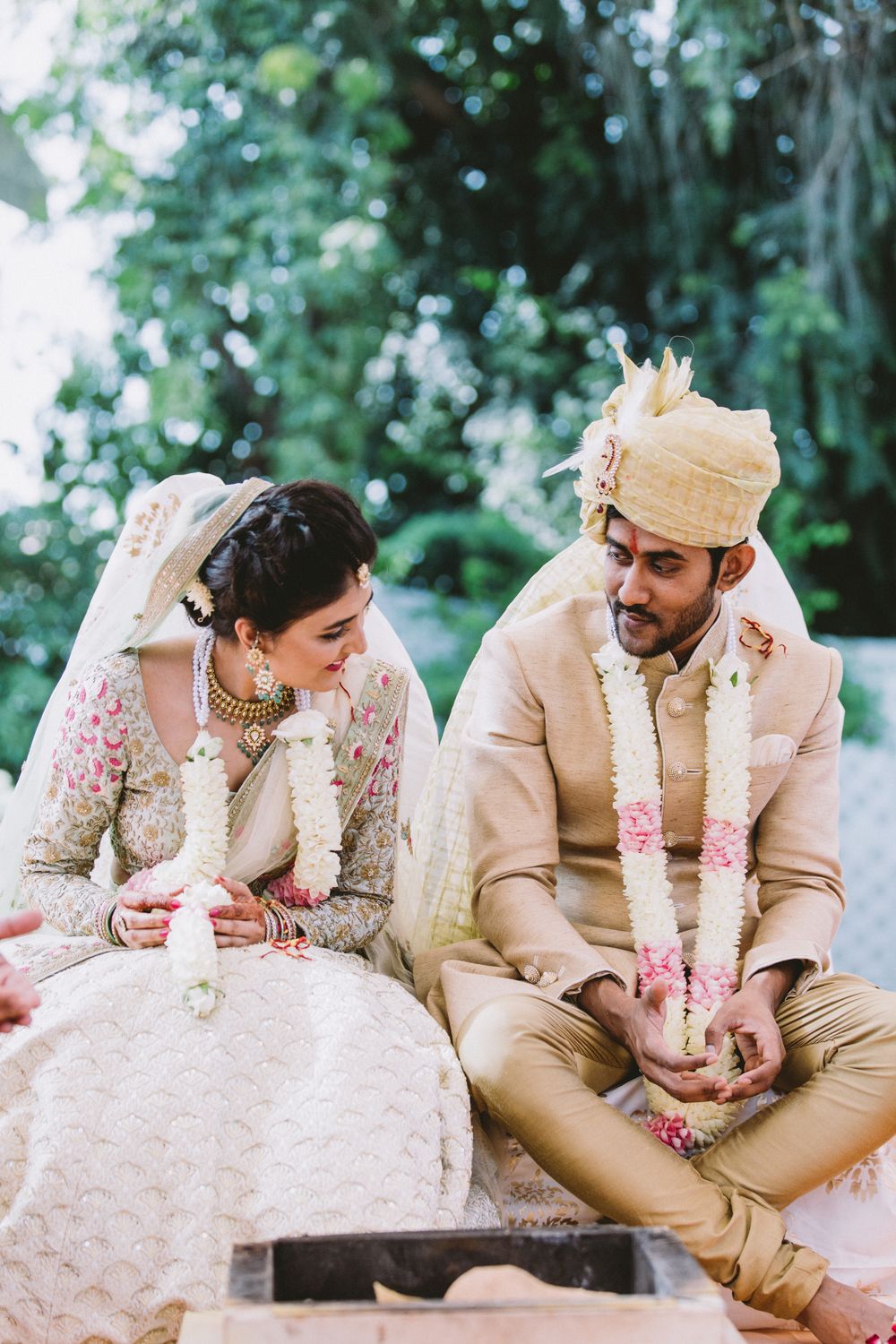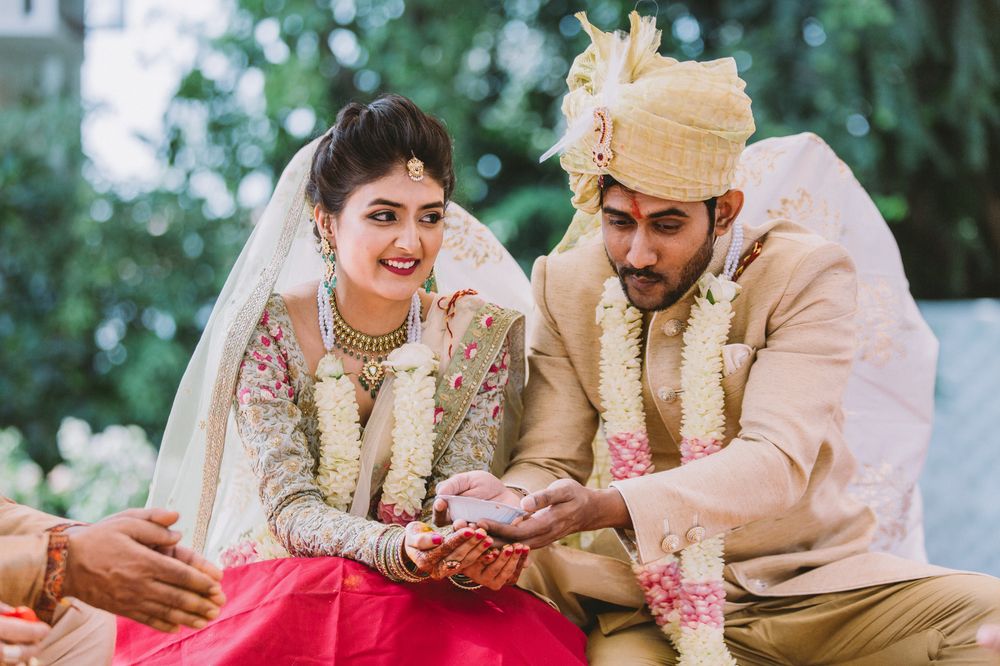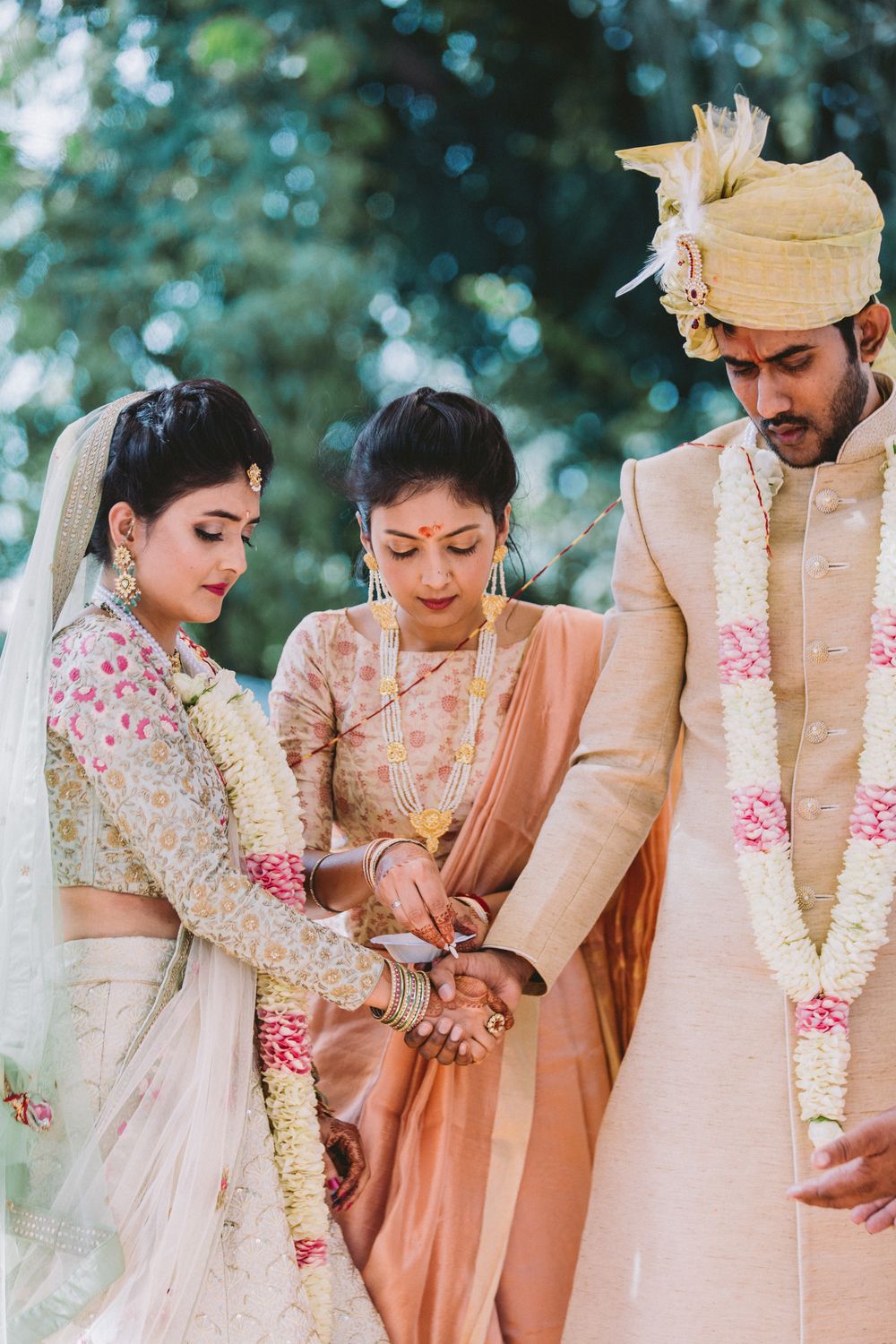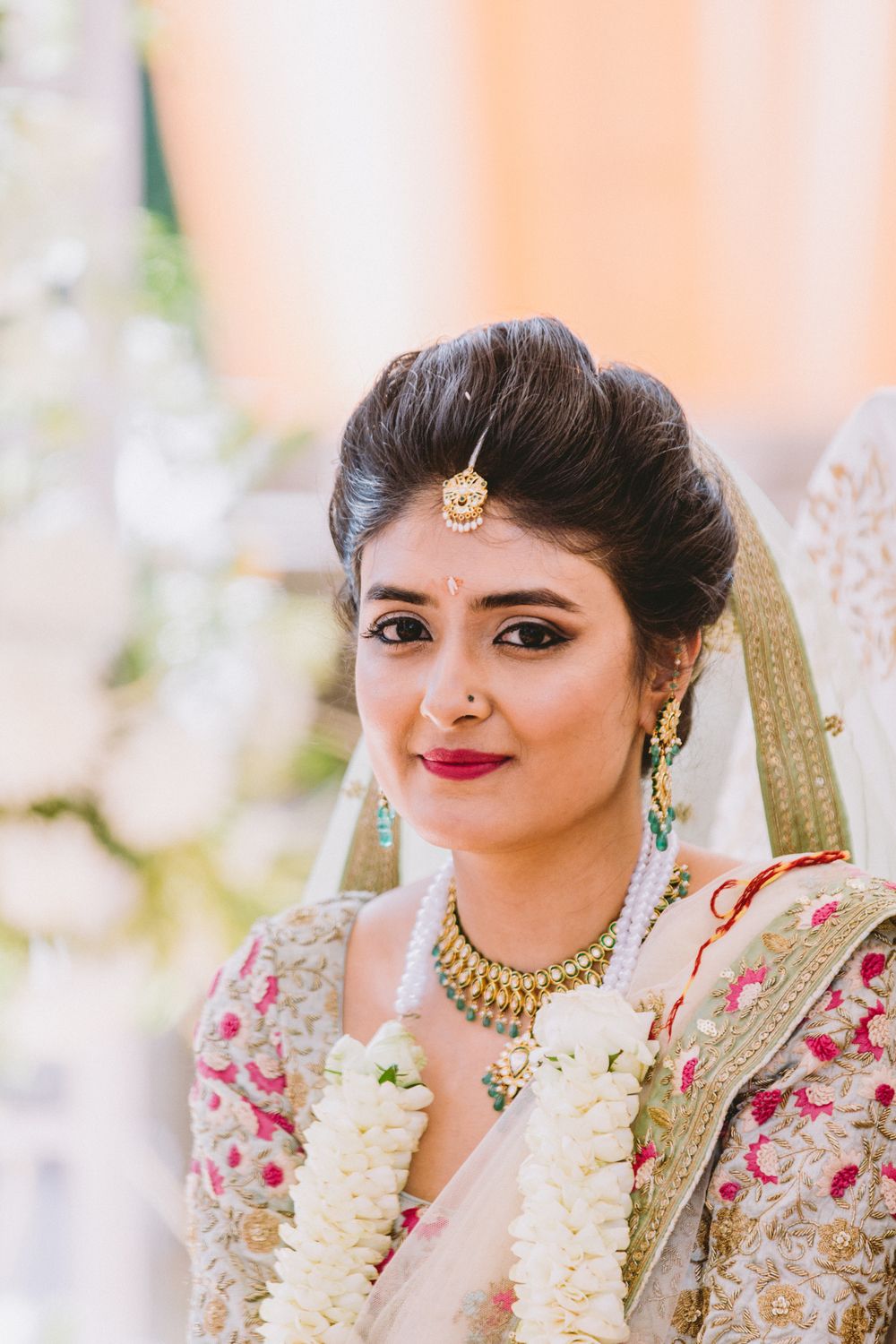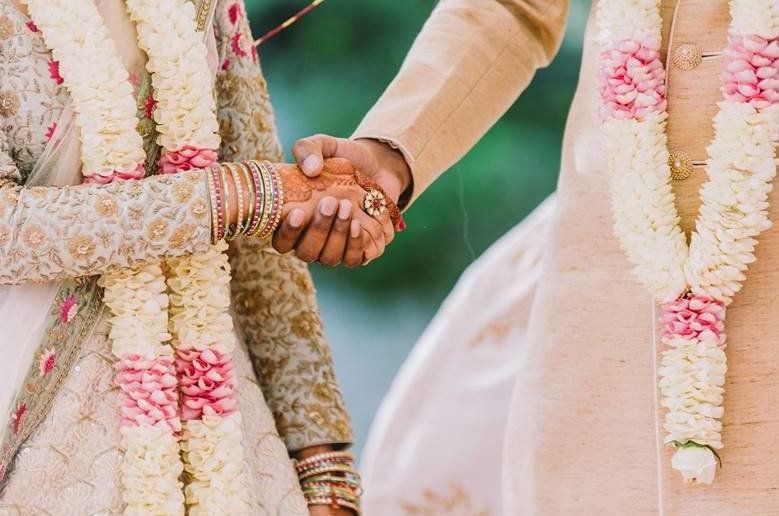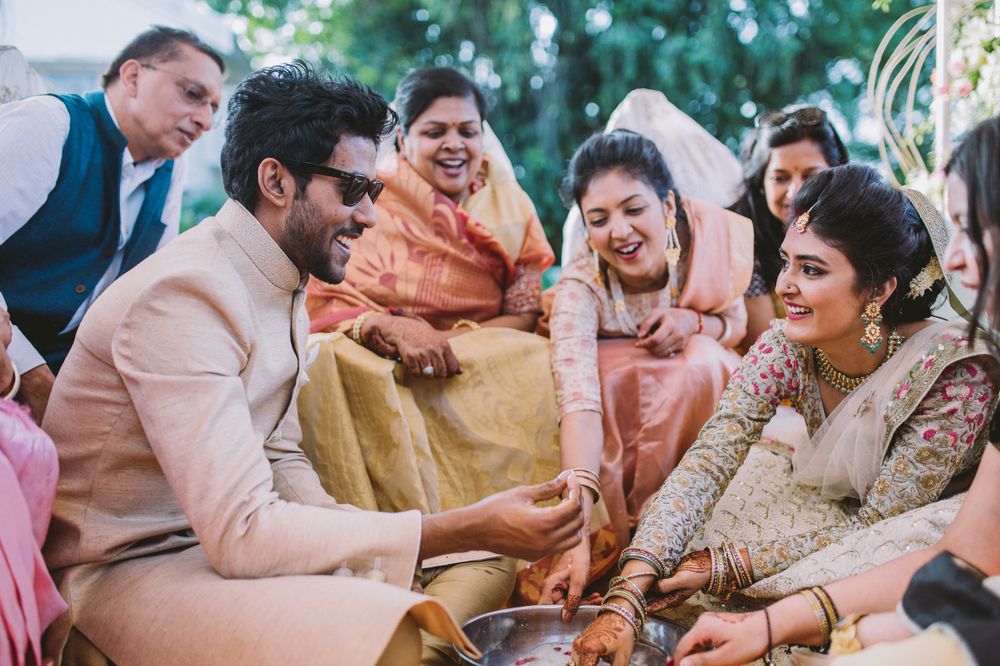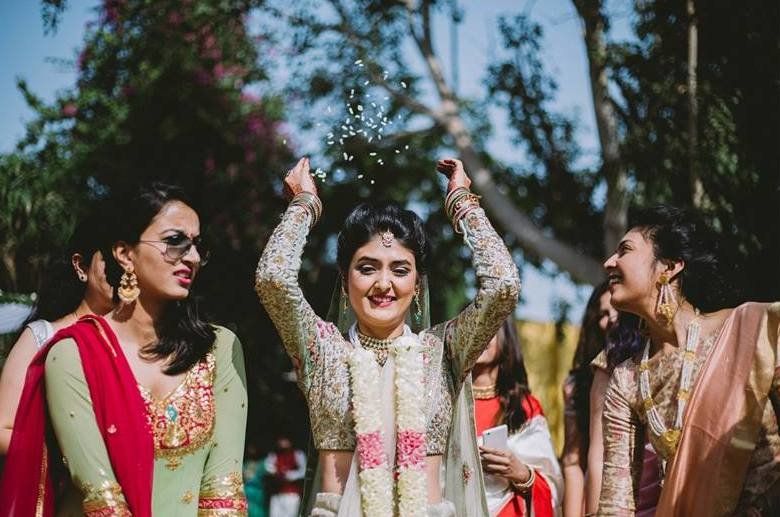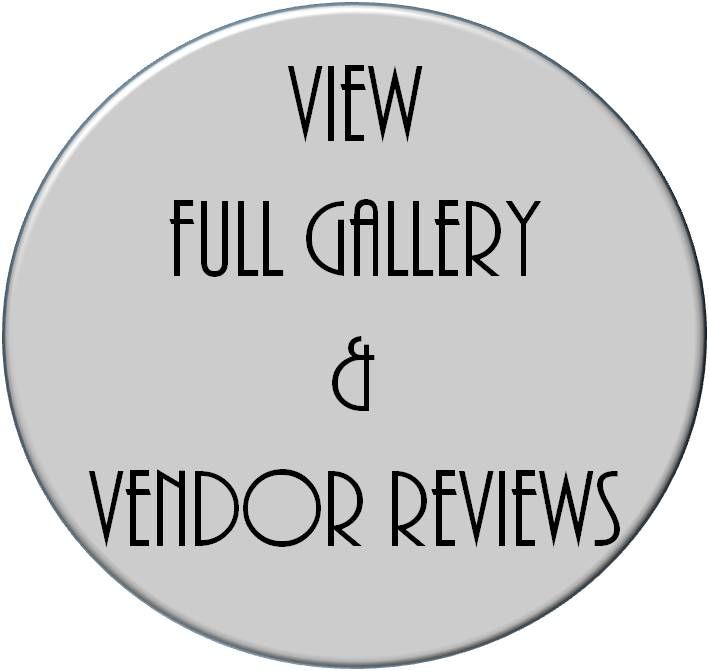 From The Bride:
So Suparno is a Bengali from Kolkata and I'm from Rajasthan, but we had both decided to skip the Bengali traditions and stick to my side of wedding style (pheras and everything). Both our parents are super chilled and non-fussy and were okay with whatever we decided. We did throw a reception in Kolkata for his relatives who couldn't make it to the wedding in Jaipur. 
Jaipur Wedding
We had 4 major functions that were squeezed in a weekend because spacing them out meant less number of people actually making it to the wedding. My cousin made and printed a wedding program to be kept along with the hampers in every room. My sister and mother were the backbone of my wedding planning, they were responsible for organizing and executing everything till the actual event. Here are our ideas for our events, all three of them. 
Cocktail - Boho-Gypsyish theme carrot red, olive green and blue strung with white lights and same color bunting
My main aim at my sangeet/cocktail was to dance as much as possible and meet all my friends who were flying in from various cities. It also happened to be my dad's 59th birthday and hence we celebrated that as well.  I wanted this event to be as quirky and as fun as possible.
Mehendi - Indigo Magenta colors with a bit of Moroccan style
I have always been fascinated with everything indigo and really wanted that as a theme for one of the functions. After a lot of deliberation, we decided that that could be the theme for Mehendi away from the conventional yellow-green colors. This was my second favorite function of all. The decor and flower guys did a very good job on this and were able to carry out all our instructions.
Morning Wedding Ceremony - Pastels
Our main aim was that the decor should compliment our outfits and not clash or overshadow them. So first we decided our (Suparno and my) outfits and then moved on to decor and color schemes. We both did not want our weddings to stretch through the night and decided to have a late morning ceremony followed by lunch and reception in the evening. Again we customized the ceremony to be very brief followed by some games involving finding the ring, untying knots and joota chupai. As we knew that it'll be sunny, we arranged a bigger canopy for people to sit around the mandap and watch.
To note: My Mehendi was minimalistic and my groom, super shy. I don't know how our photographer worked with him but he made it look effortless. 
Vendors: Venue: All events at Diggi Palace; Cocktails at our farmhouse Decor: Puneet Sharma & Diamond Florist, Jaipur Bride's Outfits: Cocktail outfit by Haneet Singh of Grace Boutique; Mehendi outfit by Ri'as Boutique and Wedding outfit by Frontier Raas★ 4.3 Groom's Outfits: Telons★ 4.4 Jewellery: Amrapali Jewels★ 4.9 , Shri Jewellers and Vamika Jewellers, Jaipur Catering: Jaipur Quality Sweets Makeup: Cocktail makeup by Anu Rawal Pardal; Mehendi makeup by the bride herself and the wedding makeup by Arneeb Malik★ 4.4 Invitations: Swati Katyal Invitations★ 5 Photographer: George Seemon Photography★ 5 Seemon and Staj Videographers: Alpine Creations, Jaipur