30+ Engagement Dresses For Brides-To-Be
BY Garvita | 15 Apr, 2019 | 27499 views | 9 min read
We know how weddings are majorly limited to brides wearing a lehenga on their special day but there is one pre-nuptial ceremony where you have the scope to try out different silhouettes, styles and outfits, on the basis of your taste - Engagement! Engagement dresses can be fun, modern or traditional; you have plethora of options to choose from! We spotted so many real brides wearing gorgeous attires on their engagement and looked so savage!! If you're still contemplating about your engagement outfit, then you really need to bookmark this article. To make it easy for you, we have categorized the outfits for you to exude:  
Grace in a Saree
Flare in a Lehenga
Flamboyance in an Engagement Gown
Tradition in a Suit
Eccentricity in an Offbeat Engagement Outfit
Grace in a Saree
One cannot deny that sarees are the most beautiful Indian wear, we have stumbled upon! This trend may be old but it is here to stay for a long long time. Wearing sarees for engagement is definitely a timeless choice that one can make. You can either go for bright colors and fun patterns or simply opt for something minimal and classic. Considering that so many modern brides are opting for engagement sarees, we couldn't help but put the same on this list!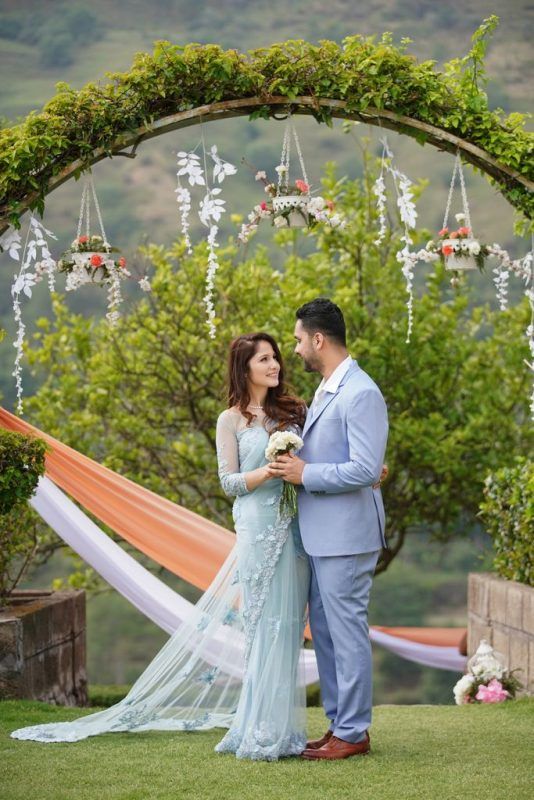 Image via Sandeep Sahdev Photography
This engagement saree literally blew our minds off, for its sheer beauty and uniqueness ! The powder blue hue, the long train and minimal details makes it one of the perfect engagement dresses for private ceremony.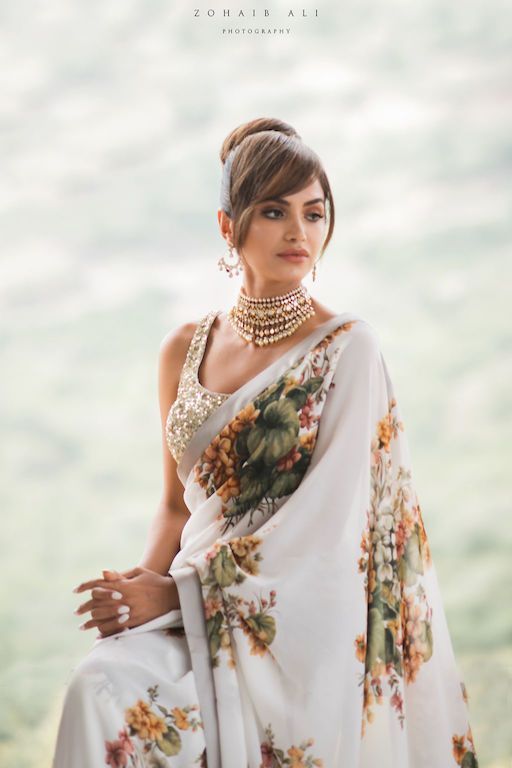 Image via Zohaib Ali Photography
We remember how Anushka ditched something predictable and chose a Sabyasachi saree for her engagement. Giving us majorr #OutfitInspiration!!  This floral saree can definitely be considered as one of your engagement dresses option, if you're still confused about your look.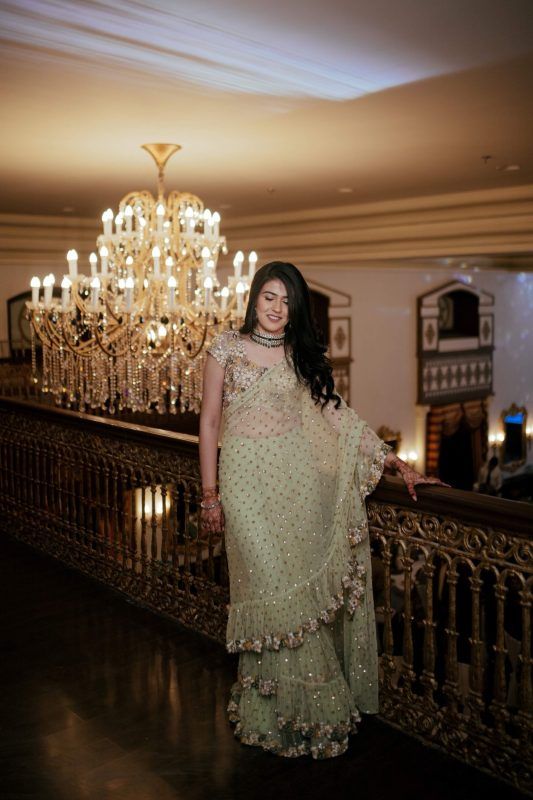 Image via Shaivee Verma Hair & Makeup
Millennial brides ensure that they stand out in terms of outfit, makeup et al. This Mint ruffled saree is an ideal pick if you're looking for unconventional engagement dresses.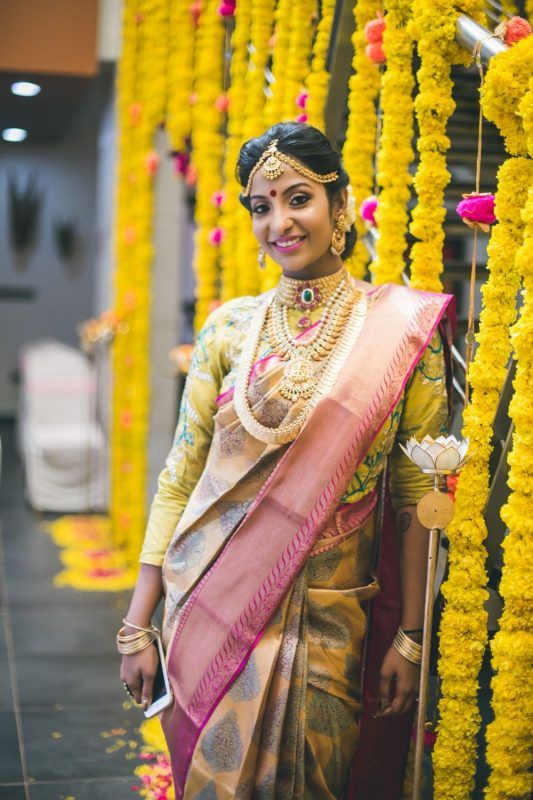 Image via Rolls & Reels 
Looking for timeless engagement sarees? Nothing can beat the grace and elegance of one in silk. Pair it with chunky gold jewellery or go minimal, you're bound to look classy either way!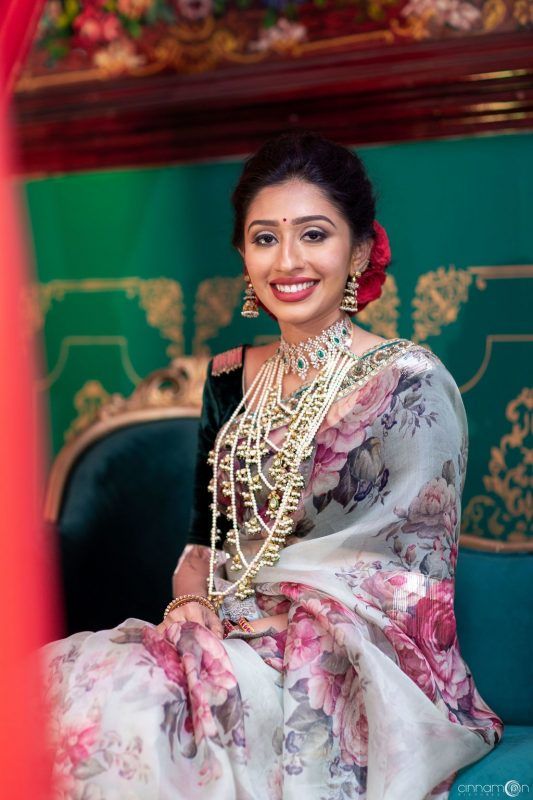 Image via Cinnamon Pictures 
Love how this bride paired a minimal Organza printed saree with a satlada haar to elevate the look. Adorn your hair with red roses and voila.. ready to exchange those rings!!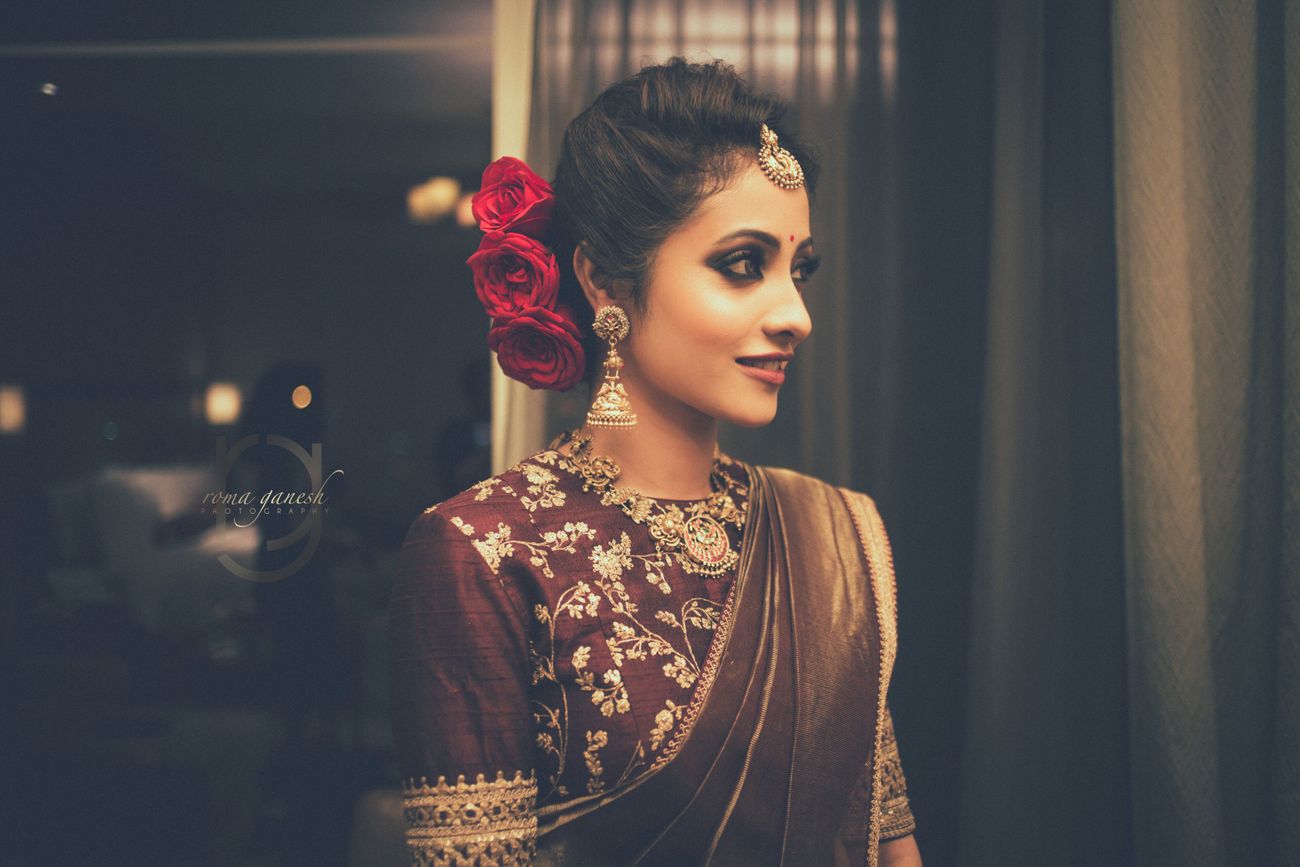 Image via Roma Ganesh Photography
Jeweled tone saree paired with dark brown embroidered blouse looks so ethereal. This bride styled it with a lightweight choker set. Love how she experimented with the makeup and opted for dramatically kohled eyes and nude lips. 
Flare in a Lehenga
Looking for lehengas for engagement? Well, it is one such attire that can be worn at every wedding function. It suits every body type and gives flare to your look without any efforts! Keep it traditional or offbeat, you can never go wrong with a lehenga. Don't believe us? Let's make it easy for you! Check out these brides who wore stunning engagement lehengas. We're sure you'll love them.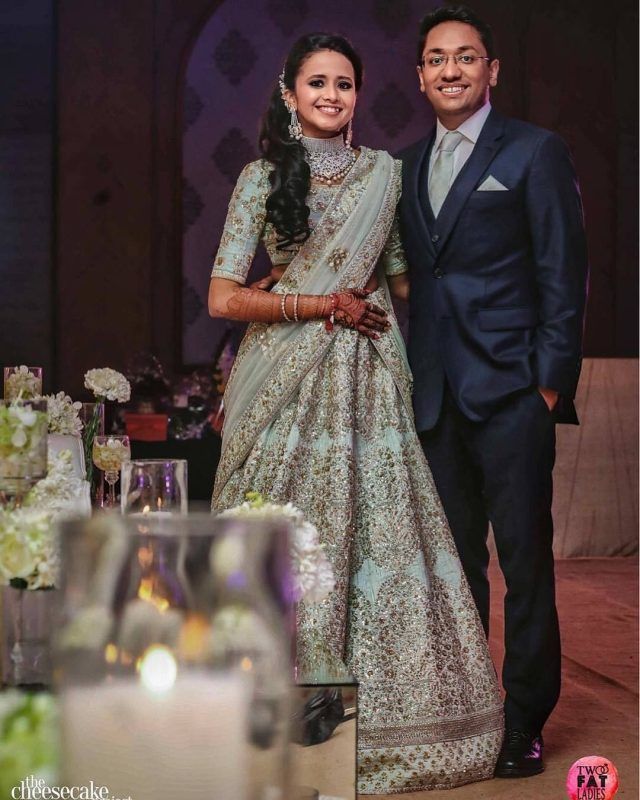 Image via Two Fat Ladies
For her engagement, this bride chose the traditional way by wearing a heavily embroidered lehenga and draping the dupatta like a saree pallu. Love how she paired it up with a chunky diamond choker set and got her hair styled in a half updo.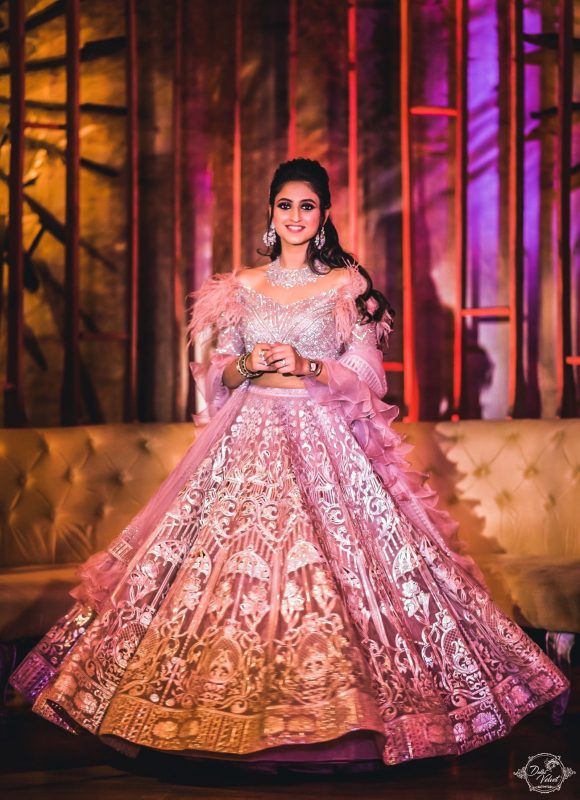 Image via DelhiVelvet - By Divishth Kakkar
Oh myy! This engagement lehenga screams modernity and class. From blouse with feather details to a ruffled dupatta and a lehenga skirt with foil work embellishment, this bride totally exuded #ModernBride goals.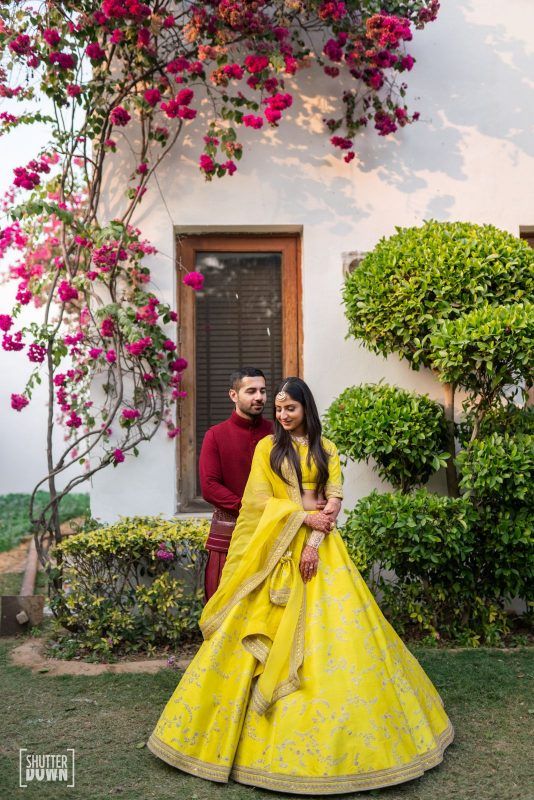 Image via Shutterdown - Lakshya Chawla
We've seen many lehengas for engagement, but not one like this one! It's fresh and enchanting, and if you're already wearing a red, pink or gold lehenga for wedding, then how about picking a lime green engagement lehenga! It'll be an unusual choice and will make you stand out from mainstream brides that we see on internet.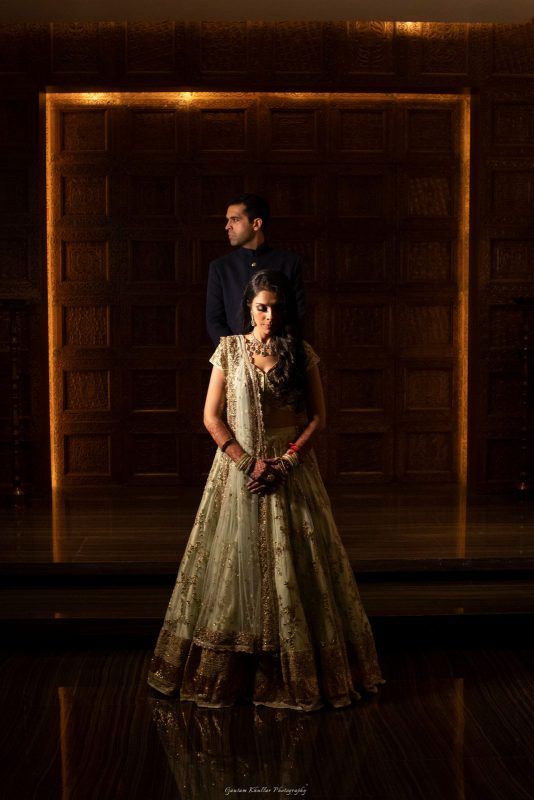 Image via Gautam Khullar Photography
How often do you see brides wear off-white? This one did and looked beyond gorgeous in her engagement lehenga. What more can we say? Pure love!!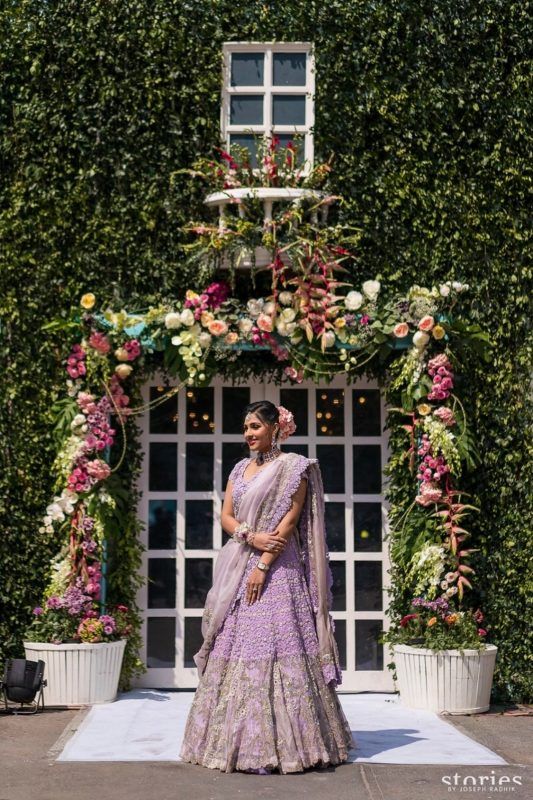 Image via Stories by Joseph Radhik
Brides wearing purple is raging trend these day. But don't we all just love a softer take on this hue? An outfit in subtle mauve or precious lavender will make you look extremely stylish. Looks like we know why more brides are picking this color for their pre-nuptial ceremonies! Without a doubt one of our favourite engagement lehengas, on this list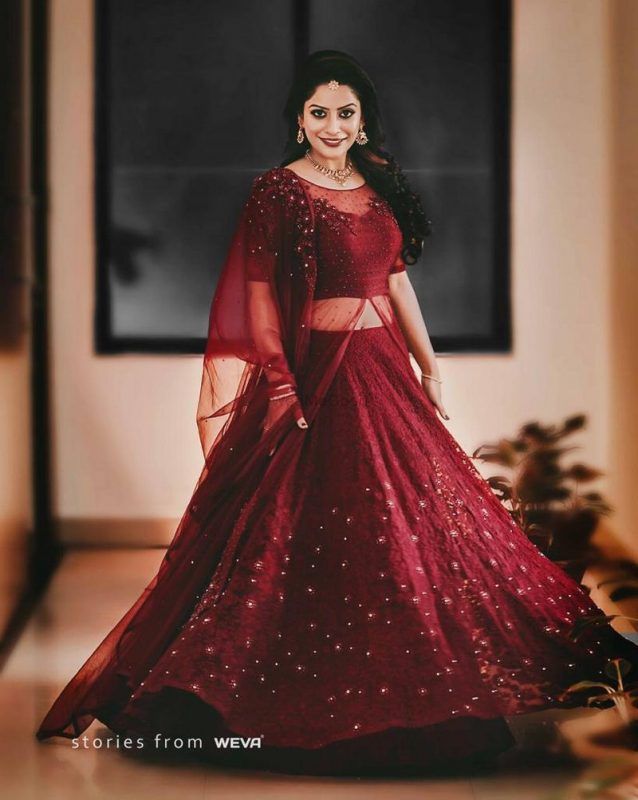 Image via Weva Photography 
Engagement is that one ceremony which allows you to go ahead with a simple and lighter outfit. Just like how this bride did, she picked a dark hued lehenga with minimal embroidery and net work. This allows you to be at ease during the event and enjoy without stuggling with your outfit. 
Flamboyance in an Engagement Gown
Thinking engagement dresses wiith class, flamboyance and drama? Then all you need is an engagement gown. Trains are trending, thanks to PeeCee's stunning white gown with a really looooonngg train. So you know the drill, get one added to your gown! One's with a dramatic silhouette ensures that you stand out from the crowd. We've curated a list of brides who wore gowns for engagement, for you to see and take a screenshot for inspiration.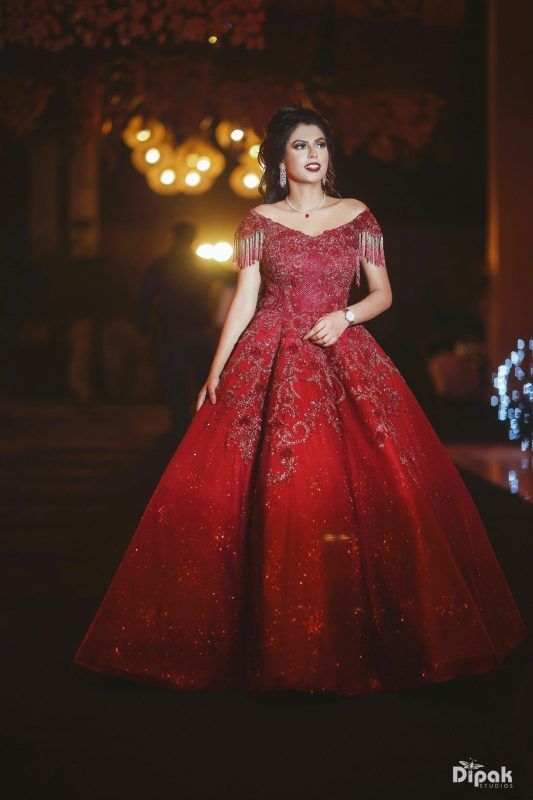 Image via Dipak Studios Wedding Photography 
This bride wore a ball gown for her engagement. Loved how she stuck with a wedding hue like red despite of it being a totally western silhouette. Superb amalgamation!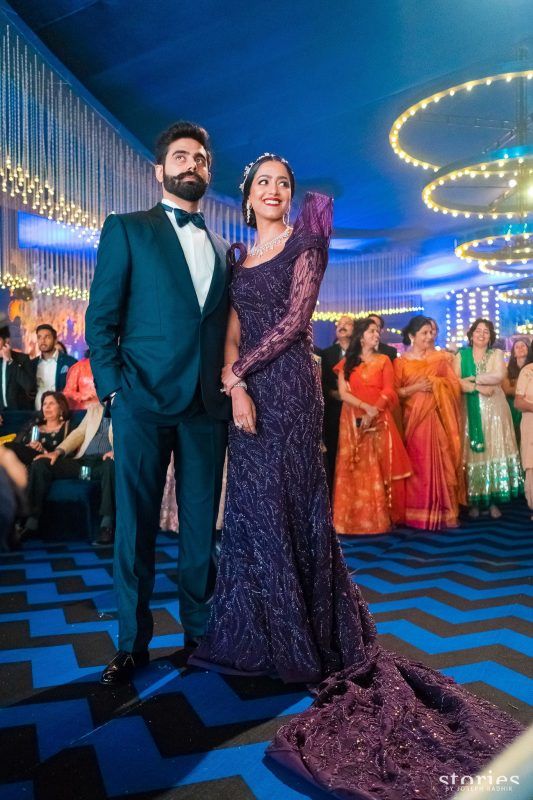 Image via Stories by Joseph Radhik
Woah!! The structure around the shoulder and the beautiful train indeed makes this gown extraordinary. The bride has styled it beautifully with a sleek low bun, accessorised with a headband! Inspired already, ladies?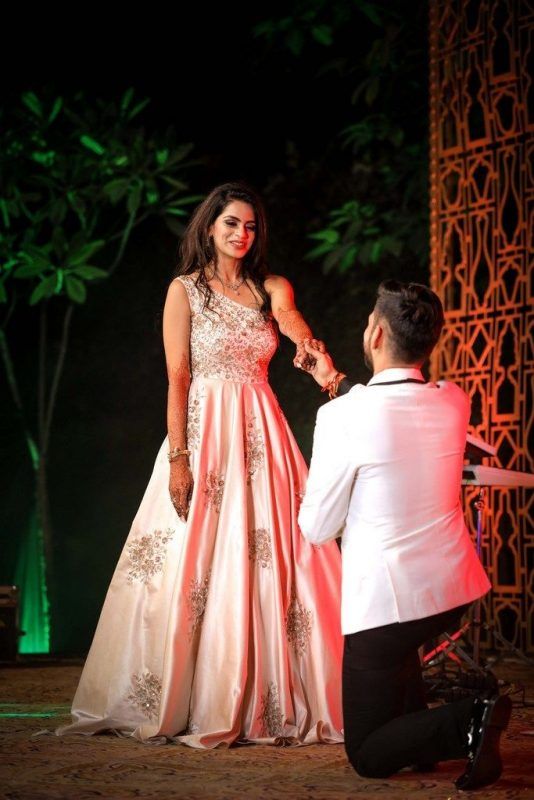 Image via Pinterest
Wearing white for your engagement? Hell yass! This bride broke the norm of 'a bridal outfit cannot be white' with total sass! Also, did you notice that one shoulder neckline? Stunning, isn't it?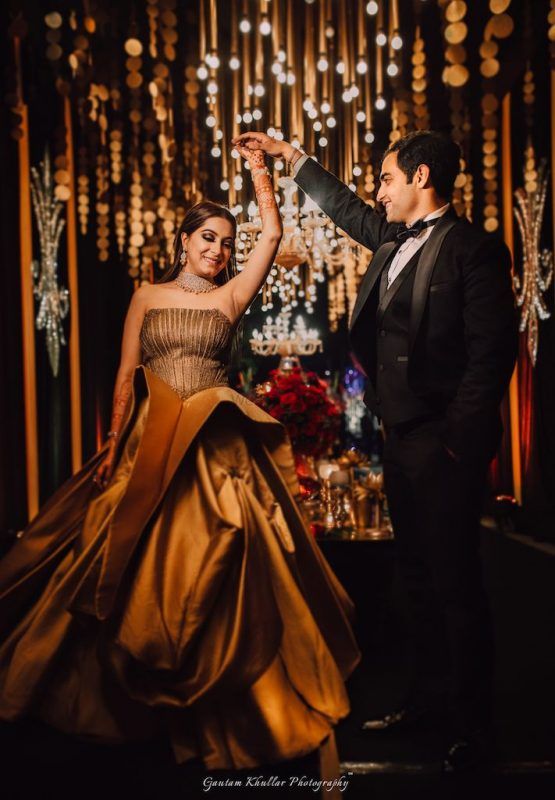 Image via Shantanu & Nikhil 
This is one of our favourite engagement dresses on this list! Found the asymmetric structure, off-shoulder neckline and eccentric color quite interesting for an engagement gown. So, if you wish to wear something bold and chic, then a gown like this would a great choice.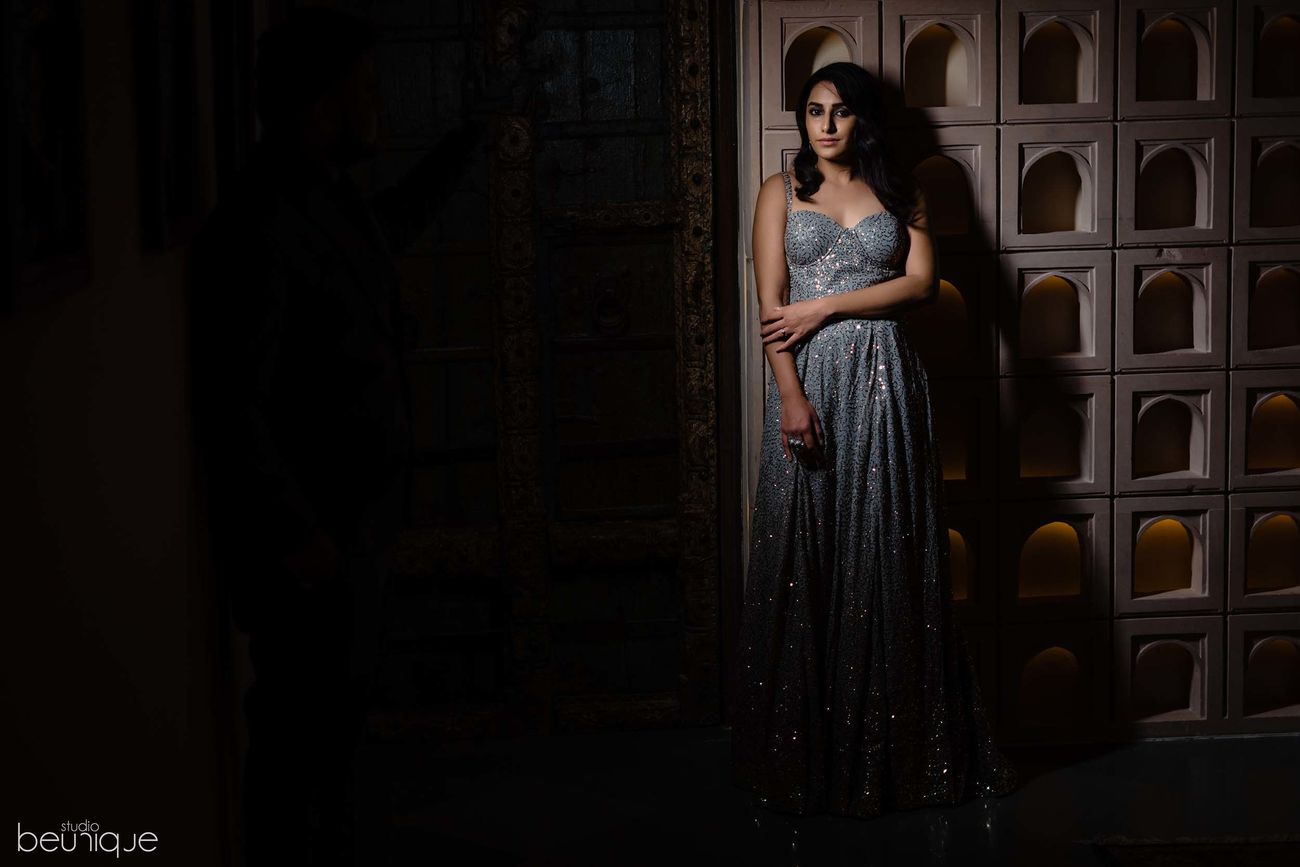 Image via Studio Beunique
This bride picked a grey gown for her engagement which had a very interesting yet bold neckline! This one is simple and subtle, yet looked so sassy.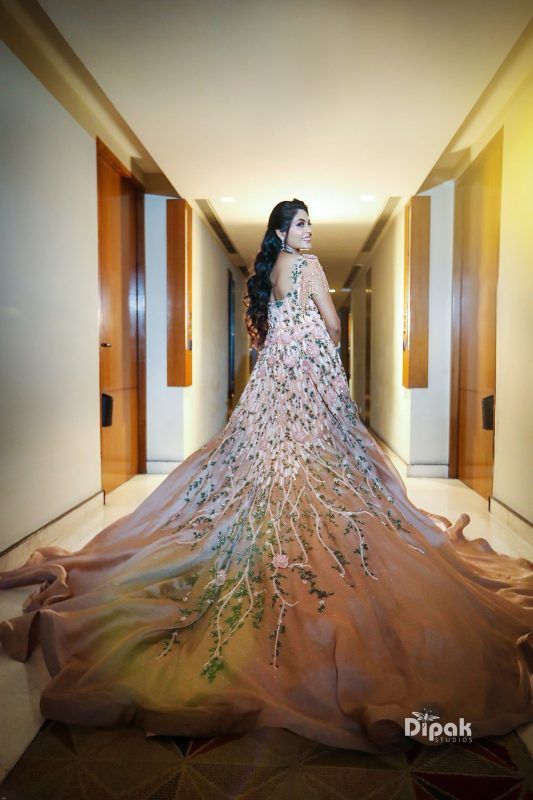 Image via Dipak Studios Wedding Photography 
Elaborated and how! This one has a huge flare, and we believe that's what is really amplifying it as an exceptional engagement outfit. If you can pull off an engagement look like this, then wear it and flaunt it!
Tradition in a Suit
We don't often see brides wearing suits as engagement dresses, but these brides proved us wrong. It won't be wrong to say that they restarted a trend (that died a few years back)! If yours is an intimate event, then a sharara would be great pick or you can go extra and twirl around in an Anarkali suit! They exhibit a princess-like vibe, while being traditional in nature. So would you go ahead with this mix of modern meets traditional?!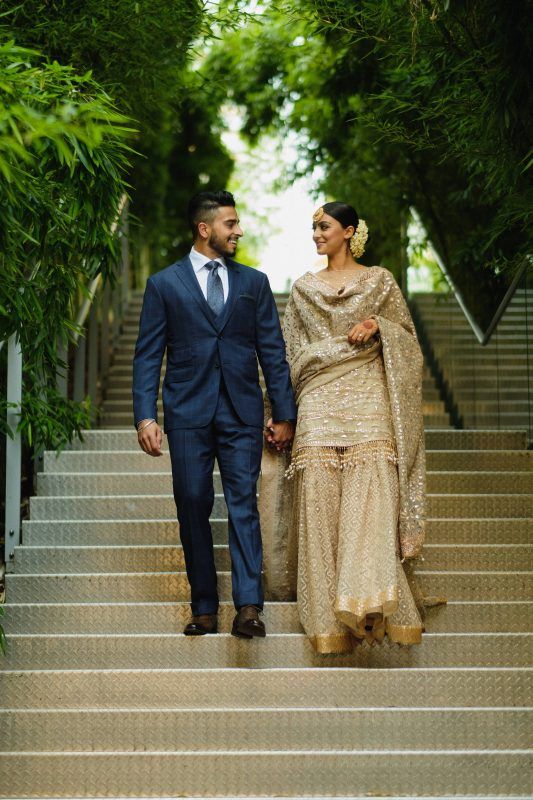 Image via Pardeep Singh
This engagement got really viral as soon as the pictures surfaced on Internet, majorly because the bride wore this stunning dull gold sharara and styled it in the simplest possible way. Whoever said you always need grandeur and magnificence for your bridal looks didn't see this coming!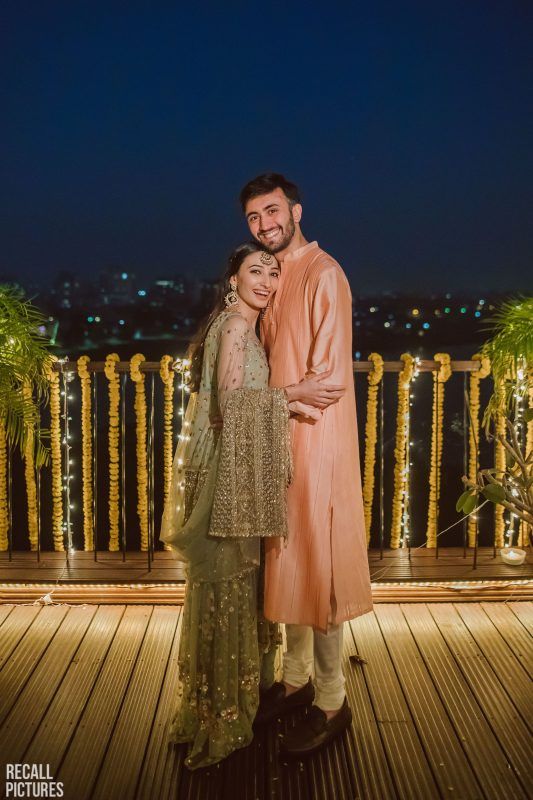 Image via Recall Pictures Photography 
Oh wow! Looks like it's raining shararas for engagement these days. Love the effortless hairdo and the detailed embroidery that didn't look over the top at all.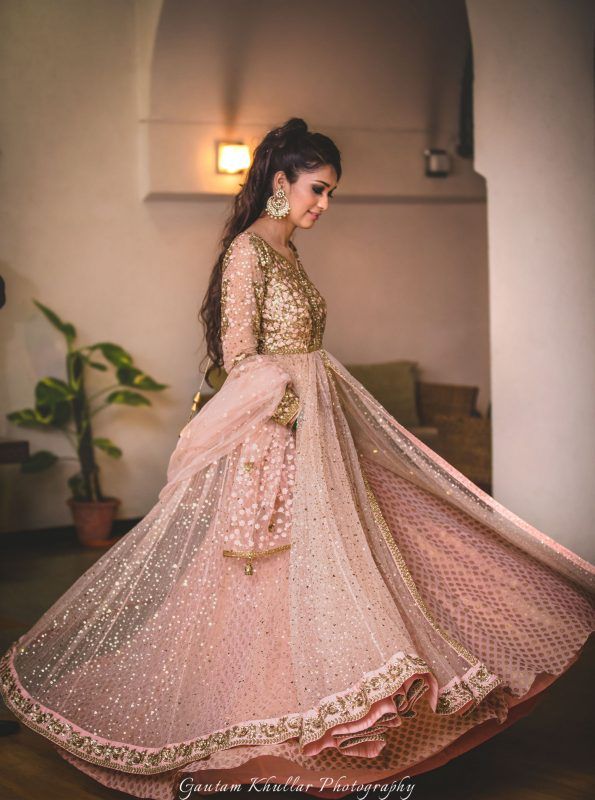 Image via Gautam Khullar Photography
Anarakali Suits are a great pick if you want an elaborated yet comfortable outfit for your engagement. This bride wore one with peach base and shimmery gold work all over. Kept the hair lose in soft waves and instead, chose smokey eyes for makeup to balance out.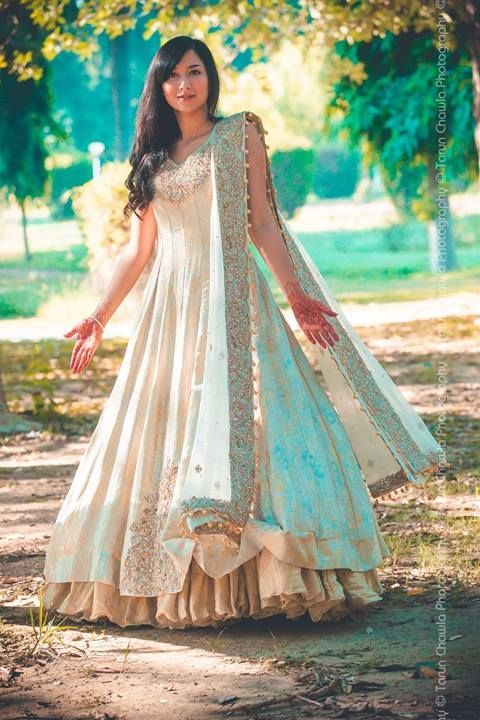 Image via Sonia and Harry's Engagement
One can never go wrong with a classic style and this bride did not disappoint us with her Engagement look. She wore a long kurta with flared pants and looked like an epitome of simplicity. Loved how she kept everything natural!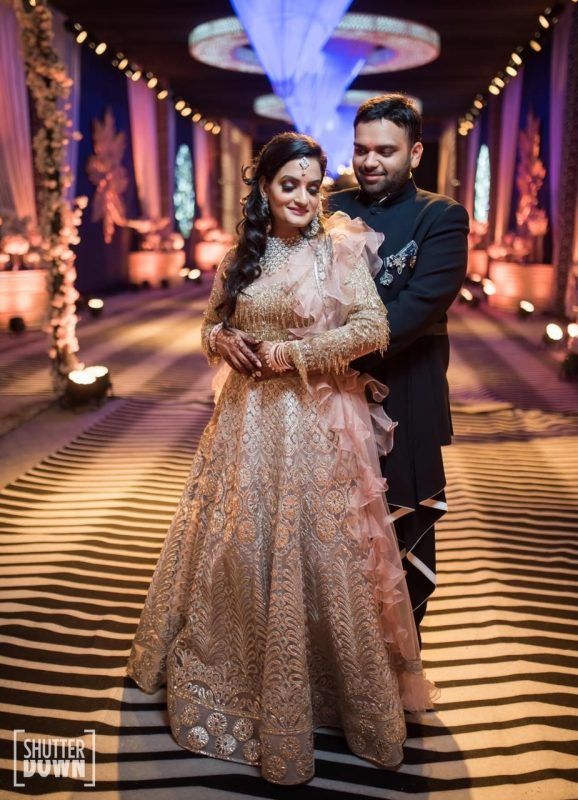 Image via Pavitra Jewellers
A mix of traditional with creative element made this engagement dress stand out for us. She paired her floor length anarkali with a ruffled dupatta, and looked like a glam queen!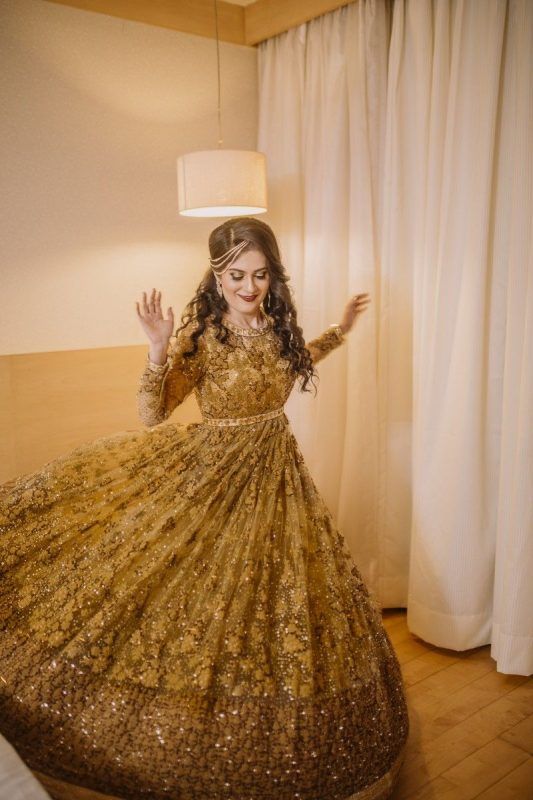 Image via Shobhit and Khushboo's Engagement
Yet another modern anarkali that we spotted on a real bride! This bride ditched the dupatta and opted for a belt to accentuate the waist. Btw totally rooting for that sleek hair accessory. What a stunner!
Eccentricity in an Offbeat Engagement Outfit
The list of Engagement outfits would be incomplete without something offbeat! With modern brides pushing their boundaries and putting so much efforts in their looks, their are many who end up wearing never-seen-before attires. Trust us, we're always awestruck with their creative minds. It takes guts to wear something that isn't mainstream and flawlessly nailing them. Here are some brides who did the same!!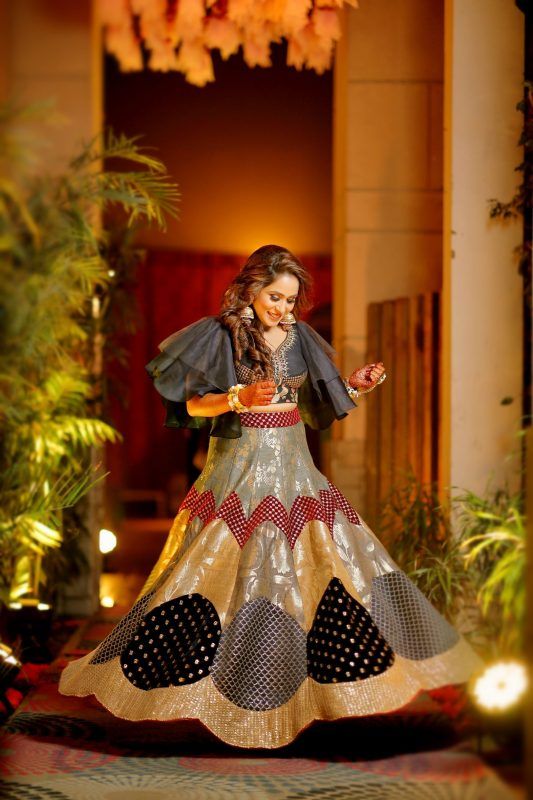 Image via Lakshya Manwani Photography 
Would you dare to wear something OTT for your engagement? How about a top/blouse with drama sleeves paired with a contrasting skirt! Innovative, right? Plus, the patch details on the skirt look so beautiful with that twirl.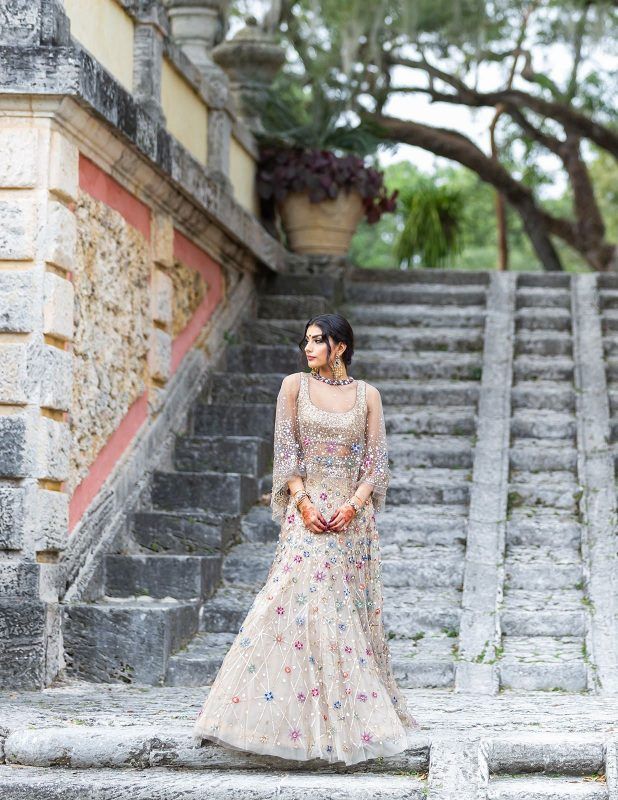 Image via Blink & Co Photography
This real bride wore a stunning cape-skirt combo for her engagement and we couldn't stop staring at her pictures! The hue and the minimal vibe - who thought it look soo beautiful?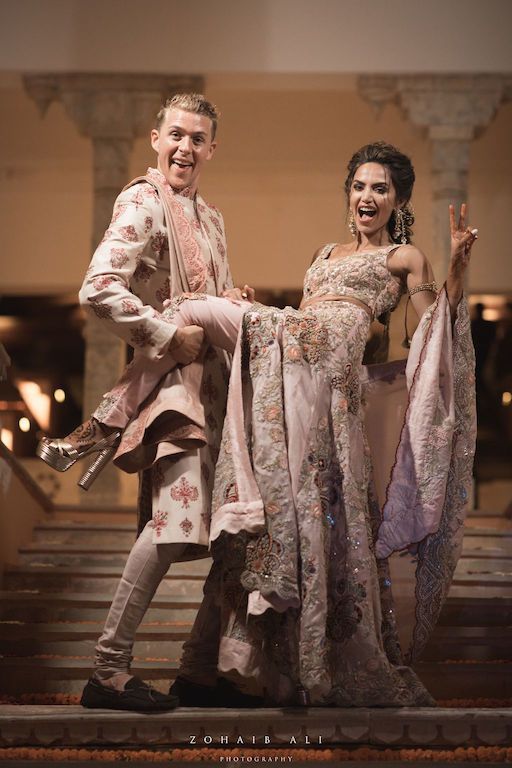 Image via Zohaib Ali Photography
Plan to wear something off-beat? You really need to take notes from this bride's outfit! It had a blouse paired with pants (psstt.. with a detachable skirt) and a heavily embroidered stole. messy hairdo and waterfall earrings made it soo unique.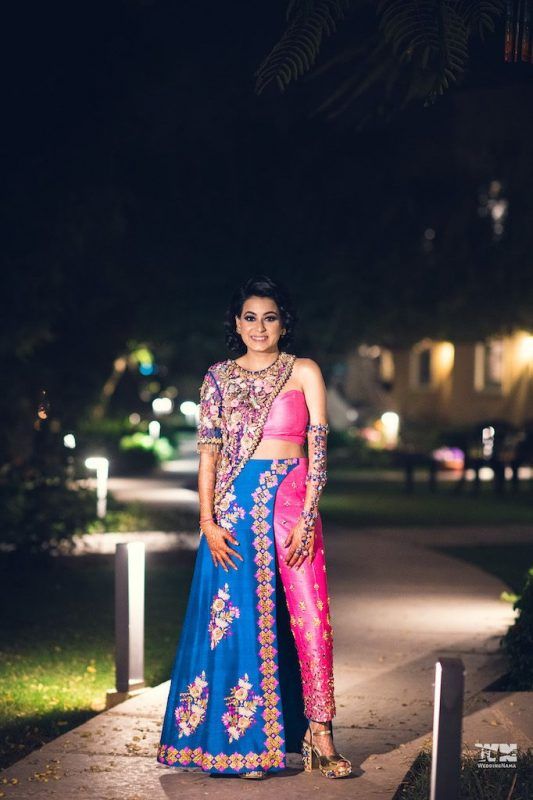 Image via WeddingNama 
Not every bride can pull off something like this! A really innovative piece of creativity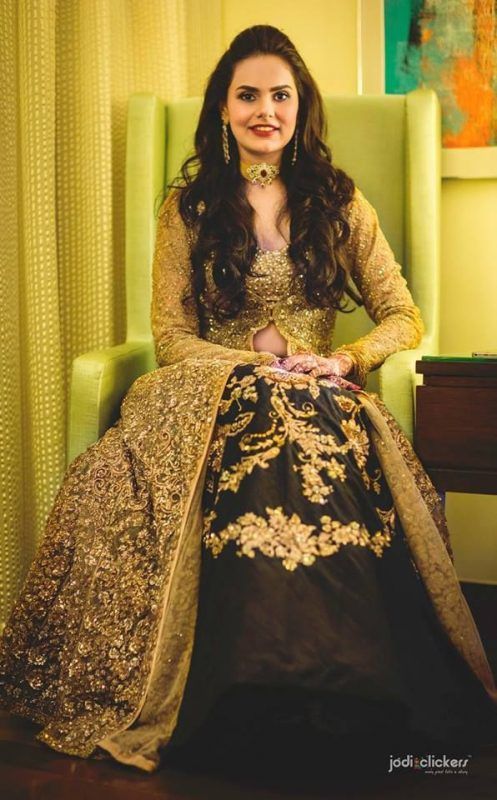 Image via Jodi Clickers
Another unusual silhouette we spotted, where the bride wore a skirt with a long jacket. Loved how she kept a contrast between the two for a bold and trendy look!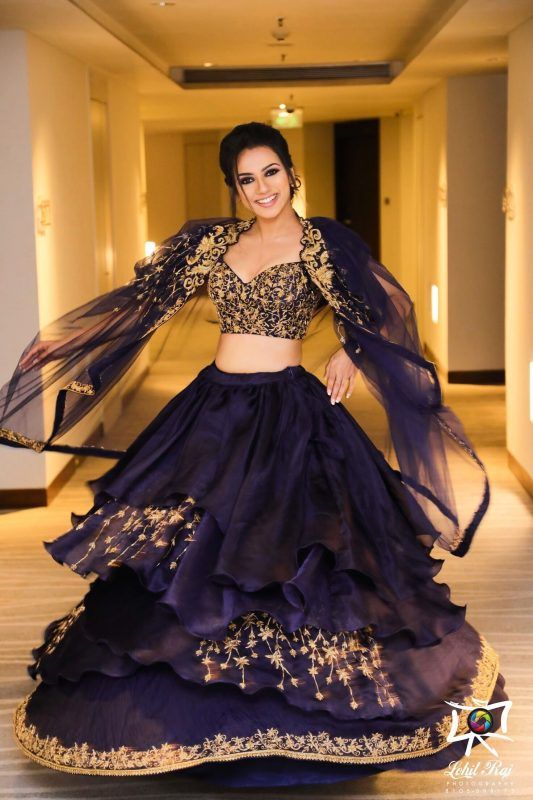 Image via Mahitha Prasad
Did someone say engagement dresses with an unconventional vibe? Well, here's one style - tiered skirt, intricately embroidered blouse with dupatta-like sleeves, there's nothing that wouldn't love about this outfit.
Aren't those too many engagement dresses already? And beautiful ones, we must say! 
So, what do you plan to wear on your engagement?