#MakeupDiaries: Makeup Mistakes No Bride Should Make!
BY Apoorva | 24 Feb, 2017 | 5629 views | 4 min read
So okay, you spent most of your twenties testing out the latest lipstick colour or the newest false eyelashes and that is perfectly acceptable, but your wedding day is not the day to do it my friend . With all of the planning and preparation that goes into your big day, you want to look back on your time as a bride with smiles, not with regret for the makeup you wore on the biggest day of your life. These makeup mistakes are super common, so avoid making them.
Image via Shades Photography★ 4.3
Forgetting To Buy The Same Lipstick Shade Your MUA uses
 – Your MUA will leave once your makeup is done so you will have to touch up by yourself. Buy the same shade of lipstick that the MUA has used on you, have blotting paper, q-tips and some loose setting powder in your emergency kit!
Plucking Your Eyebrows On The Wedding Day
- If you wax or have your eyebrows plucked professionally, make your appointment several days before your big day.
Forgetting Your Brows
- Your brows frame your eyes and can truly change the entire look of your face. Aside from having them professionally done before the wedding, you're going to want to define them with a brow powder. Follow the natural shape of your brows with a powder that matches your hair colour.
Forgetting To Moisturize
– Applying makeup on dry, flaky skin doesn't make sense! So always use a face mask the night before and use a moisturizer before applying makeup
Not Using Waterproof Mascara
- This mistake goes for wedding attendees as well as the bride, but not using waterproof mascara is possibly the biggest mistake you can make. Weddings are emotional celebrations, so tears are almost guaranteed.
Forgetting To Exfoliate Before Lipstick
- Use a sugar scrub and your toothbrush to buff away dead skin and put a moisturizing mask on your lips overnight to make lips soft and smooth for application on the morning of your wedding.
Forgetting The Rest Of Your Face
- If you're wearing anything that exposes your chest, arms, back, or legs, you're going to want to address those areas with a non-transferable shimmer lotion. Otherwise, you run the risk of your skin looking flat and blotchy.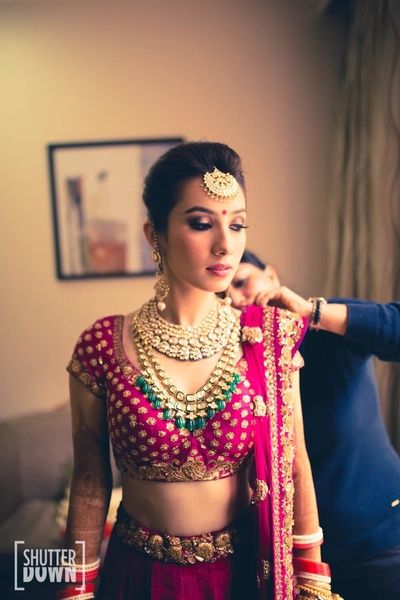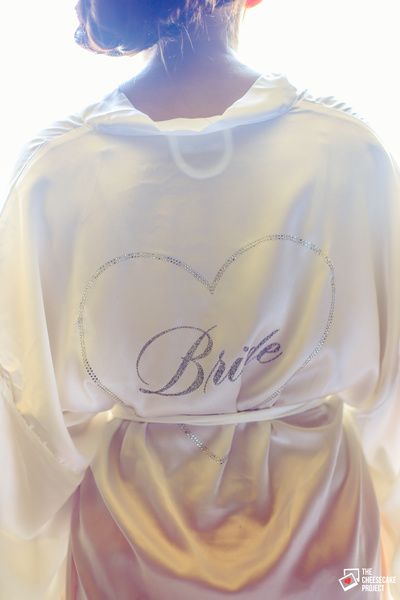 Image via Shutterdown - Lakshya Chawla★ 4.9 & The Cheesecake Project★ 4.9
Not Covering Over Your Face
- Most brides wear lehengas these days, but if you're wearing a dress you need to put on over your head, be sure to use a covering like a large canvas makeup bag over your head to avoid getting makeup on your dress. Similarly, remember to wear a button down or zip-up shirt when you're actually doing your hair and makeup.
Letting hair strands stick out :
Those little flicks may look lovely in messy pinterest up-do's but if you live in a warm climate, then these hair strands can get oily or frizzy and look very untidy on camera. If you are getting married in the summer, try and keep your hair away from your face.
Not Using Blotting Sheets
– Your base can solve some oily skin issues, but be sure to have oil blotting sheets with you for touch-ups throughout the day. You don't want to be shiny for pictures.
Not Taking Your Look In Consideration
– Your makeup should blend in with your outfit as well as your hair. A smoky eye doesn't look good if you have a very traditional outfit on your wedding day. Tell your MUA or best, carry your outfit to the trial if you can.
Wrong Eye Shadow Shade
- We all love dark eye shadow, but save it for girl's night out. A smoky eye can look beautiful on your wedding day as long as it's blended and the colours are within a natural colour scheme like browns, tans, creams and taupes.
Experimenting
- This isn't the time to experiment with makeup. If you never wear a smoky eye, this wouldn't be the day to wear one. You should look like the best version of yourself, simply accentuated with makeup.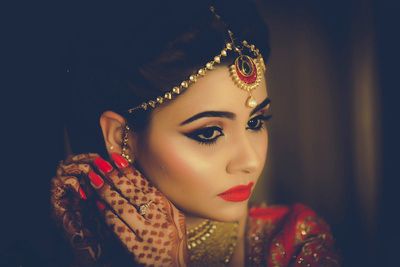 Image Via

Happyframes
Overdosing On Highlighter
- You probably want to look like a glowing goddess on your wedding day, but you need to keep your forehead and upper lip matte. Be sure to only apply highlighter on your cheekbones, the bridge of your nose, and on the inner corners of your eyes.
Hiring 'A Friend' As Your MUA
- Your friend who's great with makeup may actually be great, but if you get all made up and you're not happy with the result, telling a friend you don't like something can get ugly. Stick with a professional whose feelings won't be offended if you want to alter what they've done.