Photographers Reveal: One Tip for Romantic Photos!
BY Sakshi | 21 Sep, 2017 | 4336 views | 3 min read
Yup, we are talking about photos where nothing matters- not the decor, not the outfits and not even the ring- photos where it's just the two of you and nothing but your chemistry! So we asked some of the leading photographers to give us a trick or two you can apply for amazing, super romantic photos- so if you have your pre wedding or even wedding coming up, put their wisdom to good use!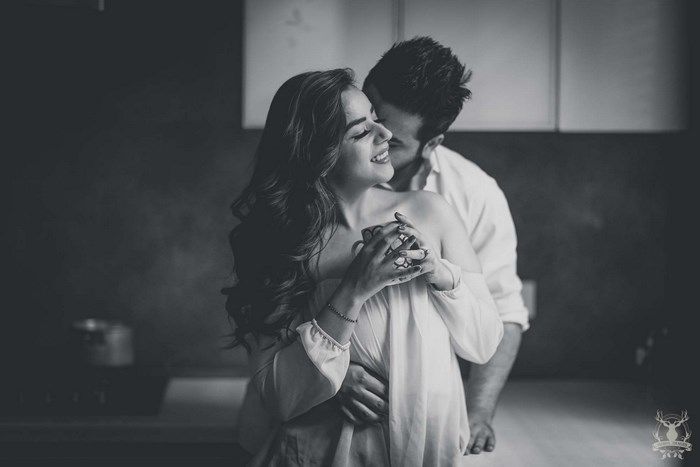 Image via Morvi Images Photography
Tip 1: Play your special song and eliminate the audience
Gautam Khullar Photography★ 4.8 : "It's very important to brief the client about what mood I want considering the location and background. Working on expressions, the positioning of the hands, hair etc are all the tiny little thing that steam up the picture. Usually girls are and they are the key in the picture, their mood and expressions are what that matter the most. Setting up the right mood is very important after all it all boils down to a fraction of second and it takes one picture to get it all! Playing a romantic song can be very helpful. Maintain your privacy and if the right picture is not coming eliminate the extra audience. I usually ask the couple to be alone for such shots, no friends sister or brother as that can make them conscious. For me privacy is the key!
Tip 2: A bit of wine helps
No you shouldn't get drunk but a wee bit of wine can help you loosen up - specially the guys who can get conscious !
Tip 3: Just enjoy with your partner
Picsurely Films★ 4.9 : "Be yourself, enjoy each moment with your partner, just forget someone is capturing your photos."
Tip 4: The sunlight streaming through works
Let sunlight stream through the window hitting your face, or just have a soft stream of light coming through for romantic pictures
Tip 5: Convey your thoughts through the eyes
Royal Wedding Affairs★ 4.9 : "Talk to each other with your eyes. That's what really brings out the chemistry."
Tip 6: Forget about everything else
Dreamgraphers★ 4.7 : "I always ask my clients to forget about everything and feel the moment because that picture is for next 50 years."
Tip 7: Have a level of comfort with the photographer
Fairytale Weddings by Angad B Sodhi★ 4.8 : "A romantic photograph isn't so much about a location or outfits or any of the other things people spend so many hours planning before a photoshoot/wedding. As a photographer it is essential the couple gets so comfortable having you around them that they forget that you and your imposing camera are constantly capturing everything they do. If you can create this level of comfort with your clients they'll give you everything you need to capture that perfect moment where all they have eyes for is each other. "
ALSO READ: This Intimate Pre Wedding Shoot Is A Breath Of Fresh Air & Photographers Reveal: The Do's and Don'ts for Your Pre Wedding Shoot!