Sister Of The Bride Style – Rhea
BY Apoorva | 15 May, 2020 | 6362 views | 5 min read
When her sister's mehendi lehenga went viral on Instagram, what we noticed that Rhea wore some stunning outfits. And you all know how much we like a bridesmaid's style! Rhea donned seven looks for her sister's wedding and we loved them all. From jewellery details to outfits, we bring you all the looks that Rhea created and wore on her sister's Mumbai wedding.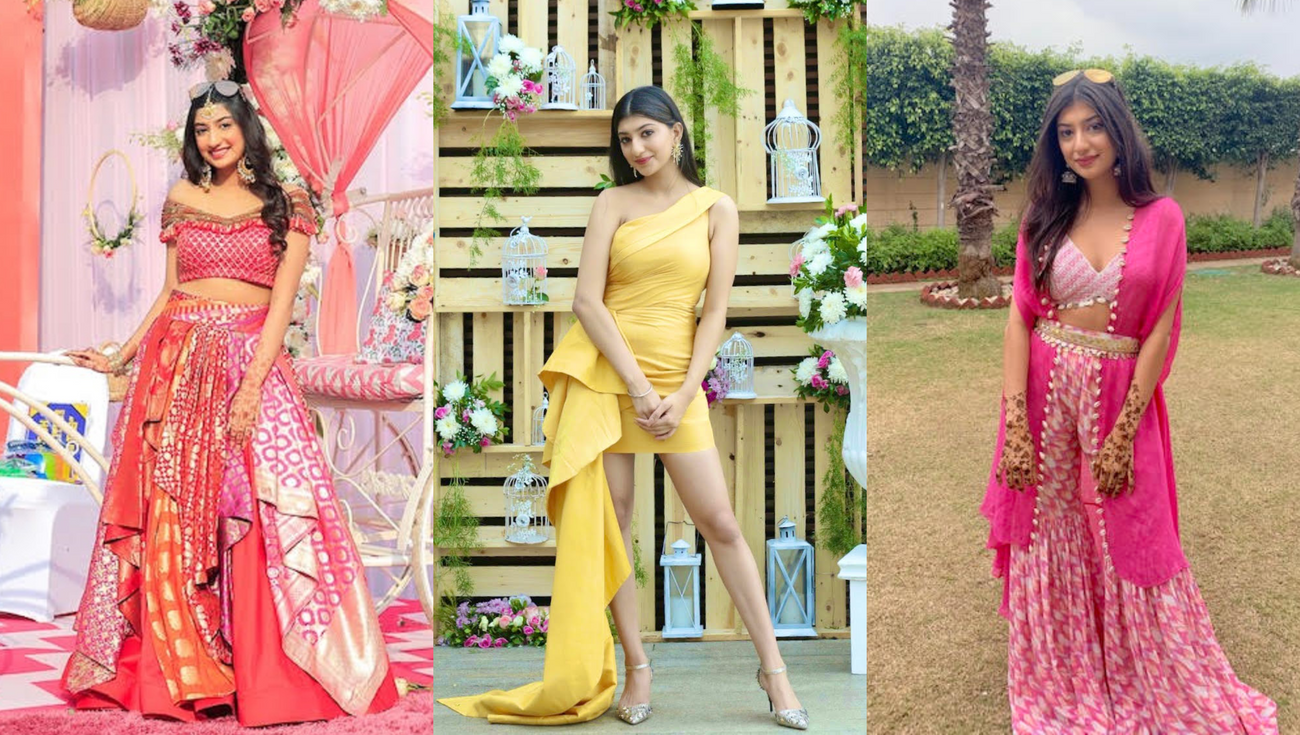 Meet Rhea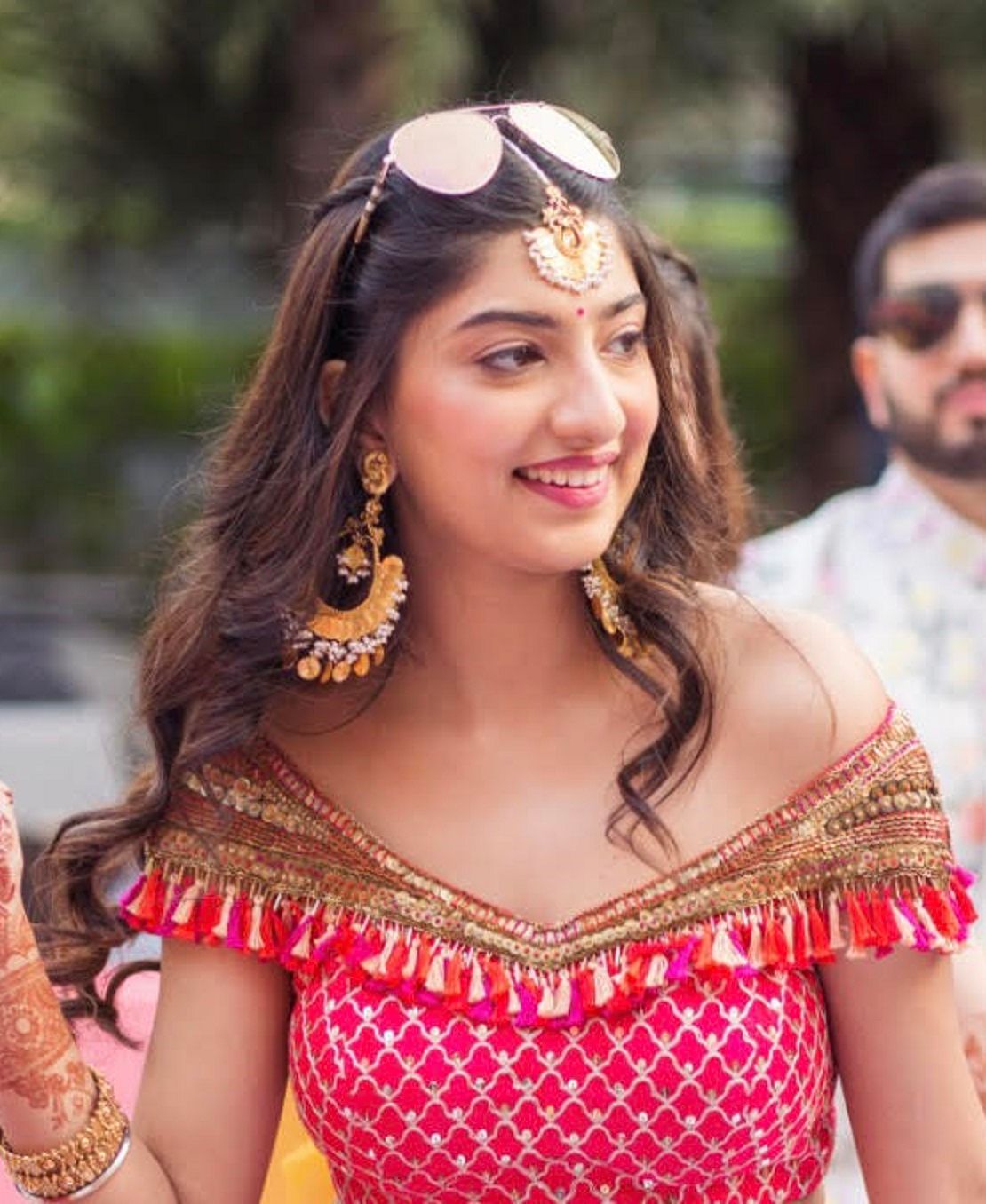 My sister's wedding was a big occasion for me so before choosing any outfit my main thought was that it has to complement my sisters outfits and go well with her and not overlap, hence I waited till she finalised her outfits before choosing my colours.
Look 1 – Bridal Shower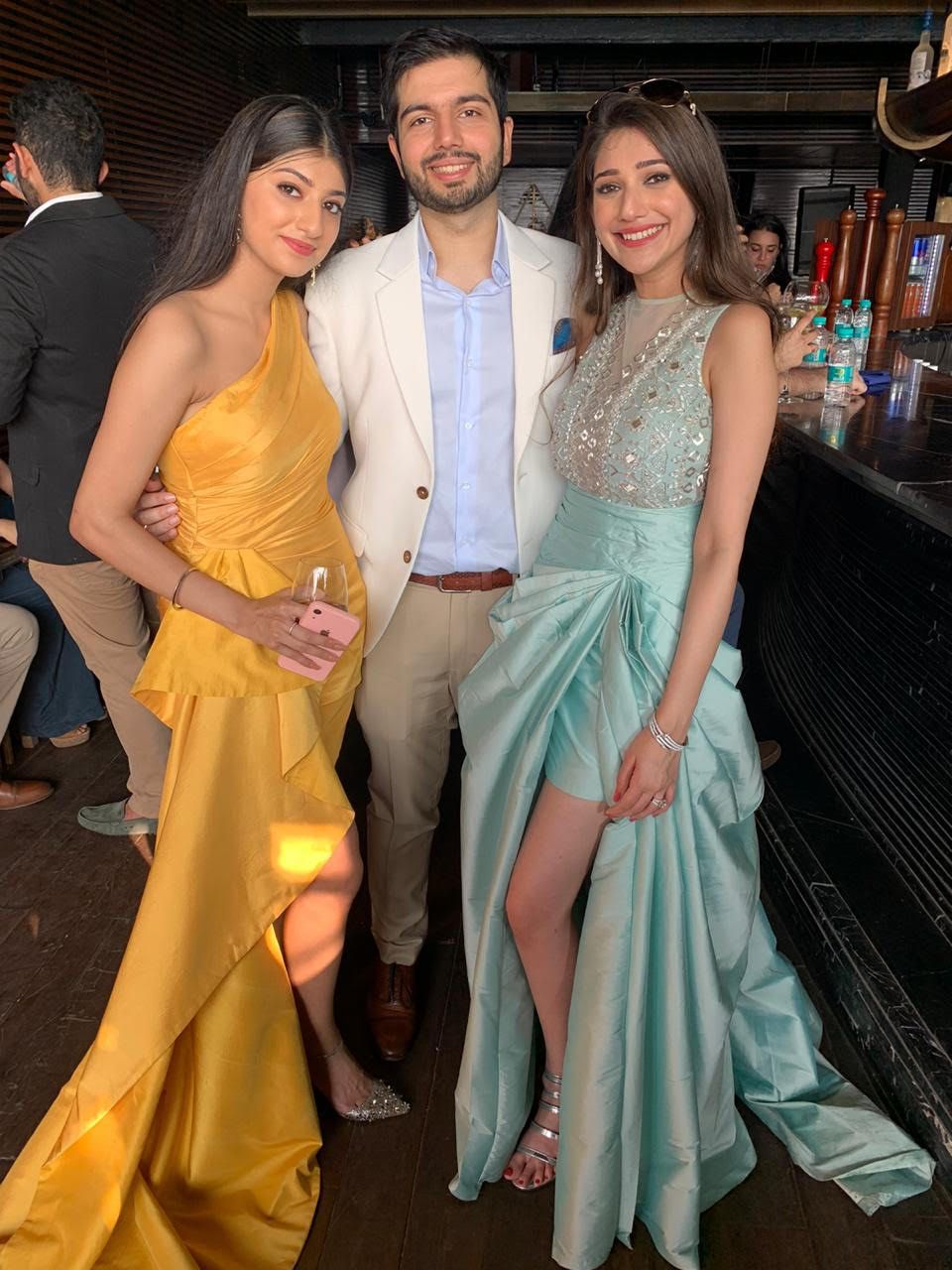 For the first look which was the bridal shower brunch at Estella in Mumbai, I wanted to wear something summery and fresh so I chose a bright chrome yellow dress from Antithesis by Amreen Sandhu with a dramatic trail that stood out. Amreen made me the outfit that resembled ME the most. Out of all my outfits it's safe to say that the yellow dress I wore for the bridal shower was my favourite and I can't wait to wear it again. The earrings were a statement piece from Anaqa jewels which added to the look perfectly! My entire makeup was done by Alina Khan Beauty
Look 2 – Welcome Lunch & Mehendi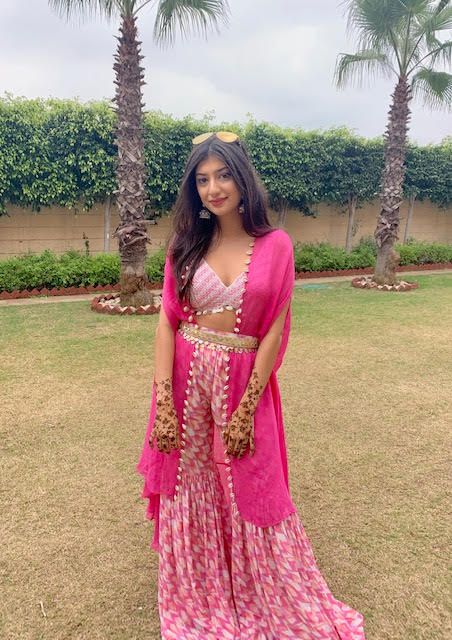 The mehendi and welcome lunch was the day our guests arrived in Amritsar and my sister and our close family applied mehendi. I chose to wear an easy breezy bright Anushka Khanna pallazo set which I picked up at Bridal Asia. I wanted the outfit to be comfortable as I had to keep moving around.
Look 3 – Cocktail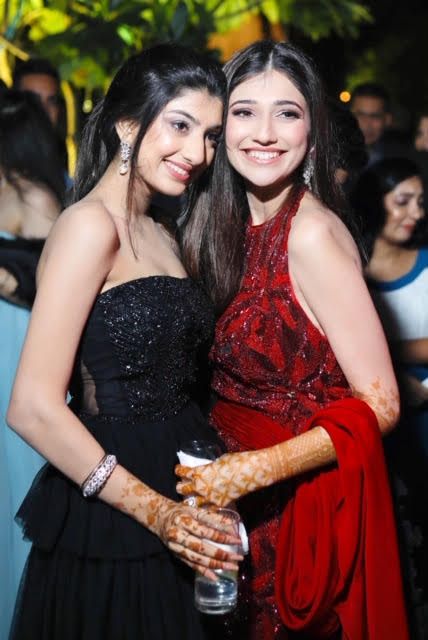 I love statement making gowns and Antithesis made me exactly what I was looking to wear for the cocktail. Being a black gown for a night cocktail, it still stood out in the crowd because of its embellishments and corset style top and tulles till the bottom. I paired it with simple diamond earrings and a messy pony tail. My entire makeup was done by Mannat Gill
Look 4 – Mehendi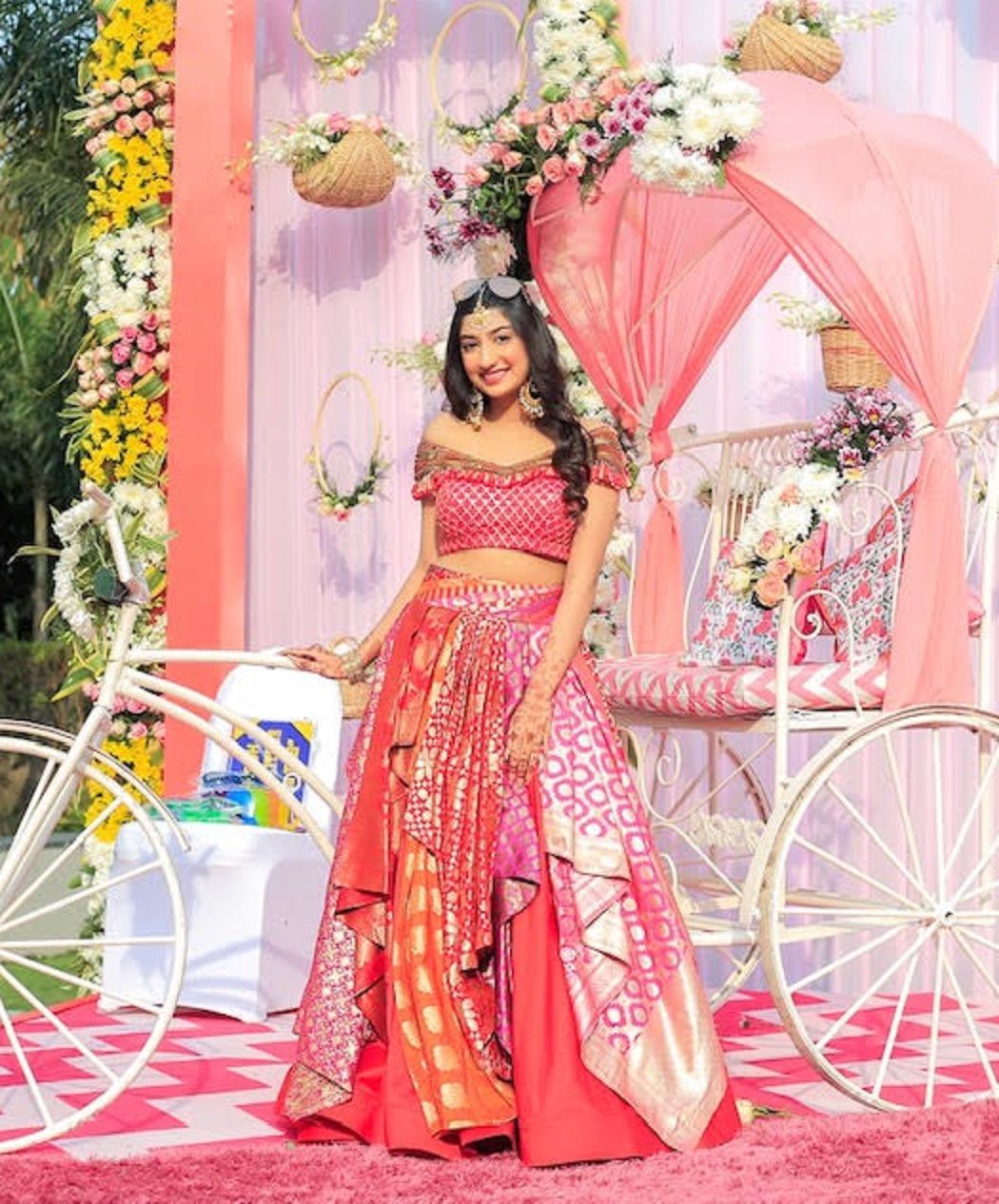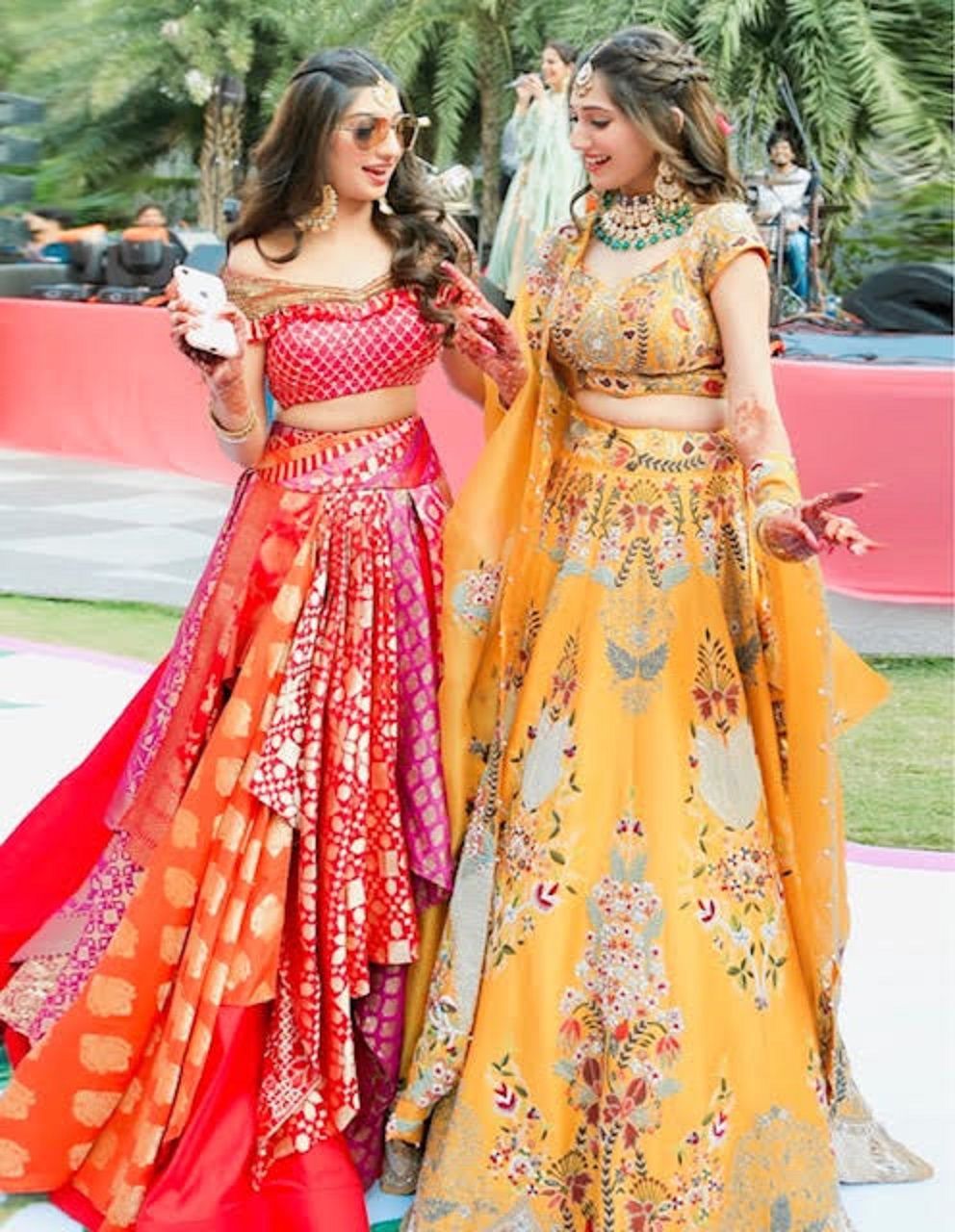 I don't usually like being caked with too much make up. I like to keep it natural and simple and that's exactly what Doll You Up By S★ 4.8 did for me. With her, I didn't even realise I had make up on. It was so light but still made me not want to wash it off ever! My hair was done by Ritika Kadam★ 5 . Since the mehendi was a big day function and I love pink I was completely sure I wanted to wear a trendy, fun and fusion pink outfit. I wasn't wearing banarasi at any other function so when I saw this Qbik★ 4.5 lehenga at Bridal Asia I knew this is what I wanted to wear for the mehendi. It was definitely the most comfortable of all my lehengas. I paired it with big earrings and mang tikka by Gudia Kawal Malhotra and Abhilasha Ganeriwal
Look 5 – Sangeet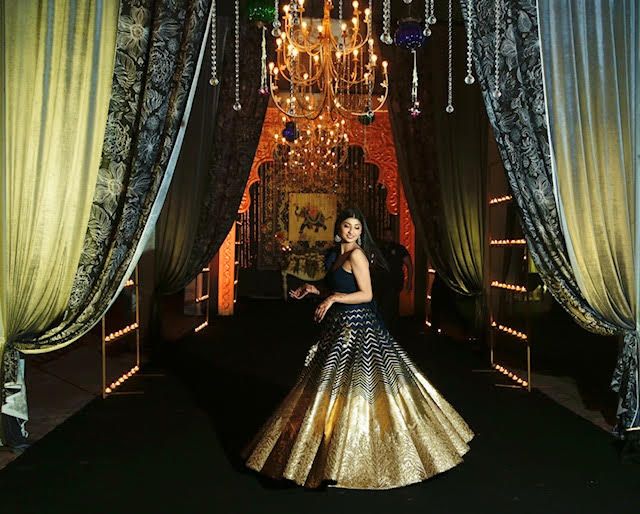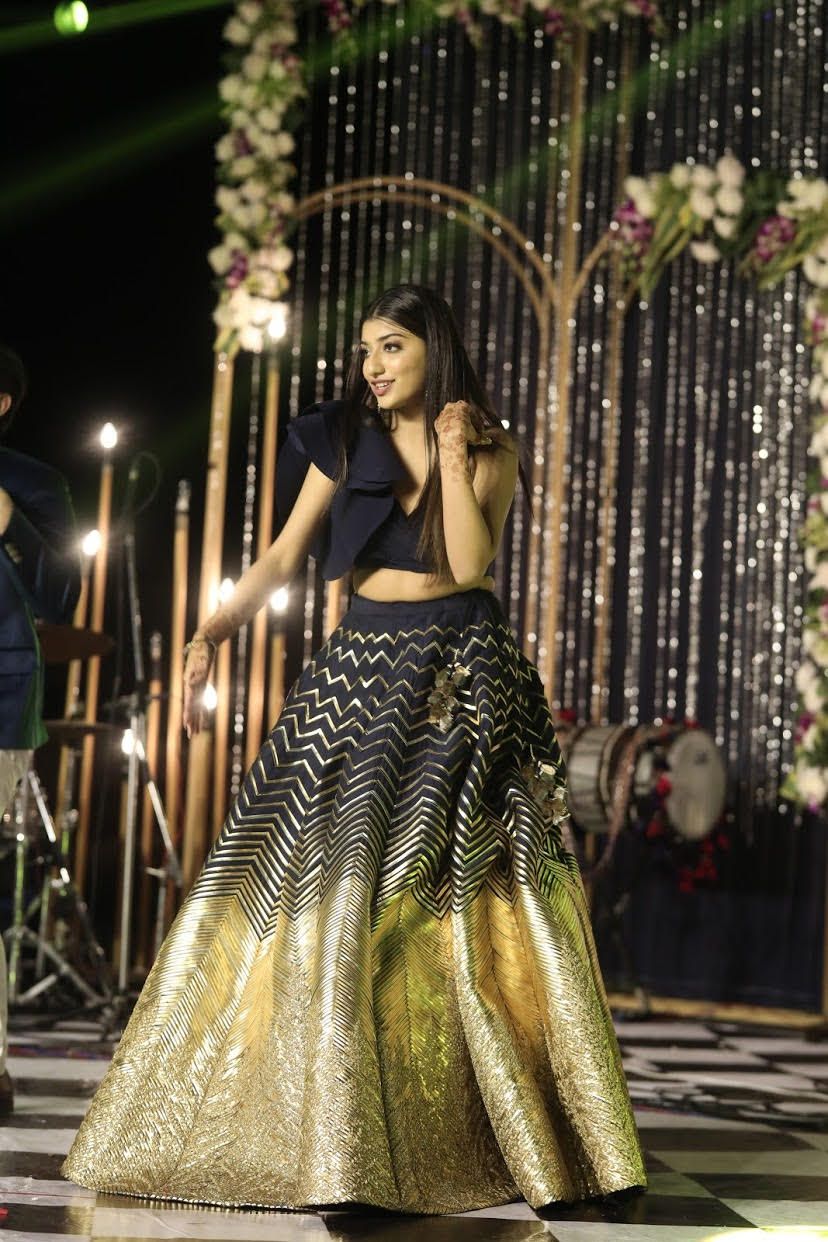 For the Sangeet, when I picked my outfit I was really unsure at first because it was a really statement making lehenga that really caught the eye. My sister literally convinced me and told me I have to get it the minute she saw me try it out. I took her word for it and I don't regret it for a second. The sangeet night involved maximum bridesmaid duties- from making sure the entire sangeet performance goes smoothly, being in almost all dances and MC-ing the entire act so I had to keep that in mind before choosing my lehenga. I went for bold glam eyes that Doll You Up By S★ 4.8 did beautifully for me and Ritika Kadam★ 5 gave me a sleek look for my hair which went perfectly with my not-so-traditional lehenga. The reason I loved this look so much was because I'm not conventionally traditional in my dressing and this outfit was trendy and loud.
Look 6 – Choodha & Haldi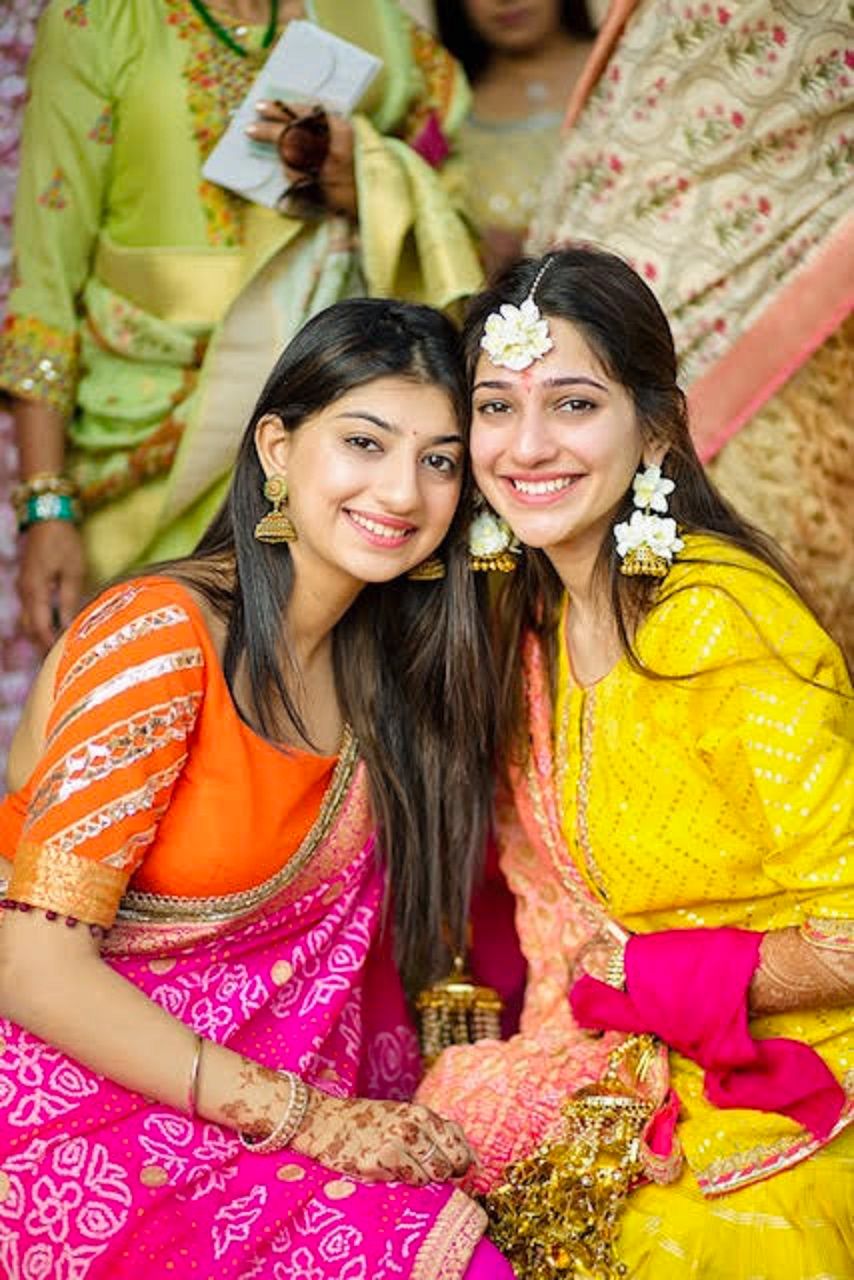 The choodha and haldi brunch had a bandhani theme and wore a stitched saree made by my mom. I chose my sister's chooda ceremony to wear a saree for the first time ever. I wanted it to be a special occasion to wear a saree for the first time and this was perfect!
Look 7 – Wedding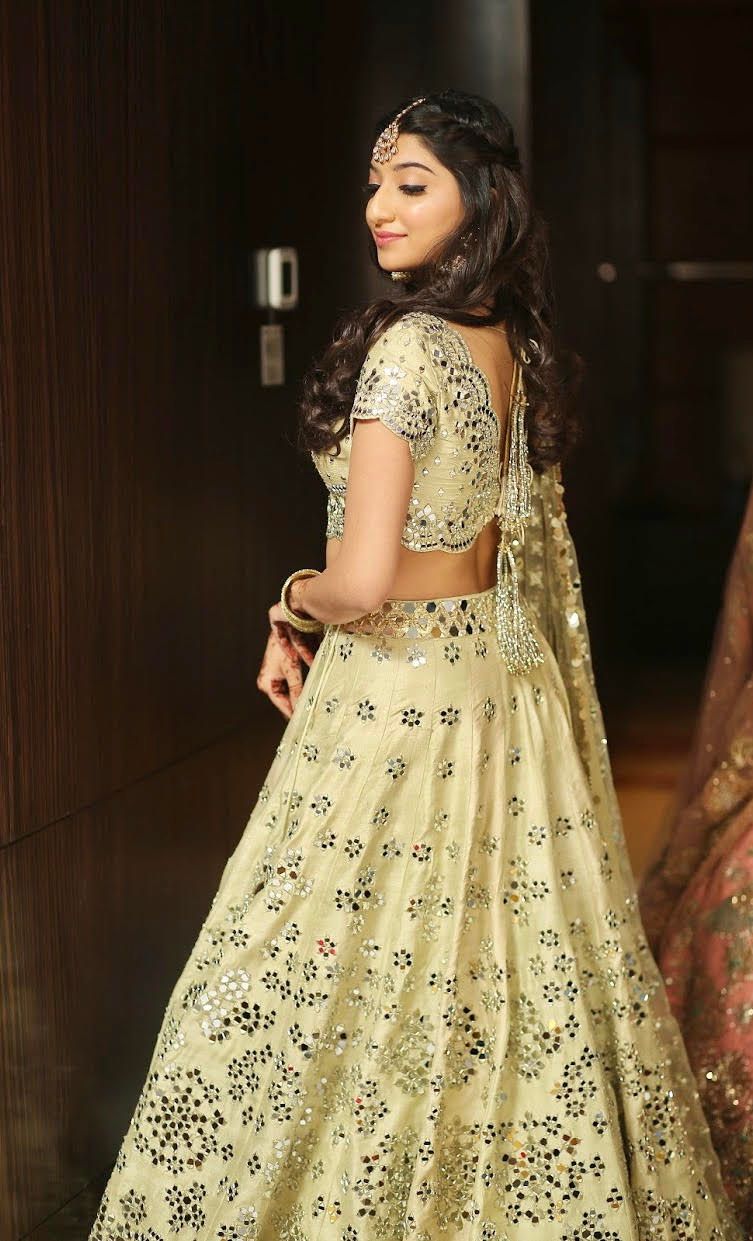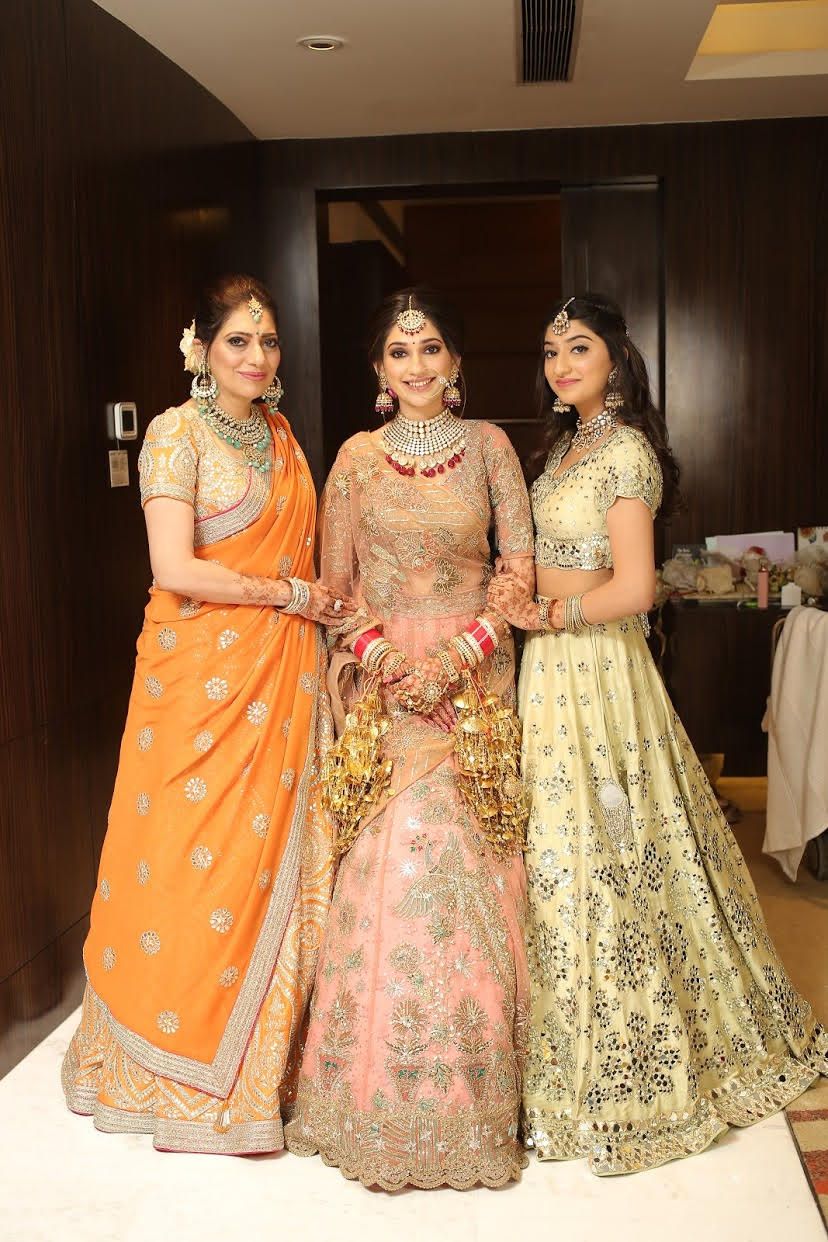 A year before my sister got married, I decided one thing for sure- that one of my outfits had to be Papa Don't Preach and one had to be Abhinav Mishra★ 5 I wore a pink PapaDontPreach at the engagement itself so I had Abhinav Mishra reserved for one of the main functions which took place in Amritsar. I went to Delhi specially to get my outfit because I love their mirror work. I was very sceptical about the colour of my lehenga because the wedding was an evening one but Abhinav spoke to me personally and convinced me to go for a mint pastel green colour. Taking that leap of faith was tough because I bought this lehenga right after it was released and I hadn't imagined it in any different shade. I wore a polki choker set with jhumkas and mangtikka to make it a completely traditional look for the Pheras. Ritika Kadam★ 5 gave me curls and flowers in my hair. Doll You Up By S★ 4.8 as usual did an amazing job! She was so sceptical about giving me a liner look (I don't usually apply liner) and when she did it for me it just turned out perfect the way both of us wanted to. I can't wait to get myself dolled up by her again!
Photography by Israni Photography★ 4.8
Want more inspiration? Check out Tuhina's sister of the bride style diaries!