The Ultimate Packing Guide For Your Honeymoon!
BY Sakshi | 21 May, 2019 | 1477 views | 5 min read
If Marie Kondo can teach you how to organise, WedMeGood can teach you how to pack for your wedding and your honeymoon... errr.. we can try! Yea, agreed we are way more sentimental about pretty stuff than she is, but if you are confused about how and what to pack for your upcoming honeymoon, then we are here to help! And no, we aren't gonna make you choose between the basics and your indulgences. So how do you pack right for your honeymoon? By picking up things that have multiple use and making the most of the available space (and baggage limit!).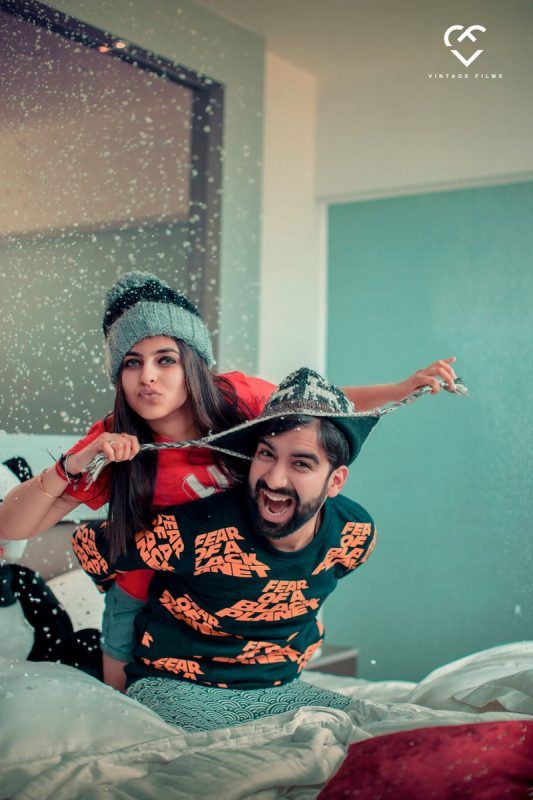 Image via Vintage Films ★ 4.8
So here are the tips and tricks for the ultimate honeymoon packing guide! 
Be smart and pack in advance
Can we also share a very very important tip with you that can practically be a lifesaver? If you're leaving for your honeymoon within a few days after the wedding, pack everything well in advance before the wedding madness hits, and trust us, you will be very very glad you did that! Two weeks before your wedding is a good time to pack your honeymoon suitcase according to us. 
Dress the part... even while on your honeymoon!
You might want to just laze around in tracks and sweats after the wedding and might not want to see another fancy piece of clothing for a while, but try to dress fancy on your honeymoon- by fancy we mean, make an effort! Some sexy lingerie and date night dresses are a must on your honeymoon. That said, make sure your husband makes the effort too! :P
Pack suitable clothes according to your destination, not 'cz its your honeymoon
While we are telling you to dress the part, you should still pack as per the destination. Don't pack a bikini to a ski trip just because you want a Insta-worthy photo in one! Your packing should have a lot of winter wear. If it's a tropical honeymoon, think light, airy clothes and that bikini we were talking about. If it's something like Australia, carrying a mix of breathable fabrics for the day and light jackets for the night is something that'll keep you sorted. 
Do a weather check for your trip
This is before packing, not the day before you're supposed to fly out. Check what weather conditions are expected to prevail during your stay, and 15 days before the trip should give you a fairly decent estimate of that. Pack accordingly if there are unexpected rains or a cold wave expected, or maybe it would be warmer than you thought?
Divide as per cabin and check-in luggage
That way you don't pack something important in check in which you would want at the airport and something that the authorities would take out of you cabin baggage! Pack your valuables like your passport, iPad, laptop, money, jewellery and medication in the carry on. A very helpful tip is to pack one pair of clothes for any unfortunate baggage delays or loss of luggage (yes, it happens more often than you can imagine).
Colour-coordination is a good trick to swear by!
If you don't want to look similar in your outfits, pay attention to the colours. Choose in three or four colour schemes, but make sure to vary the styles, shades and silhouettes. Do not carry all brights or all pastels- mix it up! Pristine whites look amazing and so do all black outfits, and a neutral outfit hardly ever fails when styled right.
Keep your accessories elegant and simple
Avoid bulky accessories, that might be a hassle to pack and wear. You can still make a statement with dainty accessories- you don't need a massive belt to do it! Keep your day bags light and simple instead of bulky ones too which are hard to pack.
Pack more clothes, and less shoes
Three pairs of shoes should be good enough for just about any trip! One pair of sneakers (white ones go with literally everything), one pair of comfy flats like loafers or ballerinas and one pair of dressy heels or flats if you prefer. Throw in some flip flops for a beach vacay too, and if your shoes are versatile, then that's half the job done. Do not carry any new shoes you haven't worn before!
Do not pack full size toiletries 
We know, you hate the hotel shampoos too, but you don't have to carry your whole bottle of shampoo and conditioner instead! Pack smart and transfer a quantity right for you in smaller bottles that you can buy from any pharmacy. When it comes to makeup, you do not need to carry all the products of your 20-step regimen too! Pack versatile products, and do not carry what you don't need. Do you really need 2 kinds of mascaras during the trip? And investing in travel-sized products of your fave makeup is a great idea if you're an avid traveler. 
Carry some foldable shopping bags or backpacks
They always come in handy- especially since you can fold them and carry them in your luggage and even when you go around sight-seeing. 
Save some space to bring back stuff
Don't travel with overstuffed suitcases in the first place- always leave some space for mementos or souvenirs that you'd like to bring back. Plus, what if you liked something big to bring back? 
ALSO READ: What To Miss & What Not To Miss While Packing Your Honeymoon Suitcase!