Want to Reuse Your Mom's Lehenga or Saree? Learn from 10 Brides Who Did!
BY Sakshi | 03 Apr, 2017 | 15320 views | 6 min read
If your mum wore a classically pretty lehenga back in the day, then why the hell not? Yup! If you want to be a timeless bride, a great idea is to reuse your mom or your MIL's bridal lehenga or saree that they had worn.. it can add this vintage old-world charm to not just you, but your entire wedding! Plus imagine how special it will be to them! Using vintage pieces but styling them in modern ways is the in-thing in 2017. Meet the girls who did
Real Bride Ankita : Refurbished her mom's wedding lehenga as an anarkali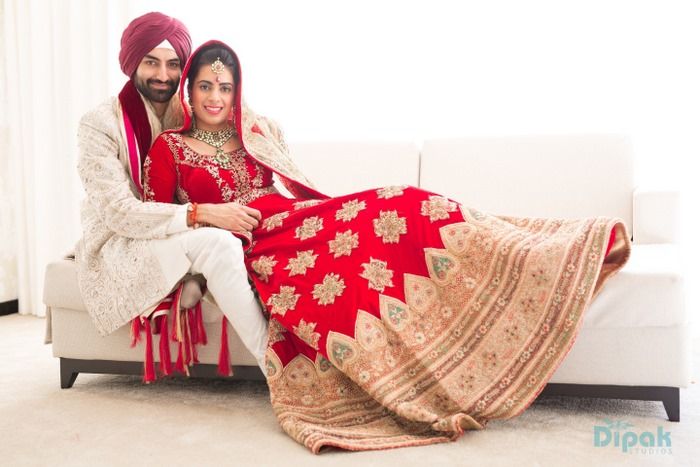 Image via Ankita and Manmeet's Real Wedding
How creative is this? Real Bride Ankita wore her mom's wedding lehenga which was 25 years old- but with a twist! She had all the zari ka kaam re-done on velvet and got the same lehenga recreated as a long anarkali suit!
Real Bride Ishita : Wore mom's lehenga with slight tweaks
She slightly tweaked her mom's lehenga to make it a bit more contemporary. The end result was a vintage royal look, and she looked like she had stepped right out of a Jodha Akbar set! She added some flare and volume to the old lehenga, made the gold work shine and changed the blouse entirely to something that suited her body better. She also switched up the dupatta a bit- took the border of her mom's dupatta along with 4 corner motifs and placed them on top of new fabric to give it a new look!
Real Bride Nupur : Got mom's old lehenga refurbished by a designer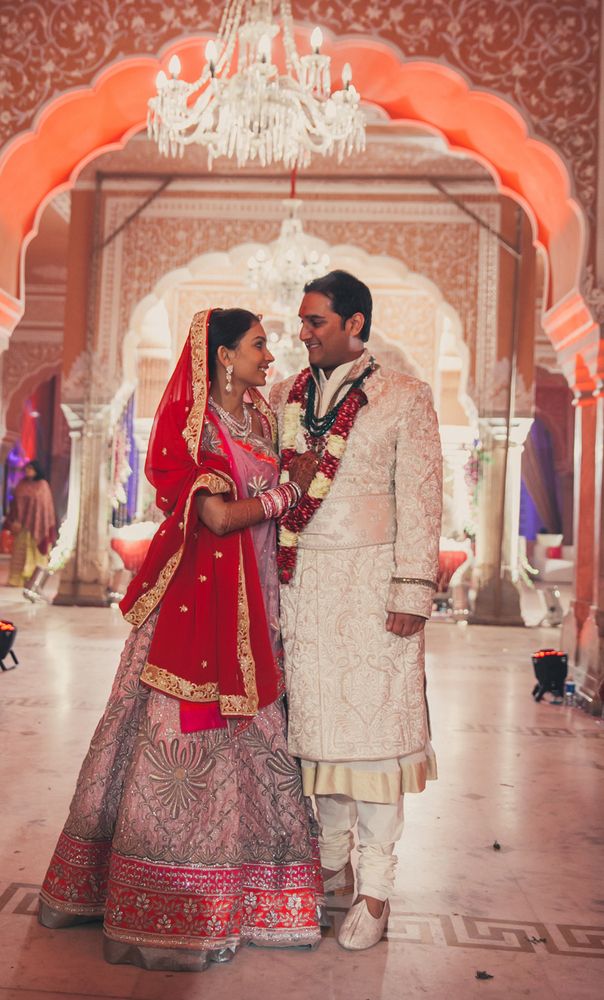 Image via Nupur and Viren's Real Wedding
Sometimes you can just leave it to the professionals to use the same old lehenga, but give it a new twist! Real Bride Neha wanted to wear her mother's wedding lehenga, while giving it a current spin. So all she did was got it tweaked refitted in her size from Arpita Mehta and voila! She was all set to be the perfect vintage bride!
Real Bride Nanki : Wore a replica of her mom's wedding suit designed by her!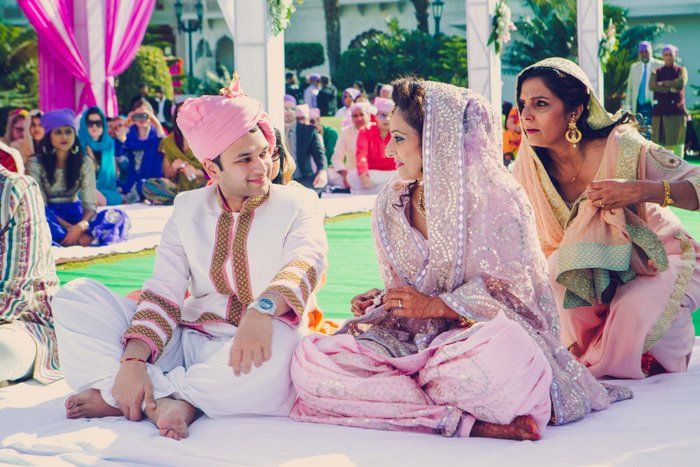 Image via Nanki and Ishaan's Real Wedding
So what do you do when you love your mom's wedding outfit, but can't wear it 'cz its not available or in a good condition? Real Bride Nanki got a a replica of her mother's wedding suit in lighter colours made by a her designer mom herself! One look and you know why- it's super pretty!
Real Bride Dayaneet : Used fabric from Grandmom's old saree
Image via Dayaneet and Rudy's Real Wedding
Real Bride Dayaneet's Mehendi outfit was pretty special- it was created using her late grandmother's Benarasi brocade which she got made into a chic waistcoat and paired it with a bright skirt and a lime green. Not just that, even her reception attire included elements from my mother-in-law's bridal lehenga!
Real Bride Aakshi : Reused mom's old saree to stitch Mehendi Lehenga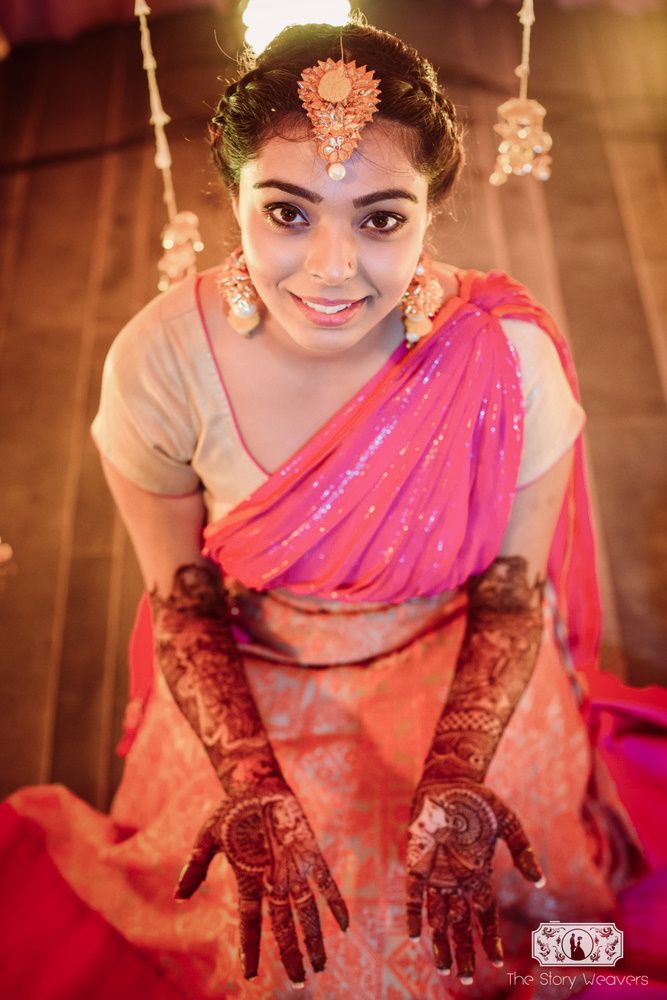 Image via Aakshi and Siddharth's Real Wedding
Real Bride Aakshi was quite a resourceful bride! Who would look at that modern lehenga and guess in anyway that it was once her mom's saree? With that modern blouse with the dupatta attached to it and pretty colour combination of pink with coral, it's unique and super special! The silhouette was pretty contemporary, but it still had a fab vintage vibe!
Real Bride Abhaya : Wore a lehenga passed down by her mom-in-law
Image via Abhaya and Uday's Real Wedding
Real Bride Abhaya wore a lehenga which is actually called a poshak due to the style. It was pass down to her by her mother in law, and her mother in law had worn it too. It had all gota work with real silver threads on silk, which is why it didn't tarnish over the years. She just changed the blouse a bit and got a raw silk top done and just to make it interesting I got gotta patti work done on the top rather than using the gotta from the original top. Infact, her mother-in-law had worn the same thing for her reception, including the jewellery!
Real Bride Mannat : Wore a century-old suit passed down over generations!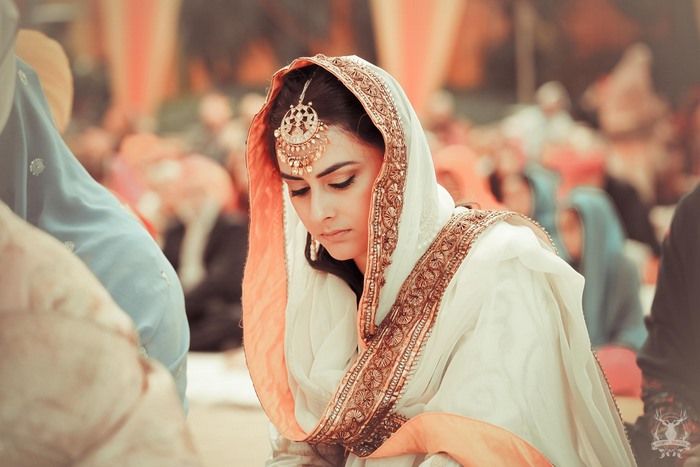 Image via Mannat and Nikhil's Real Wedding
Real Bride Mannat wore a 100 + plus year old suit for her mehendi, which was woven in real gold. It was passed down generations for years from her mum's side. One of her many great grandmothers had even worn the same suit on her wedding day!
Real Bride Nimrat : Took her mom's bridal dupatta as a veil
Image via Nimrat and Angad's Real Wedding
If you can't take the whole outfit, include a part of it! Real Bride Nimrat took her mom's wedding dupatta over her as a veil when she was walking down the aisle, her 'something borrowed'! It's an exact match to her lehenga!
Real Bride Kanaka : Reused her mom's Kanjivaram Saree
Image via Kanaka and Sameer's Real Wedding
That's the good part of a Kanjivaram saree- it's classic and timeless! Real Bride Kanaka wore her mother's fuchsia & orange kanjivaram sare, but with an interesting twist to it! She added the Punjabi tadka of chooda and kaleeray to the traditionally South Indian saree.
Tips for brides who want to reuse their moms lehenga:
First step would be to check the fabric. Fabrics like silk tend to hold up over time, however most of our moms actually wore tissue lehengas which can get torn over time  and there is not much you can do with that
You could either use the lehenga and add embroidery over it, or you could get your designer to pick up parts of the embroidery and have them patched on to newer fabric like velvet/ georgette / richer raw silks
Adding a new dupatta and blouse can completely transform the whole look.  So can adding details like a can-can, tassles and additional borders to complete out the whole look and make it more contemporary.
Adding a fresh color can really modernise the entire look- experiment with adding a contrasting color border to the lehenga. or having a dupatta with a contrasting color.
Even if you have already got your own lehenga, you can use your moms bridal outfit on your brothers wedding- they make great shararas and Shararas are super in nowadays anyway. Just use the skirt, get a modernish knee length top with a dupatta and you have a very royal feel to the whole thing!
 So, inspired enough?